5 Crochet Halloween Treat Bag Patterns
Disclosure: This post may contain affiliate links. As an Amazon Associate, I earn from qualifying purchases. Please visit my Privacy Policy for disclosures and more information.
Crochet Halloween Treat bags are quick, easy and can be tailored to match any costume.  These trick or treat bags are an easy, quick c2c project with fun and simple designs.
If you haven't seen them yet, there are already five crochet Halloween Trick or Treat bag patterns/graphs released. These five new treat bag patterns are fun additions to the halloween crochet pattern collection.
You'll also love this great roundup post of 50+ Halloween Crochet Patterns.
Halloween Corner to Corner graphs
I've left all of the graphs in black and white/grayscale for easy viewing and, if you choose to purchase the ad-free PDF bundle, easy printing.
The color options provided are just that: options! They are there as suggestions. My two youngest helped pick some of the color combos (and by two youngest helping I mean my 4 year old helped while we both tried to keep the 2 year old from banging on the keyboard.)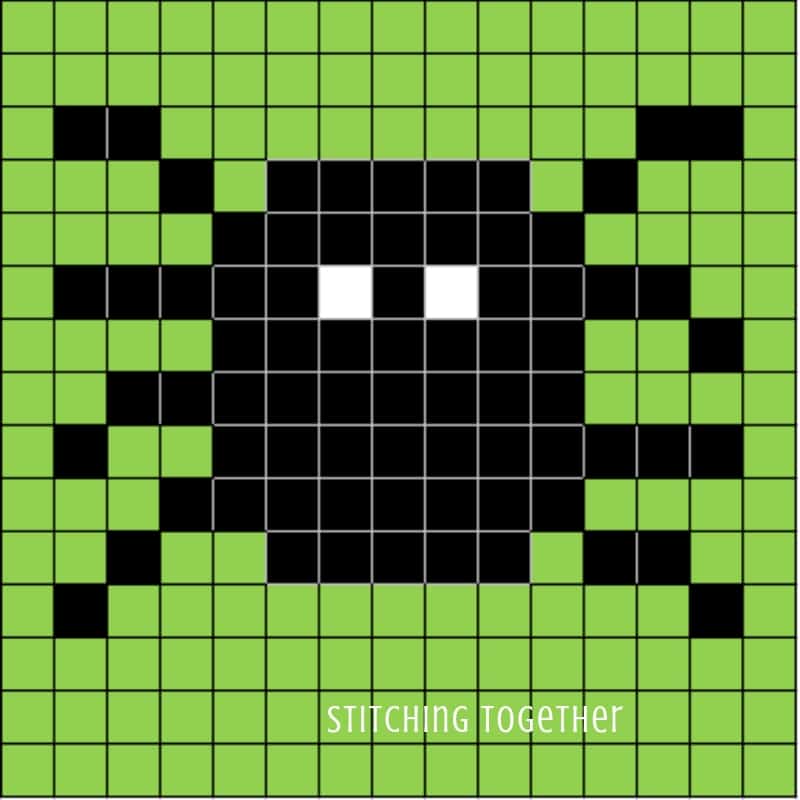 To follow the graphs, start at the bottom left corner and work back and forth diagonally. You'll make one large rectangle, fold it in half and sc the sides together to make your bag. You can follow half of the graph and make two separate sides if you'd prefer!
Yarn needed for the Crochet Halloween Candy Bags
The total amount of yarn needed is going to vary depending on the yarn you choose, your gauge, and the actual pattern. Most of the patterns will use around one skein of the main color using Vanna's Choice yarn.
If you head back to the Halloween Trick or Treat bag post, you can see that I lost yarn chicken on the crochet pumpkin bag pattern. I was not conservative with the yarn when I started the bag, so I know I easily could have stuck to one skein.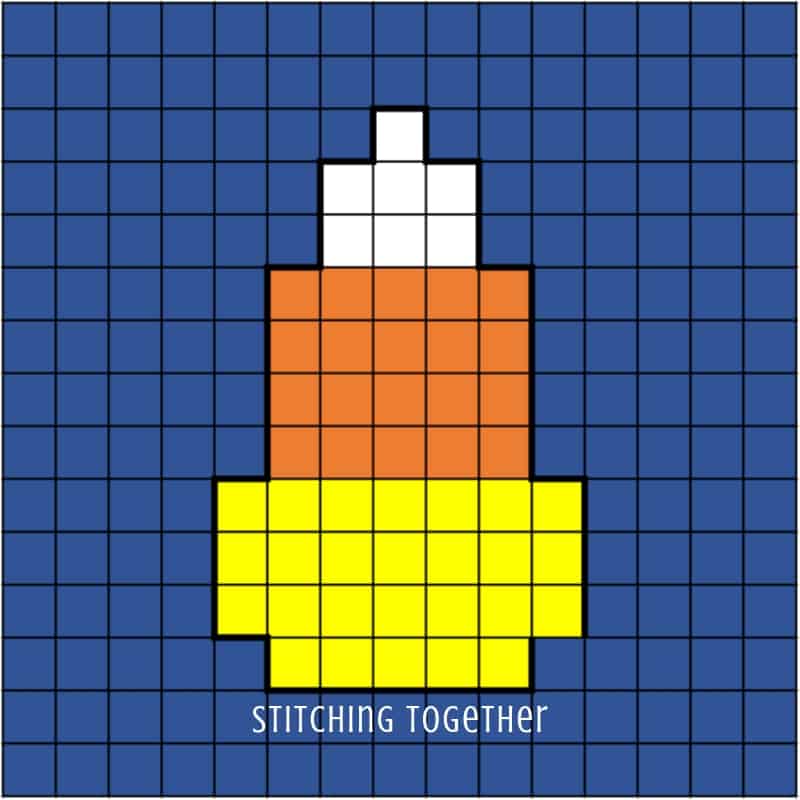 The panda pattern uses more of the main color than the bat pattern so I did have to use a second skein. All that to say, if you use Vanna's Choice or something similar, you may need two skeins of the main color.
Otherwise if you use Simply Soft or RHSS you'll easily get at least one bag out of the skein. (I'd recommend Red Heart Super Saver over Simply Soft though. RHSS has MANY more color options, is more durable and easy to work with, and is generally cheaper!)
Let's talk about that cute crochet panda bear face:
Sometimes you just simply fail at things, but sometimes those failures magically turn into something else amazing. Look at that face.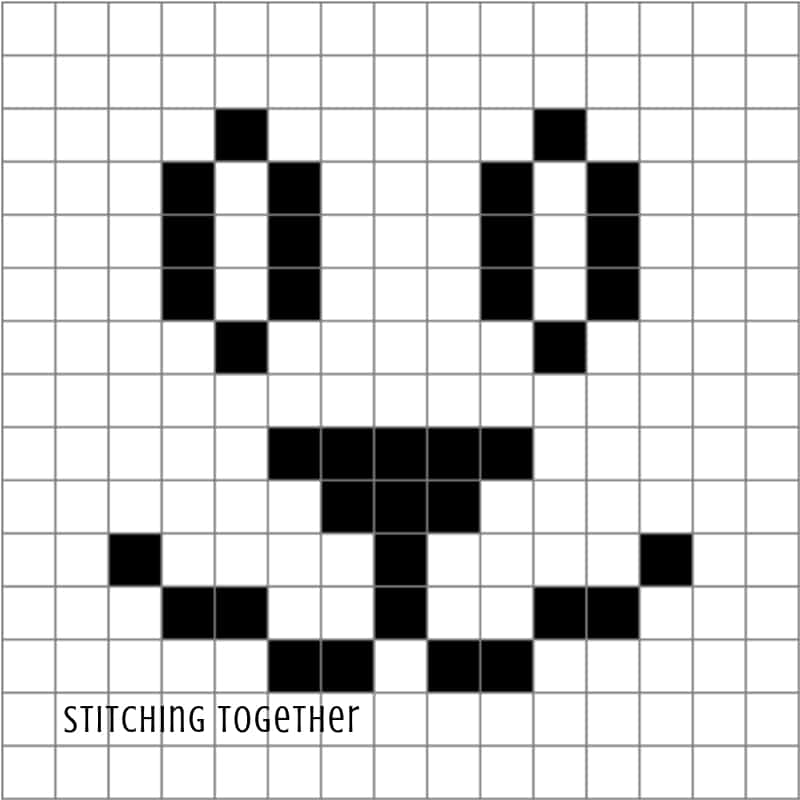 You are looking at what was supposed to be a creepy black cat. Somehow I ended up with this adorable bear face instead of a cat.
Even though it doesn't fit with the rest of the creepy halloween graphs, (I guess the c2c heart doesn't totally fit either) I had to leave it. It's adorable and the bag I decided to make for my littlest kiddo since he didn't get one last year.
Don't forget to Pin the Crochet Halloween Treat Bag Patterns!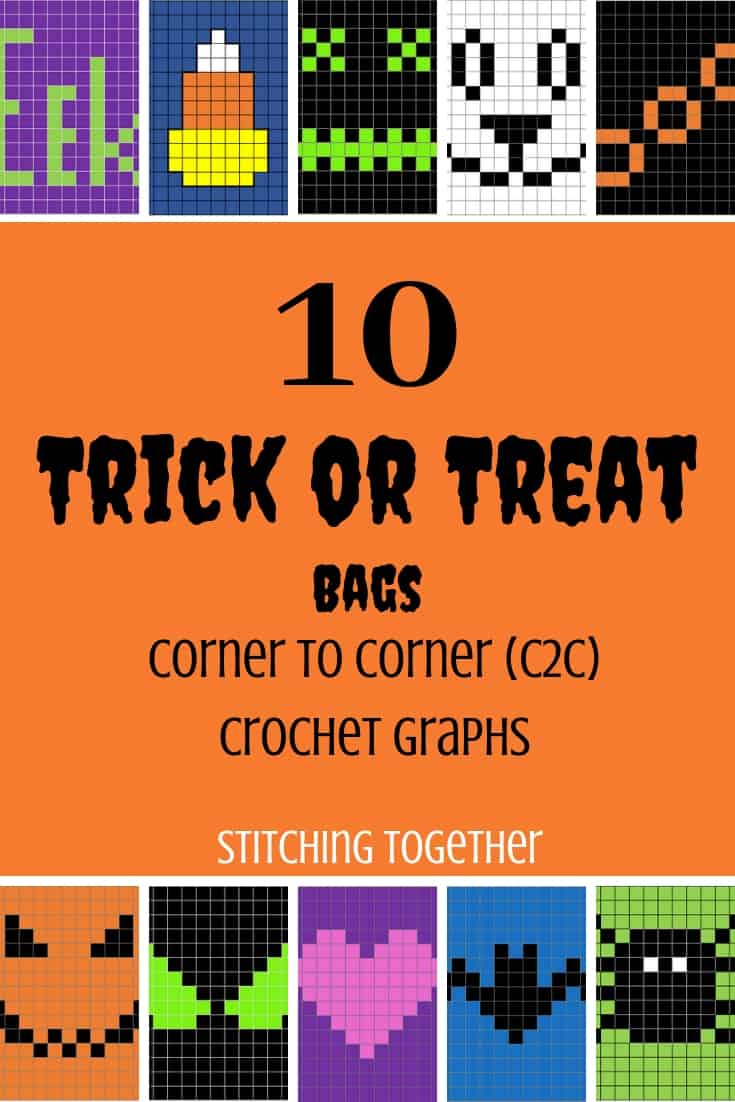 Crochet Halloween Treat Bag Patterns
[question]
Looking for an ad-free PDF of this pattern? You can purchase one here:
[button url="https://www.ravelry.com/patterns/library/halloween-treat-bag-5″]     Ravelry     [/button]    [button url="https://www.etsy.com/listing/638761596/crochet-trick-or-treat-bag-pattern"]     Buy all 10 graphs for $1 more!     [/button]
[/question]
Materials:
Please visit my Resources page to see why I recommend these tools and to see other recommendations.
US-Size J/10 Crochet Hook

Approx 160- 220 yds of #4 Medium weight yarn per bag

Sample used Vanna's choice yarn (3.5oz/170 yds) in white and black

Large Eye Tapestry Needle (my go to needles on Amazon)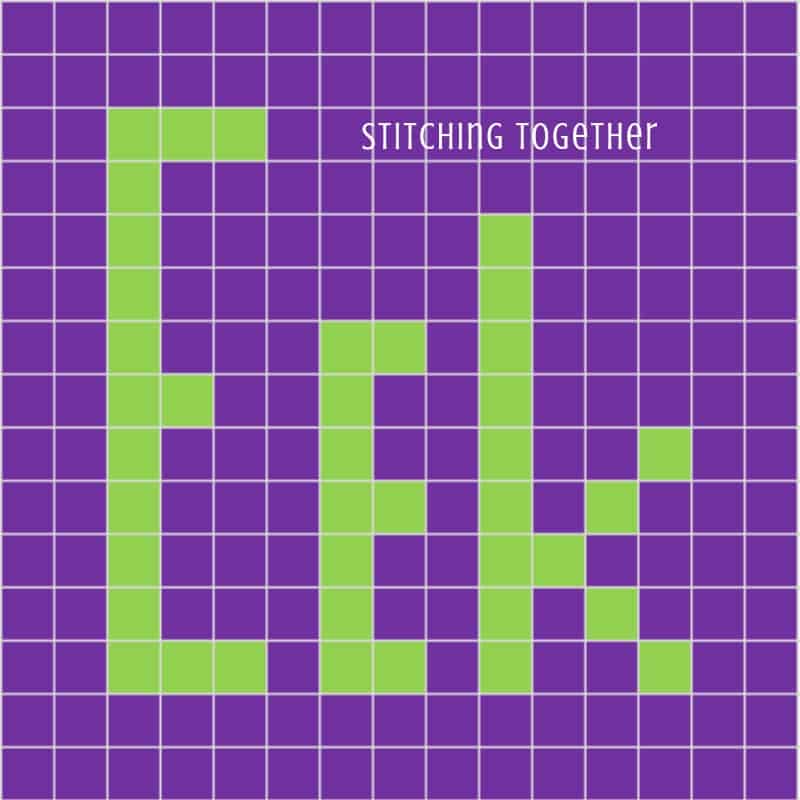 Abbreviations:
ch(s): chain(s)
dc(s): double crochet(s)
sc: single crochet
c2c: Corner to corner
Finished size:
Approx 10" x 10"
Notes:
I worked the c2c with double crochets using 5 and 2 instead of 6 and 3. (Chain 5 to start a new row and chain 2 to start a new block.)
Crochet Halloween Treat Bag Pattern Instructions:
The bag is made following one of the graphs below. Each graph is a 15 by 30 rectangle. After completing the rectangle, fold the bag in half and single crochet down both sides and attach handles.
Handles:
Ch 6
Row 1: dc in 4th ch from hook, dc in 3 remaining chs, turn.
Row 2:  ch 2 (counts as first dc throughout), dc in each dc below, turn.
Repeat row 2 for 21 rows. Make 2 handles.
To attach the handles, hold the end of one strap securely in place on the 6th c2c block in from the side. Using a tapestry needle, whip stitch around the end of the handle to secure it to the bag. Repeat with the other side of the handle on the 6th block from the other side. Turn the bag over and attach the other handle on the other side.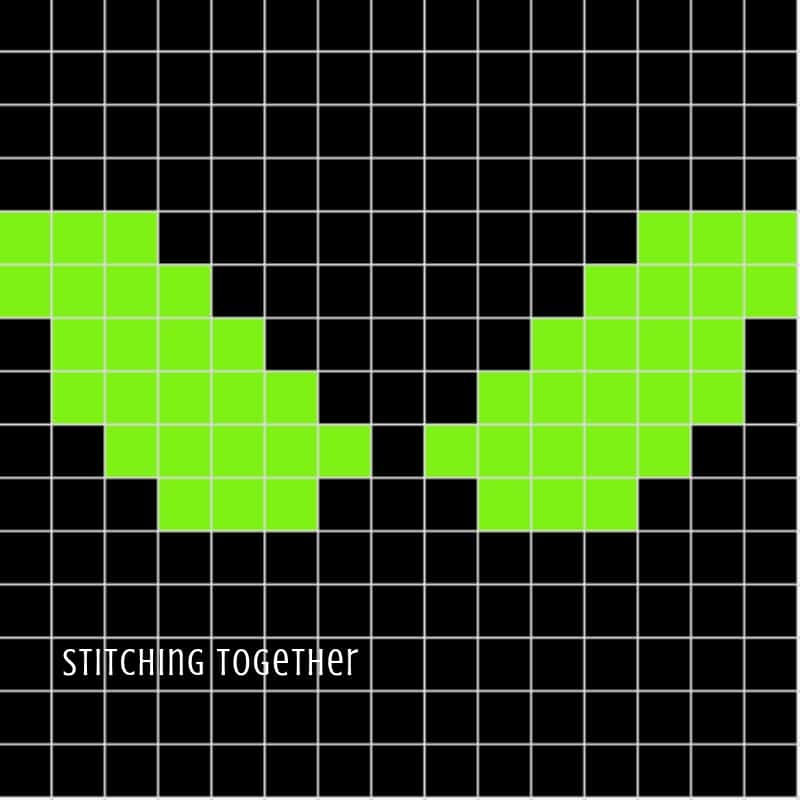 C2C Graph Patterns for the Crochet Halloween Trick or Treat Bags
Candy Corn Halloween Bag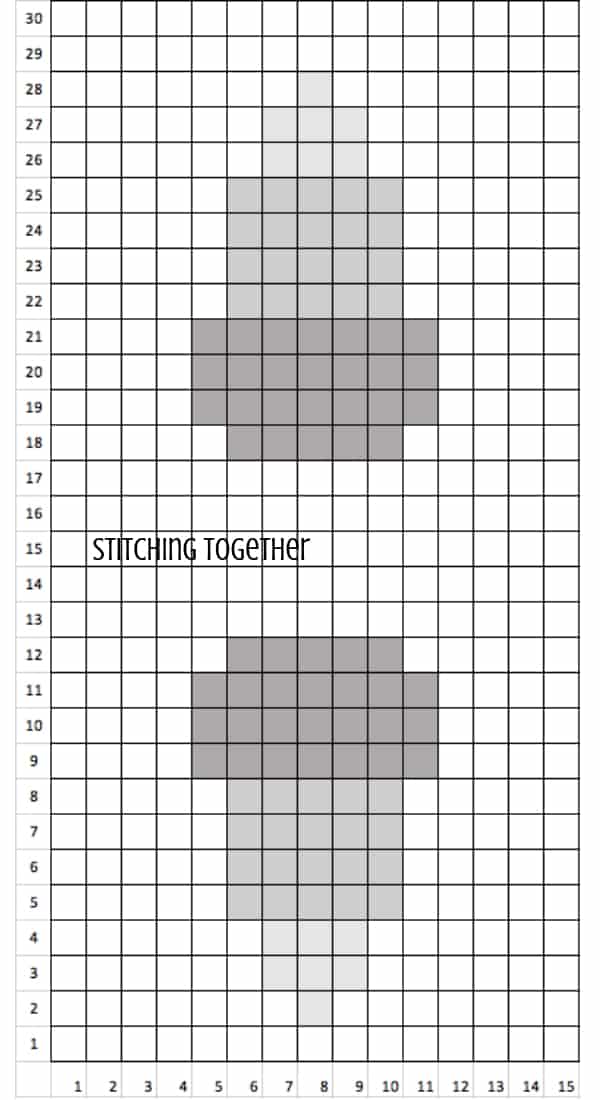 Creepy Eyes Halloween Treat Bag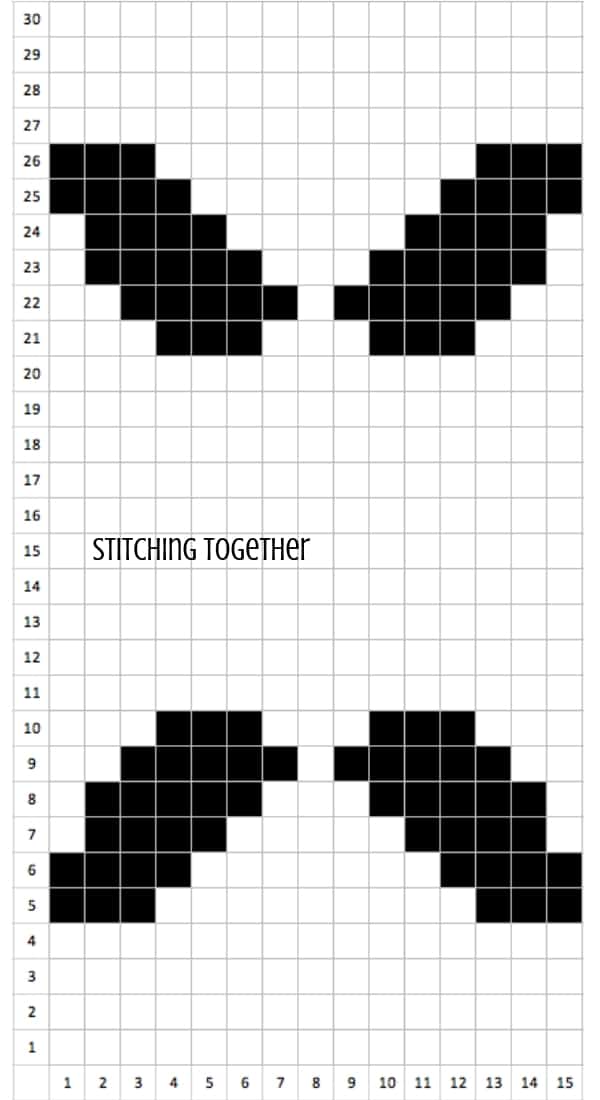 Spider Trick or Treat Bag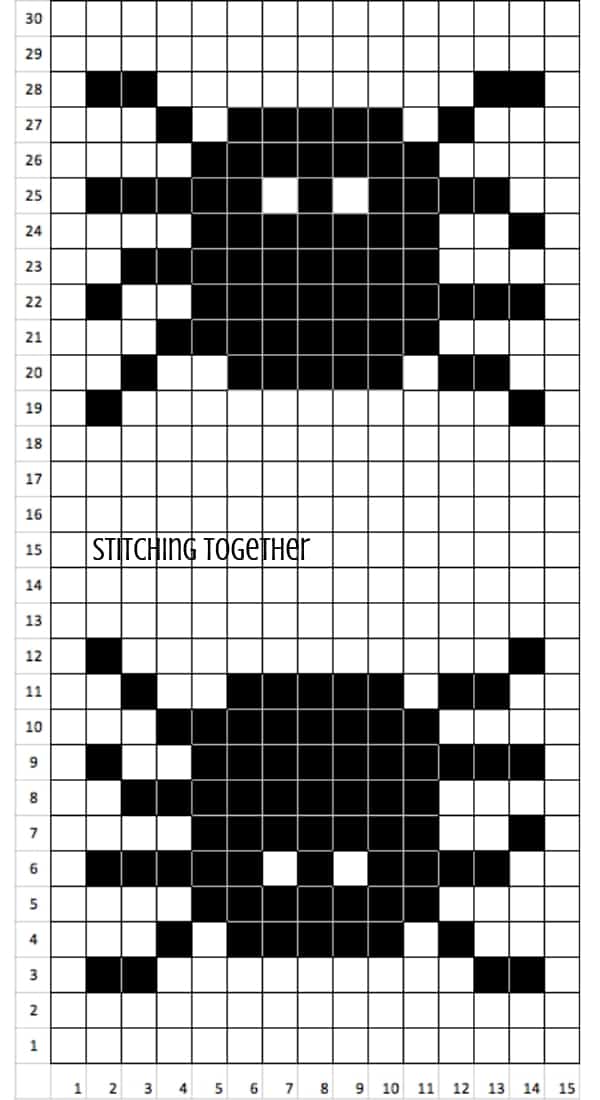 Eek Crochet Halloween Bag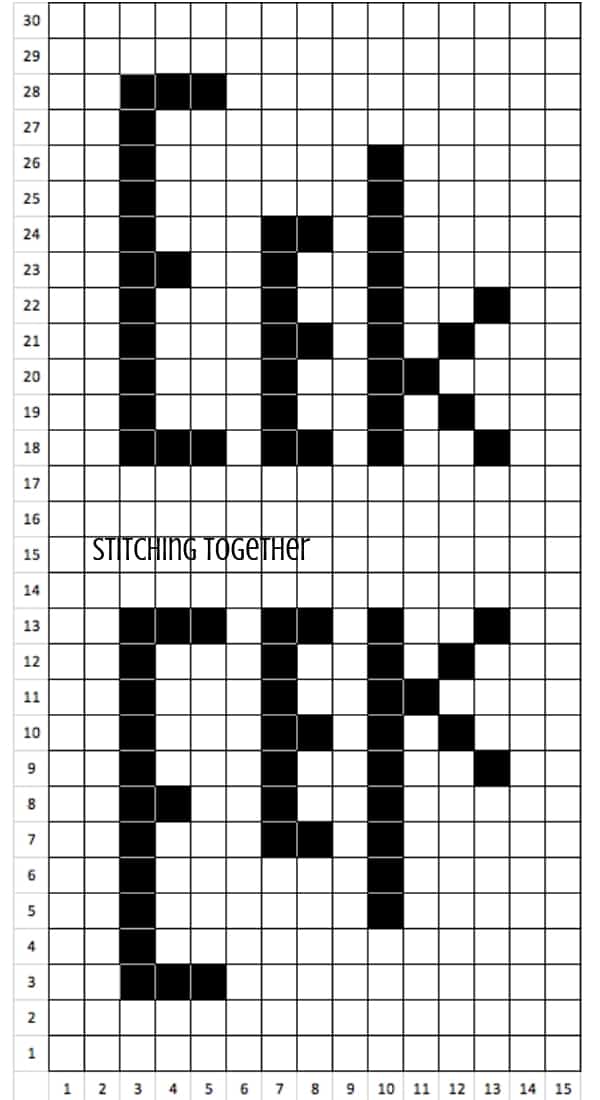 Panda Bear Face Halloween treat bag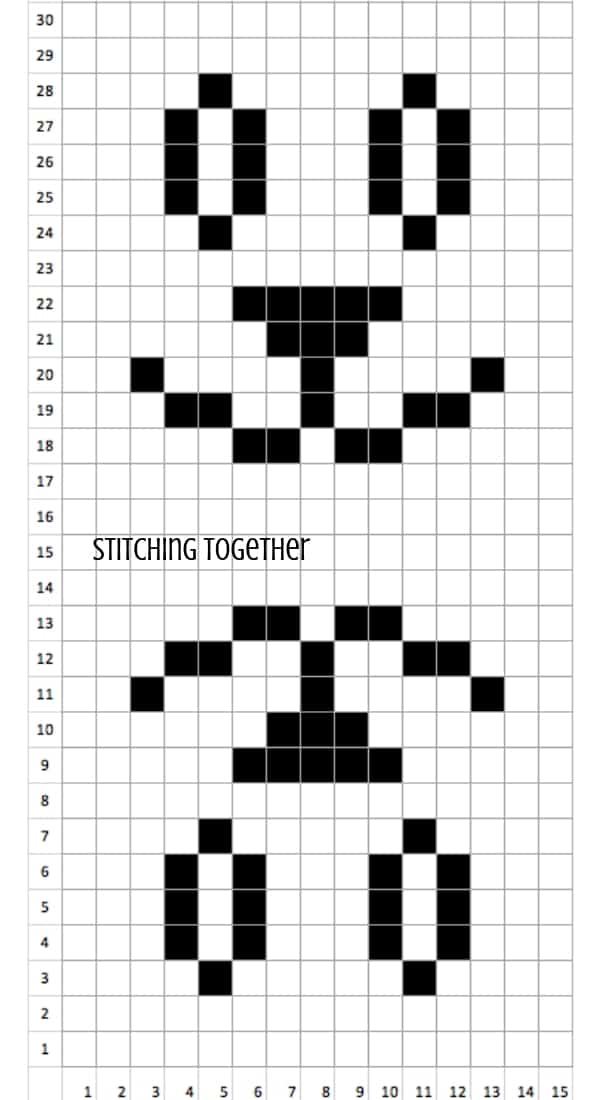 Don't forget to check the other graphs available in the Crochet Halloween Trick or Treat Bag Pattern post and read why you should be buying MORE chocolate! (Every chocolate lover wants to hear that, right?)
I'd also love it if you'd tag me on instagram (stitching_together) and use #stitchingtog so I can see your finished bags.
[disclaim]
Save time and shop the materials online!
[/disclaim]