50 + Halloween Crochet Patterns That Will Boost Your Spooky Décor
Disclosure: This post may contain affiliate links. As an Amazon Associate, I earn from qualifying purchases. Please visit my Privacy Policy for disclosures and more information.
Welcome to the best place to find your next favorite Halloween crochet patterns. This mighty roundup of over 50 paid and free Halloween crochet patterns is just what you need to start preparing for the spookiest holiday of the year.
Below you'll find patterns for treat bags, Amigurumi and appliqués, costumes and wearables, home decor, plus pillows and blankets all perfect for Halloween.
Before we get to the good stuff, you are going to want to save this on Pinterest for sure.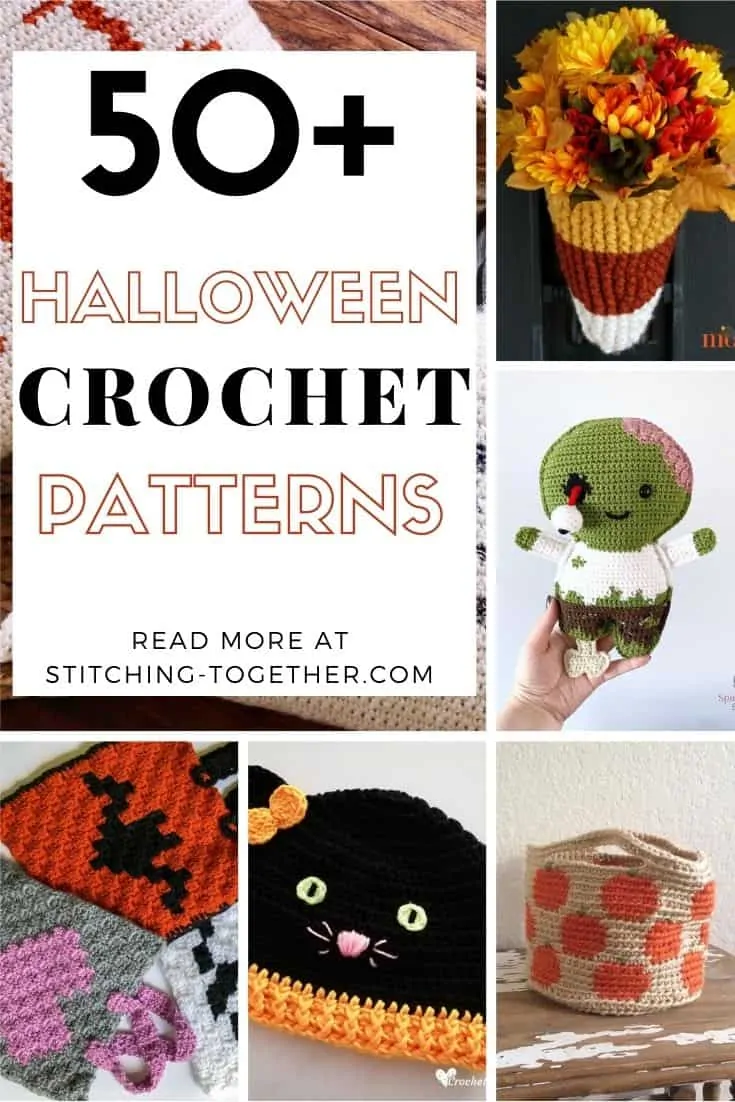 Crochet Treat Bags
Crochet trick or treat bags could really have their own roundup post as there are SO MANY great patterns out there. I picked some of my favorites to include here.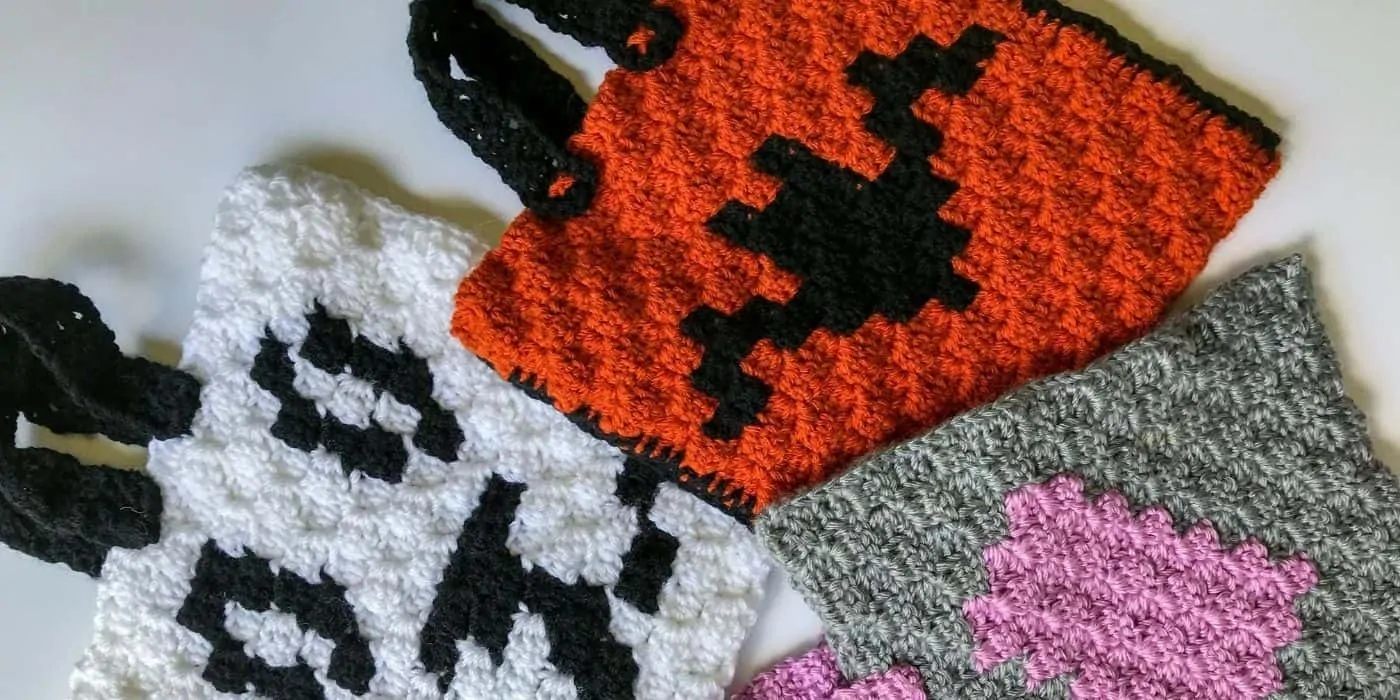 Crochet Trick or Treat Bags and 5 more Crochet Treat Bags found right here on Stitching Together.
I love these simple treat bags for several reasons (besides the fact that I designed them): They are quick and easy, they are so customizable, they are a great c2c project.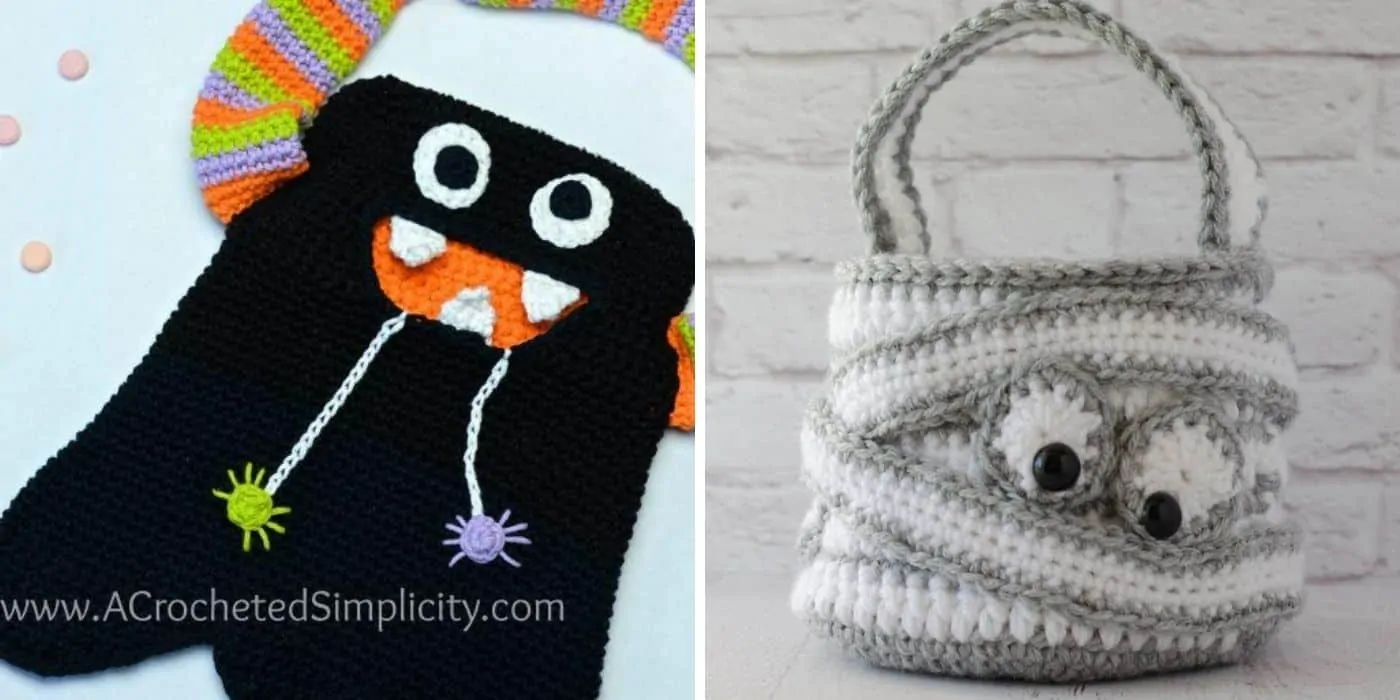 Hungry Monster Candy Bag by A Crocheted Simplicity
I'm not sure what I love more: the cute striped arms as a strap or the spiders crawling out of his mouth.
Mummy Treat Bag by Crochet 365 Knit Too
Isn't this mummy bag just cute and clever? I know some kiddos who would love filling it with candy. This is a paid pattern.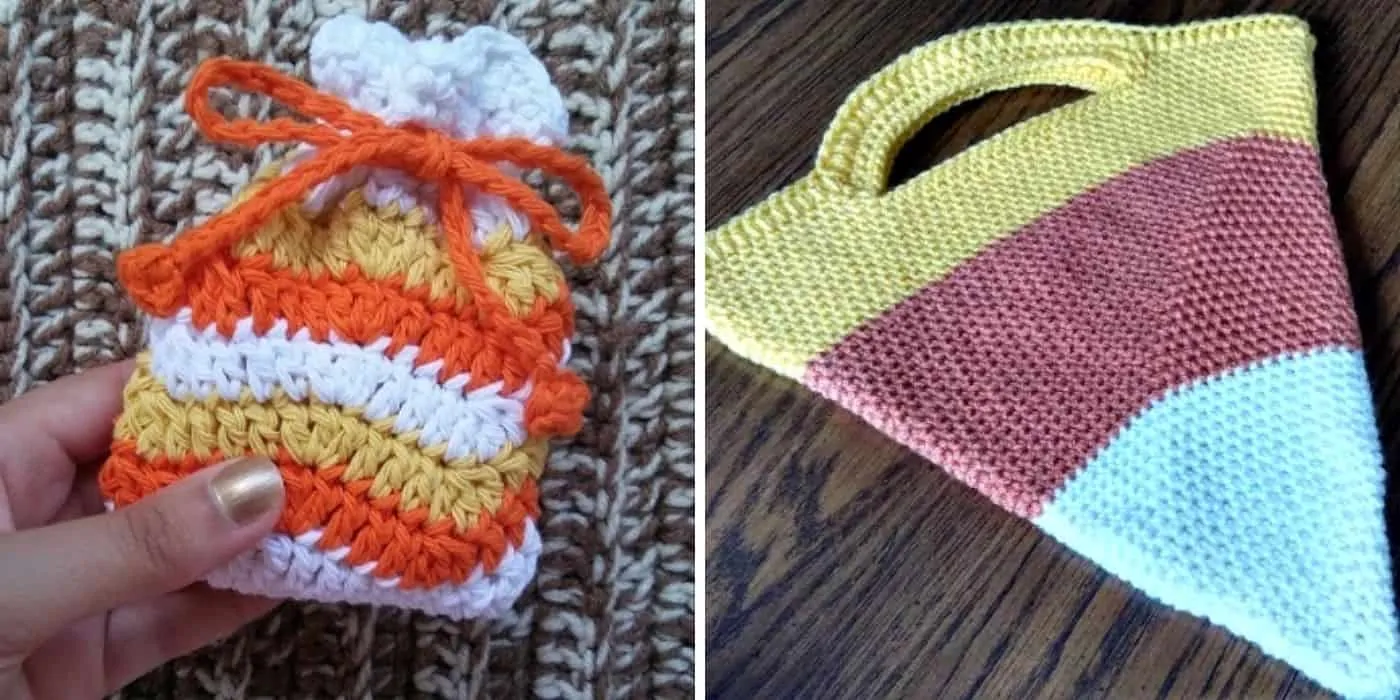 Candy Corn Pouch by Eye Love Knots
Isn't this pouch just too adorable? It's perfect for gifting small amounts of candy or using as a soap cozy to really get in the mood for fall.
Candy Corn Sack by Rows and Rose
This is such a clever yet simple bag pattern! I love how it looks just like a yummy candy corn.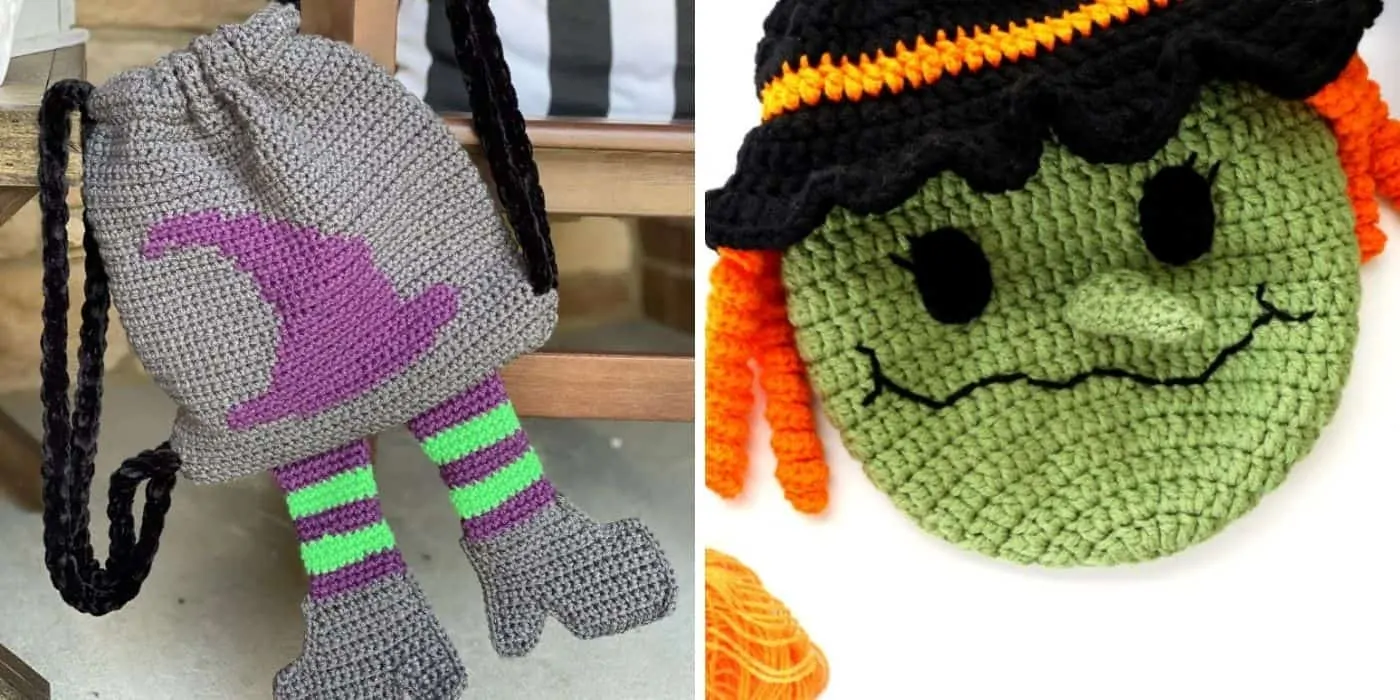 Easy Halloween Backpack by A Crafty Concept
The perfect backpack for a serious trick-or-treater…. you know, the kid who plans to hit EVERY house in the neighborhood and in the next neighborhood.
Halloween Witch Trick or Treat Bag crochet pattern by Sigoni Macaroni
Cute little witchy halloween bag perfect for hold all the treats.
Halloween Amigurumi and Appliqués
Not only do amigurumi dolls make great kid gifts, they can also make adorable decor. Themed appliqués are perfect for taking something ordinary and turning it into something spectacular. These Halloween amis and appliqués are some of the best I found.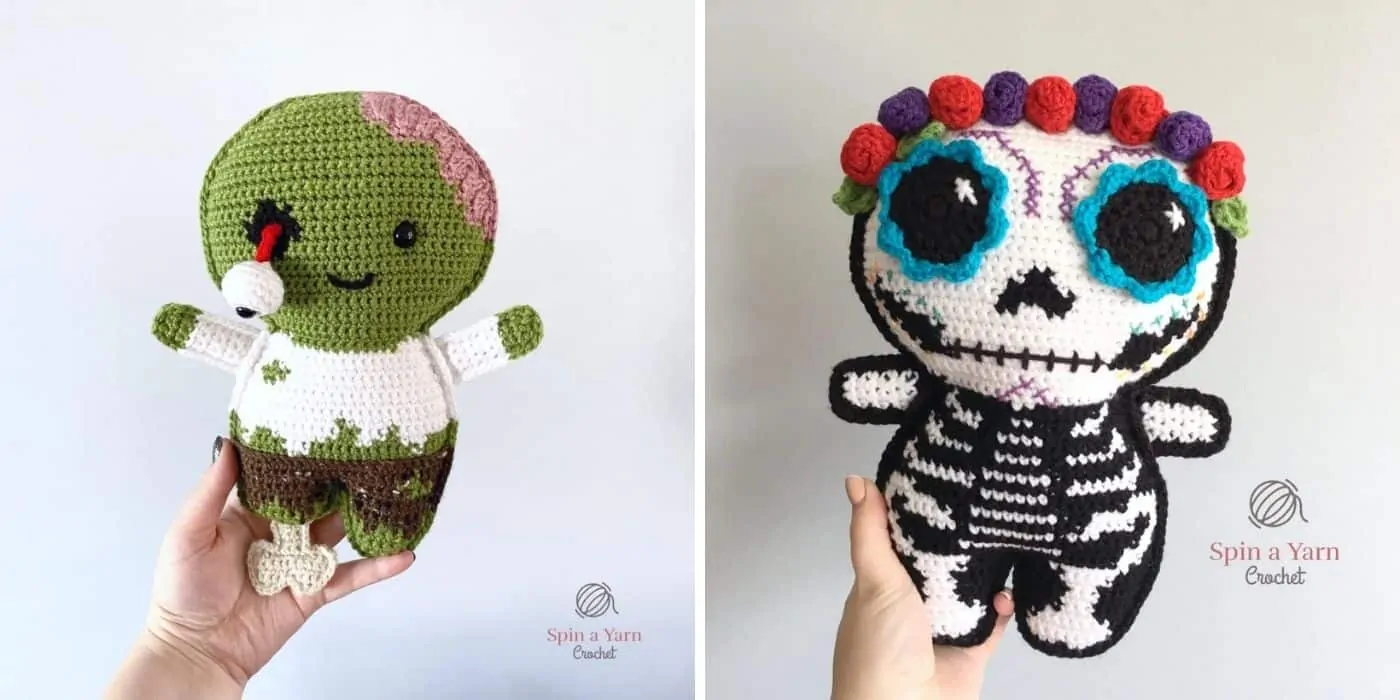 Zombie Free Crochet Pattern by Spin a Yarn Crochet
If you've ever wondered how to make a cute zombie, well here's your answer…. eyeball falling out, brains sticking out and everything.
Sugar Skull Amigurumi Free Crochet Pattern by Spin a Yarn Crochet
Celebrate 2 holidays in one with this doll – Día de Muertos and Halloween.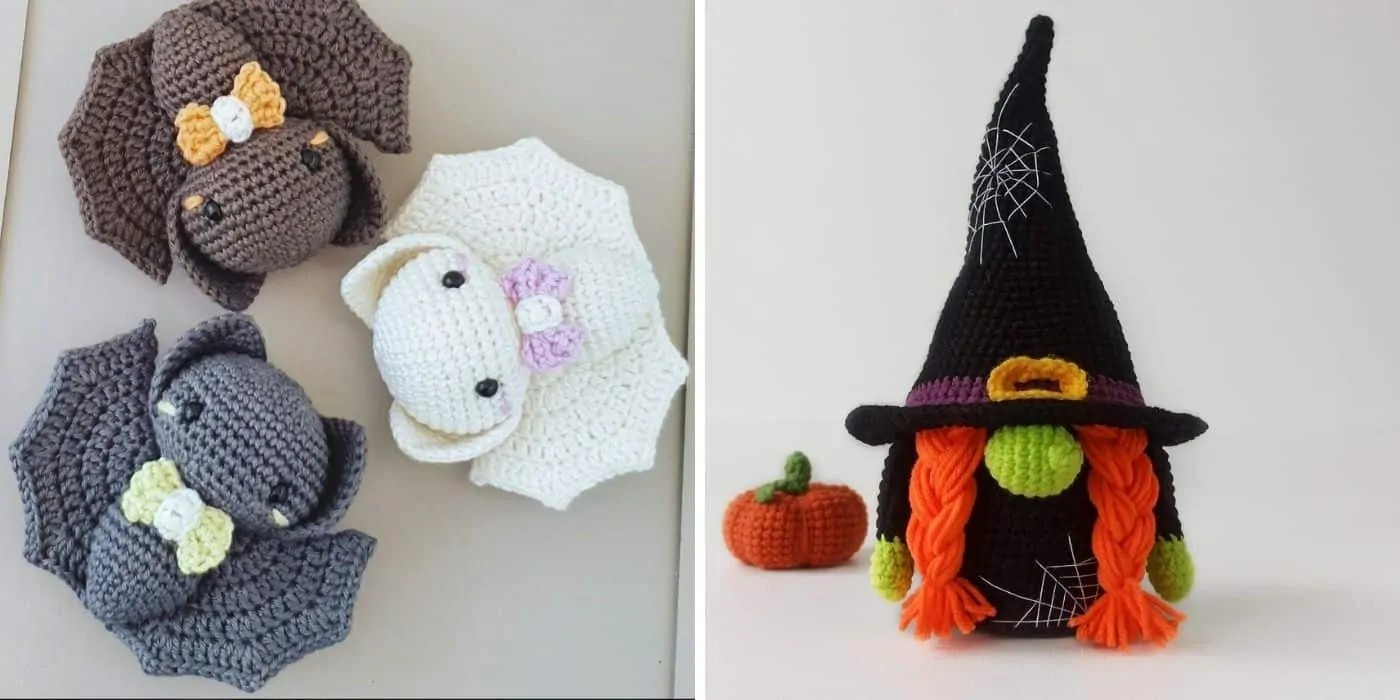 Amigurumi Bats by SassarooDesigns
I cannot get over how cute these little bats are. Where would you display them? This is a paid pattern.
Halloween Gnome Witch by PlyushkiToysPatterns
Isn't she just the cutest… big nose wart and all. This is a paid pattern.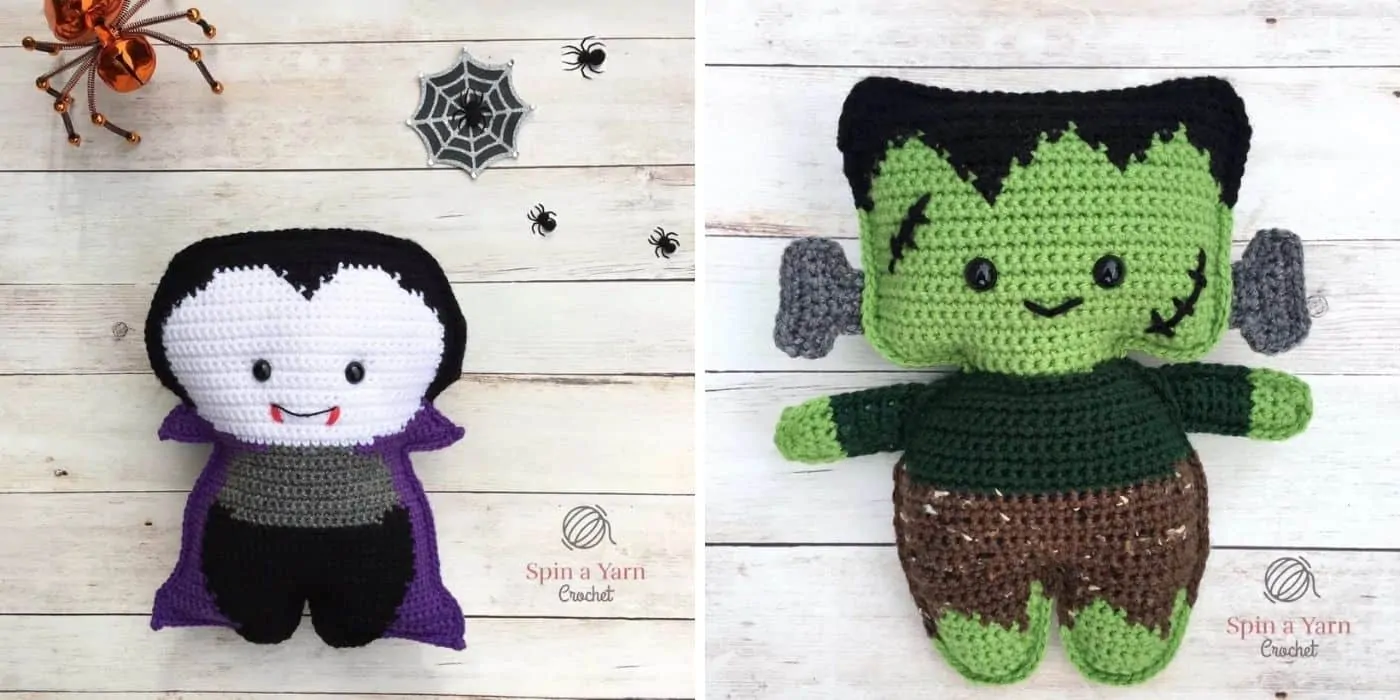 Vampire Amigurumi Free Crochet Pattern by Spin a Yarn Crochet
Heart shaped face and tiny bloody teeth make this crochet vampire a bit irresistible.
Frankenstein's Monster Crochet Pattern by Spin a Yarn Crochet
Frankenstein's Monster doesn't seem so scary when he is cute, soft, and squishy.
PS. He is wearing tweed pants.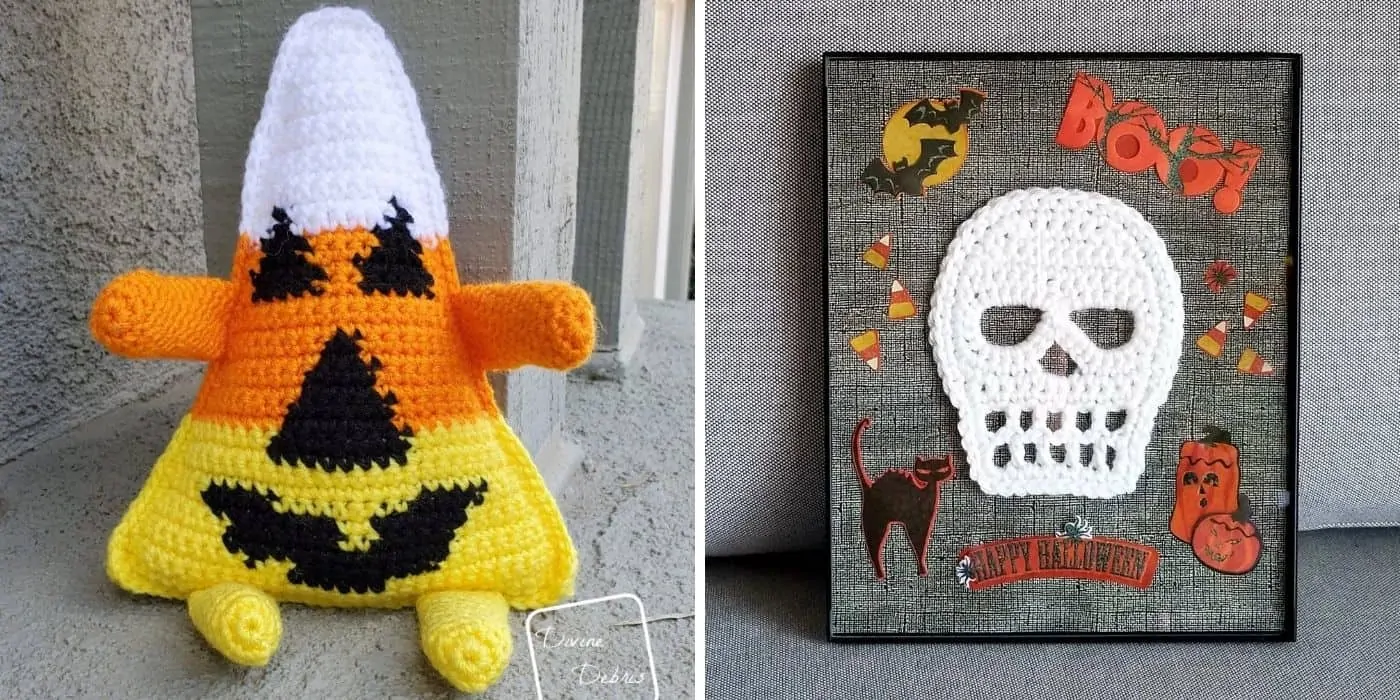 Candy Corning Around Ami by Divine Debris
Can't you just picture this little cutie sitting on your mantle or a shelf? The happy little arms make him look like he is ready for a hug!
Crochet Skull Appliqué by Handmade by Raine
Doesn't this skull look amazing? It's perfect for decorating all the things and even looks great just framed.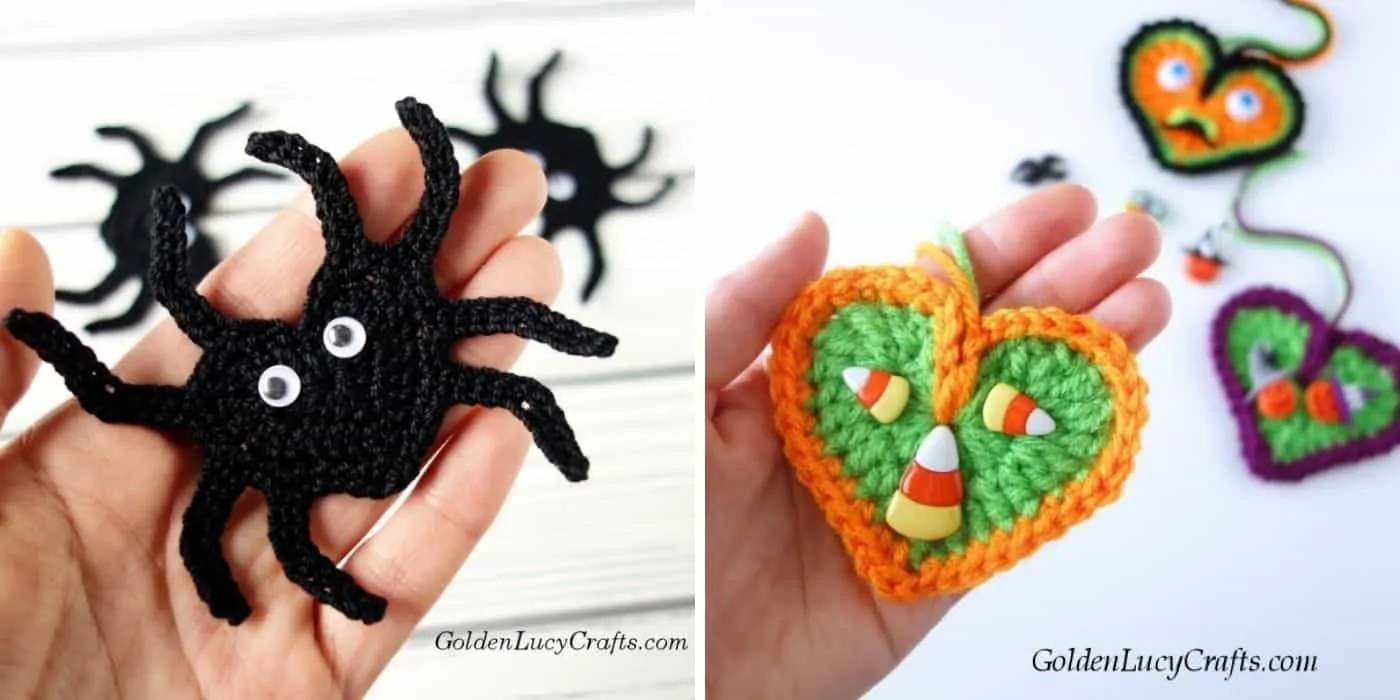 Crochet Heart-Shaped Spider by Golden Lucy Crafts
Perfect little appliqué to add a touch of Halloween to your life!
Crochet Halloween Hearts by Golden Lucy Crafts
These cute little hearts embellished with Halloween buttons are perfect for Halloween decorating!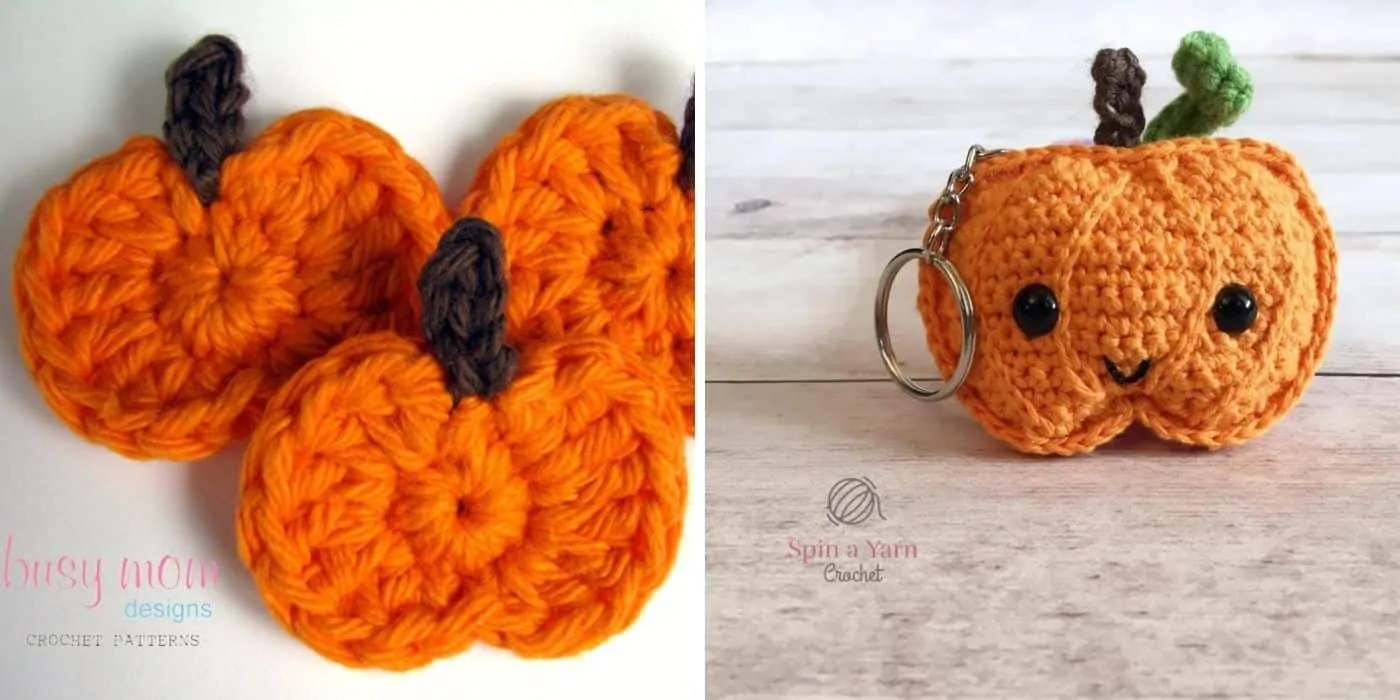 Pumpkin Appliqué by BusyMomDesigns
Cute little appliqué that's perfect for embellishing your favorite fall and Halloween items. (This is a paid pattern)
Pumpkin Key Chain by Spin a Yarn Crochet
This tiny pumpkin key chain is the cutest! You definitely won't lose your keys in your bag with the bright guy attached.
Crochet Halloween Costumes and Wearables
Before Halloween costumes were mass produced, everyone made their own costumes. These crochet Halloween costumes are a throwback to the good ole DIY days.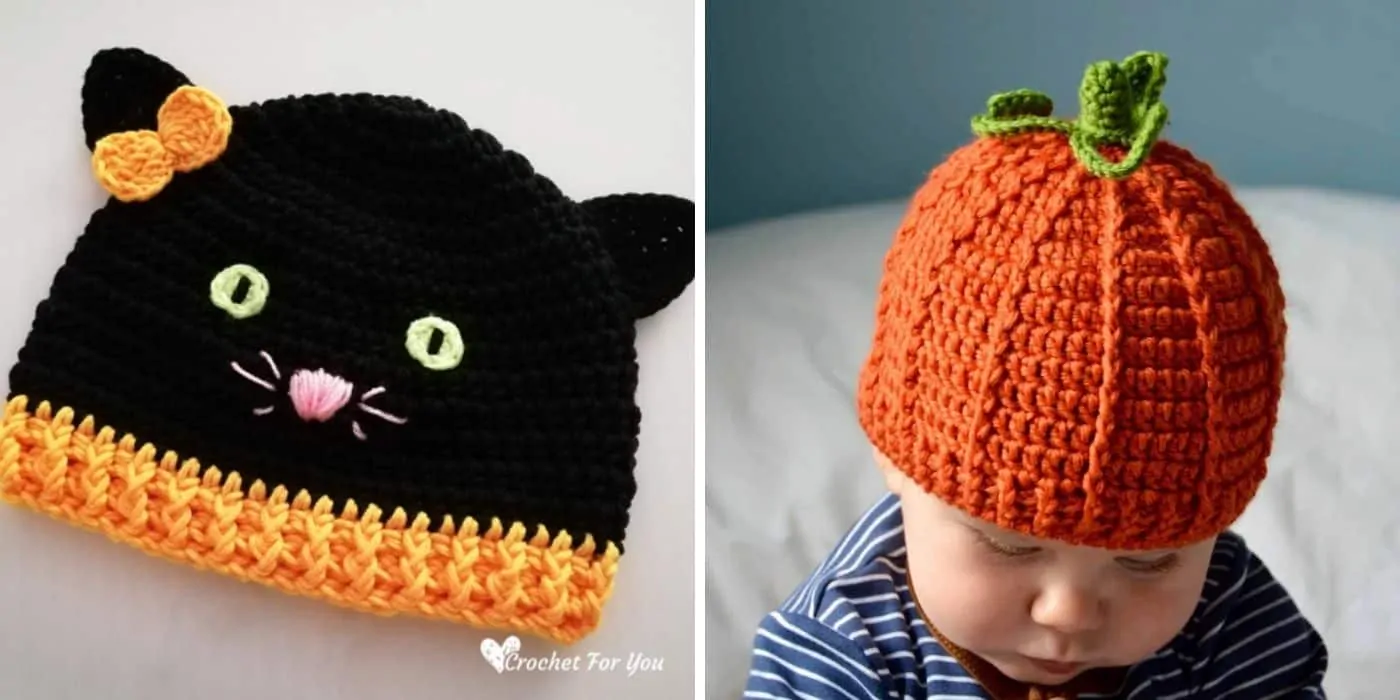 Crochet Black Cat Hat by Crochet for You
The bow, the nose, the ears, the eyes… pretty much I love it all! The finished size is for a toddler, but there is also a link to help you size hats for any head!
Crochet Pumpkin Hat Pattern by HanJan Crochet
This crochet pumpkin hat is almost as cute as the sweet little pumpkin wearing it. What a perfect Halloween hat for babies.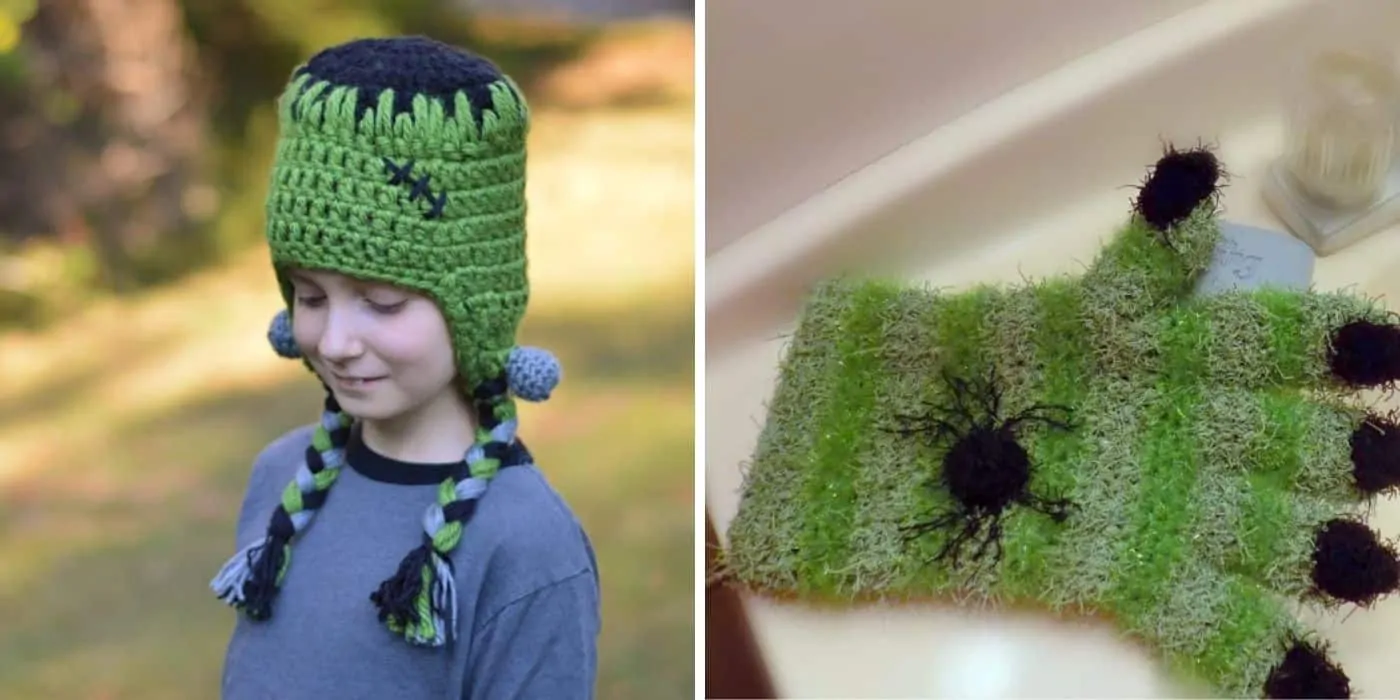 Frankenstein's Monster Hat Free Crochet Pattern by With Alex
Hats are a great way to let your kids celebrate Halloween especially when they've worn the same costume for at least the last 2 weeks and it really needs to be washed… or burned.
Wicked Scrubby Mitt by Blackstone Designs
Really, this scrubby mitt seems like a genius way to get kiddos excited to help with the dishes.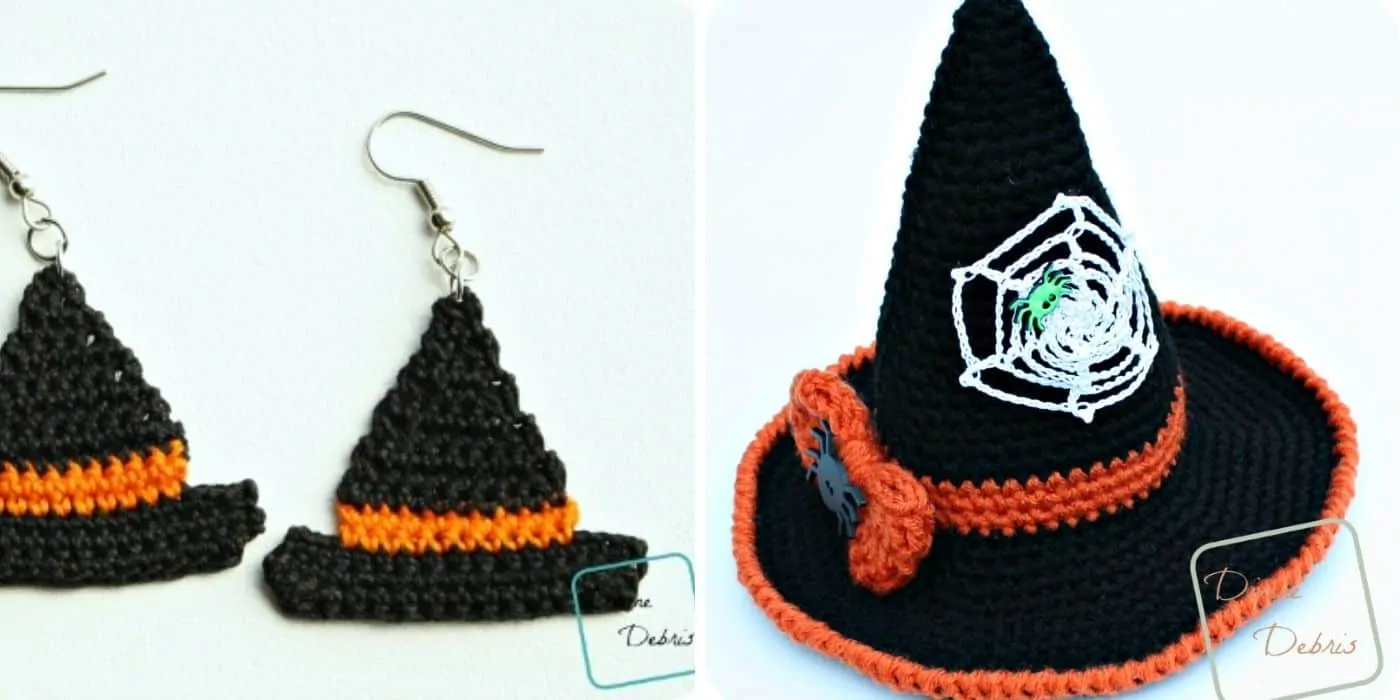 Witch Hat Earrings by Divine Debirs
Another cute pair of earrings that has a matching coaster pattern. Why not match your Halloween accessories to your decor?
Don't miss the Frankenstein and Skull earrings too!
I'll Put a Spell on You Witch Hat by Divine Debris
You won't need much more than this cute hat to have a rockin halloween costume!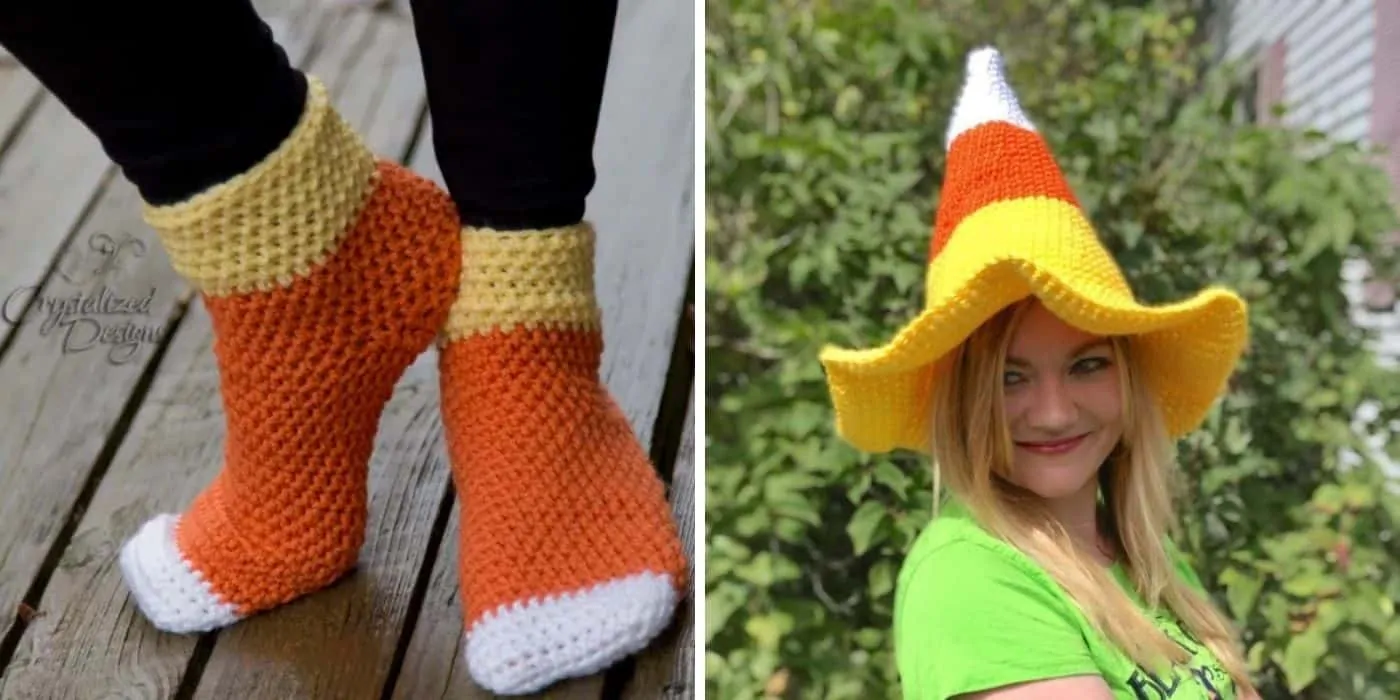 Candy Corn Socks by Crystalized Designs
Cute and comfy socks! Don't miss the child and baby sizes too!
Candy Corn Witch Hat by Crafty Kitty Crochet
Not only is this pattern adorable on its own, it includes notes to customize it and make different sizes!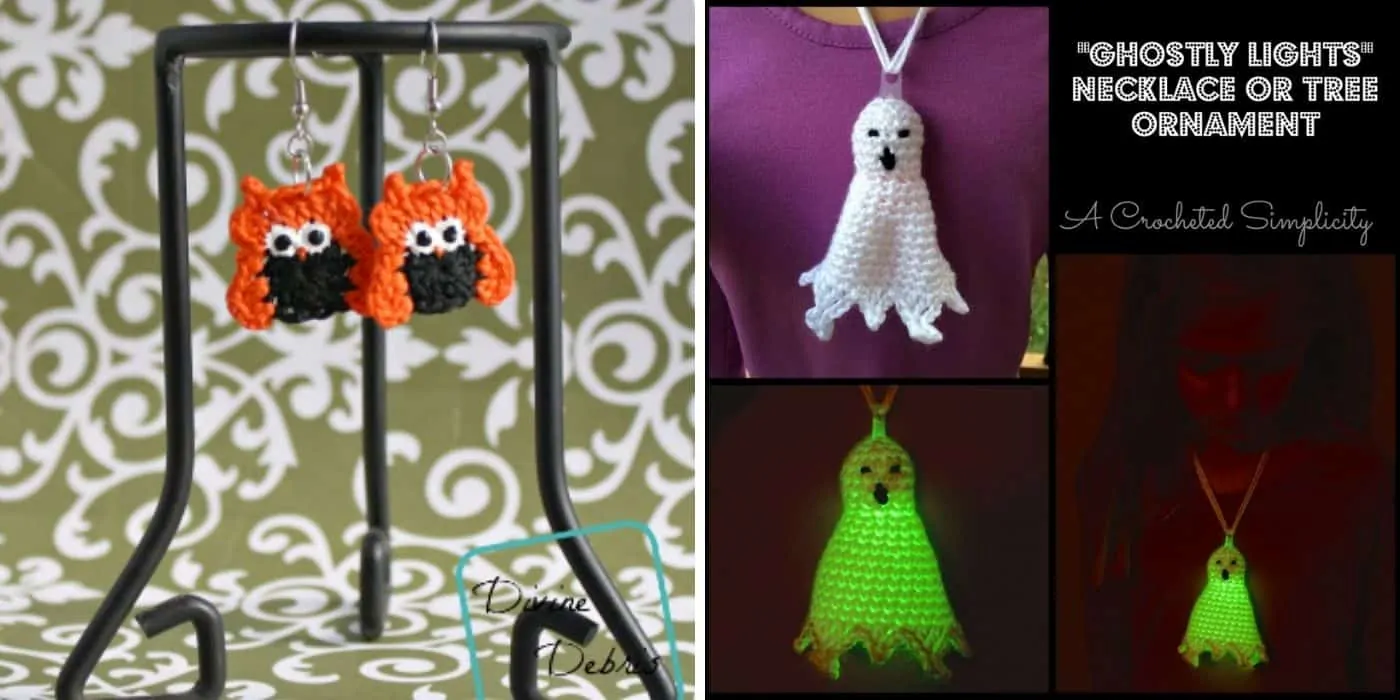 Owl Crochet Earrings by Divine Debris
Tiny little earrings that are just too cute! They'd be perfect for a mom that's just not that into dressing up for halloween. Don't miss the coaster pattern included with this set.
Ghostly Lights Necklace by A Crocheted Simplicity
How clever is this idea??? Little crochet ghosts plus a glow-stick makes a perfectly creepy Halloween crochet pattern!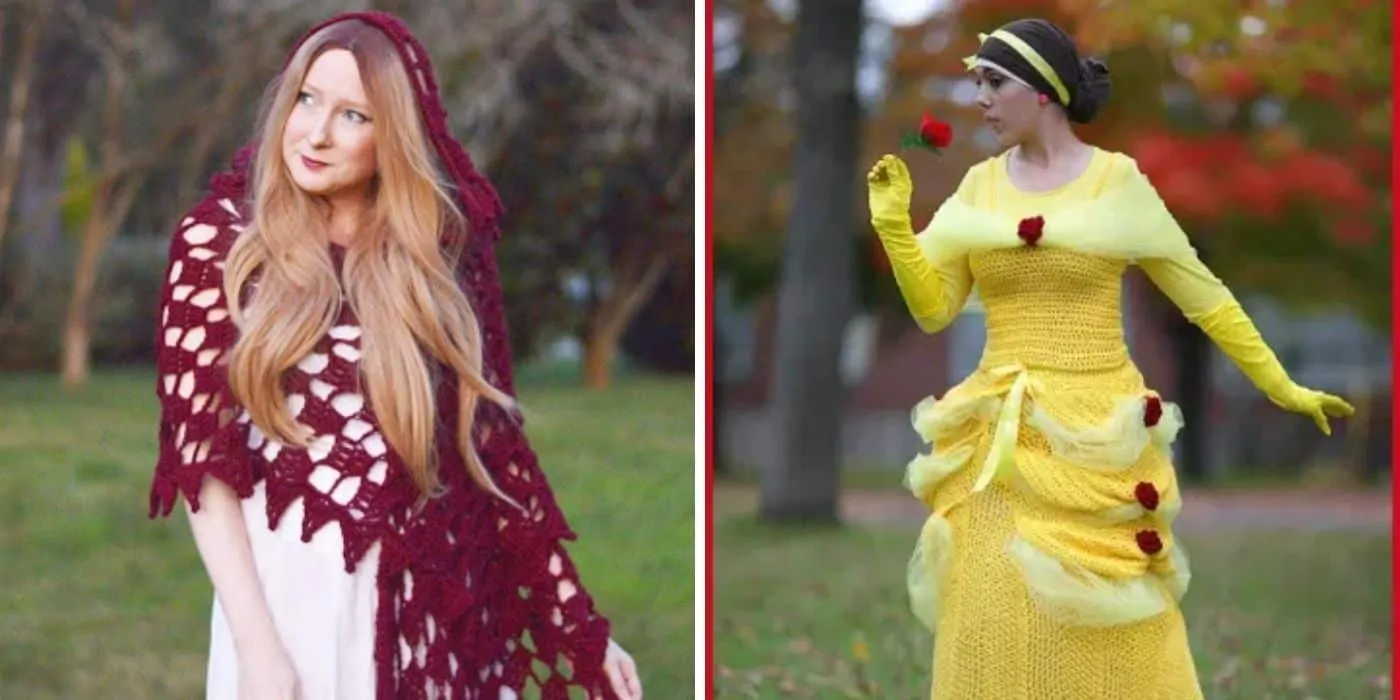 Red Riding Hood Costume by With Alex
Hooded Shawl perfect for an elegant Red Riding Hood costume.
Princess Costume by Nadia Fuad of Yarnutopia
This gorgeous costume will totally elicit many "YOU MADE THATs!" from anyone you run into. The entire costume is incredible.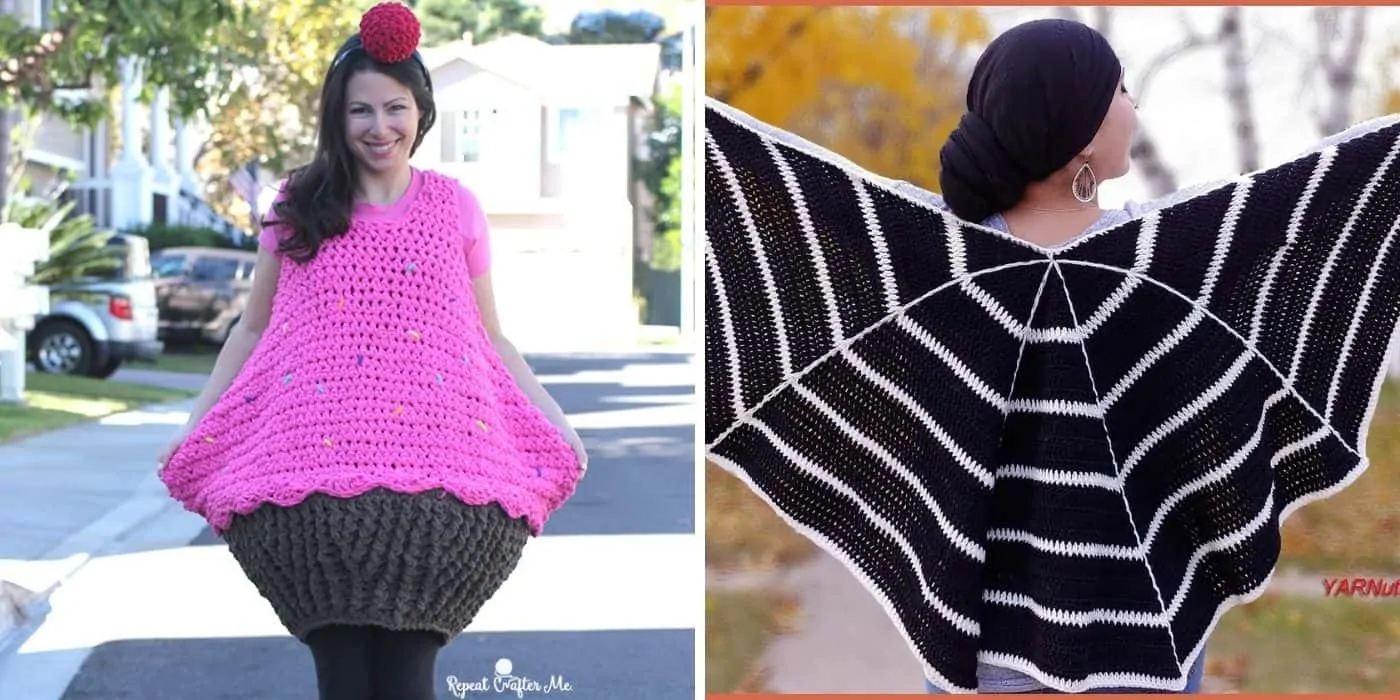 Crochet Cupcake Halloween Costume by Sarah at Repeat Crafter Me
Even adults need adorable Halloween costumes too, right?
Spider Web Wrap by Nadia Fuad of Yarnutopia
I love that this wrap makes a cute and easy crochet Halloween costume plus it's just pretty.
Halloween Decorations Crochet Patterns
I have a feeling that more people are going to be decorating for Halloween than normal this year. Since we are all staying home more, I've seen a trend of people getting their home spaces spiffed up. Here are some fun Halloween decor patterns.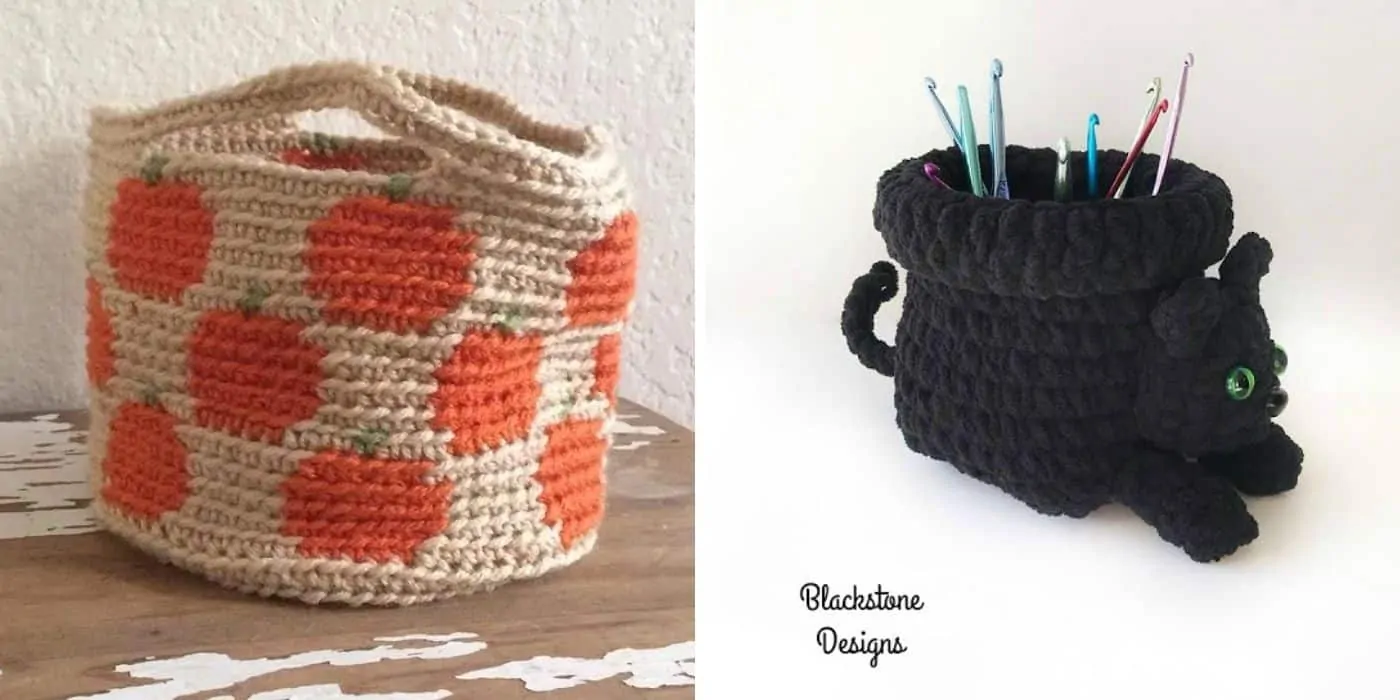 Pumpkin Basket by Desert Blossom Crafts
I absolutely love this basket because it is perfect fall decor and not just for Halloween! It would be great as a pot cover for your favorite plant or use it out on the porch for "distance" Trick or Treating. Is that going to be a thing this year?
Black Cat Basket By Blackstone Designs
How cute is this cat basket? Part of me wishes I still worked in an office so I could fill it with candy and put it on my desk! (You know, when people go back to office-life.)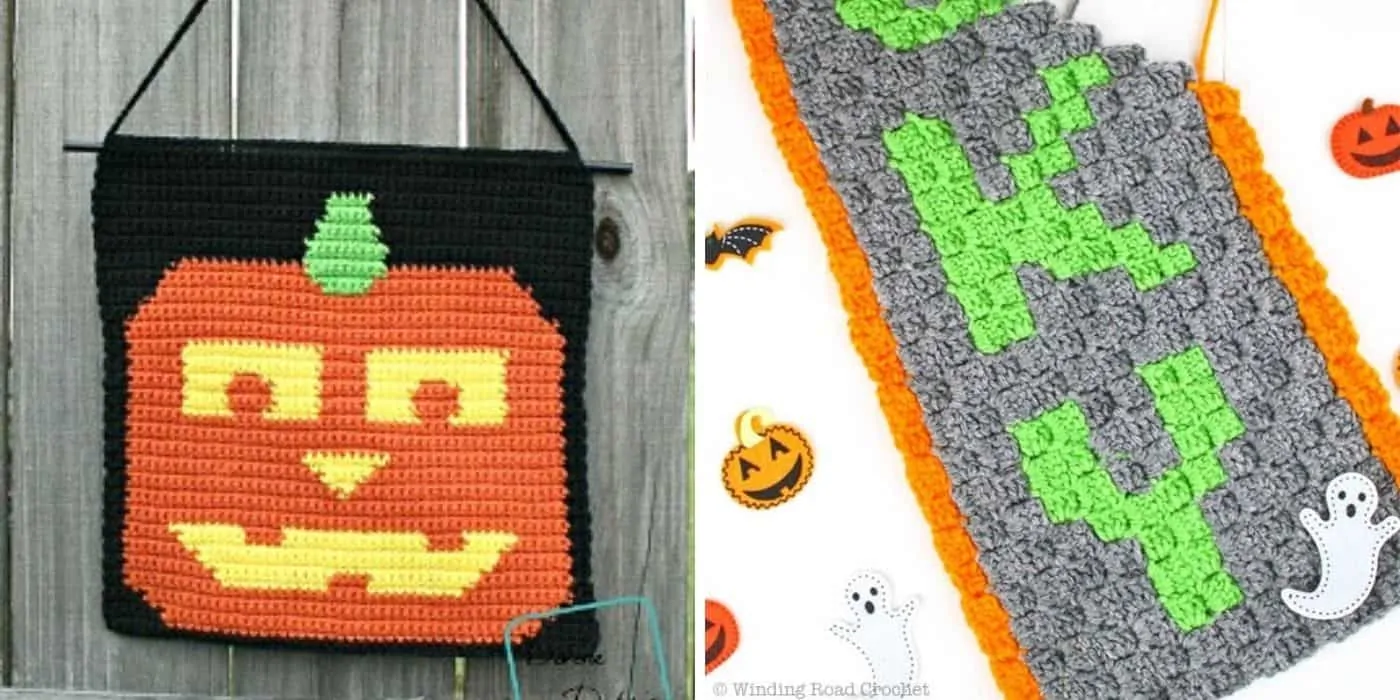 Jack-o'-lantern Wall Hanging by Divine Debris
This jack-o'-lantern wall hanging would be so cute hanging right by your front door! It is one pumpkin that our squirrels won't eat.
Halloween C2C Banner by Winding Road Crochet
This cute C2C banner with the word "spooky" on it would look great hanging in your entry way or next to your front door.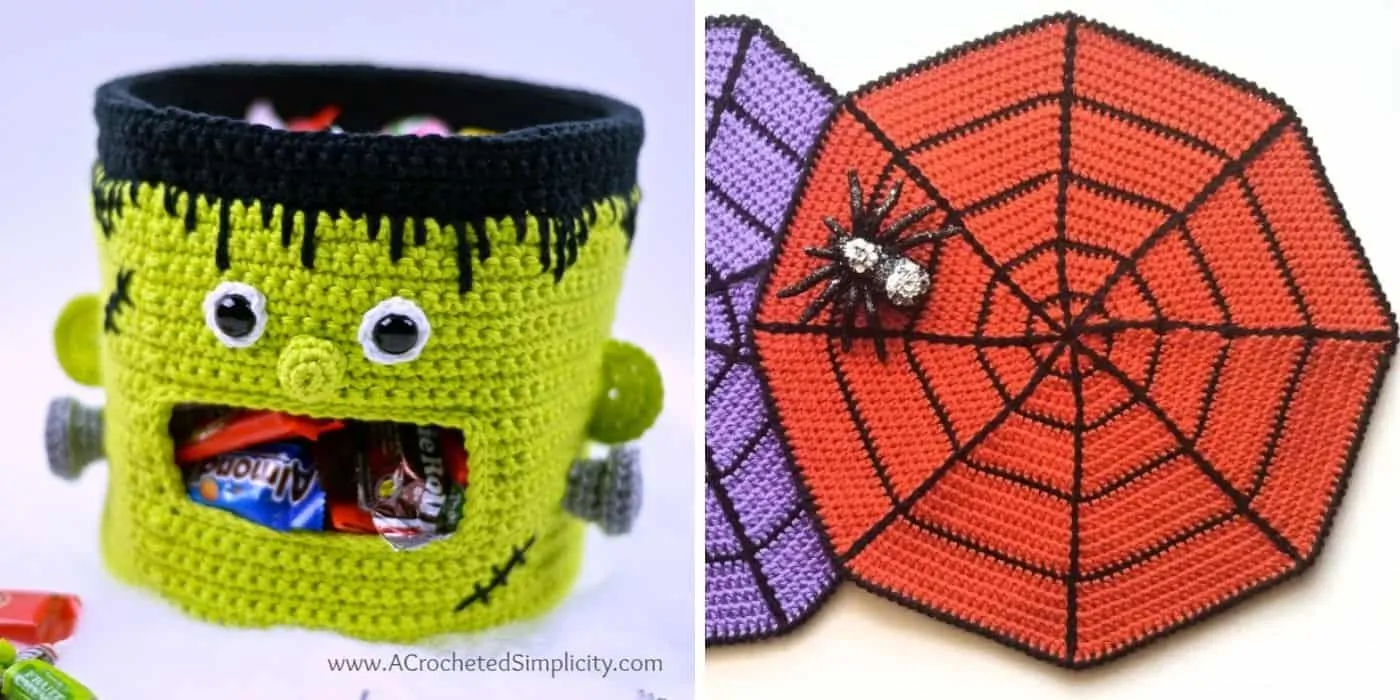 Frankenstein Candy Bowl by A Crocheted Simplicity
Another great candy bowl to put on the porch especially if distance Trick or Treating is a thing this year.
Spiderweb Tablemat by Handmade by Raine
My kids would love to have these under their plates all fall season! And these Halloween tablemats would look so cute as table decor.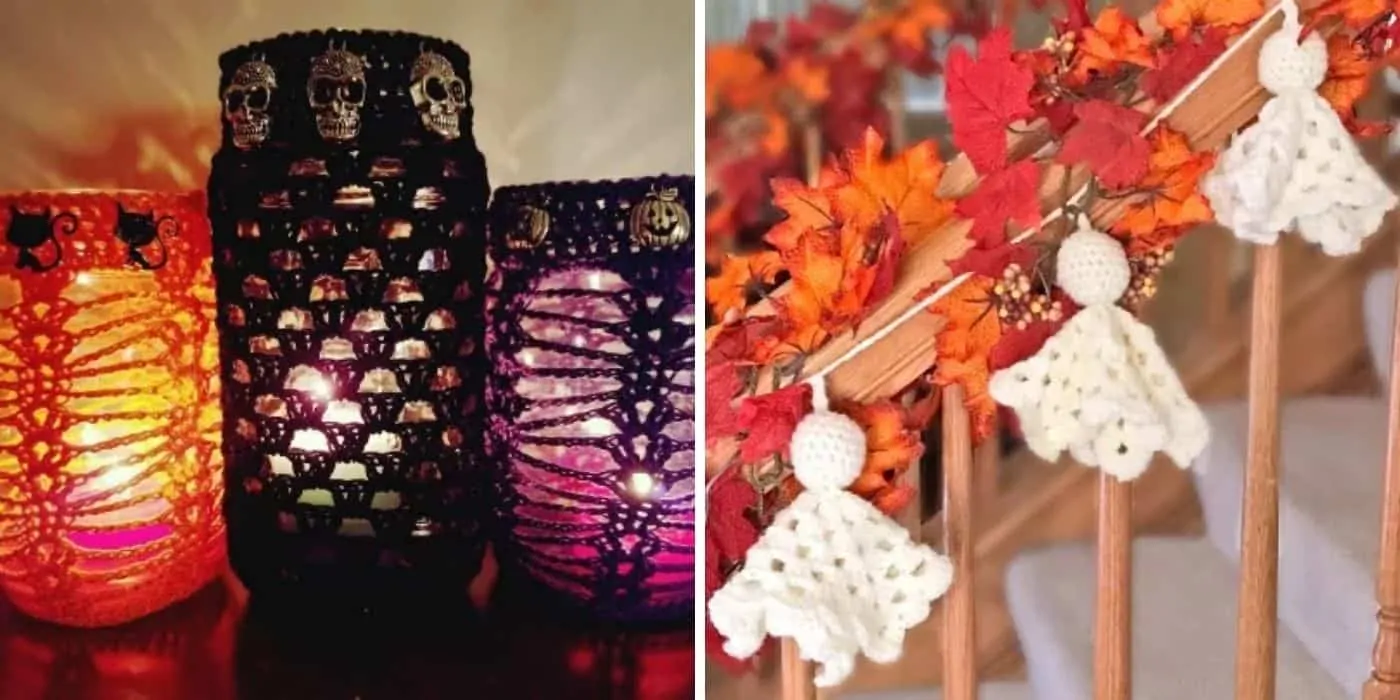 Spiderweb Mason Jar Covers by Handmade by Raine
I love the creepy factor that can be reached by adding these spooky mason jar covers and candles to your trusty old mason jars.
Ghostly Garland by Stitches and Scraps
These cute little ghosts give the perfect ethereal touch.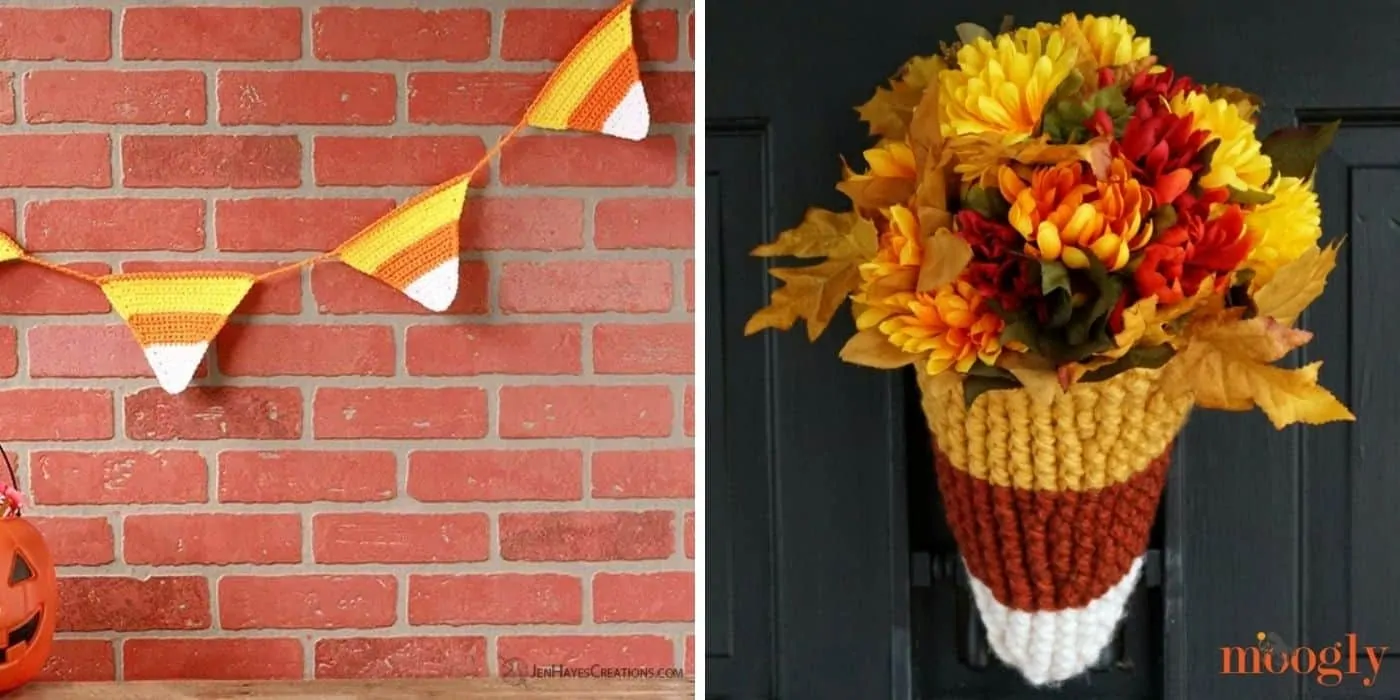 Crochet Candy Corn Bunting by Jen Hayes Creations
This cute bunting looks like it'll whip up in a jiffy and instantly add a touch of halloween decor to your house.
Candy Corn Door Basket by Moogly
I love this adorable door basket. It just screams all things fall and halloween!
Halloween Crochet Pillow and Blanket Patterns
It doesn't get simpler changing your decor than changing out your pillows and blankets. I love these themed patterns perfect for fall and Halloween.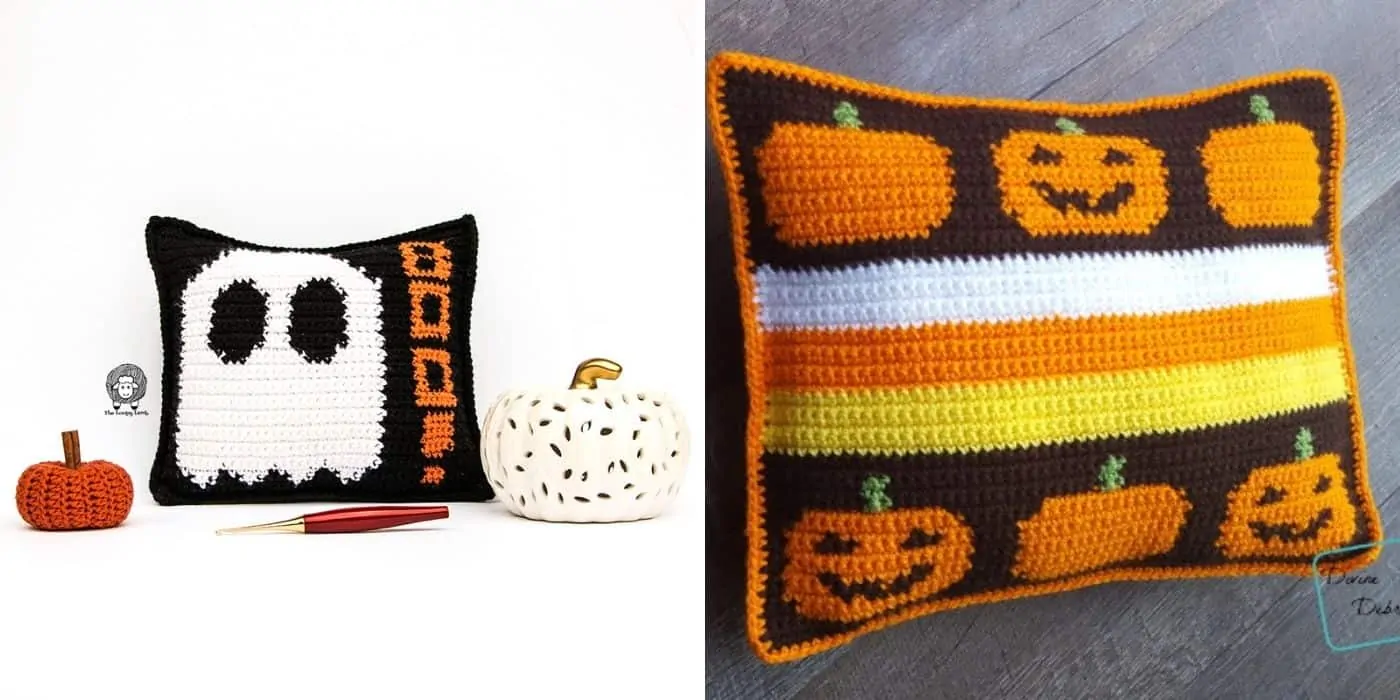 Mad About Boo Crochet Halloween Pillow By the Loopy Lamb
Such a cute little pillow to add a touch of Halloween to your decor.
Pillows like Pumpkins by Divine Debris
Candy Corns meet pumpkins is this cute Halloween themed pillow. Don't forget to check out how awesome the back looks.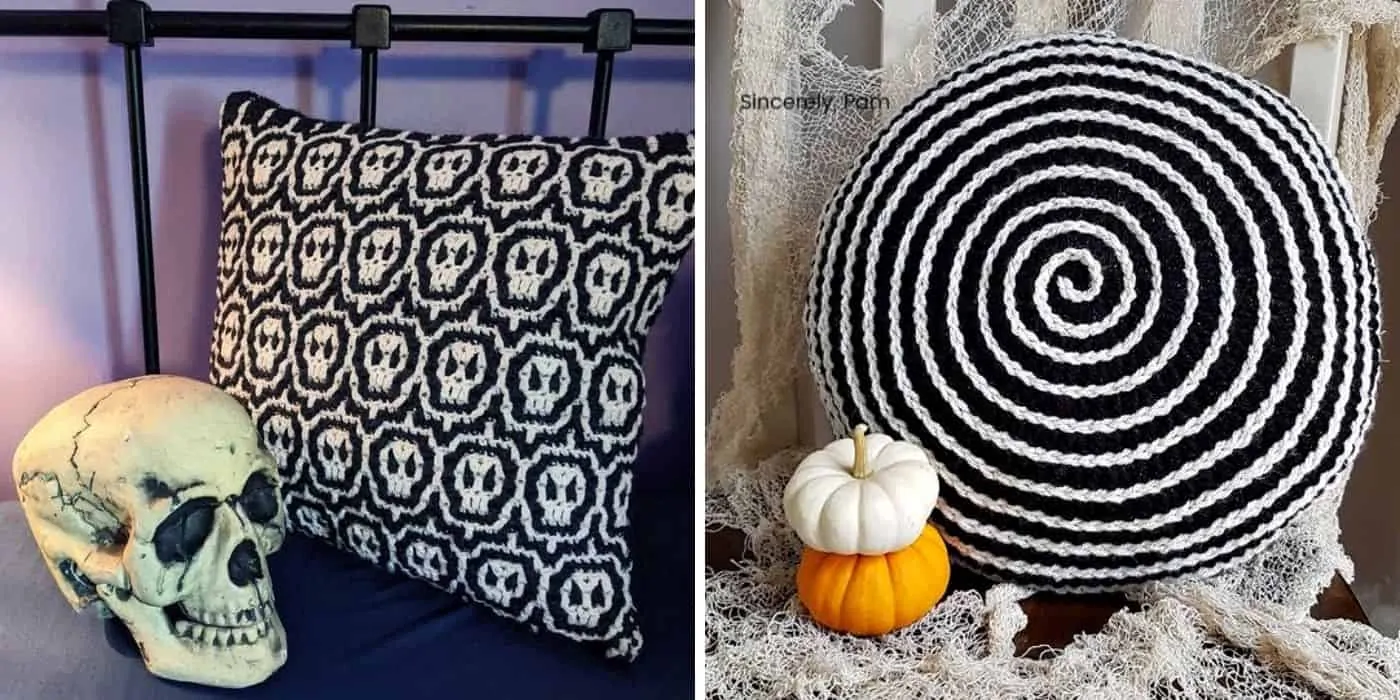 Gothic Skulls Pillow Pattern by Sixel
How cool is this mosaic pillow with skulls? I'm not of huge fan of skull-things but they totally have their place for Halloween decor. (This is a paid pattern.)
Hypnotic Pillow by Sincerely Pam
I am totally hypnotized by this cool pillow. I love that it works perfectly with Halloween decor or it can be customized to match any theme or season.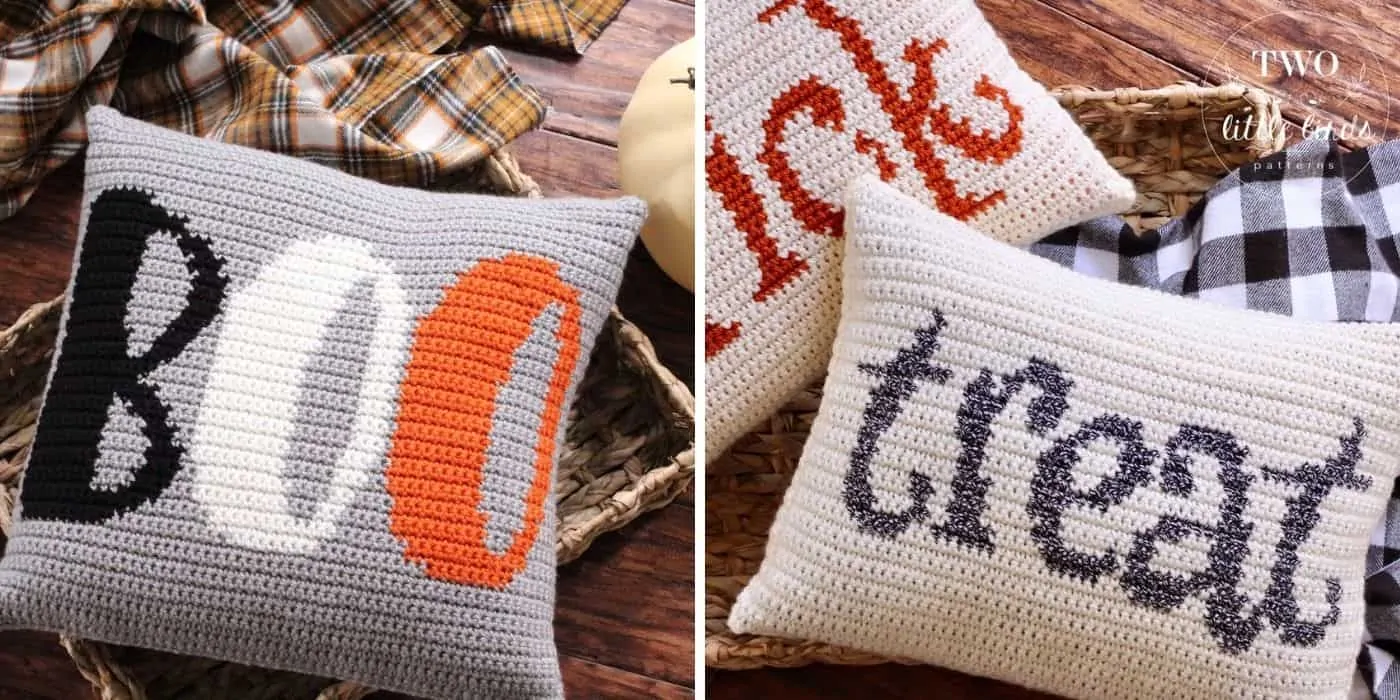 Boo Halloween Pillow by TLB Patterns
Trick or Treat Pillow Set by TBL Patterns
I'm probably not supposed to play favorites, but Emily of Two Little Birds (TBL Patterns) is one of my FAVORITE designers. Her pillow patterns are always amazing. You'll want to make sure you look through her shop when you go to purchase these patterns.
Halloween Crochet Blanket by Maria's Blue Crayon
Maria is the best and designing themed blankets, and this Halloween crochet blanket is so perfect. The little squares and little appliqués combine to form such a great throw.
Halloween C2C Blanket by Repeat Crafter Me
This is probably one of the cutest Halloween blanket patterns out there! (Of course I love it since there is a cat on it!)