Caroline Easy Crochet Coasters
Disclosure: This post may contain affiliate links. As an Amazon Associate, I earn from qualifying purchases. Please visit my Privacy Policy for disclosures and more information.
These quick and easy crochet coasters will add a touch of boho style to your space while protecting your furniture.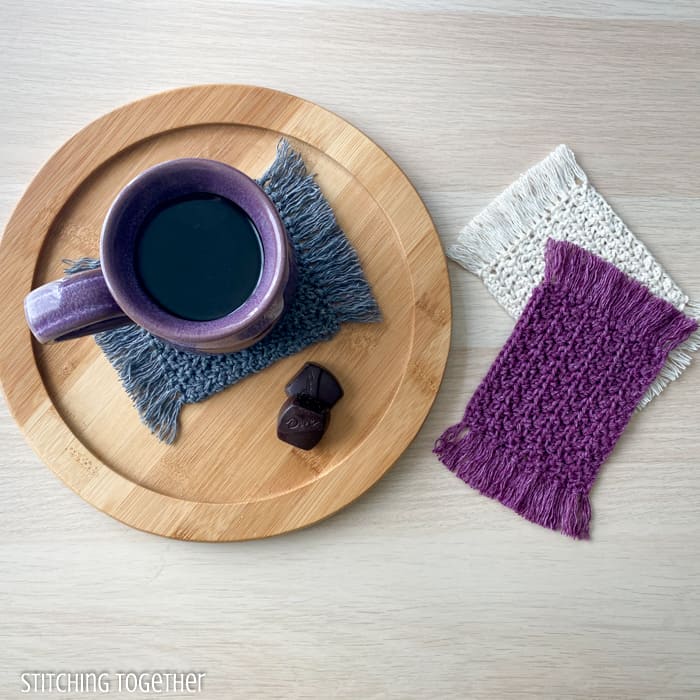 How to crochet coasters
Coasters are one of the easiest items to crochet. They work up quickly, they don't take much yarn, and even if the stitches are on the complex side, they are small enough that you won't get overwhelmed.
These easy crochet coasters are made by crocheting a simple square and then adding fringe to the side. Quick and Easy.
If you are a beginner crocheter who knows how to chain, half double crochet in the front loop and back loop, you should be able to tackle this pattern. For beginners who aren't there yet, don't miss the How to Crochet Coasters post where you will learn to crochet a basic square and a basic round coaster.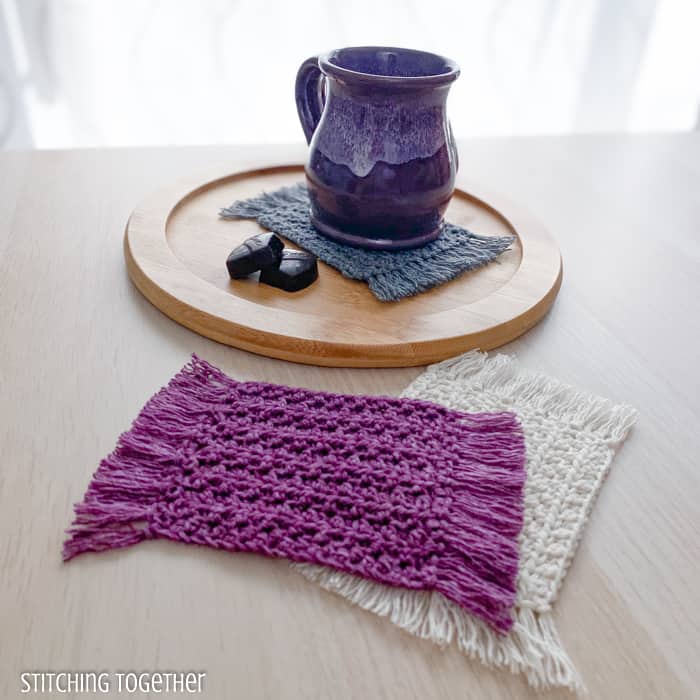 Yarn for the coasters
Would a silk, merino, cotton blend normally be the first yarn I reach for when making a coaster? Probably not. But I am sure glad I used it. The coasters look amazing with this yarn.
Lion Brand's Merino Silk Cotton Yarn is a soft and luxurious feeling, yet still durable enough to protect your furniture. Because it is a superfine weight yarn, the texture of the stitches still pops without adding bulk to the fabric. You can also see that the Merino Silk Cotton Yarn has a bit of a stonewashed look instead of being solidly colored.
It looks like Merino Silk Cotton has been discontinued by Lion Brand but I will keep the link in here so you can reference the yarn information.
Another option would be to use something like Scheepjes Stone Washed yarn. Other thinner cotton yarns will work well for this project but you may need to adjust your stitch count to get the same sized coaster.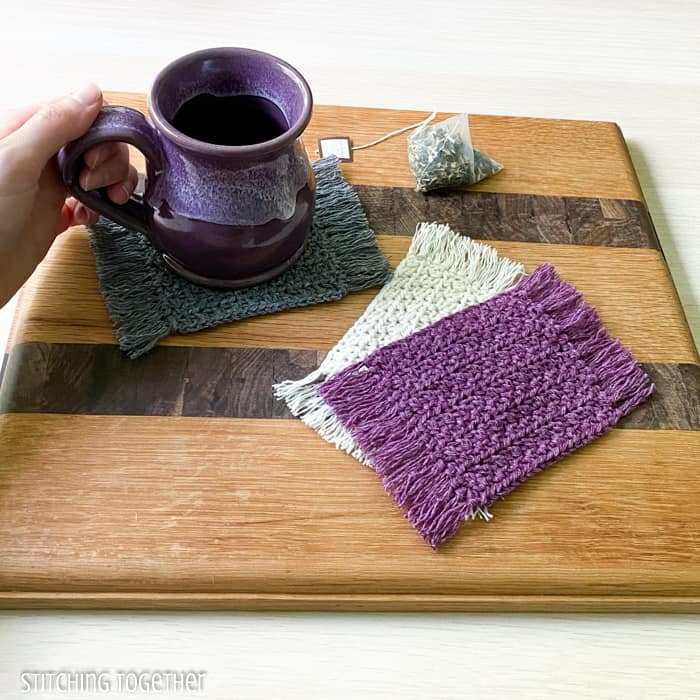 Stitches for the coasters
My favorite designs are ones that use simple stitches in different ways to get unique fabrics.
All the lovely texture is simply created by alternating half double crochets in the front loop and in the back loop. It's really simple, but a great way to create a unique look.
My favorite part of the whole project was adding the fringe. The coasters are cute without it, but the fringe really elevates the entire project.
Once you add fringe, you'll grab a little comb and start brushing out that fringe. Combing it out was ACTUALLY my favorite part of adding the fringe.
Save the Caroline Easy Crochet Coasters on Pinterest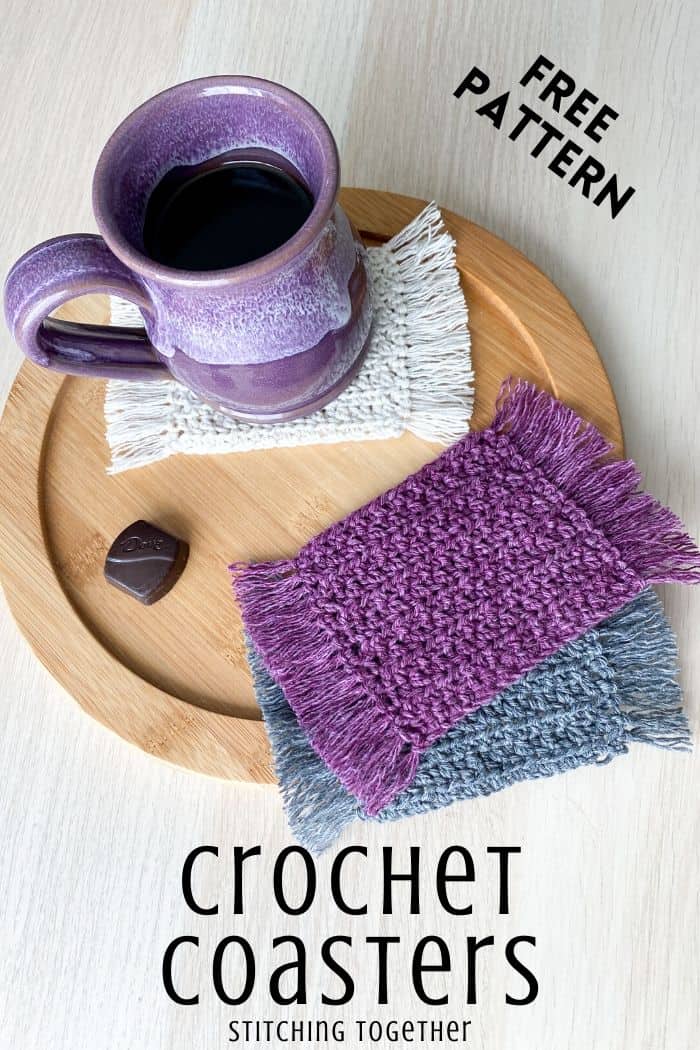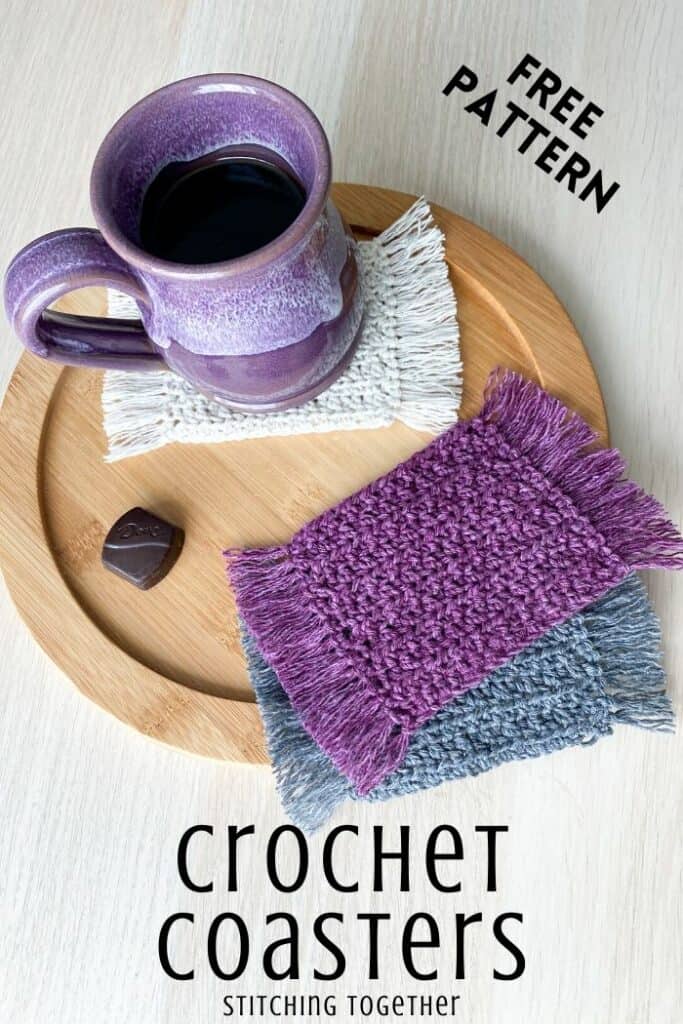 Easy Crochet Coaster Pattern
Skill Level: Easy
Materials:                            
US size E/4, 3.5 mm crochet hook
0.17 oz of Merino Silk Cotton by Lion Brand (1 Superfine yarn) per coaster
Sample used: Boysenberry, Charcoal, and Ecru
Large Eye Yarn Needle
Abbreviations:
ch(s): chain(s)
hdc(s): half double crochet(s)
FLO: front loop only
BLO: back loop only
Gauge: gauge is not critical
Finished Size: approx. 3.5" by 3.5" without fringe
Notes:
The lovely texture on these coasters is created by alternating half double crochets in the front loop and in the back loop. Each row starts with a half double crochet in the front loop only then alternates BLO and FLO.
When working Row 1, alternate working into the top loop and bottom loop of the chain. This allows the stitches to sit closer together like the rest of the project. You can also try going down a hook size for the chain and row 1 if you don't want to alternate the stitches as you work into the chain.
Easy Coaster Crochet Pattern Instructions
Ch 20
Row 1: hdc in the 2nd ch from the hook and in each ch across (see notes), turn (19)
Row 2: ch 1, *FLO hdc, BLO hdc, repeat from * across
Rows 3-12: repeat Row 2. Fasten off Cut 36 pieces of yarn approximately 3.5" and add fringe to both sides of the coaster. Comb out the fringe to get a more frayed look
Once you've made the Coasters I'd love it if you'd share pictures of your finished projects. You can do that in the following ways: