Disclosure: This post may contain affiliate links. Please visit my About page for disclosures, Privacy Policy and more information.
These quick and easy crochet coasters will add a touch of boho style to your space while protecting your furniture.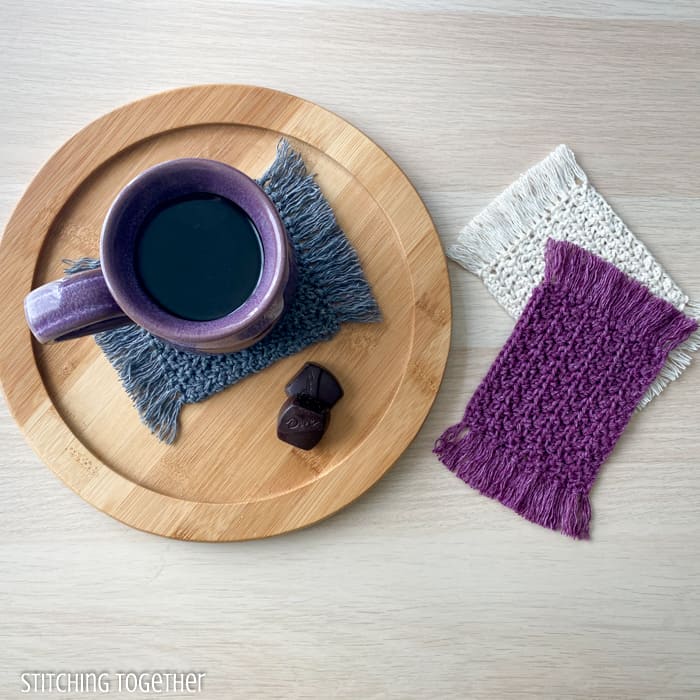 How to crochet coasters
Coasters are one of the easiest items to crochet. They work up quickly, they don't take much yarn, and even if the stitches are on the complex side, they are small enough that you won't get overwhelmed.
These easy crochet coasters are made by crocheting a simple square and then adding fringe to the side. Quick and Easy.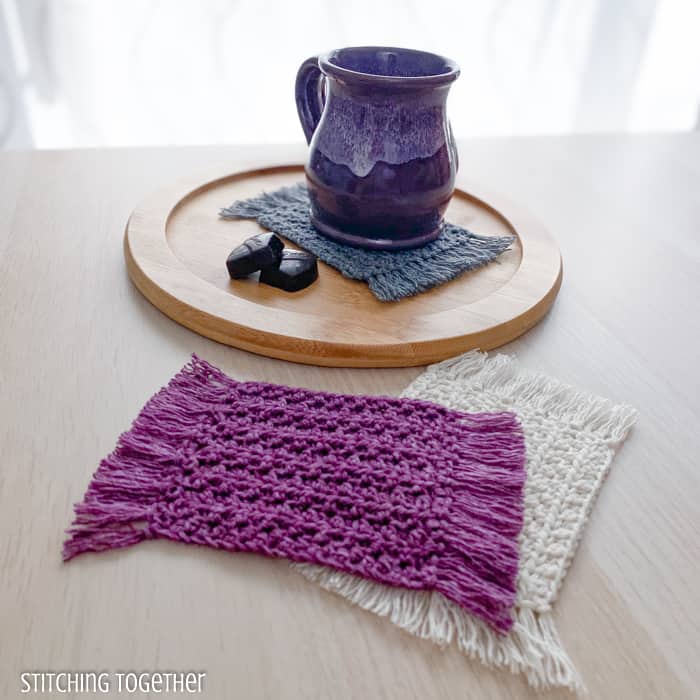 Yarn for the coasters
Would a silk, merino, cotton blend normally be the first yarn I reach for when making a coaster? Probably not. But I am sure glad I used it. The coasters look amazing with this yarn.
Lion Brand's Merino Silk Cotton Yarn is soft and luxurious feeling, yet still durable enough to protect your furniture. Because it is a superfine weight yarn, the texture of the stitches still pops without add bulk to the fabric.
You can also see that the Merino Silk Cotton Yarn has a bit of a stonewashed look instead of being solidly colored.
Other thinner cottons will work well for this projects but you may need to adjust your stitch count to get the same sized coaster.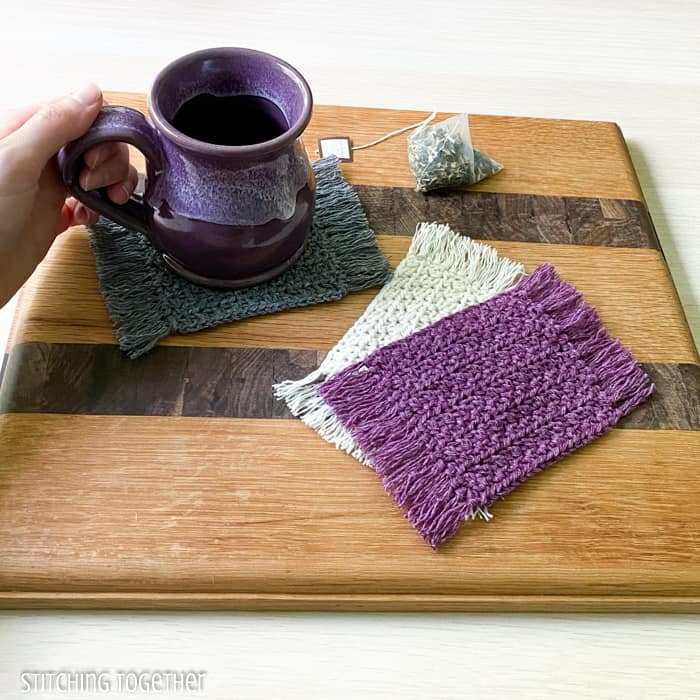 Stitches for the coasters
My favorite designs are ones that use simple stitches in different ways to get unique fabrics.
All the lovely texture is simply created by alternating half double crochets in the front loop and in the back loop. It's really simple, but a great way to create a unique look.
My favorite part of the whole project was adding the fringe. The coasters are cute without it, but the fringe really elevates the entire project.
Once you add fringe, you'll grab a little comb and start brushing out that fringe. Combing it out was ACTUALLY my favorite part of adding the fringe.
Save the Caroline Easy Crochet Coasters on Pinterest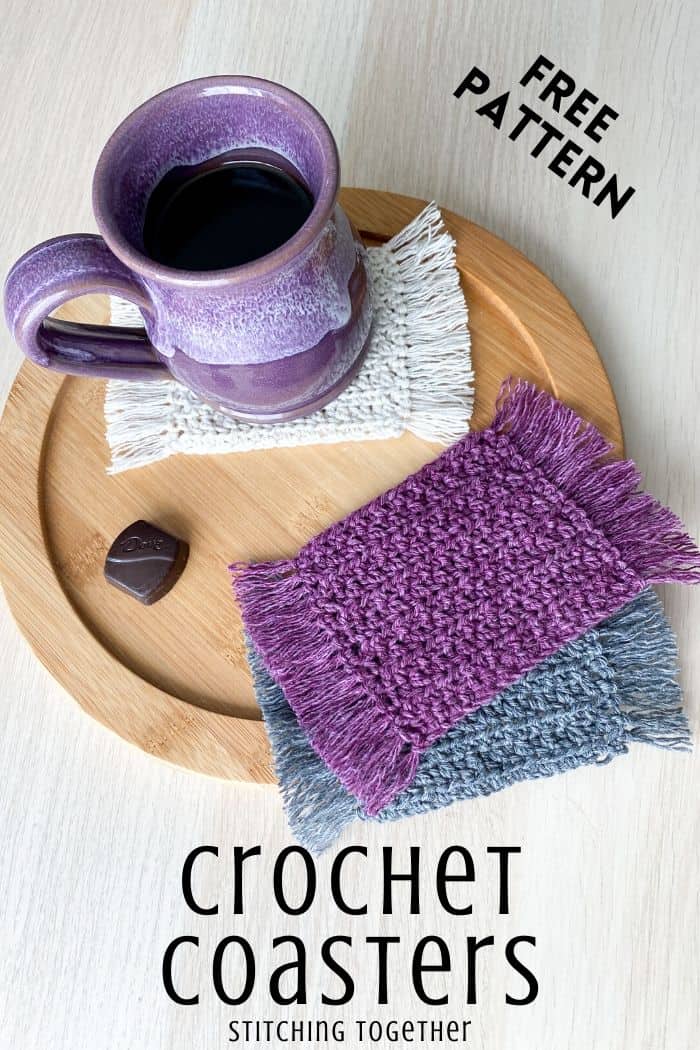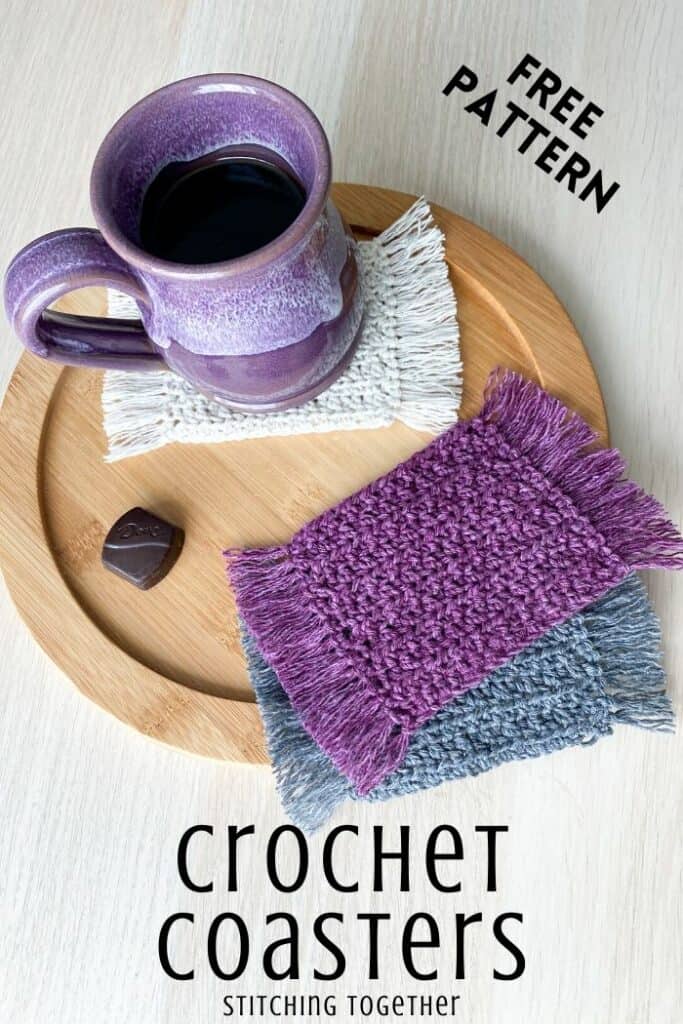 But where's the pattern?
I know you are used to getting your free patterns right here, but not this one. Have no fear, the pattern is still free but it just isn't here.
The fine folks at All Free Crochet are celebrating the website's 10th birthday and these coasters were designed to help them celebrate.
How fun is that? I've been using All Free Crochet for what feels like a lot more than 10 years so I am very excited to be able to participate in their celebration. Who doesn't want to celebrate more free crochet patterns?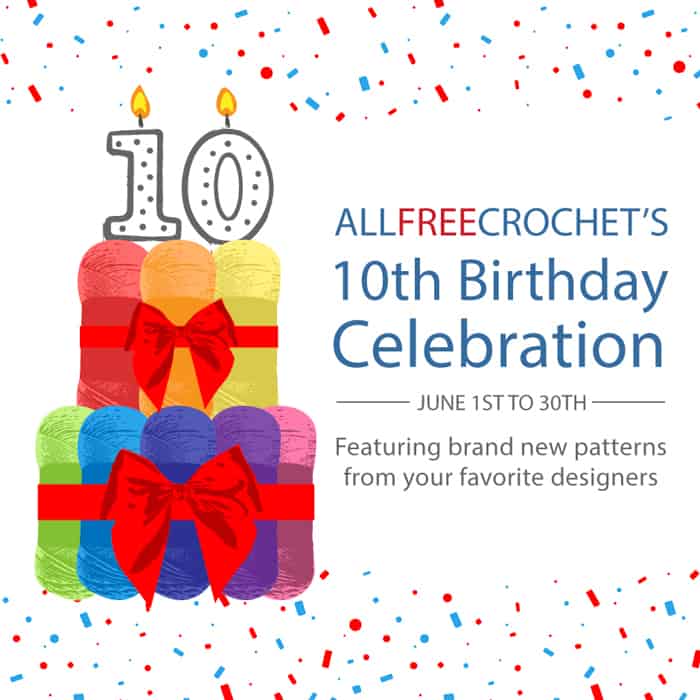 You can head over to their site to get the entire free pattern and join in on the fun celebration.
After you've checked out The Caroline Crochet Coasters, head to the Birthday Celebration page to get further details about the celebration. (Don't miss the giveaways take place at the end of June.)
Once you've made the Coasters I'd love it if you'd share pictures of your finished projects. You can do that in the following ways: