Disclosure: This post may contain affiliate links. As an Amazon Associate, I earn from qualifying purchases. Please visit my Privacy Policy for disclosures and more information.
You're officially hooked and now it's time to find the best crochet hook case for your collection.
Yes, the pun is completely intended and yes, I know it's cheesy. Crocheting has become a norm for you and you are probably noticing that not only is your yarn stash growing, but your crochet hook collection is also growing too.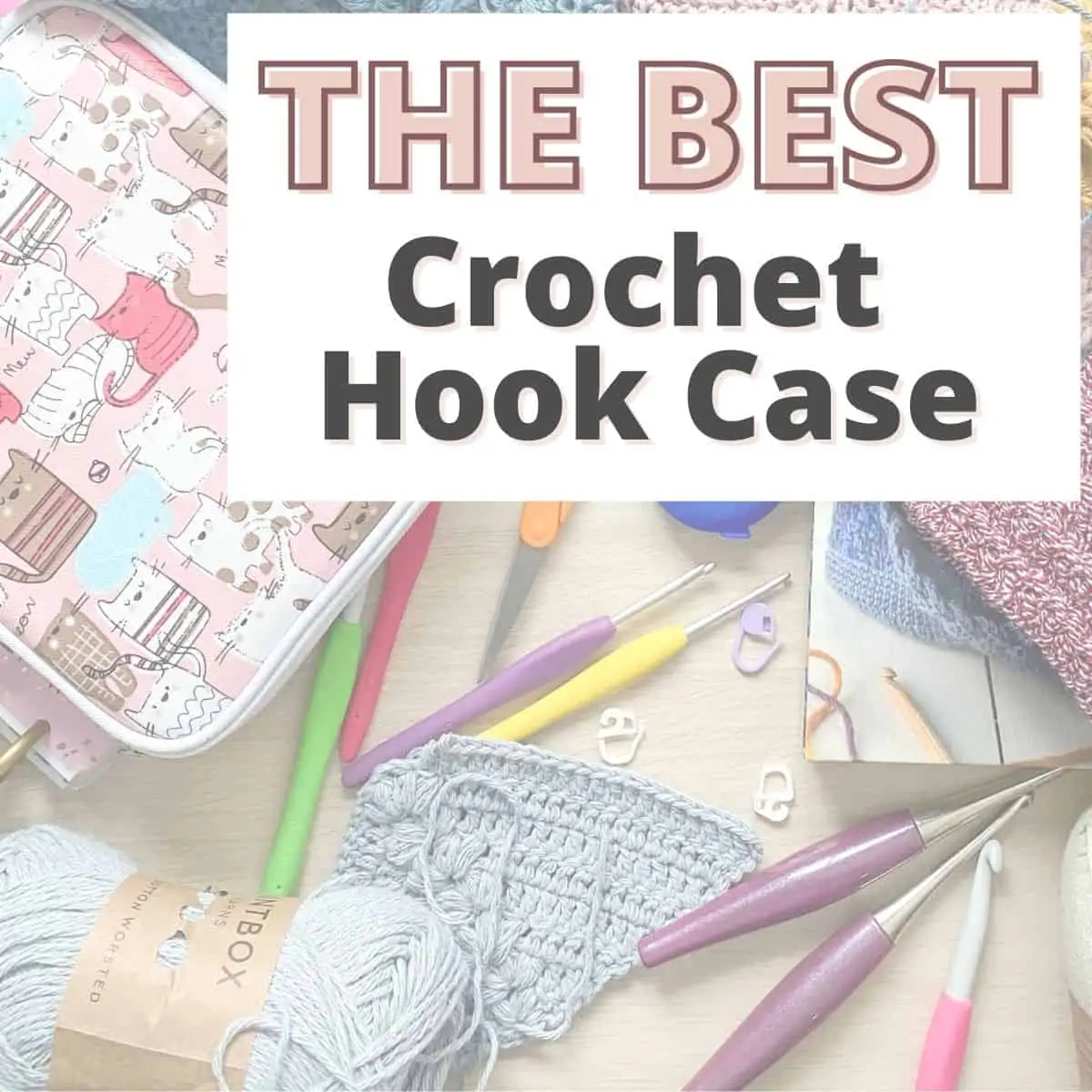 You need a solution for storing all of those hooks so they are easy to find and easy to take with you on the go.
If you don't already have a crochet storage bag that has a built-in home for crochet hooks or you want something separate from your storage bag, then we have some great ideas for you!
As you check out the recommendations, keep in mind that we are looking at empty crochet hook storage cases and not a crochet hook set that may come with a case.
Quick Hook Definitions
Before diving in, I thought it would be helpful to cover some basic terms you might see when reading through this post or researching crochet hook storage cases.
Ergonomic crochet hook: Hooks made for comfort usually having a wider body than regular hooks. Can be rubber handled like clover amour hooks or come in many different styles/shapes.
Aluminum hook: Your typical standard size Boye or Susan bates crochet hooks.
Stainless Steel hook: Small metal hook usually used for doily work.
Specialty: Generally don't fit match the shape of a normal crochet hook (may or may not also be ergonomic).
Crochet accessories: Can include things like scissors, tape measures, stitch markers, tapestry needles, and yarn cutters.
You may already have a wide variety of hook shapes and sizes as well as many accessories or your collection may just be started. Either way, finding a crochet case that can hold most of your items is possible but takes a bit of effort.
What to look for in a hook case
While there are so many hook options out there now with hooks coming in all different shapes and sizes, it can be hard to find an all-in-one solution if you have many differently shaped hooks.
Before purchasing a hook case, make sure to read the dimensions carefully making note that you'll lose at least half an inch from the outer dimensions to the actual inner storage space for many of the cases.
One common concern expressed in many hook case reviews is that rubber handled ergonomic hooks don't work with elastic.
While you can't expect them to slide in as easily as a metal hook, rubber handled hooks do work with elastic straps so don't let that deter you. They are also less likely to slide out of the elastic which is great if you forget to zip up your case and then pick it up or tip it. (Not speaking from experience or anything.)
You'll want to take inventory of the hooks and accessories you already have and make sure that the case you purchase can fit what you need it to with some room to grow. (MORE HOOKS!)
Best Crochet Hook Case All Around
It was REALLY hard to choose a top case and I was torn between the top 2 choices.
The runner up has the most and best reviews overall but I went with the Teamoy as my top choice because it's the case I personally use, and after researching case after case, the Teamoy case is the one I would choose again.
Both of these cases can store your high-quality ergonomic hook set or a quality set of metal hooks.
Teamoy Organizer Case
Why we like it:
While it was designed mostly for interchangeable knitting needles, this case can hold hooks, hooks, and more hooks…so many hooks from your smallest stainless steel to your large ergonomic hooks.
Pros:
Lightweight, compact size
2 separate zippered sides
14 elastic bands for stainless steel crochet hooks or tapestry needles, 21 bands for regular-sized hooks, and 7 bands for fatter hooks
2 zippered mesh compartments for smaller accessories stitch markers, scissors, and a yarn needle
Coated canvas outer shell that's water-resistant and easy to clean
Bottom fabric slots that help keep hooks from falling out when the case is opened
Works for interchangeable Tunisian crochet hooks as well
Cons:
In the 1st compartment, the hooks are stored horizontally and will not fit hooks longer than 6″.
Not the best solution for an all metal set of crochet hooks.
Final thoughts:
If you need storage for a lot of hooks and most of them are regular size and less than 6″ long, this is the case for you.
Runner Up:
Damero Crochet Hook Case
Why it isn't #1:
It has fewer spots for hooks.
What it has the other doesn't:
2 size options and a large zippered mesh pocket.
Best Hook Case for Specialty Hooks
While I think the cases recommended above will work well for most crochet hook collections, I know there are some of you with specialty hook collections and I didn't want to leave you out.
Perhaps you have an all metal set and just want a small case to keep them in or you have a gorgeous handmade set that just won't fit in a conventional case.
Best Stainless Steel Crochet Hook Case
Boye Crochet Hook Organizer Case
Why we like it:
It is specifically designed for stainless steel crochet hooks with a sleek and slim profile and plenty of space for your hooks.
Pros:
Lightweight, compact size
Zips completely closed
Space for 8 Aluminum hooks and 16 stainless steel hooks
Vinyl exterior with velour lining
Cons:
Reviews mention that the bands to hold the hooks are plastic and not elastic and can tear if not careful
No extra storage compartments
Final thoughts:
This is the case my mom used for her stainless steel and aluminum set. It works well for a completely metal crochet hook set.
Best Bulky Crochet Hook Case
Qianshan Large Pencil Case
Why we like it:
It fits hooks that are both long and wide! While it is designed for markers, pens, or pencils, it can work well for hooks.
Pros:
Zips completely closed
10.6 x 8.5 x 3.5 inches
64 elastic slots have can fit standard and larger hooks
Can remove thread between elastic spaces to make even larger spaces for extra big hooks
Cons:
Likely larger than you will actually need
No extra storage compartments
Final thoughts:
If you have a large hook collection or just a collection of large hooks, this is a great option for you with plenty of storage to fit all sorts of hooks.
I hope this post help you find a crochet hook case or at the very least give you an idea of what to look for in a case.
Thankfully, as crochet has become increasingly popular across many generations, more products are being made just for crocheters giving us more options!