Disclosure: This post may contain affiliate links. Please visit my About page for disclosures, Privacy Policy and more information.
Need a scarf or cowl that's less on the bulky side and more on the elegant side while still functioning to keep you warm? The Uppercross Crochet Infinity Cowl is just the pattern you need.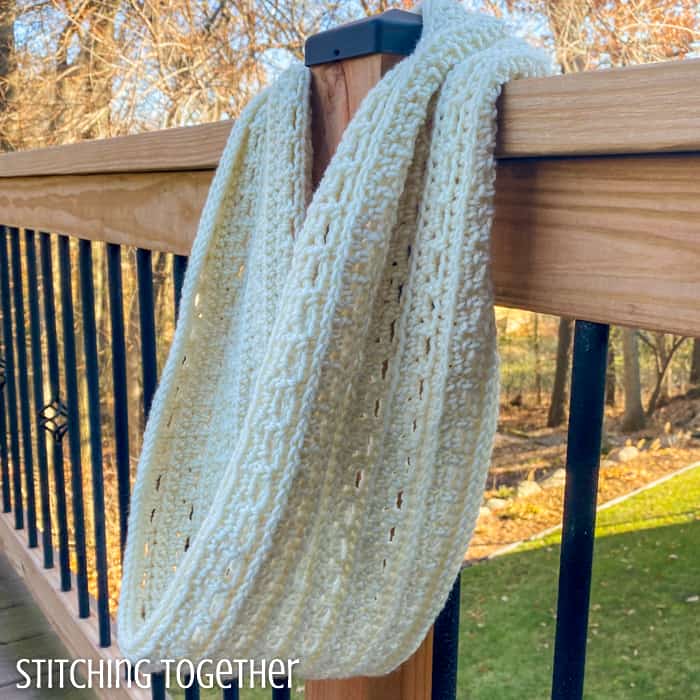 Keep scrolling for the free crochet infinity cowl pattern or buy an inexpensive PDF version right in my shop.
How to make the Uppercross Crochet Infinity Cowl
Before we get into the pattern details, let's talk about why I named this an infinity cowl instead of an infinity scarf.
In my mind, cowls are small enough that they cannot be wrapped while scarves can be wrapped one or more times.
Related: Coco Lightweight Crochet Cowl
The Uppercross Cowl was designed to be wrapped once but sit right on the neck area with only a little drape. The fit of the finished project is better described as a cowl, so that's what I called it!
The cowl is worked in the round. You will join each round as you go. If you'd like to have a longer version that has more drape, just keep the starting chain a multiple of 3.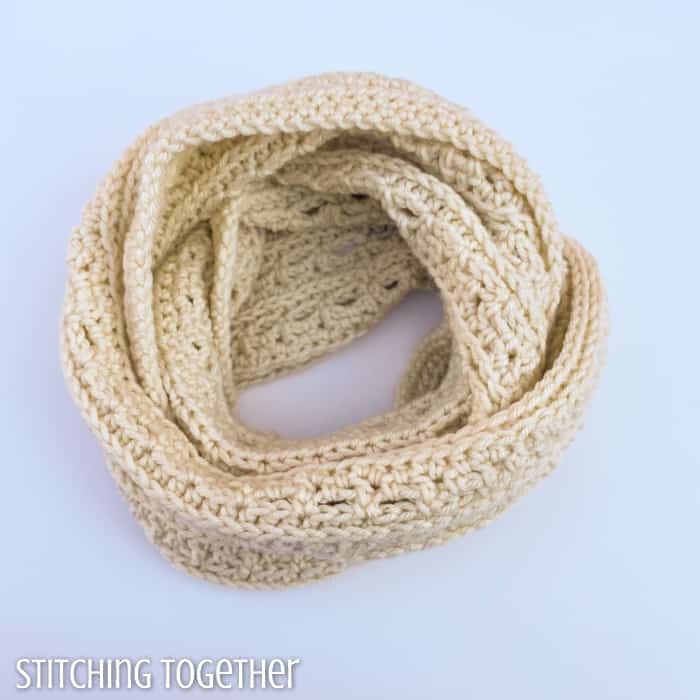 The yarn
Premier Anti-Pilling Everyday worsted yarn is one of my favorite acrylics. This yarn has gone through a couple of name changes over the years so you may know it as Deborah Norville yarn or just Premier Everyday.
Whatever it's called, it is a great go-to acrylic that offers a wide range of solid colors as well as heathered and striped options.
Premier Anti-Pilling Everyday was sold in Joann stores up until recently (looks like they've started stocking Lion Brand's anti-pilling line instead), but it is still available online in many places.
Join the Premier Yarns reward program here – you get a coupon and I get reward points. Win-win.
Related: Peek Puff Stitch Cowl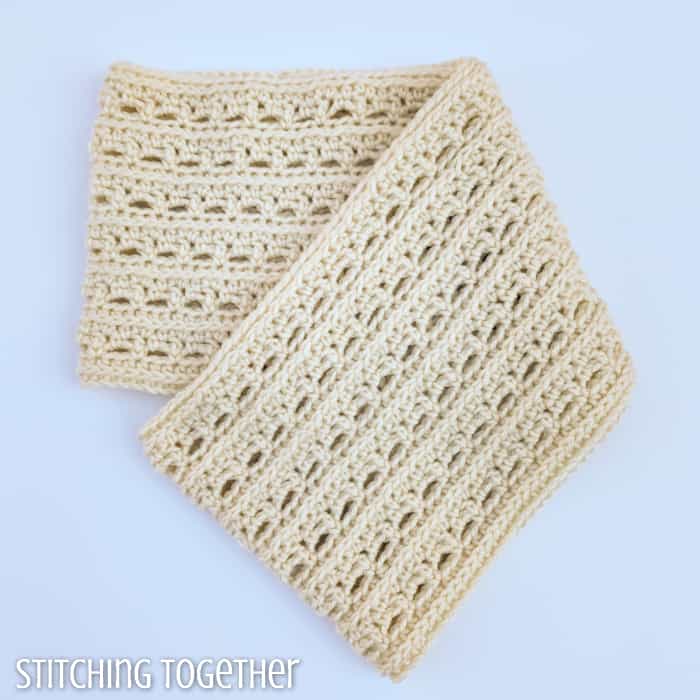 The stitches
If you've made the Silky Striped Infinity Scarf already, you might think this stitch combo looks familiar. You'd be right! I really loved working with this combo of stitches and wanted to see how they looked worked in the round.
While the pattern may look complicated, all the stitches used are basic stitches and it is only a 4 row repeat.
The first and second row are half double crochets but the second row is worked in the third loop. In the next row you'll single crochet, chain 3, skip two and single crochet again forming little loops.
The final row of the repeat is made up of a double crochet, chain 1, single crochet, chain 1 repeat which finishes up the lacy looking part of the pattern.
Once you are done with all of the rows, you just weave in those ends since you worked the cowl in the round already.
Save the free Crochet Infinity Cowl pattern on Pinterest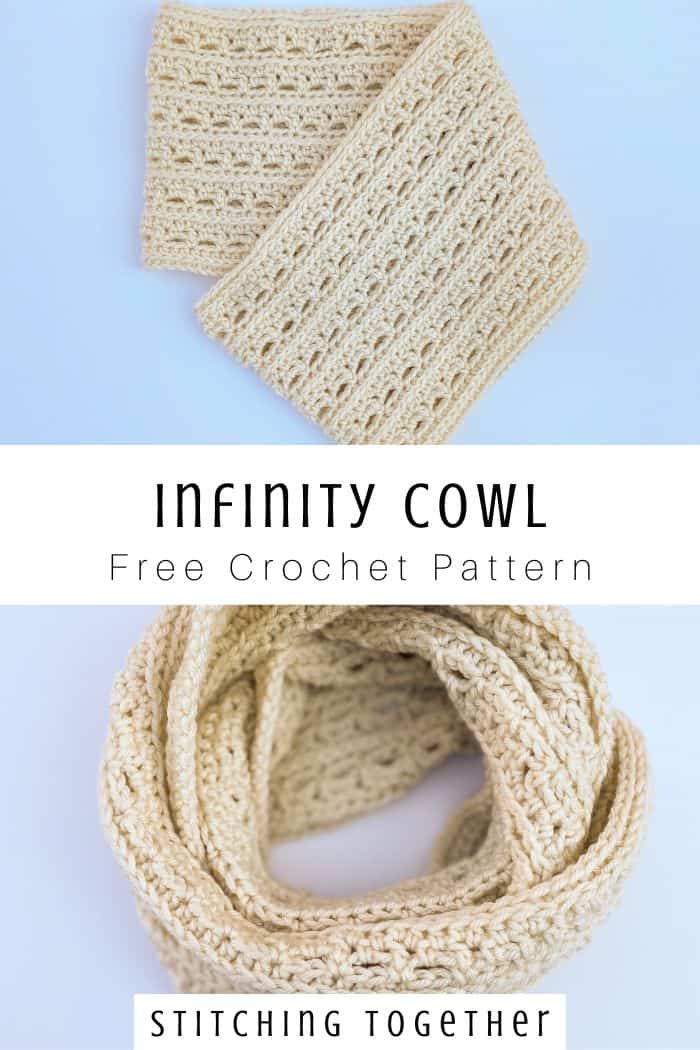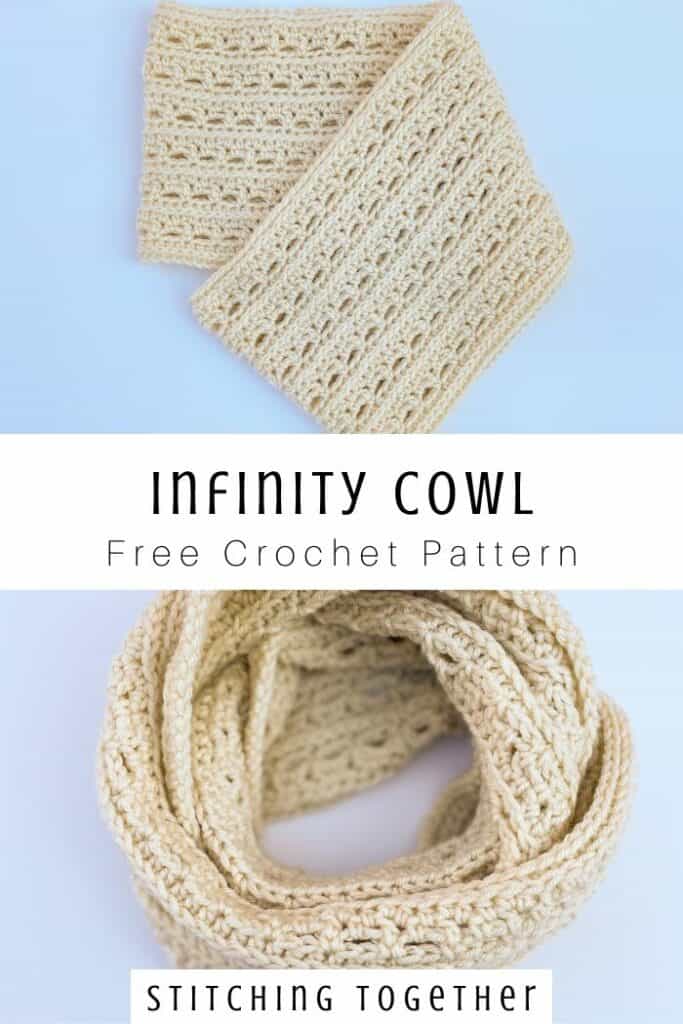 The Uppercross Crochet Infinity Cowl Pattern
Purchase an ad-free, printable PDF of the crochet Uppercross Crochet Infinity Cowl Pattern.
Skill Level:
Easy
Materials:
US size J/10, 6.0 mm crochet hook (Grab my favorite hooks right on Amazon)
Premier Anti-Pilling Everyday Worsted (#4 Medium Weight)
Sample used 7 oz in Cream
Large Eye Yarn Needle (I absolutely love these yarn needles)
Abbreviations:
ch(s): chain(s)
hdc(s): half double crochet(s)
sk: skip
dc(s): double crochet(s)
sl st: slip stitch
sp(s): space(s)
Gauge:
4" x 4" taken in stitch pattern (4 row repeat) = 12 rows by 13 hdcs
Finished Size:
47" around by 8.5" wide
Notes:
Stitch counts are provided at the end of the hdc rows. If your stitch count is off on those rows, your pattern on the next rows will not line up.
The ch 1 to start each round does not count as a stitch.
The ch 3 at the start of round 4 counts as the first dc of the round.
On round 4 when you double crochet into the single crochet of the row below, work between the posts of the single crochet like a waistcoat stitch.
Upper Crochet Infinity Cowl Pattern Instructions:
Ch 150 (multiple of 3), join with a sl st to form a circle being careful not to twist the chain
Round 1: ch 1, hdc in each st, join with a sl st to the first st (150)
Round 2: ch 1, hdc 3rd loop only in each st, join with a sl st to the first st (150)
Round 3: ch 1, *sc, ch 3, sk 2, repeat from * around, join the last ch 3 with a sl st to the first st
Round 4: ch 3 (counts as first dc of the round), *sc in ch-3 sp, ch 1, dc in sc, ch 1, repeat from *around, join the last ch 1 with a sl st around the ch 3.
Round 5: ch 1, 2 hdc in ch-3 sp, *sk sc, hdc in ch-1 sp, hdc in dc, hdc in ch-1 sp, repeat from * to the end of the row putting the final hdc in the ch-1 sp after skipping the last sc. (150)
Repeat rows 2-5, ending on a row 2 until you have a total of 26 rows. Fasten off and weave in ends.
Do you like printing your patterns? This pattern PDF can be purchased in the following places: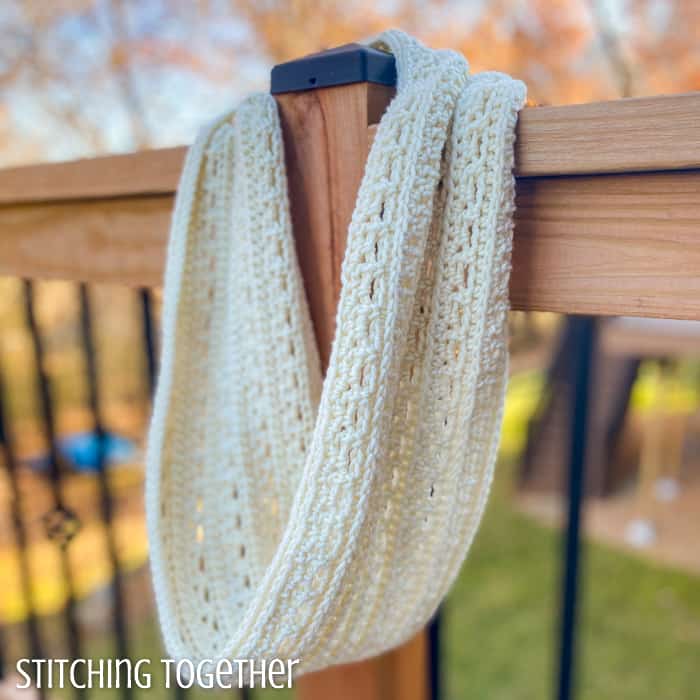 Will you share pictures of your finished projects?
Tag Stitching Together on Instagram with @stitching_together and use the #stitchingtog
Upload your picture in the Tried It section of this pin
Share your work in the Stitching Together Community.