Chloe Crochet Ear Warmer Headband
Disclosure: This post may contain affiliate links. As an Amazon Associate, I earn from qualifying purchases. Please visit my Privacy Policy for disclosures and more information.
An ear warmer? A headband? Whatever you call it the Chloe crochet ear warmer headband is here for you and your cold ears. Scroll down to find the free crochet pattern.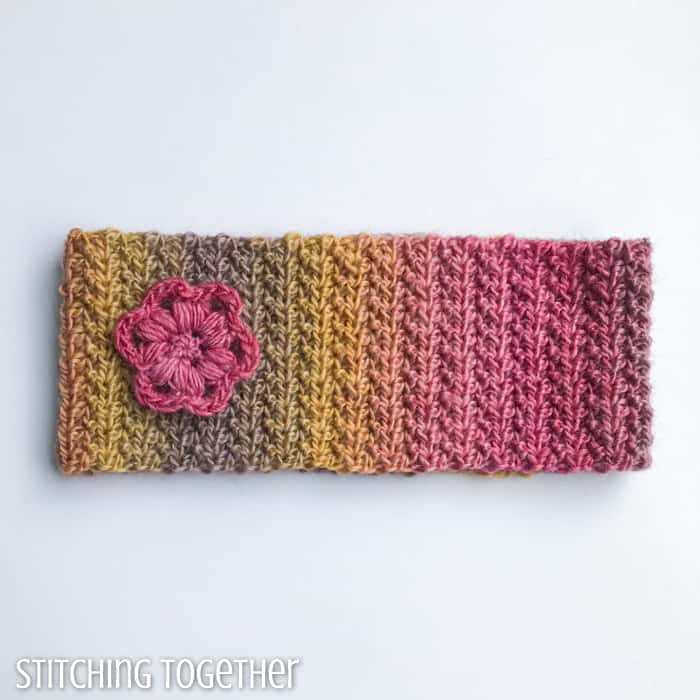 Although I am more likely to grab a hat as I run out the door, having a ear warmers on hand, especially when my hair is up, is so helpful. Plus ear warmers are quick to make for the whole family and work wonderfully as gifts!
Details about the Chloe Ear Warmer Headband
The Yarn
This simple headband is made using Yarn Bee Chloe yarn which is available at Hobby Lobby. The yarn itself is easy to work with but I was surprised to see it as a category 4 yarn. The width of the yarn wasn't consistent and varied from super thin to a more typical category 4 thickness but the majority of it felt more like a category 3 yarn to me.
Since it is a thinner yarn but still wool, the headband is both lightweight and warm. It is one that you can easily fold and tuck right in your purse or jacket pocket.
If you can't get yourself to a Hobby Lobby, Red Heart Unforgettable appears like it would be a good substitute and is available on Amazon and in many craft stores. Just keep in mind that your row counts will need to be adjusted if you are using a thicker yarn. (You can adjust the starting stitches too, but I don't mind a wider headband, do you?)
Related: The Parker Crochet Head Warmer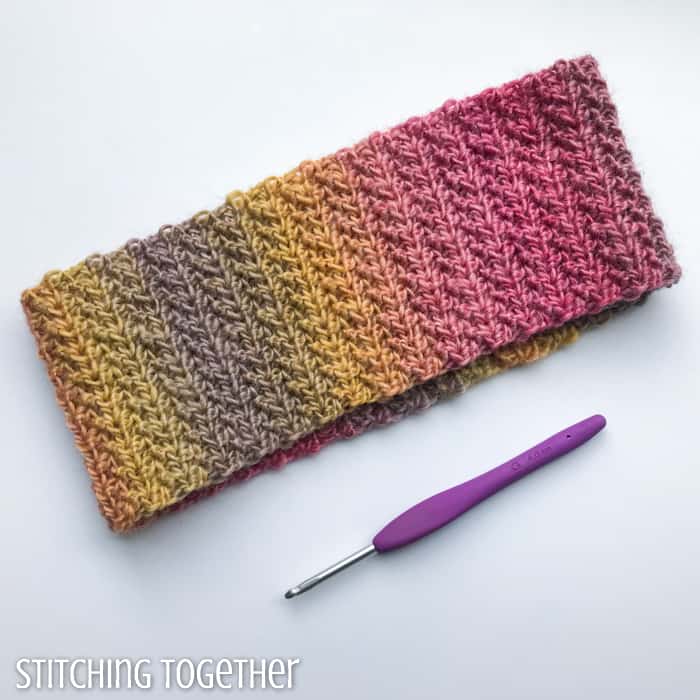 Ear Warmer Construction
The ear warmer was designed so you could EASILY adjust the size without much fuss. It is worked back and forth in rows until you complete a long rectangle. Since the total length around is determined by the number of rows, you can add fewer or more rows to change the size of the ear warmer.
To get the perfect size headband, it is easier to match a specific length than match gauge and row count. Use the Headband Sizing Chart to determine the best length and then crochet enough rows to reach that length.
The stitches (we will talk about them in a minute) do give a good amount of stretch so choose the measurement on the smaller side of the range so you still get a snug fit. (Ex: for a small adult size, crochet until the headband is 19″ instead of 20″)
I tend to like accessories that are less embellished – let's be honest, the variety of colors in this ear warmer are way out from my neutral-loving heart, but I have to admit that it looks super cute with a little flower attached.
You'll have plenty of yarn left, even after making a few headbands, to whip up some flowers to attach to them. You can get the free flower crochet pattern right here!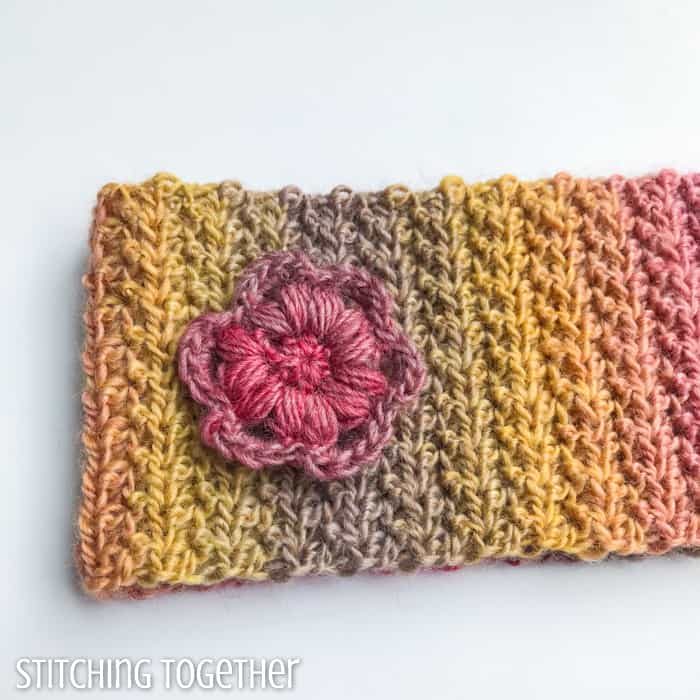 Crochet Stitches used for Ear Warmer Headband
Simple stitches with amazing texture are GOLD in my crocheting world. All of this gorgeous texture is achieved with half double crochets. Can you believe that?
The only variation is that you alternate working in the front loop and then back loop of the row below. That's it!
The stitches allow for a good amount of stretch but not as much as if you work in the back loops only. They also give as extra dose of squishiness to the entire ear warmer without making it too thick.
Don't forget to save the Chloe Ear Warmer Headband on Pinterest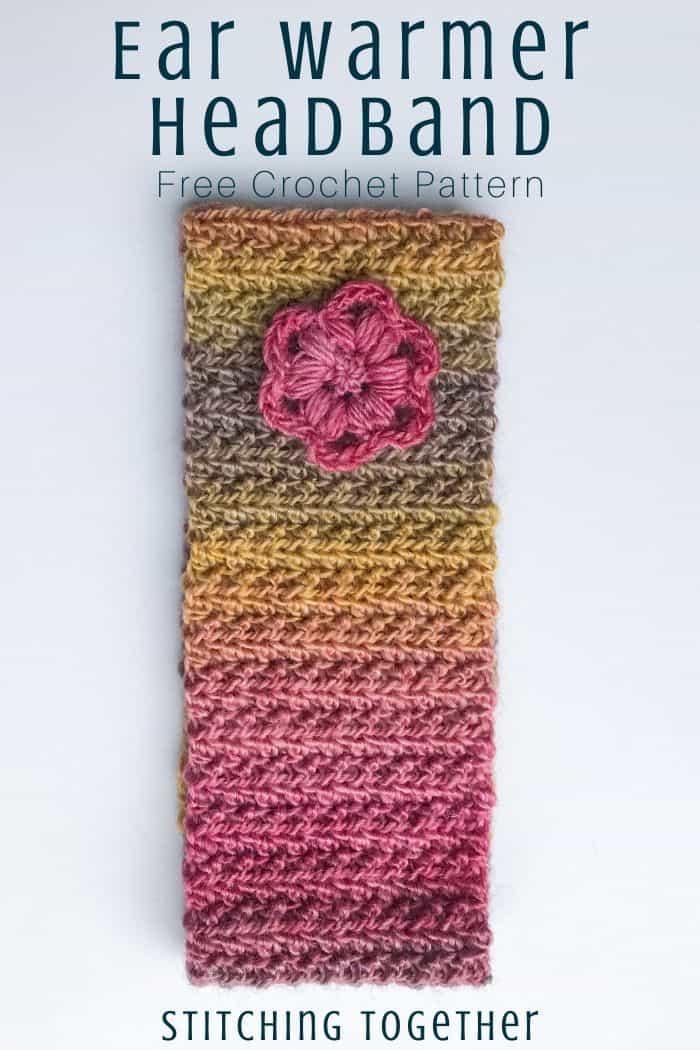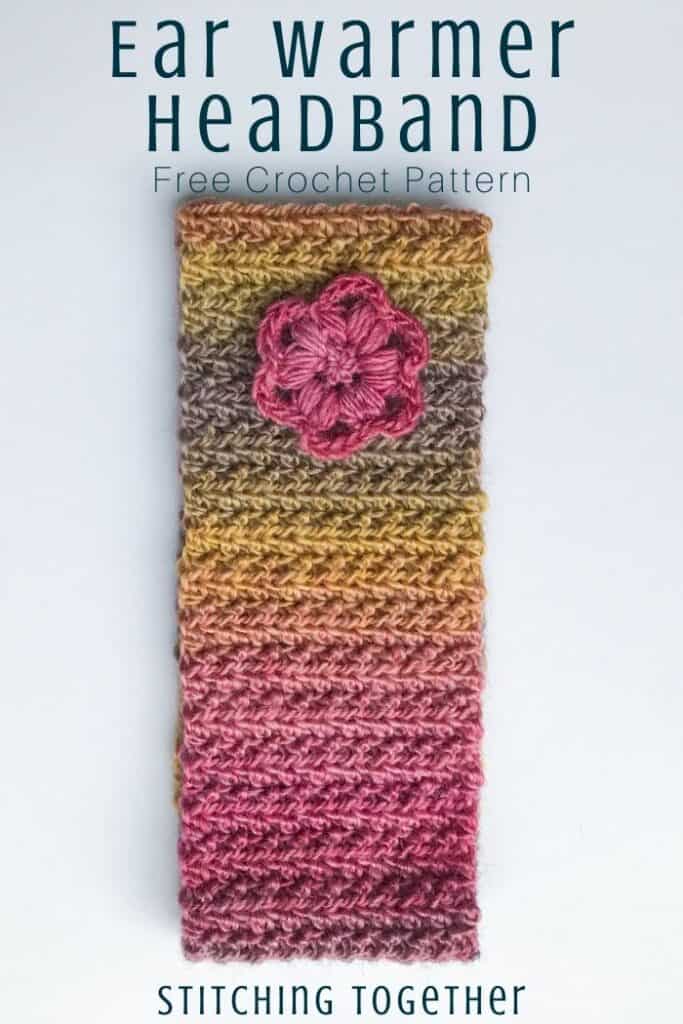 Chloe Crochet Ear Warmer Headband Pattern
Purchase an ad-free, printable PDF of the Chloe Ear Warmer Headband Crochet Pattern right here.
Skill Level: Easy
Materials:
US size G/6, 4.0 mm crochet hook – Grab my favorite hooks right on Amazon
Yarn Bee Chloe Yarn (category 4 Medium 70% Merino Wool, 30% Viscose)
1.09 oz in Sun-Kissed Grove
Large Eye Yarn Needle – You'll love these yarn needles
Abbreviations:
ch(s): chain(s)
hdc(s): half double crochet(s)
FLO: front loop only
BLO: back loop only
Gauge: 4" x 4" = 19 sts by 14 rows
Finished Size: Small Adult: 3.5" wide by 19" around
Notes: The lovely texture on this ear warmer is created by alternating half double crochets in the front loop and in the back loop. Each row starts with a half double crochet in the front loop only then alternated BLO and FLO.
The ear warmer can be made smaller by adding less rows or larger by adding more rows before sewing into a circle.
Pattern Instructions:
Ch 20
Row 1: hdc in the 2nd ch from the hook and in each ch across, turn (19)
Row 2: ch 1, *FLO hdc, BLO hdc, repeat from * across
Repeat row 2 until you've reached a total of 66 rows or ear warmer reaches desired length.
Join the two short ends to form a circle and sew together. Fasten off and weave in ends.
Optional: Add a simple crochet flower or the happy flower crochet pattern
Do you love printing your crochet patterns? You can purchase the printable PDF of this pattern in the following places: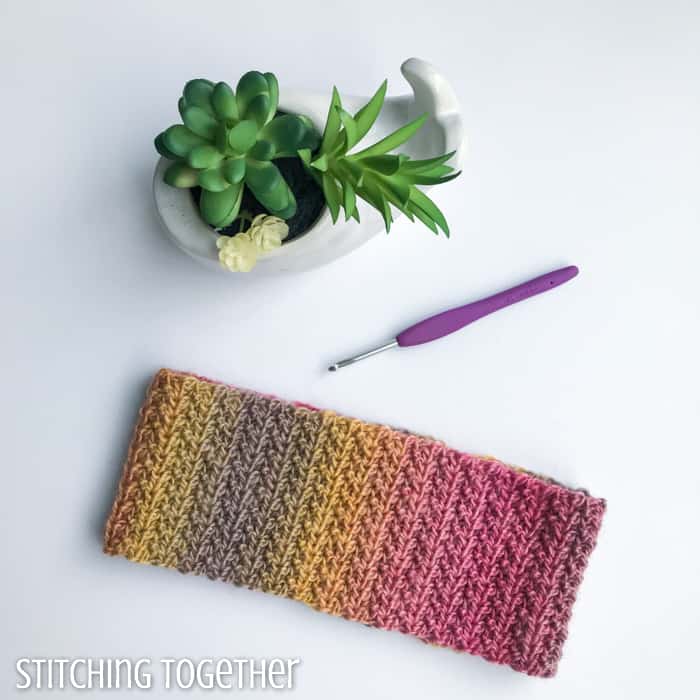 Will you share pictures of your finished crochet projects?