Disclosure: This post may contain affiliate links. Please visit my About page for disclosures, Privacy Policy and more information.
Ready to share some happiness, one crochet flower at a time? Keep reading to find out how you can get involved in the Happy Flower Challenge of 2019 and where to find new free flower crochet patterns!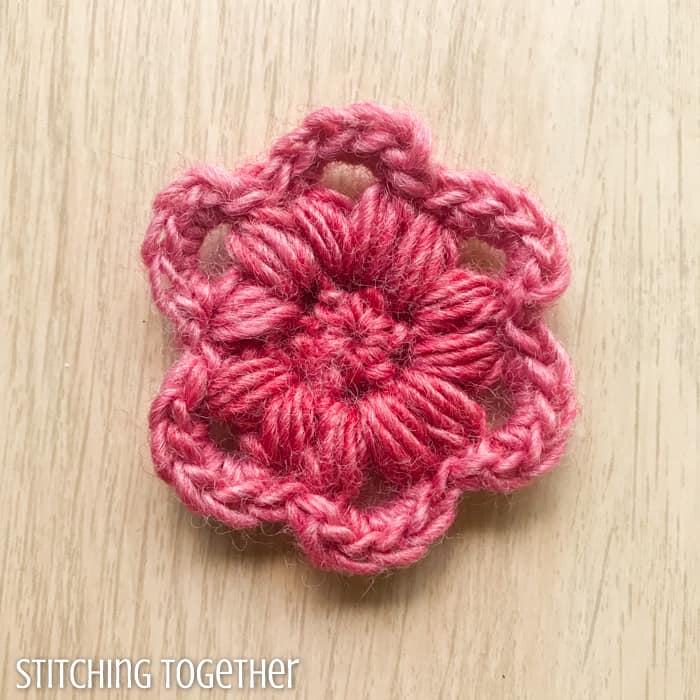 Since starting to get to know and build into the crochet community I have been so encouraged to see how many people have used crochet to help them deal with significant hardships and trials in life.
If you are on my mailing list you know that crochet helped me during the incredibly tough years of my mom battling ovarian cancer and then it has helped through the grief of losing her.
(If you don't get my emails, go ahead and scroll up at the top and sign up …. I'll wait here).
Recently, a story was widely shared about Olivia who has used crochet to help fight depression AND spread joy to those around her. She challenged herself to leave one crochet flower with a note in a public place each day for 100 days.
What an inspiration!
Watch more of Olivia's story and then come back here to see how you can get involved!
How to Participate in the Happy Flower Challenge
Being inspired by Olivia's simple crusade to bring joy to her community, a couple of us, Linds from Winding Road Crochet, Cheryl from Crochet 365 Knit Too, and Amanda from Love Life Yarn and yours truly, decided to launch a 30 day Happy Flower Challenge.
We want to encourage you to make and share a flower each day for the first 30 days of October. You can attach a little note (keep reading for more about that) and leave the flower someplace it can easily be found around your community.
You can also snap some pictures and share them using the hashtag #happyflowerproject2019 and share in the Stitching Together Crochet Community Group.
Share the challenge on Pinterest!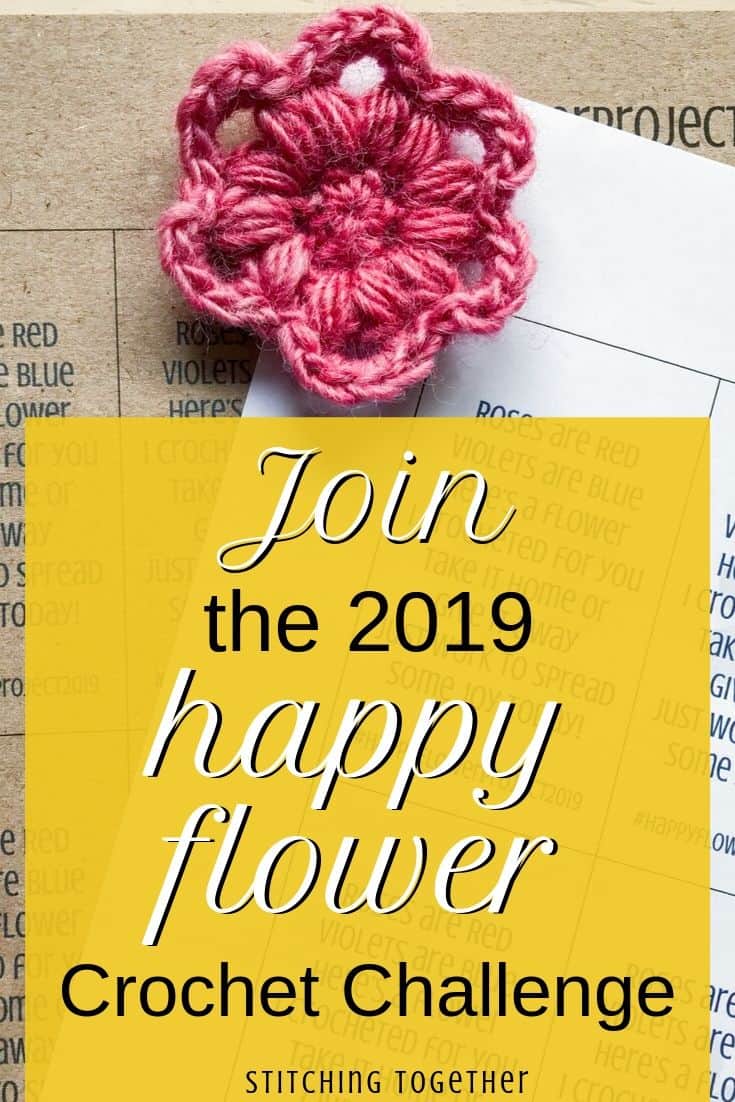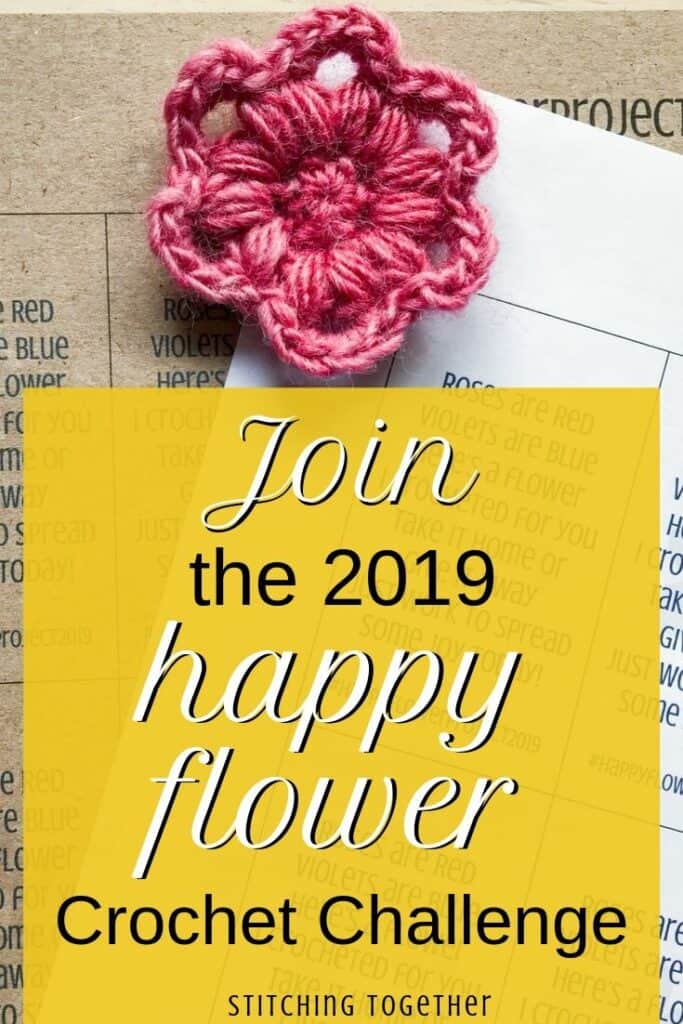 To help you work through the challenge, we are going to release a new free crochet flower pattern each week in October.
Here's the schedule:
Week 1: October 2nd – Winding Road Crochet
Week 2: October 9th – Crochet 365 Knit Too
Week 3: October 16th – Love Life Yarn
Week 4: October 23rd – Stitching Together (Come back right here for a new free crochet flower pattern!)
How fun is that? New patterns PLUS spreading joy in our communities.
Since you, of course, are going to want to get started crocheting right away, here is a quick crochet flower pattern that you can start with. You could even make the granny square with a flower and leave that to spread some happiness.
Just in case your handwriting is not as adorable as Olivia's is (mine is NOT) I made some printable tags that you can print, cut and attach to your flowers. They are uploaded in the Vault for you.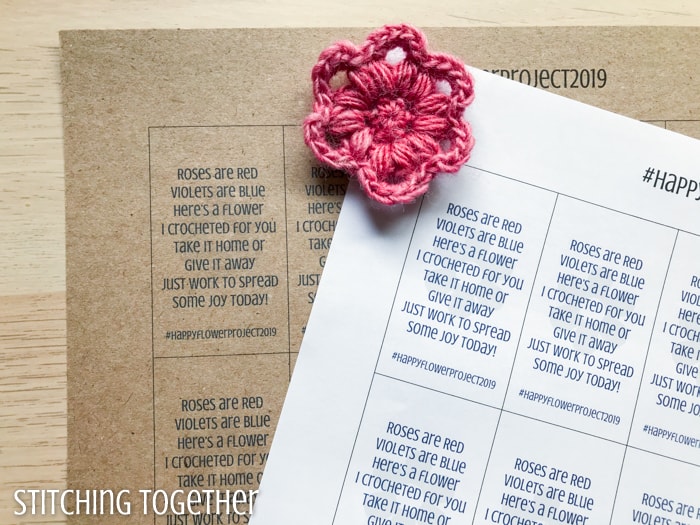 (You may not know – the Vault is where I keep fun freebies which are just one of the many perks of being part of the Stitching Together email list. Scroll up or down to the sign up box, leave your info then check your email!)
Alright crochet friends, LET'S DO THIS! Get started on those flowers and don't forget to check each blog for the free crochet flower patterns. (I'll update the links above when the new patterns are live!)