Tela Crochet Triangle Shawl
Disclosure: This post may contain affiliate links. As an Amazon Associate, I earn from qualifying purchases. Please visit my Privacy Policy for disclosures and more information.
Whether you wear it around your neck or around your shoulders, the Tela crochet triangle shawl will be a staple accessory for cooler weather. You'll love the simple construction and easy stitches paired with modern stripes.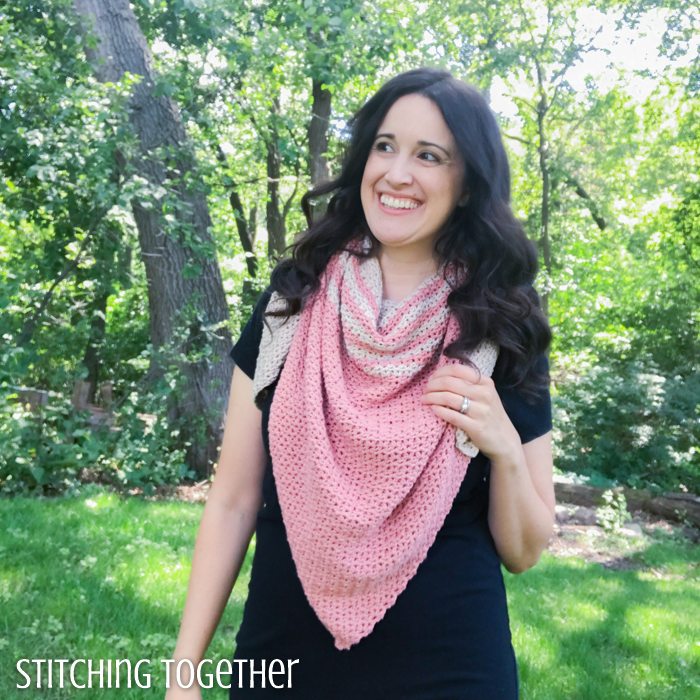 Scroll down to get the free pattern or grab the printable PDF in my shop.
All About the Tela Crochet Triangle Shawl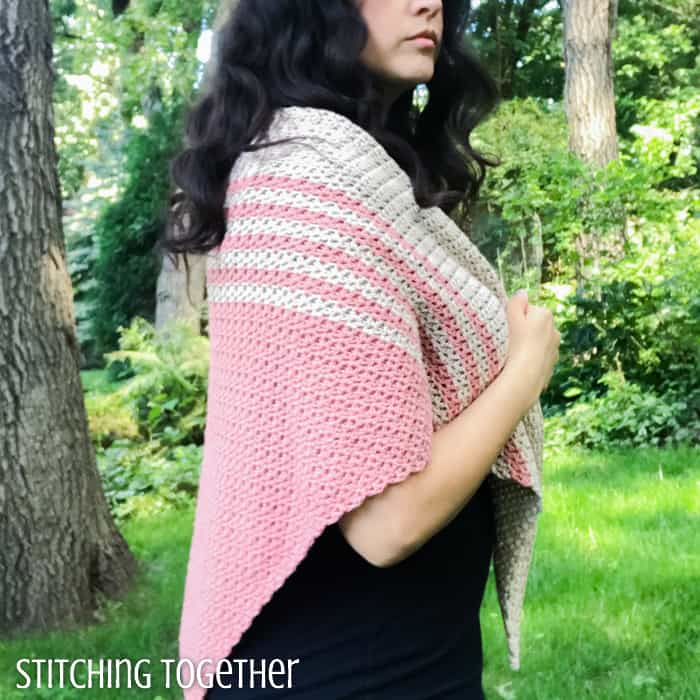 Related: Cedar Creek Easy Shawl
The Yarn
Is it entirely possible to be absolutely in love with a yarn and also never want to work with it again?
This mostly sums up how I feel about Lion Brand's Coboo Yarn.
Let's talk about the pros first:
It is GORGEOUS. The slight sheen on the yarn make the stitches absolutely pop.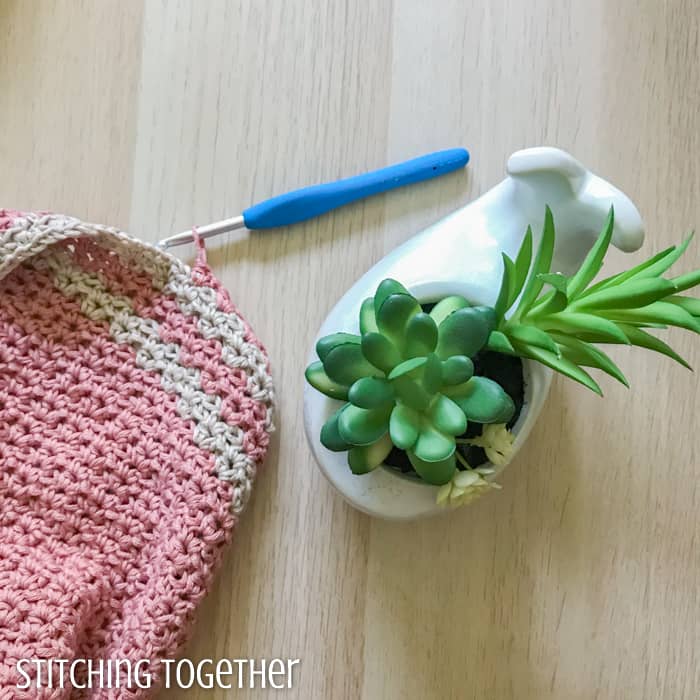 It is ultra soft and smooth. The yarn is just pleasurable to touch and the fabric that works up is delightful against your skin.
Not only is it beautiful and soft but it also drapes like a dream! It has a slightly heavy feel, which would be awesome for a blanket or any wearable.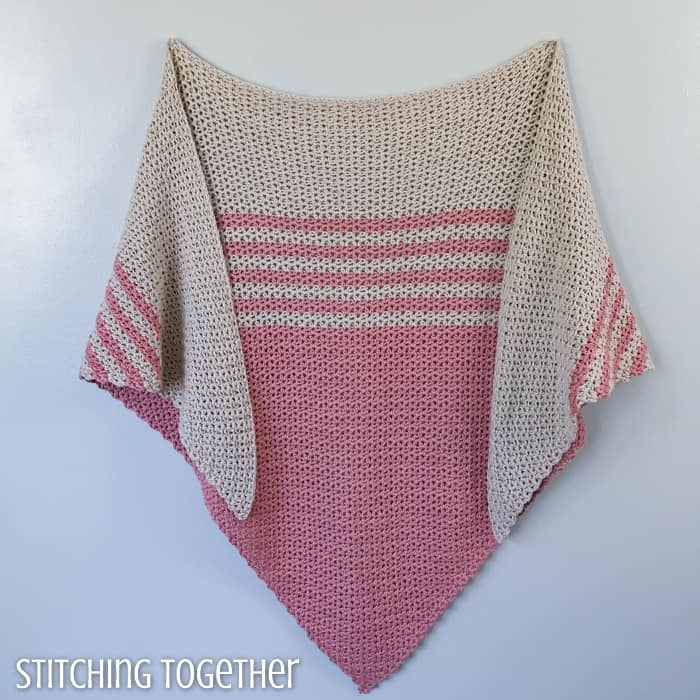 What about the cons?
There is only one, but to some, it can be a BIG one:
It splits. It splits like crazy.
I think this shawl took probably twice as long as it would have if I'd used other yarn because I had to slow way down or rip it out to fix stitches where I missed a thread.
In all honesty: it was a pain in the rear.
If the yarn wasn't so gorgeous and didn't feel so lovely I probably would have stopped, but the pros DID outweighed the cons.
Will I use it again? Probably but it'll be awhile before I do.
I REALLY want a blanket in this yarn. The feel and weight are just so lovely, but I am going to have to do some experimenting to see what sort of stitches are the least prone to splitting.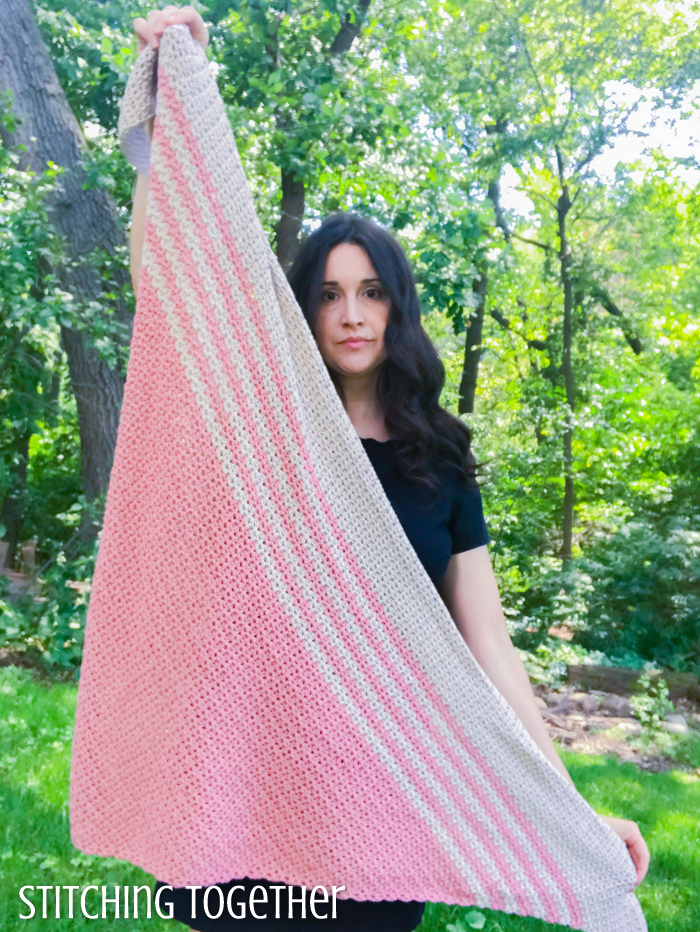 Stitches used in the Triangle Shawl crochet pattern
There are really only two stitches you need to have mastered before you take on this shawl: chains and half double crochets. That's it as far as stitches.
There are, however, some techniques you should be familiar with like working in chain spaces and working multiple stitches in the same spaces.
The half double crochet v-stitch is right in between the spider stitch and the dc v-stitch. I suggest you review both tutorials to get the hang of stitch placement before getting started.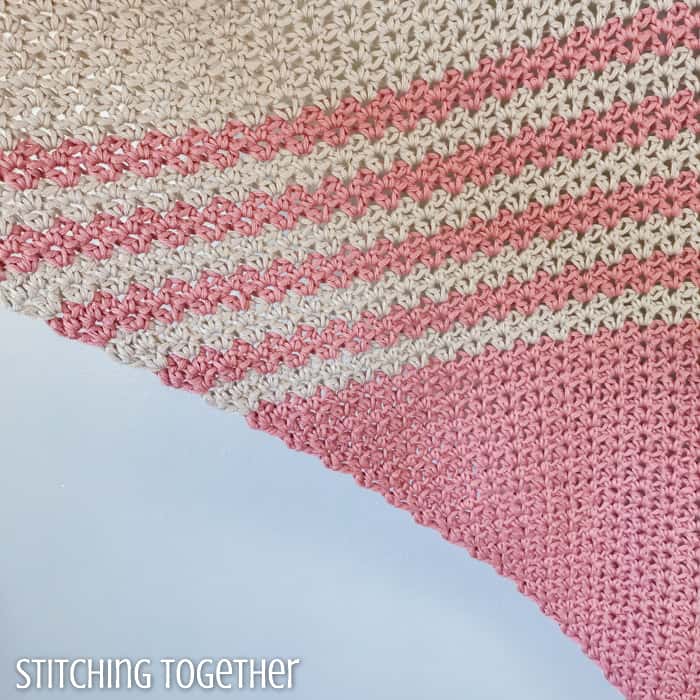 Construction of the Triangle Shawl
The shawl is worked from the bottom up – which means you start quickly with a tiny triangle and then towards the end are thinking to yourself – is this row ever going to end?
Once you get past row 6, you'll be repeating rows 5 and 6 for the rest of the shawl. The only things to pay attention to at that point are the color changes.
Save the Tela Triangle Shawl on Pinterest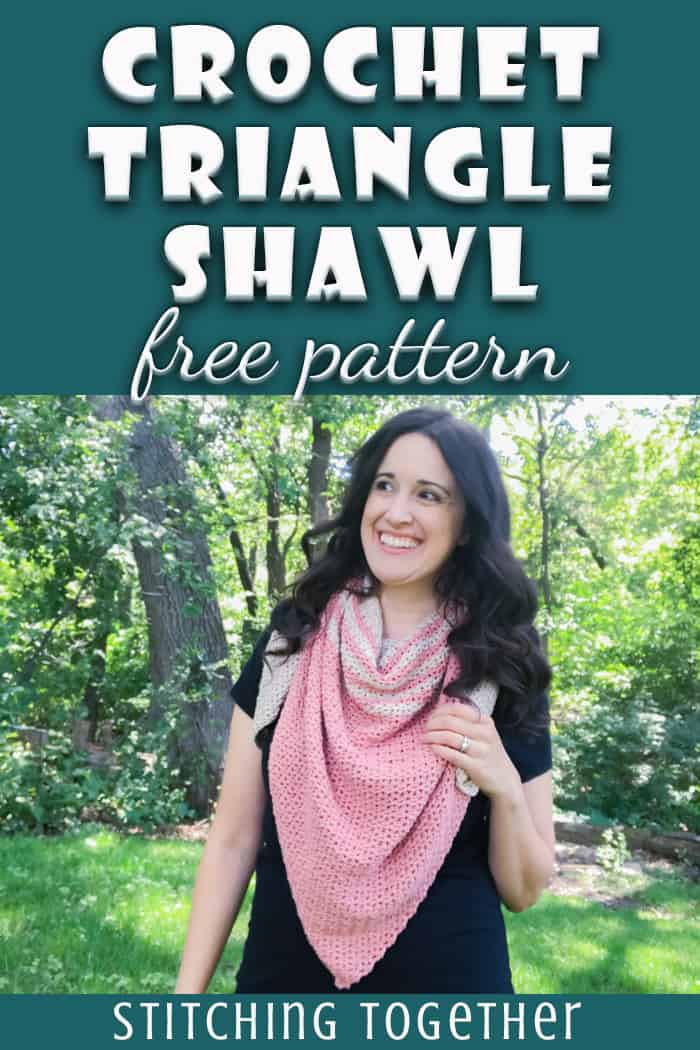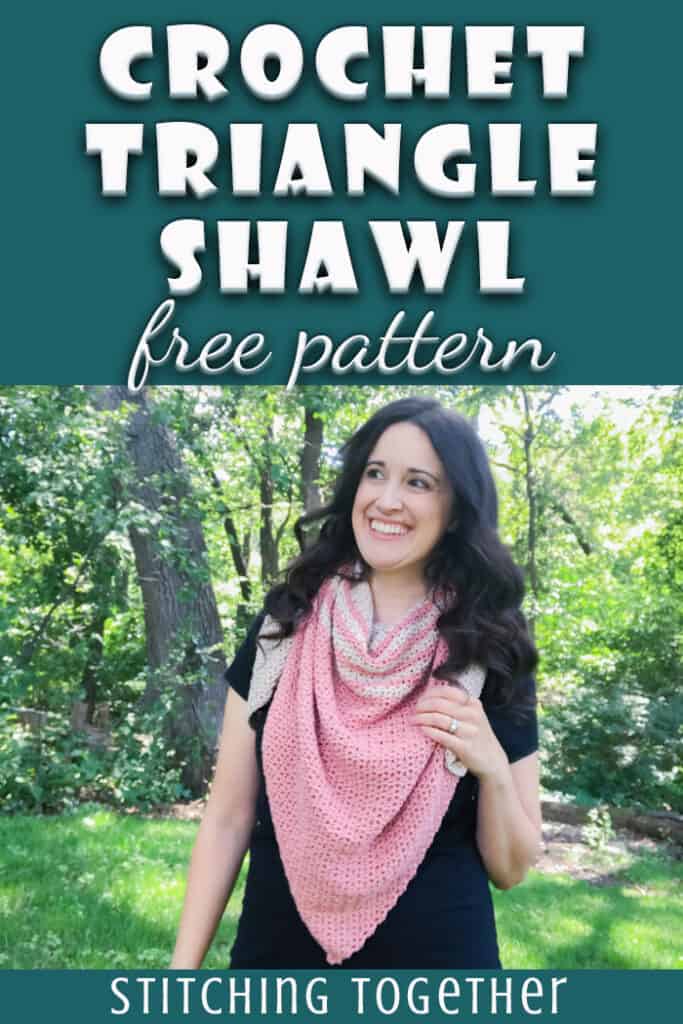 Tela Triangle Shawl Crochet Pattern
Do you love printing your patterns? You can get the inexpensive PDF of this pattern right here!
Skill Level: Easy
Materials:
US size H/8, 5.0 mm (You can get my favorite hooks right on Amazon!)
Lion Brand Coboo Yarn )Category 3 Light 50% Cotton, 50% Rayon 3.5oz/100g, 232yds/212m )
2 balls in Mauve (dusty rose)
2 balls in Tan (pale beige)
Large Eye Yarn Needle
Abbreviations:
hdc(s): half double crochet(s)
ch(s): chain(s)
sp(s): space(s)
MC: main color
CC: contrasting color
Gauge: taken in center stitch pattern (hdc, ch 1, hdc) 4" x 4" =21 sts by 13 rows
Finished Size: width: 62.5" and length (top middle to bottom tip): 31"
Notes: the ch 1 at the beginning of a row does not count as a stitch.
Crochet Triangle Shawl Pattern Instructions:
With MC,Ch 2
Row 1: (hdc, ch 1, hdc) in 2nd ch from hook, turn (3)
Row 2: ch 1, ([hdc, ch 1] 3 times, hdc) in ch-1 sp, turn (7)
Row 3: ch 1, (hdc, ch 1, hdc) in each ch-1 sp, turn (9)
Row 4: ch 1 (hdc, ch 1, hdc, ch 1, hdc) in ch-1 sp, (hdc, ch 1, hdc), in next ch-1 sp, (hdc, ch 1, hdc, ch 1, hdc) in last ch-1 sp, turn (13)
Row 5: ch 1, (hdc, ch 1, hdc) in each ch-1 sp, turn (15)
Row 6: ch 1 (hdc, ch 1, hdc, ch 1, hdc) in ch-1 sp, (hdc, ch 1, hdc), in each ch-1 sp until the last sp, (hdc, ch 1, hdc, ch 1, hdc) in last ch-1 sp, turn (19)
Rows 7-58: repeat rows 5-6
Row 59: repeat row 5 (177)
Row 60: with CC, repeat row 6
Row 61: repeat row 5 (183)
Row 62: with MC, repeat row 6
Row 63: repeat row 5 (189)
Row 64-75: repeat rows 60-63
Row 76: with CC, repeat row 6 (229)
Rows 77-96: repeat rows 5-6
Row 97: repeat row 5. (291)
Fasten off and weave in ends. Lightly block if desired.
.
If you like easy to print patterns, this pattern can be purchased in the following places:
Thanks for your support!
.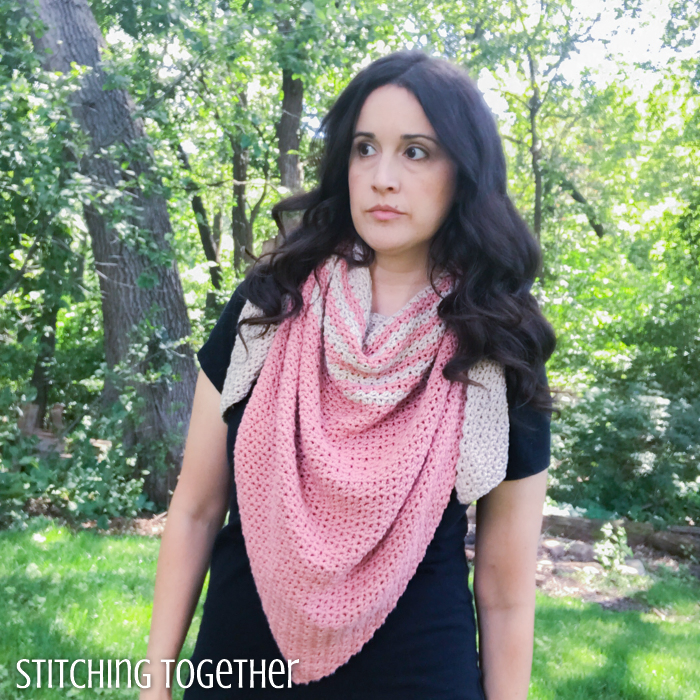 Will you share pictures of your finished crochet projects?