Nantucket Easy Double Crochet Dishcloth Pattern
Disclosure: This post may contain affiliate links. As an Amazon Associate, I earn from qualifying purchases. Please visit my Privacy Policy for disclosures and more information.
Whether you're a beginner or you've been crochet for a long time, this easy double crochet dishcloth pattern is perfect for quickly whipping up a stack of useful dishcloths.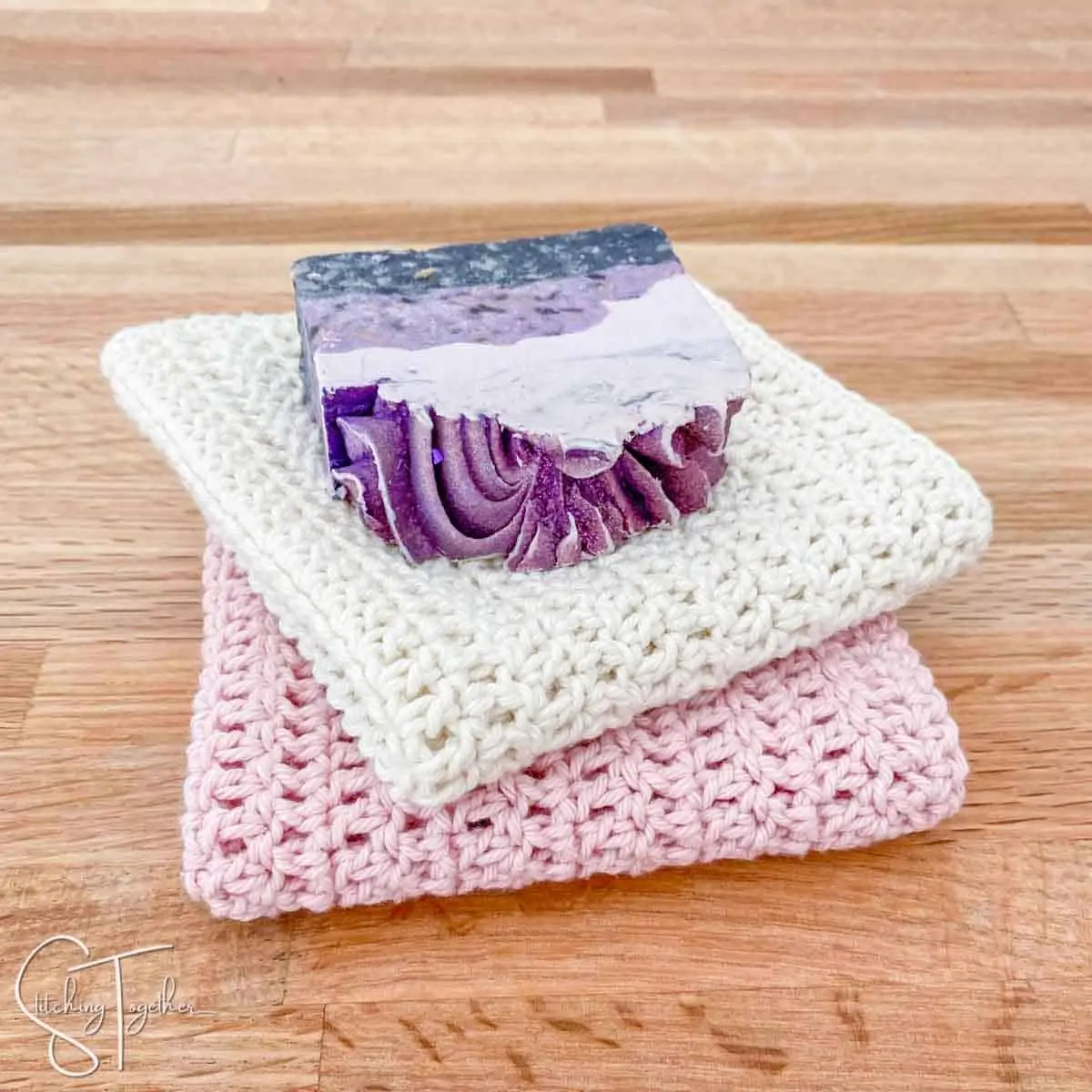 Just a warning: You are probably going to want to buy more yarn because once you finish a stack of kitchen cloths, you'll want to start on another!
Keep scrolling for the free crochet pattern or you can get the ad-free, printable PDF here. This is a quick free pattern that's great for crocheting while watching your favorite show or taking it on the go.
How Do You Double Crochet a Dishcloth
A double crochet dishcloth is one of the quickest and easiest dishcloths you can make. To make this dishcloth you'll work rows of double crochets and then work a simple round of single crochets to finish it off.
If you are a beginner, this is a great starting project. You'll want to make sure you know how to chain, double crochet stitch, single crochet, slip stitch, and add stitches around the edge of your project.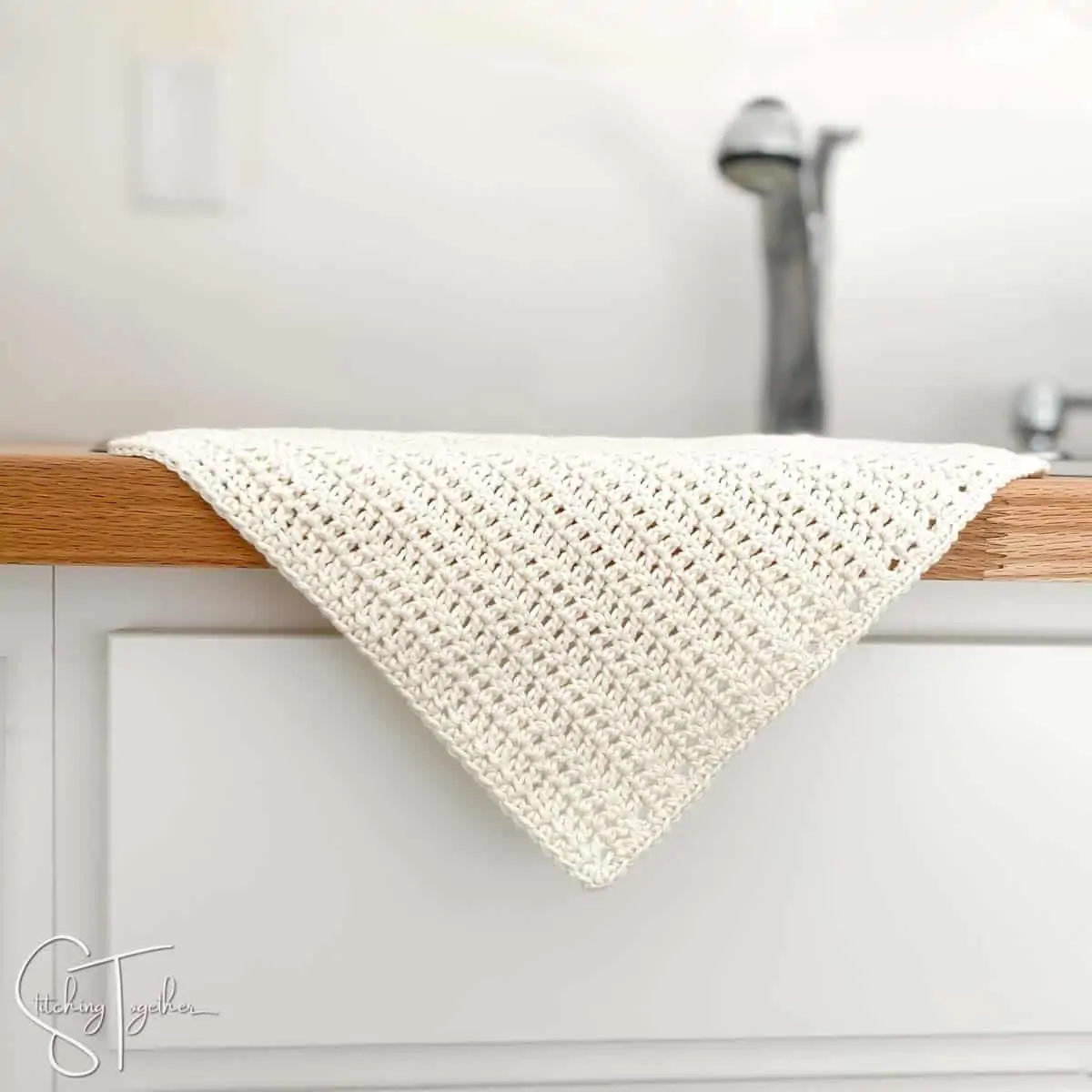 What Yarn is Best for Dishcloths?
This was the first time I've used Dishie yarn by KnitPicks and let me say, I was so pleased with how it worked up! It is a thinner worsted-weight cotton yarn that's super soft. It was so easy to work with giving well-defined and consistent stitches.
Dishie cotton yarn is available in a variety of colors, so you can mix and match, making dishcloth sets tailored to many different color schemes. It is also machine washable and dryable which is important to me when making a crochet dishcloth or crochet washcloth.
Whatever you decide to use, keep in mind that 100% cotton yarn is the best yarn for crochet dishcloths.
If you love crochet dishcloths, you won't want to miss these best crochet stitch for a dishcloth!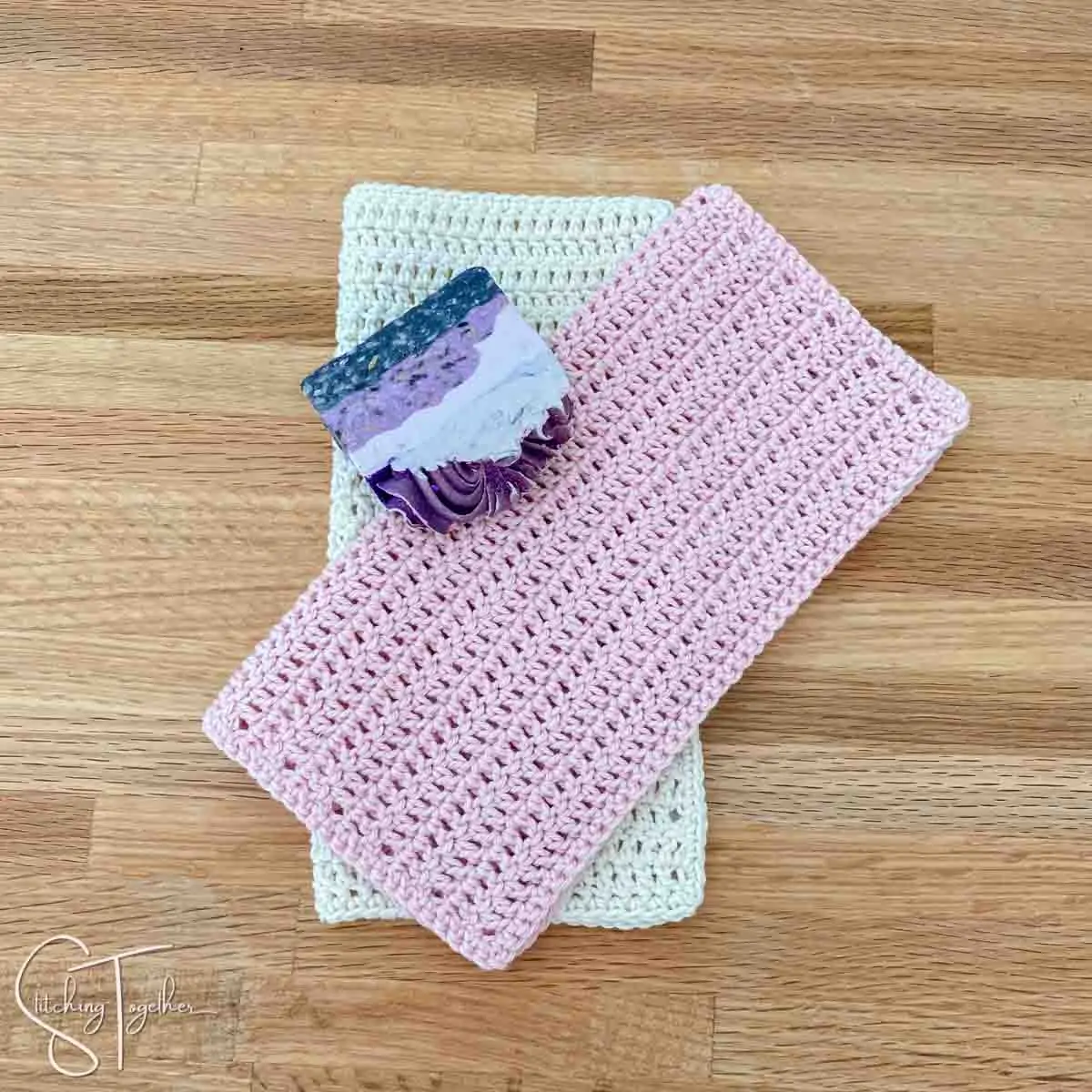 How Can I Use This Dishcloth?
Perhaps you have never used a crochet dishcloth before. That's ok! You can use them anywhere in the kitchen like you would a store-bought dishcloth.
One of the advantages of a crochet dishcloth is that they dry quickly due to being a more open fabric. The texture of the stitches also works well for scrubbing food residue off your dishes.
You don't have to use these only in the kitchen though! This yarn is definitely soft enough to use this pattern to make a double crochet washcloth. I would not hesitate to use it on my hands or my face.
A stack of crocheted dishcloths tied with a cute ribbon makes a great and thoughtful housewarming gift.
Don't forget to save this simple crochet dishcloth pattern on Pinterest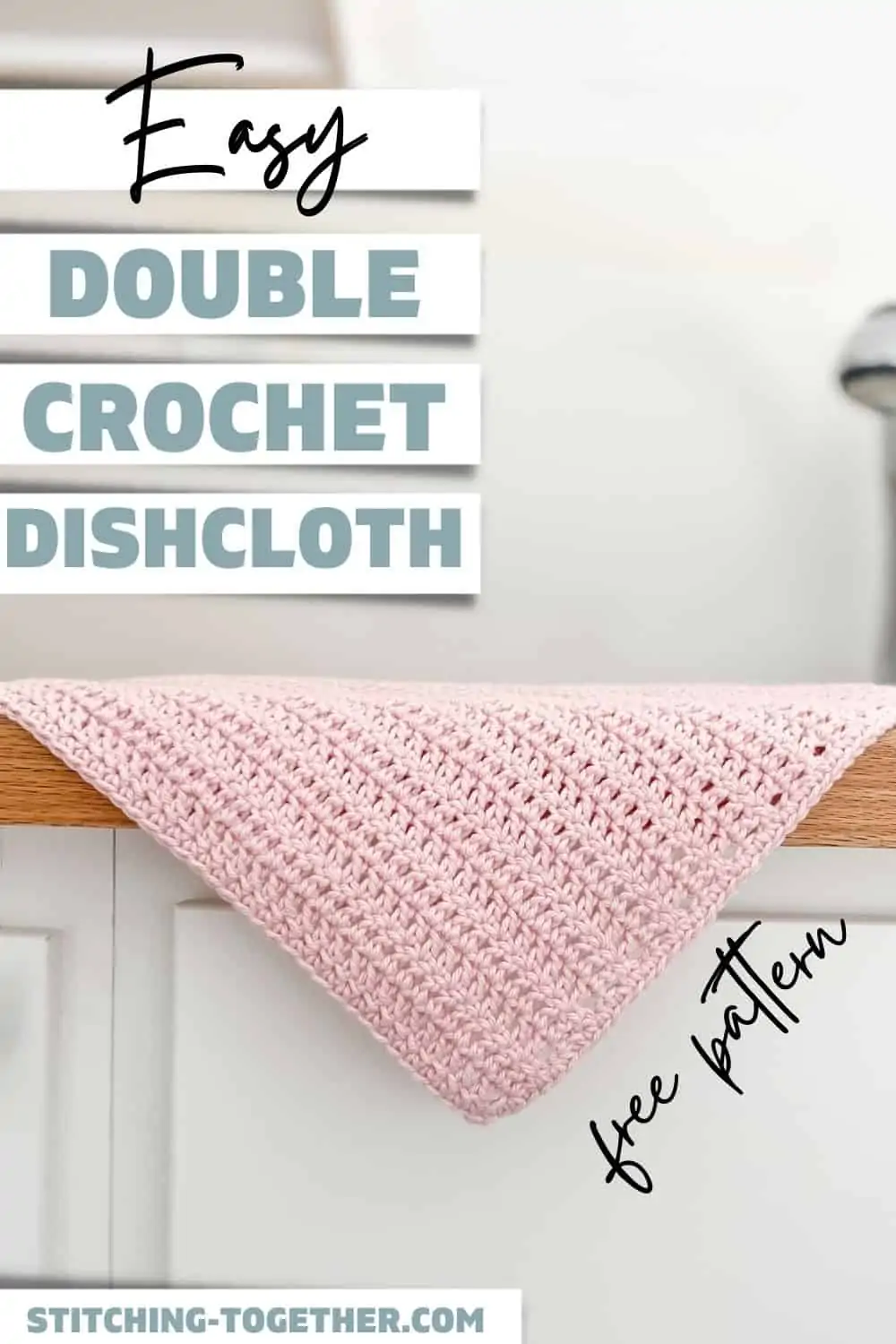 Easy Double Crochet Dishcloth Pattern
Skill Level: Beginner
Materials:
US size G/6, 4.0 mm crochet hook
Knit Picks Dishie (Category 4, Worsted Weight, 100% Cotton Yarn)
Samples used 109 yds (2 oz) in Swan and in Blush
Large Eye Yarn Needle
.
Everything you need for this project can be ordered right online
Save time and shop from home!
.
Abbreviations:
ch(s): chain(s)
dc(s): double crochet(s)
st: stitch
sc(s): single crochet(s)
sl st: slip stitch
Gauge: 4" x 4" = 16 dcs by 10 rows
Finished Size: approximately 10.25" x 10.25"
Notes:
Ch 2 to start each row counts as a stitch.
The ch 1 to start the border does not count as a stitch.
The border is a simple single crochet border worked around the dishcloth. The corners are worked by chaining 1 between the last stitch of one side (edge) and the first stitch of the next side.
To adjust the size of the dishcloth simply add or subtract starting chain stitches and rows.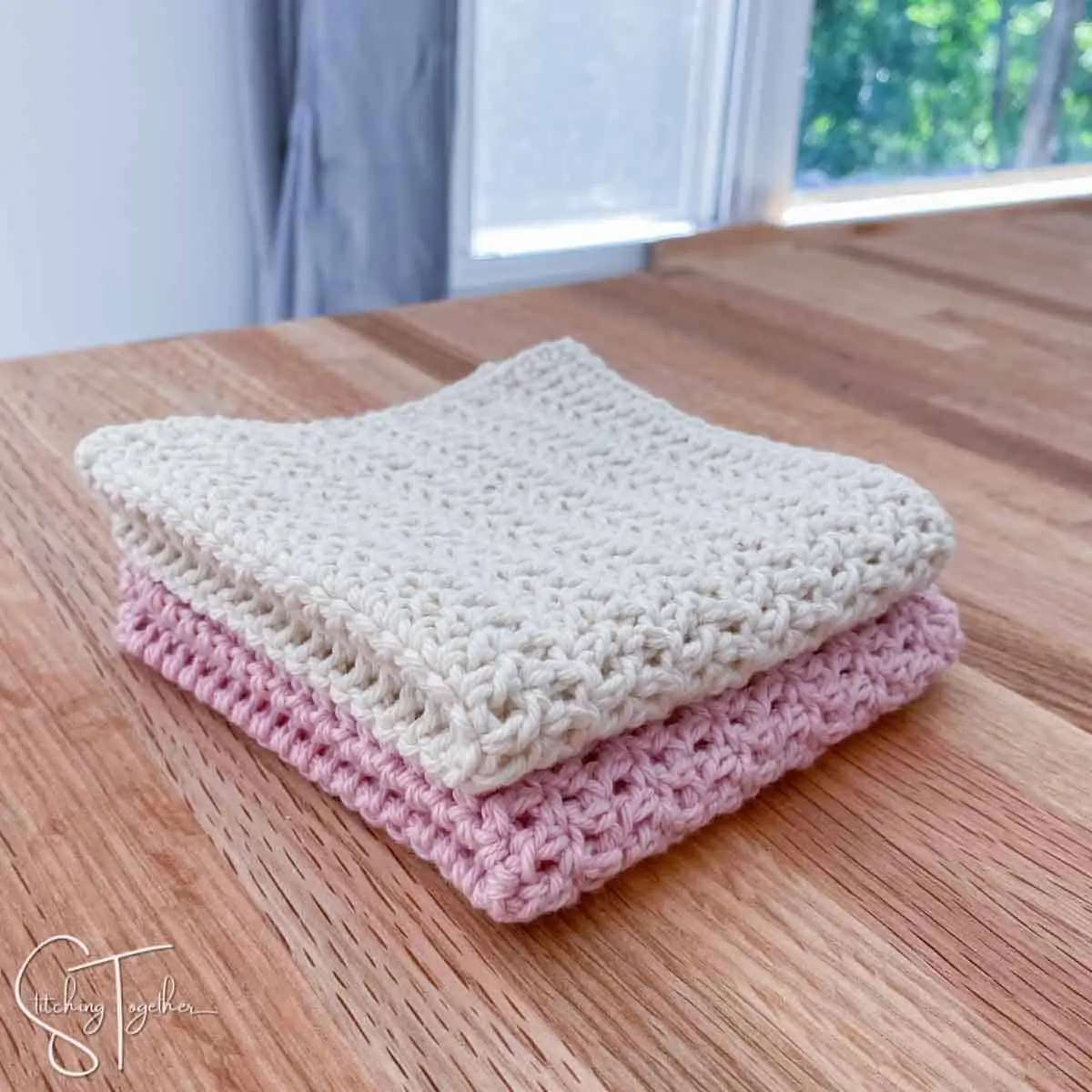 DC Dishcloth Pattern Instructions:
Ch 41
Row 1: dc in 3rd ch from the hook, dc in each st across, turn (39)
Row 2: ch 2, dc in each st across, turn (39)
Rows 3-24: repeat Row 2.
Border:
Top: ch 1, sc in each st across the top (39), ch 1, rotate dishcloth to work on the side,
Side 1: 2 sc in each dc along the side (48), ch 1, rotate dishcloth to work on the bottom,
Bottom: sc in each ch across (39) ch 1, rotate dishcloth to work on the side,
Side 2: 2 sc in each dc along the side (48), ch 1, join with a sl st to the first sc on the top.
Fasten off and weave in ends.
You can purchase the add-free PDF of this pattern in the following places:
Don't miss these other free crochet dishcloth and washcloth patterns:

What will you use this dishcloth crochet pattern for? Will you share pictures of your finished projects?