Stillwater Shell Stitch Crochet Headband
Disclosure: This post may contain affiliate links. As an Amazon Associate, I earn from qualifying purchases. Please visit my Privacy Policy for disclosures and more information.
The Stillwater Shell Stitch Crochet Headband is a gorgeous and feminine ear warmer that's great for your own wardrobe and for giving as a gift.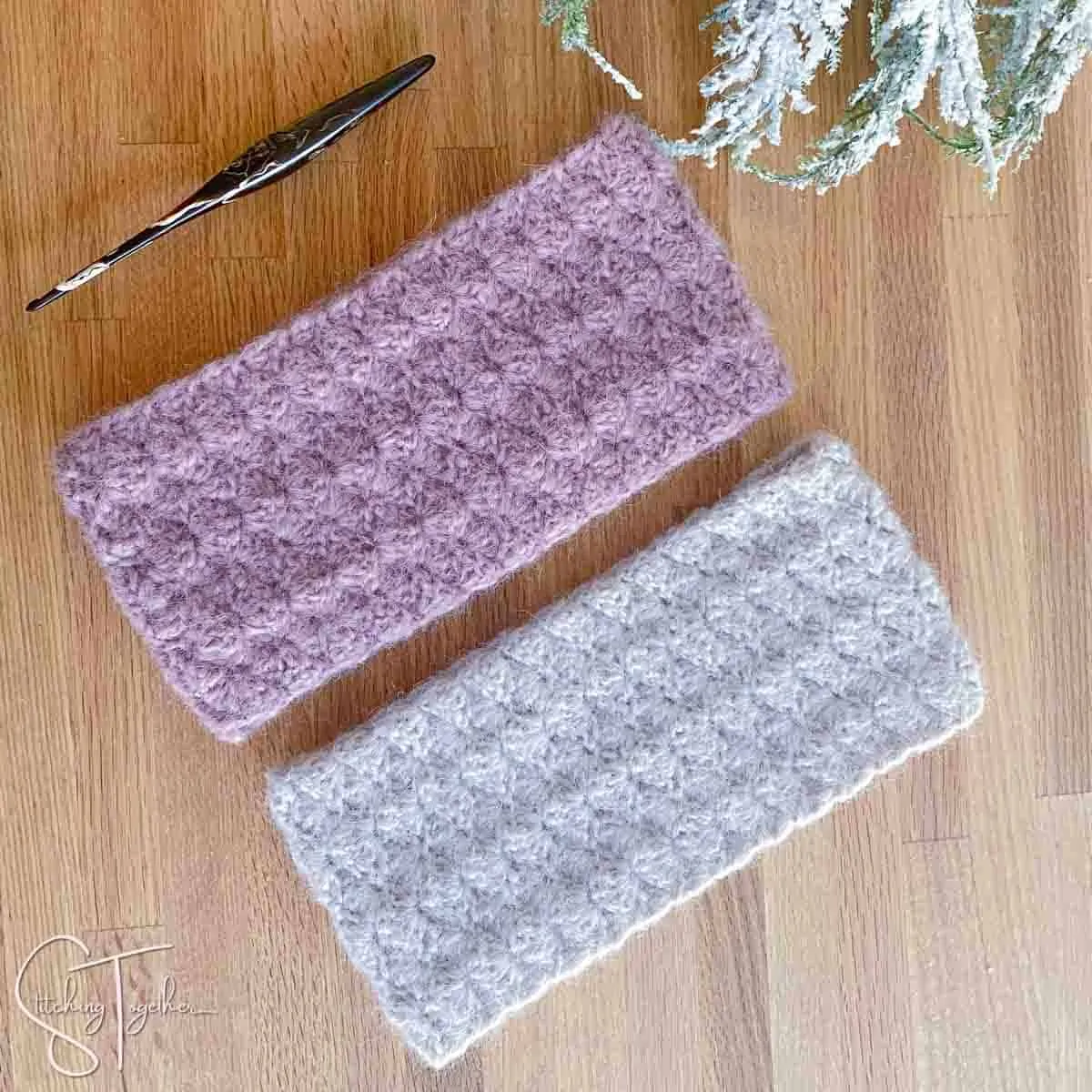 How do you crochet a shell stitch headband?
This easy shell stich headband is made by just working a long rectangle then sewing it together. You'll be working in rows across the width of the headband which allows you to easily adjust the length and it keeps it nice and stretchy!
The headband is wide like an ear warmer which works great for children all the way to adults. If you do want to make it smaller for a baby or toddler, you'll want to begin with a shorter starting chain to make it narrower.
Don't forget to check out this super easy ear warmer pattern with the ear warmer sizing chart and guide which make it super simple to adjust any ear warmer pattern to the size you need.
About the stitches
If you couldn't already guess by the name, the headband is made using shell stitches. The nestled shells are reminiscent of lacy shell patterns but makes a denser and warmer fabric than its lacy counterparts.
The shell stitch pattern itself is made up of 5 double crochets for the main shells and 3 double crochets to start or end the row.
In between the shell stitches, you'll single crochet in the top of the shell stitch of the row below. Each row of shells nestles right into the row below.
Related: Chloe Crochet Headband Ear Warmer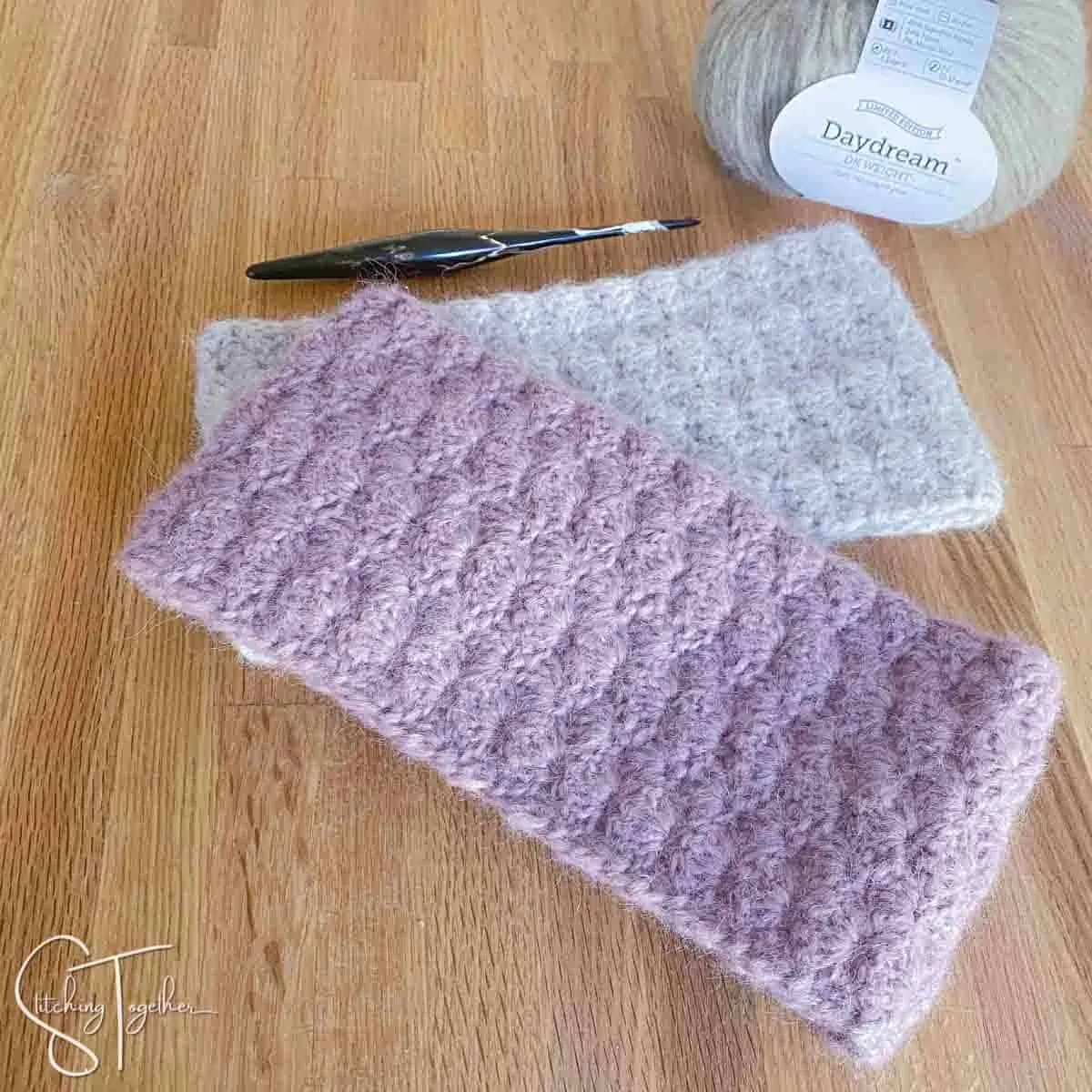 About the yarn
"It's so dreamy" I gushed to my BFF about this yarn before remembering it literally has "Daydream" as part of its name.
Alpaca Daydream yarn by KnitPicks is a lovely blend of Superfine Alpaca, Nylon, and Merino Wool that's plied into a chainette construction. It has a soft halo of fluff that isn't lost within the stitches and gives the finished product an ethereal look.
The only drawback to this yarn is it can be hard to rip out if you made a mistake.
On the second headband I made, I wasn't counting and did too many rows. I had to rip out several rows which was fine once I slowed down and pulled out the stitches carefully.
Related: Eliza Free Crochet Ear Warmer Pattern
Don't forget to save the Stillwater Shell Stitch Headband on Pinterest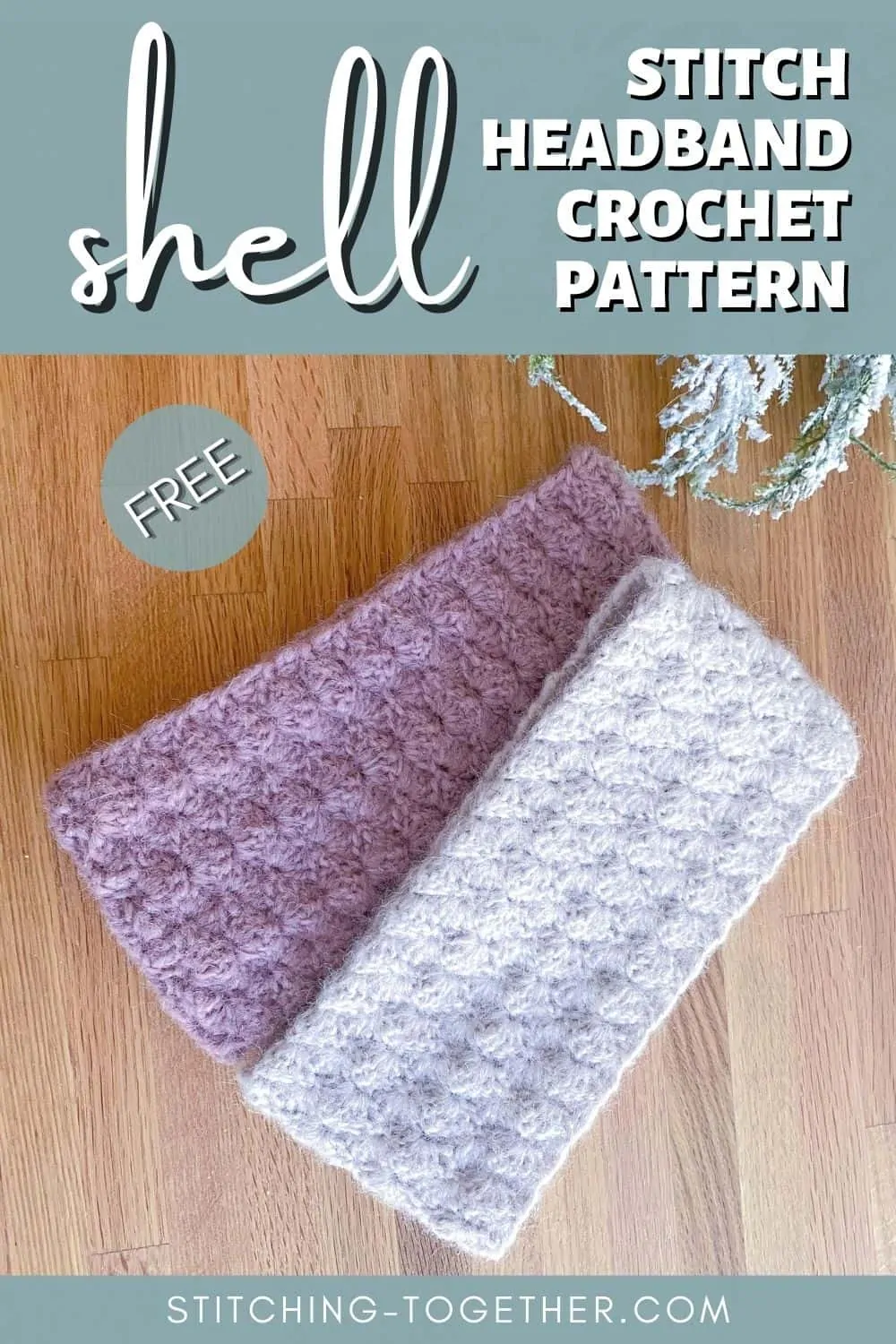 Stillwater Shell Stitch Headband Crochet Pattern
Purchase an ad-free version of this pattern here
Skill Level: Easy
Materials:
US size 7, 4.5 mm crochet hook
Knit Pick's Daydream Alpaca (Category 3, light yarn 142 yds/1.8 oz)
Samples used 115 yds (1.42 oz) in Rose Quartz or Pewter
Large Eye Yarn Needle
.
Everything you need for this project can be ordered online.
Save time and shop from home.
Alpaca Daydream Yarn (available from WeCrochet)
.
Abbreviations:
ch(s): chain(s)
dc: double crochet
sc: single crochet
tc: turning chain
Gauge: 4" x 4" = 11 rows by approximately 4 shell stitches
Finished Size: 4.5" wide by19.5" around
Notes:
Turning chain (tc): the last stitches of each row are worked in the turning chain which is the chain 1 that starts each row. It is easiest to work in the chain space rather than trying to get your stitches right on the chain.
If you make the headband a different length, it is best to end on an even number of rows.
Stillwater Shell Stitch Crochet Pattern Instructions:
Ch 22 (multiple of 6 + 4)
Row 1: 5 dc in the 4th ch from hook, *skip 2 chs, sc, skip 2 chs, 5 dc in next ch; repeat from * across ending with 3 dc in the last ch, turn.
Row 2: Ch 1, *skip 2 sts, 5 dc in sc, skip 2 sts, sc; repeat from * across, skip 2 sts, 3 dc in tc, turn.
Repeat row 2 until you reach a total of 56 rows or the headband reaches your desired length. Fasten off leaving a long tail end. Using your favorite joining method, sew the ends of the headband together. (I used a whip stitch.)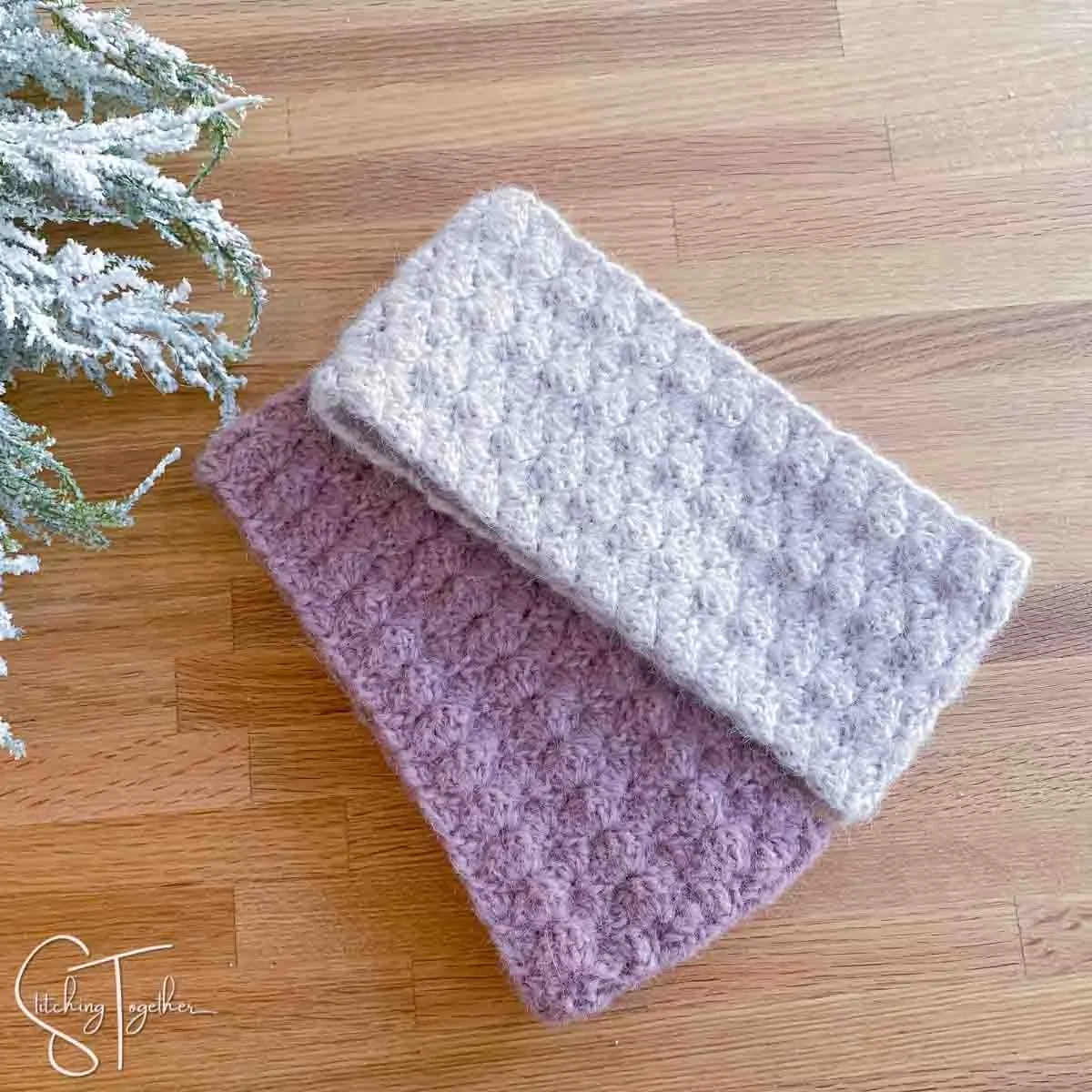 Wasn't that easy? Who will you make this gorgeous headband for?
I'd love to see pics of your finished projects. You can easily share them in the following ways:
.
If you like easy to print patterns, this pattern can be purchased in the following places:
Thanks for your support!
.