Beautiful Crochet Coaster Patterns
Disclosure: This post may contain affiliate links. As an Amazon Associate, I earn from qualifying purchases. Please visit my Privacy Policy for disclosures and more information.
These beautiful crochet coaster patterns will inspire you to quickly add some handmade beauty to your home decor. These free crochet coaster patterns are also perfect for making great gifts.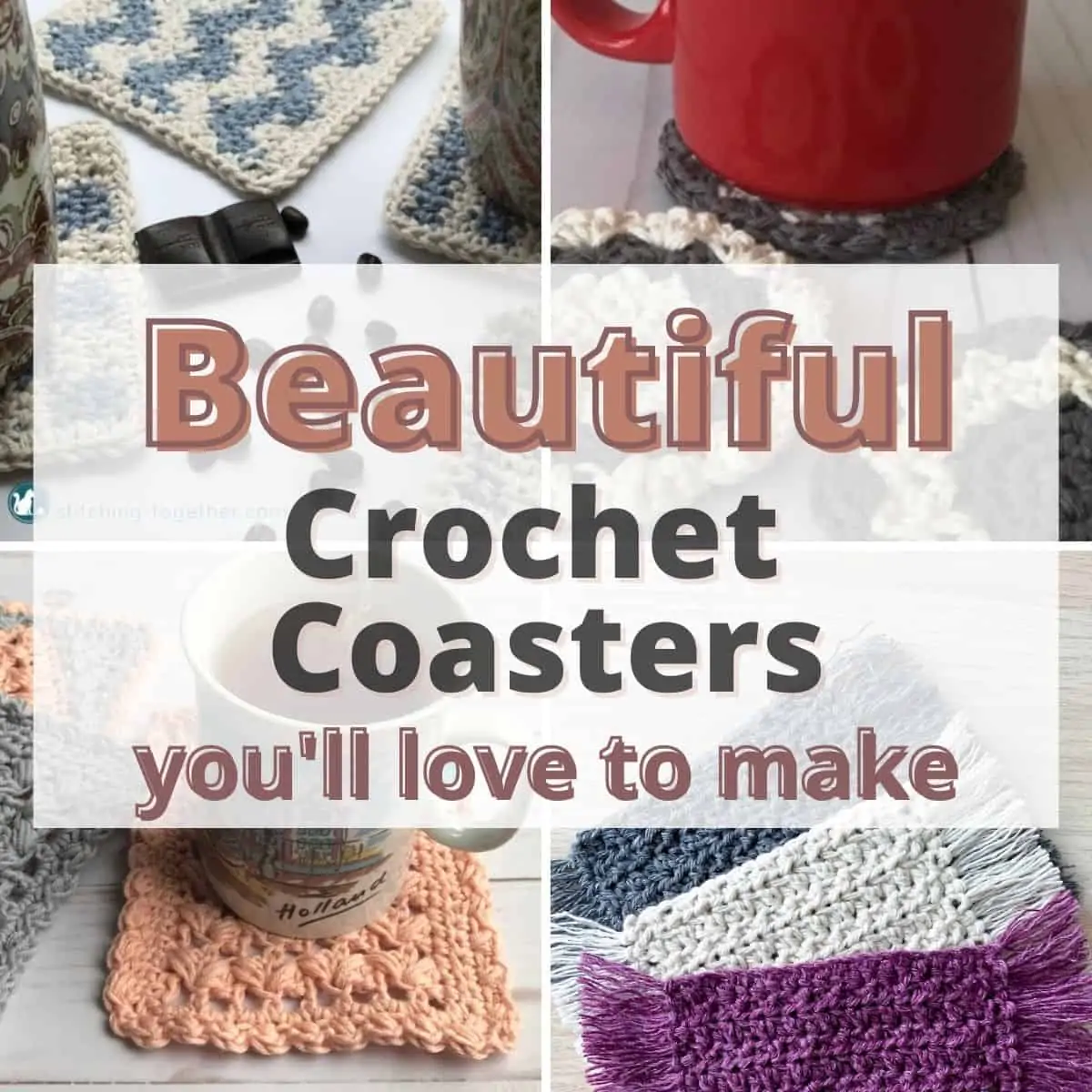 Whether you call them mug rugs or coasters, these easy crochet projects are a great way to learn and practice new skills while creating something useful for your home.
Are Crochet Coasters Good?
Yes, crochet coasters are good! They are quick to make, great for using up yarn scraps, and perfect for trying out new techniques and skills. They can be made thick enough to protect your surfaces from heat and they're absorbent so they'll protect from condensation and small spills.
Plus, most crochet coasters are also really simple to make and it's always nice to be able to create something that can match seamlessly with your home decorating style.
If you are just starting out on your crochet journey, you'll want to check out this post on how to crochet coasters for beginners. We walk through, step-by-step, how to create a basic square coaster and a basic round coaster.
After you look through these beautiful coaster crochet patterns make sure you check out the Fun & Funky Crochet Coasters and the Christmas Crochet Coaster Patterns when you are ready for another coaster crochet project.
Make sure you save this round up on Pinterest so you can find it later!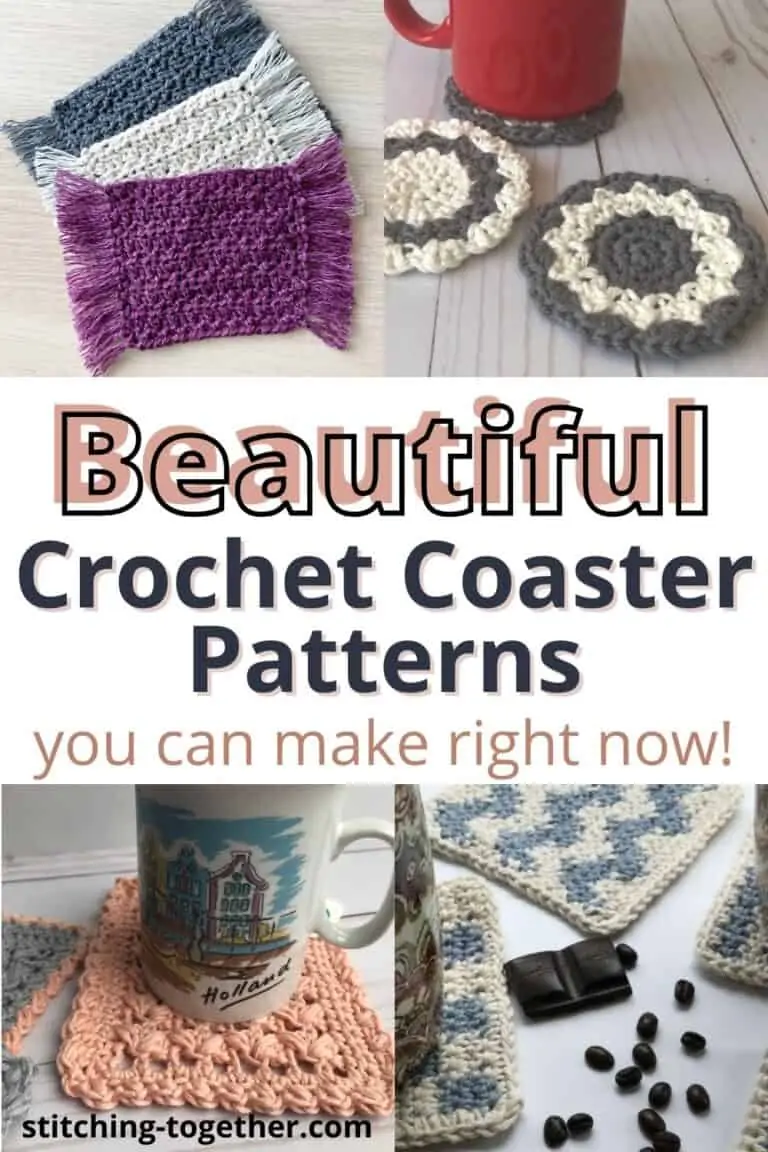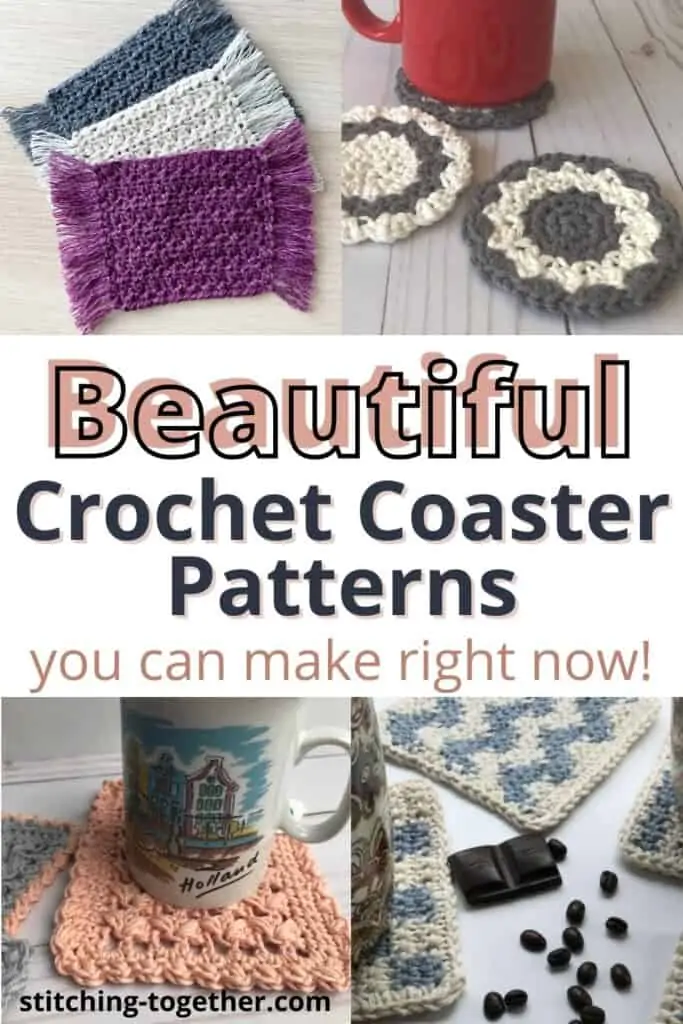 Beautiful Coaster Crochet Patterns
Caroline Easy Crochet Coasters
These cute square coasters with a touch of boho fringe and gorgeous texture may look complicated but they are actually super easy to make. A stack of these lovely coasters would make a great housewarming gift.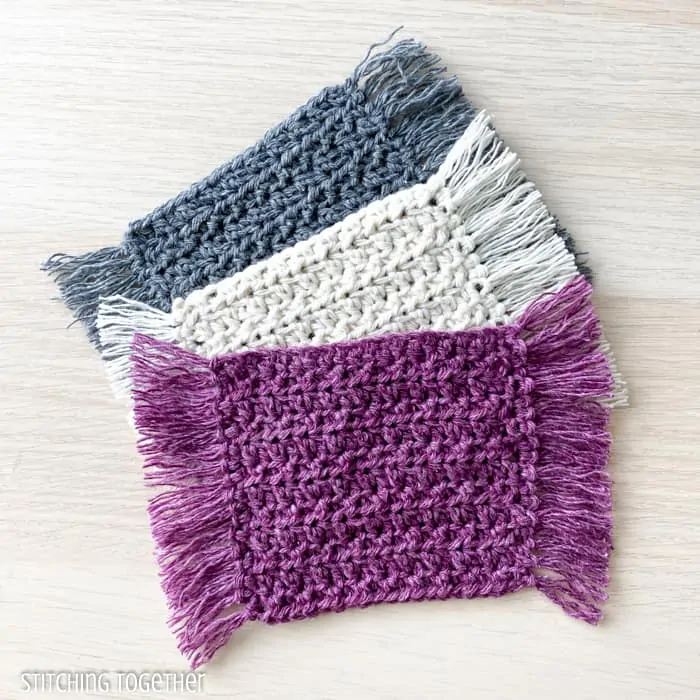 Square Crochet Coasters Free Pattern
Besides being gorgeous, these square coasters might be the most unique coasters on this page because they were designed by two different designers as part of a designer remix challenge. You can read all about it and learn to make your own on here.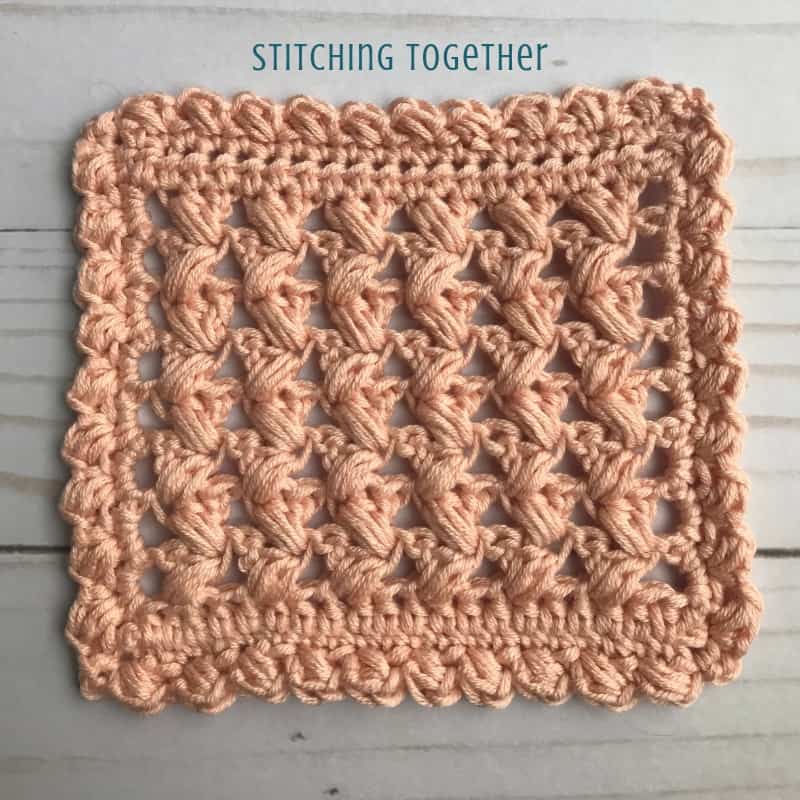 The Farmhouse Coaster free crochet pattern was designed for two reasons. One, to make cute coasters (obvious) and the other was to create a small project where you could practice color changes and following a color chart. As an extra side benefit these have become the most used coasters in my house.
Country Crochet Round Coaster
These cute and quick round coasters belong to a larger set of crochet country patterns which includes dishcloths, dish towels, hot pads, and more. The coasters work up in just 6 rounds and feature the spider stitch.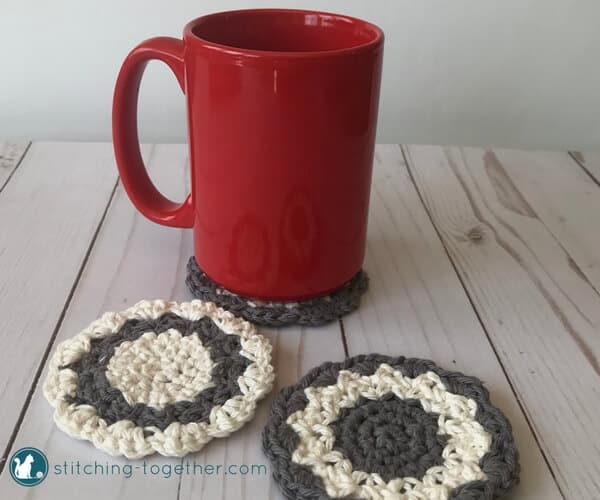 Boho Crochet Coasters by For the Frills
I love everything about these coasters and while I am probably not supposed to play favorites (or wait, does that only apply with kids…) they are probably my favorite coasters on this whole page. They would look great on my coffee table or side table.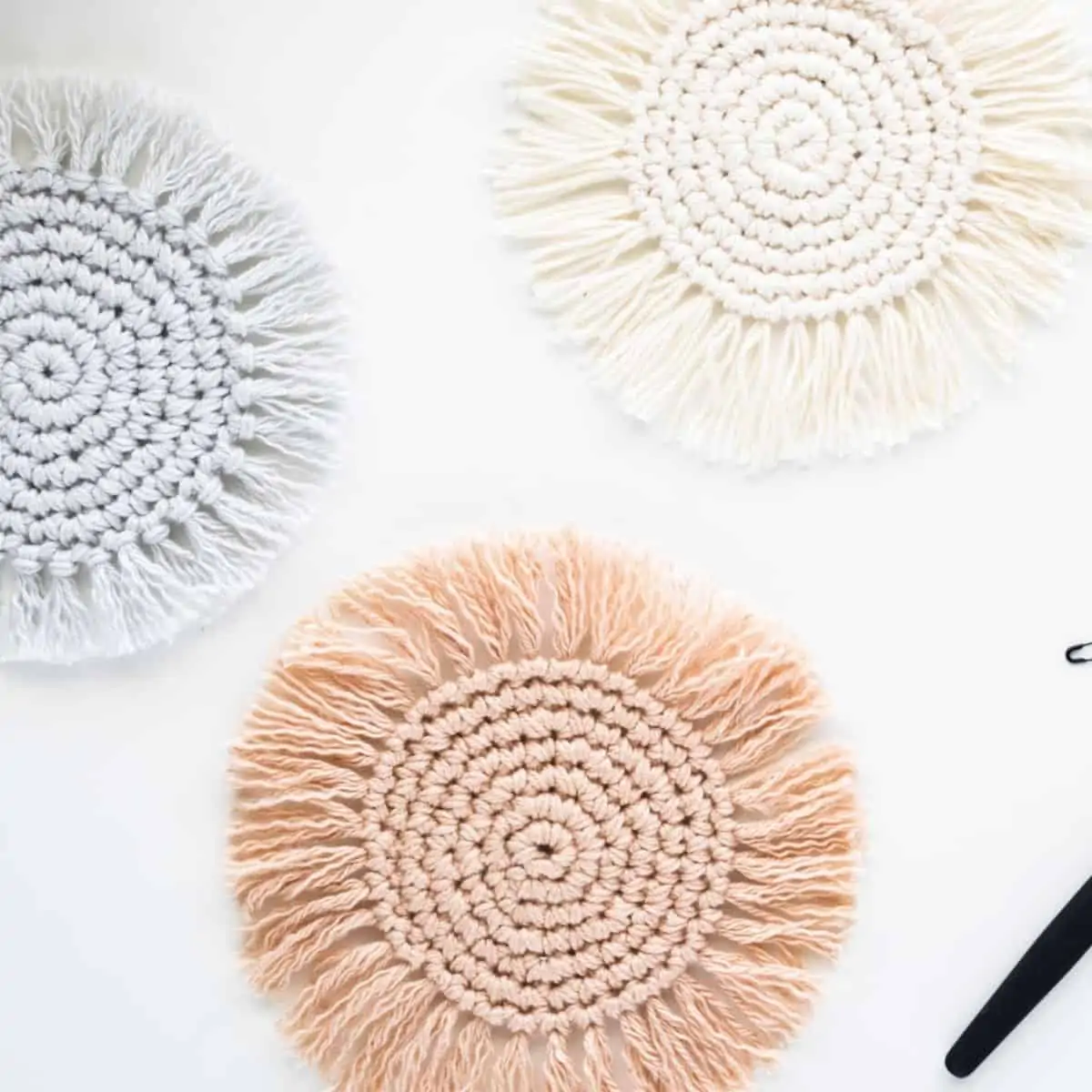 Marigold Crochet Lace Coasters by Crochet for You
Aren't these the prettiest little round coasters? I love the lacy stitches and the fact that it only takes 5 rounds to make it! You do want to know how to make a magic ring before starting these.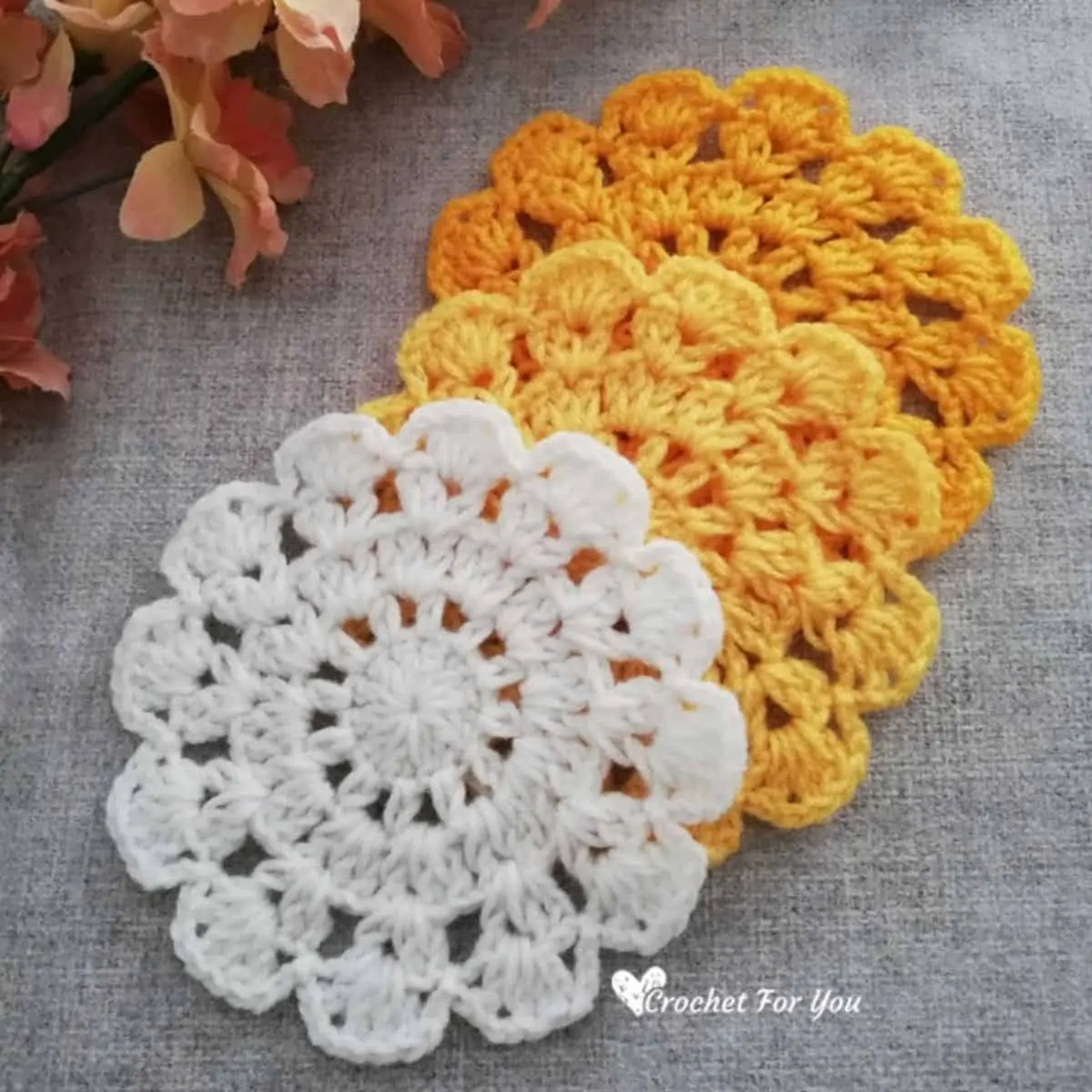 Seaside Mug Rug by Desert Blossom Crafts
A gorgeous lacy crochet coaster with open stitch work and a shell stitch pattern running up the center giving strong beach vibes. Wouldn't these look so cute on your coffee table?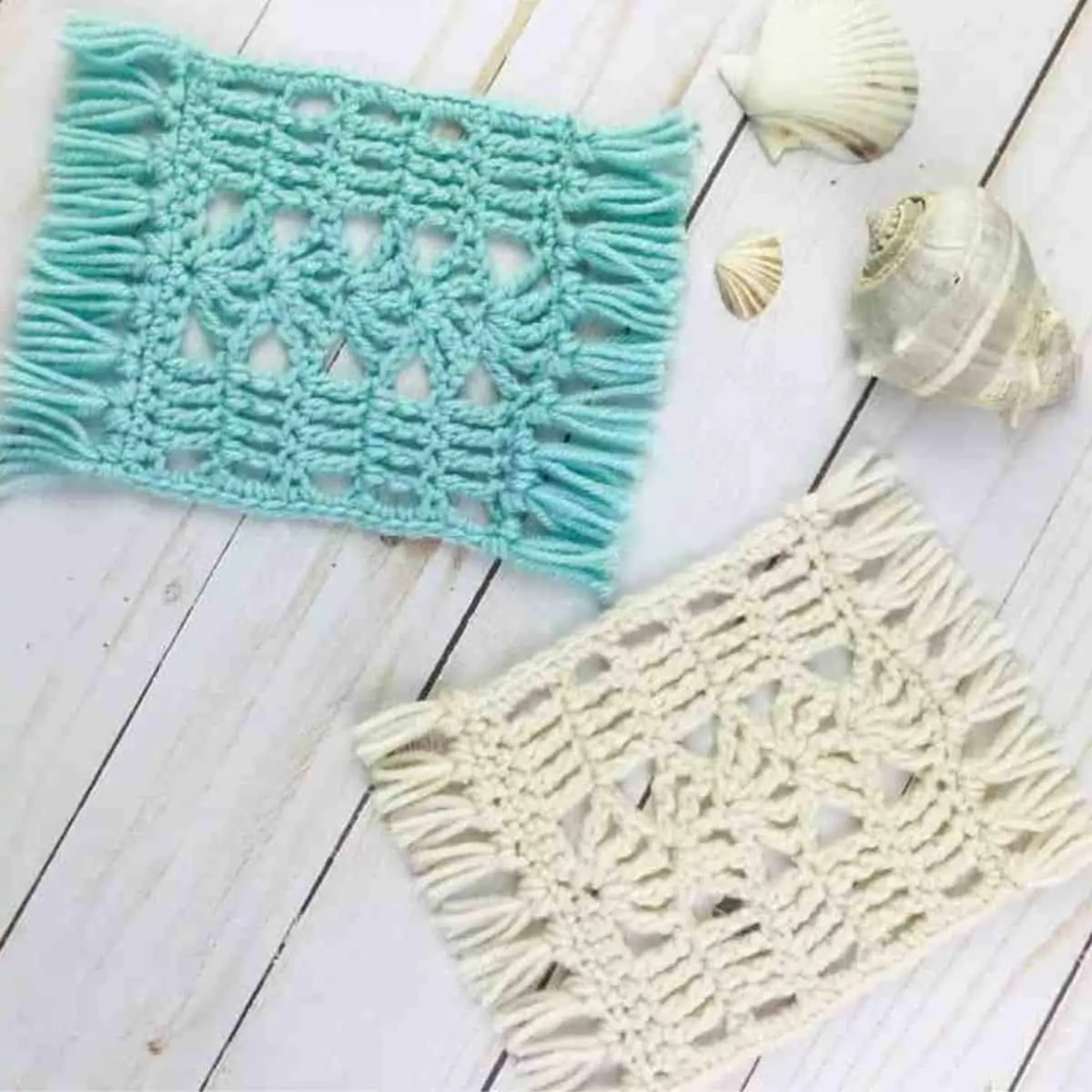 Table Placemat and Coaster Set by Cream of the Crop Crochet
This gorgeous placemat and coaster set is perfect for crocheting an entire place setting. These would look great on your dining table for the holidays!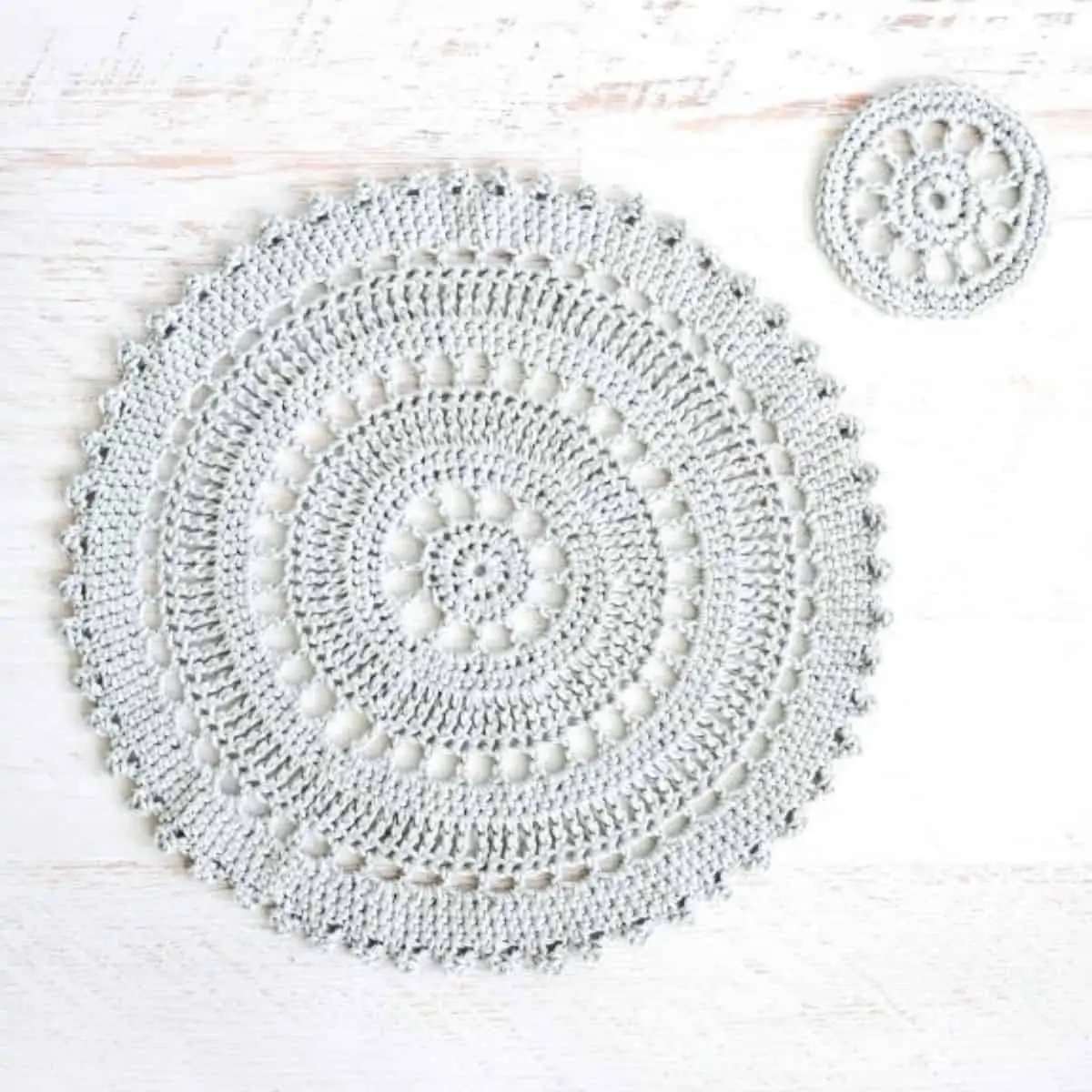 Crochet Coasters Pattern by Joy of Motion Crochet
Sometimes simple is best. These cute coasters use easy stitches, single crochets worked in the front loops and back loops, and a fun crab stitch border.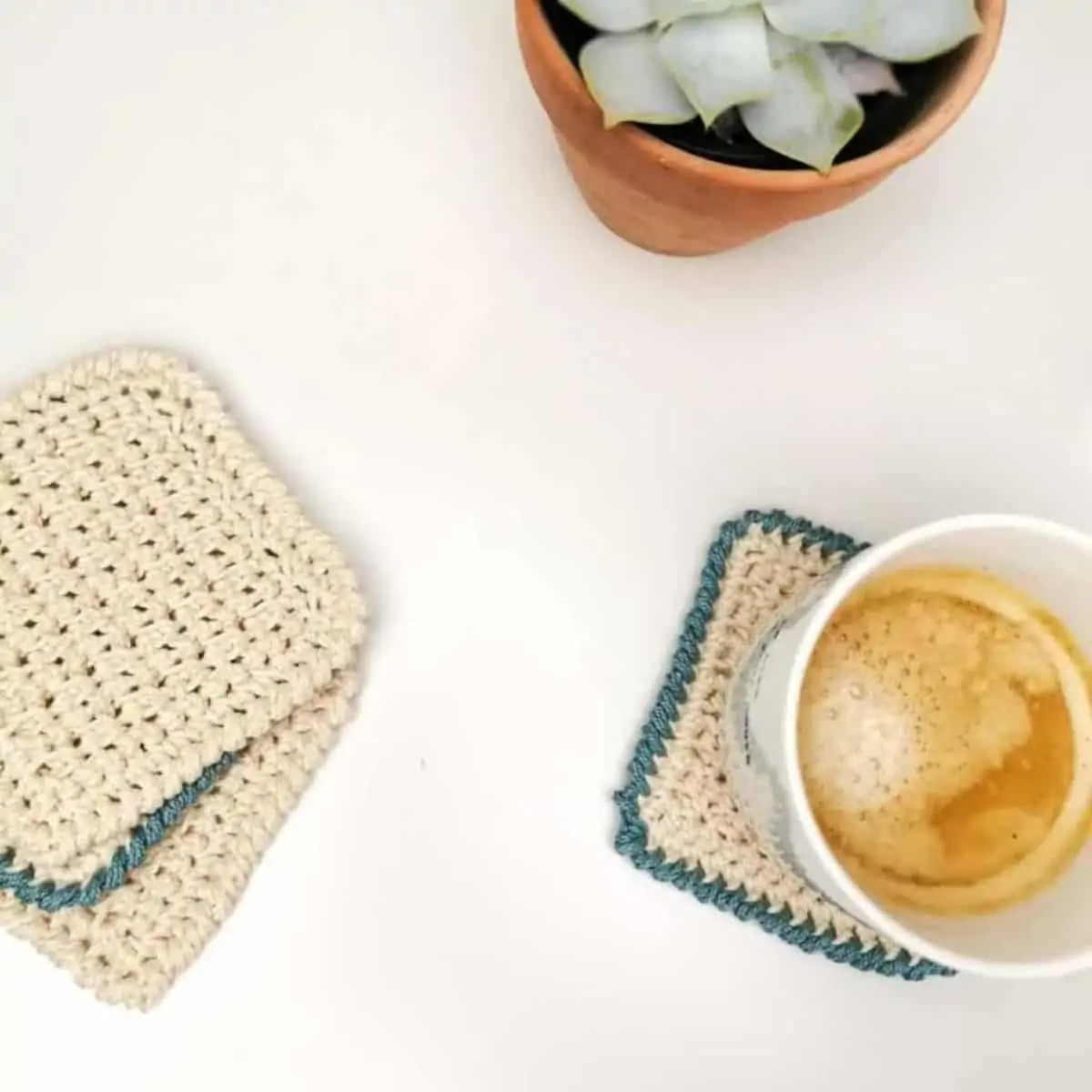 Mug Rug by Yarn + Chai
This is the ultimate scrap yarn coaster. Just pick a variety of yarns of the same weight and follow the simple pattern to create a similar-looking coaster.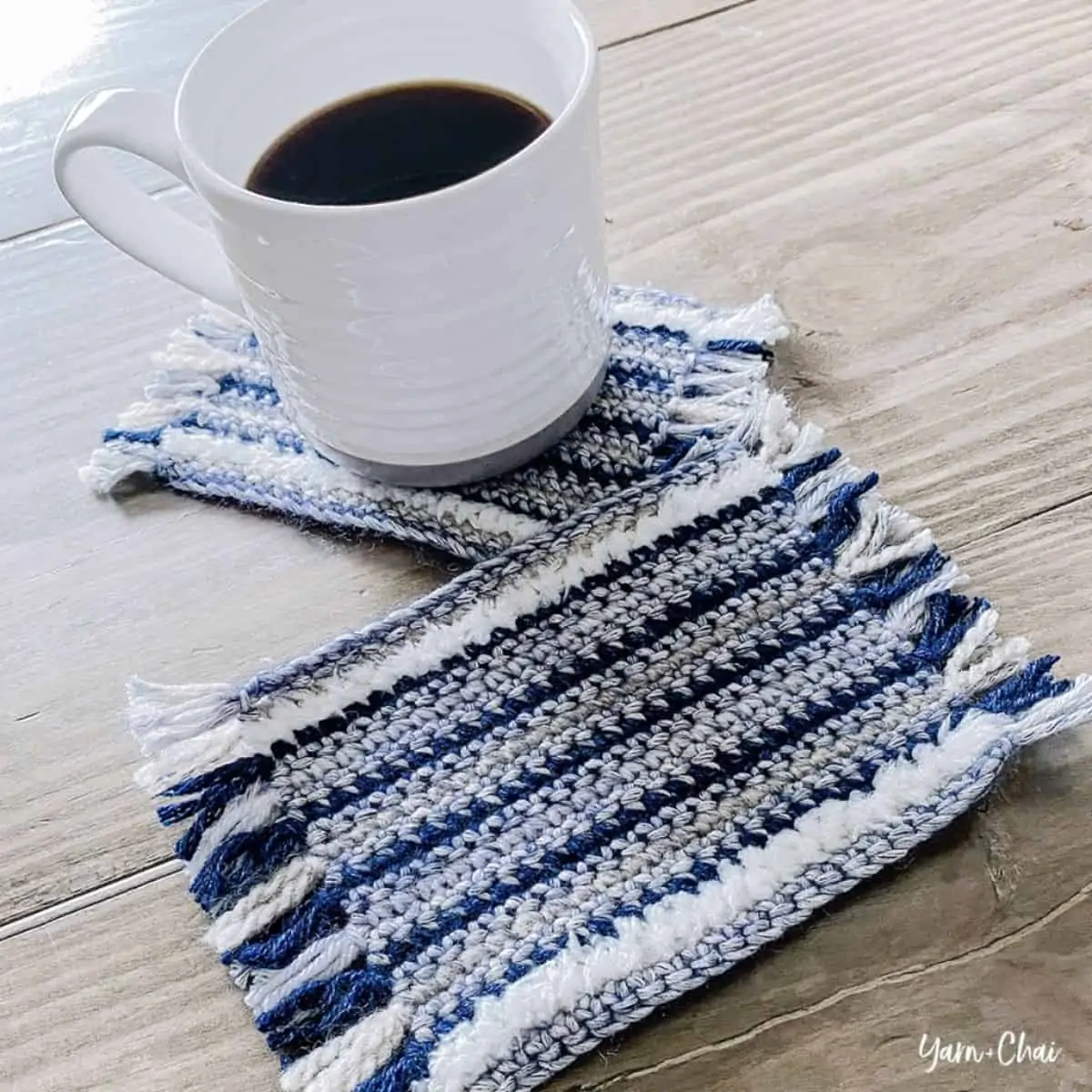 Crochet Pretty Square Coaster by Crochet 'n' Create
Worked from the center out, this lovely coaster with a beautiful border looks amazing in the colors used by the designer. The combo of double crochet stitches and half double crochet stitches make the striping pattern even more interesting. Of course, you can use any color combination tailored to match your own decor. (The written pattern includes instructions in both UK and US terms.)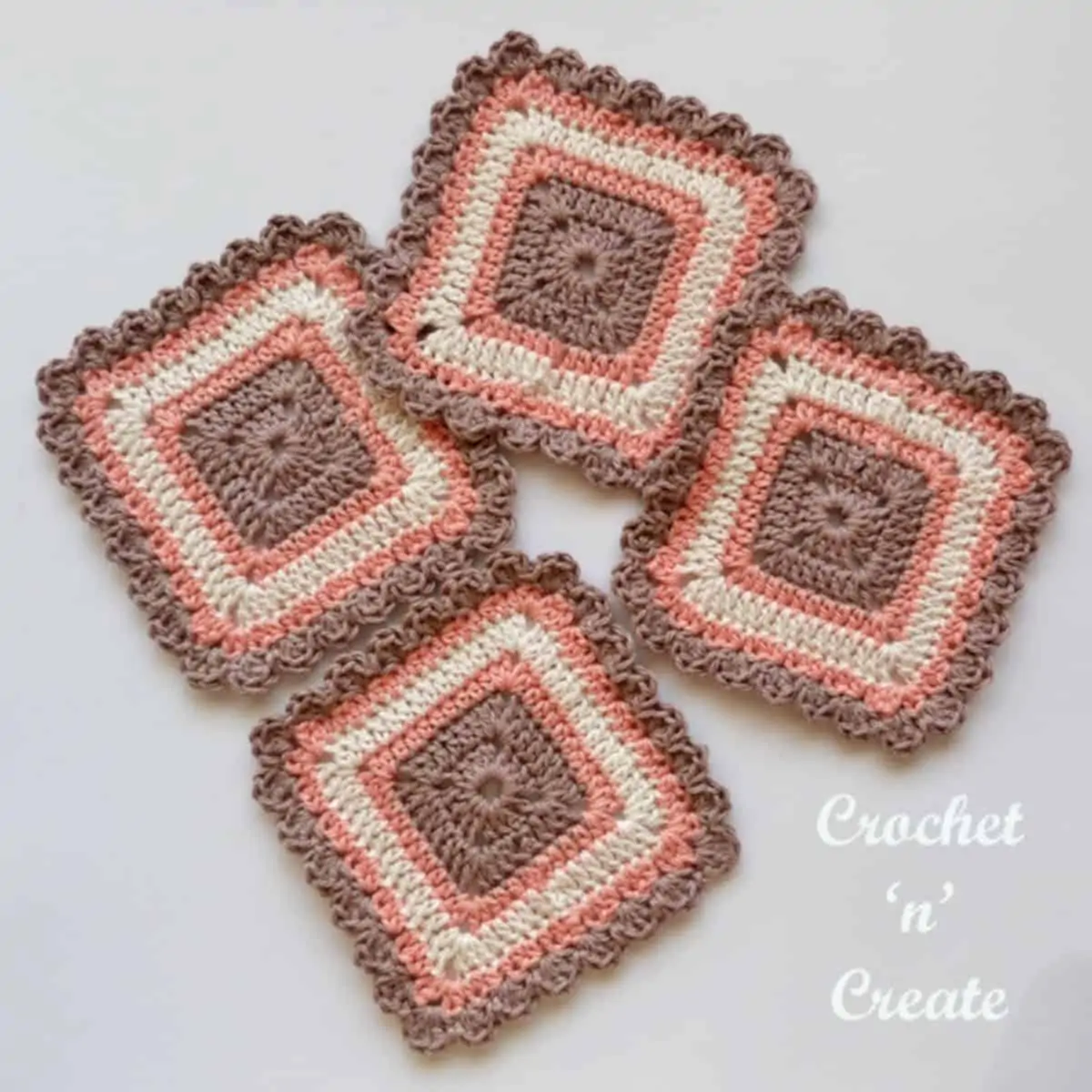 Crochet Flower Coaster on Crochet 365 Knit Too
I love the gorgeous flower motif at the center of this square coaster. The colors are all so beautiful together and make for very unique crochet coasters.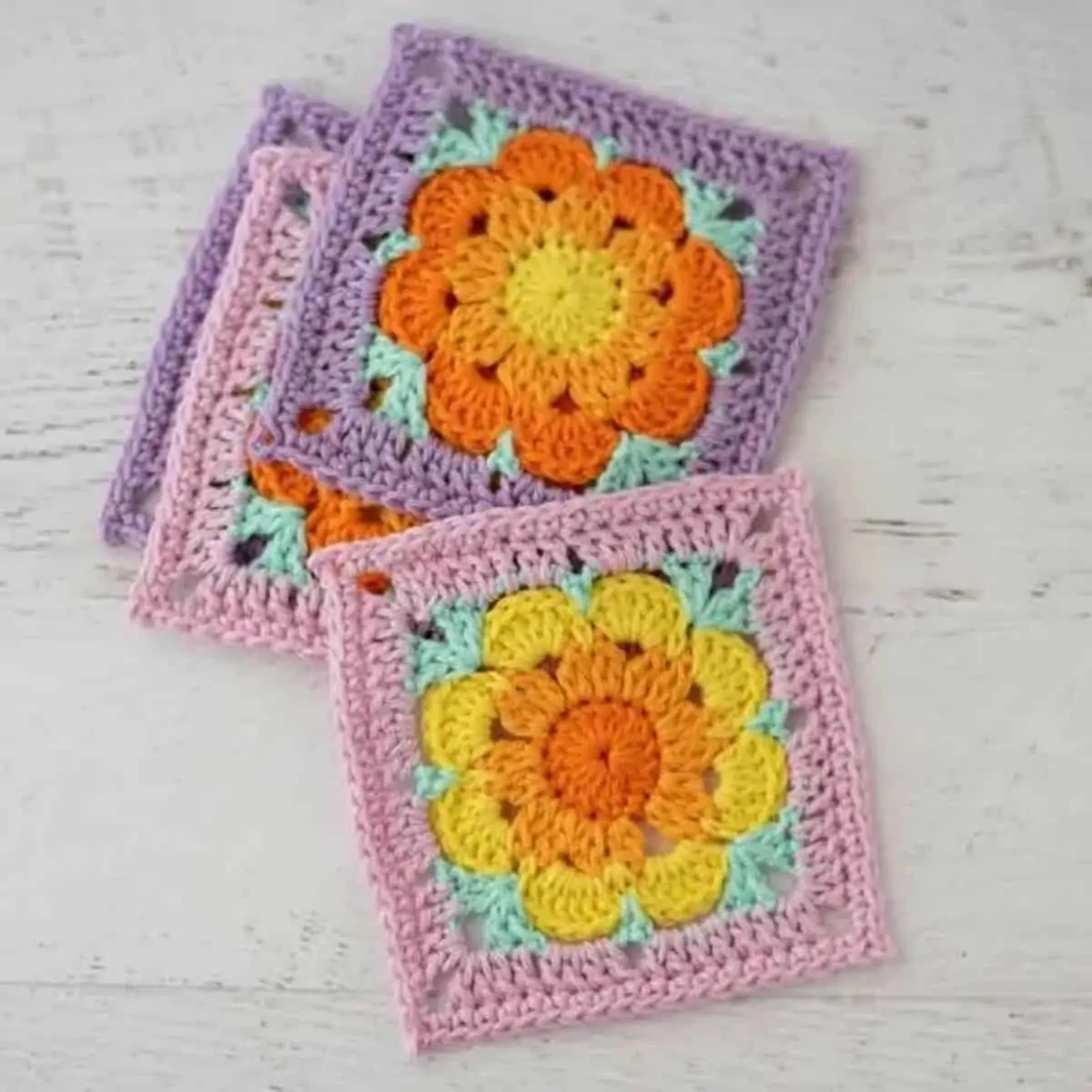 Spring Blooms Coaster by The Unraveled Mitten
The spring blooms coaster has a floral center that's subtle when making a solidly colored coaster. You could easily modify your own beverage coasters by choosing colors to make the first 2 rounds pop out and look more obviously like a flower. Either way, they'd make a cute set.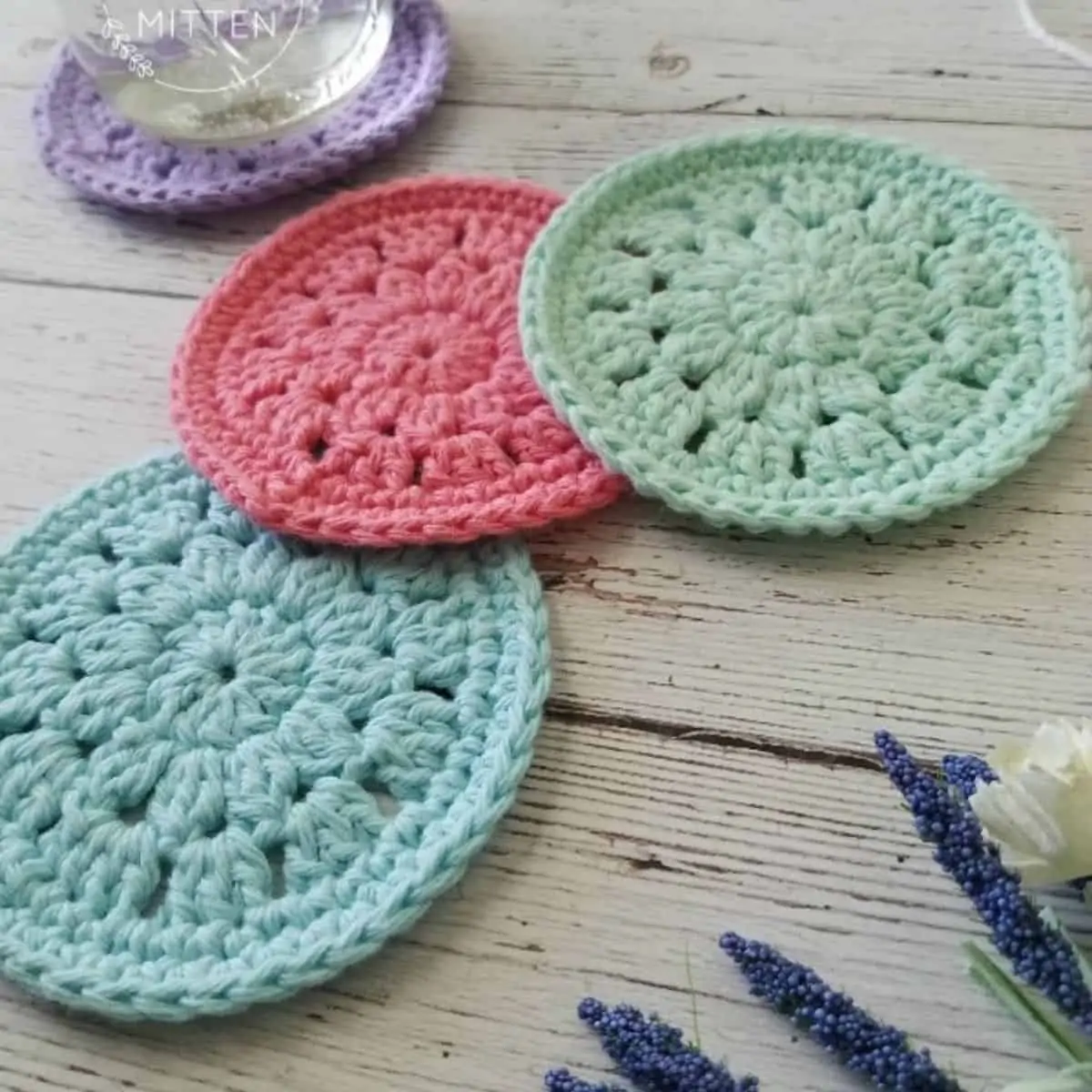 Chain Stitch Coasters by Repeat Crafter Me
You only need to know how to make a crochet chain in order to make these gorgeous coasters that blend DIY and crochet perfectly. A long chain, variegated yarn, plus some hot glue give you a very unique set of coasters.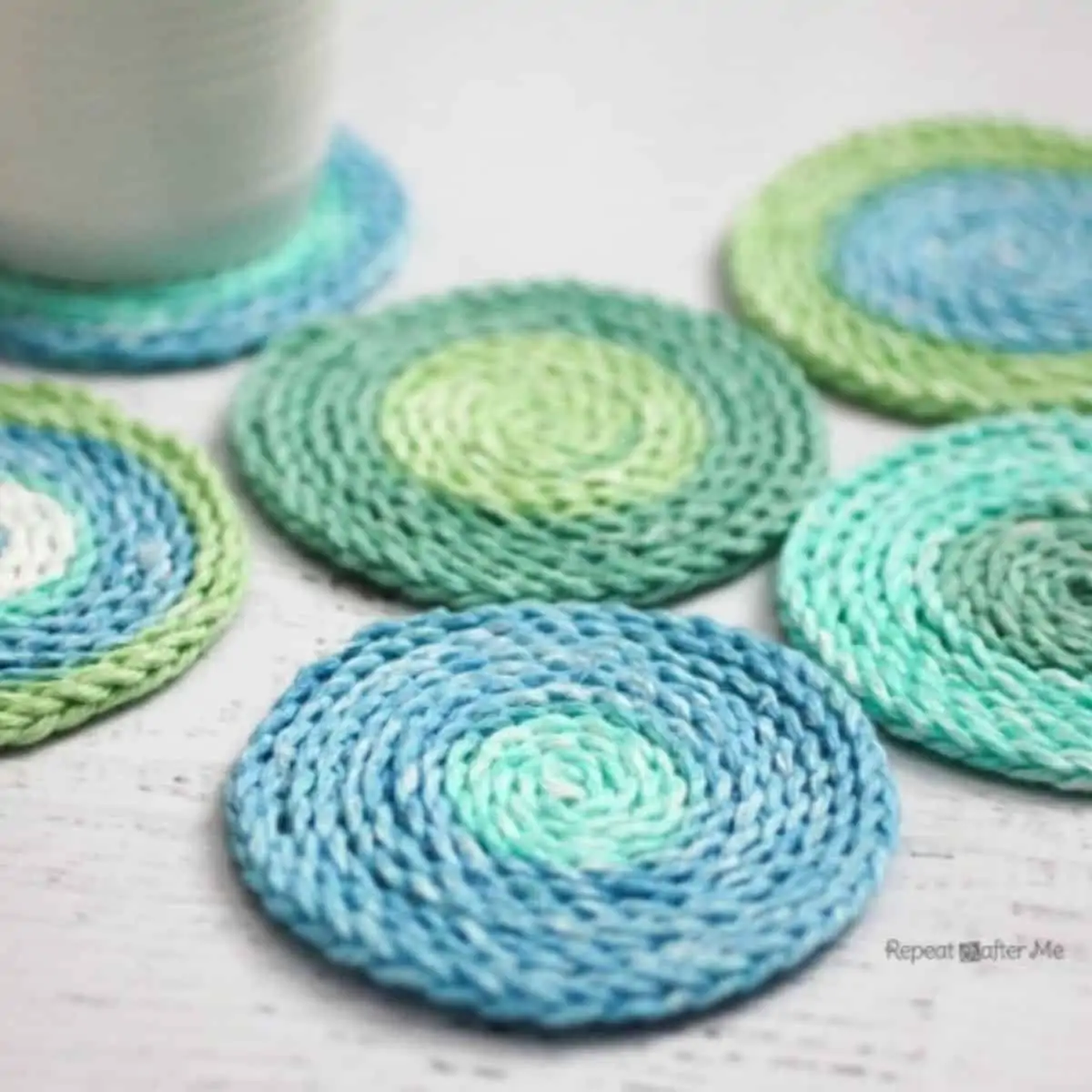 Modern Crochet Coasters by 5 Little Monsters
Easy color changes creating a diagonal motif give these simple coasters a modern vibe and you only need to know how to chain, single crochet, and change colors. I like the idea of keeping half of the coaster neutral while adding a pop of color to the other half.
Circular Coaster by Crochet 'n' Create
The great thing about this Circular Coaster pattern is that the first 4 rounds are just a basic double crochet circle. It's that last round the adds beautiful shell stitches which makes the whole thing just pop. A set of these coasters would make a perfect gift.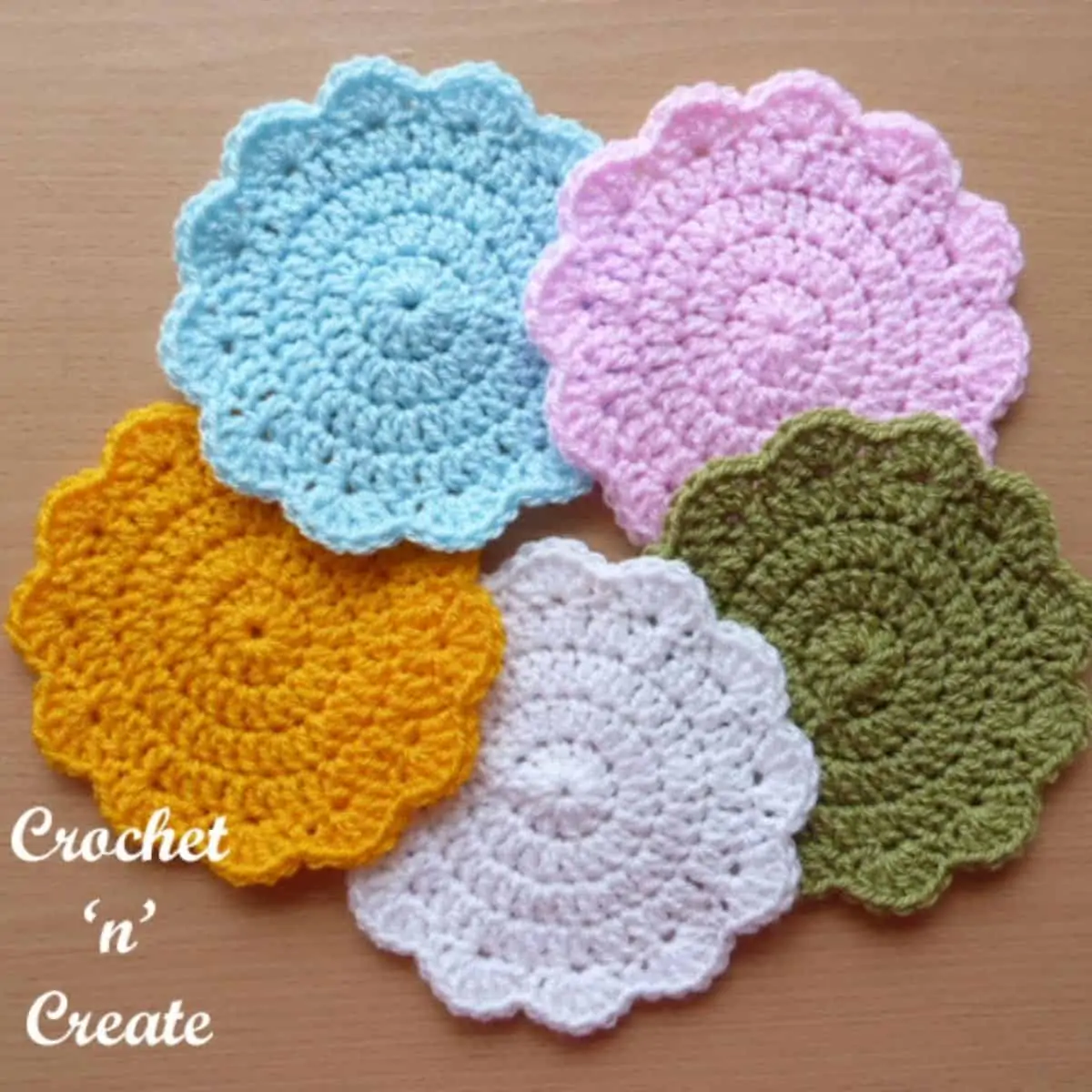 Mosaic Crochet Mug Rug by Pattern Paradise
I absolutely love the look of this mosaic coaster and while it looks super complicated to make, it really isn't. You don't even have to change colors in the middle of a row. This coaster pattern gives you a great opportunity to try mosaic crochet on a small project.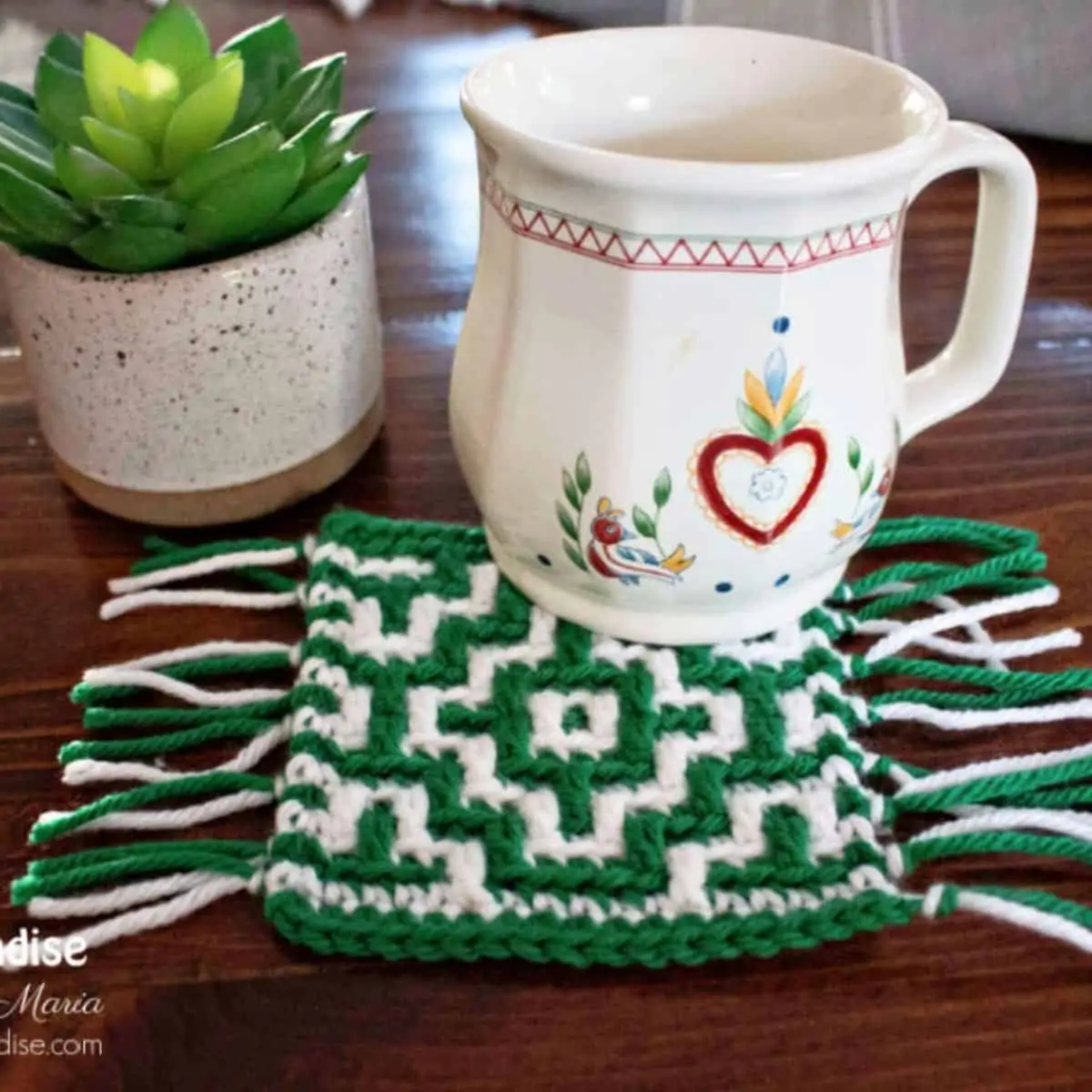 Gingham Mug Rug by Divine Debris
This adorable gingham coaster pattern may not be as quick as some of the other coasters, but it's so adorable, it's worth the extra time! Plus doing a small pattern like this is a great opportunity to practice changing colors.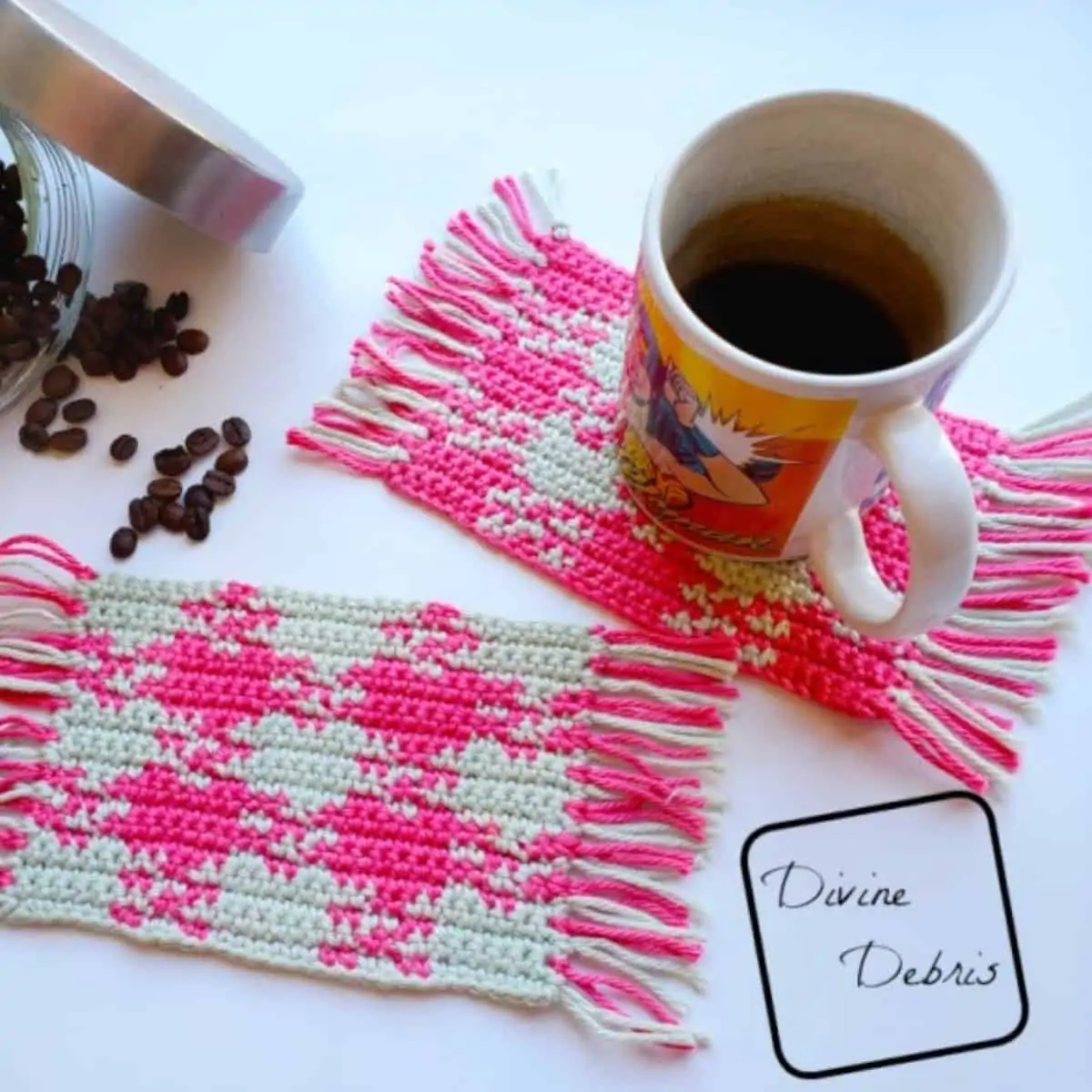 Tunisian Crochet Coaster Pattern – by Petals to Picots
If you haven't tried Tunisian Crochet or you just want to practice it more, these simple coasters are a great project for you.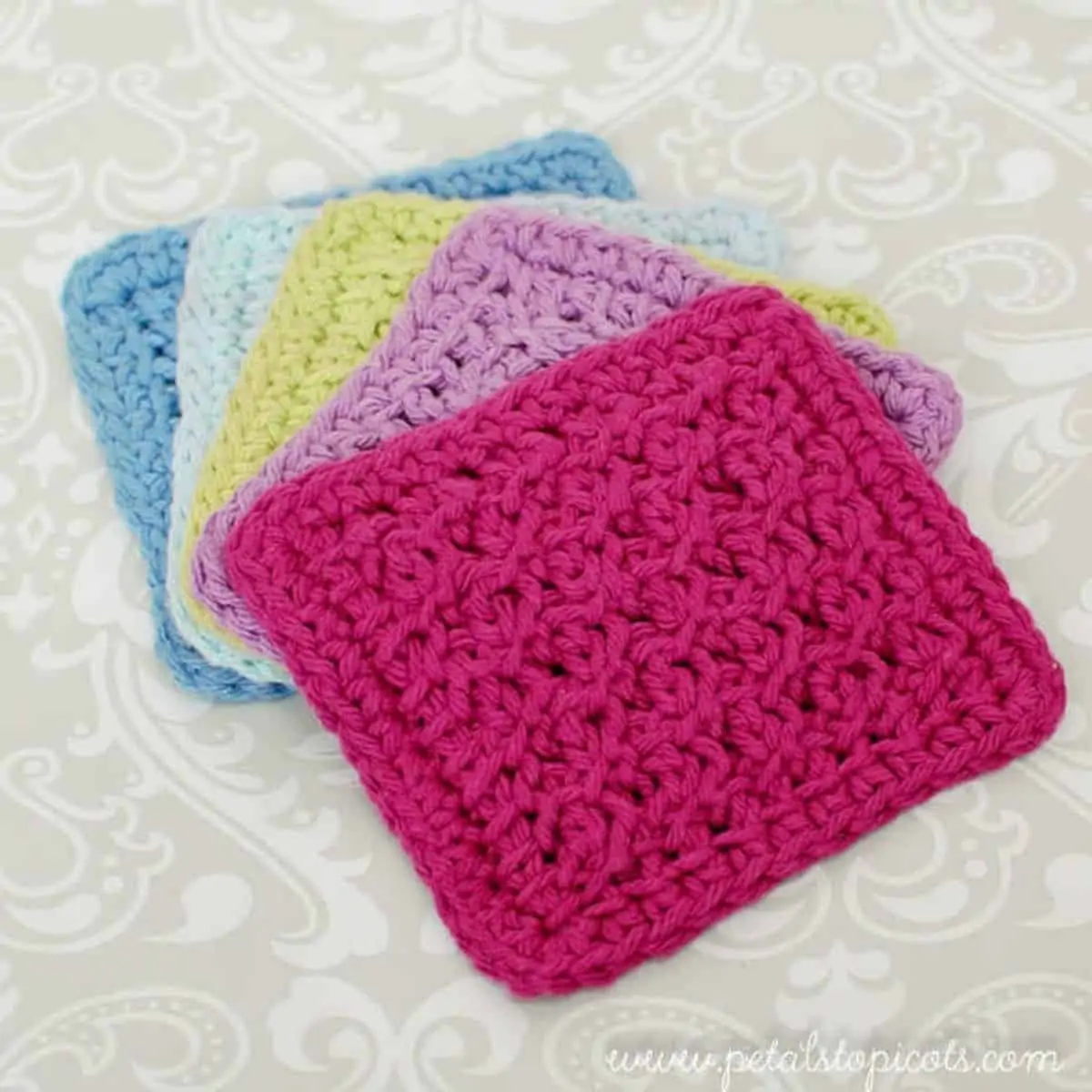 Ready to Crochet Coasters?
Now that you've browsed through these beautiful crochet coaster patterns, I know you are going to want to grab some yarn and a crochet hook and get started creating.
Most of these coaster patterns can be made which what you have in your yarn stash but remember that cotton yarn or a cotton blend usually works best for coasters because of cotton's absorbency and resistance to heat.
Some of my favorite cotton yarns include Dishie from KnitPicks and Lily's Sugar'n Cream. Dishie is soft and so pleasant to work with while Sugar'n Cream is durable and easy to find in stores.
If you are looking for more unique crochet coaster patterns, like watermelon coasters, hexagons, cactus coasters or even an owl coaster, don't miss the Funky Crochet Coaster round up.