Crochet Christmas Coasters
Disclosure: This post may contain affiliate links. As an Amazon Associate, I earn from qualifying purchases. Please visit my Privacy Policy for disclosures and more information.
Adding Crochet Christmas Coasters to your holiday decor is a great way to include handmade happiness with the season. These Christmas Coaster crochet patterns are all free patterns and you are sure to find one set or more that you'll want to make before the holiday season.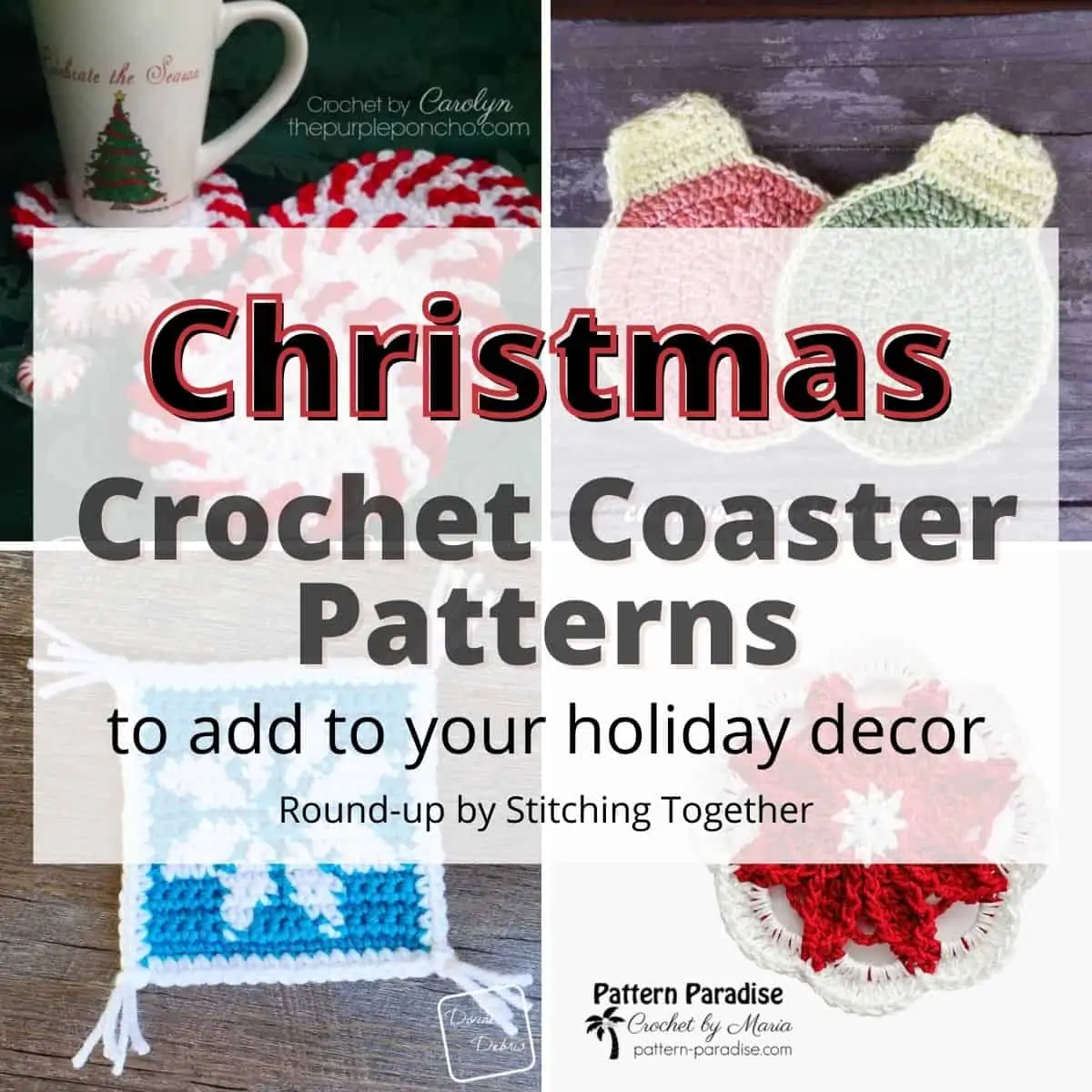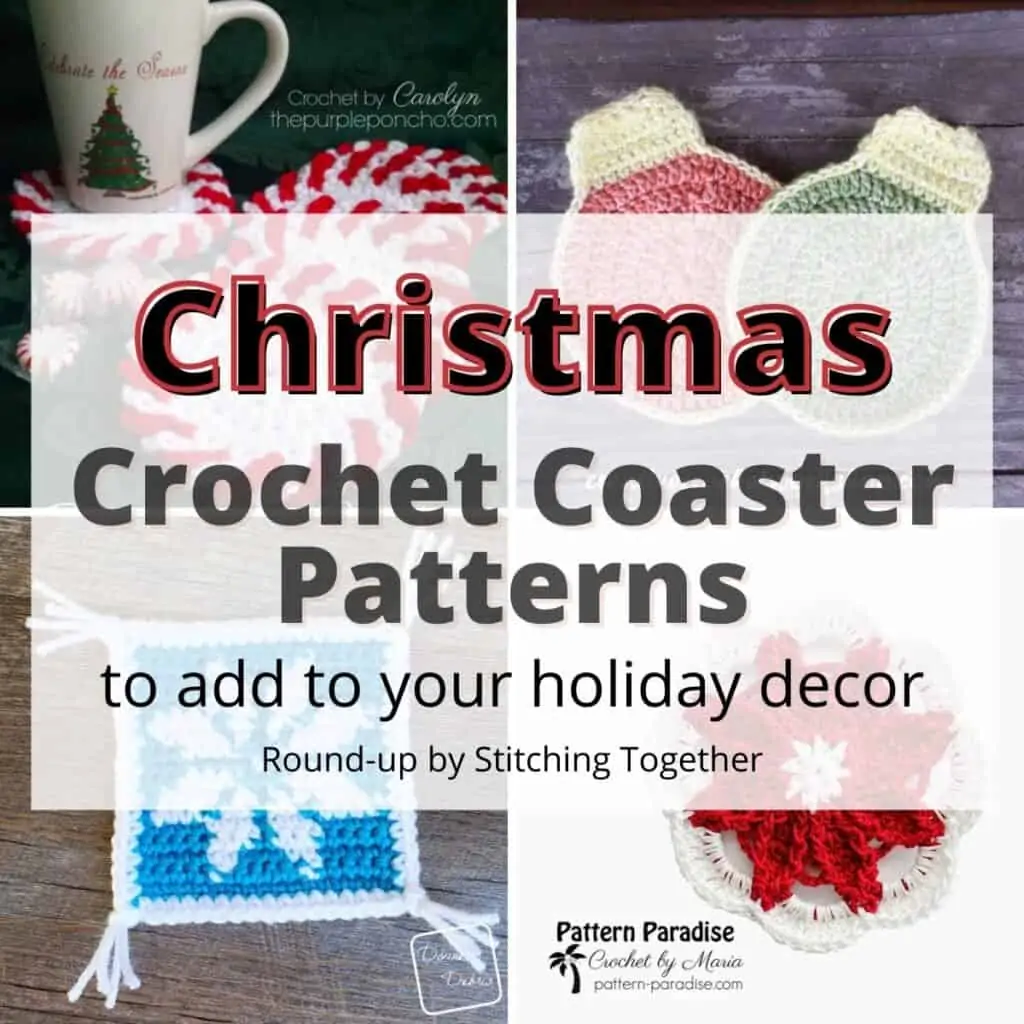 What Can I Crochet for Christmas?
Crochet coasters make a great hostest gift (hopefully we'll be having holiday parties again this year) and they make simple gifts for coworkers.
Coasters are a great way to learn new stitches and techniques and to use up those scraps of yarn. If you are new to crocheting you'll want to check out the How to Crochet Coasters Tutorial before working on harder patterns.
Grab your crochet hook and cotton yarn and get ready to make some lovely Christmas crochet coasters. Many of these coasters can be made with scrap yarn but you will have to check the original pattern for yarn specifications.
Crochet Christmas Coaster Free Patterns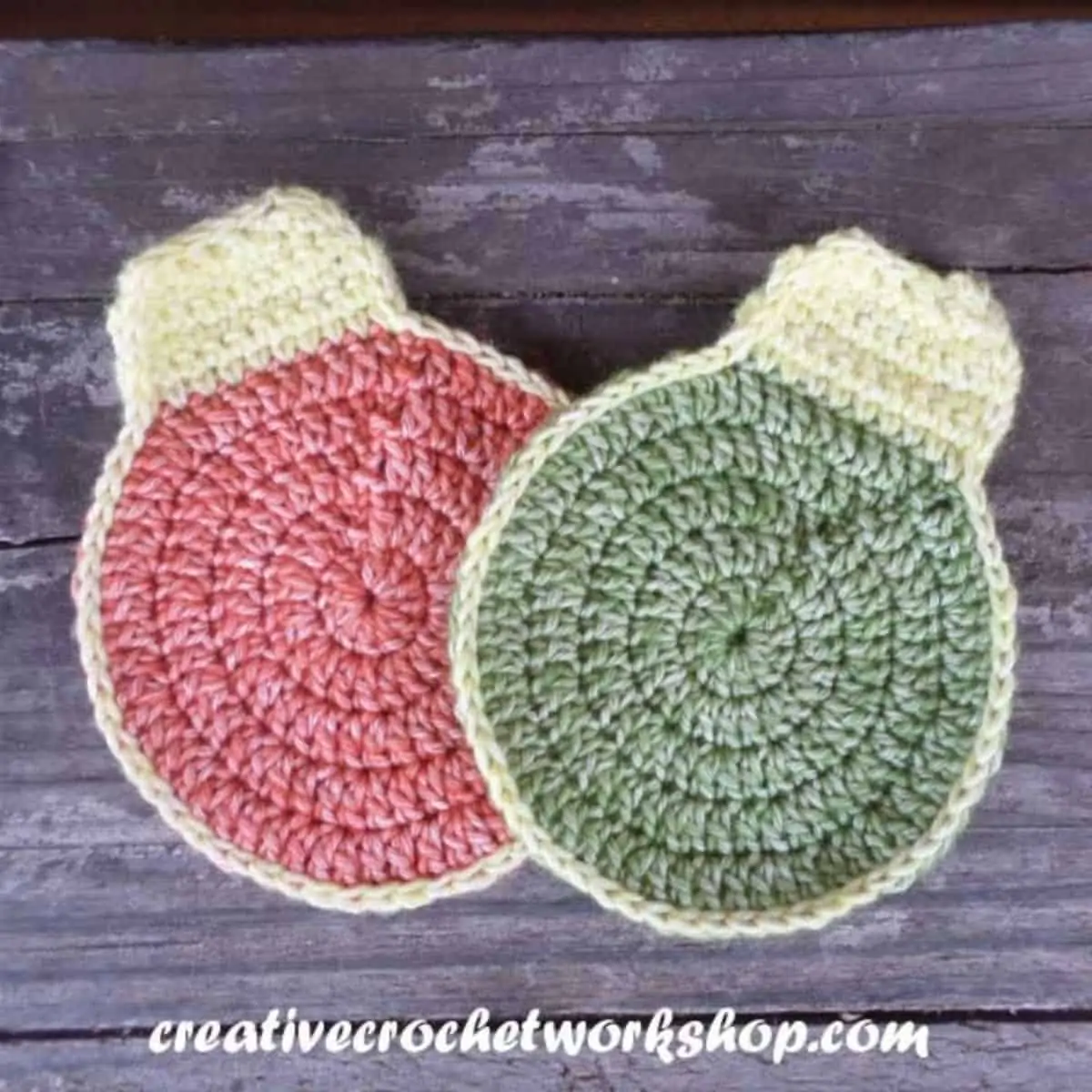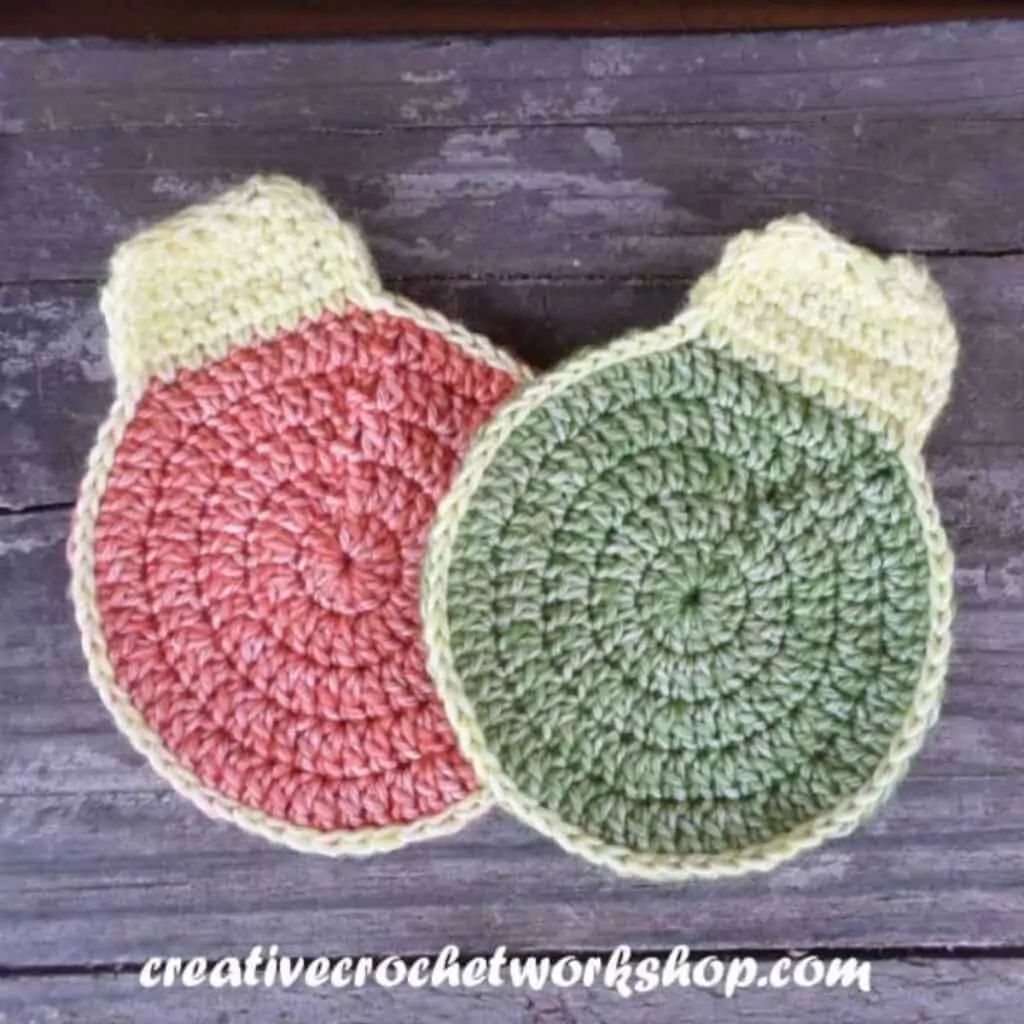 Crochet Christmas Ornament Coaster – Creative Crochet Workshop
These easy Christmas ornament crochet coasters are a quick way to add to your holiday decor. A stack of these would make a great holiday host gift. The simple addition to the round body of some stitches as a top and a slip stitch border make this a nice and simple yet fun project.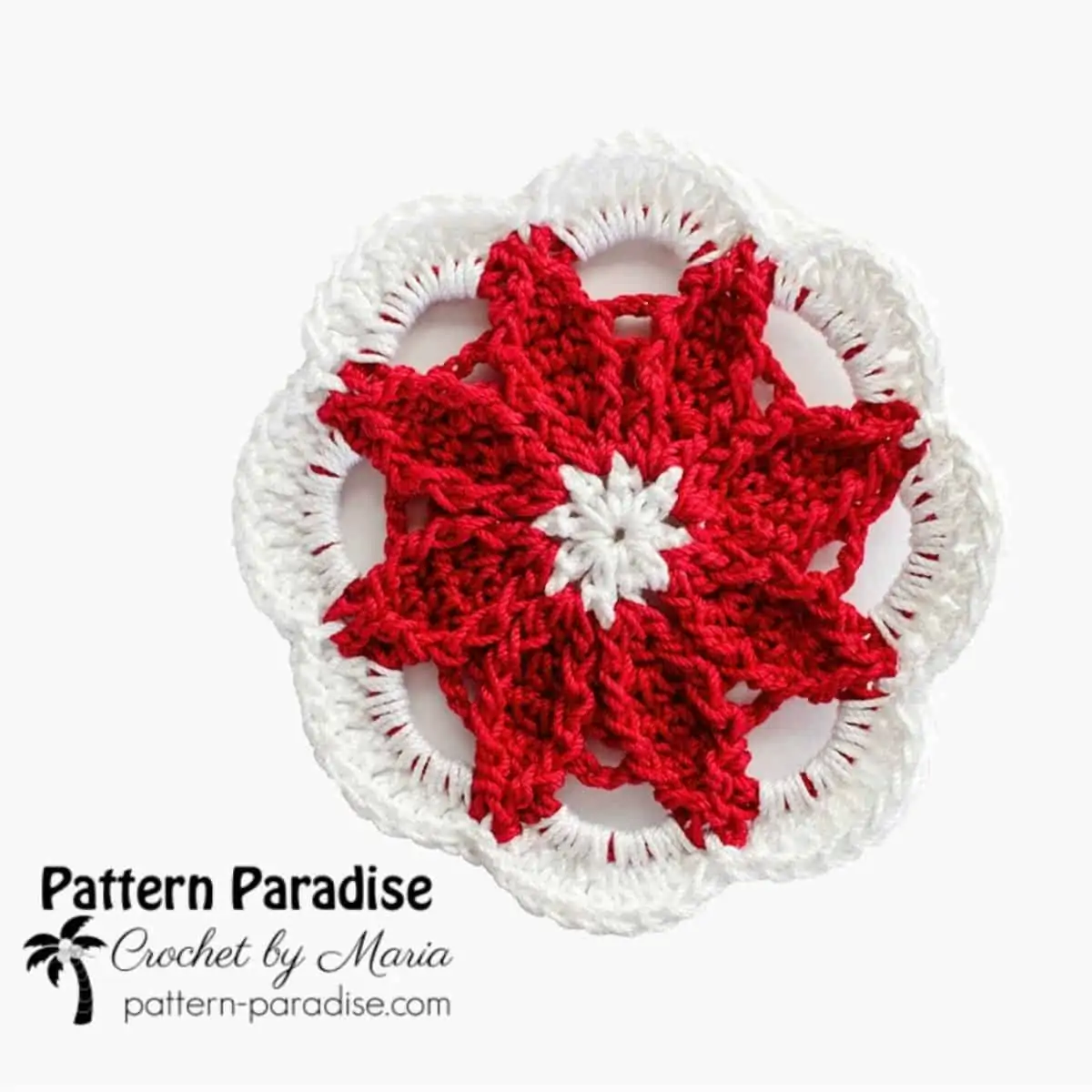 Poinsettia Coasters Crochet Pattern – Pattern Paradise
These poinsettia coasters are just about as pretty as the actual plant and you don't have to water them! Wouldn't they be cute on your coffee table around a real poinsettia?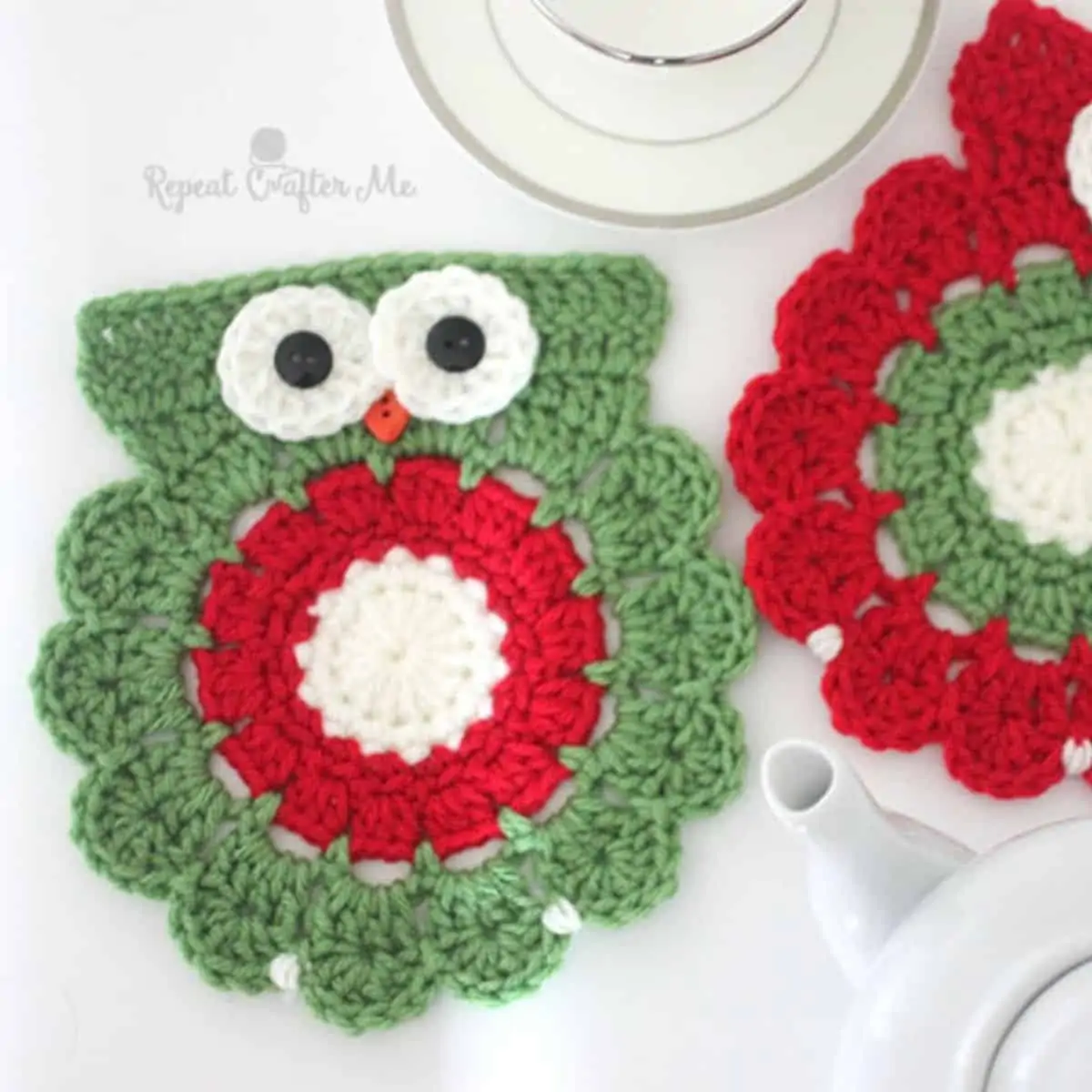 Crochet Christmas Owl Coasters – Repeat Crafter Me
These coasters are like a Christma wreath combined with an owl and they couldn't be any cuter. They are large enough to be used as coasters or trivets.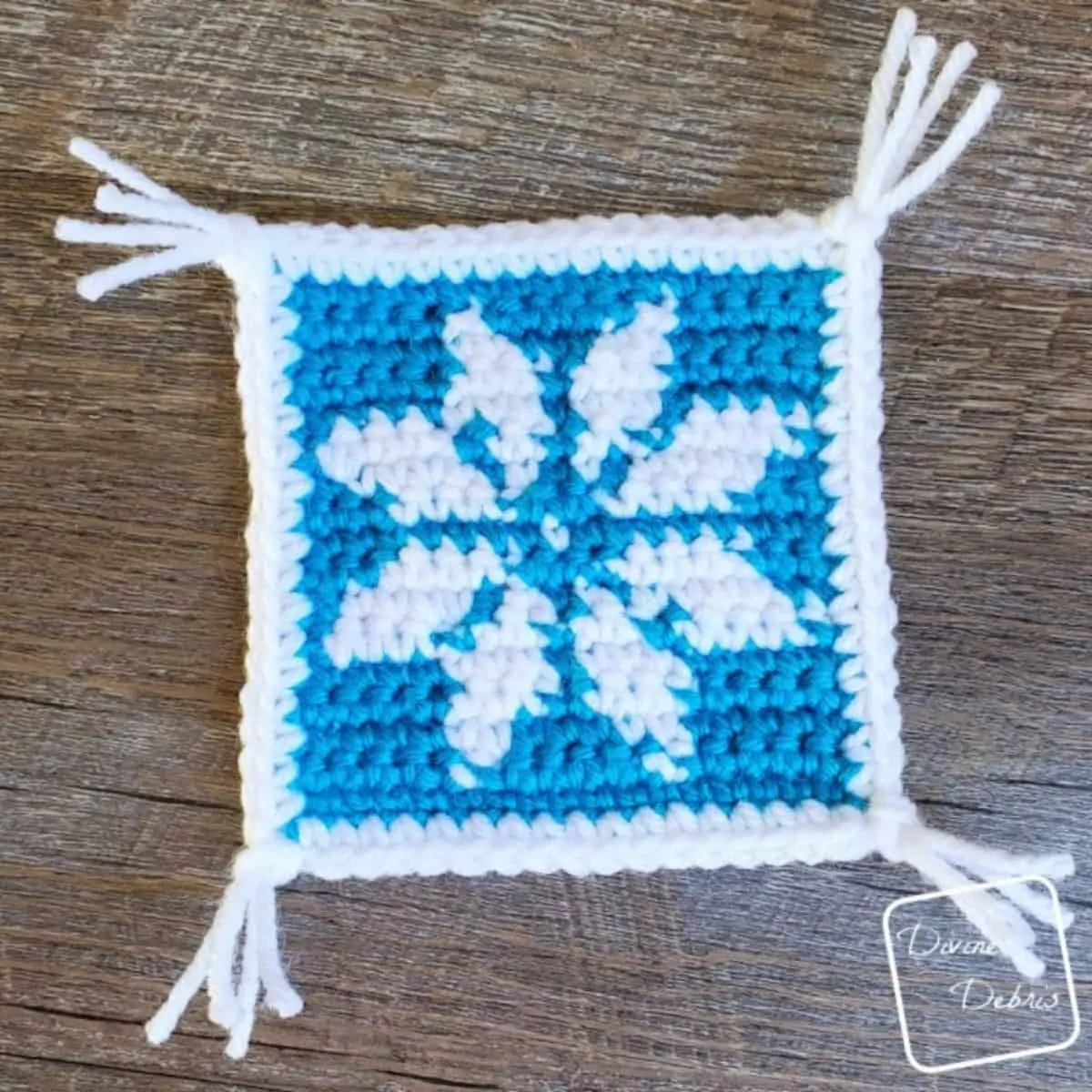 Crochet Snowflake Coaster Pattern – Divine Debris
While there's only one pictured here, the pattern actually includes two different snowflake coaster designs. I like that you'll be able to use these coasters throughout the entire winter season and not just for the holidays.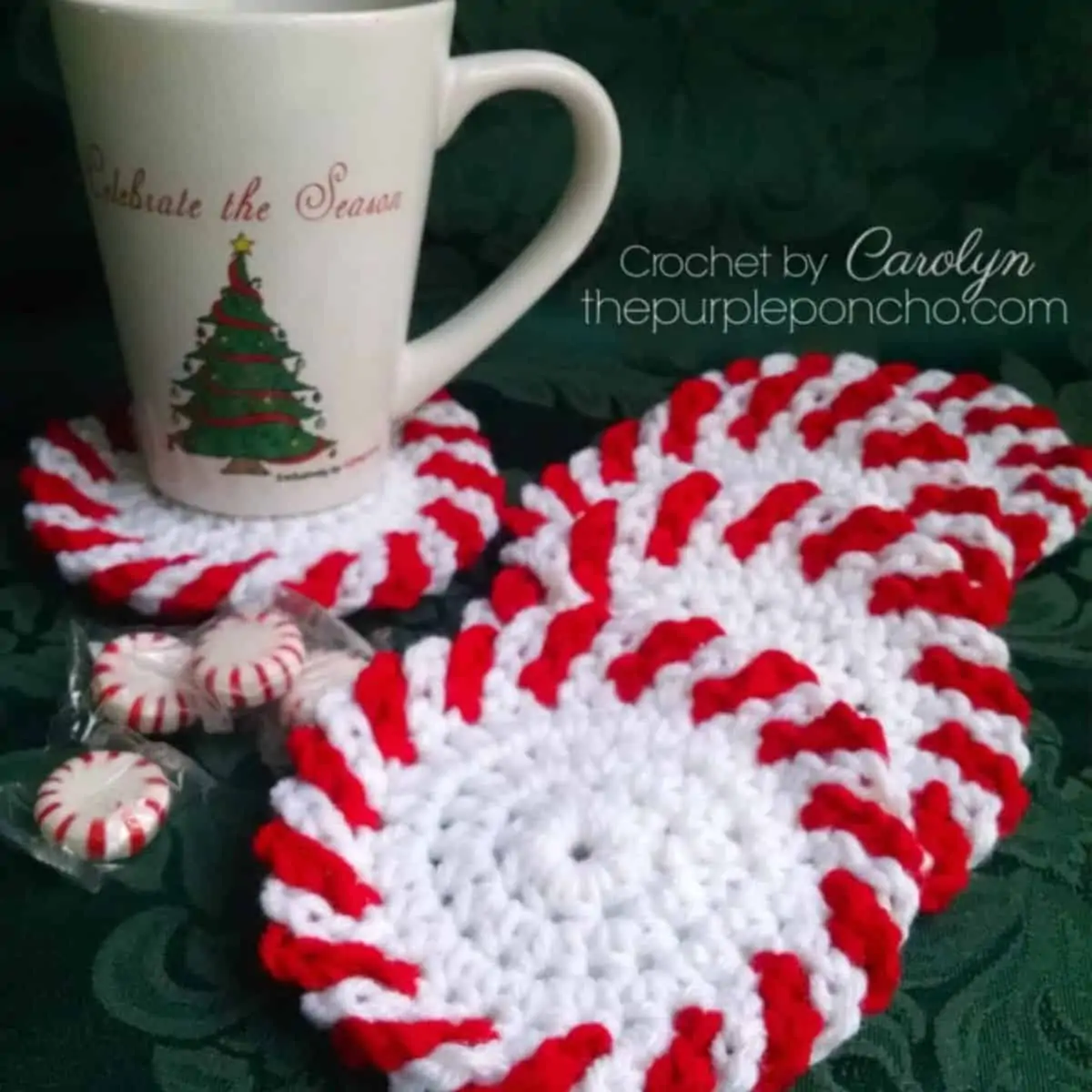 Crochet Peppermint Coasters – The Purple Poncho
These peppermint crochet coasters couldn't be any cuter! Working up this pattern is a great opportunity to learn a fun technique that can also be used as a border for many other crochet projects.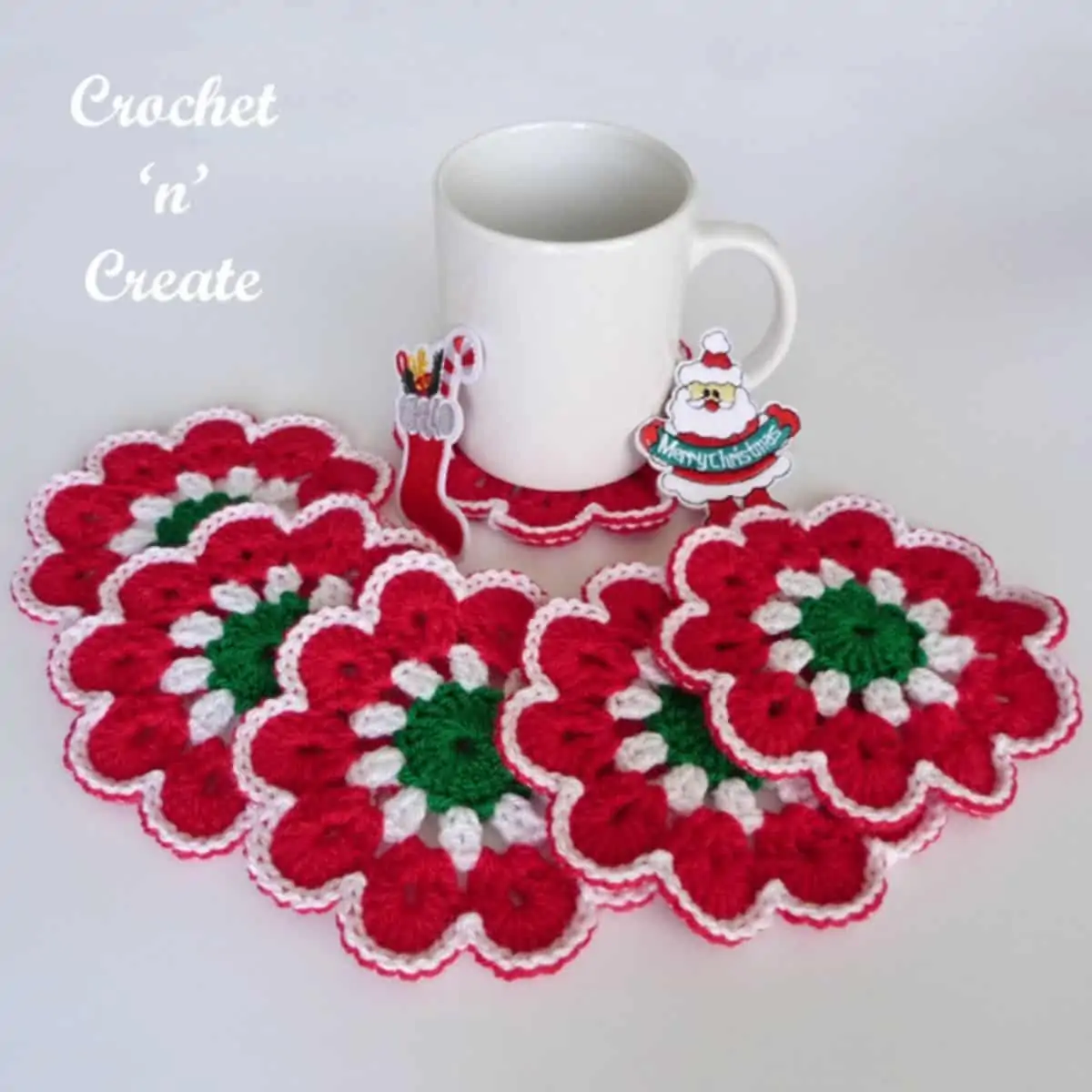 Merry Christmas Coaster Crochet Pattern – Crochet 'n' Create
Aren't these coasters just gorgeous? They'd look great as part of your holiday decorating and are sure to be a fun conversation piece. Be sure to browse the Crochet 'n' Create website as there are other crochet Christmas coaster free patterns I didn't include here.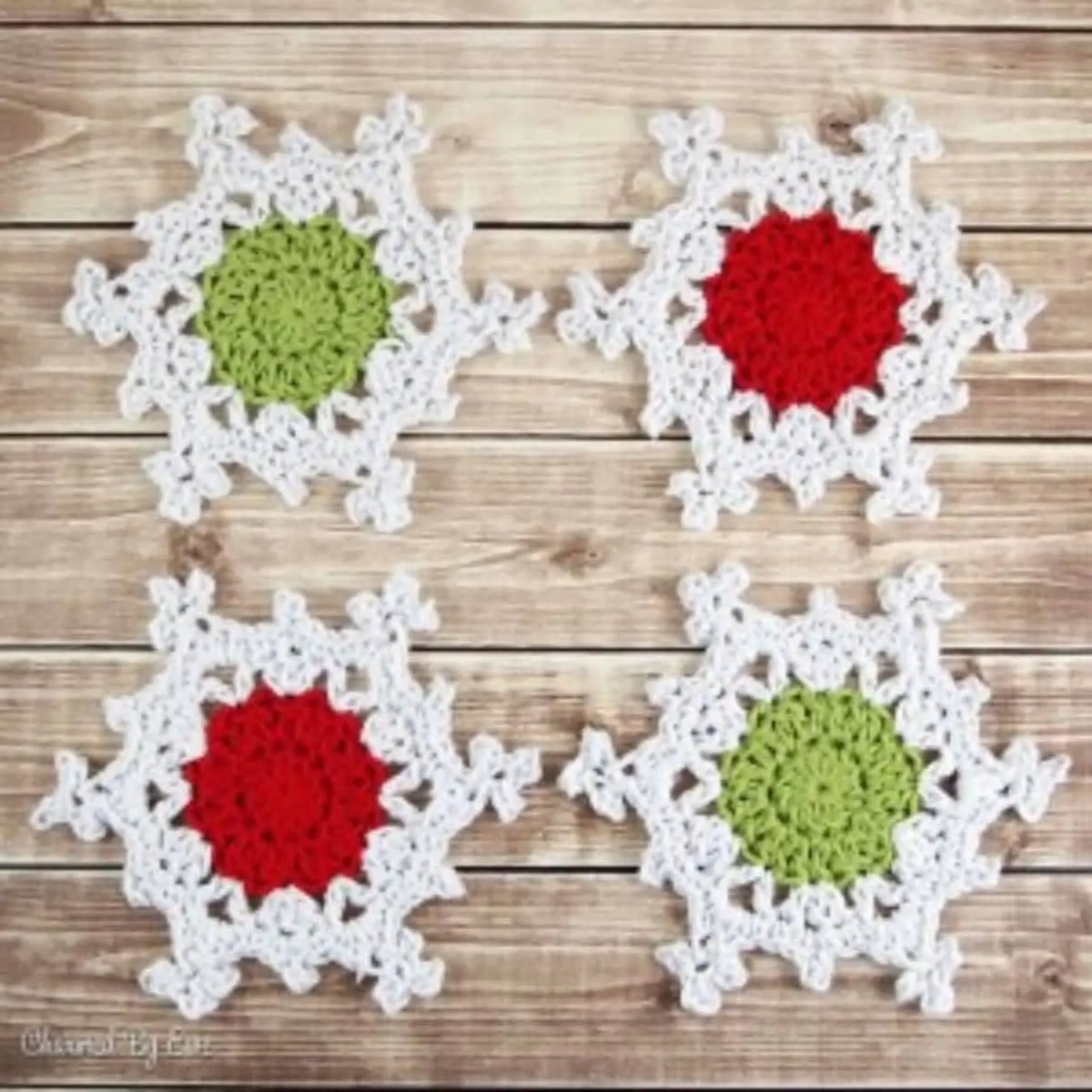 Snowflake Coaster Crochet Pattern – I Like Crochet
While I think these coasters would look lovely all in white, like a snowflake, I love that the center has a pop of color. The color makes the gorgeous detailed design stand out even more and makes this coaster pattern unique, like a snowflake.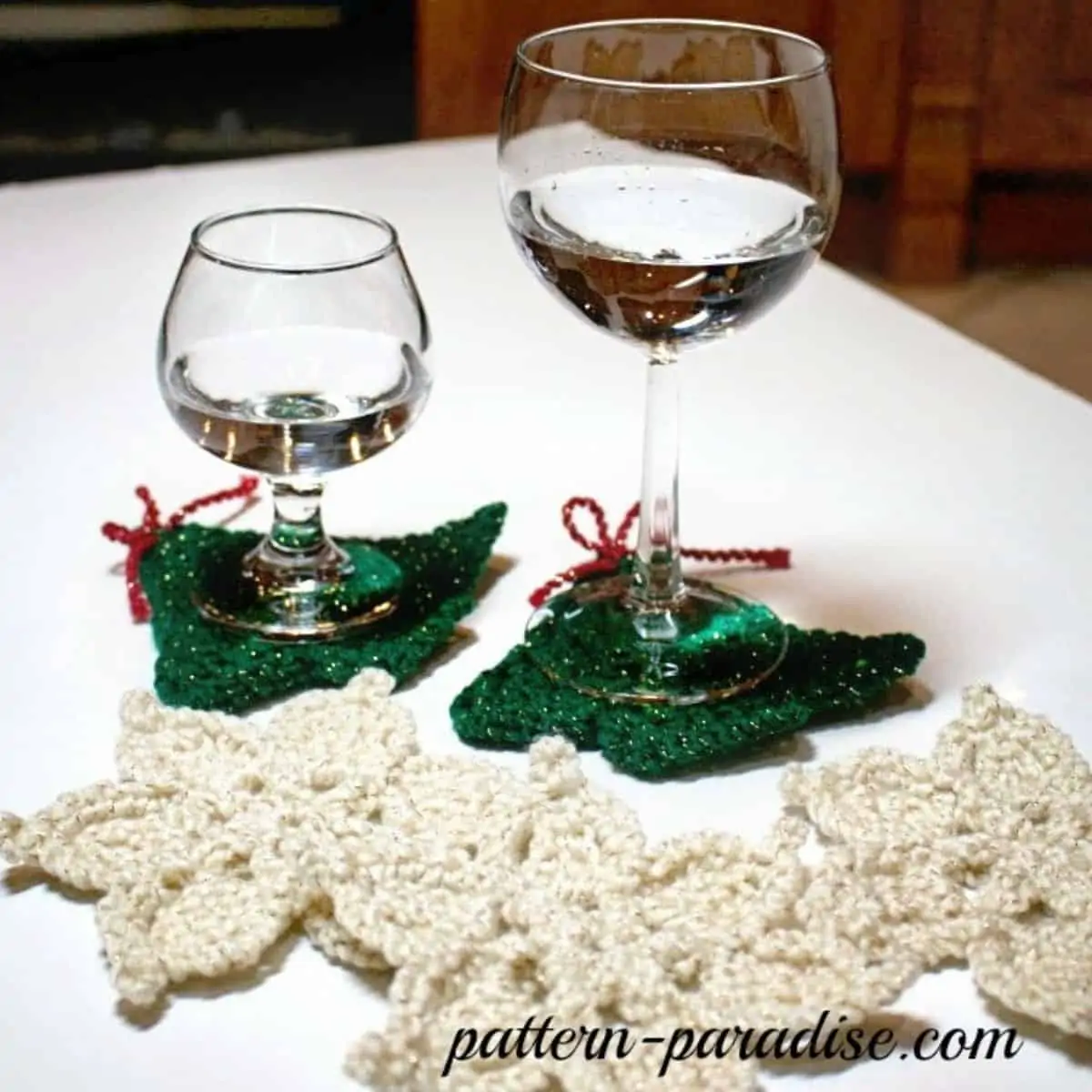 Christmas Tree and Crochet Snowflake Coasters – Pattern Paradise
This cute combo of Christmas trees and snowflakes can be used for so many more things than just coasters but they certainly look cute with wine glasses sitting on them! They'd also work great as ornaments or a festive garland.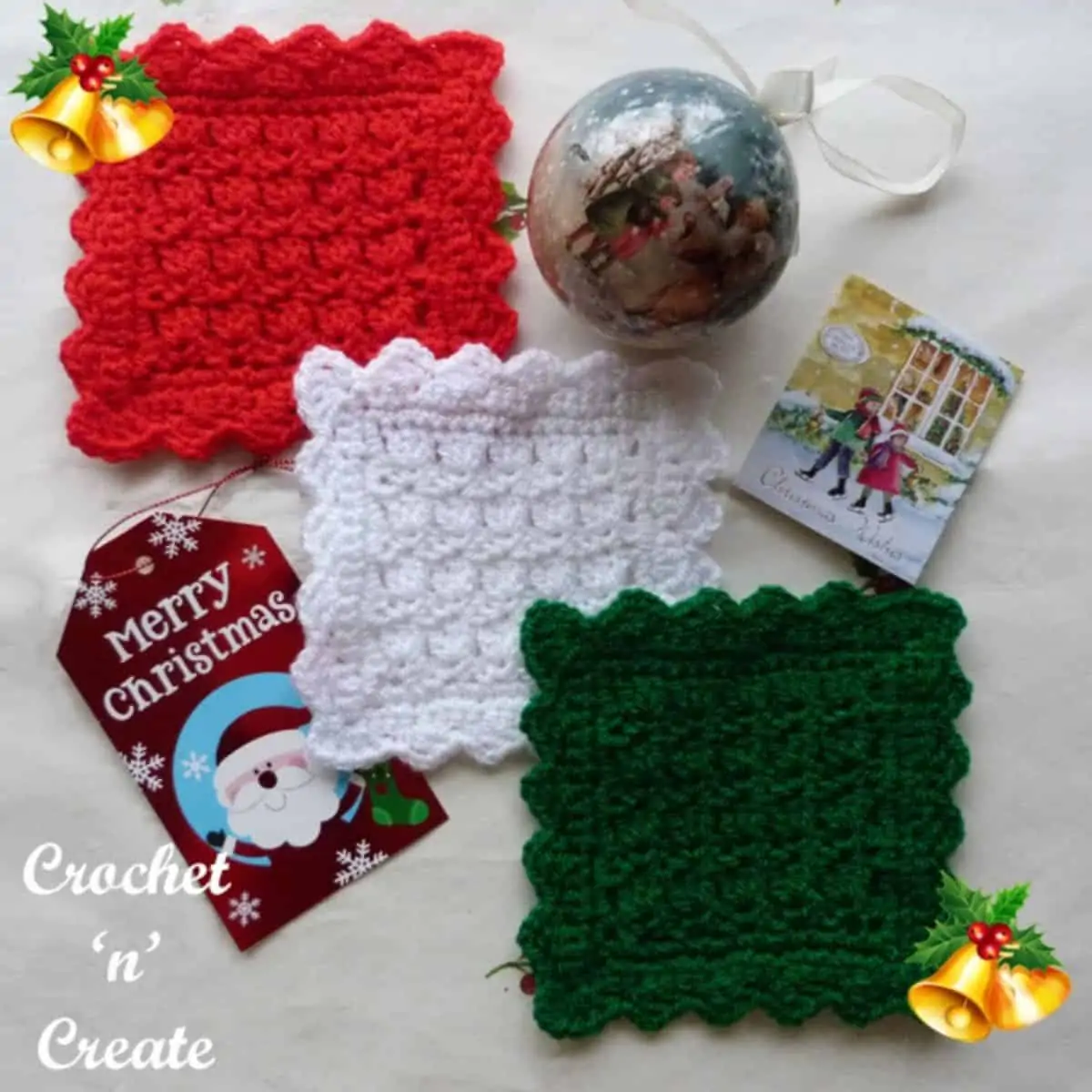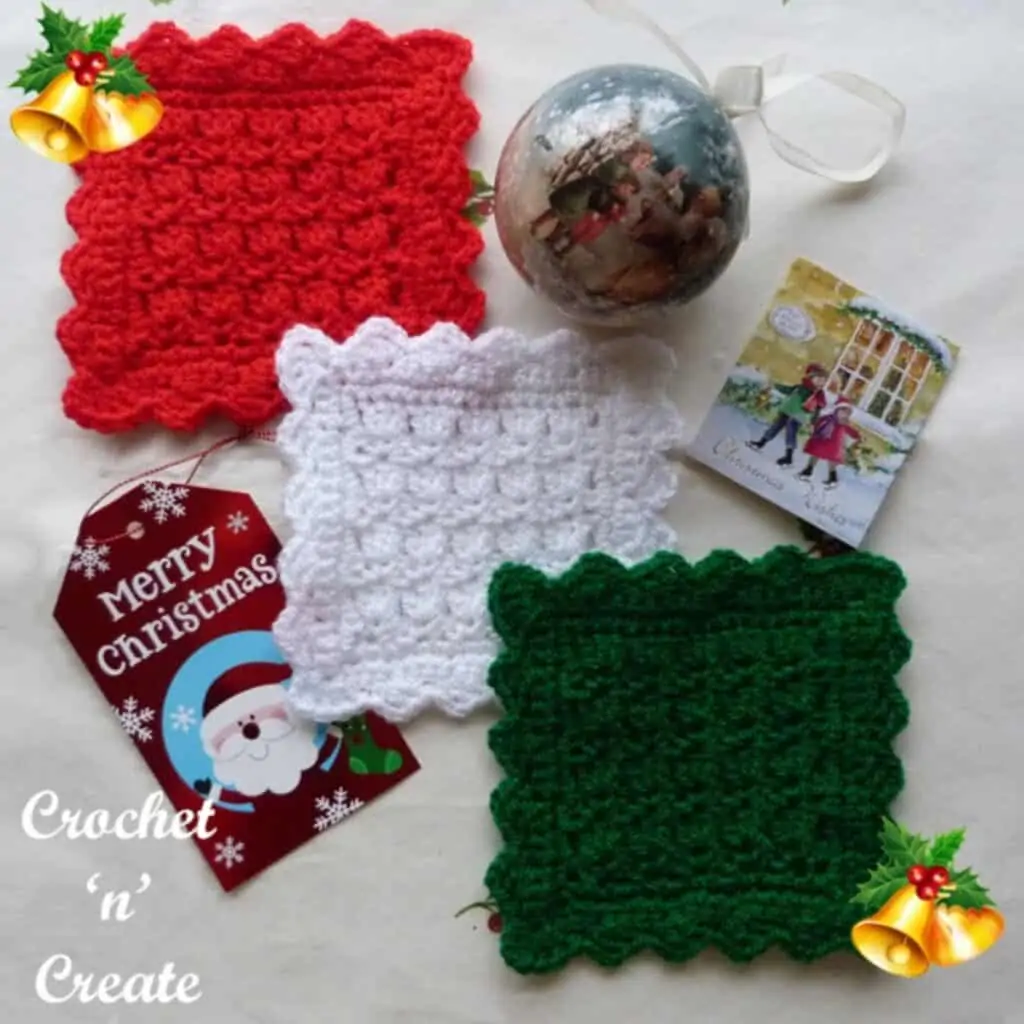 Crochet Christmas Square Coaster Pattern – Crochet 'n' Create
Another quick Christmas crochet coaster pattern that's perfect for your space and for gifting. A stack of these coasters will work up quickly and be appreciated by many. The double crochet makes up the main part of this coaster so you know it's a fast and easy pattern.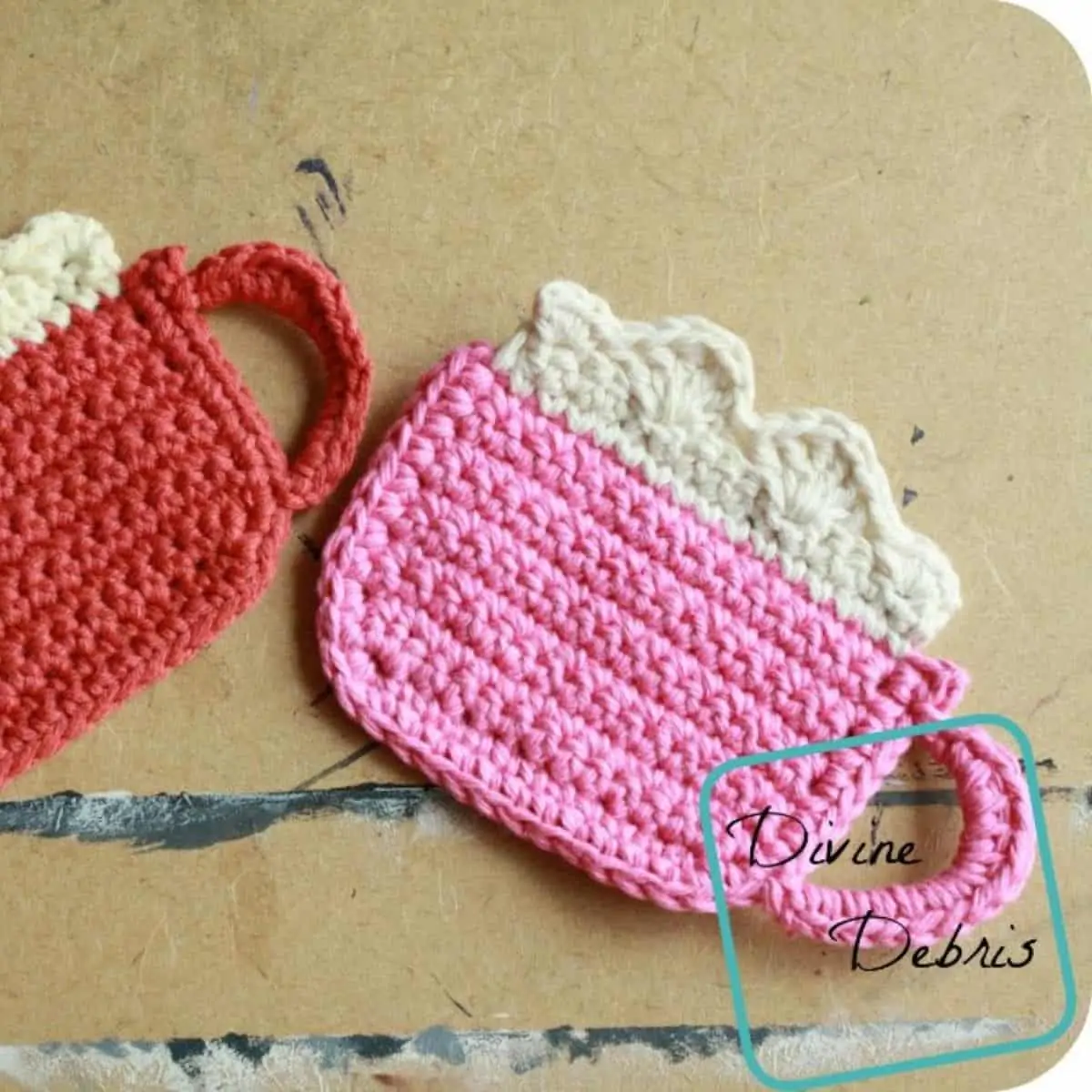 Crochet Mug Coaster – Divine Debris
While this isn't strictly a Christmas coaster, who doesn't love a hot drink around the holidays? And what's cuter than setting that hot drink down on a crochet mug coaster?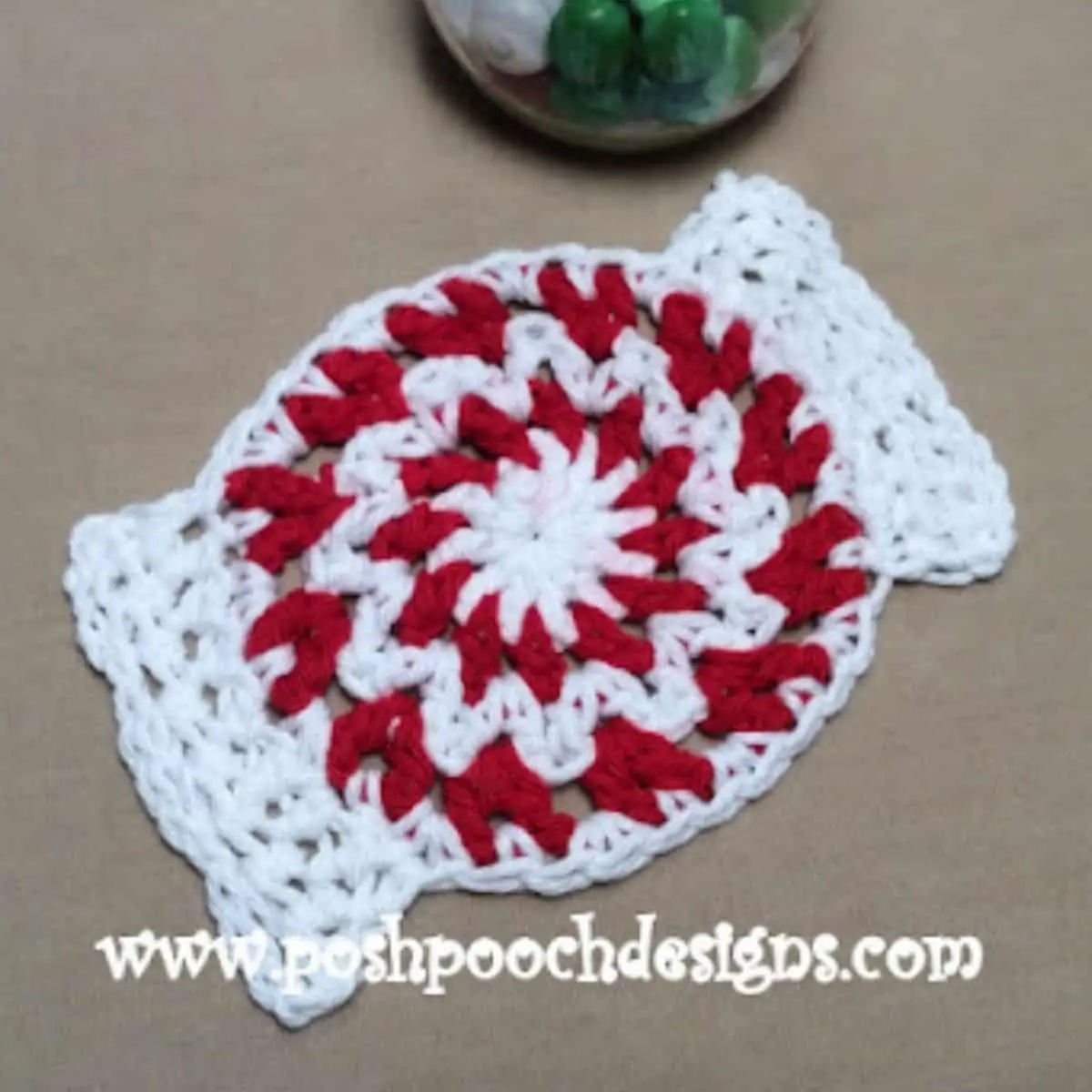 Peppermint Crochet Coaster – Posh Pooch Designs
Another delicious-looking coaster pattern. This peppermint coaster also has a matching doily pattern which can be used with the coasters as a place settings for your holiday dinner.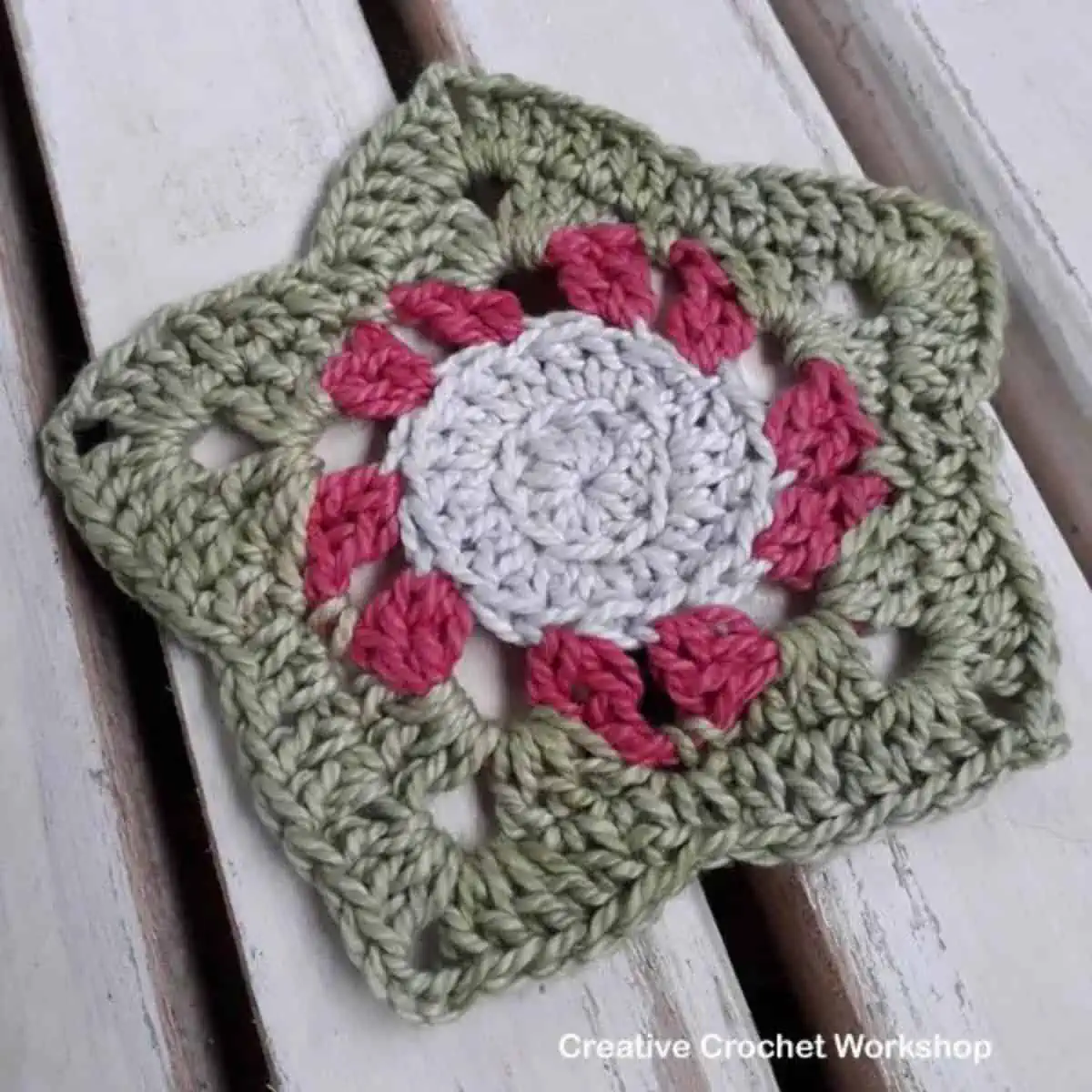 Crochet Wish Star Coaster Pattern – Creative Crochet Workshop
While the delicate pattern of this crochet star coaster makes me a bit doubtful that it'll protect your surfaces, it is too pretty not to share. If you have a coffee table that doesn't really need coasters but you'd still like somewhere to set your drink, you need to make a stack of these gorgeous Christmas flower coasters.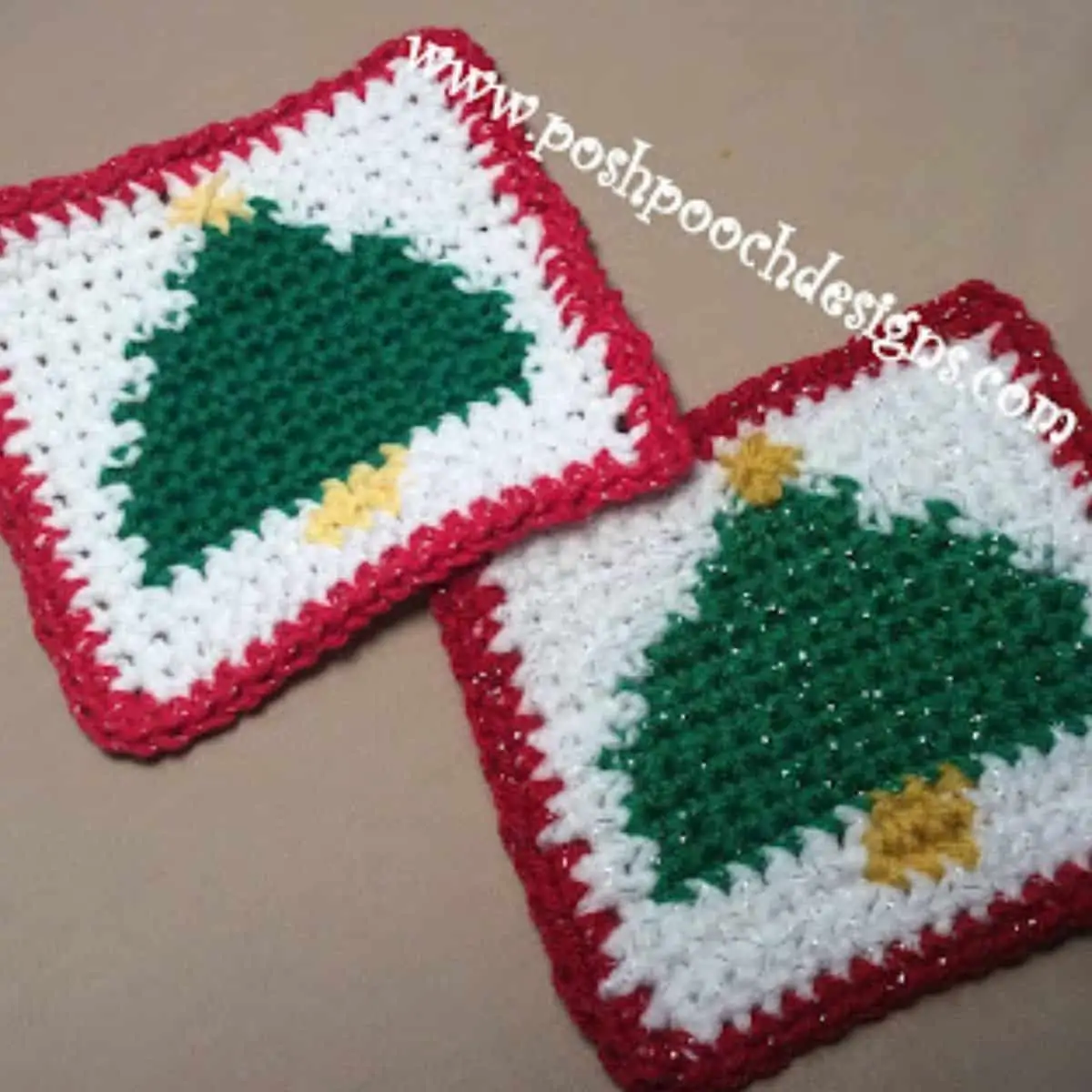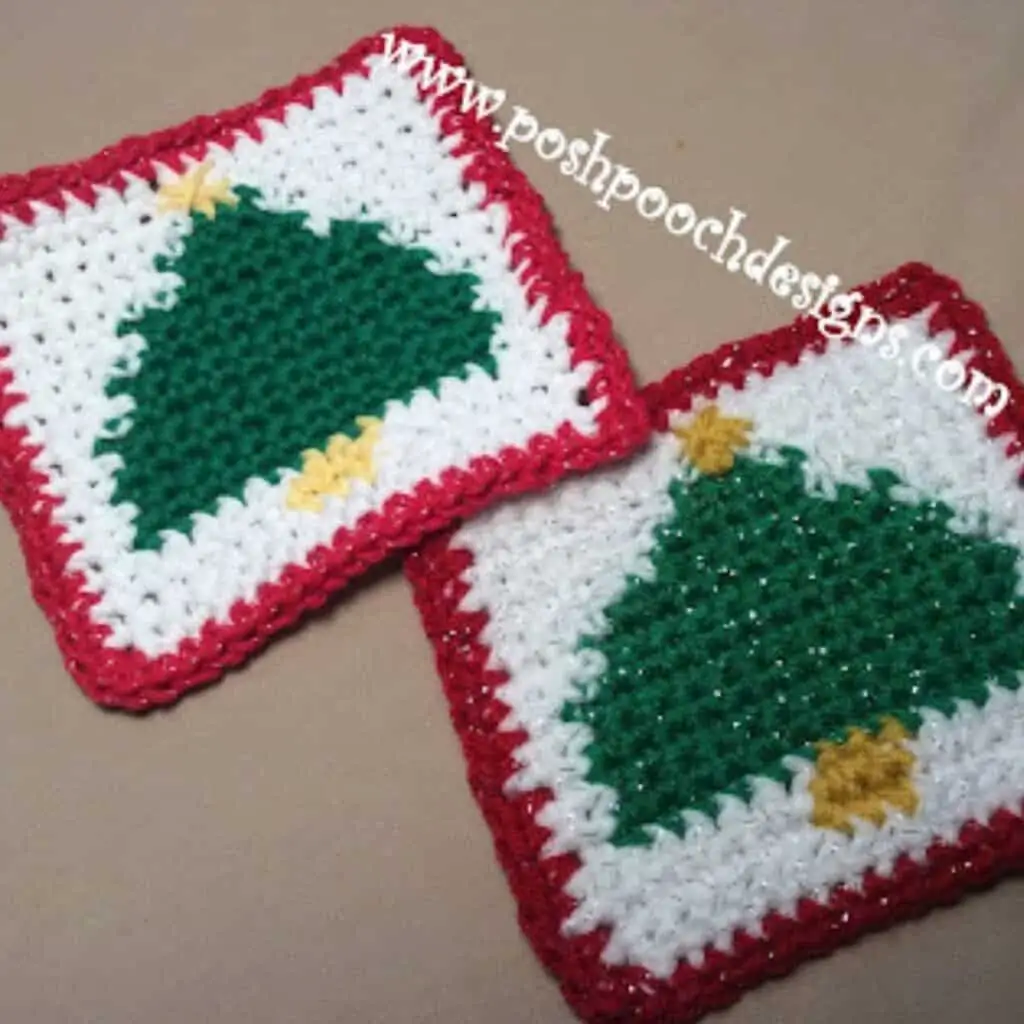 Crochet Christmas Tree Coaster – Posh Pooch Designs
Aren't these little Christmas tree coasters so cute? The pattern includes a graph for the coaster which makes it extra easy. If you haven't worked with graphs and crocheting yet, this is a good, small project to start with and quickly get the hang of it.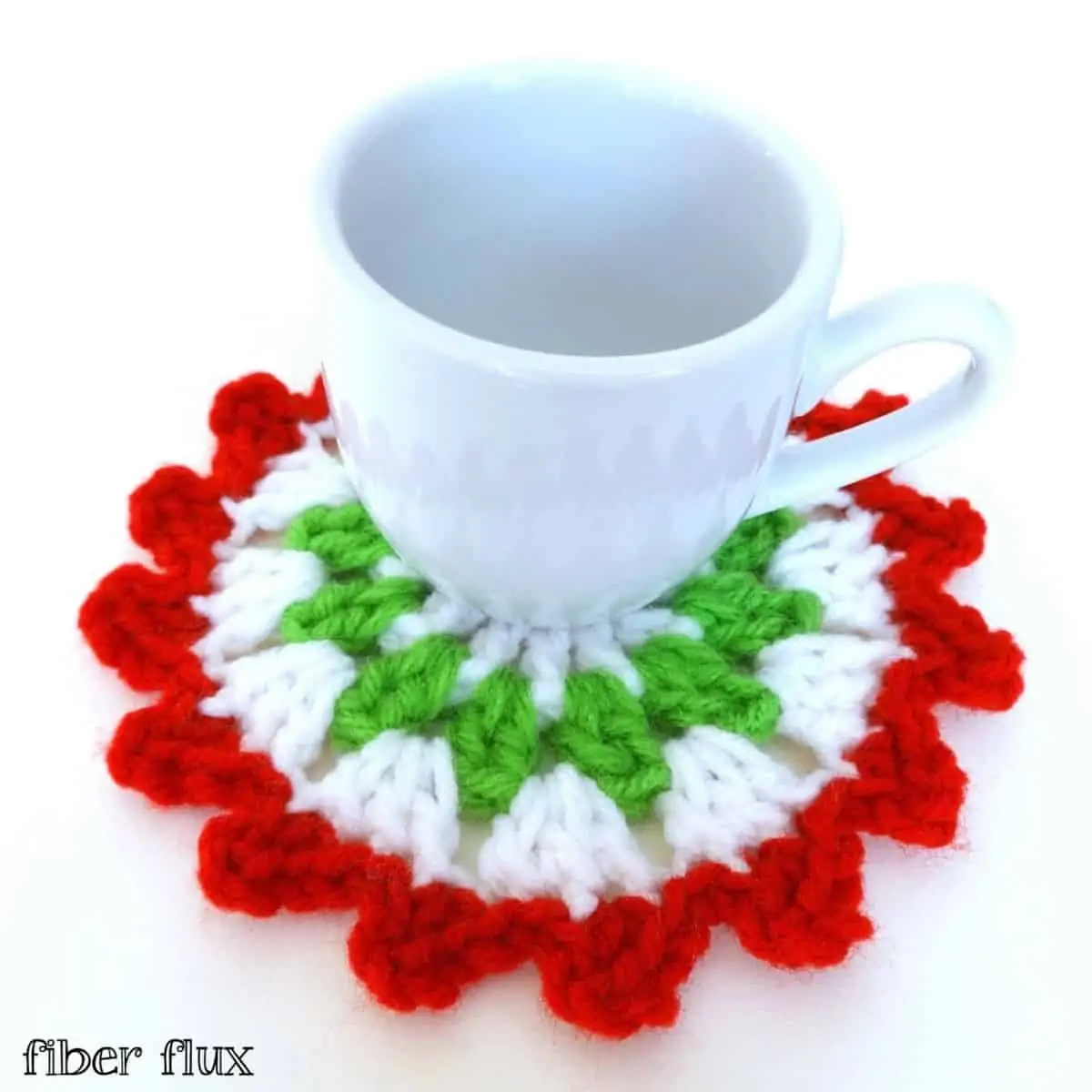 Merry Berry Coasters Free Crochet Pattern – Fiber Flux
The designer of these beautiful coasters said that as well as using them as coasters, you can put them under a candle as a holiday decoration. What a lovely idea!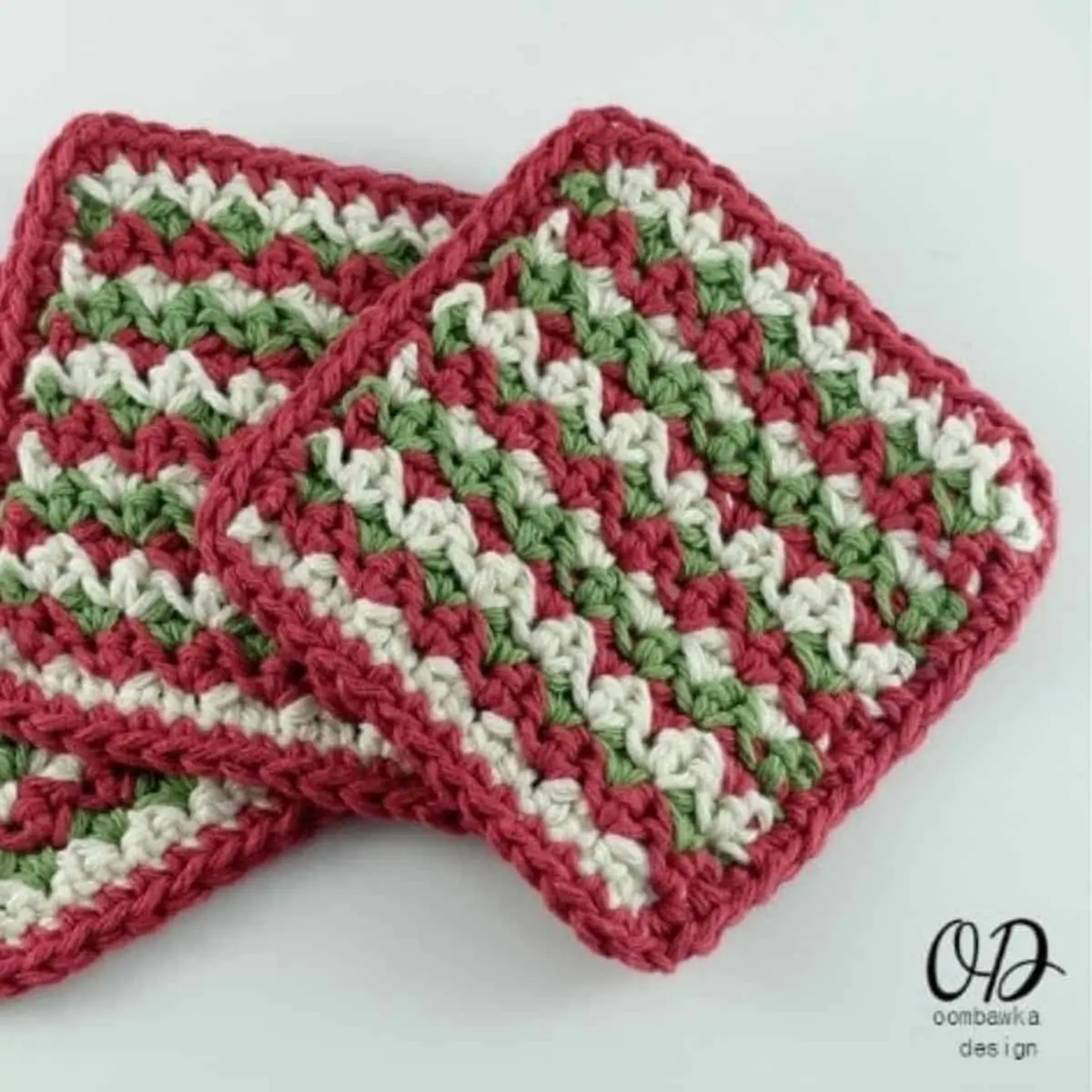 Striped Crochet Coasters – Oomawaka Designs
These simple striped coasters look wonderful in Christmas colors and can be a quick addition to your decor. The simple border means you don't have to worry too much about weaving in all those ends!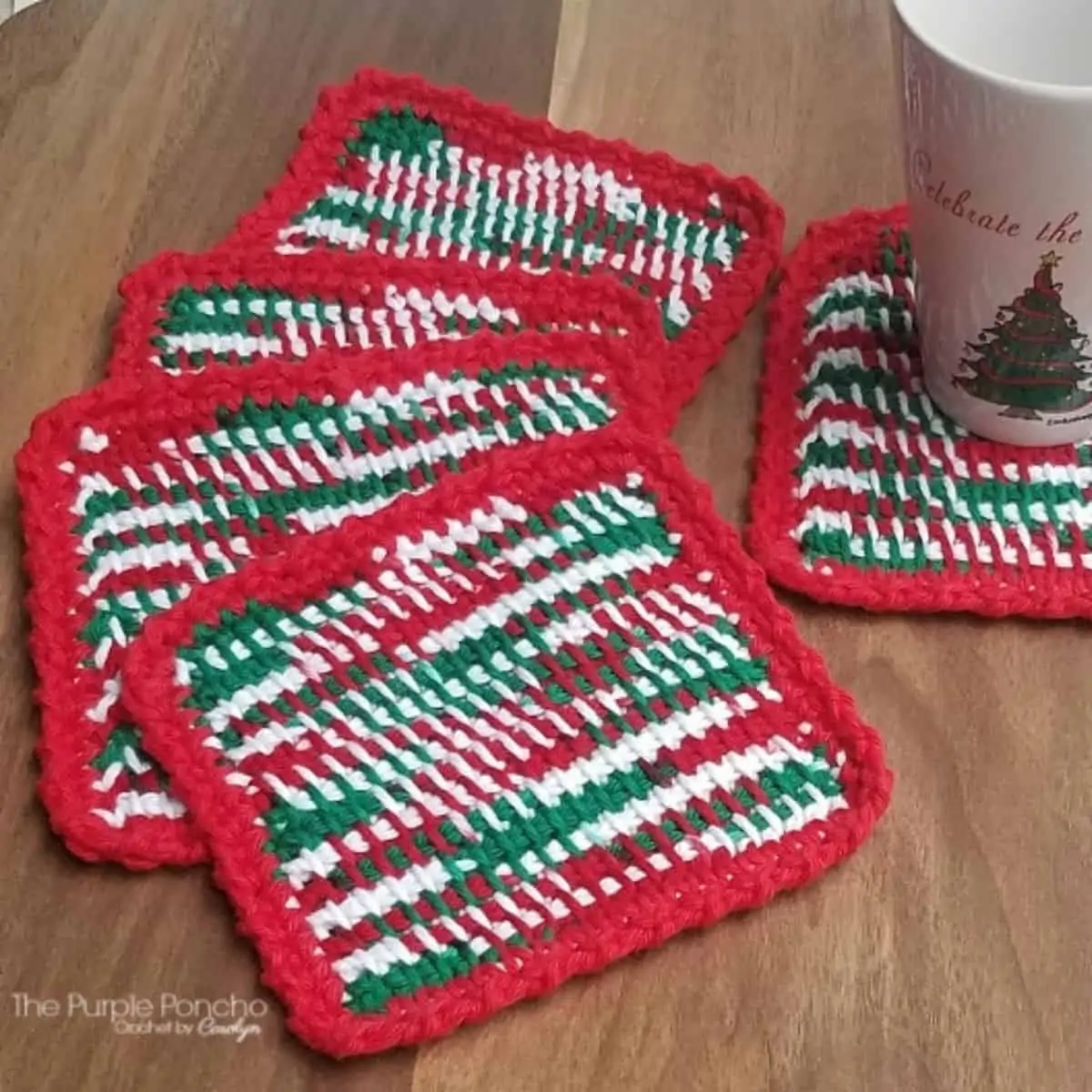 Tunisian Crochet Christmas Coasters – The Purple Poncho
Self-Striping yarn plus a simple pattern is a great way to dip your toes into Tunisian Crochet if you haven't yet. If you are a Tunisian pro, you'll whip these cute coasters up in no time!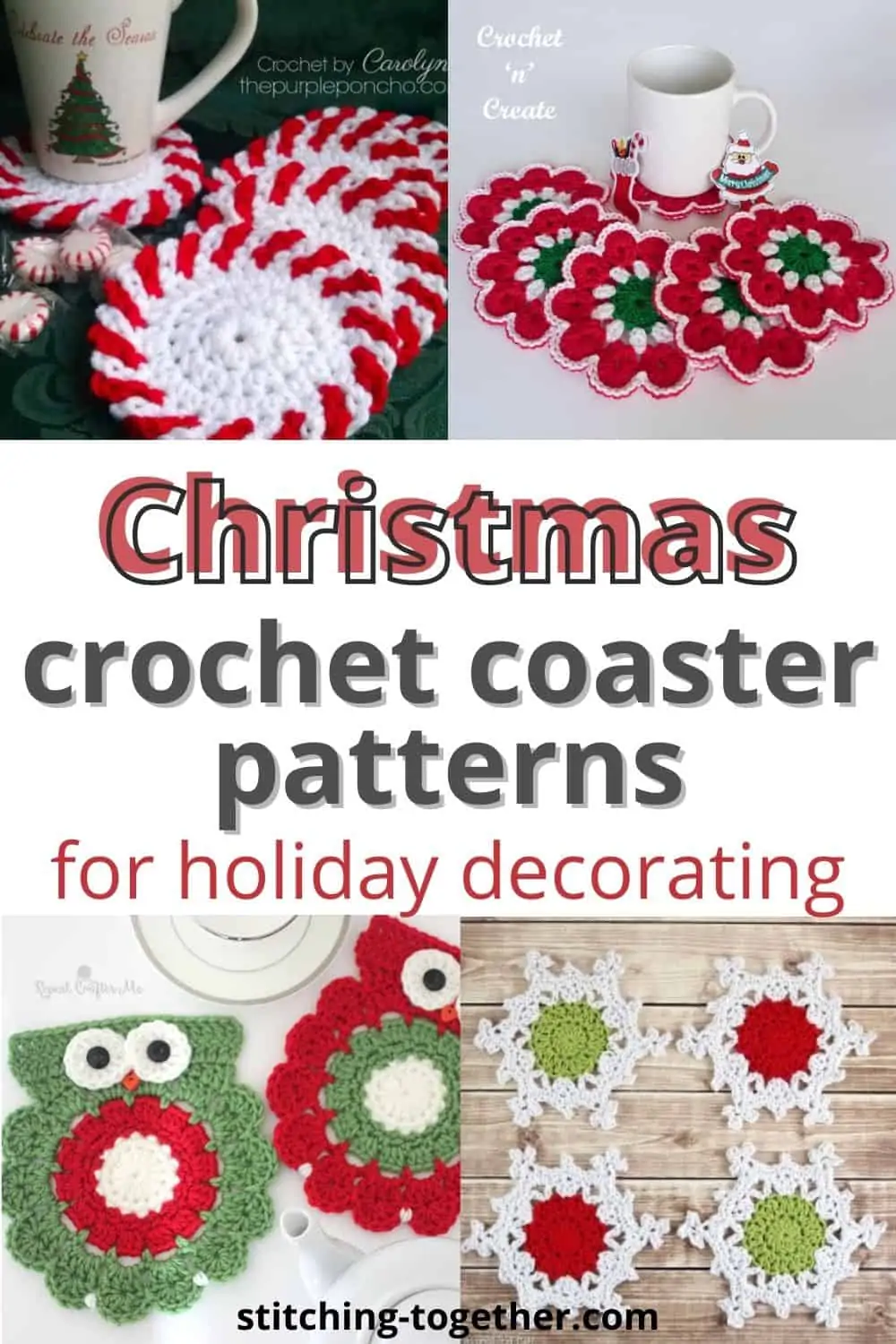 Do you love crocheting for Christmas? Don't miss these other great Christmas Crochet Patterns