17+ Fun & Funky Crochet Coasters
Disclosure: This post may contain affiliate links. As an Amazon Associate, I earn from qualifying purchases. Please visit my Privacy Policy for disclosures and more information.
Sometimes you just need some fun and funky crochet coasters to brighten up your space. These crochet coasters use playful colors, clever designs, or both to create some unique crochet coaster patterns.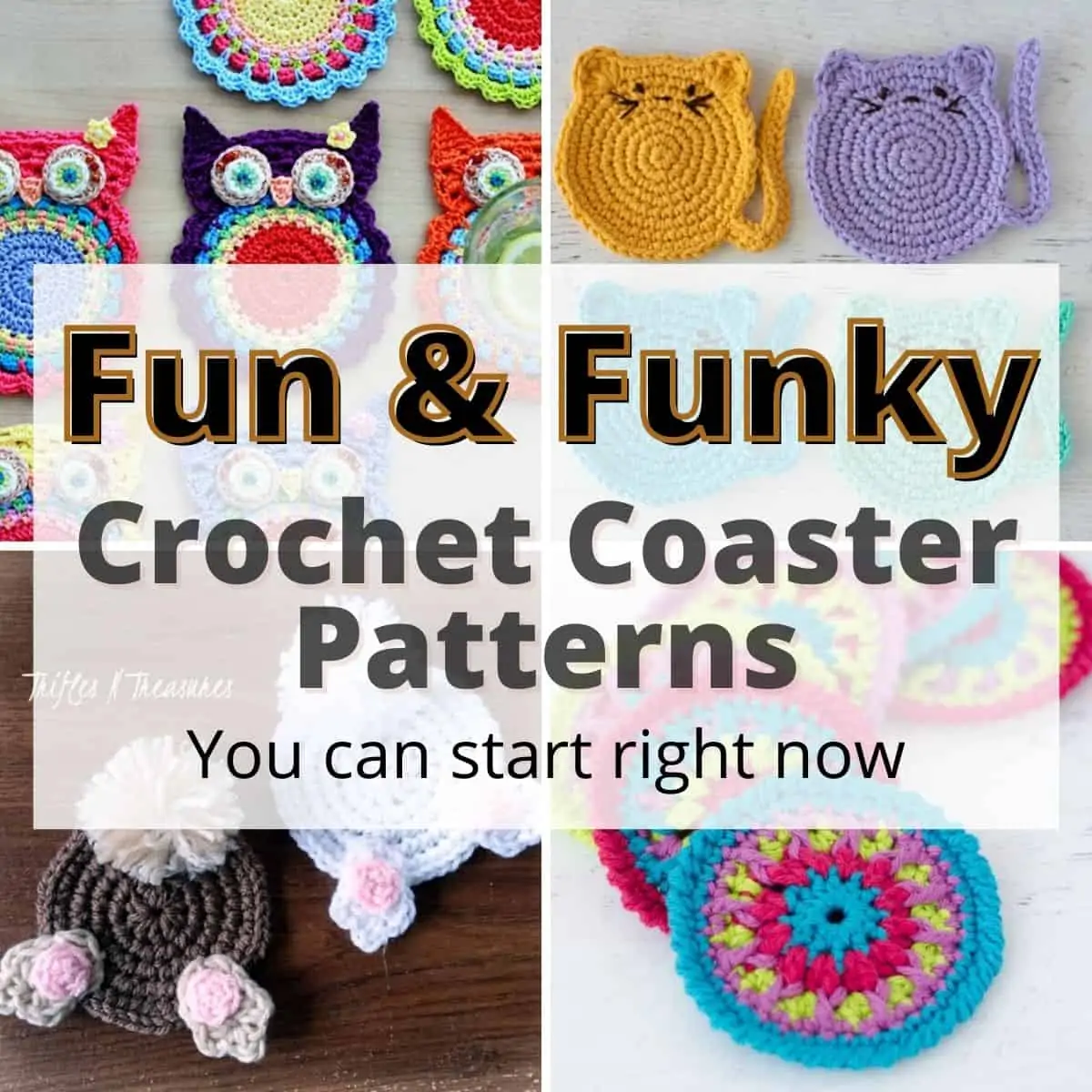 Many of the patterns are great for using up the extra scraps of cotton yarn you have stashed away. You'll find a link to each of the patterns pictured so grab your crochet hook and yarn and let's go!
If you aren't quite ready to tackle these fun coasters yet and need some coasters with simpler crochet stitches, don't miss this How to Crochet a Coaster tutorial.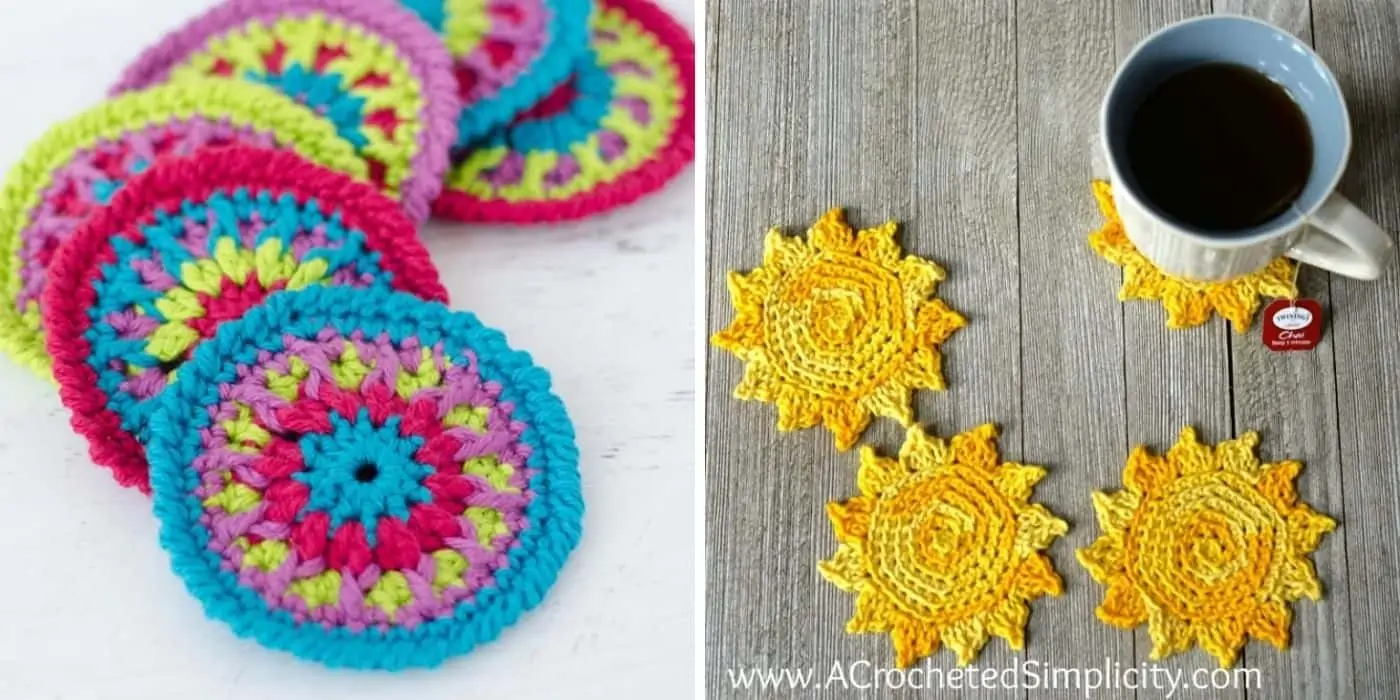 These colorful coasters from Cheryl at Crochet365Knittoo are an instant transport back to childhood and the changing colors of a kaleidoscope dancing before your eyes. This is a perfect project for some of that scrap cotton yarn you just aren't sure what to do with.
The Sun's Out! Crochet Drink Coasters
These fun crochet coasters remind me of summer sunshine and sunflowers. This lovely free crochet pattern is by Jennifer at A Crocheted Simplicity.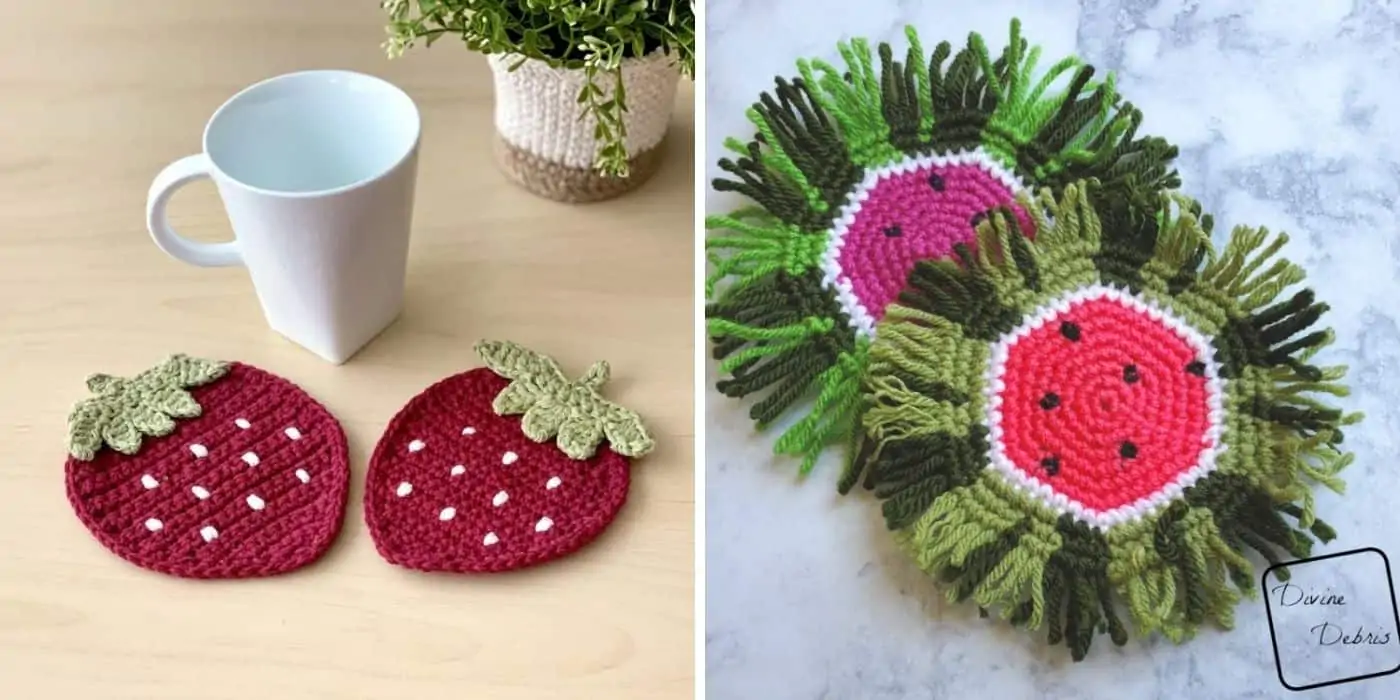 Aren't these crochet strawberry coasters, By My Alpaca Studio, on Etsy just the sweetest? They are a perfect combo of cute and beautiful and are a fun twist on fruity coasters.
Juicy Watermelon Crochet Coaster
There are so many versions of watermelon coasters available, but I love that Divine Debris uses fringe as part of the rind. The fringe gives the coasters funky retro-summer vibes. You'll want to add this watermelon crochet coaster pattern to your summer make list.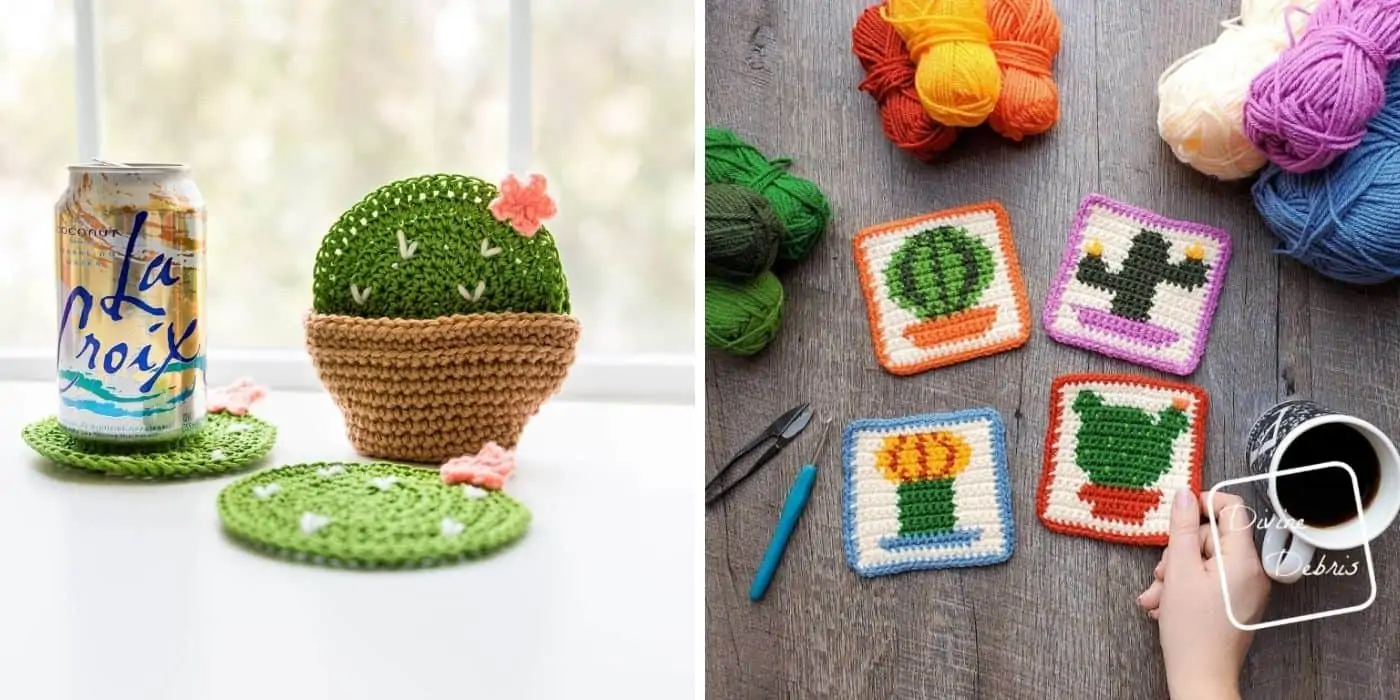 How cute that these cactus crochet coasters by Sewrella have their own little container too? And how easy is it to stitch on the little spikes and a crochet flower? Easy crochet coasters that look like potted little cactuses are a win in my book!
Free Cactus Crochet Coaster Patterns
Here's another take on Cactus crochet coasters but this time the design is worked into the crochet coaster. This free crochet coaster set by Divine Debris comes with instructions for four different cactus designs.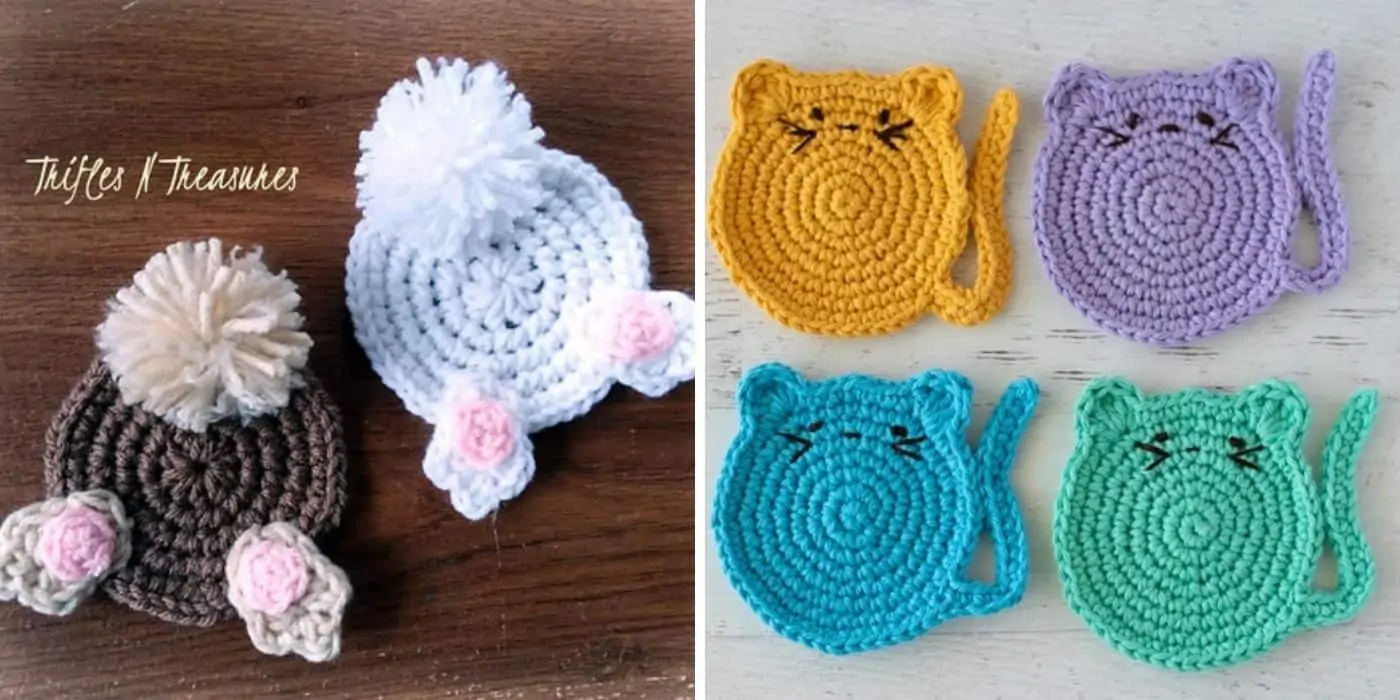 Most of us have seen the funny cat butt coaster patterns, but this bunny butt coaster crochet pattern by Trifles & Treasures are actually adorable. I'm not sure if the fluffy little pom pom tail gets in the way of setting down your drink but they are cute enough to try and see!
I definitely prefer cute cat faces to cheeky cat rear ends and these cat coaters by Crochet365Knittoo do not disappoint. The main part of the crochet coaster is made from continuous rounds of single crochets making this a good project for adventurous beginners.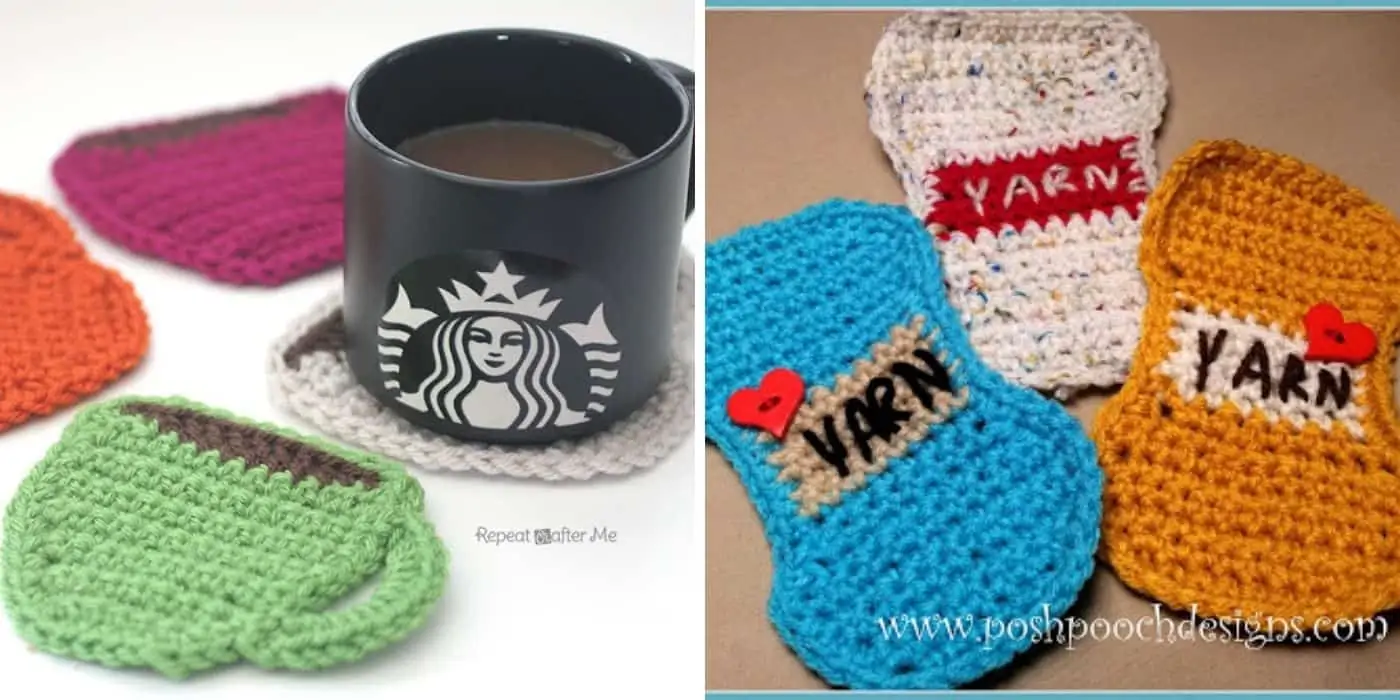 What's more meta than setting a coffee mug on a coffee mug coaster? The clever design of these crocheted coasters by Repeat Crafter Me won't leave anyone in doubt about where to set their drinks on your coffee table.
Skein of Yarn Coaster Crochet Pattern
Of course, yarn lovers will want to reflect their yarn love in coaster form. These yarn skein coasters by Posh Pooch Designs are a perfect gift to make for yourself!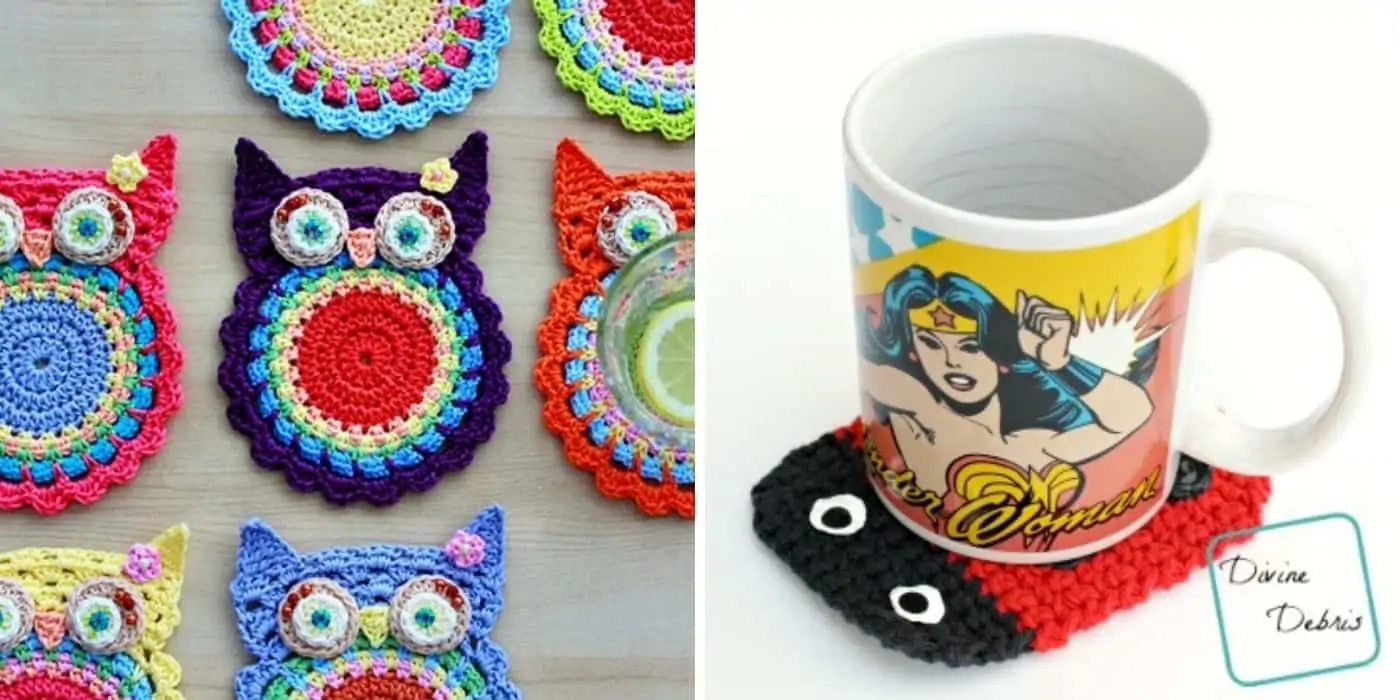 The colors, the details, those cute giant eyes… I mean, could these crochet owl coasters possibly be any more amazing? This funky crochet coaster pattern is available from Zoom Yummy on Etsy and is one crochet project that should be added to your to-do list.
Here's another fun coaster crochet pattern by Divine Debris. This little ladybug coaster would be an adorable addition to your patio home decor, don't you think?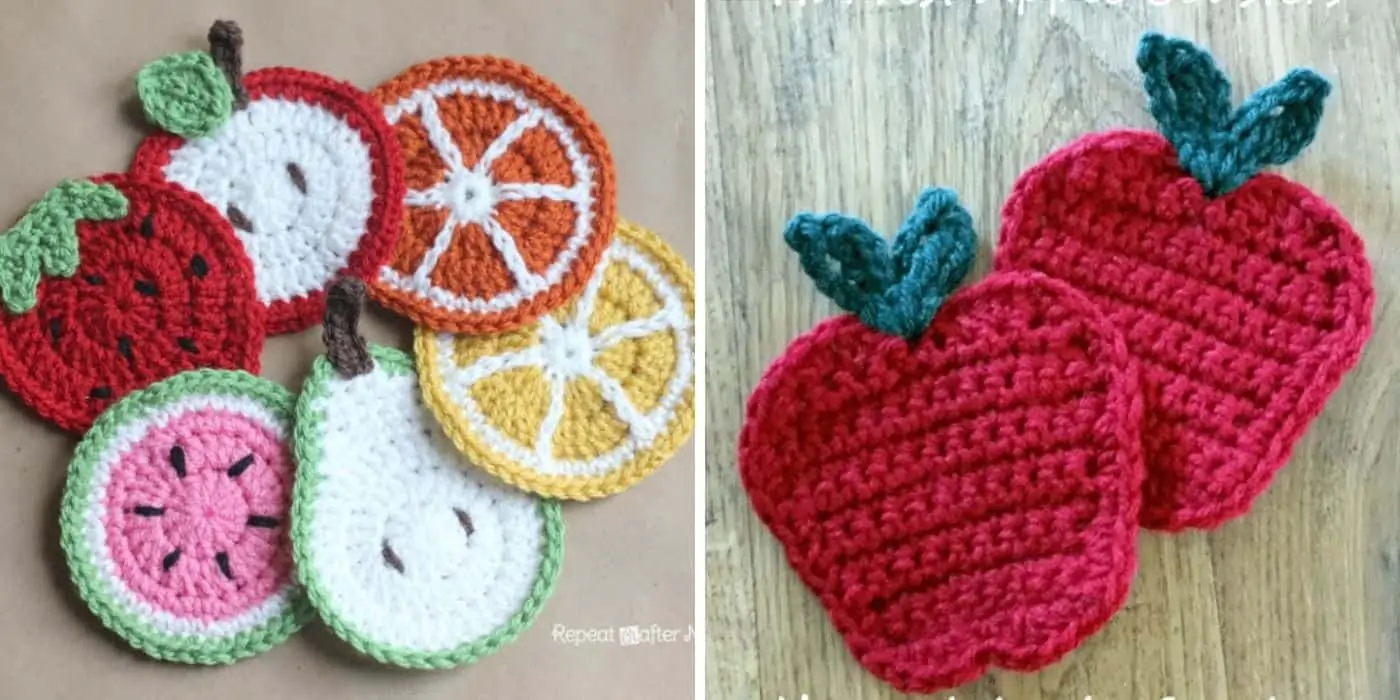 Crochet Fruit Coaster Patterns
If the strawberries and watermelon coaster patterns above weren't enough, here's an entire fruity crochet coaster set by Repeat Crafter Me. They're all easy patterns but together make such a fun set.
Thinking of bringing an apple to your teacher? Why not crochet a set that they can use all year round? This cute Harvest Apple crochet coaster pattern can be found on the Crochet Memories Blog.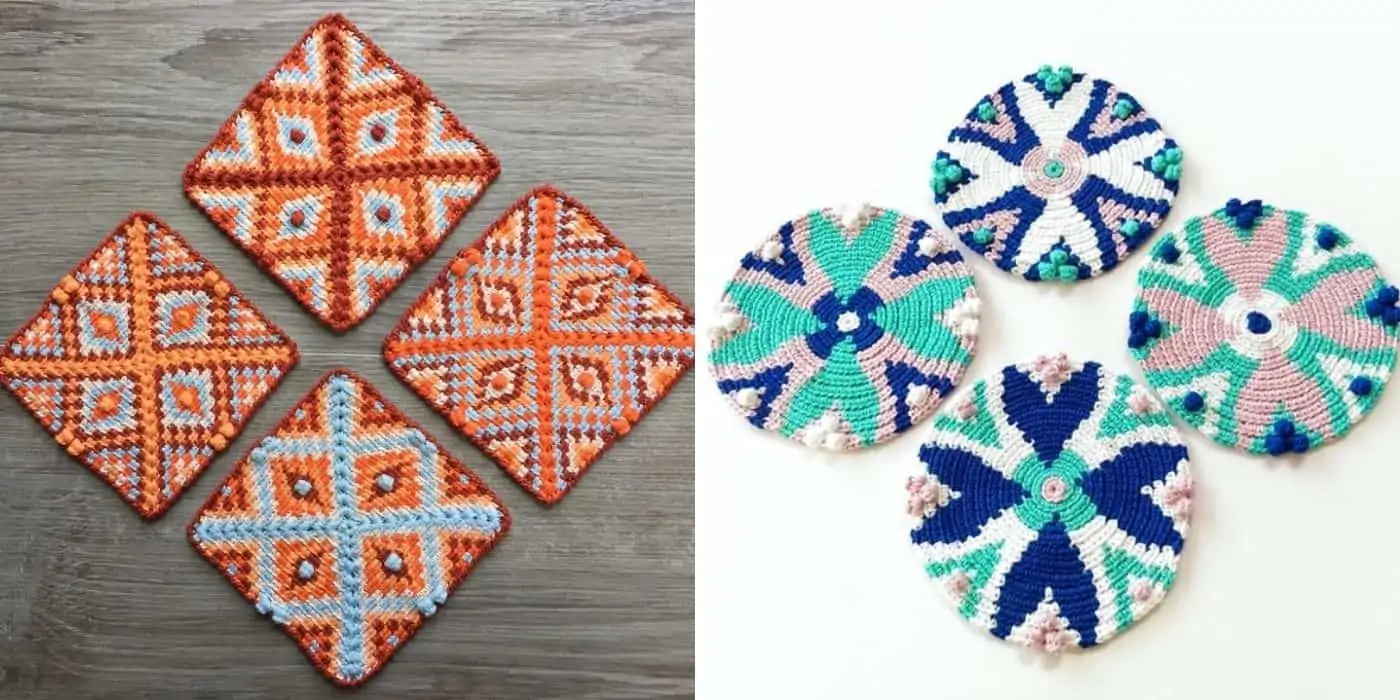 If you are ready to dive into the wonderful world of tapestry crochet, this pattern and the one below, both by Atelier Sopra, on Etsy do not disappoint! The color combos and patterning are gorgeous and it's nice to have an option between square coasters or round ones.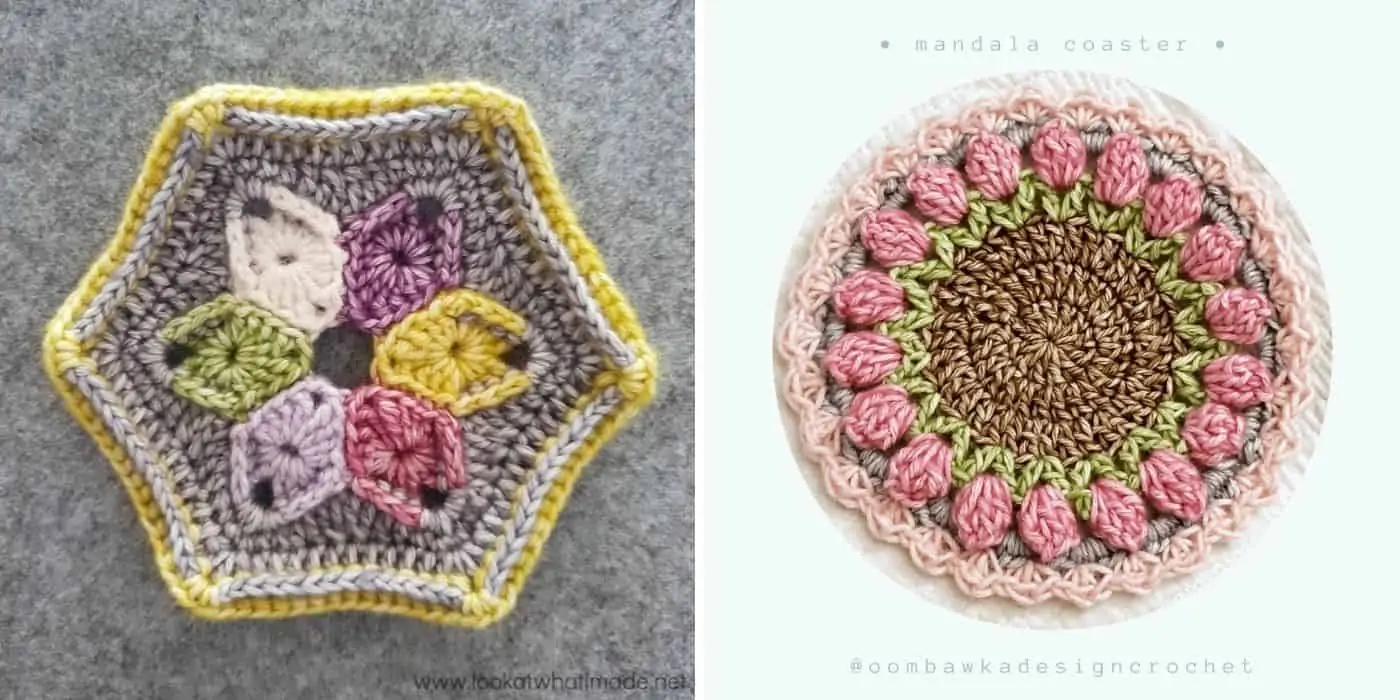 Six Degrees of Separation Coaster Pattern
I don't know about you, but instead of using this hexagon as a coaster, I think I'd like to see it in a blanket. It's an absolutely gorgeous crochet coaster by Look at What I Made.
This lovely mandala coaster reminds me of being in a quiet field surrounded by flowers. It's such a fun design and would look amazing in so many different color combinations. You can find the free crochet coaster pattern on Oombawka Design.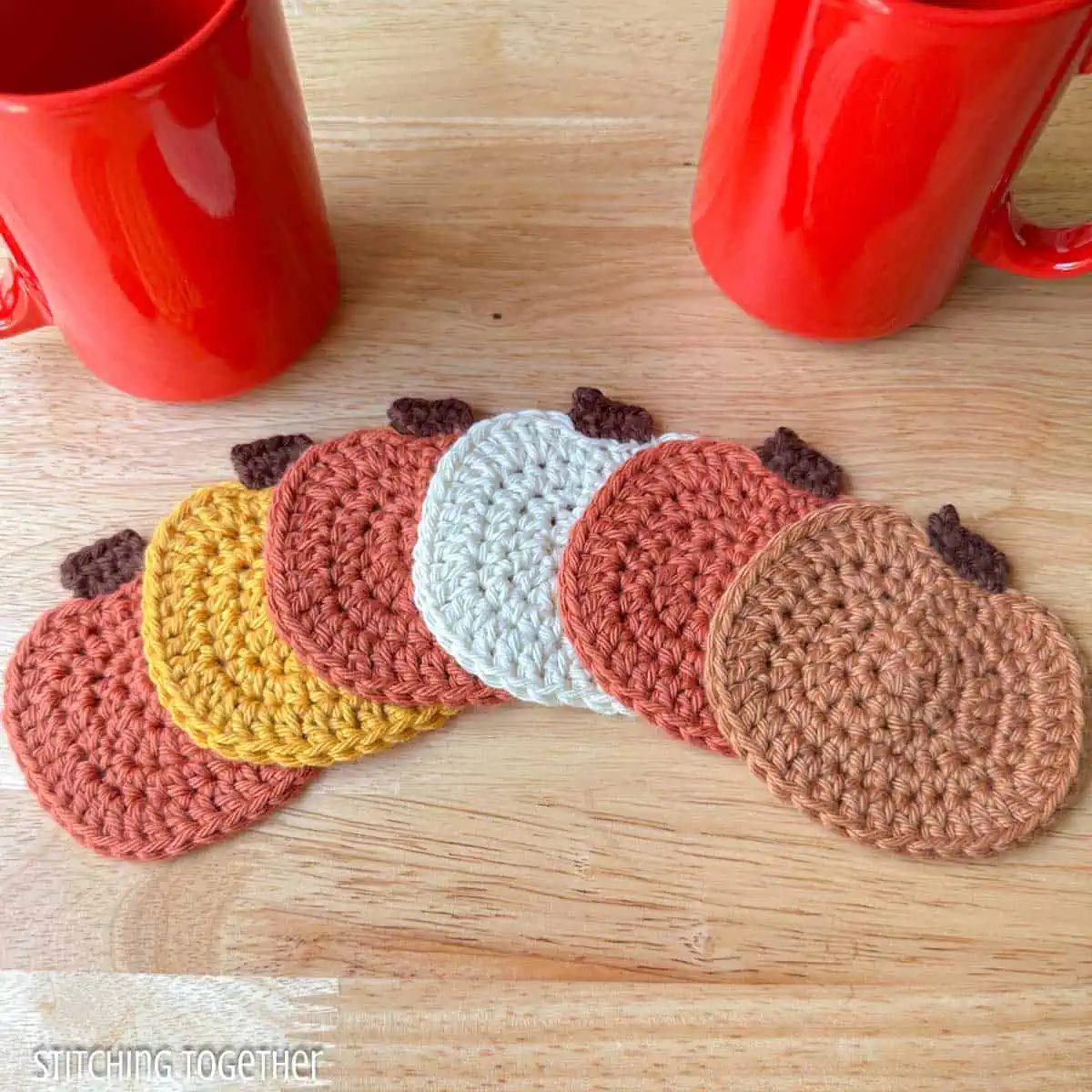 Perfect for fall, these simple pumpkin coasters are a great way to add to your autumn decor. They only take scrap amounts of yarn and work up quickly in your favorite cotton yarn and fall tones.
Save this Funky Crochet Coaster roundup on Pinterest so you can find it later