Winter Scarf Crochet Patterns
Disclosure: This post may contain affiliate links. As an Amazon Associate, I earn from qualifying purchases. Please visit my Privacy Policy for disclosures and more information.
When you practically live in a frozen tundra, you know what you get really good at? Crocheting scarves. Lots and lots of warm scarves. In fact, most of the scarves in this Winter Scarf Crochet Pattern roundup, I've crocheted for myself or my family.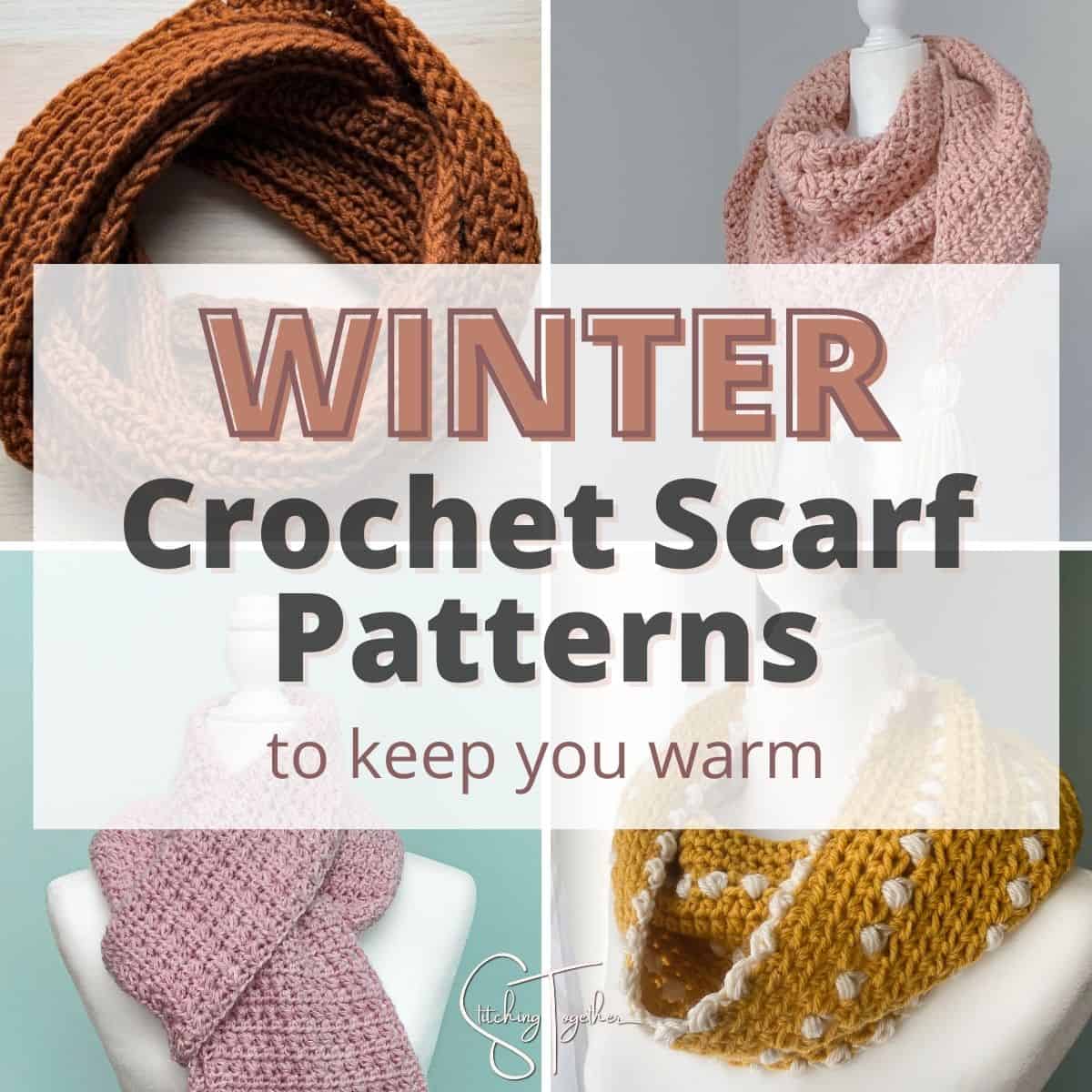 I've included traditional scarves, infinity scarves, and cowls which all have one main thing in common: they work well to keep you warm during the frozen months.
Oh, and they're all free crochet patterns that can be found right here on Stitching Together.
You'll find links and a brief description of each pattern below the corresponding pictures. Before we get to the patterns, be sure to save this crochet winter scarf pattern round-up on Pinterest so you can find it again later.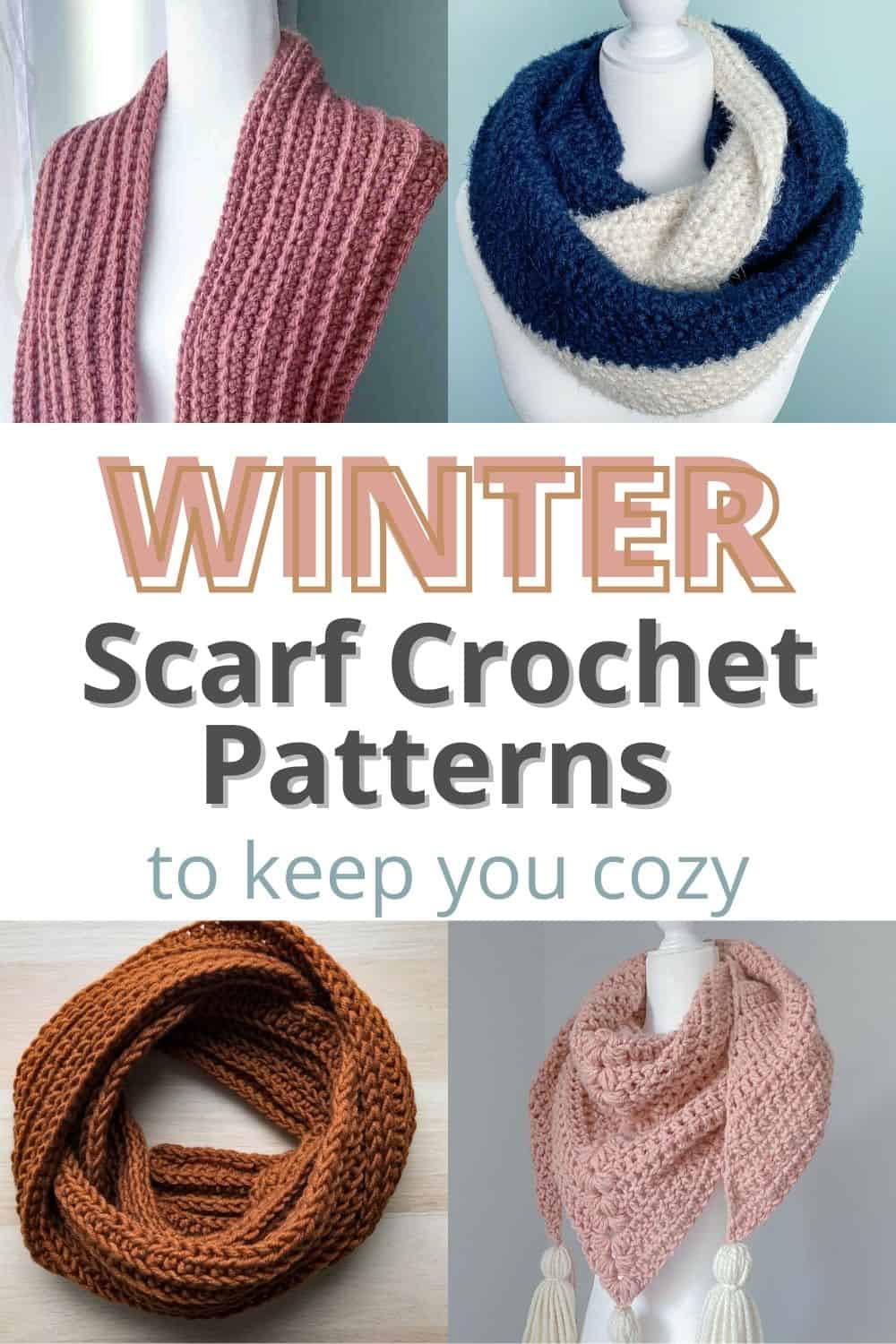 Winter Scarf Crochet Patterns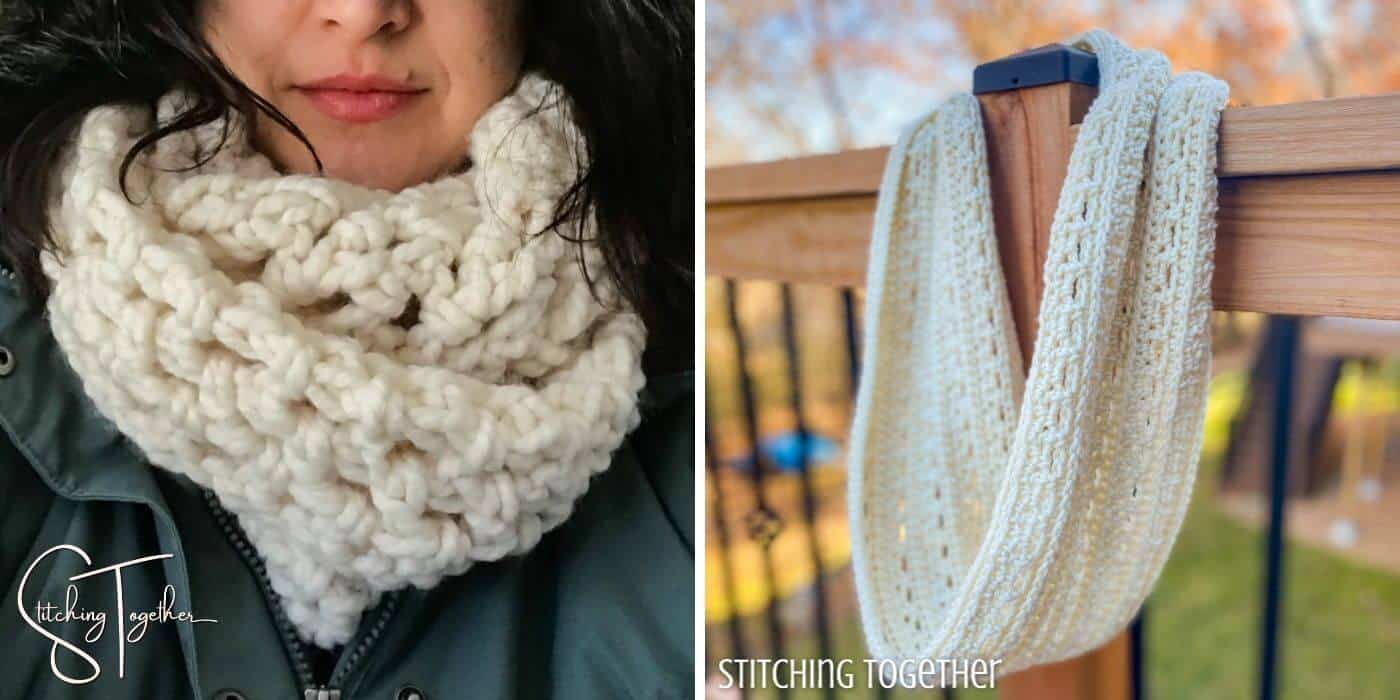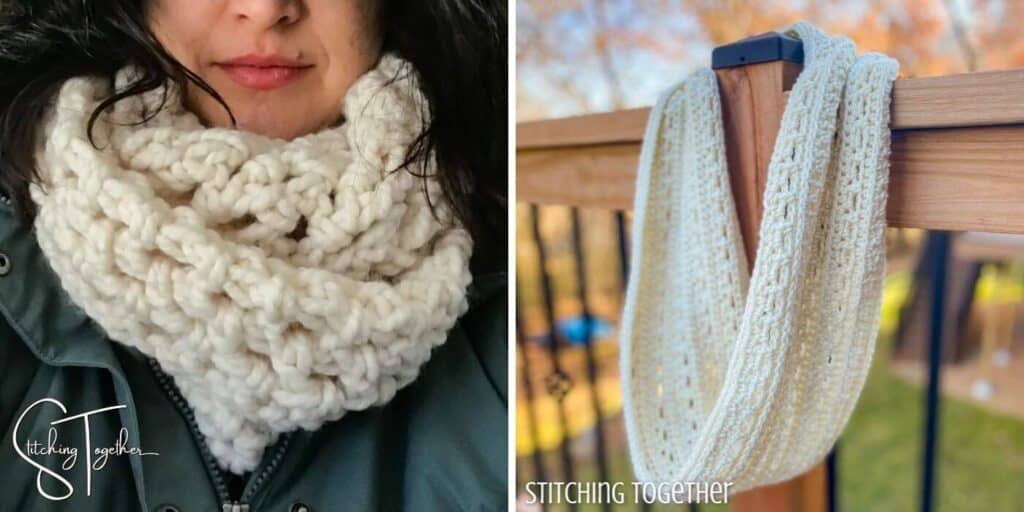 Easy Double Crochet Infinity Scarf
This was one of my favorite scarves. I say "was" because I wore it until it wore out and need to make another. The stitches are so easy and it works up quickly. It's a great beginner crocheter infinity scarf pattern for those ready to move beyond a basic double crochet scarf.
Uppercross Infinity Cowl Crochet Pattern
The Uppercross Infinity Cowl is probably the lightest weight scarf included in this crochet winter scarf roundup. It's perfect for tucking under a lightweight jacket on mild winter days. The beautiful open stitchwork makes it lovely to wear on its own as well.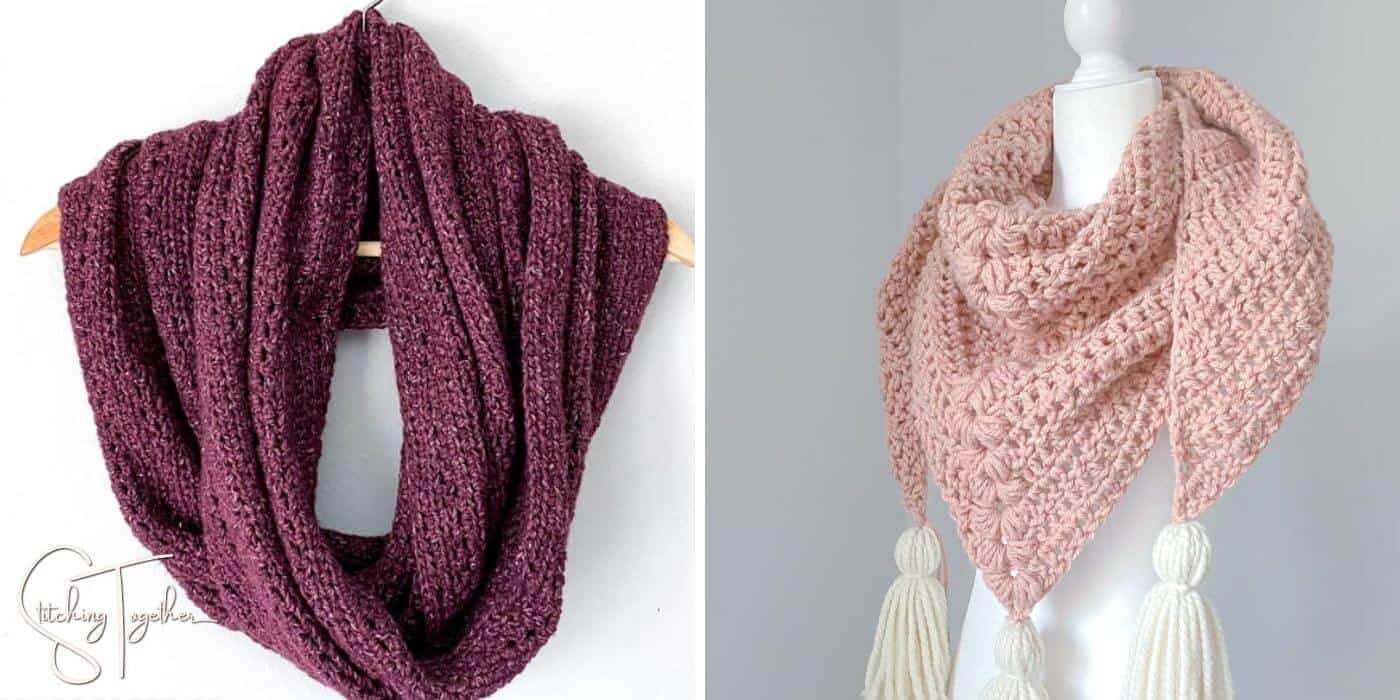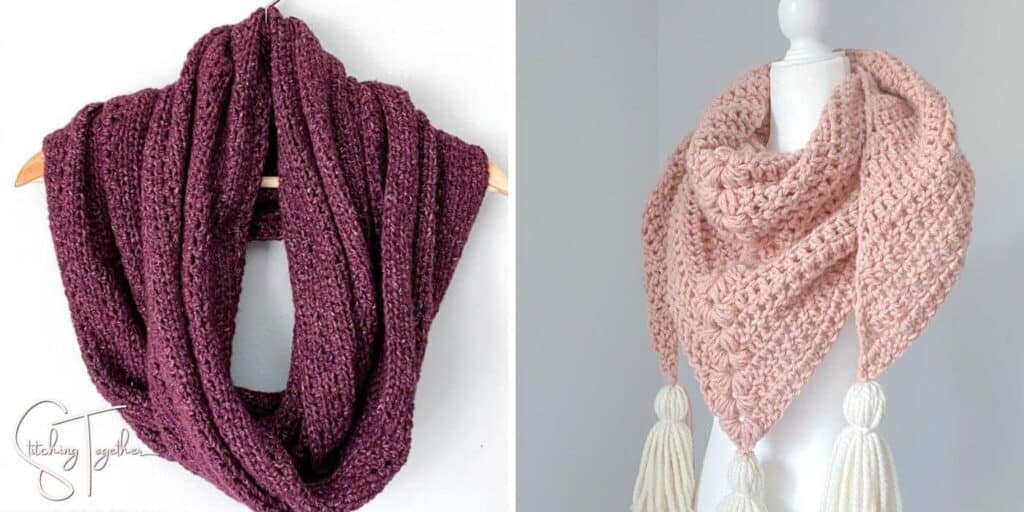 Heartfield Oversized Infinity Scarf Crochet Pattern
This is the super scarf I reach for when it's cold but I'm stubborn and don't want to wear a coat. It's so large that it feels like a soft warm hug. (The Luxury Infinity Scarf below is also a wonderful hug-feeling scarf.)
Triangle Scarf Crochet Pattern
Here's another scarf that's great for cold days where you don't want to wear a coat. It can be worn in the front as a triangle scarf or wrapped around you like a shawl. It works up surprisingly fast with bulky yarn.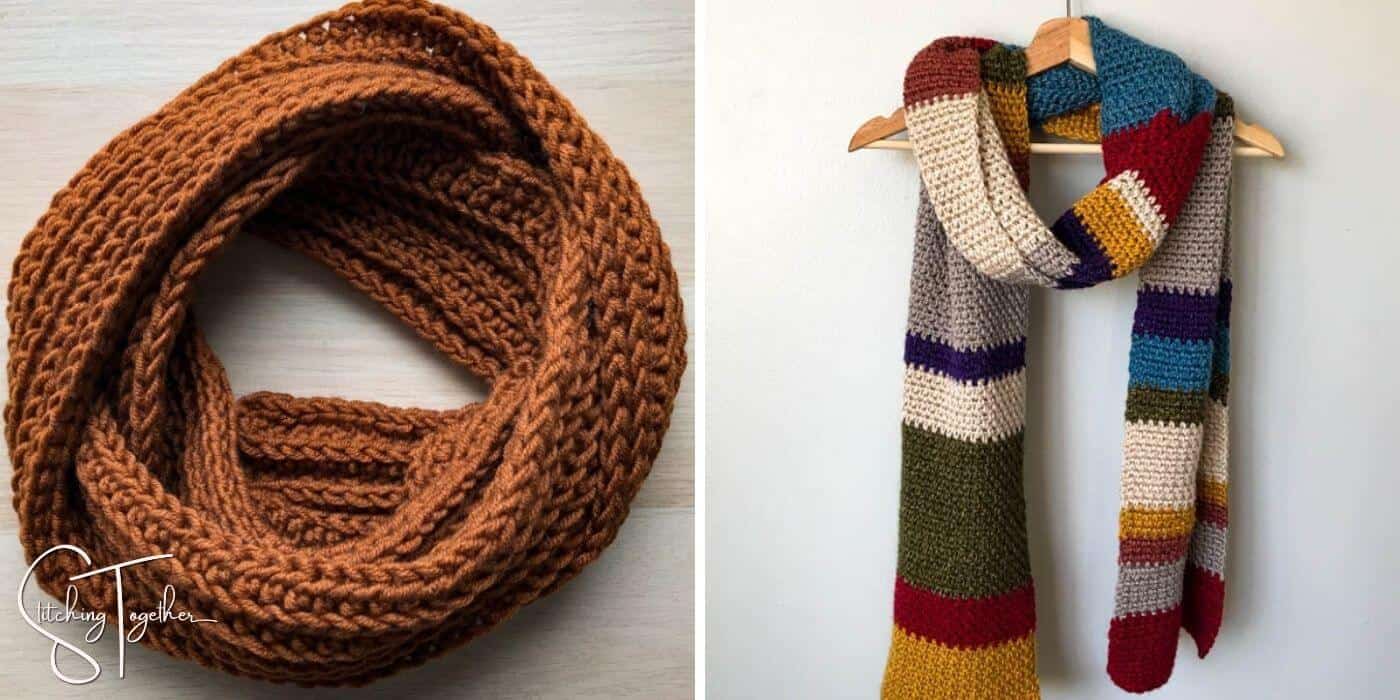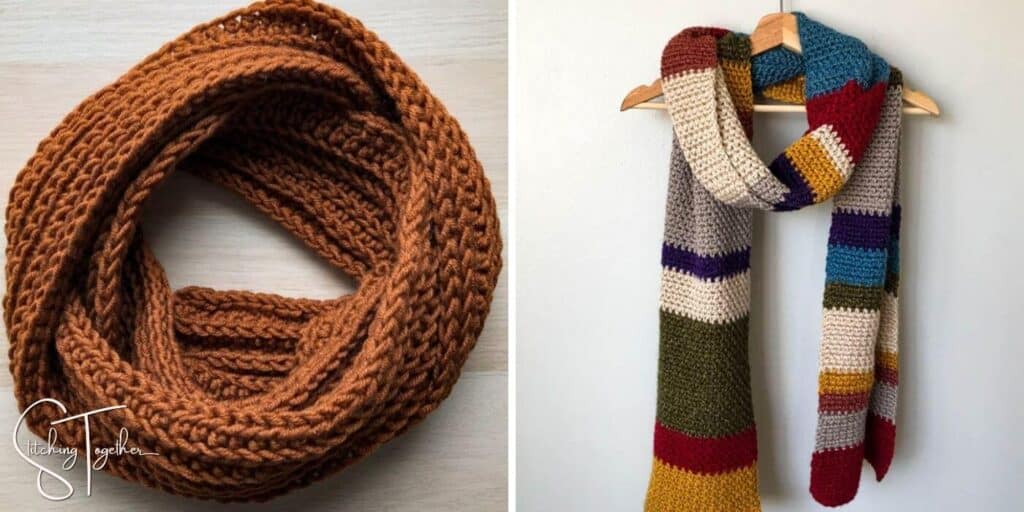 This scarf and the next were both made for my husband, and while they can be made for anyone, they work well as men's scarves. This easy scarf only uses one skein and is great for guys who don't like super bulky scarves around their necks. You can easily add another skein and make it longer or wider for anyone who likes a bulky scarf. Either way, it's super easy and works up quickly.
This Dr. Who-inspired scarf has to be one of my favorites. It's huge, warm, and so colorful. It uses the moss stitch, so despite its large size, it works up faster than you'd expect especially considering it's practically a narrow blanket.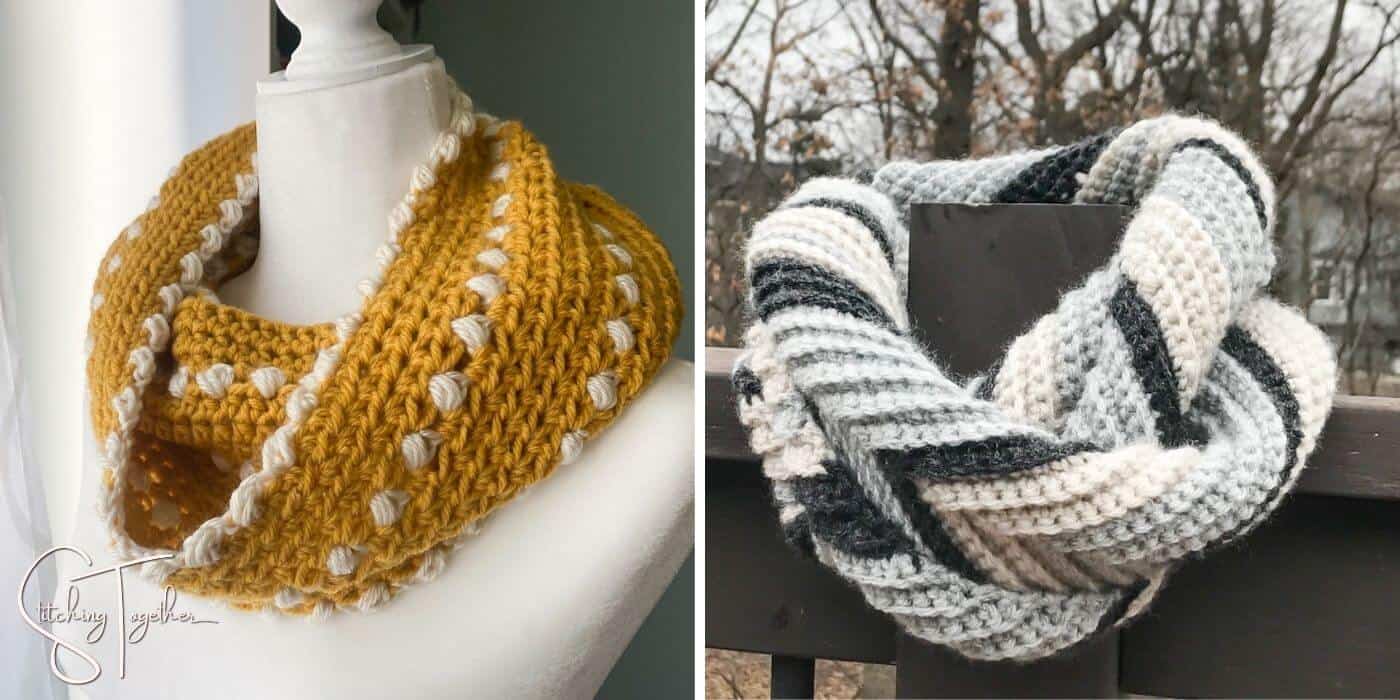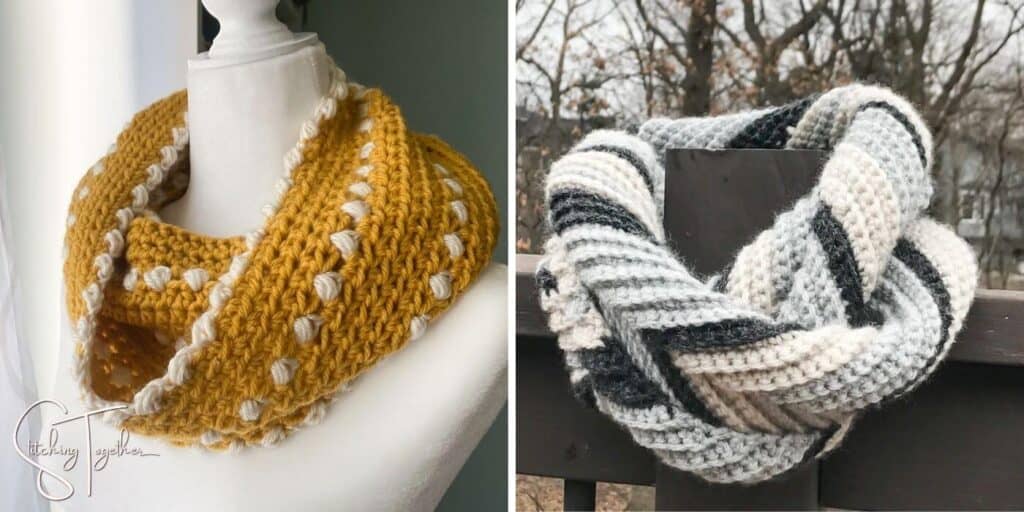 This crochet cowl and matching Peeking Puff Stitch Hat make a great gift set. The combo of simple stitches and puff stitches makes this cowl pattern so beautiful and unique.
Gray Skies Chevron Infinity Scarf Crochet Pattern
This is such a fun take on a chevron scarf – instead of zig-zagging, there's just one deep chevron. There's also a matching chevron headband pattern that's been super popular. The scarf and headband would make a wonderful gift set.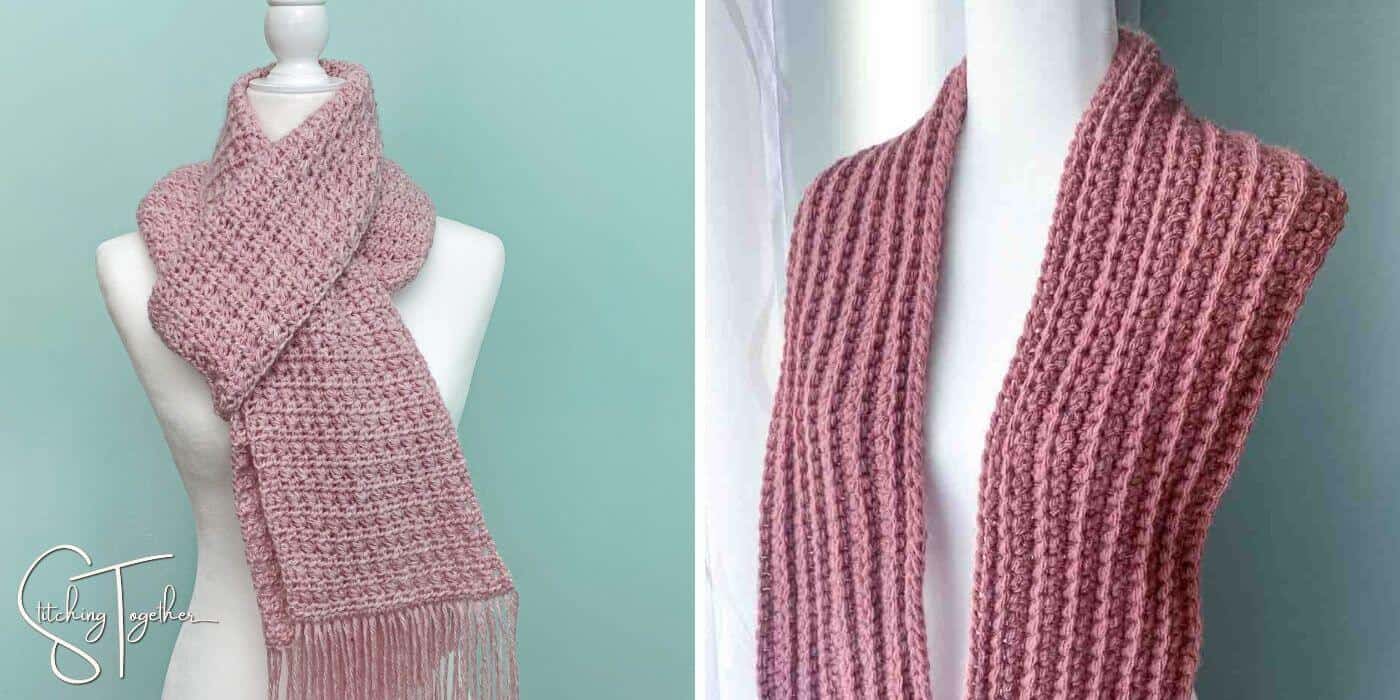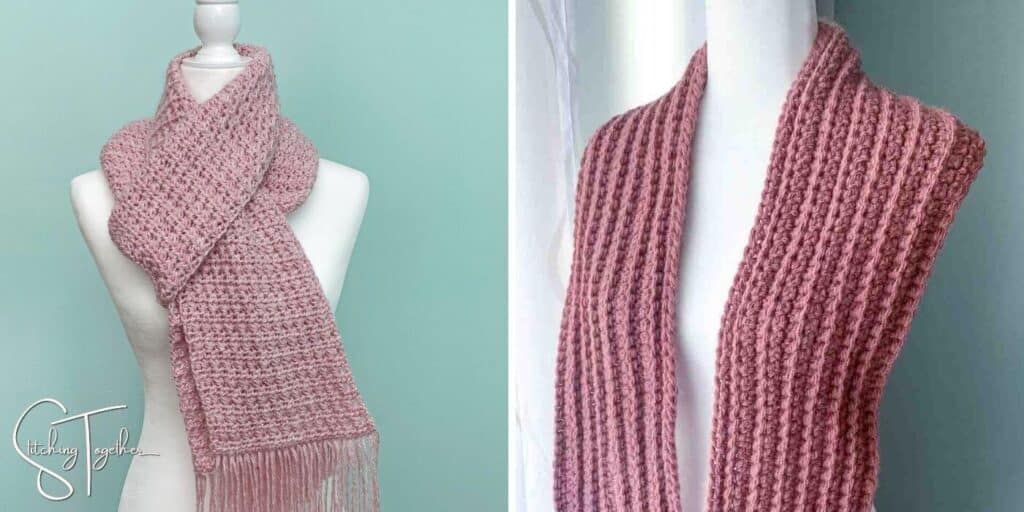 Courtney Crochet Scarf with Fringe
The Courtney Scarf has the most unique stitch pattern of all the scarves featured here. It looks like it's made with a yarn-eating star stitch, but really it's a much simpler stitch that gives a similar look.
Stonehaven Chunky Crochet Scarf Pattern
If you want a quick and easy chunky scarf, this is the pattern you need. It's super simple but gives you a versatile and lovely scarf. I love the texture created by the ridges between the rows. This pattern works well for anyone.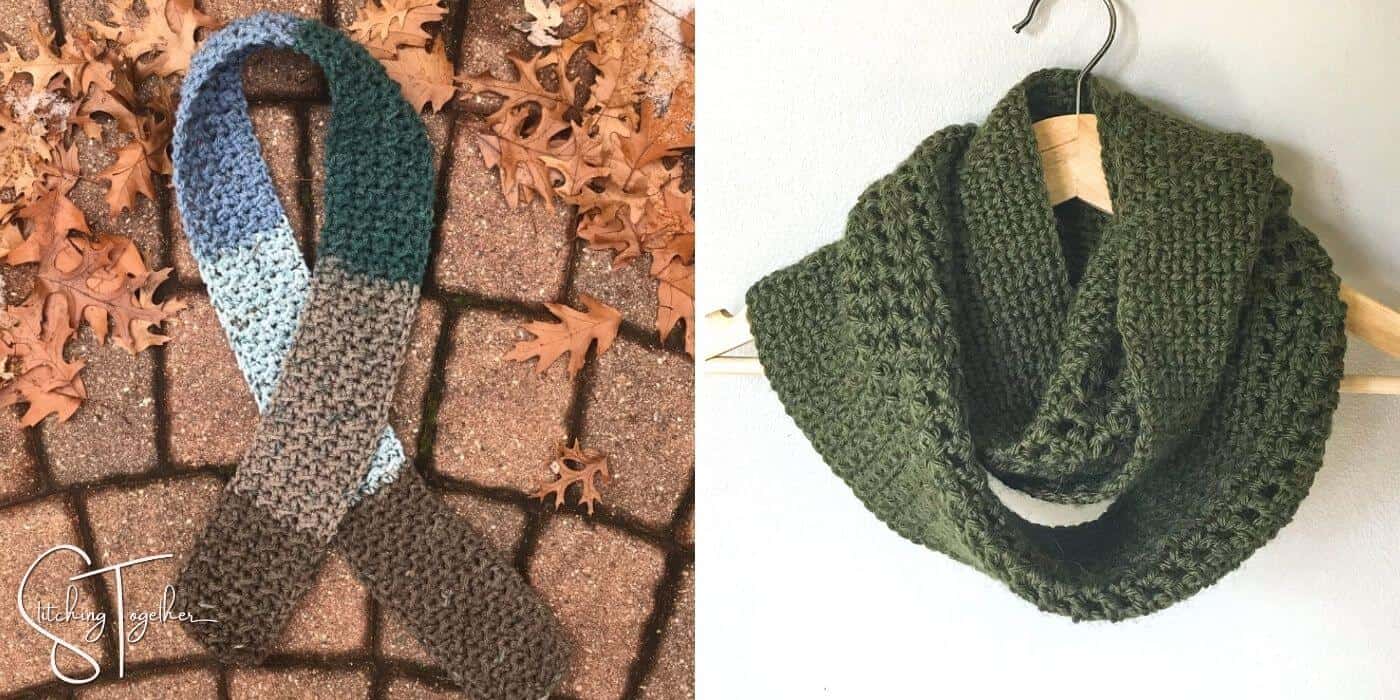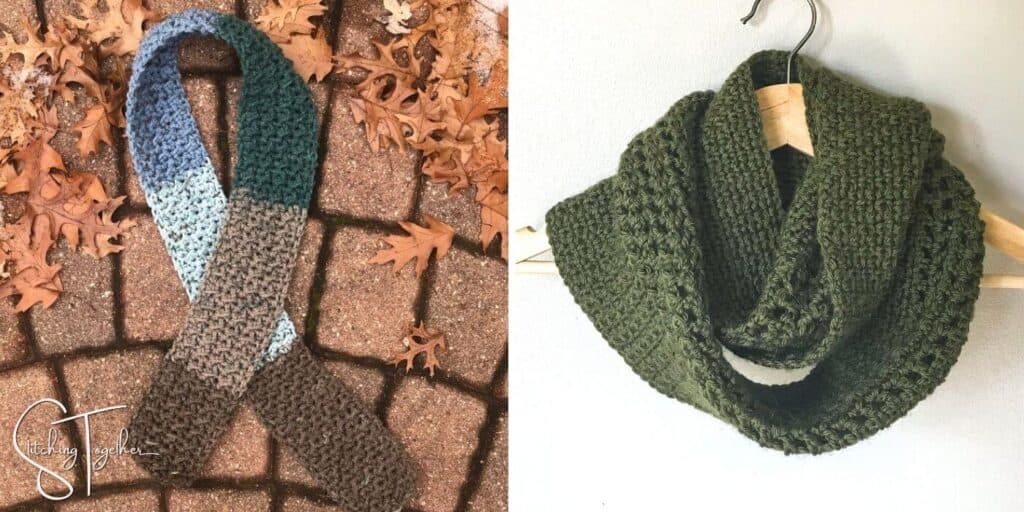 Over the Ridge Crochet Scarf for a Child
This quick child-size scarf works well with chunky self-striping yarn but would also look great in a solid color. It's made using the crunch stitch which is easier than it sounds.
This is a classic moss stitch scarf that's interrupted by rows of easy, open stitches. This is a great winter scarf pattern that works well for men or women.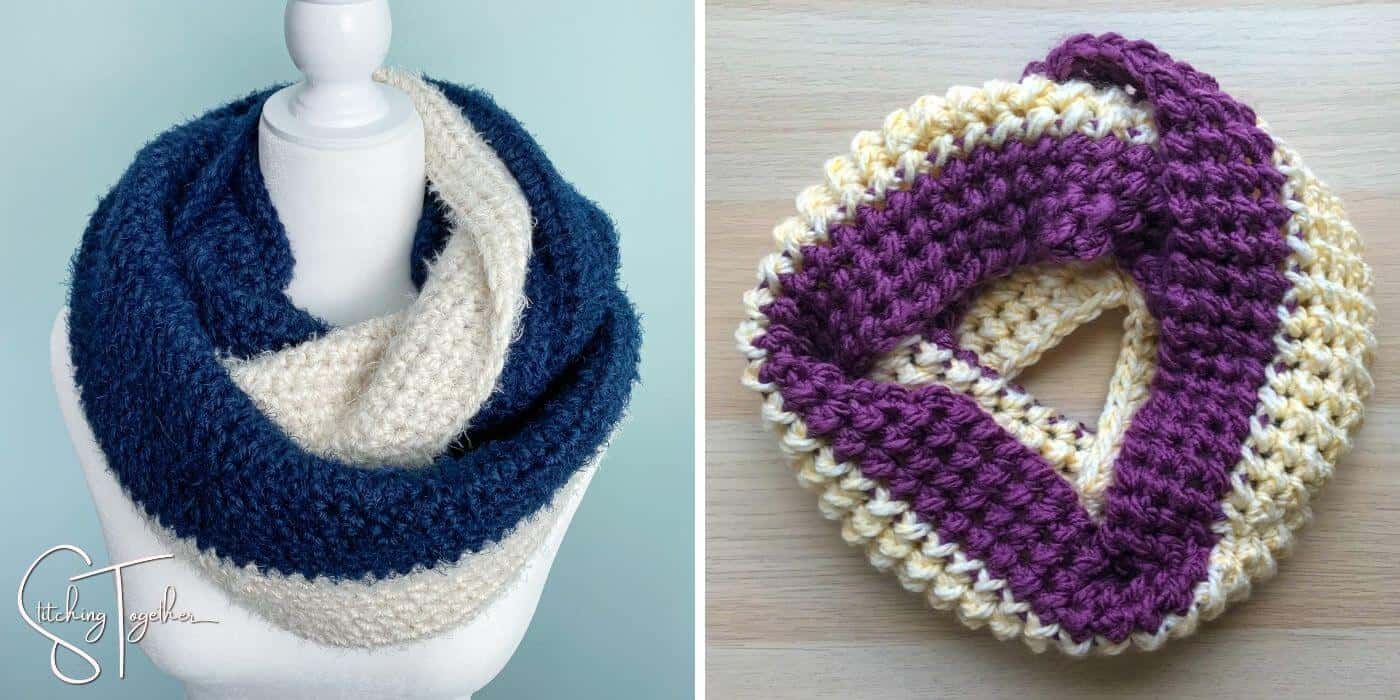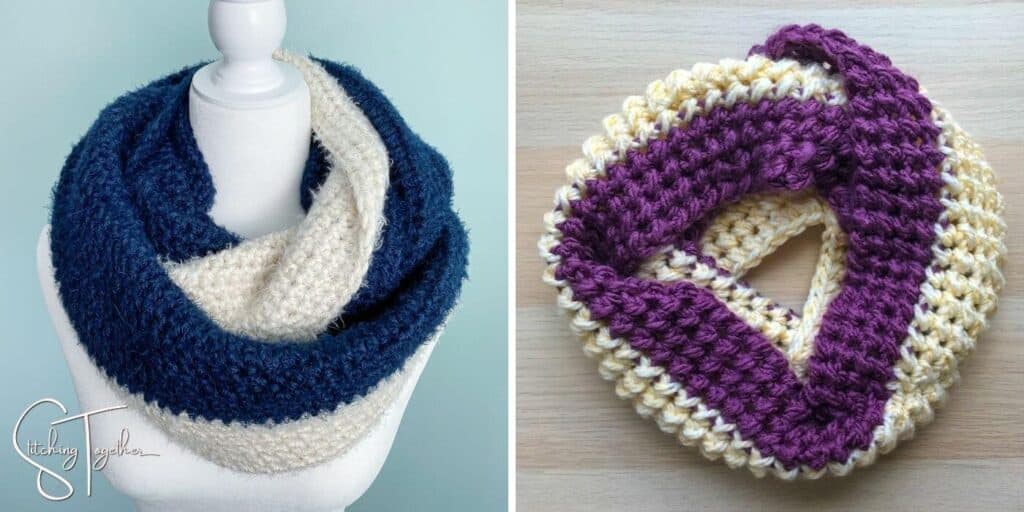 This gorgeous infinity scarf could also be called the Heavy Hugging scarf. I was so surprised how heavy it is, but it's heavy in a good way. It really keeps you warm and is so soft and cozy. The whole scarf is made with half double crochets so it is also one of the easiest scarves in this round-up.
Chunky Yarn Scarf Crochet Pattern
The texture plus chunky yarn in this scarf make it one of my favorites. Unfortunately for me, I made it for my daughter. I should probably make an adult-size one soon.
Which of these winter scarf crochet patterns will you dig your crochet hook into first?