Disclosure: This post may contain affiliate links. Please visit my About page for disclosures, Privacy Policy and more information.
Makeup remover pads, facial rounds, cotton pads, face scrubbies… whatever you want to call them these reusable cotton rounds are your skincare routine's BFF. They're quick to make and work great for removing makeup or applying your favorite products.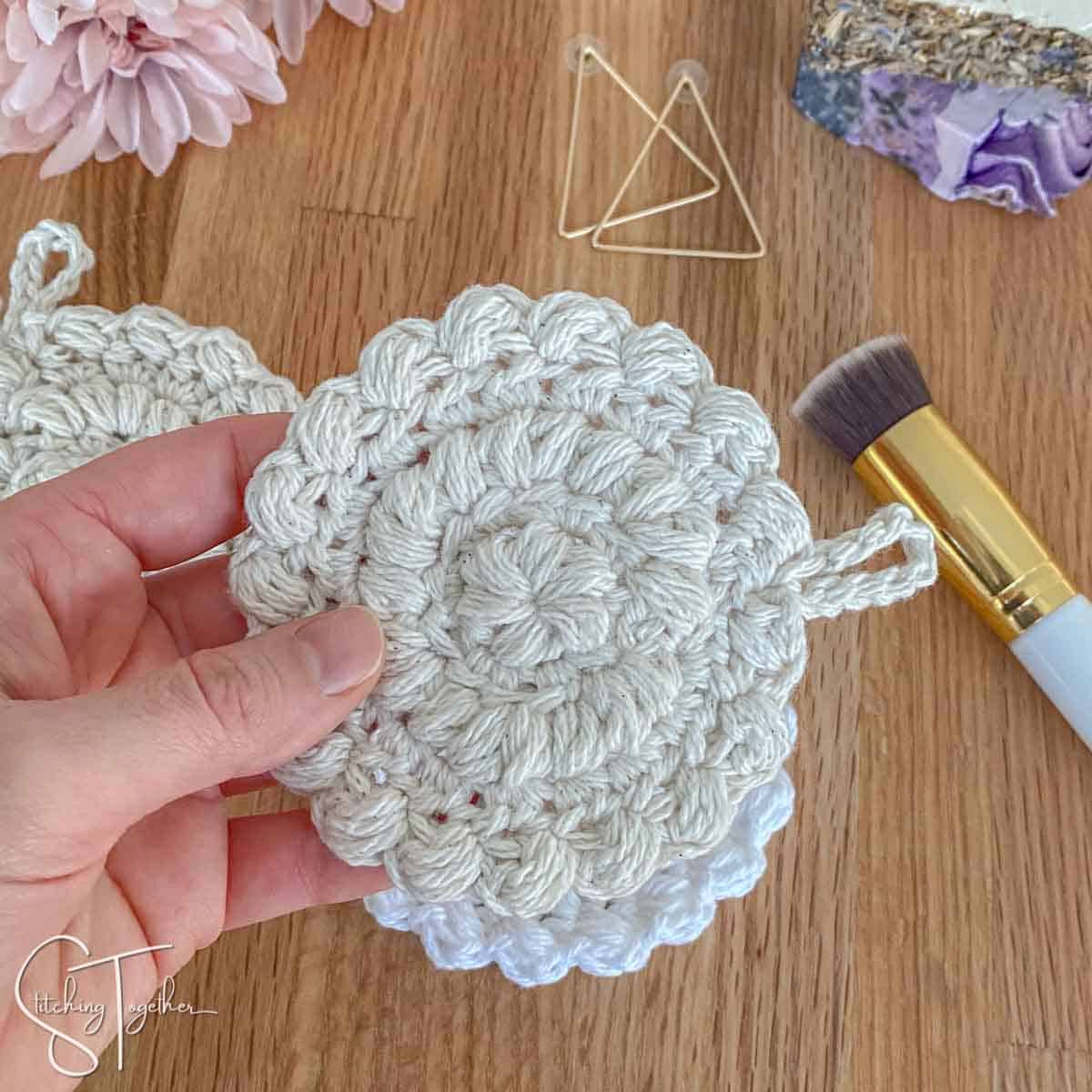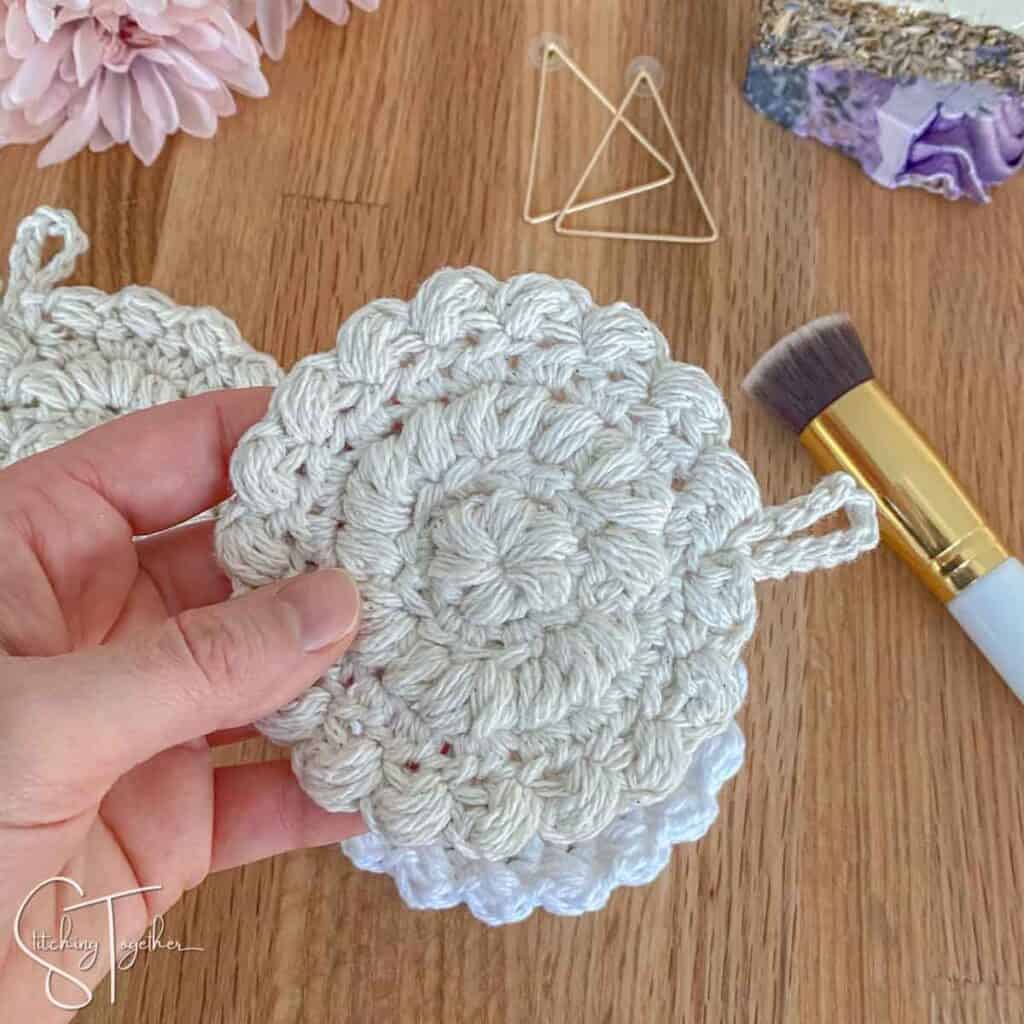 Stitches for the Crochet Cotton Rounds
These super cute reusable cotton pads alternate between rounds of puff stitches and rounds of half double crochets.
You'll start with a magic circle (don't miss this magic circle tutorial) and work 6 puff stitches into the circle.
Most puff stitches are closed with a chain stitch, but you won't close the puff stitches of rounds 1 and 3 with chain stitches. Instead, you'll just move right into making the next puff stitch.
Once you are working the half double crochets of rounds 2 and 4, it is really easy to see where to put your stitches since there aren't extra chain stitches between the puffs.
The final round of puff stitches have a chain 1 to close each puff. You'll then skip a stitch and slip stitch into the next stitch. This pulls the puff stitches over to the side so they are slanted instead of standing straight up. It makes for a cute border round, doesn't it?
(It's the same border style used in the Square Coaster Remix and the Simple Ear Warmers.)
That all doesn't sound too complicated, does it? Because you are only doing 5 rounds, the cotton face pads work up super quickly and you can easily have a stack of them done in one sitting.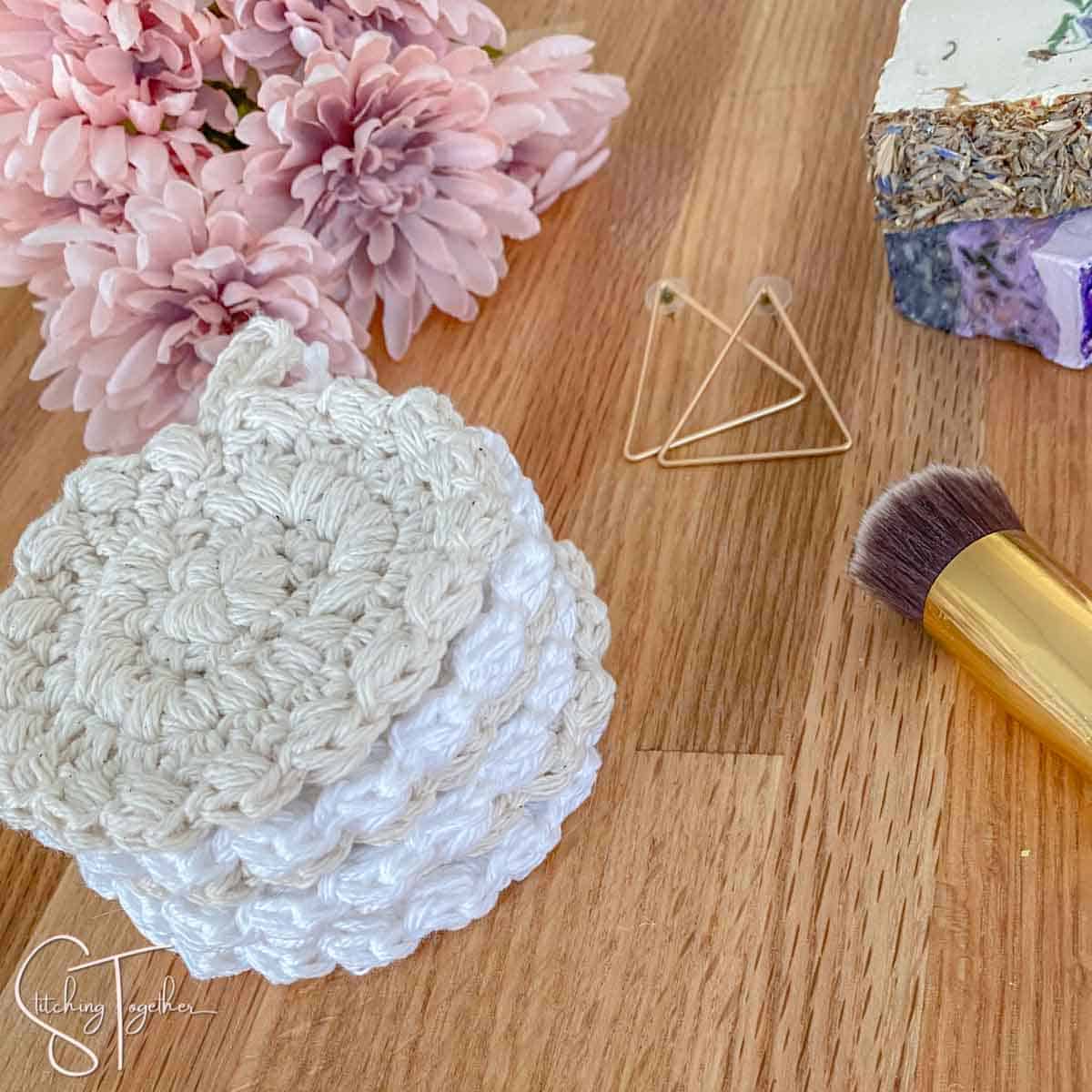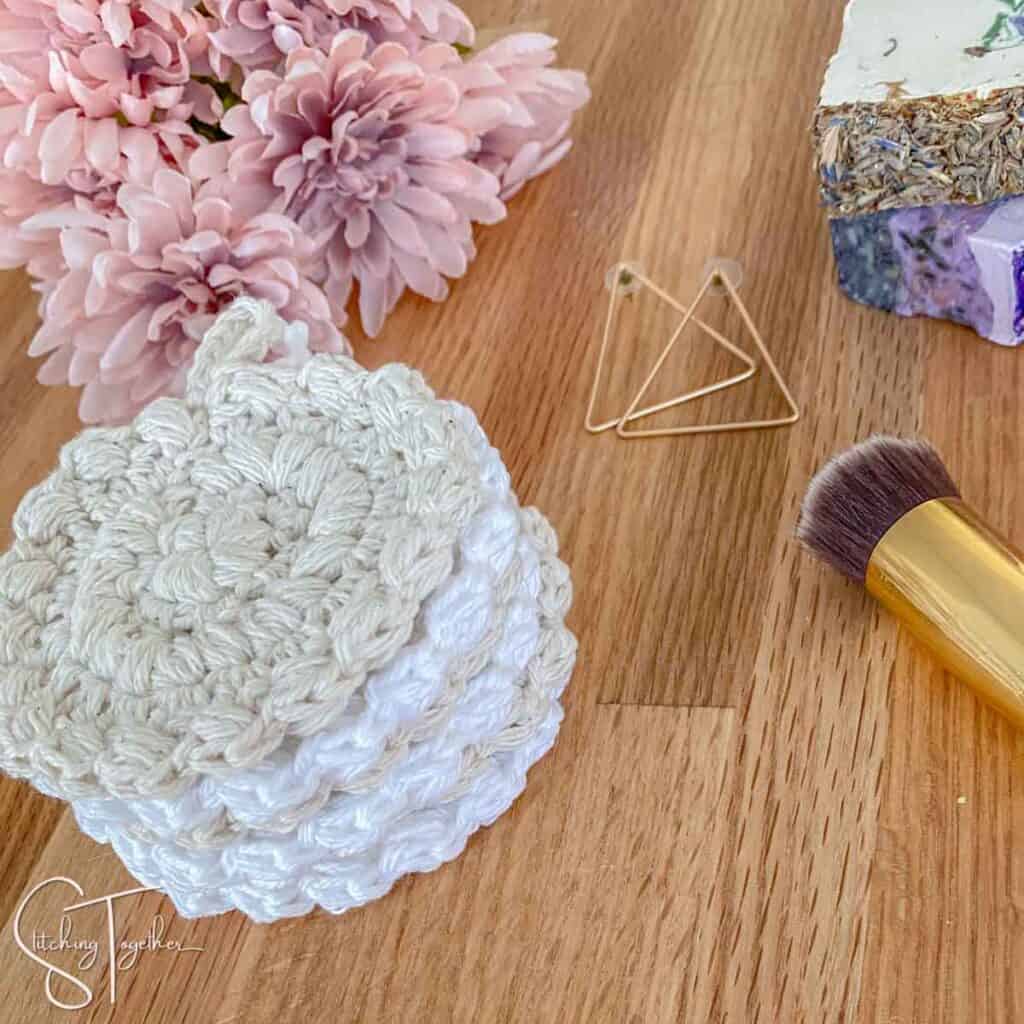 Yarn for the Crochet Cotton Face Pads
For these crochet cotton rounds, I used Lily's Sugar'n Cream Cotton yarn. It's 100% cotton yarn that's easy to work with and creates an absorbent finished product that softens with each wash.
Sugar'n Cream is usually easy to find in stores and it comes in so many different colors that you can really tailor these crochet cotton face pads to match any aesthetic.
If you need to substitute yarns, look for a category 4 worsted weight cotton. Sugar'n Cream is on the thicker side of worsted weight cottons I've used so you'll want to keep that in mind too.
Don't forget to save these Crochet Makeup Remover Pads on Pinterst!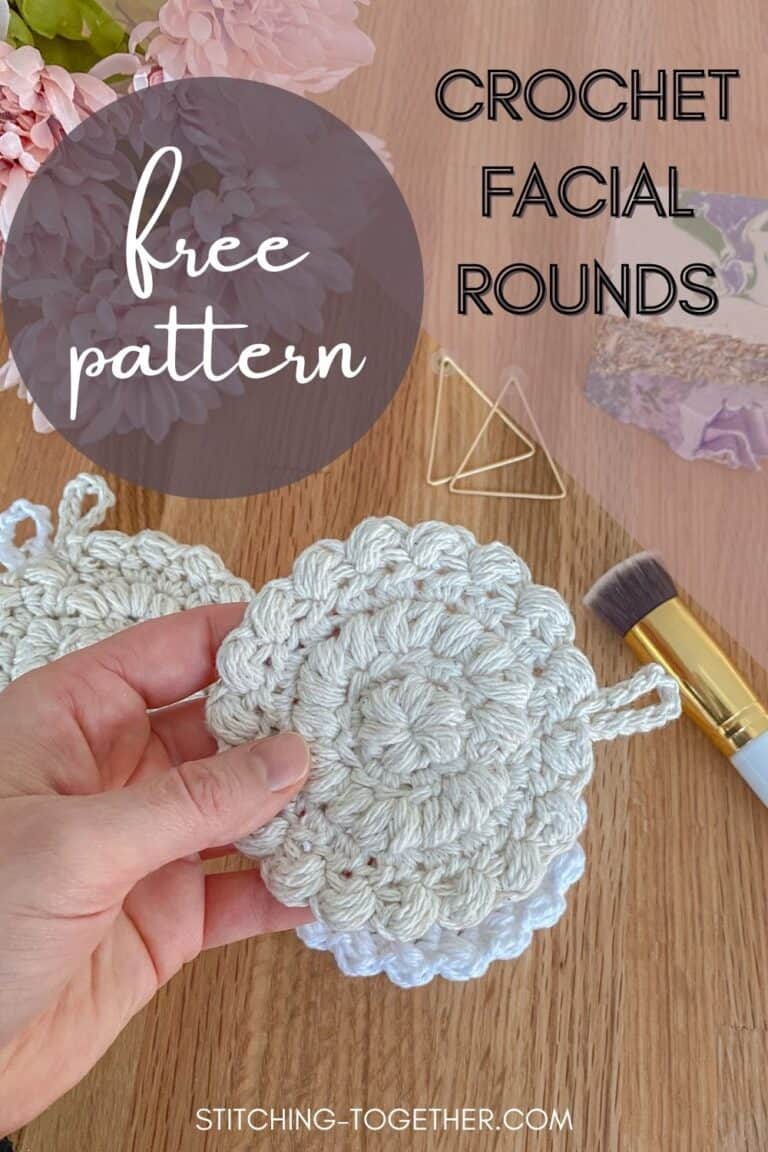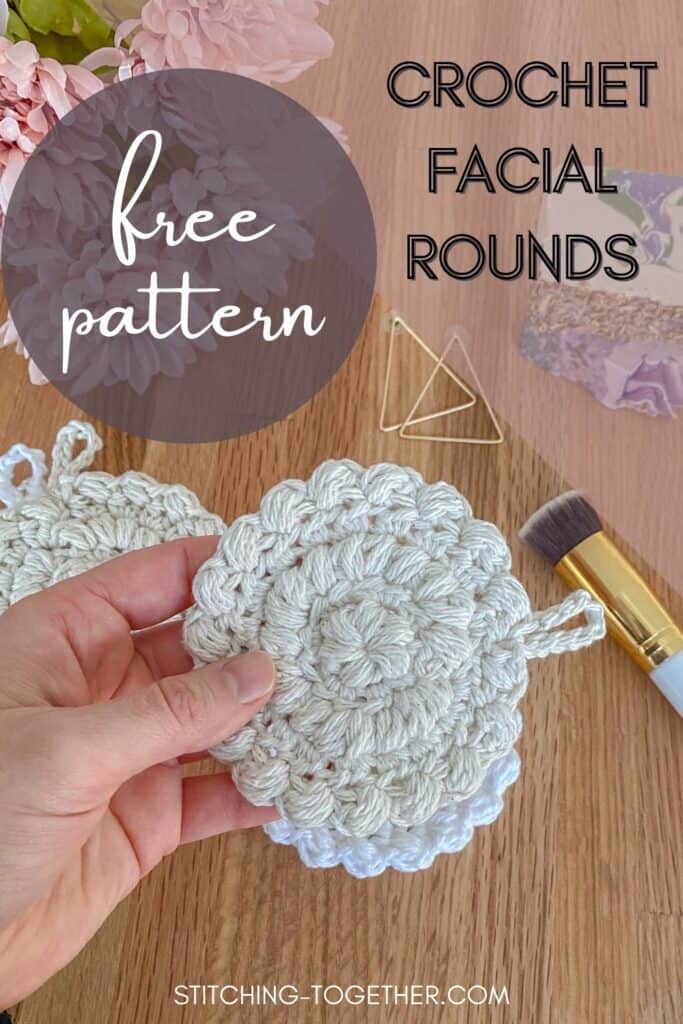 Crochet Makeup Remover Pads Pattern
Do you prefer printing your patterns? You can buy the PDF version of this pattern right here!
Skill Level: Easy
Materials:
US size H/8, 5.0 mm crochet hook
Lily's Sugar and Cream 100% Cotton Yarn (Category 4 Worsted Weight)
Approximately 15 yds (.31 oz) per round (samples used White and Ecru)
Large Eye Yarn Needle
.
Everything you need for this project can be ordered right on online.
Save time and shop from home!
.
Abbreviations:
ch – chain
puff – puff stitch (see notes)
sl st – slip stitch
hdc(s) – half double crochet
st – stitch
Gauge: gauge is not critical
Finished Size: approximately 4" in diameter
Notes:
This cute facial round is made by alternating rounds of puff stitches with rounds of half double crochets. The puff stitches in rounds 1 and 3 do not have chain stitches in between them.
The last round of puff stitches do have a chain stitch in between the puff stitches and you'll skip a stitch and slip stitch into the next stitch so the puff stitches are slanted.
The next puff stitch will go in the same stitch as the slip stitch. You'll finish off the facial rounds with a little chain loop so you can hang them to dry.
puff stitch: [yo, pull up a loop] 3 times (7 loops on the hooks), yo, pull through all 7 loops on the hook. Do not chain 1 to secure each puff stitch until instructed to in the last round.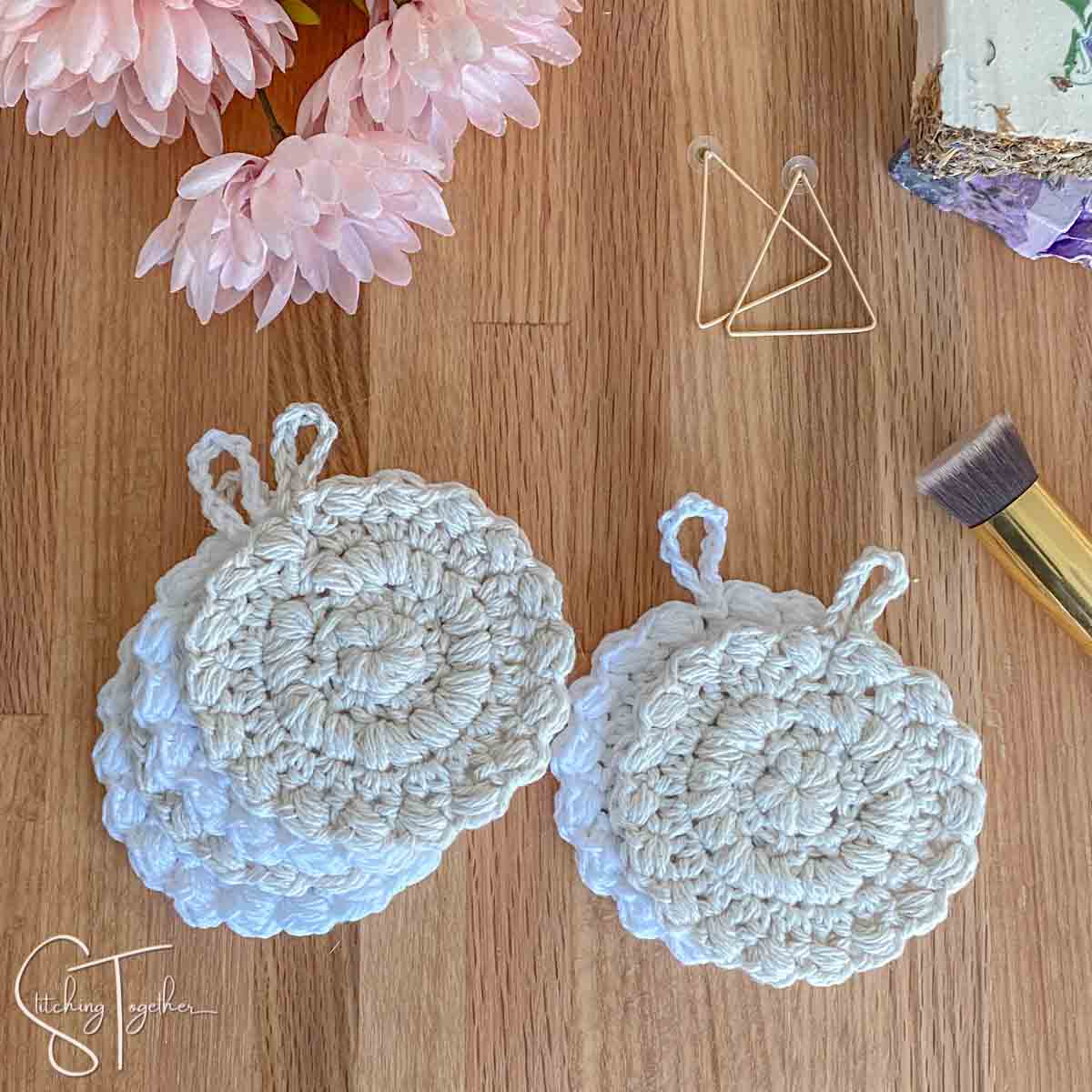 Makeup Remover Pads Crochet Pattern Instructions:
Start with a magic circle
Round 1: ch 1, 6 puff in the magic circle, tighten to close, join with a sl st. (6 puffs)
Round 2: ch 1, 2 hdcs in each st around, join with a sl st. (12 hdcs)
Round 3: ch 1, *2 puffs in the next st, puff in the next st, repeat from * around, join with a sl st. (18 puffs)
Round 4: ch 1, 2 hdcs in each st around, join with a sl st. (36 hdcs)
Round 5: ch 1, *puff in the same st, ch 1, skip st, sl st, repeat from * around (put the final sl st in the sl st of the round below) ch 10, join with a sl st in the same st. (18 puffs)
Fasten off and weave in ends.
Will you share pictures of your finished projects?