Quick Crochet Face Scrubbies
Disclosure: This post may contain affiliate links. As an Amazon Associate, I earn from qualifying purchases. Please visit my Privacy Policy for disclosures and more information.
Looking for a quick crochet project you can gift or sell? Or maybe you just need to wash your own face! Either way, these Quick Crochet Face Scrubbies are fast, simple, and adorable.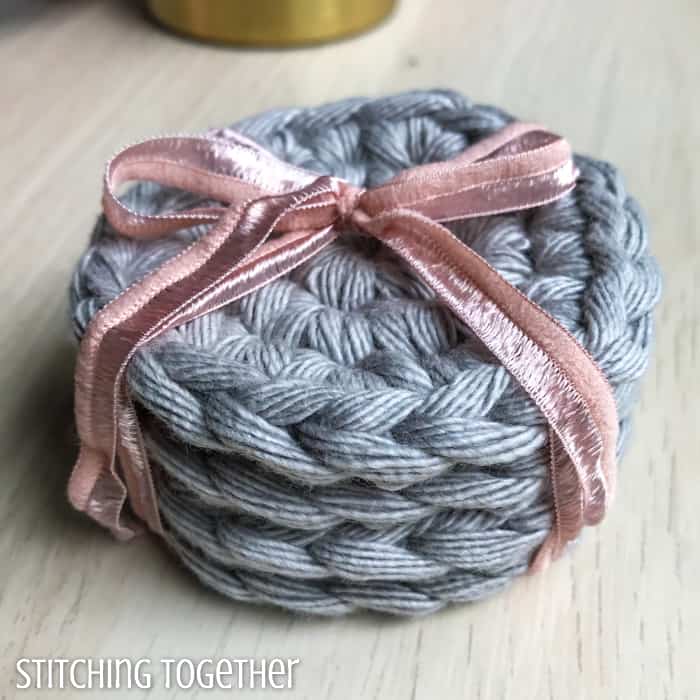 I saw a meme that said "not washing your makeup off of your face before bed will age you 7 years"
Now I have no idea where that stat was from or how they arrived at that conclusion.
What was the length of time they tested that for?
Is it each night you wear makeup to bed you'll age 7 years that very night? (I'd look like a mummy by now.)
Or is it over the course of 7 years of not washing your face, you'll have aged….. 7 years?
Either way, I took two valuable reminders from this meme:
We should probably all take a second to question random memes and statistics we read.

Washing your face is actually a good habit.
Well, that's all it took. Some random meme on the internet with unverified statistics led to a whole new pattern.
Since I am not doing a good job at washing my face every night, I OBVIOUSLY need something new and wonderful that I can use to wash it.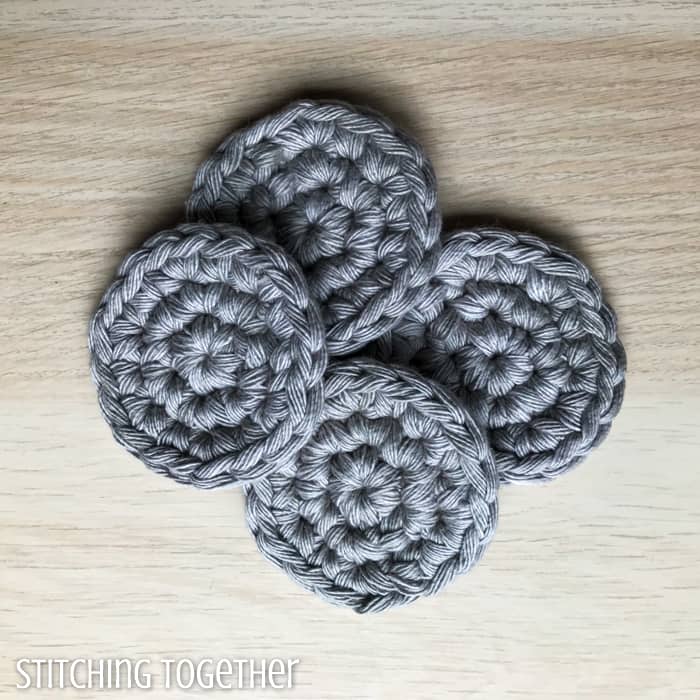 I had this fun new yarn from Lion Brand called Side Dish which is a Super Bulky 100% Cotton Yarn that was just ready and waiting to be made into these awesome cotton face scrubbies.
Just for fun, I timed how long it took me to make one of the scrubbies: less than 5 minutes! Talk about a quick crochet project. And you can get 8 or 9 round scrubbies from just one ball of Side Dish.
If you can't get your hands on Lion Brand's Side Dish yarn, you can triple up medium weight cotton yarn like Lily's Sugar and Cream.
The scrubbie I made with a triple strand of Sugar and Cream and an L hook turned out ever so slightly smaller than the scrubbies made with Side Dish.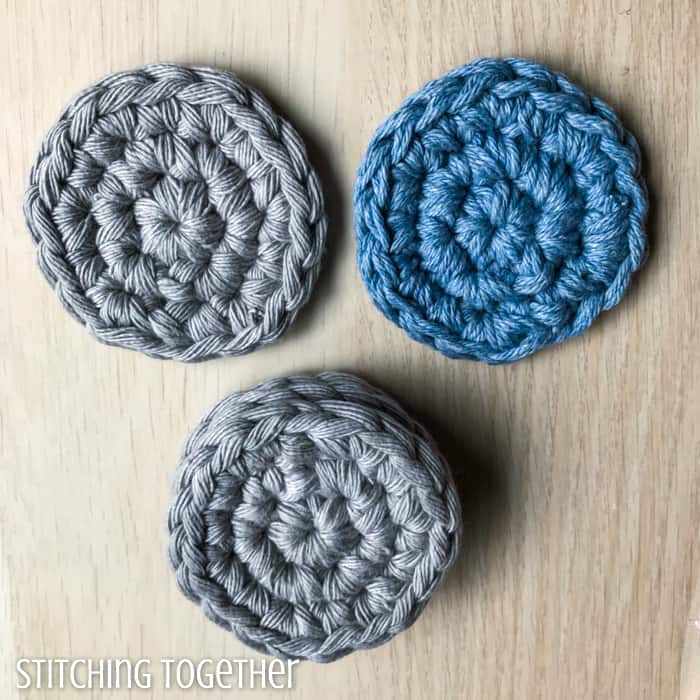 They still look cute with the 3 strands of cotton, but there is just something about the bulk of the Side Dish yarn that adds some good character.
I tied up a stack of 4 scrubbies with some Lion Brand Ribbonaire yarn I had sitting on my desk after making the Night Out Bag. Just using a strand of ribbon is a cute and simple crochet face scrubbies packaging idea.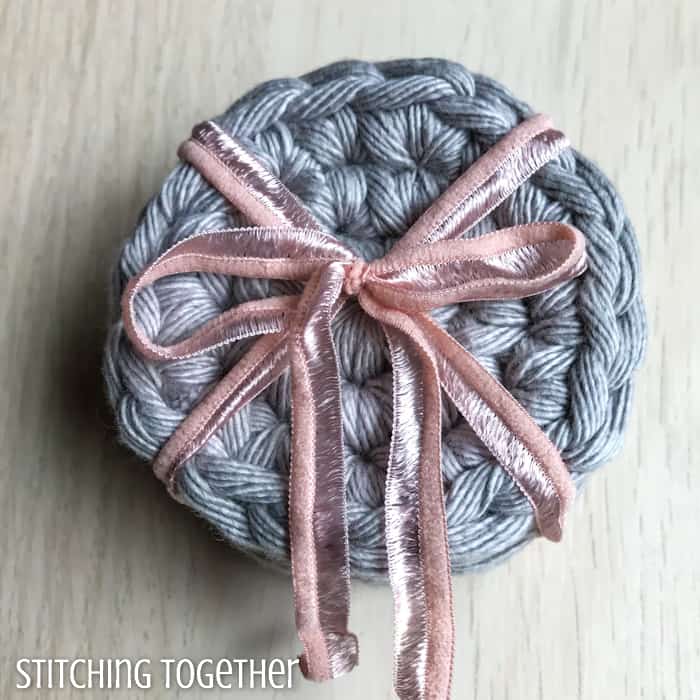 These crochet rounds are thick and sturdy enough to use as dish scrubbers too. The extra thickness of the bulky yarn makes them a bit easier to hold and maneuver than the thinner rounds.
There are 3 patterns included below for different face scrubbies.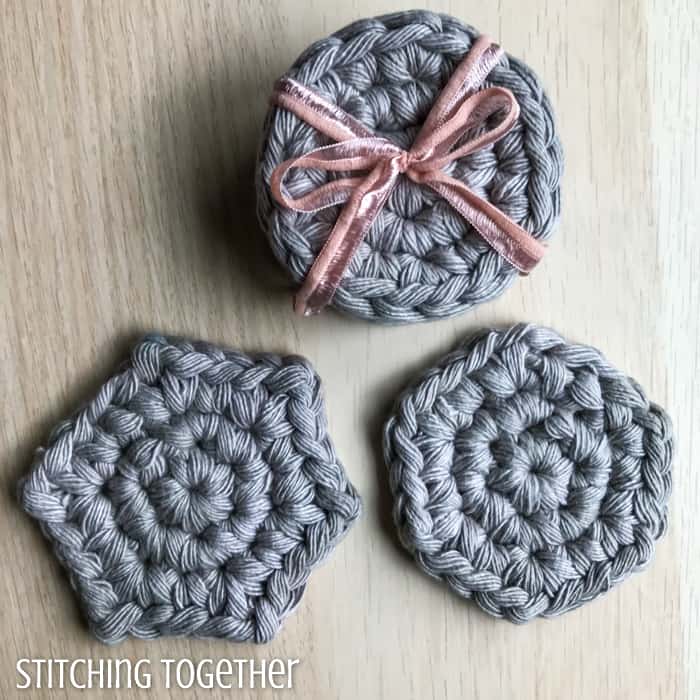 Really they are almost identical patterns with slight variations but you may want a stack of cute little hexagon scrubbies instead of round ones. Or maybe you'd like them slightly hexagonal (that is a word, right?) I couldn't decide so I tried all 3 and included instructions for all 3. How fun! ( I think the almost hex are my favorites, but don't tell the others.)
Save the Crochet Face Scrubbies on Pinterest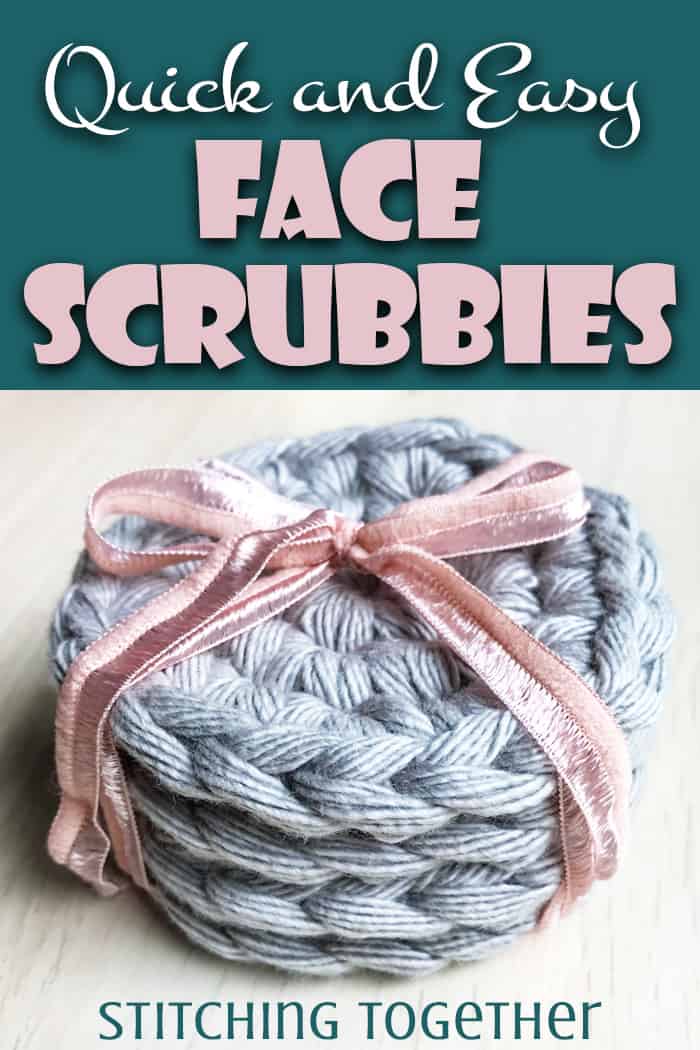 Quick Crochet Face Scrubbies
Love printing your patterns? Get the ad-free printable PDF right here.
Skill Level: Easy
Materials:
#6 Super Bulky 100% Cotton 3.5oz/100g, 46yds/42m

0.35-0.38 ounces per scrubbie

Large Eye Yarn Needle
Abbreviations:
sc(s): single crochet(s)
sl st: slip stitch
ch: chain
st(s): stitch(es)
inc: 2 scs in the same st
Gauge: 3 rounds of scs = 3"
Finished Size:
3" (round) – 3.5" (hex) in diameter
Notes:  
The three patterns for the face scrubbies are almost identical. There isn't a difference until the final round where you add one chain between the increases for the almost hex scrubbie and two chains between the increases of the hex scrubbie.
Round Face Scrubbie:
Start with a magic ring
Round 1: 6 sc in ring, tighten to close, join with a sl st to the first sc. (6)
Round 2: ch 1, inc in each st around, join with a sl st to the first sc. (12)
Round 3: ch 1, *(sc in next st, inc in next st), repeat from * around, join with a sl st to the first sc. (18)
Almost Hex Scrubbie:
Start with a magic ring
Round 1: 6 sc in ring, tighten to close, join with a sl st to the first sc. (6)
Round 2: ch 1, inc in each st around, join with a sl st to the first sc. (12)
Round 3: ch 1, *(sc in next st, (sc, ch 1, sc) in next st), repeat from * around, join with a sl st to the first sc. (24)
Hex Scrubbie:
Start with a magic ring
Round 1: 6 sc in ring, tighten to close, join with a sl st to the first sc. (6)
Round 2: ch 1, inc in each st around, join with a sl st to the first sc. (12)
Round 3: ch 1, *(sc in next st, (sc, ch 2, sc) in next st), repeat from * around, join with a sl st to the first sc. (30)
I'd also love to see pictures of your finished projects. You can share those several ways: