Free Granny Square Crochet Bag Patterns
Disclosure: This post may contain affiliate links. As an Amazon Associate, I earn from qualifying purchases. Please visit my Privacy Policy for disclosures and more information.
Are you ready to take your granny squares beyond the blanket? From market bags to totes to crossbody bags, the versatile granny square has been combined and shaped in all sorts of ways to carry your things in style. In this list of free crochet granny square bag patterns, you are sure to find your next favorite crochet projects.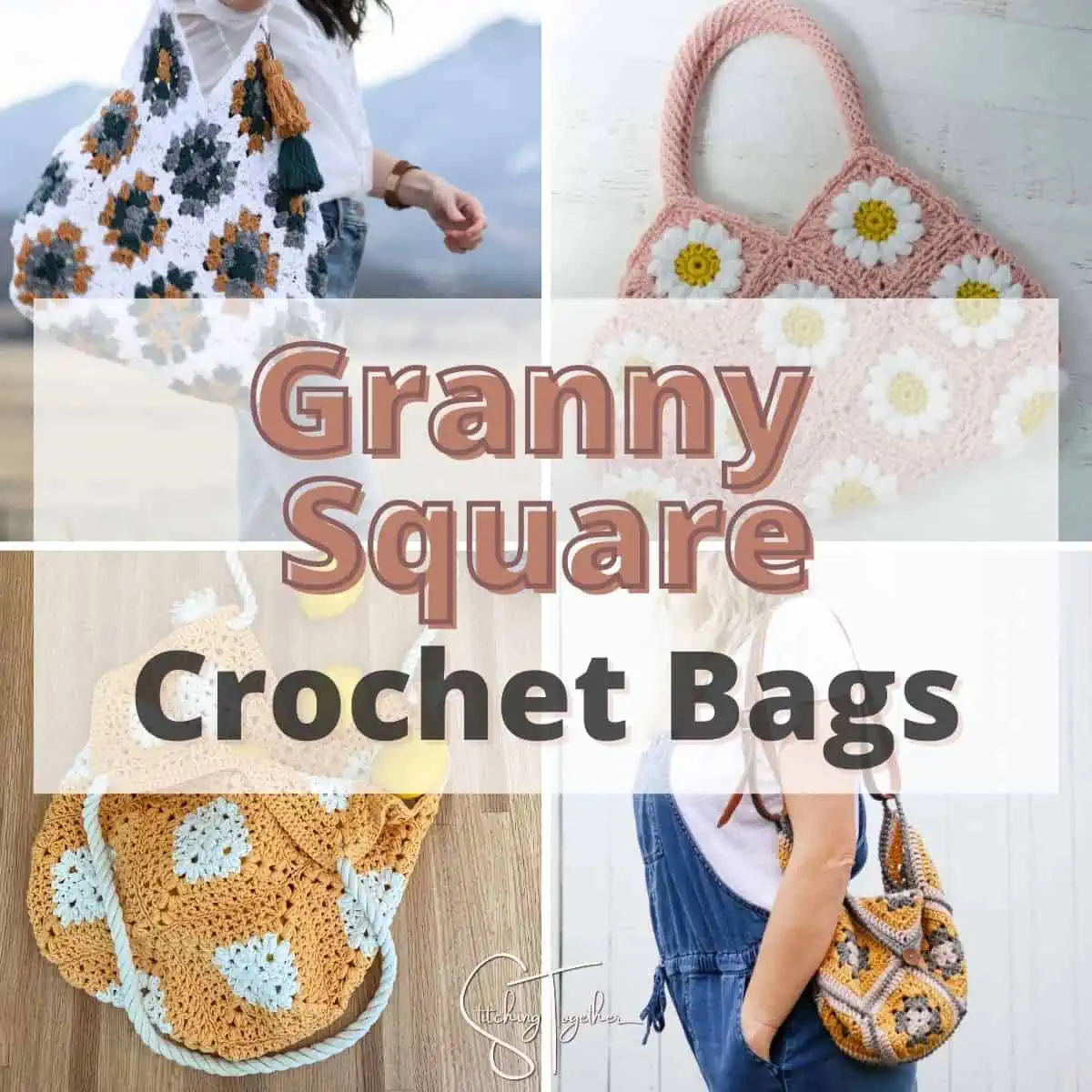 The humble granny square is one of those classic and timeless motifs in our crochet-world, so it is no surprise that designers love to find different ways to use squares. Making crochet bags with granny squares is a great way to quickly make a useful crochet item and display those unique grannies.
What Skills Are Needed to Finish Granny Square Bag Patterns?
Many of the bags featured only require simple crochet stitches and use a classic granny square motif. Some of the bag patterns use unique granny squares but, don't worry, each pattern has instructions on how to crochet the squares for that bag.
As you scroll through the patterns, you may notice that many of them are rated as an intermediate skill level. They are rated that way because most of them have more involved stitch work, color work, plus joining techniques. Does that mean a beginner cannot make a granny square bag? I don't think so! Start with one of the smaller bags that just uses basic grannies like the Basic Granny Square Bum Bag and then keep trying new patterns as your skill increase.
If you are ever curious about skill levels, the Craft Yarn Council has a great breakdown of the skills generally required for each project level. For a long time, I didn't know that patterns rated as beginner and patterns rated as easy are not the same thing.
Beyond knowing basic crochet stitches, many squares instruct you to start with a magic circle. I have a great magic circle tutorial in case you haven't mastered that technique yet. Each bag will also require some sort of joining techniques in order to join your squares to make the different shapes. The most common joins used are the whip stitch, invisible join, and flat slip stitch.
Beyond crocheting, many of the bag designers give suggestions for how to line the bag with fabric. Lining a bag generally only requires basic sewing skills and there are plenty of tutorials out there to help you if you get stuck.
Save the free crochet granny square bag patterns on Pinterest!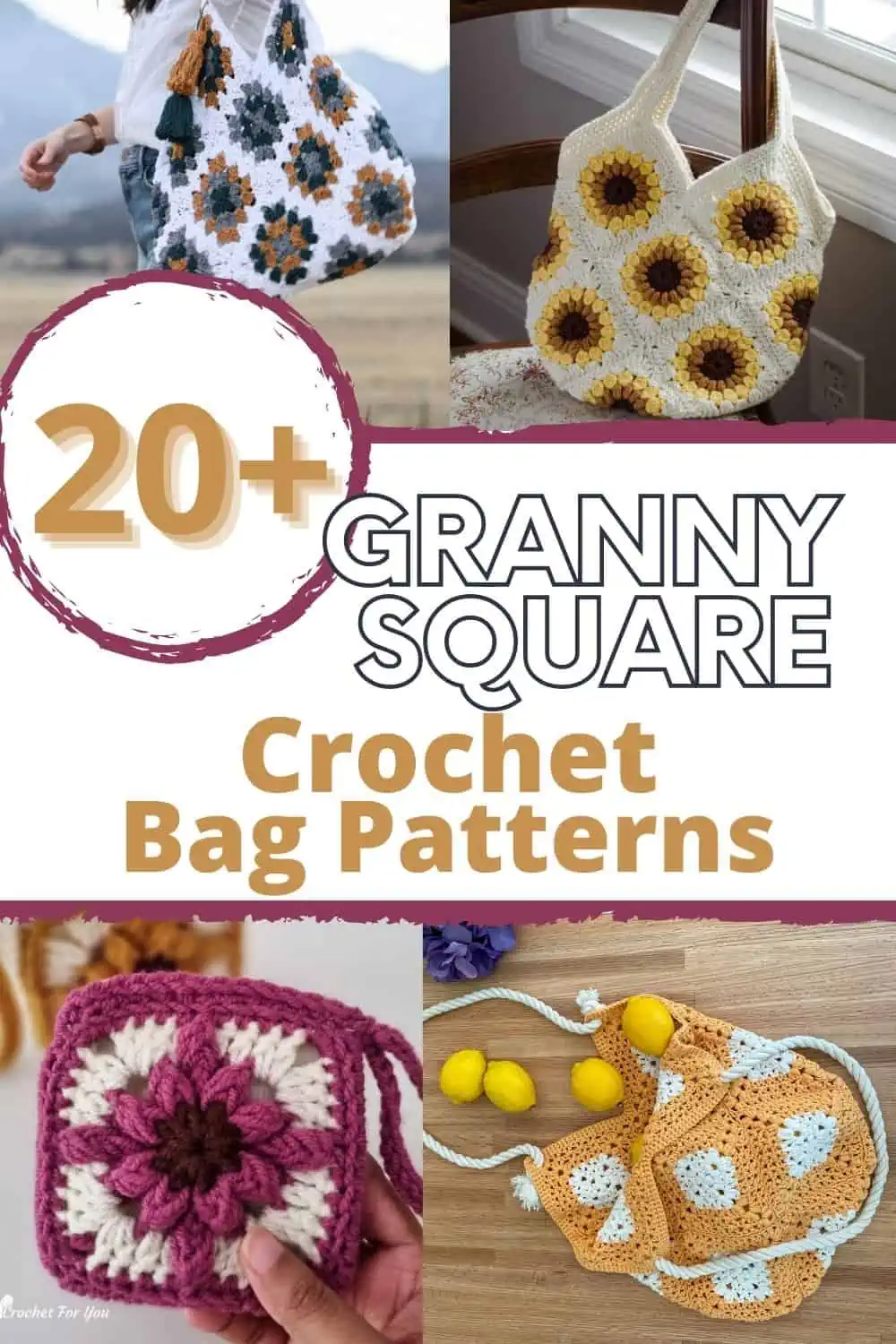 What Do I Need to Make My Own Bag
There are a few common supplies that you will need before starting your own crocheted bag.
Yarn
Most of the crochet bag patterns use cotton yarn because it is so versatile and durable. It doesn't stretch out like other fibers and it is great for making sturdy bags.
My favorite cotton to use for bags is 24/7 Cotton yarn from Lion Brand Yarn. It's a mercerized cotton that is so easy to work with. Most of the bag patterns call for worsted weight yarn but there are a few that use light or bulky weight yarn.
You can substitute acrylic yarn in your bags, however, you want to be mindful that it may stretch more, especially if you are crocheting the handles or straps. You can go down a hook size or two and make the straps shorter to compensate for any stretching. There are a couple of patterns included that call for acrylic yarn and they are just as beautiful and functional as the other bags.
Crochet Hooks
Finding crochet hooks that you enjoy using is such a game-changer. Clover Amour Hooks are incredible for their comfortability, versatility, and cost. I can crochet for longer, without fatigue with my Clover Amour hooks than with any other hook I have tried.
For each pattern you make, you'll want to select a hook size that corresponds with the yarn you are using or that is suggested in the pattern.
Tapestry Needles
Weaving in all those ends, especially on colorful grannie can be a whole job in itself. Since I purchase these tapestry needles that have a plastic loop on the end, I don't mind weaving in ends nearly as much as I used to. The plastic hoop makes it easy to thread the yarn in the needle and the needle shaft is strong and easy to work through those stitches. You'll also need tapestry needles for joins that require sewing like the whip stitch.
Other Optional Supplies
Scissors
Buttons
Zippers
Straps
Fabric Lining
Interfacing
How many squares do I need for a granny square bag?
How many squares you need for a granny square bag totally depends on the size and style of bag you want to make. A few of the patterns featured only require two squares whereas one of the larger tote bags takes 27 squares. Some of the patterns also use many small squares and there's even one pattern that uses just one huge square. That's the great part about granny square bags, the possibilities are almost endless!
​Free Crochet Granny Square Bags
Don't Miss These Free Crochet Bag Patterns