Crochet Waffle Stitch Dishcloth Pattern
Disclosure: This post may contain affiliate links. As an Amazon Associate, I earn from qualifying purchases. Please visit my Privacy Policy for disclosures and more information.
Earlier this week I shared a tutorial on how to crochet the waffle stitch and there is no better way to retain a new skill than to use it! This simple crochet waffle stitch dishcloth pattern is the perfect way to practice your new stitch.
Once you've made the dishcloth, you will be well on your way to making larger projects featuring the waffle stitch like cowls, scarves, and even blankets.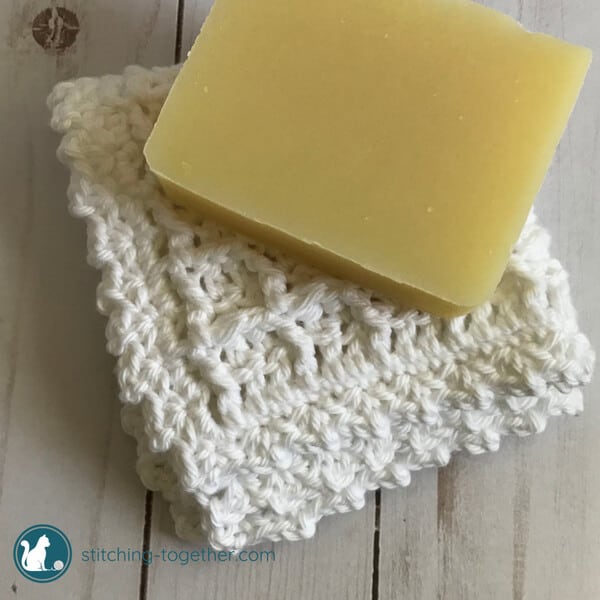 What's so great about a waffle stitch dishcloth?
The waffle stitch dishcloth feels dense without actually being dense. There is enough space between stitches for the dishcloth to dry quickly.
The raised post stitches, give the dishcloth some great texture with scrubbing power! If you need a flatter surface for cleaning, the smother side of the dishcloth is perfect for that.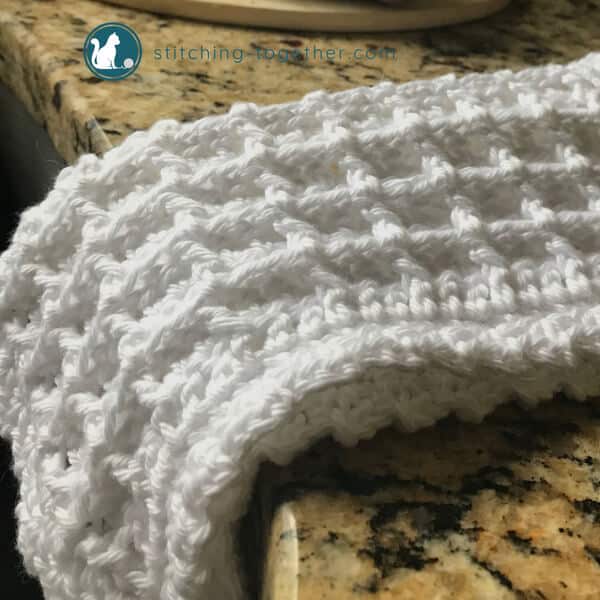 The dishcloth works up so quickly, once you get the pattern repeat down. Plus the look of them can be made so different.
Use a more delicate border like in this pattern and you have a dishcloth worthy of your fine china. (Honestly, do you have fine china? My mom left me this beautiful set, but I am too afraid to use it!) Or you can leave the simple sc border and have a less dainty look. Either way, the look of the waffle stitch dishcloth is so different from other dishcloths.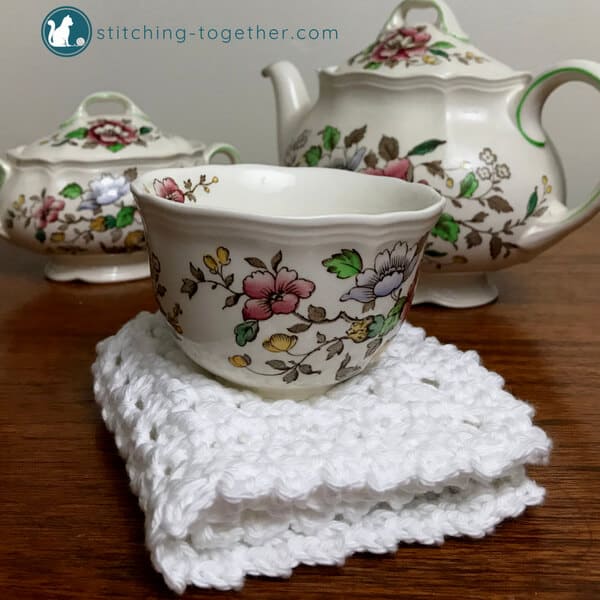 They don't have to be a dishcloth. Doesn't the waffle stitch washcloth sound a bit better anyway? With this simple, yet beautiful border, they'd be a great addition to a spa gift basket or look lovely hanging in your shower.
If you'd love to start an at-home spa kit or need some basket ideas, check out this link on how to build your at-home spa kit.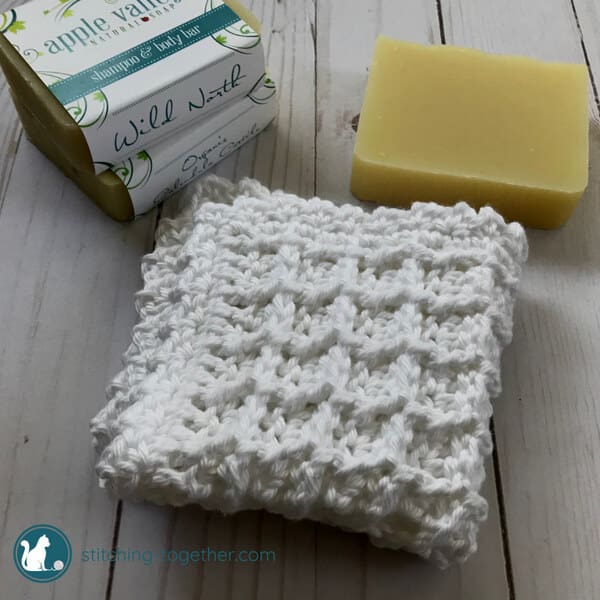 Do you like printable PDFs of your patterns? You can purchase the ad-free PDF here!
Crochet Waffle Stitch Dishcloth Pattern
Materials:
Save time and shop the materials online
I love this Cotton! Yarn in White found at Hobby Lobby
I/9, 5.5 mm crochet hook found on Amazon
Set of 10 ergonomic, high quality crochet hooks found on Amazon
Tapestry Needles found on Amazon
Abbreviations
ch(s): chain(s)
dc(s): double crochet(s)
st(s): stitch(es)
fpdc(s): front post double crochet(s)
sc(s): single crochet(s)
sl st: slip stitch
sk: skip
Finished Size: approx: 9.5″ x 9″
Gauge: 4″ x 4″ = 15 dcs x 10 rows
Notes
When working the first round of single crochets for the border, it is easier to work around the stitches along the sides instead of trying to work into the stitches. You'll use 2 scs around each double crochet or turning chain as you work the first round of the border.
There is a full, step by step, waffle stitch tutorial for right handers and left handers.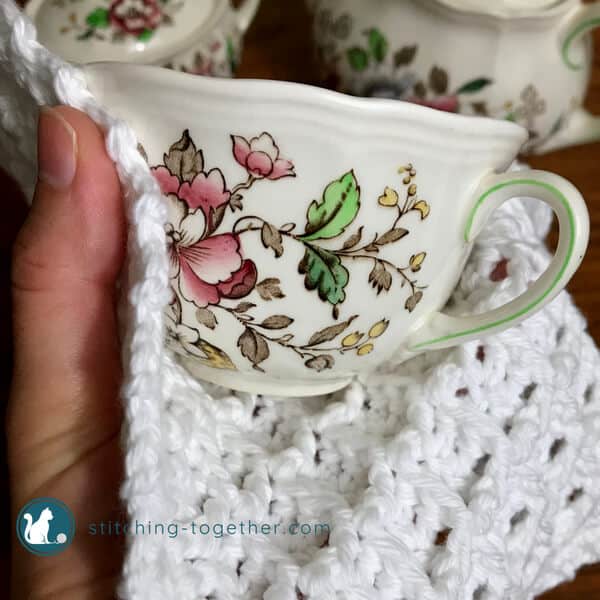 Instructions
Ch 32 (multiple of 3+2)
Row 1: dc in 4 ch from hook and in each st across, turn.
Row 2: ch 2 (counts as 1st dc), [fpdc around next st, dc in next 2 sts] 9 times; fpdc around next st, dc in top of turning ch, turn.
Row 3: ch 2 (counts as 1st dc), [dc in next st, fpdc around the next 2 sts] 9 times; dc in next st, dc in top of turning ch, turn.
Repeat rows 2 and 3 for a total of 20 rows.
Adding the border
Round 1: ch 1, sc around the entire edge of the dishcloth placing 3 scs at each corner. As you work down the sides of the dishcloth, put 2 sc around each dc and turning chain. Join with sl st.
Round 2: ch 1, *sk 1, (sc ch 2 sc) in next st, repeat from * around; join with sl st. Fasten off and weave in ends.
Don't forget to pin this free crochet waffle stitch dishcloth pattern!
Do you like printable PDFs of your patterns? You can purchase the ad- free PDF here!
Now that you've completed one project featuring the waffle stitch, check out this waffle stitch crochet pattern roundup for more great projects using the waffle stitch!
Check out these other great dishcloth and washcloth patterns:
or check out these Best Crochet Stitches for Dishcloths and learn some new stitches!