Disclosure: This post may contain affiliate links. Please visit my About page for disclosures, Privacy Policy and more information.
Aren't most things cuter in mini?  These crochet mini hanging baskets are no exception! They are small, reversible, and absolutely useful. Best of all, they take less than an ounce of yarn and less than an hour to make- the perfect scrap project!
The baskets were made to hold my makeup brushes, but I've found so many other uses for them! I think I'll need to make more.
If you want to make the basket sturdier, a 3″ in diameter by 3.5″ tall can fits perfectly in there.  (These cans are a little shorter and wider than normal tin cans.)
The camel stitch is one of my favorite stitches because the two sides look totally different but equally beautiful.  You can fold down the tops of the baskets to make even mini-er baskets or you can turn the entire basket inside out and it will still look great!
Crochet Mini Hanging Baskets
Purchase the ad-free PDF of this pattern
Skill Level: Easy
Materials:
US-Size I/9 5.5 mm
Approx. 0.75 oz of 4 Medium weight yarn
Large Eye Tapestry Needle
Abbreviations:
ch(s): chain(s)
sl st: slip stitch
sc(s): single crochet(s)
hdc(s): half double crochet(s)
st(s): stitch(es)
BLO: back loop only
sk: skip
Finished Size:
Approx. 3.25" in diameter, 3.5" tall
Notes:
It is easier to work in the 3rd loop with the knit looking side is on the inside of the basket.
There will be a little ridge or bump where the reverse sc is started.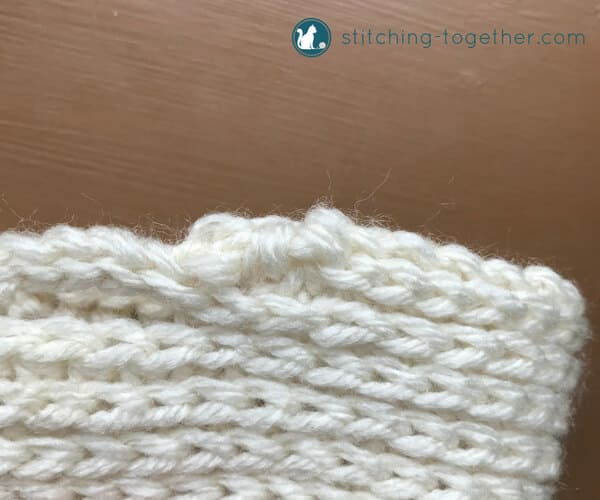 Although the same brand of yarn was used for both baskets, the grey heather was just a tiny bit thicker but it was enough that the basket only required 17 rows instead of 18 to make it the same height as the basket done in aran.
The back loop only is the same back loop like it is for all stitches, the third loop is the extra loop created when you make a hdc which is found behind/below the back loop.
Pattern Instructions:
Start with a magic circle.
R1: 6 sc in circle, pull to close and join with sl st to first sc.
R2: ch 1, 2 hdcs in each st, join with sl st to first hdc (12)
R3: ch 1, 2 hdcs in each st, join with sl st to first hdc (24)
R4: ch 1, *hdc, 2 hdcs in next st, repeat from * around, join with sl st to first hdc (36)
R5: ch 1: 1 hdc in the BLO of each st, do not join with a sl st (36)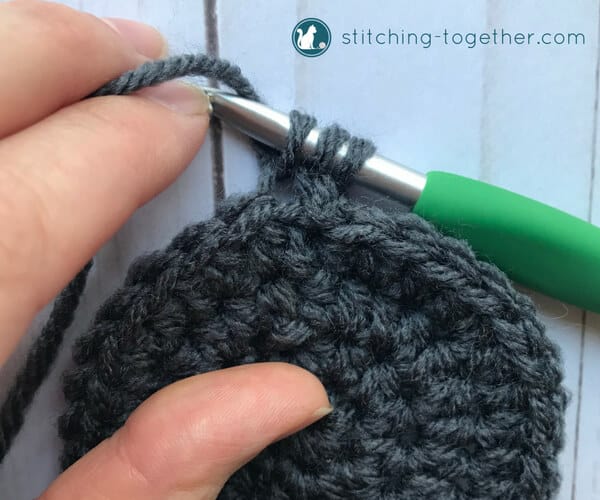 R6-R:16: hdc in the third loop of the 1st hdc from round 5, continue to hdc in the third loop around.
R17: To start the last round, ch 4 and sk 4 hdc, continue to hdc in the third loop for the remainder of the round.  Stop when you've returned to the ch 4.
R18: Edging round: Ch 1, Reverse single crochet in the third loop around the entire top of the basket and in the ch 4 stitches. Sl st to the first reverse single crochet.  Weave in ends and find a place for your adorable crochet mini hanging baskets!