Crochet Potholder Patterns
Disclosure: This post may contain affiliate links. As an Amazon Associate, I earn from qualifying purchases. Please visit my Privacy Policy for disclosures and more information.
If you are looking for a great collection of free crochet potholder patterns, you've found it. These modern potholders will look lovely in your kitchen and also make great gifts.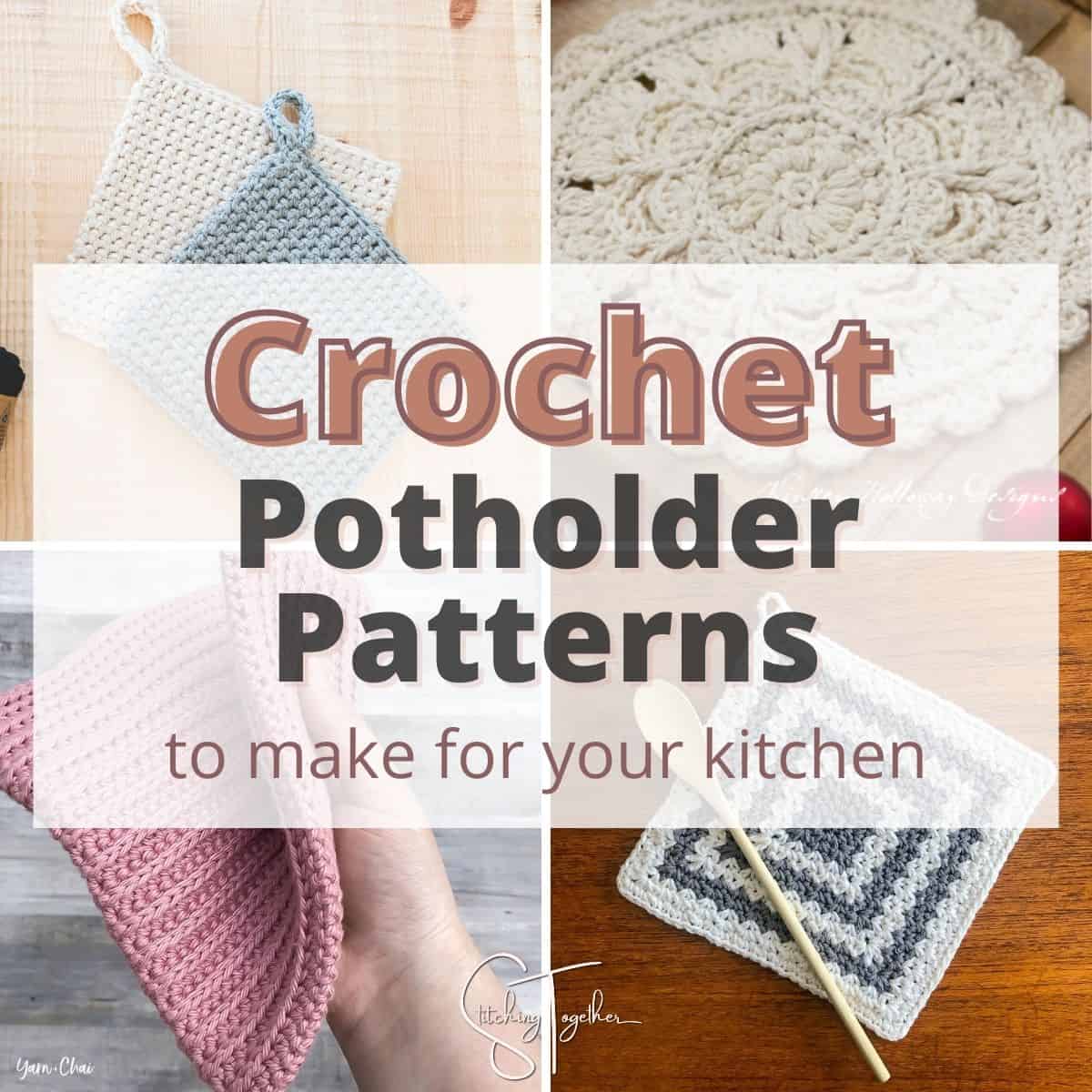 Whether you call them potholders, hot pads, or trivets, crochet potholders add a great handmade touch to your home while still being useful. Below you'll find pictures, brief descriptions, and links to each crochet potholder pattern.
As with anything you make that is meant to be used around heat, use caution and make sure the final product is thick enough to protect your hands and surfaces. You'll find some double-thick potholer patterns featured below for those surfaces that require extra care.
I would also recommend using cotton or a cotton blend. While you may not be handling hot dishes that are hot enough to melt acrylic yarn, the extra heat resistance provided by cotton is always a good idea when making kitchen items.
Free Crochet Potholder Patterns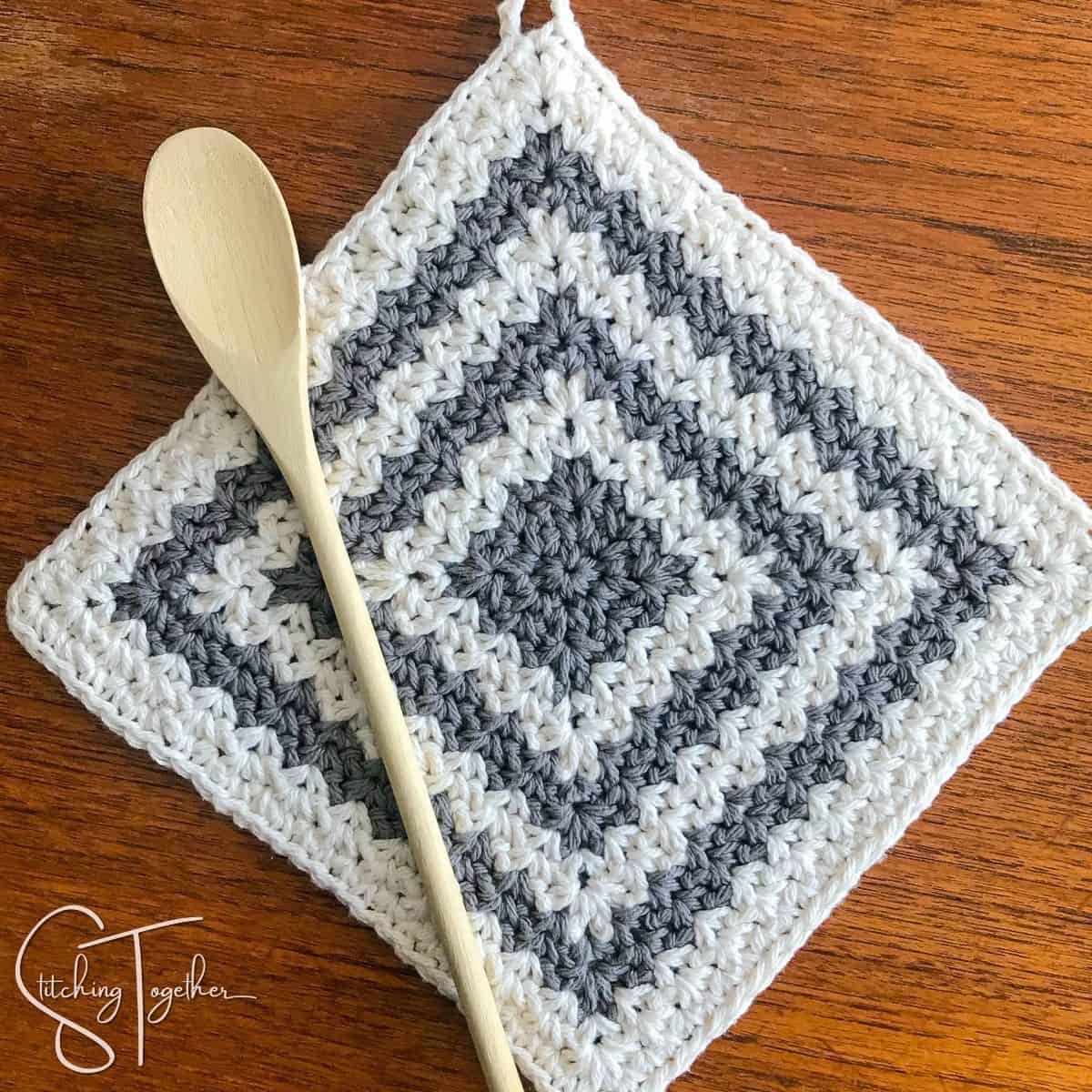 Country Crochet Hot Pad by Stitching Together
This gorgeous crochet hot holder is worked from the center out using the spider stitch. You'll make two sides which means you can use a different striping pattern for the sides and get a different look and it means that this potholder is double thick and ready to protect your hands and surfaces. Add a quick loop and this potholder will look great hanging in your kitchen too.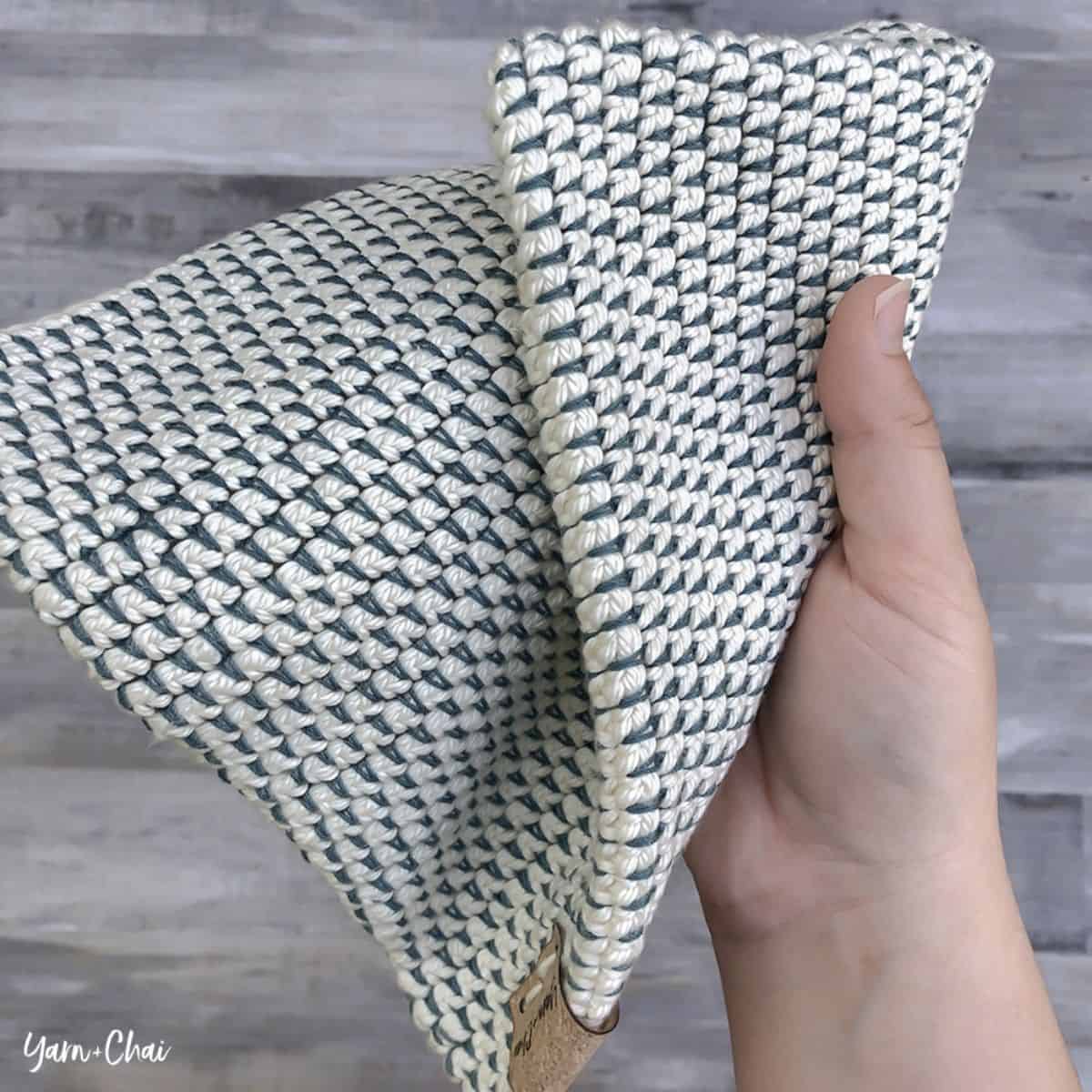 Mosaic Crochet Potholder by Yarn + Chai
This mosaic potholder is simply gorgeous. It has a completely modern look that will look great with any kitchen decor. The beautiful mosaic crochet potholder pattern is made by using the spike stitch and alternating colors. Rebecca at Yarn + Chai has other lovely mosaic patterns that you don't want to miss as well as more wonderful potholder patterns (some of which are featured here). Enjoy taking some time to browse her lovely site.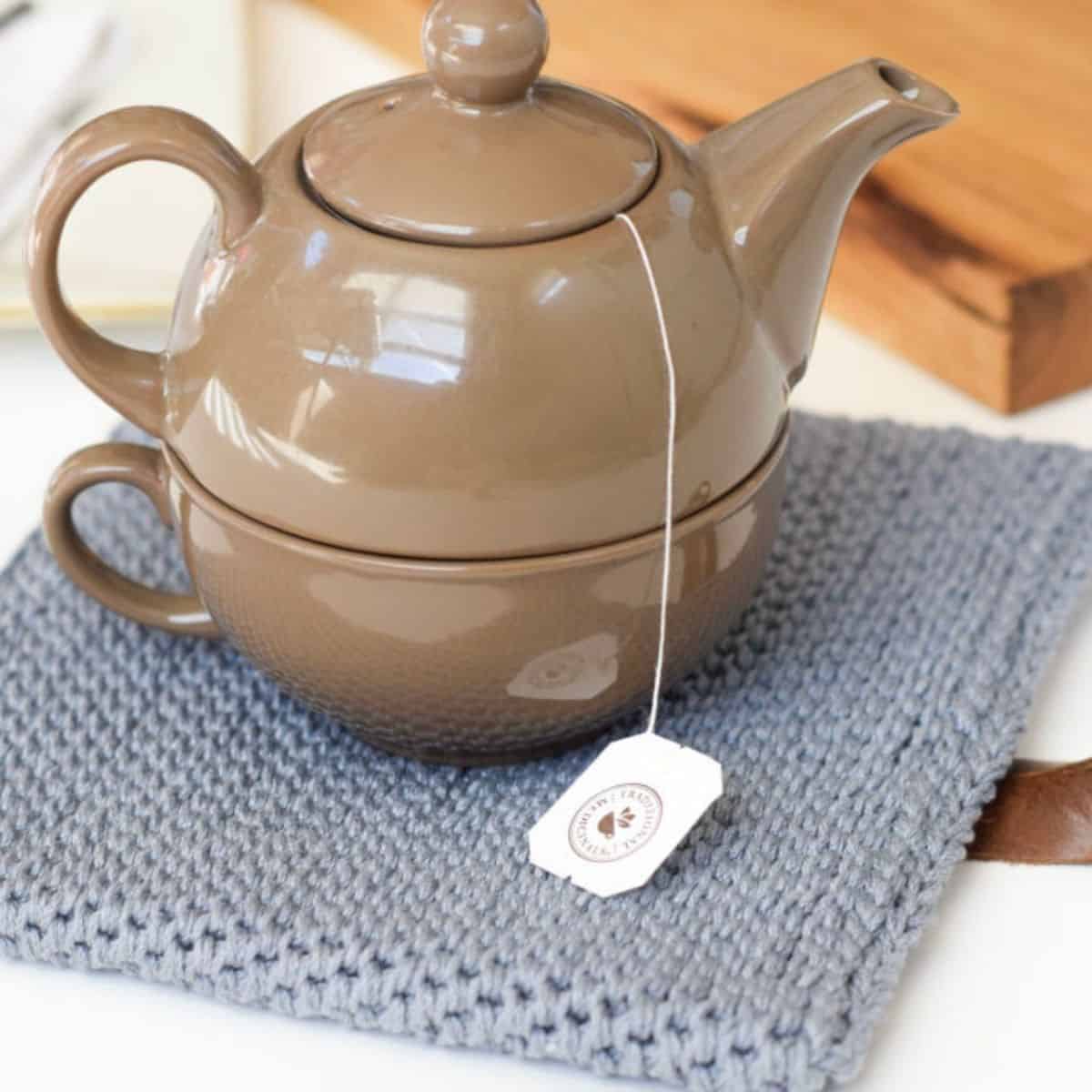 Best Modern Hot Pad Crochet Pattern by Mama in a Stitch
Not only is this potholder double-thick because it's worked in the round and has 2 layers, but also because it is worked holding two strands of yarn together. The stitches themselves are simple slip stitches worked in the back loop. Working with slip stitches (sl st) is a little more time-consuming than other stitches but the extra time and effort are completely worth it to get a final product like this. Doesn't it make a lovely crochet trivet?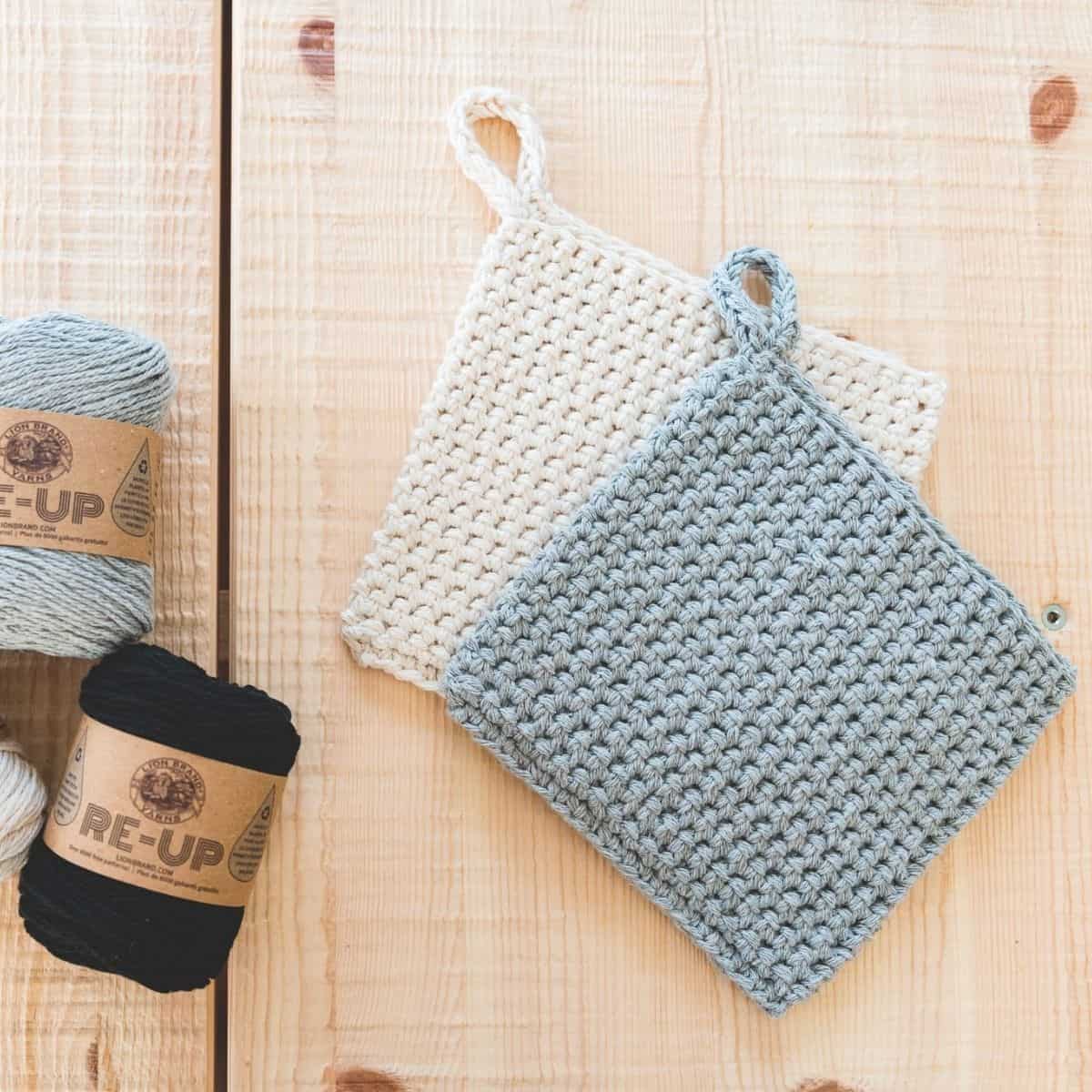 Crochet Potholder Free Pattern by Sewrella
While these thick potholders only have one layer, the combination of the stitch plus using two strands of yarn makes for an extra thick hot pad. These simple crochet potholders get their unique texture from a stitch called the thermal stitch which is just a variation of the single crochet. There is a video tutorial for this pattern too! According to the designer, they work up super quickly and make a thoughtful gift when paired with a cookbook. What a wonderful idea.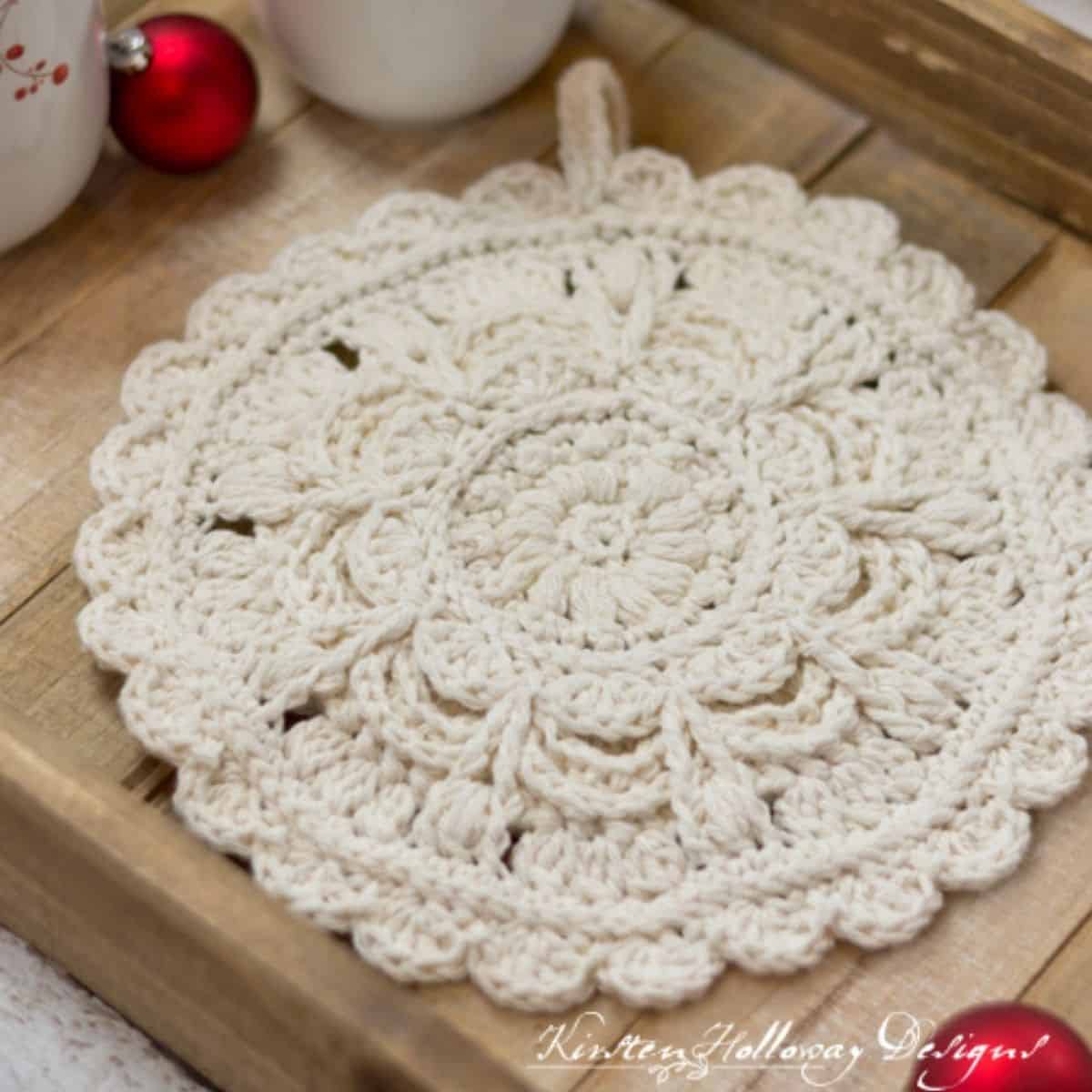 Winter Opulence Round Crochet Hot Pad Pattern – Kirsten Halloway Designs
Does it get much prettier than this round crochet potholder? This is a perfect pattern for those of you with a little more elegance in your style. It would also work wonderfully as part of your holiday serving set. It is an intermediate skill level pattern so not a good selection for beginners but it is something you can work towards if you are just starting your crochet journey.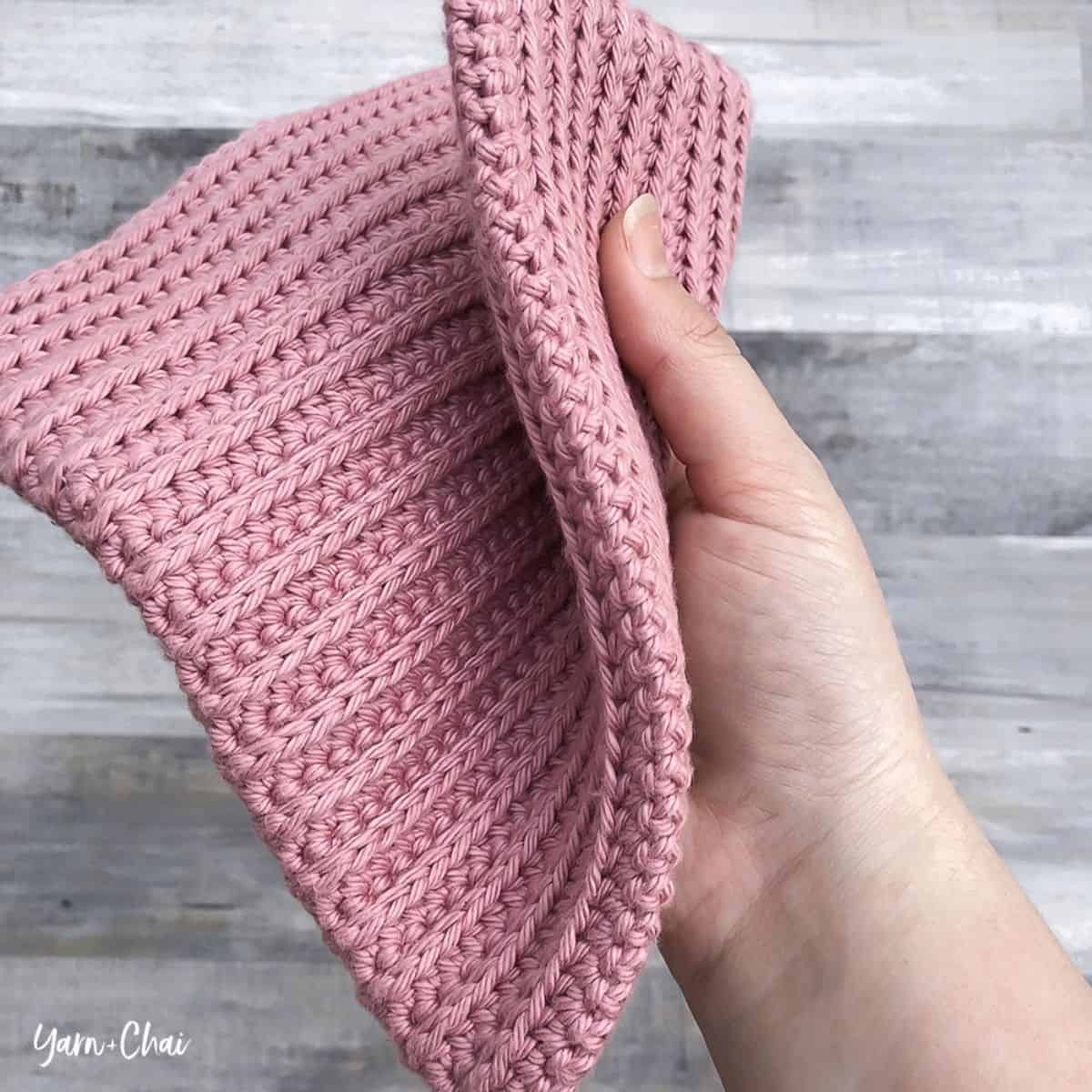 Ribbed Square Crochet Potholder by Yarn + Chai
This quick potholder is made in the round by using alternating rows of half double crochets (hdc) and single crochets (sc) in the third loop. The beautiful texture makes this potholder look amazing just in a single yarn color but it would also look great with stripes.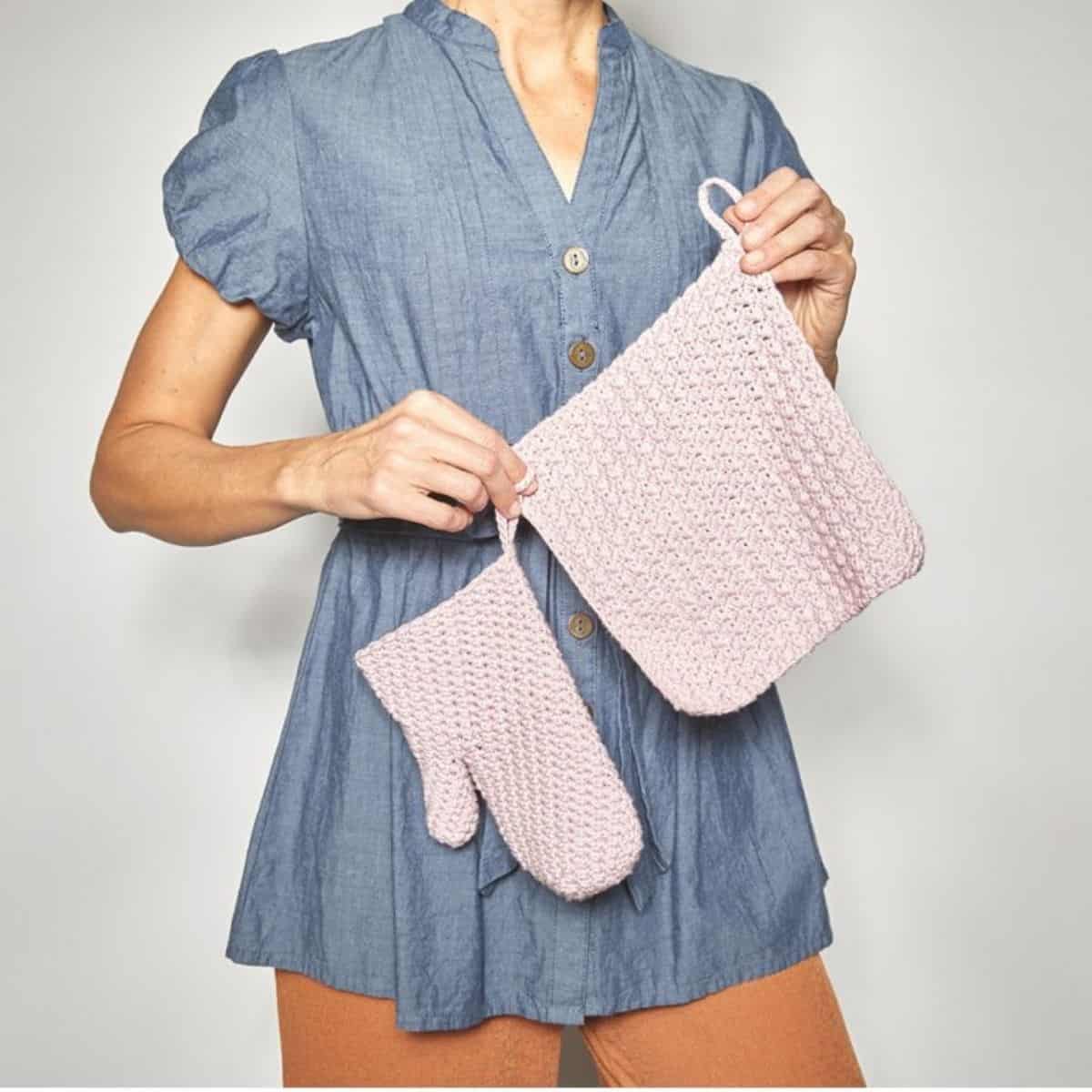 Crochet Oven Mitt Set by Cream of the Crop Crochet
We all seem to love sets in the crochet community so I am guessing you'll quickly fall in love with this set. The pattern includes instructions for both the crocheted oven mitt and the flat potholder. It would also be easy to use the potholder pattern to make dishcloths and dishtowels and have 4 pieces in your set.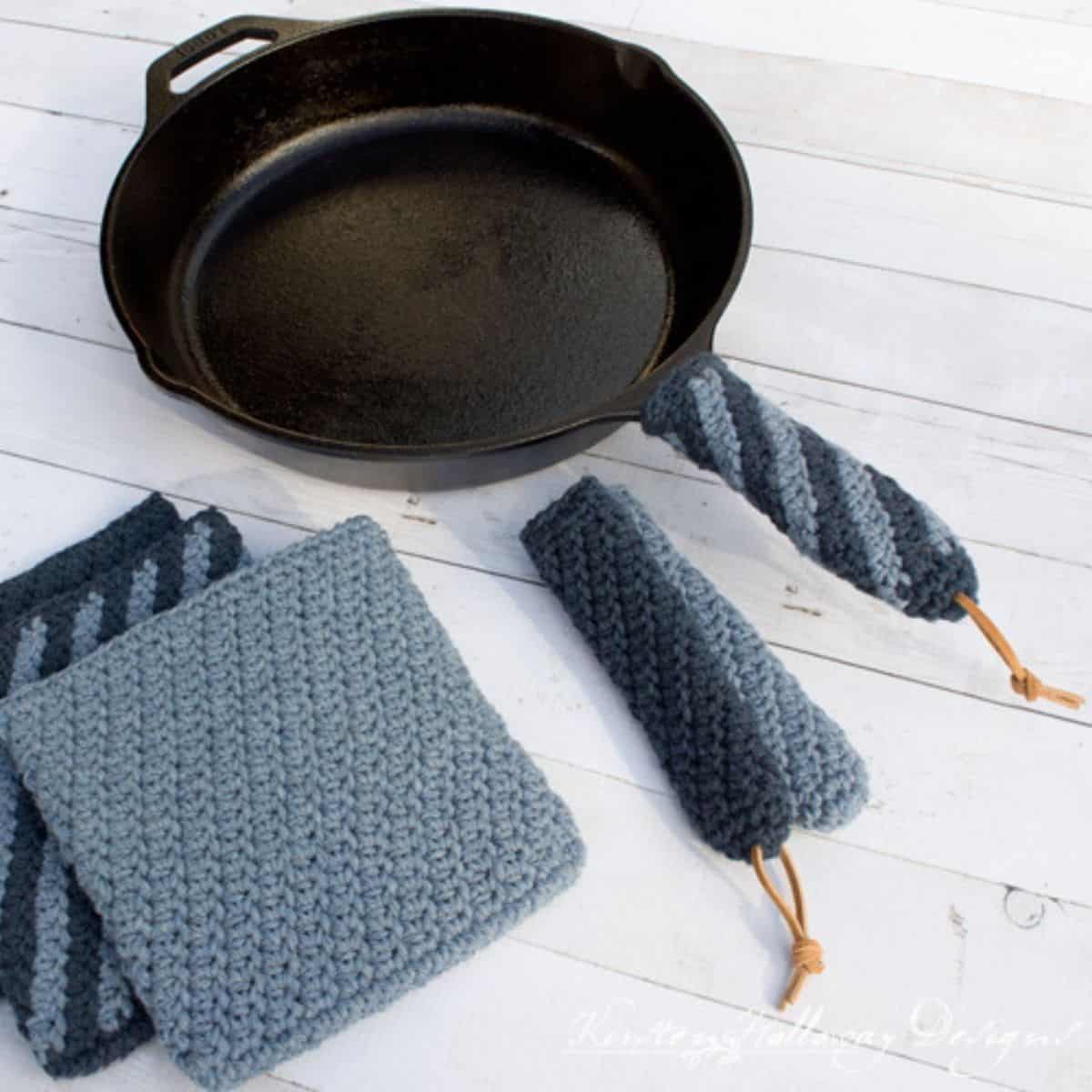 Crochet Cast Iron Handle Cover and Hotpad Pattern by Kirsten Halloway Designs
We cook almost exclusively with cast iron pans but I have never made handle covers for them before. Maybe you are the same and could benefit from using this cast iron handle cover pattern. I love that the handle covers and matching potholders can be made with stripes or in solids.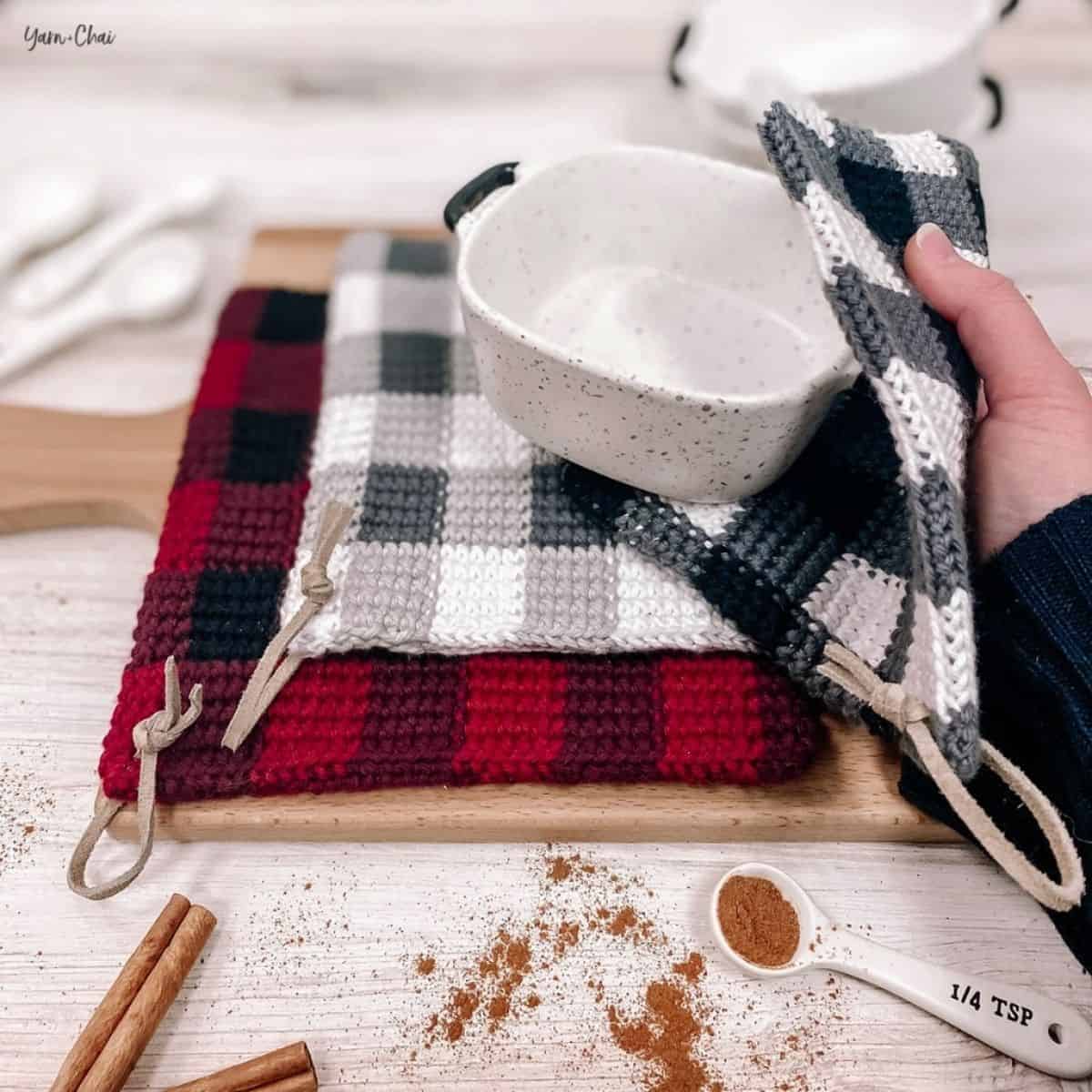 Buffalo Check Potholders Free Crochet Pattern by Yarn + Chai
These gorgeous buffalo plaid potholders have double thickness and will add such a trendy vibe to your kitchen. I regularly see buffalo plaid used all year, but it works especially well as part of winter or Christmas decor. A buffalo plaid crochet potholder and a stack of buffalo plaid dishcloths would make a lovely holiday gift. The potholder pattern also comes with a free label download too.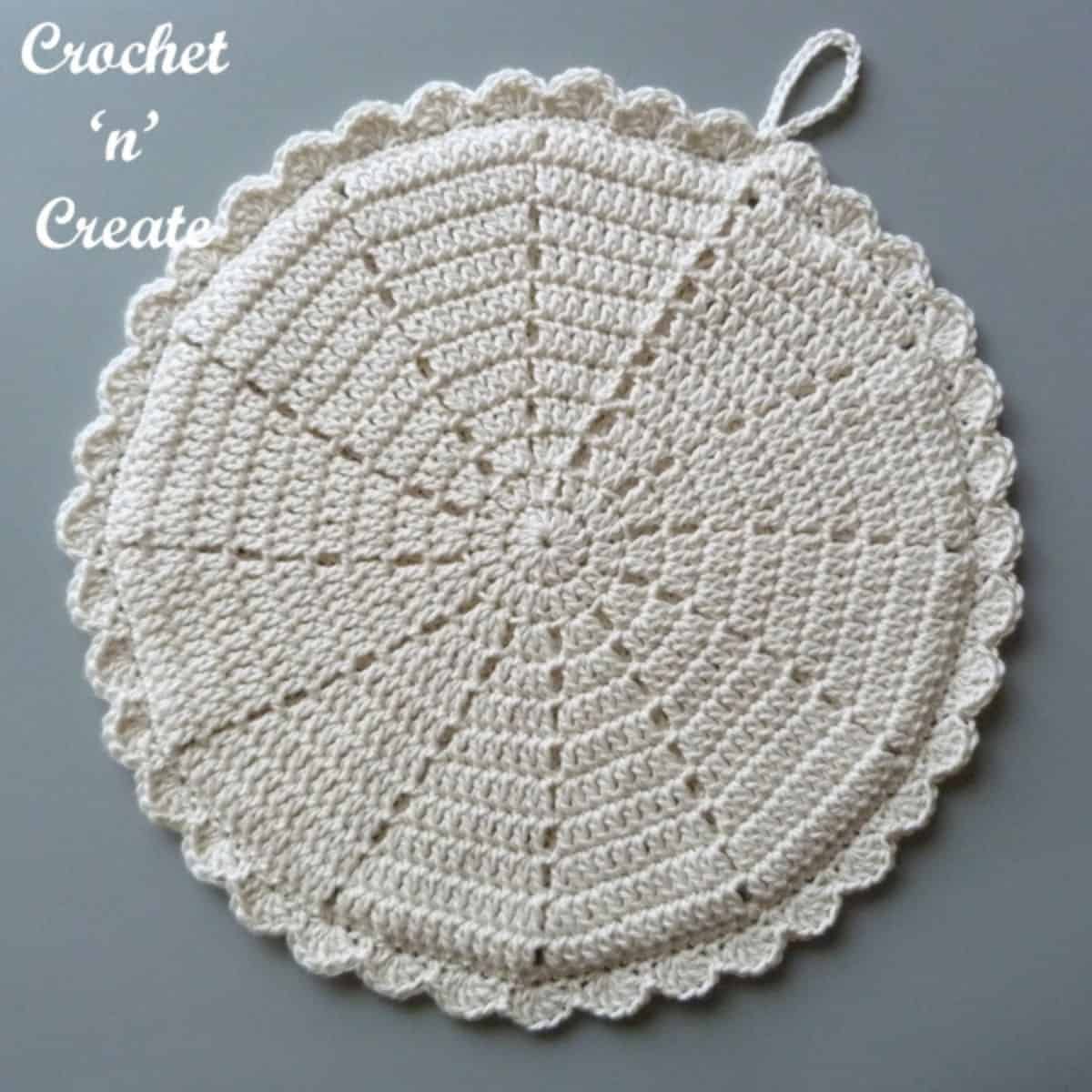 Crochet Round Potholder Pattern by Crochet 'n' Create
This simple round potholder is made by crocheting two circles, joining them together, and then finishing the piece with a lovely border. It is certainly thick enough to protect your hands and surfaces. When you are looking at the pattern page, the instructions in UK terms come first followed by the instructions in US terms.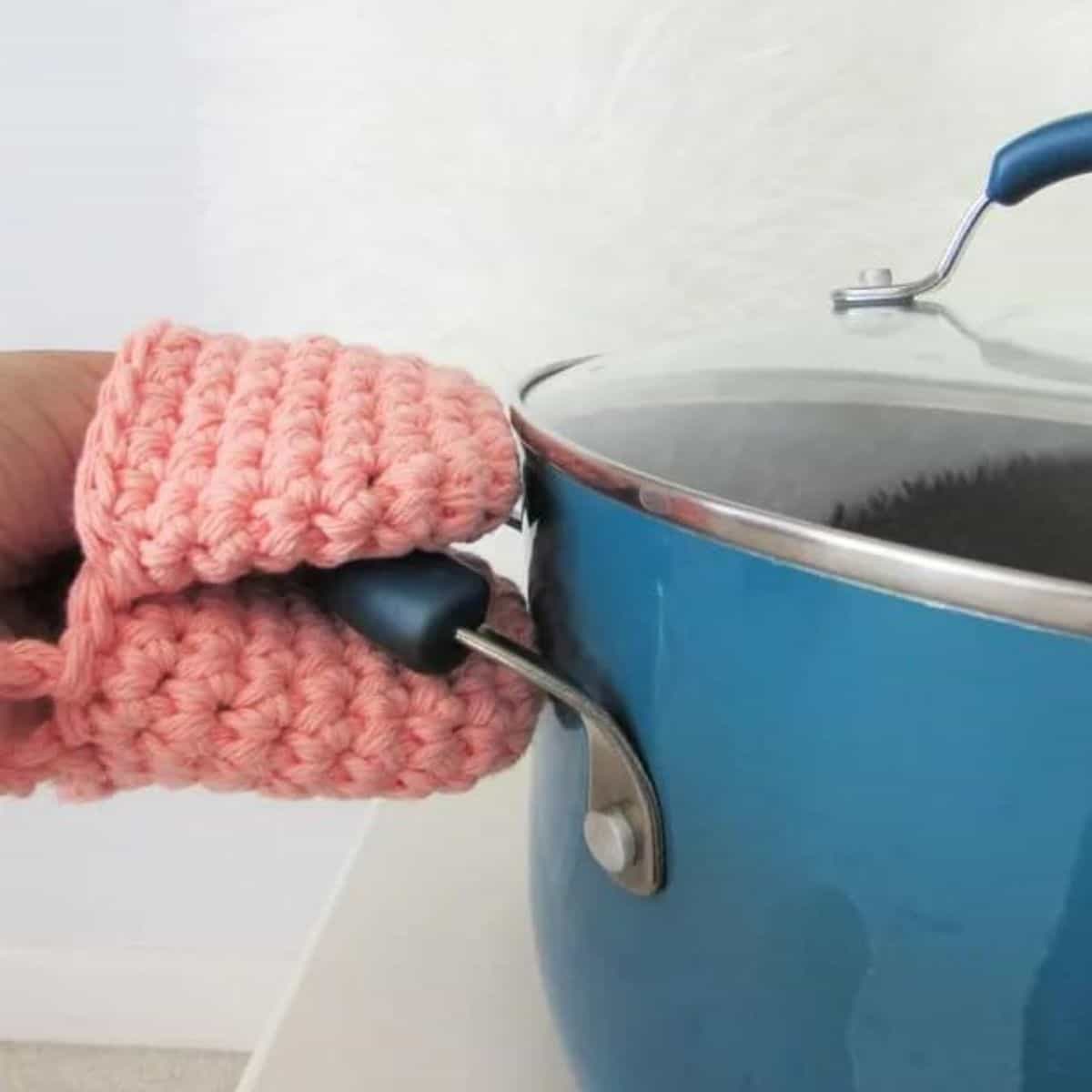 Mini Mitts Potholder Crochet Pattern by Crochet Dreamz
I love that this mini mitt potholder pattern takes a break from the traditional round and square potholders. These double-thick mitts are small, easy to put on, and can quickly help protect your hands when you are grabbing the handles of pots and lids.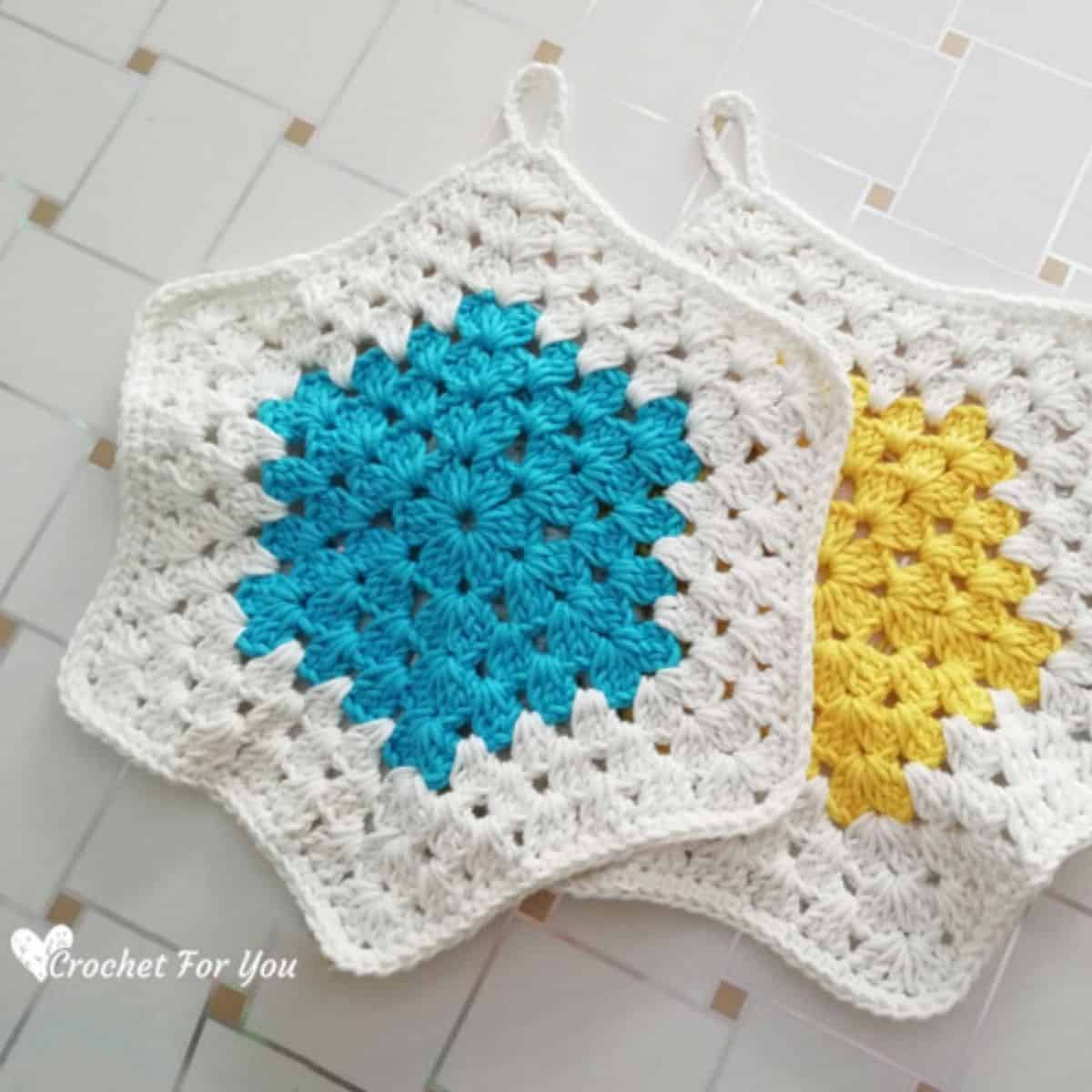 Granny Potholder Crochet Pattern by Crochet for You
These cute potholders use an adorable combo of a granny stitch and a hexagon. They have a classic look that doesn't appear outdated. Since the stitch pattern does create a somewhat holey fabric, I would be likely to join two hexagons together to make thicker crochet potholders. They'd also be cute paired with a granny square potholder.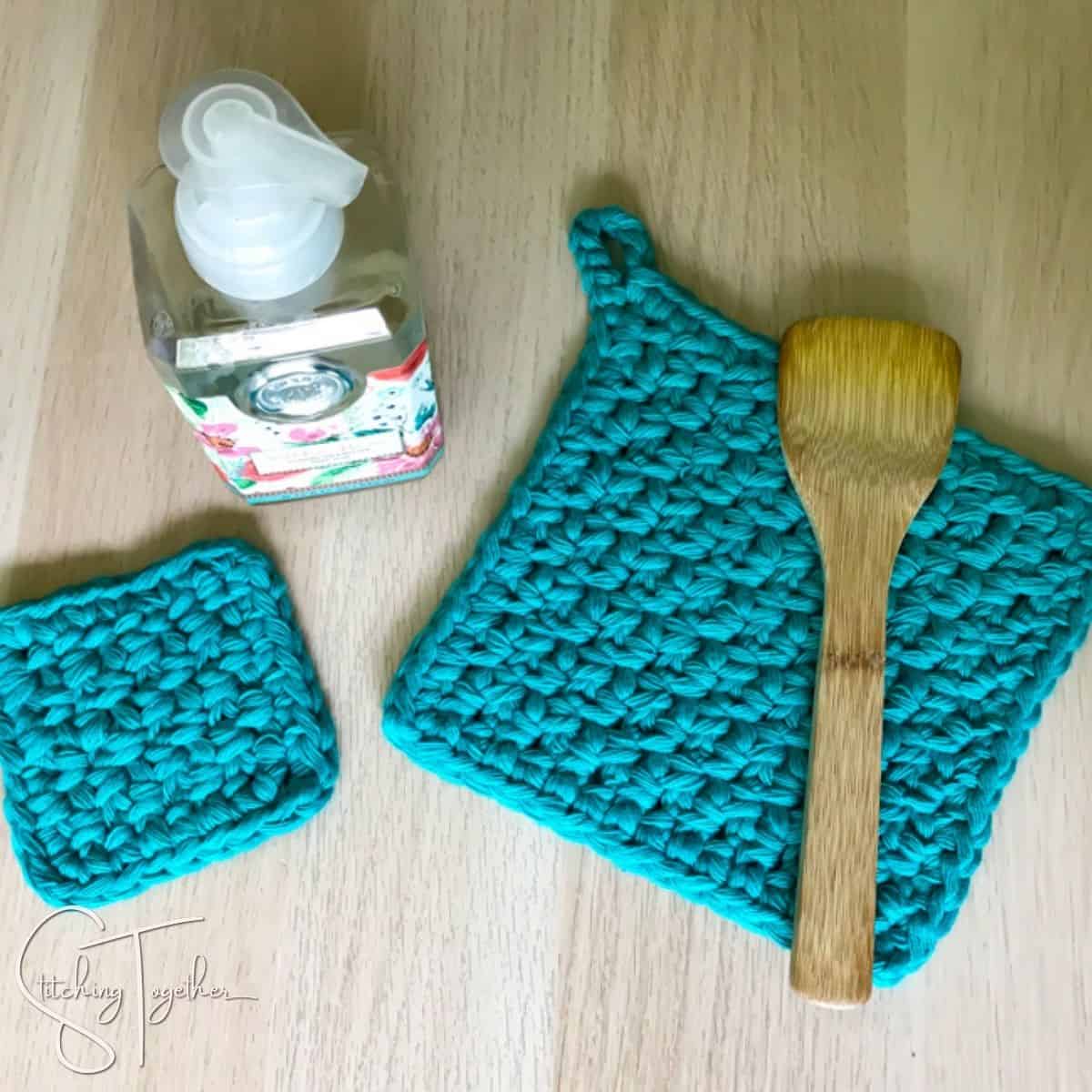 Easy Crochet Potholder Pattern by Stitching Together
This potholder works up so quickly due to the use of thick cotton yarn. If you can't find super bulky cotton, you can always hold together three strands of worsted weight cotton yarn and still get a similar thick potholder that's fast to make. The smaller potholder works great for protecting your hand when you touch hot lid handles or for using as a dish scrubbie.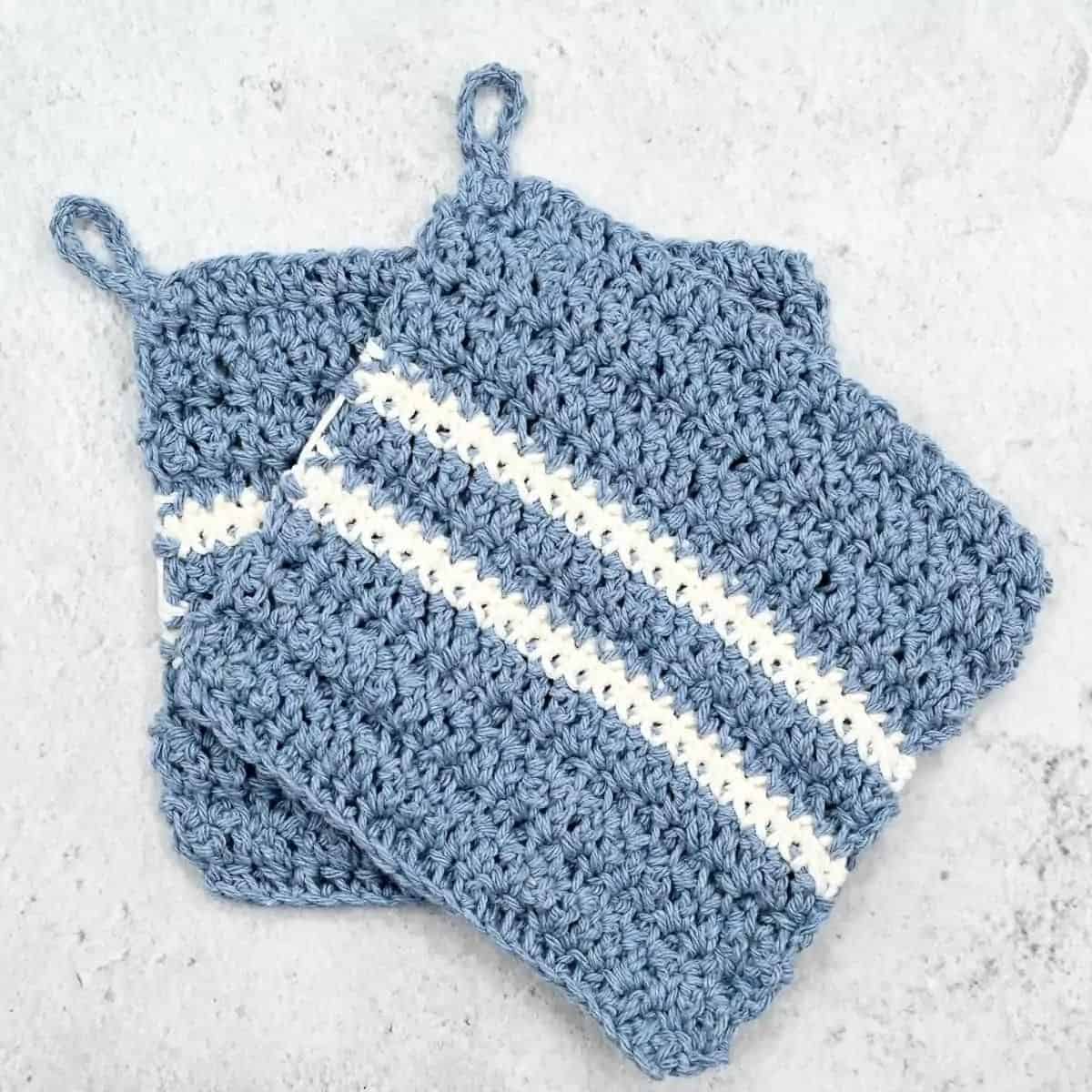 Classic Striped Potholder by Joy of Motion Crochet
At first glance, you may think this pot holder pattern is made with just basic double crochets, but if you look closer, you'll see that isn't the case. This pattern uses an Extra Extended Single Crochet (if you can check out this tutorial if you want to learn more about a normal extended single crochet), which makes both a taller and thicker stitch. There's also a matching dishtowel pattern so you can make a set!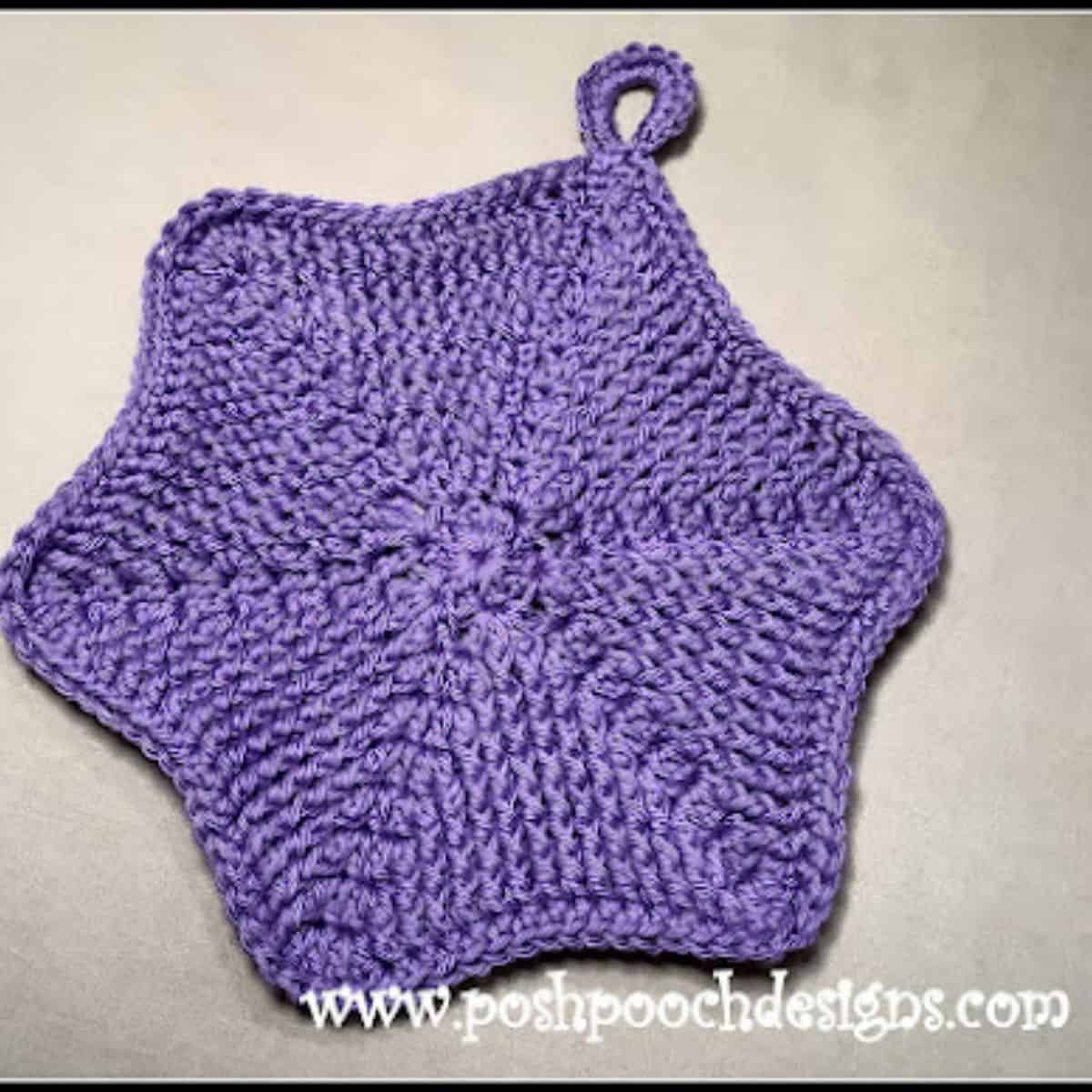 Hexi Potholder Crochet Pattern by Posh Pooch Designs
This extra-thick crochet potholder has beautiful stitches and a beautiful shape. It is made with front post double crochets which gives it a thick and sturdy texture. I could also see using this same pattern to make a dishcloth that has extra scrubbing power.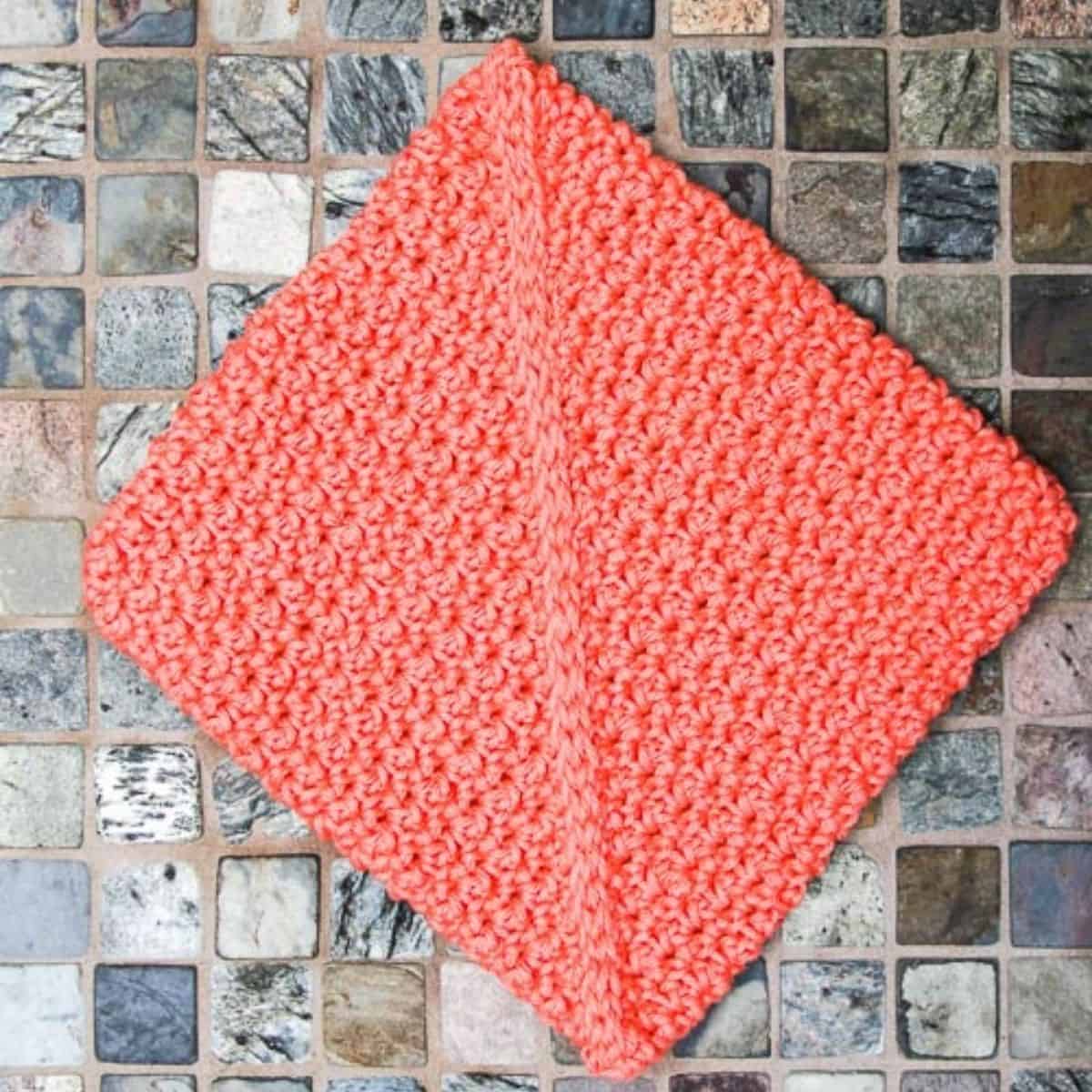 Crochet Magic Potholder Pattern by Salty Pearl Crochet
Have you seen those memes about how crochet is basically magic? You wave around a wand (crochet hook) and turn a ball of yarn into something fabulous. Well, this potholder is a bit magical. Somehow you work around a long chain, seam up a side, and poof, you have a double-thick potholder. Magic.
Alright, do you have your cotton yarn and hook ready to get started on a crocheted potholder? Which great project are you going to make first?
Be sure to save these potholder patterns on Pinterest