Cedar Arches Easy Rectangular Crochet Shawl Pattern
Disclosure: This post may contain affiliate links. As an Amazon Associate, I earn from qualifying purchases. Please visit my Privacy Policy for disclosures and more information.
If there could ever be a perfect blend of a blanket and a scarf, it's the shawl. This easy rectangular crochet shawl pattern is quick and simple but has the look of a more delicate and elegant crochet wrap.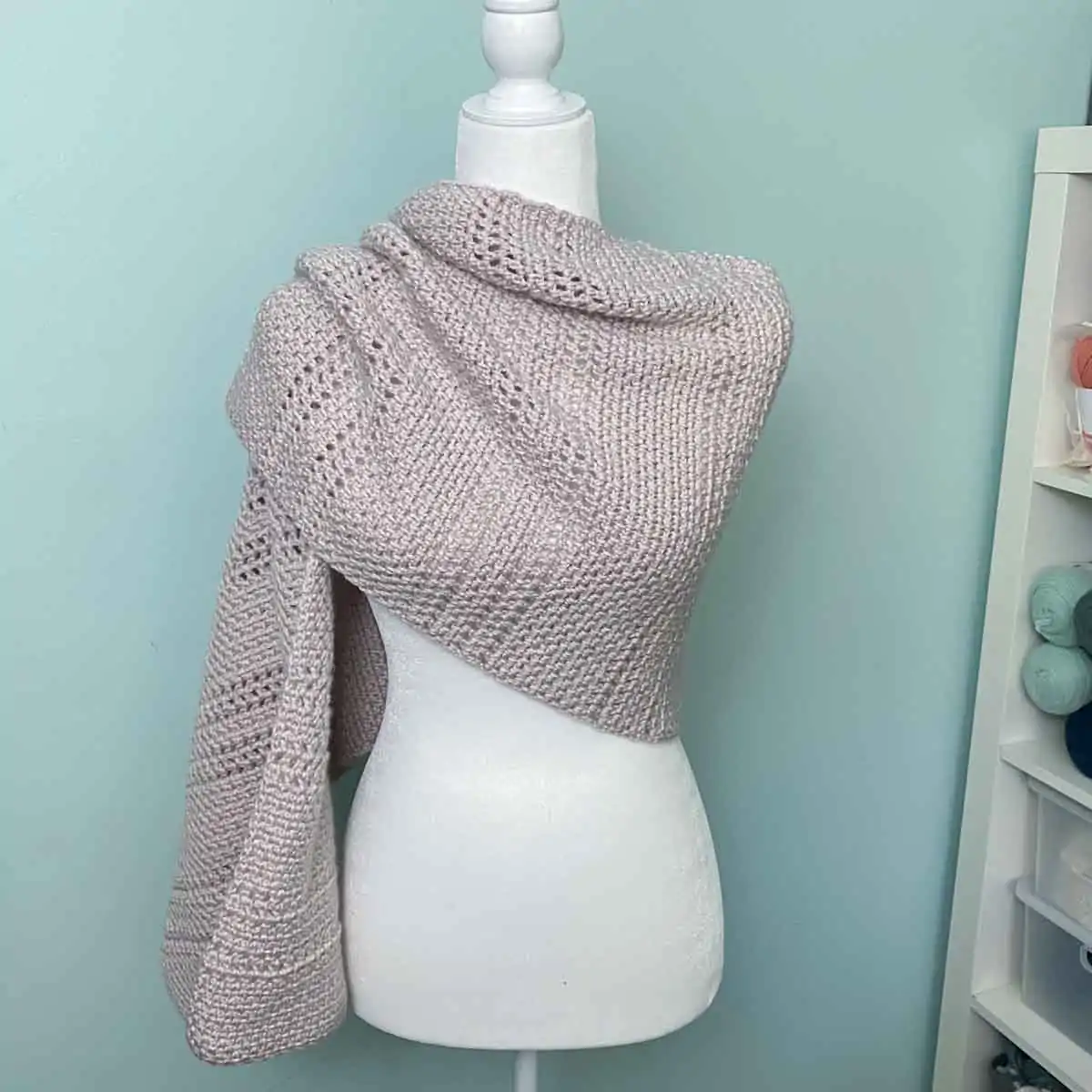 It's a perfect cold-weather accessory you can make for yourself or for a friend. The Cedar Arches crochet rectangle shawl would also make a lovely prayer shawl.
Keep reading for all the details and the free crochet pattern or you can purchase the ad-free PDF version here.
Generally, shawls can be made from rectangles or triangles. (if you'd like a triangle scarf that uses a similar stitch pattern, check out the Cedar Creek Easy Triangle Shawl.) Both shapes can be easy to make, but rectangular shawls are a little quicker and simpler.
Plus I love how you can really wear this easy crochet shawl as a bulky scarf if you would like to.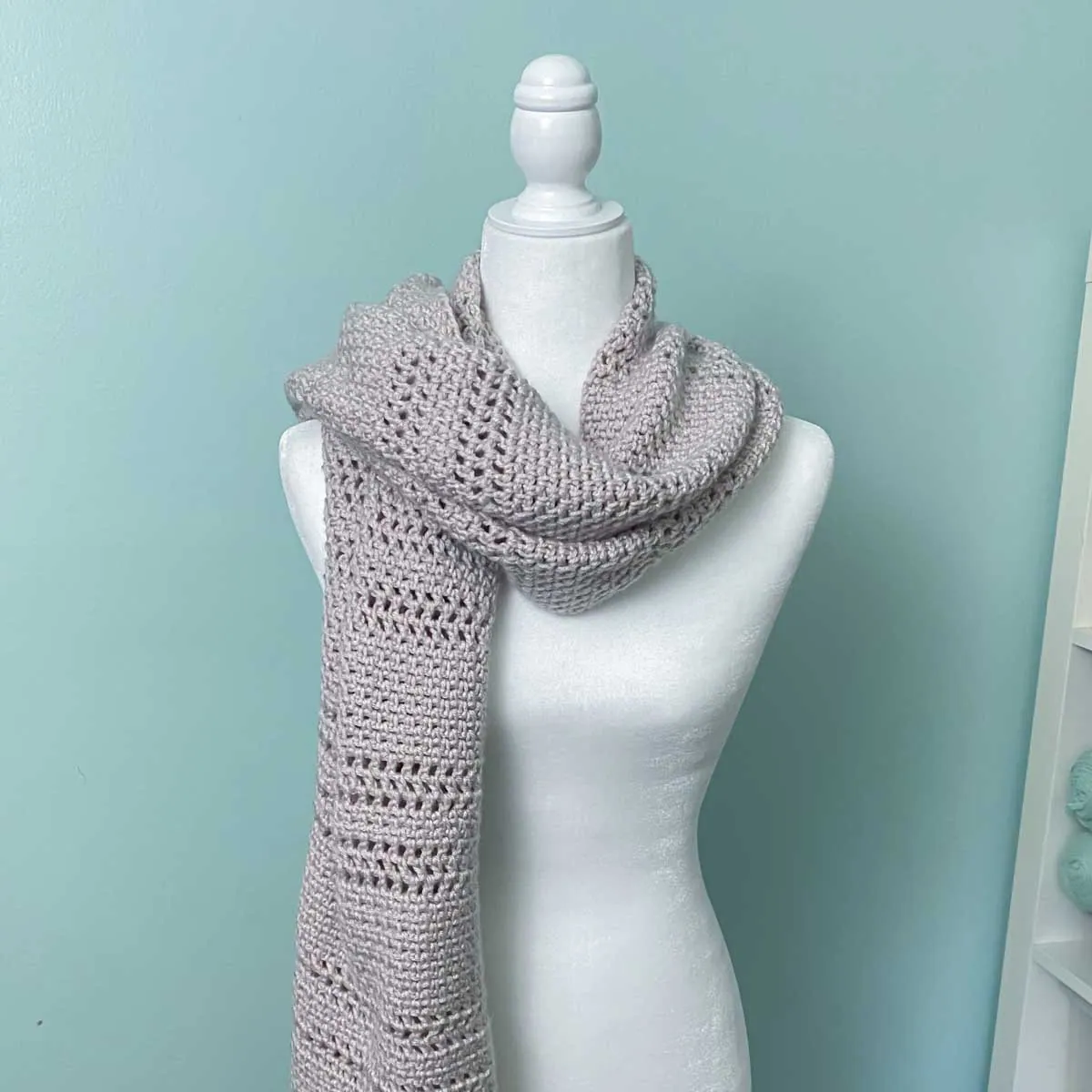 Stitches used in the Easy Crochet Shawl Pattern
This easy crochet shawl is made using a combination of a single crochet moss stitch and a half double crochet moss stitch.
You'll want to check out my crochet moss stitch tutorial to learn how I get those clean edges. It is a bit different than other moss stitch instructions, but I think you'll appreciate how it turns out.
The ends of the half double crochet rows are worked the same way, but you will put your final stitch in the 2nd chain of the turning chain. If you aren't a beginner, you'll be able to read the pattern below and get the gist.
It is easy to adjust the size of the rectangle shawl if you'd like to change the width or length. When changing the width, be sure to keep your starting chain an even number. To adjust the length you'll want to maintain the open stitch pattern so you'll be adding or subtracting a total of 21 rows which will change the length around 5 to 6″.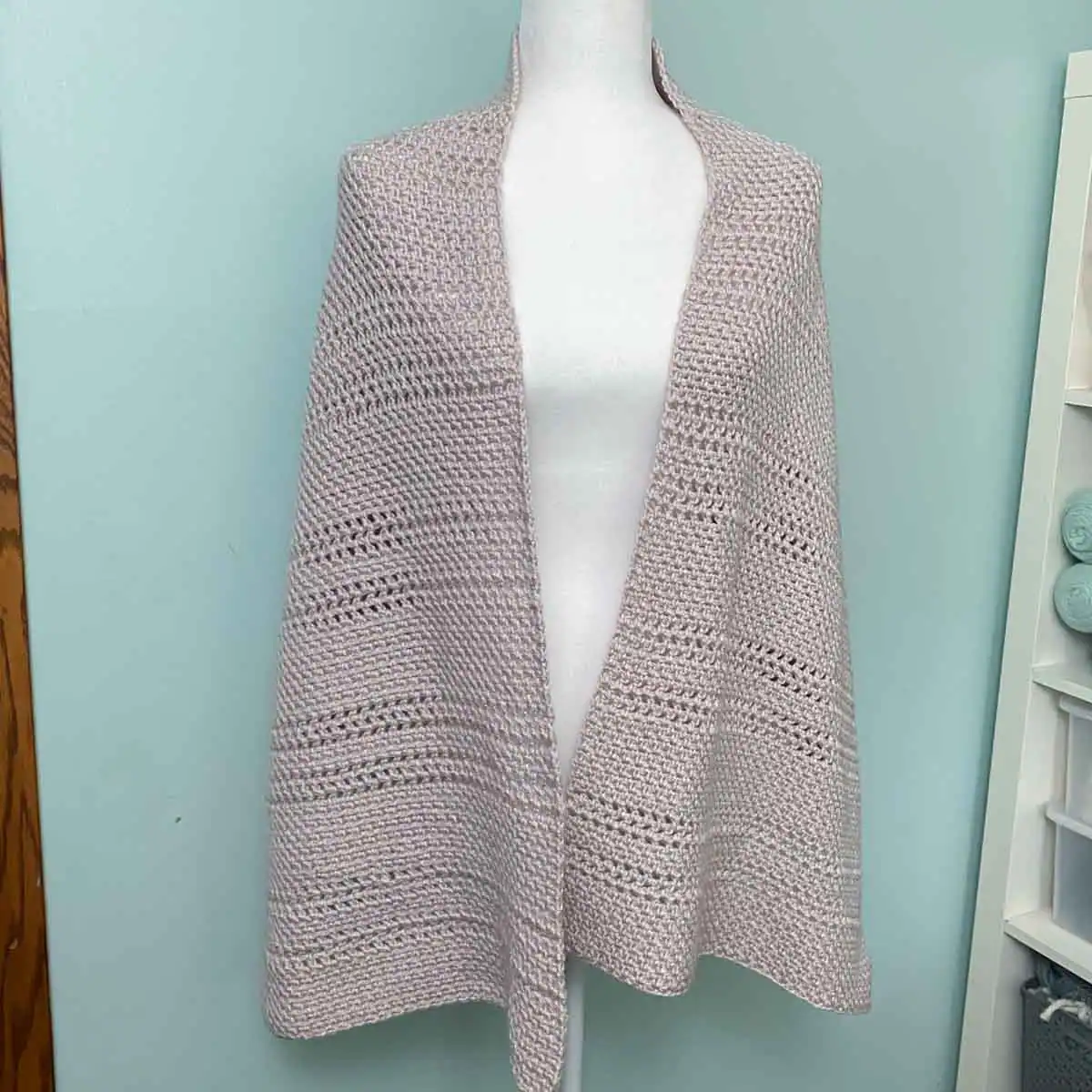 Yarn for the Simple Shawl Pattern
Once again I defaulted to one of my favorite acrylic yarns for this easy shawl pattern, Premier Anti-Pilling Everyday Worsted Yarn. It is a medium-weight acrylic yarn that is so versatile.
I love the softness and drape of this yarn and I find it so easy to work with. It made a lightweight shawl that's still cozy and warm.
Premier Yarns also has a wonderful reward program that you can sign up for using my link. You and I both get a discount when you sign up and there are many ways to earn additional reward points that can be used towards purchasing more yarn!
I made my sample shawl in one color but I also think it would be lovely striped in different colors. I cannot wait to see what you all come up with.
Be sure to save the Cedar Arches Easy Crochet Shawl Pattern on Pinterest
Easy Rectangular Shawl Free Crochet Pattern
Skill Level: Easy
Materials:
US size J/10, 6.0 mm crochet hook
Premier Anti-Pilling Everyday Worsted Yarn (# 4 medium weight yarn, 3.5 oz/100 g, 180 yds/165m per skein)
–Sample Used approximately 1054 yds (20.5 oz) in Linen
Large Eye Yarn Needle
Abbreviations:
ch(s): chain(s)
sc(s): single crochet(s)
tc: turning chain (the chain 1 or chain 2 at the start of the previous row)
hdc(s): half double crochet(s)
st(s): stitch(es)
sp: space
Gauge: 2" x 2" =9 sts by 9 rows (taken in sc moss stitch pattern)
Finished Size: approx. 18.5" wide x 68" long
Notes:
This easy shawl is made using the moss stitch. The starting and ending instruction of the rows may be slightly different than other versions of the moss stitch. By chaining one and the beginning of the row and working into each chain one (turning chain) to end the next row, you'll create a smooth edge of your fabric that looks finished even without a border. When you are working into the hdc rows, you'll put your last stitch in the chain 2 of the turning chain of the previous row.
If you'd like to see step-by-step photos of this moss stitch, please visit https://www.stitching-together.com/moss-stitch-crochet-tutorial/.
To adjust the size of your shawl, keep your starting chain an even number.
The basics of the pattern:
You'll do 12 rows of sc moss stitch, 3 rows of hdc moss stitch, 3 rows of sc moss stitch, then 3 rows of hdc moss stitch. Those 21 rows will be repeated 10 times (for a total of 11, 21 row repeats), and then finished with 12 rows of sc moss stitch.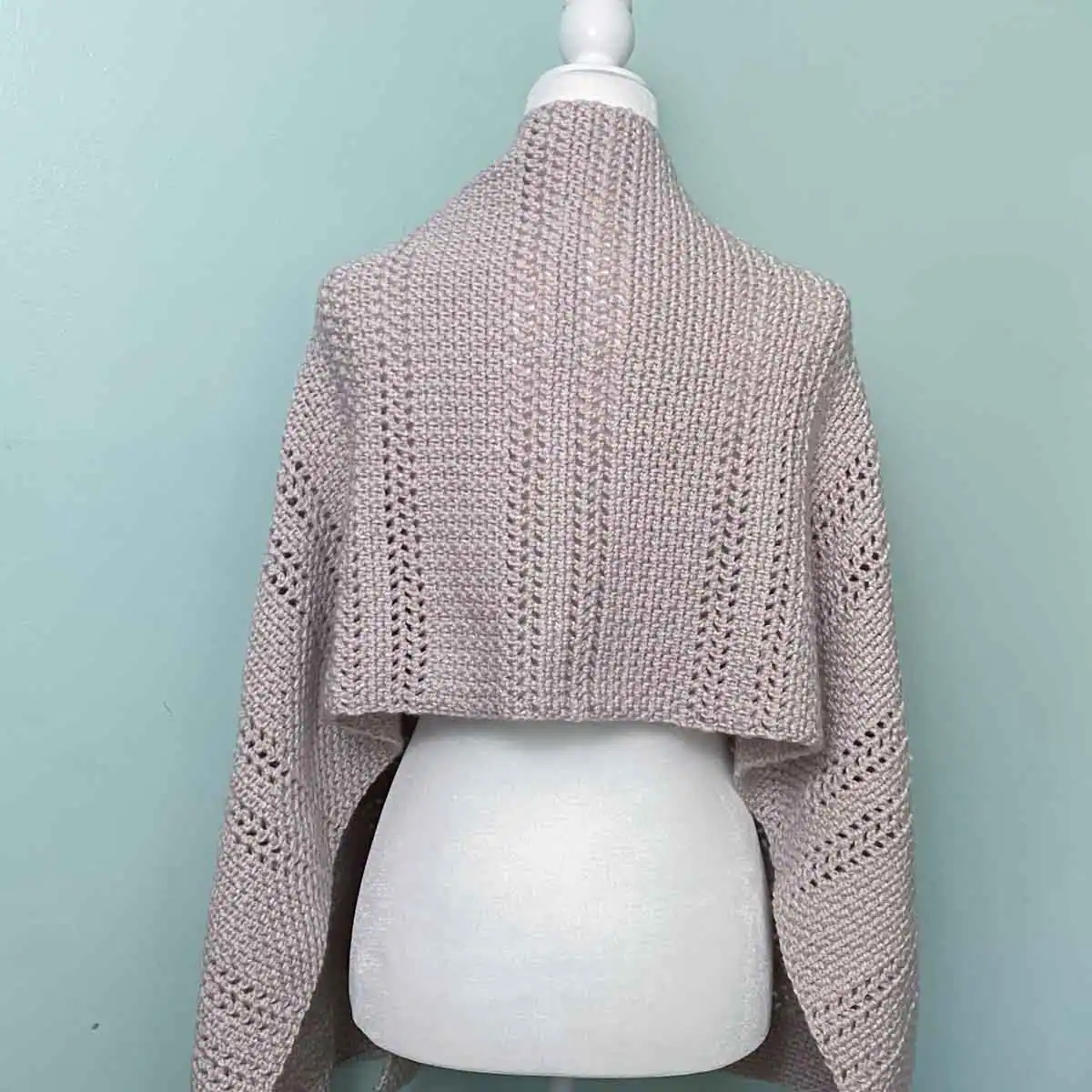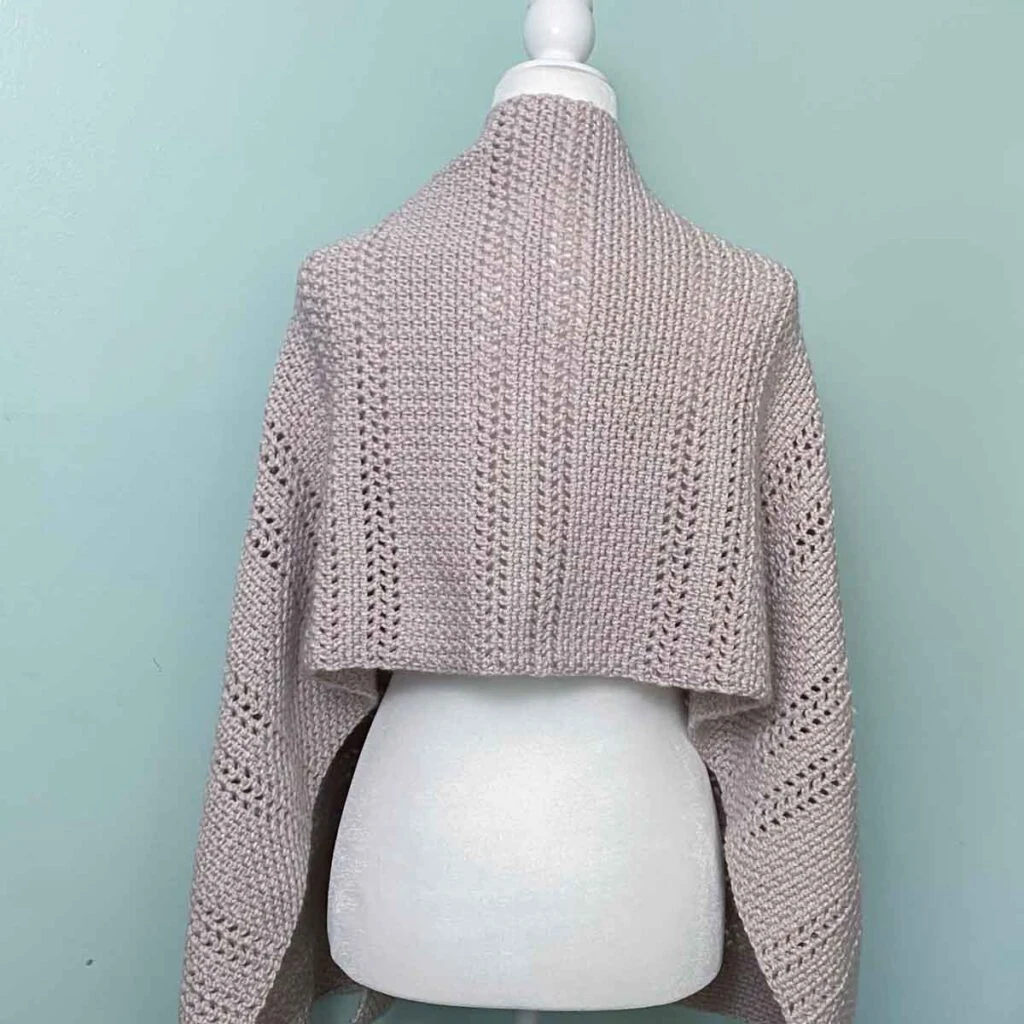 Easy Crochet Shawl Pattern Instructions:
Ch 84
Row 1: sc in 2nd ch from hook, *ch 1, skip 1 ch, sc; repeat from * to end of row, turn.
Row 2: ch 1, *sc in ch-1 sp, ch 1; repeat from *to end of row, sc in tc, turn.
Rows 3-12: repeat row 2
Row 13: ch 2, *hdc in ch-1 sp, ch 1; repeat from *to end of row, hdc in tc, turn.
Rows 14-15: Repeat row 13
Rows 16-18: repeat row 2
Rows 19-21: repeat row 13
Row 22-33: repeat row 2
Rows 34-36: repeat row 13
Rows 37-39: repeat row 2
Rows 40-42: repeat row 13
Repeat rows 22-42, 9 times. (You should have a total of 11 repeated sections at this point.)
Row 231-243: repeat row 2
Fasten off and weave in ends.
.
If you like easy-to-print patterns, this pattern can be purchased in the following places:
Thanks for your support!
.
Don't miss these other lovely scarf and shawl patterns:
Will you share pictures of your finished projects?