Disclosure: This post may contain affiliate links. As an Amazon Associate, I earn from qualifying purchases. Please visit my Privacy Policy for disclosures and more information.
Whether you're a Minecraft fan or you just find these funny little creatures sweetly adorable, I've gathered some of the cutest amigurumi axolotl crochet patterns so you can create your own finned friend.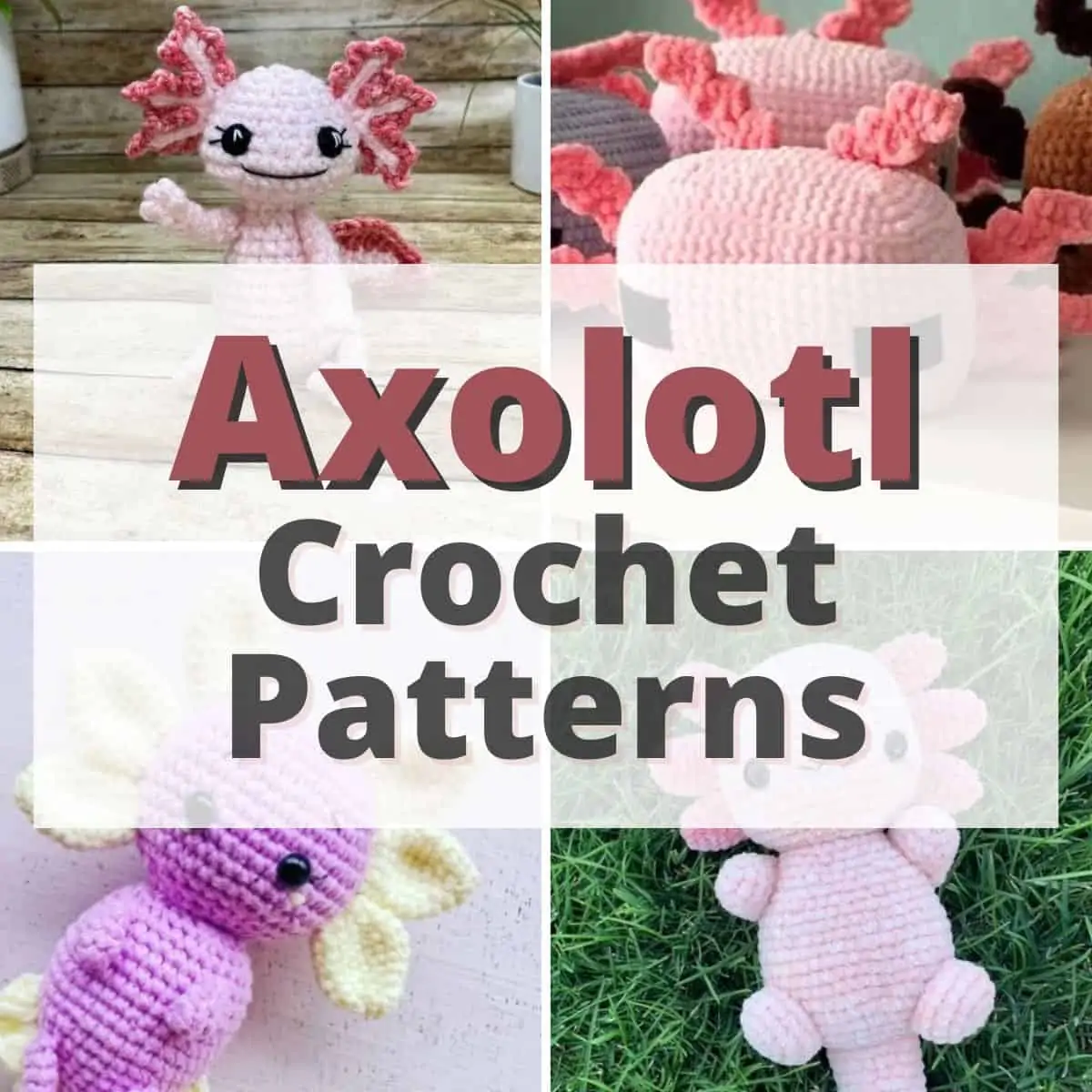 My children have been bitten by the Minecraft bug. They absolutely love it and to be honest, I love it for them. It's fun to see their creativity and hear their excitement over the things they are creating.
Apparently, when axolotls were introduced as to the Minecraft world, it brought new interest, and kids everywhere now know of these Mexican salamanders.
If you have any kids in your life who are into Minecraft or aquatic animals, a crocheted axolotl would make a lovely gift.
Save these adorable axolotls on Pinterest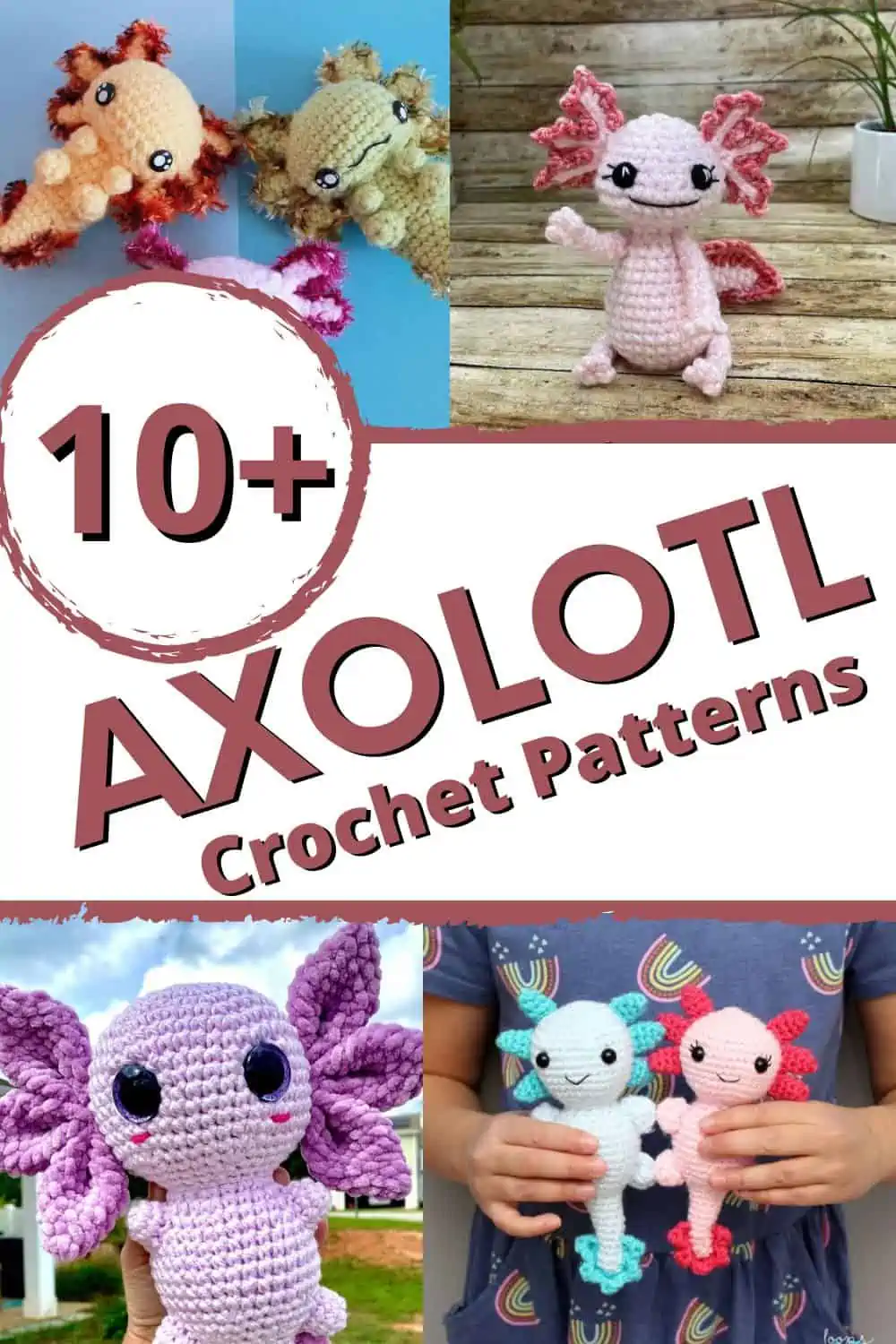 What Do You Need to Crochet an Axolotl?
Thankfully you don't need anything beyond basic amigurumi materials to get started crocheting an axolotl. Besides yarn and your crochet hook, most of the patterns call for stitch markers, scissors, a yarn needle, safety eyes, and stuffing.
The different patterns have yarn recommendations ranging from fine yarn to bulky yarn so you have many options for tailoring your axolotl to the different colors and feel you want.
Many of the patterns are marked at a beginner skill level but you will still want to make sure you understand some of the fundamentals of classic amigurumi like increases, decreases, the magic circle, and sewing.
Below you'll find so much axolotl crochet inspiration. As of now, there aren't very many free axolotl patterns but I will keep my eyes out and add them as I find them. The free crochet patterns are listed first followed by patterns you can purchase.
Free Axolotl Crochet Patterns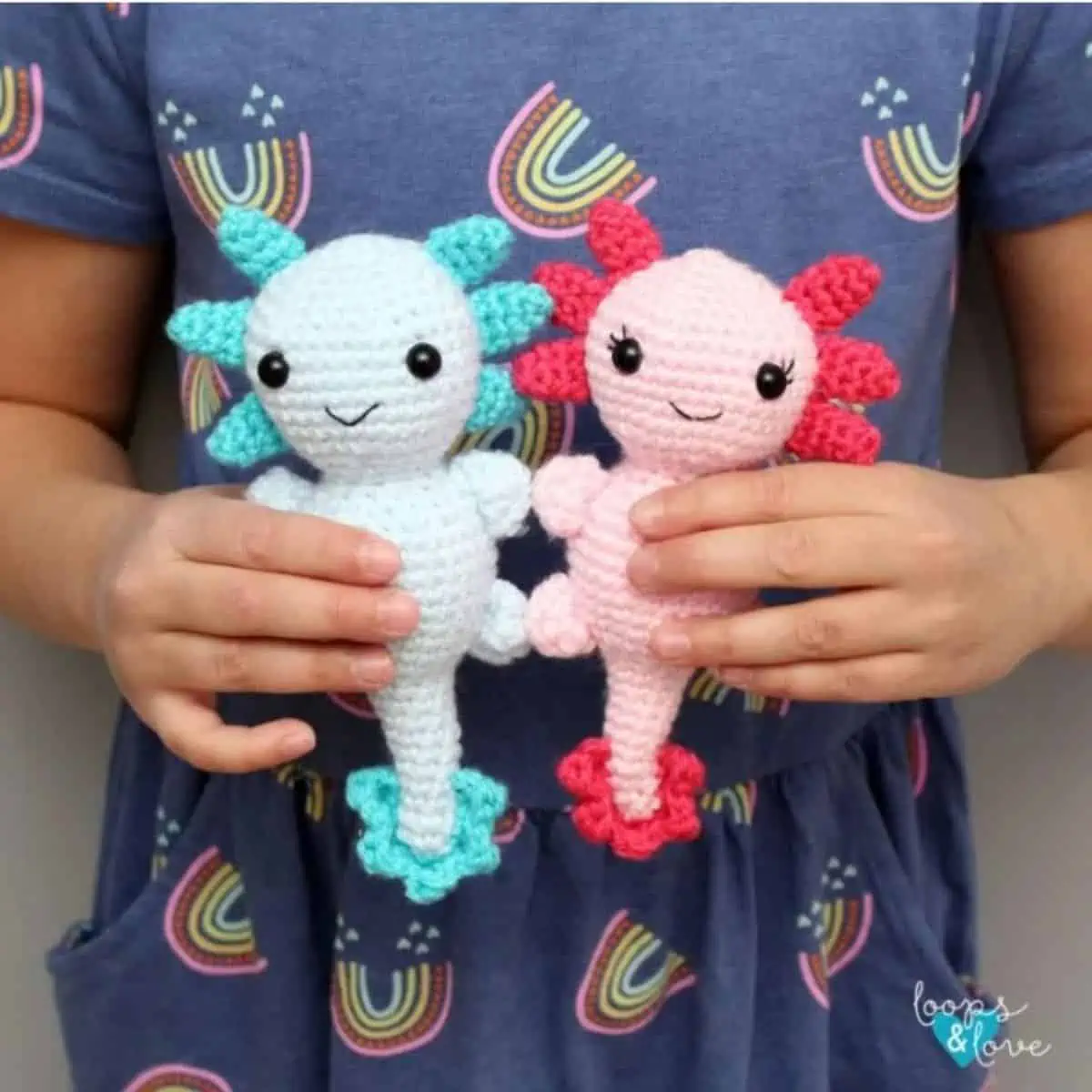 Crochet Axolotl Free Pattern by Loops and Love Crochet
Aren't they just adorable? To make this amigurumi axolotl, you'll work in continuous rounds starting with the tail, body, and head in one piece then make add the legs, gills, and tail fins separately. The finished axolotl measures 5.5 inches tall and uses worsted weight yarn and basic amigurumi techniques and stitches.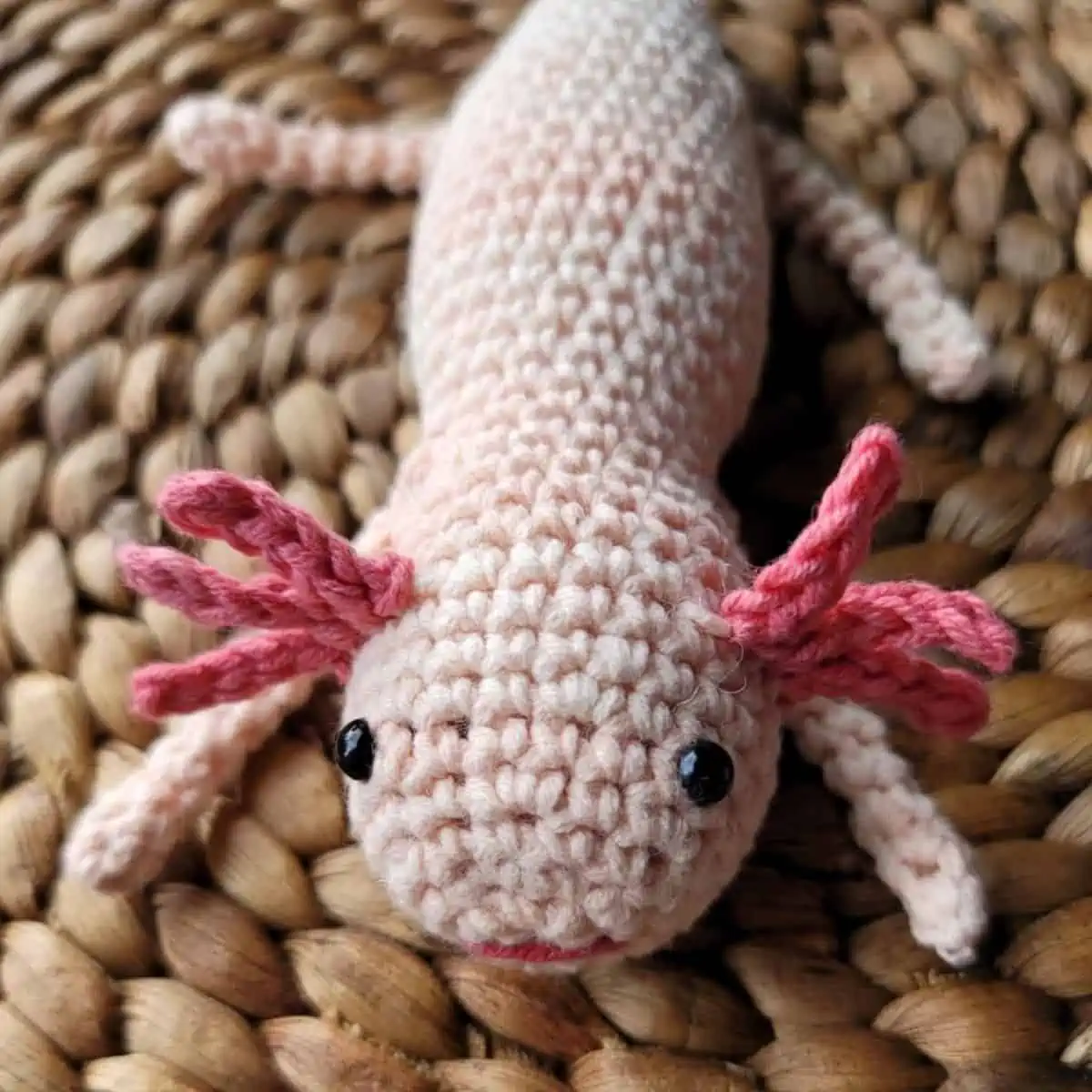 Amigurumi Axolotl Crochet Pattern Free by Oombawka Design
This adorable pink axolotl is worked from the nose to the tail in one continuous piece. The gills on the sides of the head are made on the finished body and the legs are crocheted separately and then sewn onto the body. Using Light Weight Yarn, this guy measures 9.5 inches long when finished.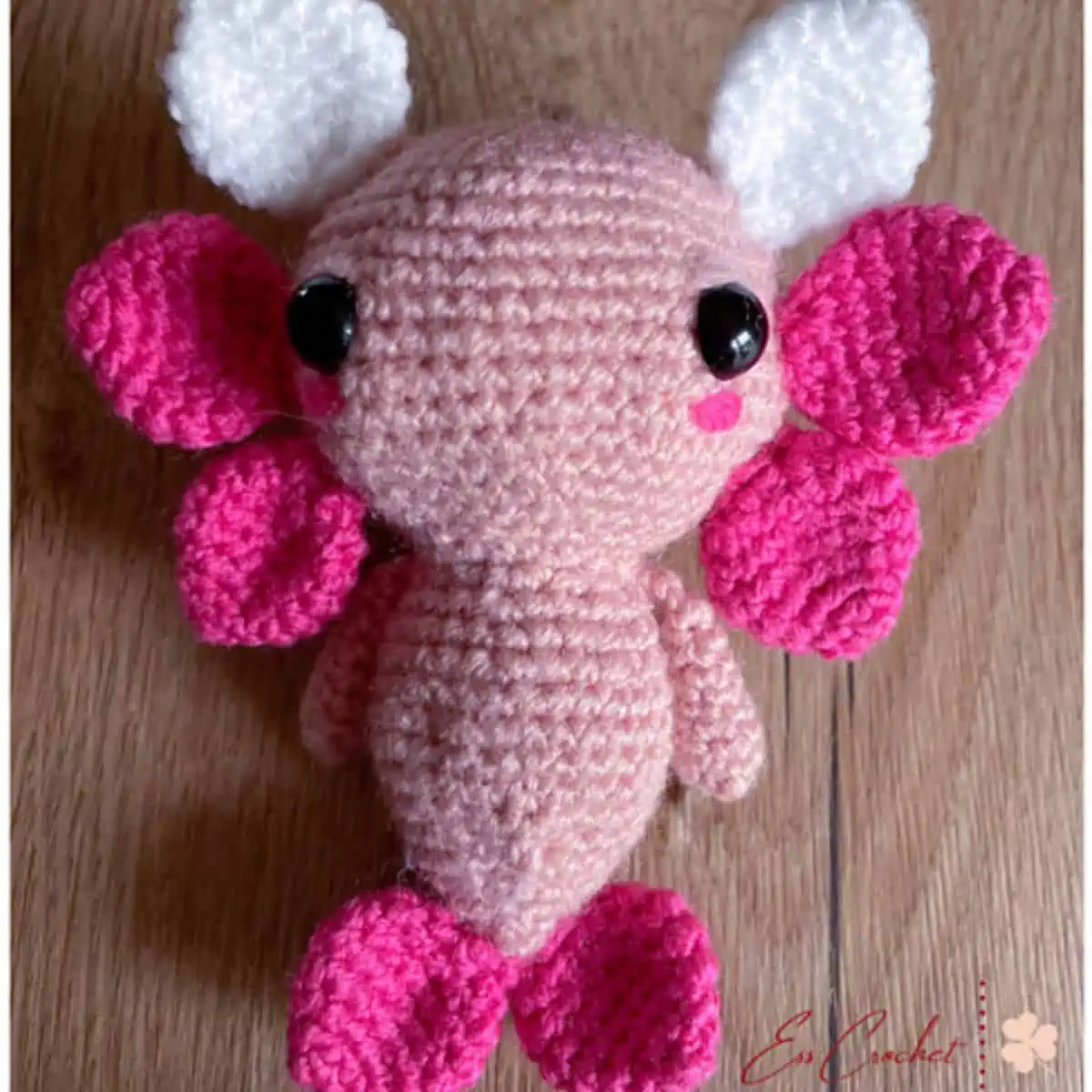 Axolotl Crochet Pattern Free by Sara Bagnetti
This cute pattern is available as a free Ravelry download. You'll be able to directly download the PDF and add it to your Crochet Pattern Binder. The axolotl is worked head first, adding the facial detail and then moving on to the body. The arms and fins are made separately and then sewn on. I didn't see a finished size when I looked through the pattern, so that'll be a fun surprise!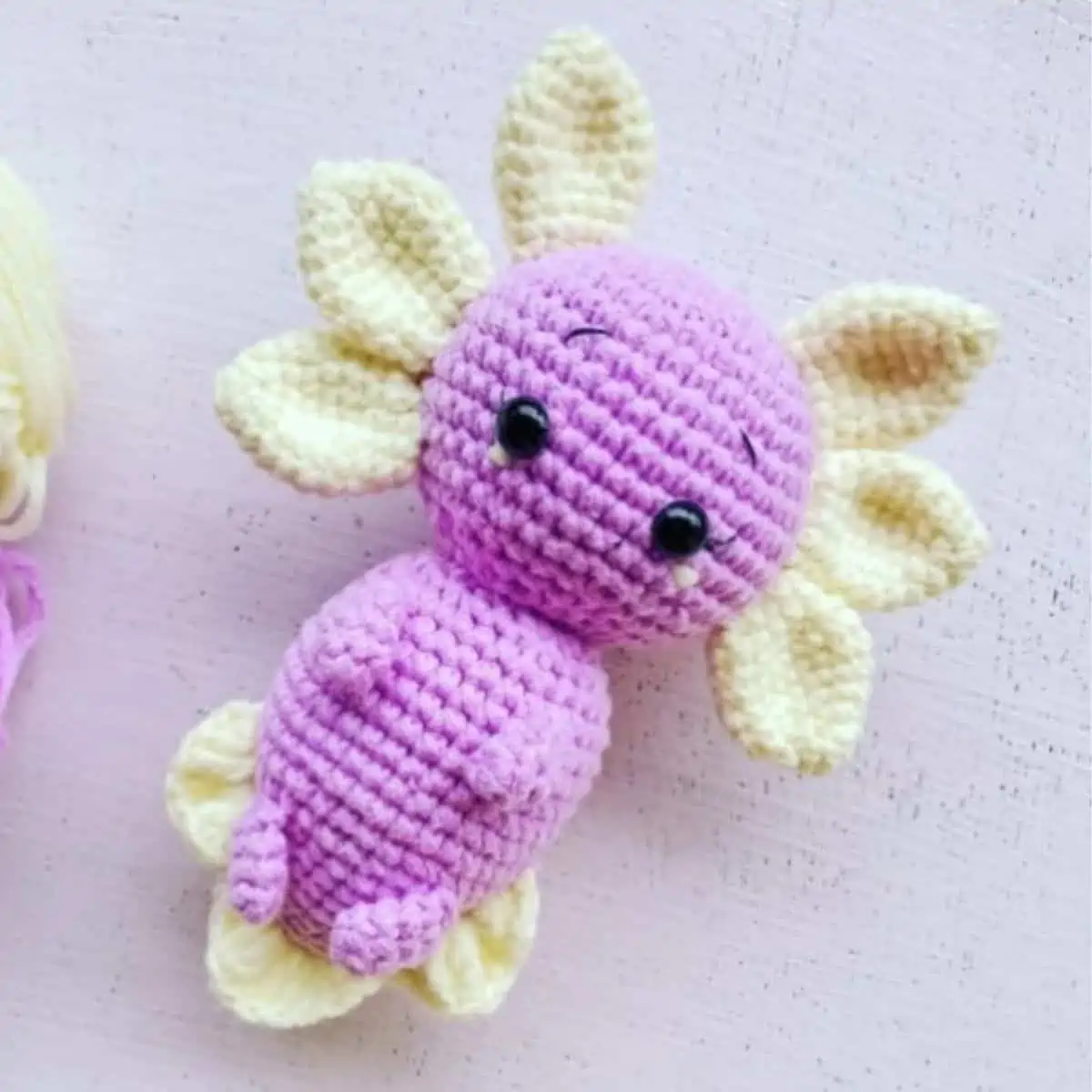 Free Axolotl Crochet Pattern by Anvi's Granny
This baby axolotl plushie was just made for cuddling! Look how adorable it is. The instructions say to use medium-weight yarn but if you use chunky yarn, I'll bet it will be even more cuddly. The designer does say this is a beginner-friendly pattern and they have additional resources for your amigurumi projects.
Crochet Axolotl Patterns
The following patterns are all paid axolotl crochet patterns that are available for download from Etsy:
Large Axolotl Pattern by Crochet Toys Workshop
This unique pattern is great, especially for Minecraft fans. The square head and rectangular eyes give it that pixelated look that is close to how axolotls look in the game.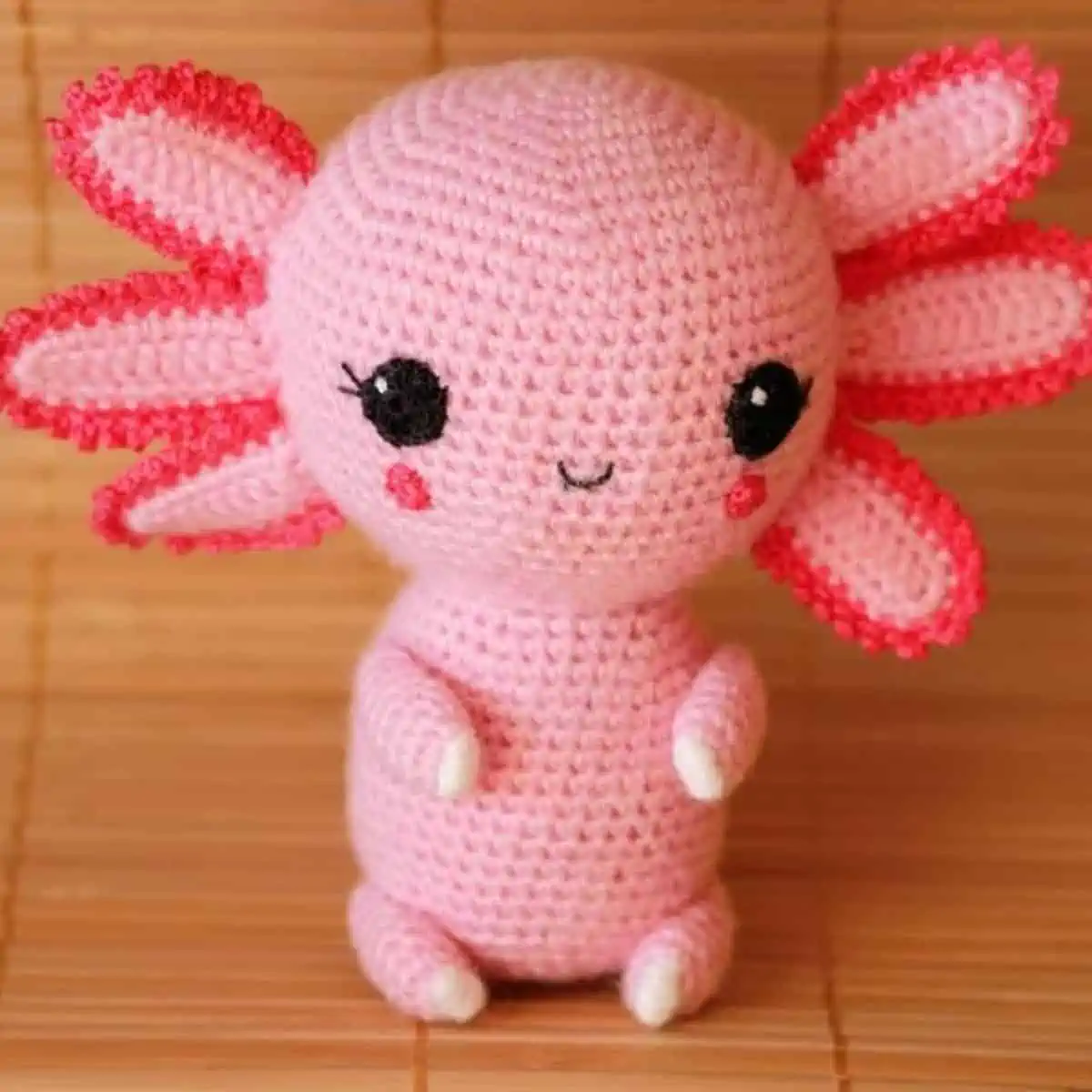 Axolotl Crochet Pattern by Ani Ami Crochet
I love that this axolotl plush sits up by itself. It has a cute and unique look compared to other axolotl patterns. The finished item sits at 6.5 inches tall and is marked as a beginner skill level.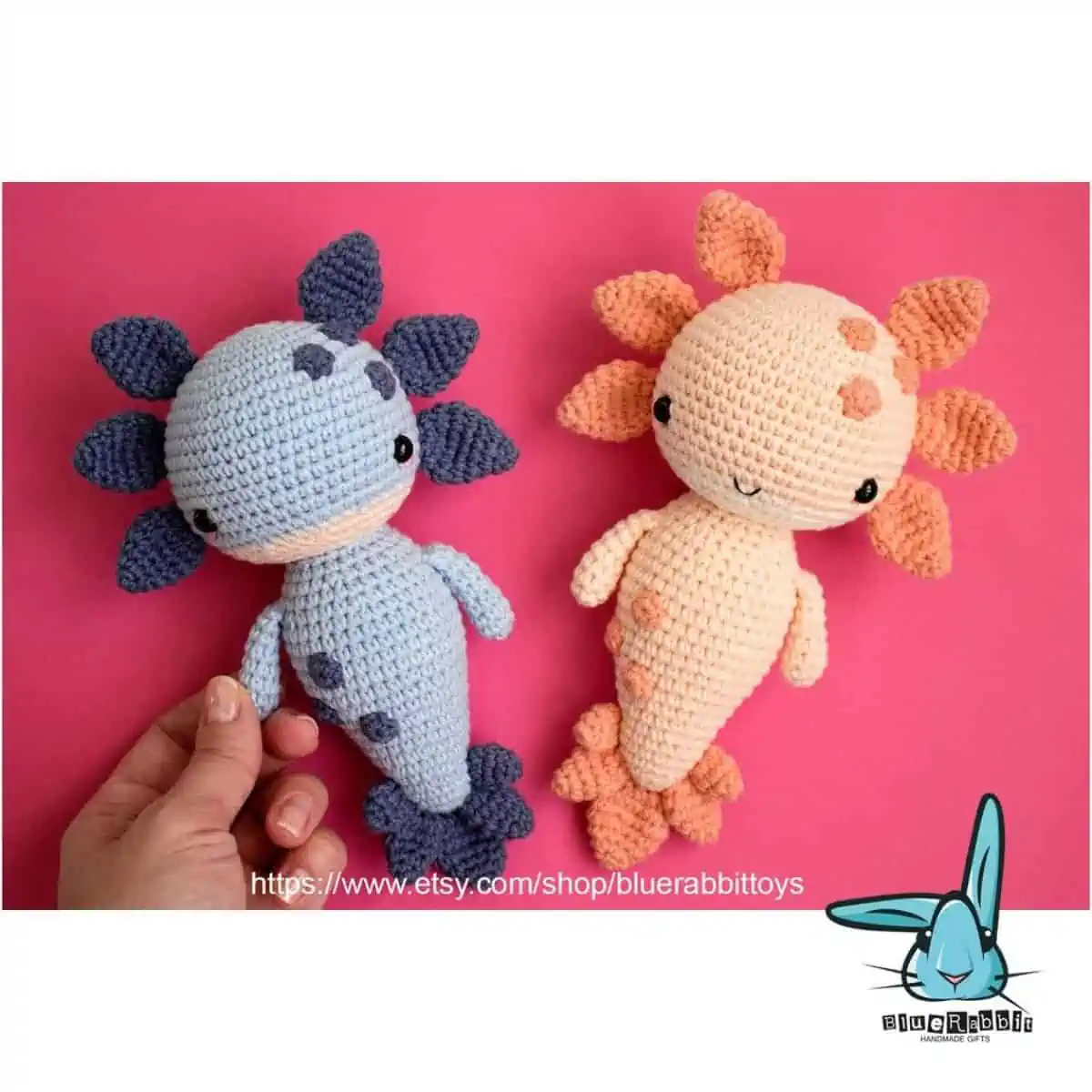 Amigurumi Axolotl Pattern by Blue Rabbit Toys
The large head on this axolotl just adds another layer of adorableness. Its finished size is 7.9 inches and it uses sport weight yarn.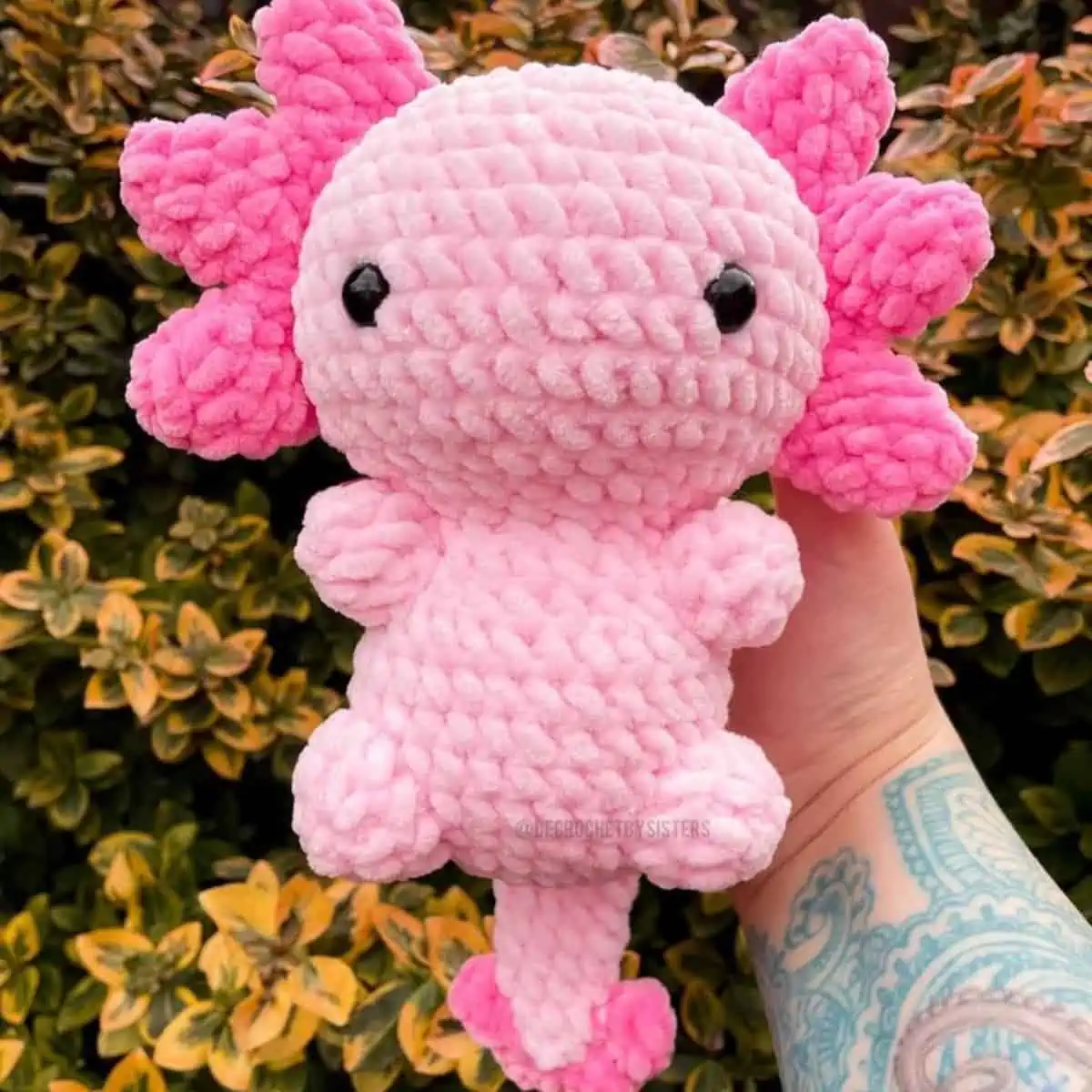 Crochet Axolotl Plushie Pattern by DE Crochet By Sisters
There isn't a lot of information provided for this pattern, but based on the review pictures, it works up just as adorably as the sample picture. It looks like these special plushies can sit up on their own and they look large, soft, and cuddly!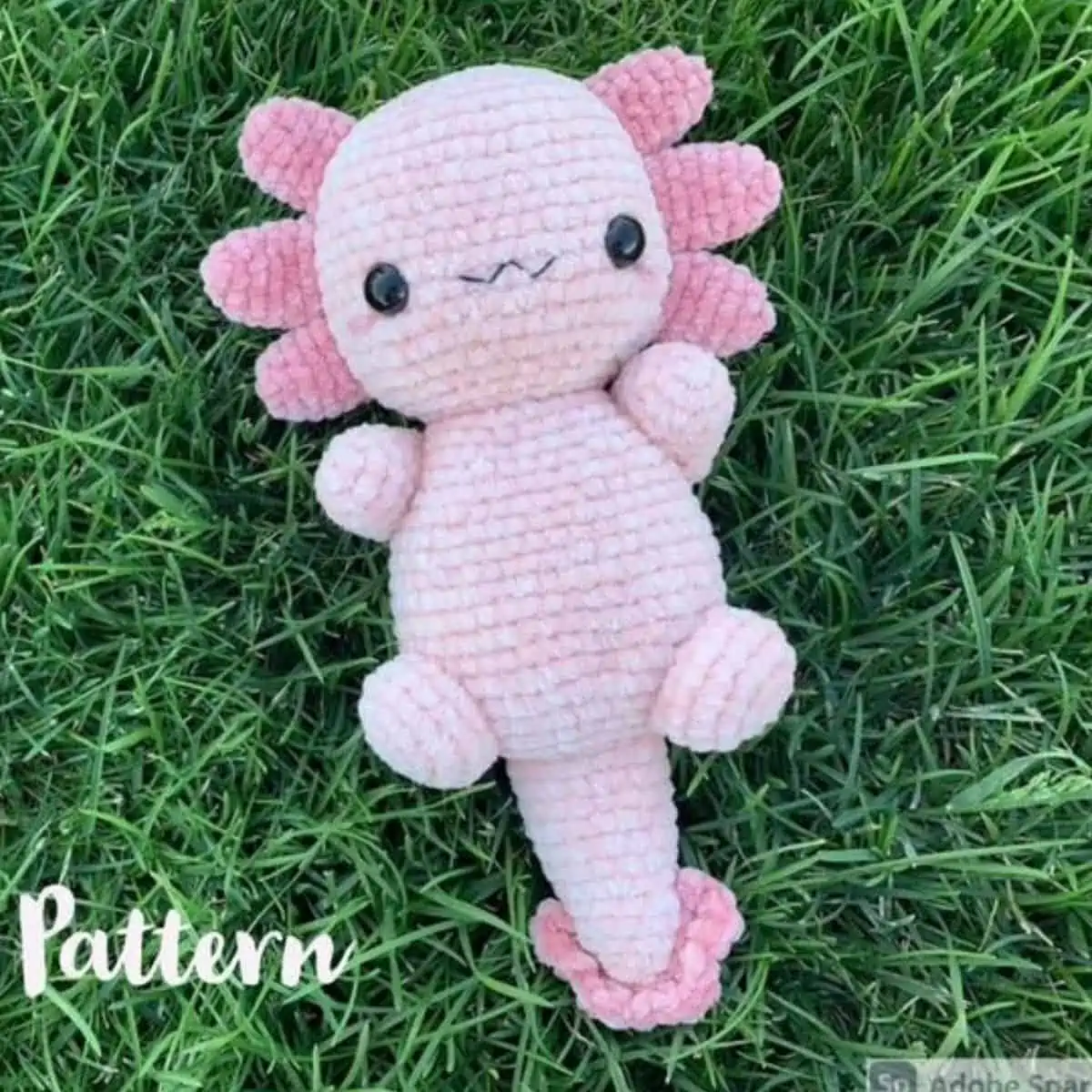 Velvet Axolotl Crochet Pattern by Katie Kitty Craft
The designer recommends Bernat Velvet yarn for this squishy amigurumi and I think that's a wonderful choice! I imagine it is so soft. There isn't sizing information but the designer does say it is a subtable pattern for beginners who are familiar with basic crochet terms.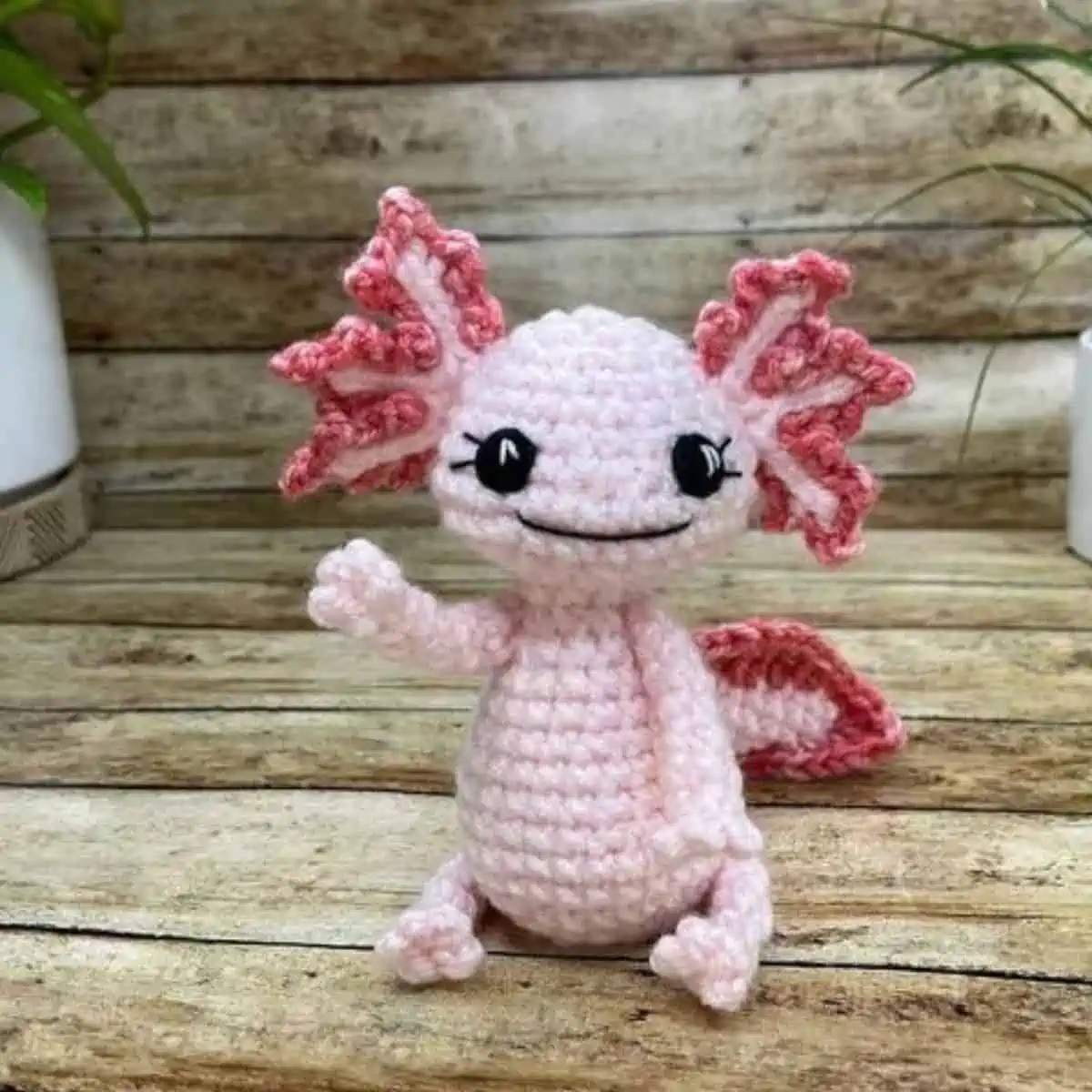 Axolotl Crochet Pattern PDF by AR Serendipity Designs
This small crochet axolotl is the perfect blend of realness and cuteness. It is marked as an advanced pattern that measures 4.5" when sitting.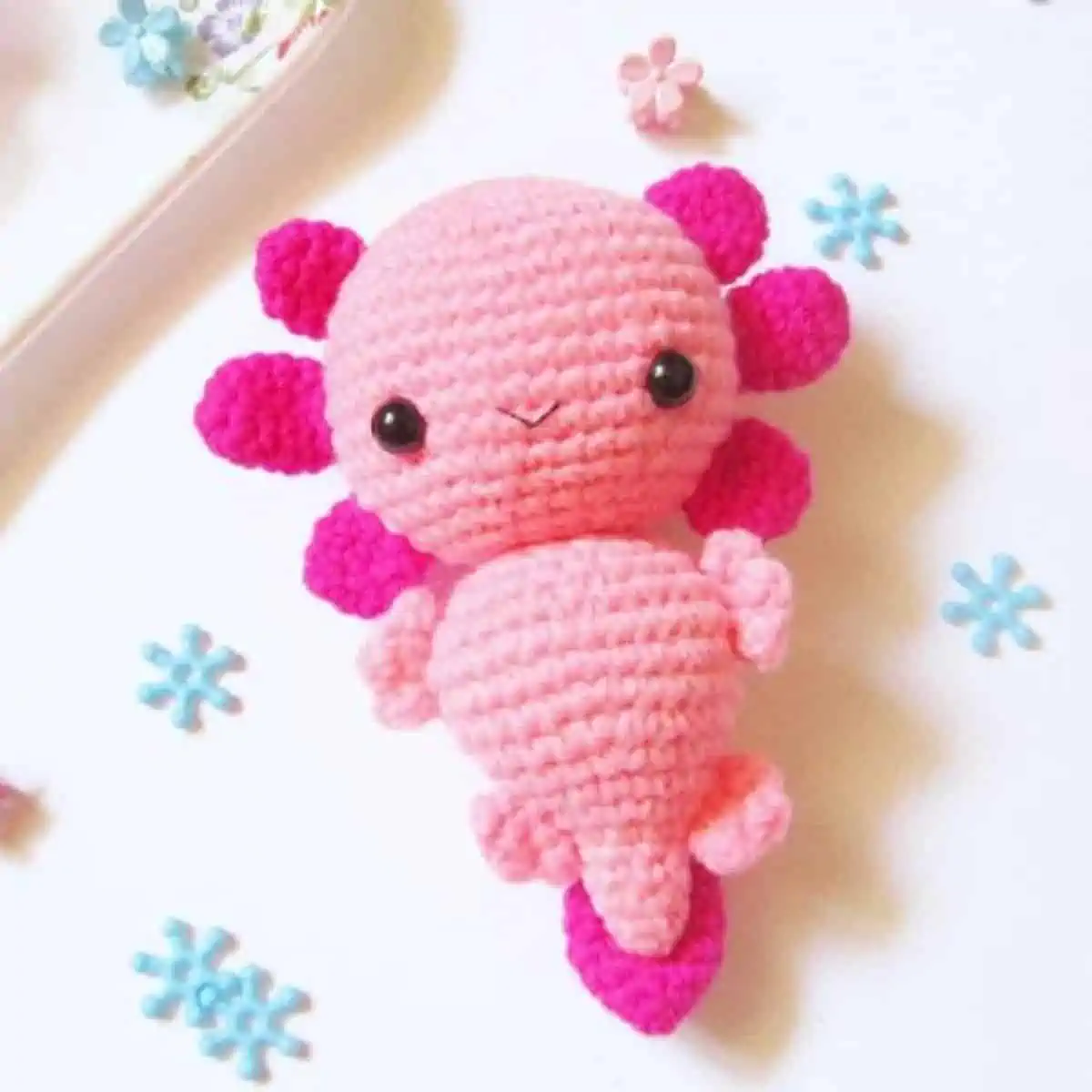 Axolotl Amigurumi Pattern by Little Love Every Day
I love the cute little feet on this unique plushie and the fin and tail details. The finished toy measures about 4.5 inches using sport weight yarn. It is marked as an Easy/ Intermediate skill level.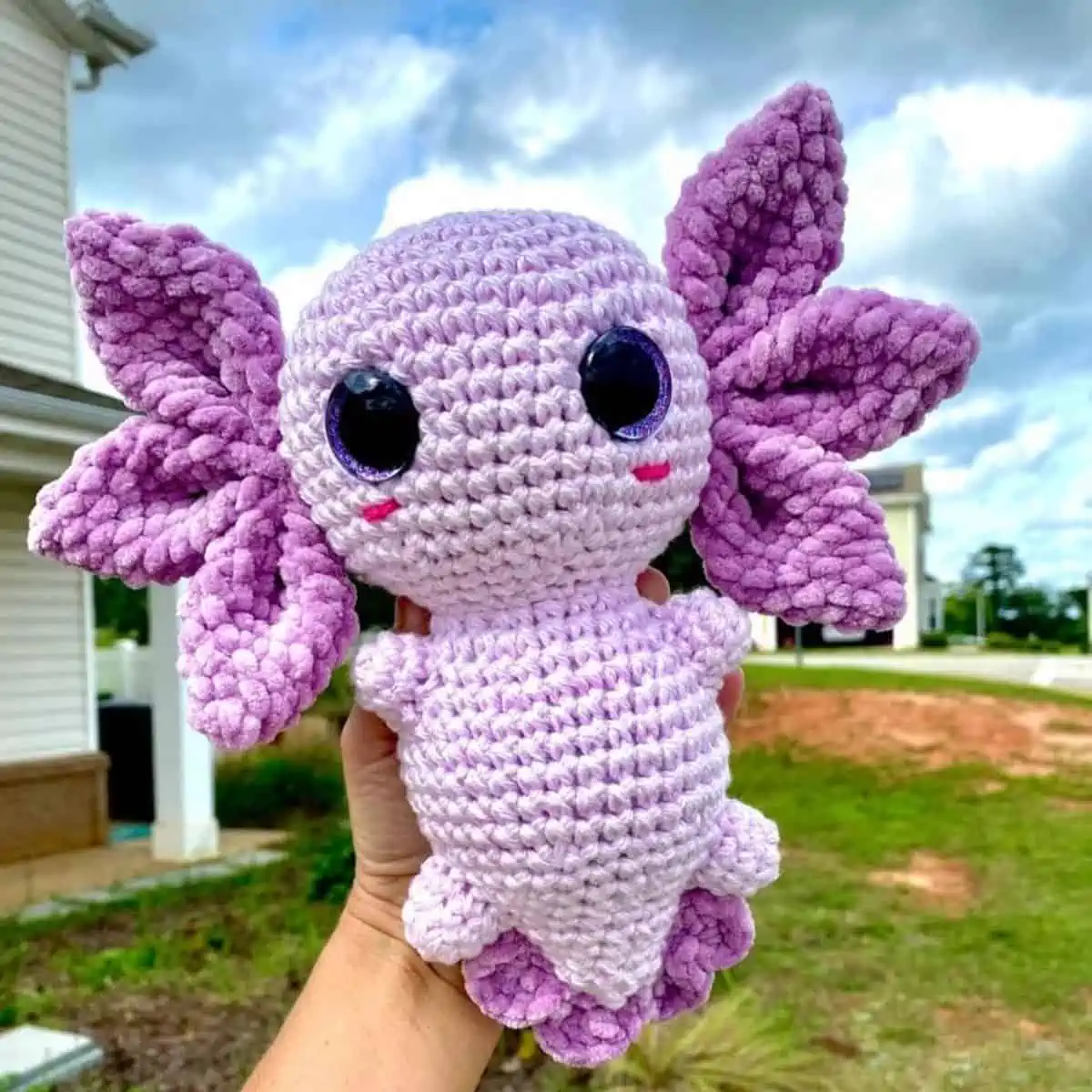 Hatching Crochet Axolotl Pattern
This is another pattern that doesn't have a ton of details. It looks like a good-sized ami that is hatching. I assume the egg pattern is included too. Adorable.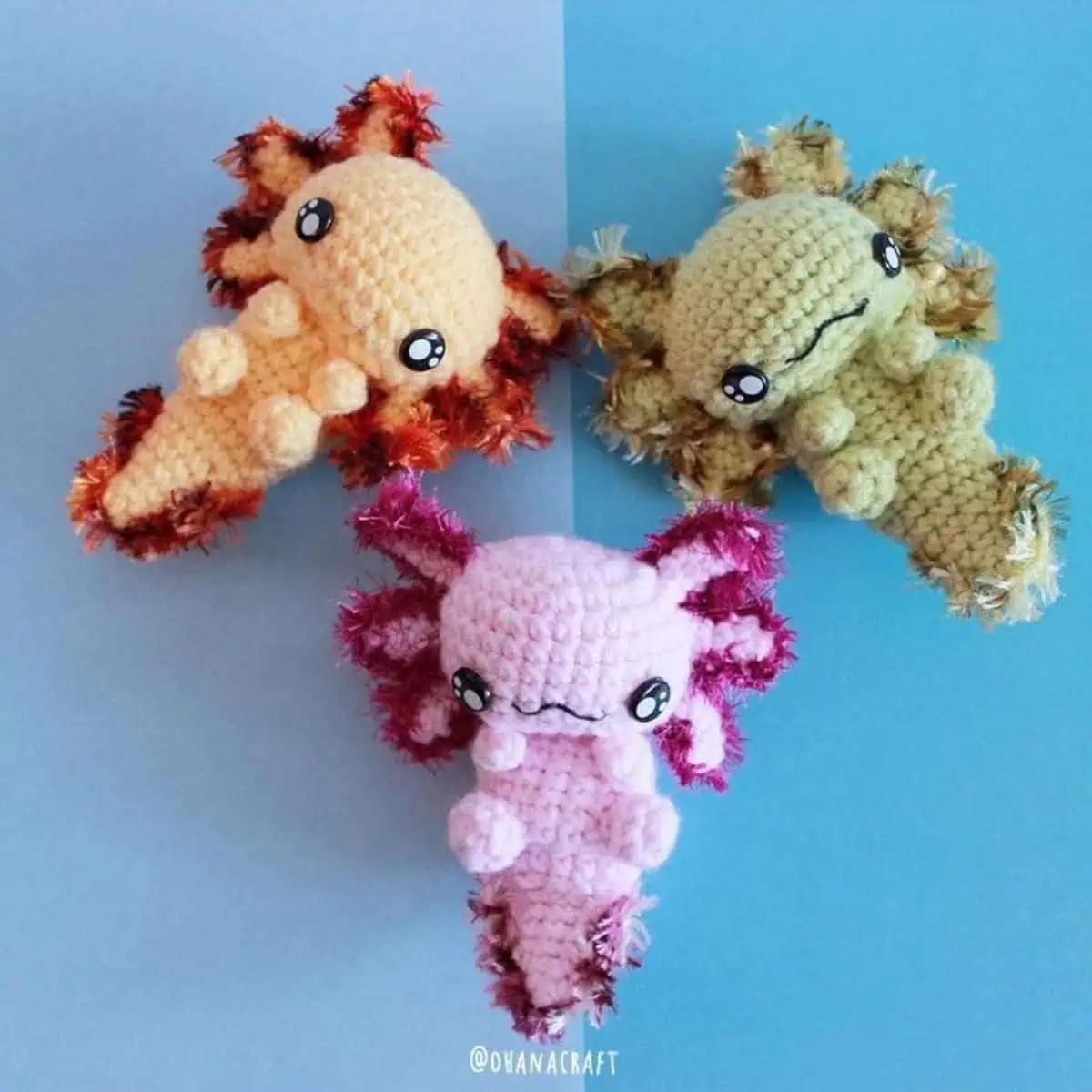 Loxy the Axolotl Crochet Amigurumi Pattern by Ohana Craft Amigurumi
The fuzzy little gills and fins on this plush axolotl are such a clever detail! It is rated as a beginner project and the finished toy measure around 4.5 inches while sitting and 6" from head to tail.
Aren't these patterns just great? I should probably set aside some time to make one for my kids! Which axolotl pattern will you start with?