Caprock Canyon Crochet Lap Blanket
Disclosure: This post may contain affiliate links. As an Amazon Associate, I earn from qualifying purchases. Please visit my Privacy Policy for disclosures and more information.
Sometimes you just need a throw that's enough to cover your legs and keep you cozy. The Caprock Crochet Lap Blanket is the perfect small throw or lapghan for such an occasion. Without the fringe, it works great for those in wheelchairs and with the fringe it looks great anywhere!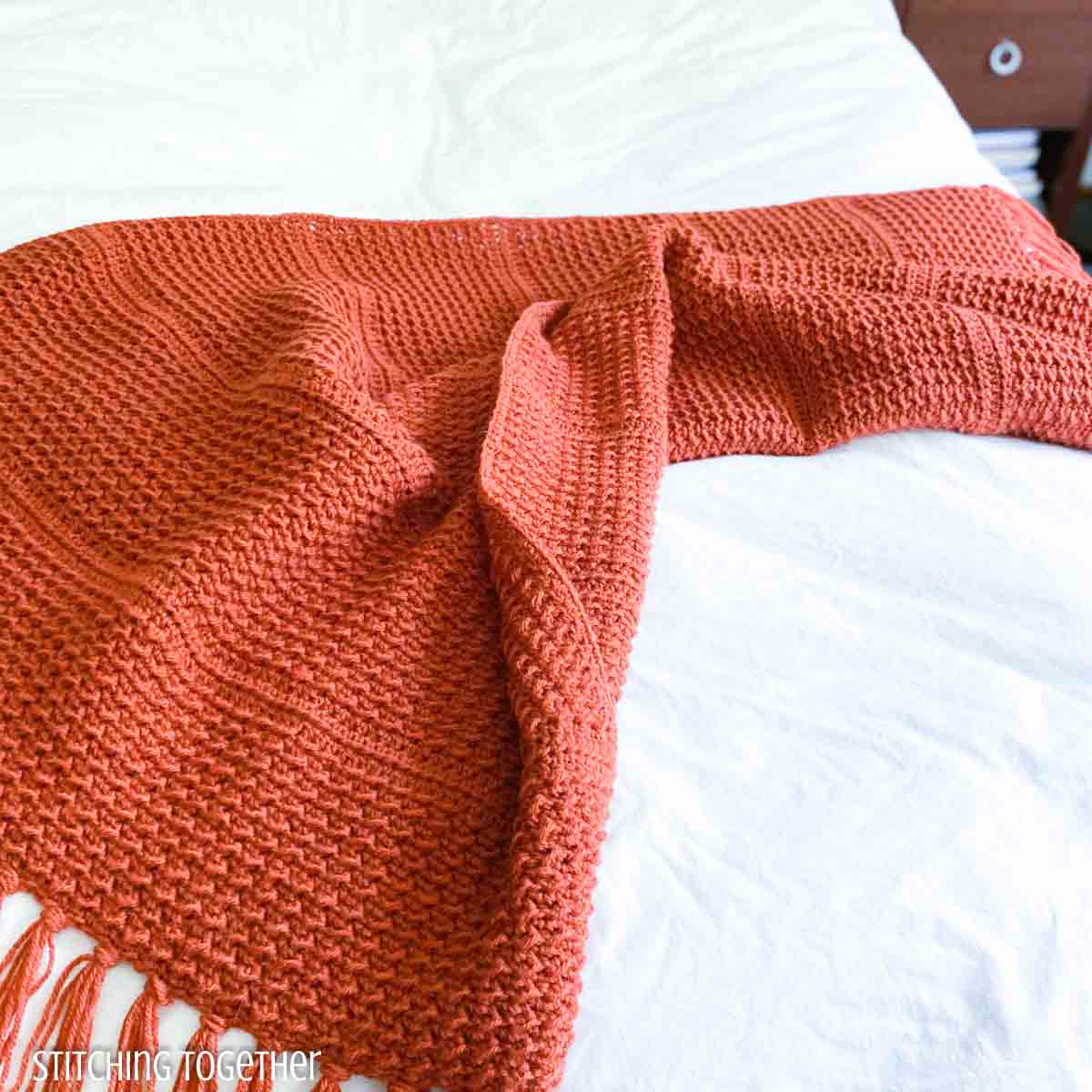 Keep reading for the free crochet pattern or purchase the PDF version, perfect for printing, right here.
How to Crochet a Lap Blanket
Lap blankets are great to crochet since they are on the smaller side and work up quickly. They may great housewarming gifts or great blankets for those in nursing homes.
This simple blanket alternates sections of the Crunch Stitch with sections of half double crochets. It's finished with a simple single crochet border. Adding fringe is totally optional as the lapghan looks great either way.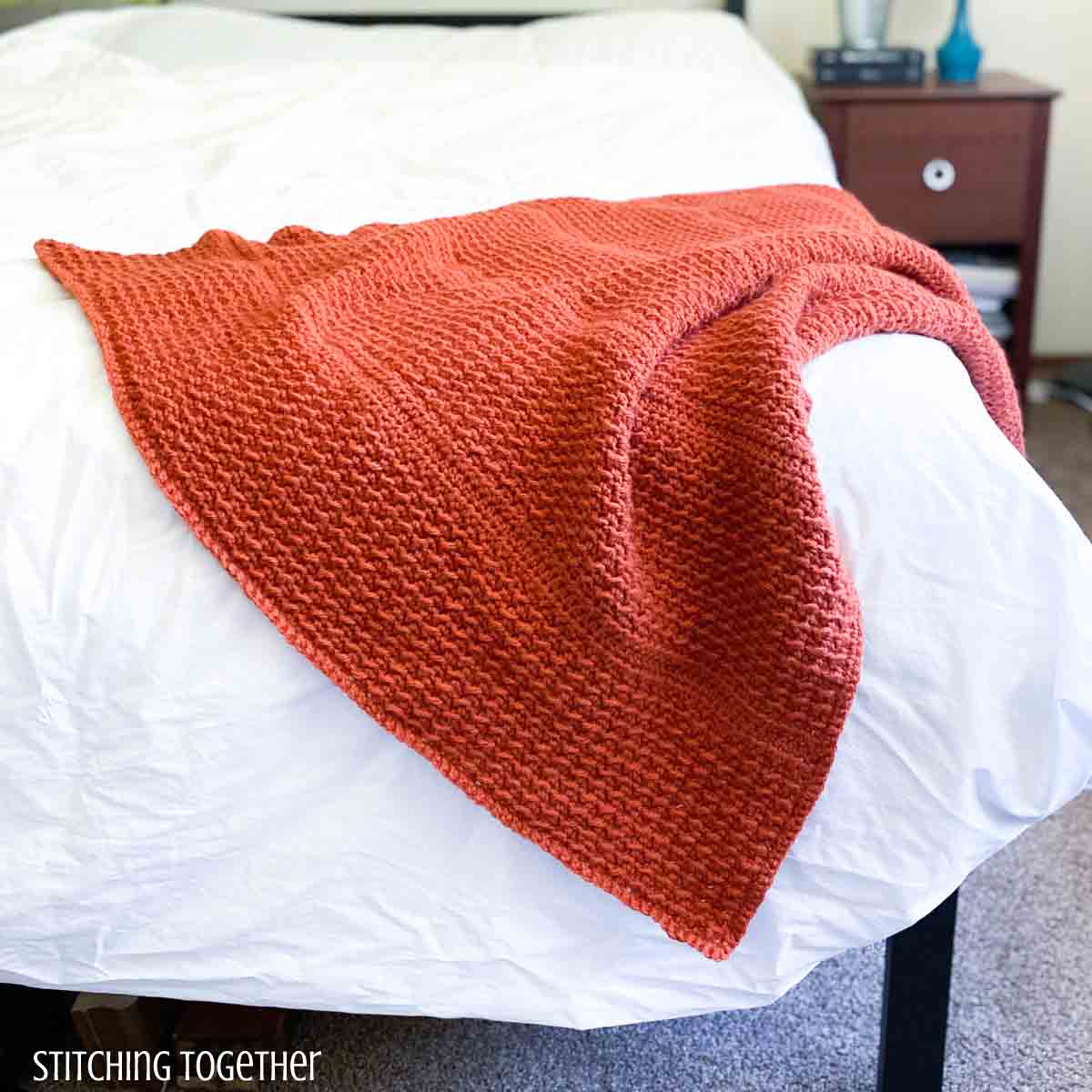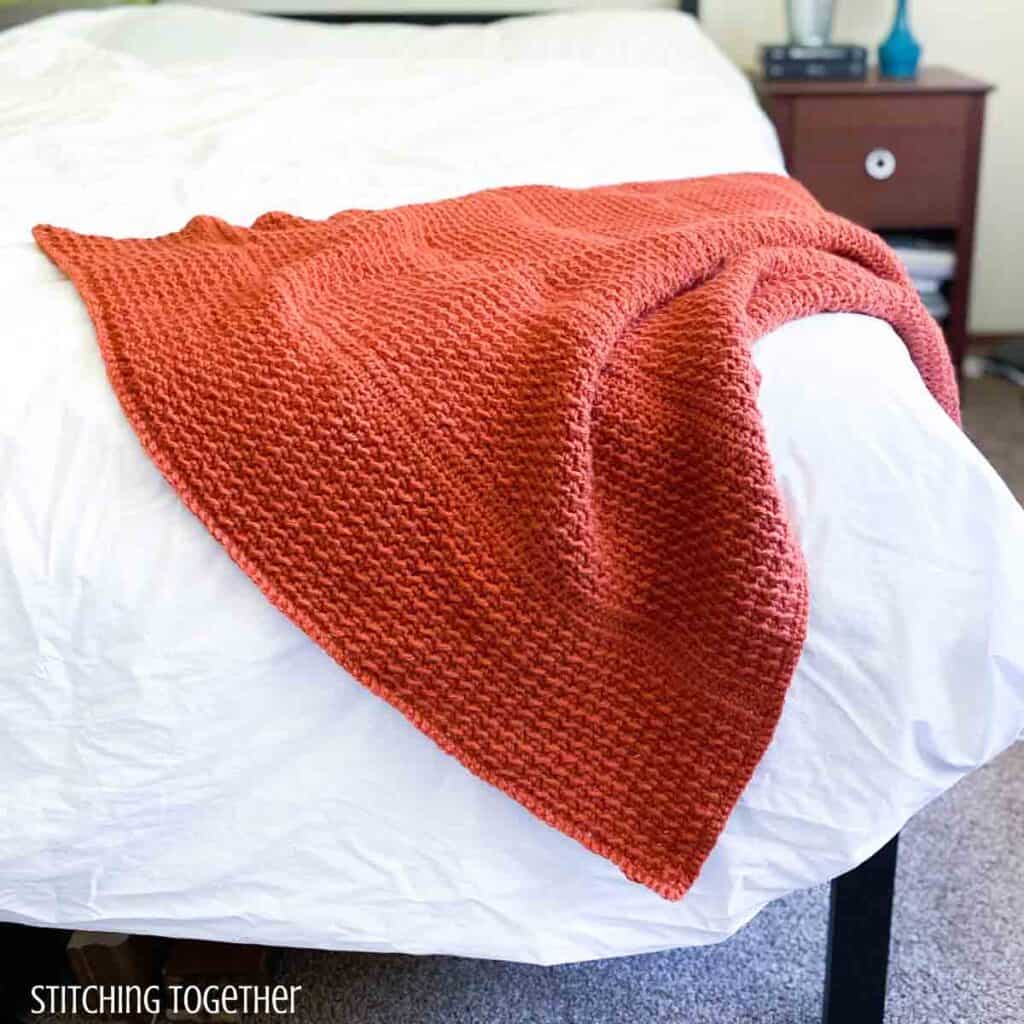 About the yarn for the Crochet Lap Blanket
I'm not sure how it is possible, but this is my first project using Lion Brand's Pound of Love yarn. How have I gone all these years without using it?
Pound of Love is a category 4 worsted weight acrylic yarn. It is so easy to work with and worked up to be softer than I expected.
Plus I love that it only took two skeins (granted, they are huge) to complete this lap blanket crochet pattern.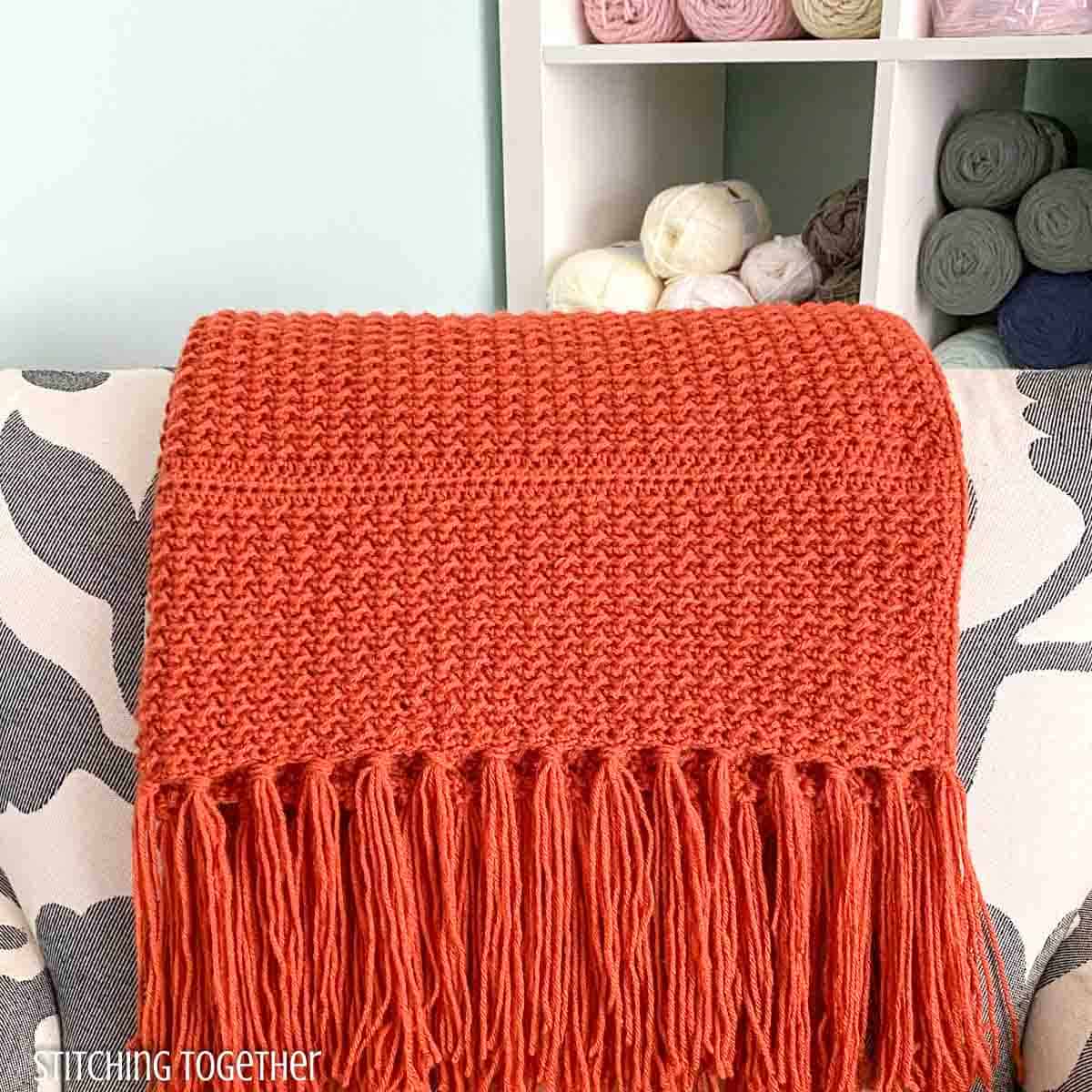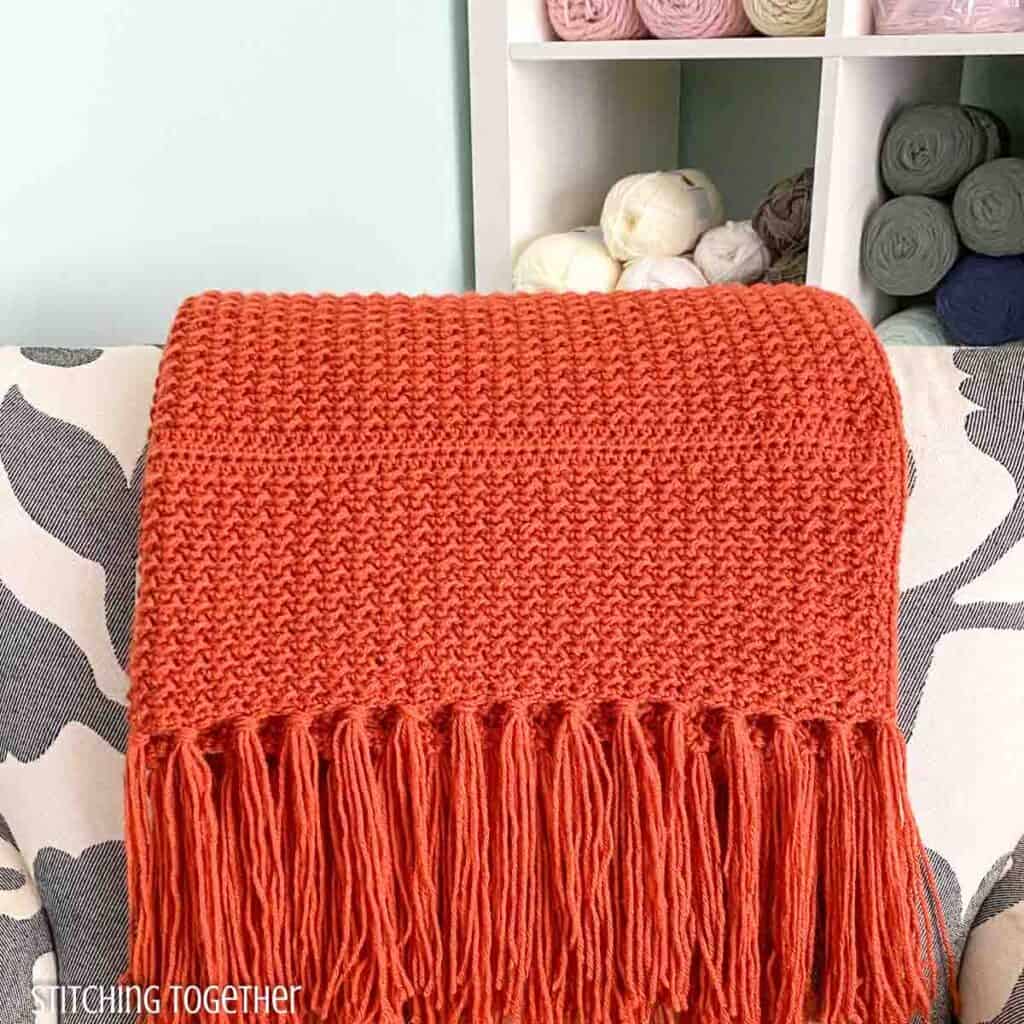 About the stitches used in the Lap Blanket Crochet Pattern
Have you used the Crunch Stitch before? It's such a fun stitch pattern because it's simple but delivers loads of texture.
To work the crunch stitch, you'll alternate half double crochets with slip stitches. Then on the next row, you alternate them again putting slip stitches in the half double crochets below and half double crochets in the slip stitches of the row below.
Not to worry, if you haven't worked this stitch pattern before, I have a full Crunch Stitch Tutorial that will show you how to do it.
In the lap blanket, the thick crunch stitch sections are broken up by a thin section of simple half double crochets.
Once you've worked up the body of the throw, you'll work a simple single crochet border, add some fringe or tassels if you'd like, et voilà, you have a blanket!
Don't forget to save the Crochet Lap Blanket on Pinterest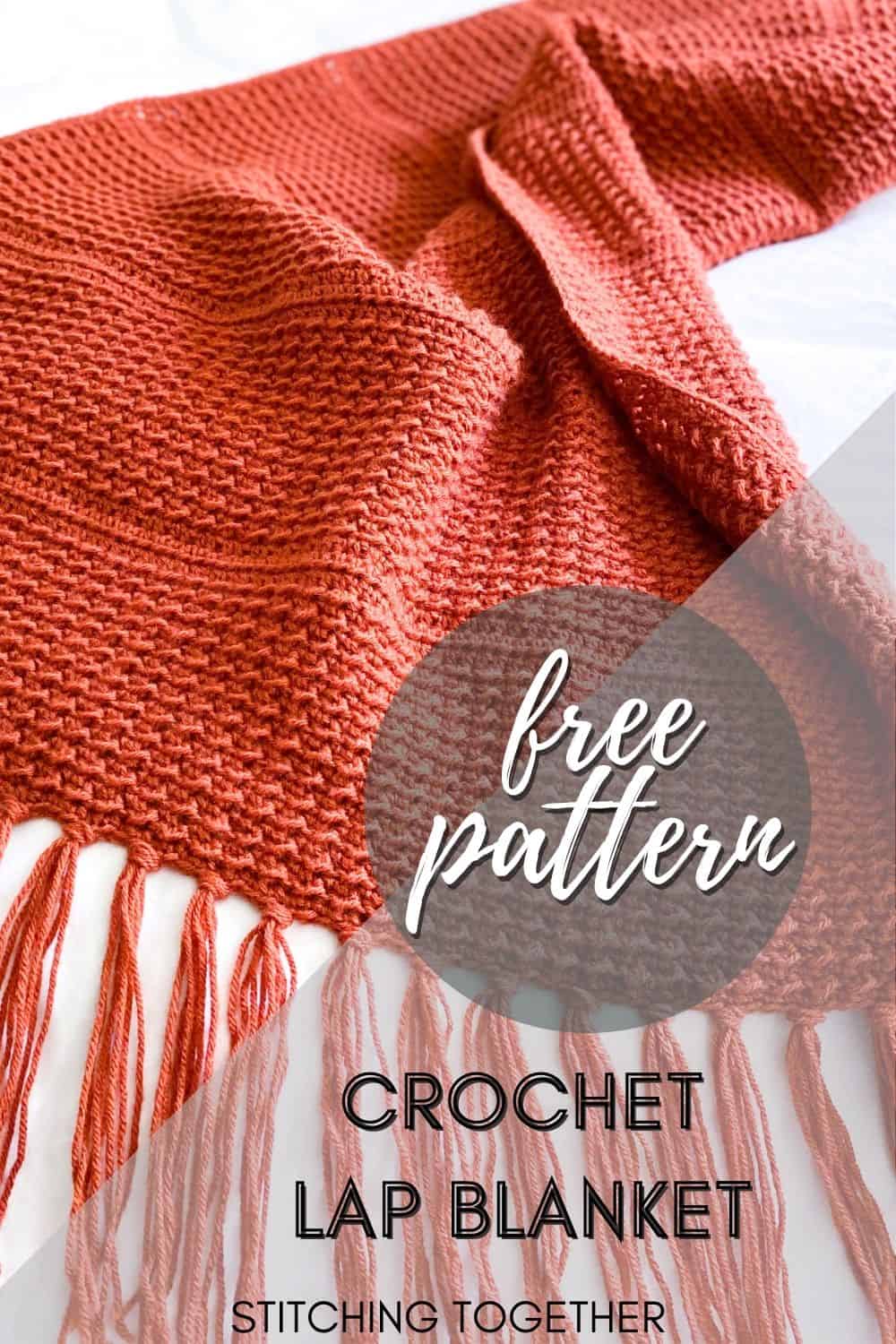 Caprock Canyon Free Crochet Lap Blanket Pattern
Skill Level: Easy
Materials:
US size K/6.5 mm crochet hook
Lion Brand Pound of Love Yarn (category 4 worsted weight yarn) – 1467 yds (23 oz) in Pumpkin Spice
Large Eye Yarn Needle
.
Everything you need for this project can be ordered right on Amazon.
Save time and shop online!
.
Abbreviations:
ch: chain
sl st: slip stitch
hdc: half double crochet
st: stitch
sc(s): single crochet(s)

Gauge: 4" x 4" = 14 sts by 16 rows (taken in crunch stitch)
Finished Size: 32" x 44"
Notes:
This simple blanket is worked by alternating a section of rows worked in the crunch stitch with a smaller section of rows worked in half double crochets.
The ch 1 at the beginning of the all hdc rows does not count as a stitch.
The ch 2 (also referred to as the turning chain) at the beginning of the crunch stitch rows does count as a stitch.
To adjust the size of the blanket, you'll want to keep your starting chain a multiple of 2 +1. To make it longer, you'll add 26 rows (about 6.5") at a time to keep the stitch pattern consistent.
Pattern Instructions:
Ch 115
Row 1: sl st in 3rd ch from hook, *hdc, sl st, repeat from * ending with a sl st in the last ch, turn.
Row 2: ch 2, skip the 1st st, *sl st, hdc, repeat from * ending with a sl st in the top of the turning chain
Rows 3-23: repeat row 2
Rows 24-26: ch 1, hdc in each st (114)
Rows 27-49: Repeat row 2
Rows 50-52: ch 1, hdc in each st (114)
Rows 53-75: Repeat row 2
Rows 76-78: ch 1, hdc in each st (114)
Rows 79-101: Repeat row 2
Rows 102-104: ch 1, hdc in each st (114)
Rows 105-127: Repeat row 2
Rows 128-130: ch 1, hdc in each st (114)
Rows 131-153: Repeat row 2
Rows 154-156: ch 1, hdc in each st (114)
Rows 157-179: Repeat row 2
Border
ch 1, sc around the entire outside of the blanket placing a (sc, ch 1, sc) in each corner and 3 scs for every 2 rows along the sides of the blanket. Fasten off and weave in ends.
Adding fringe (optional)
Cut pieces approximately 16 inches in length. Holding 4 pieces of yarn together at a time, add fringe to each corner and every 4th stitch along the top and bottom of the blanket. For the small lap blanket, you'll need approximately 240 pieces of yarn.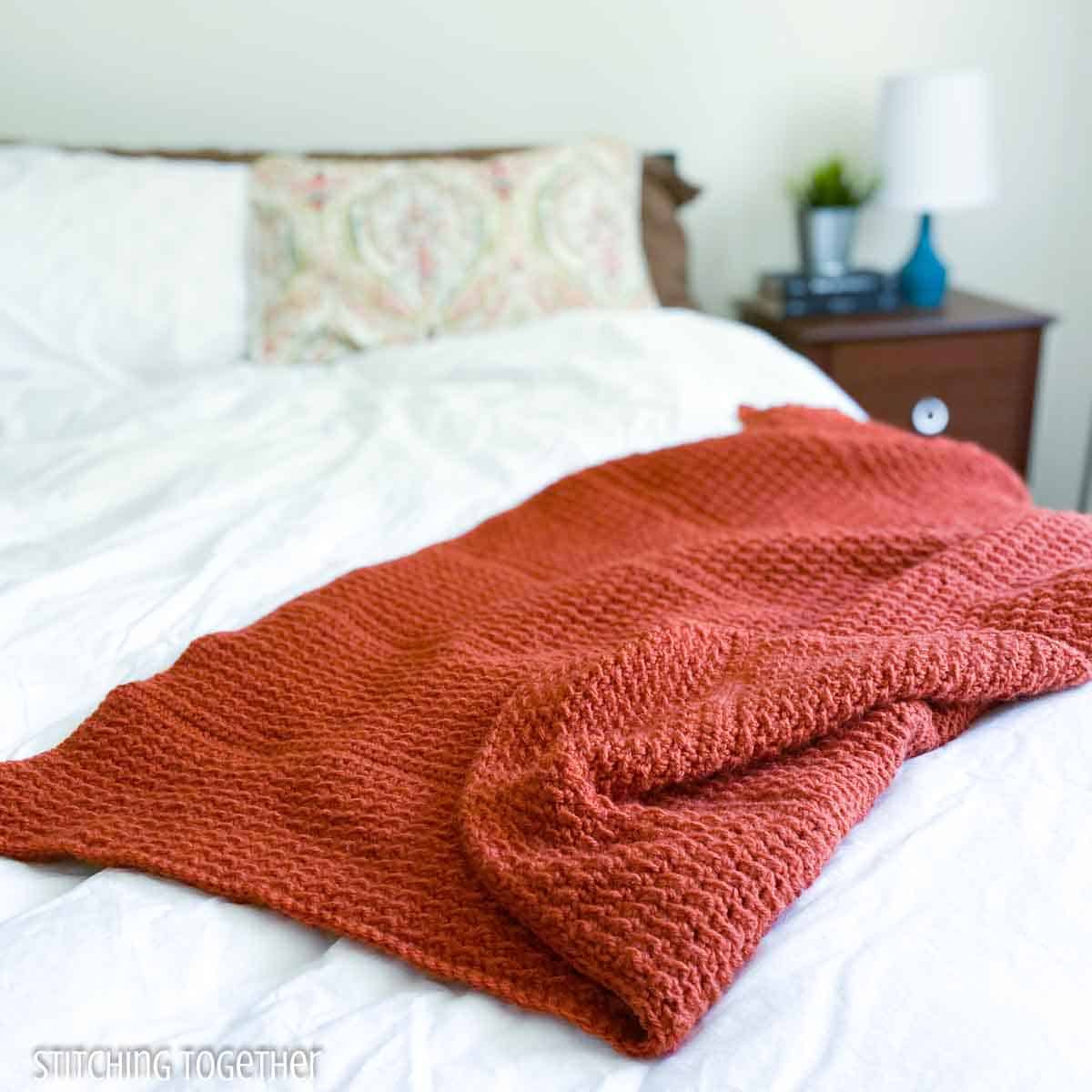 If you like to easily print your patterns, you can purchase the PDF of this pattern in the following places:
Here are some other great blanket patterns you don't want to miss!