Harbor Crochet Face Cloth Pattern
Disclosure: This post may contain affiliate links. As an Amazon Associate, I earn from qualifying purchases. Please visit my Privacy Policy for disclosures and more information.
Have you ever wanted to crochet a facial cleansing cloth? Well now you can with this easy crochet face cloth pattern. It's perfect for making a stack to use as part of your skincare routine or for use as washcloths or dishcloths. Keep reading to learn how to make the Harbor Crochet Face Cloths or purchase the ad-free PDF pattern.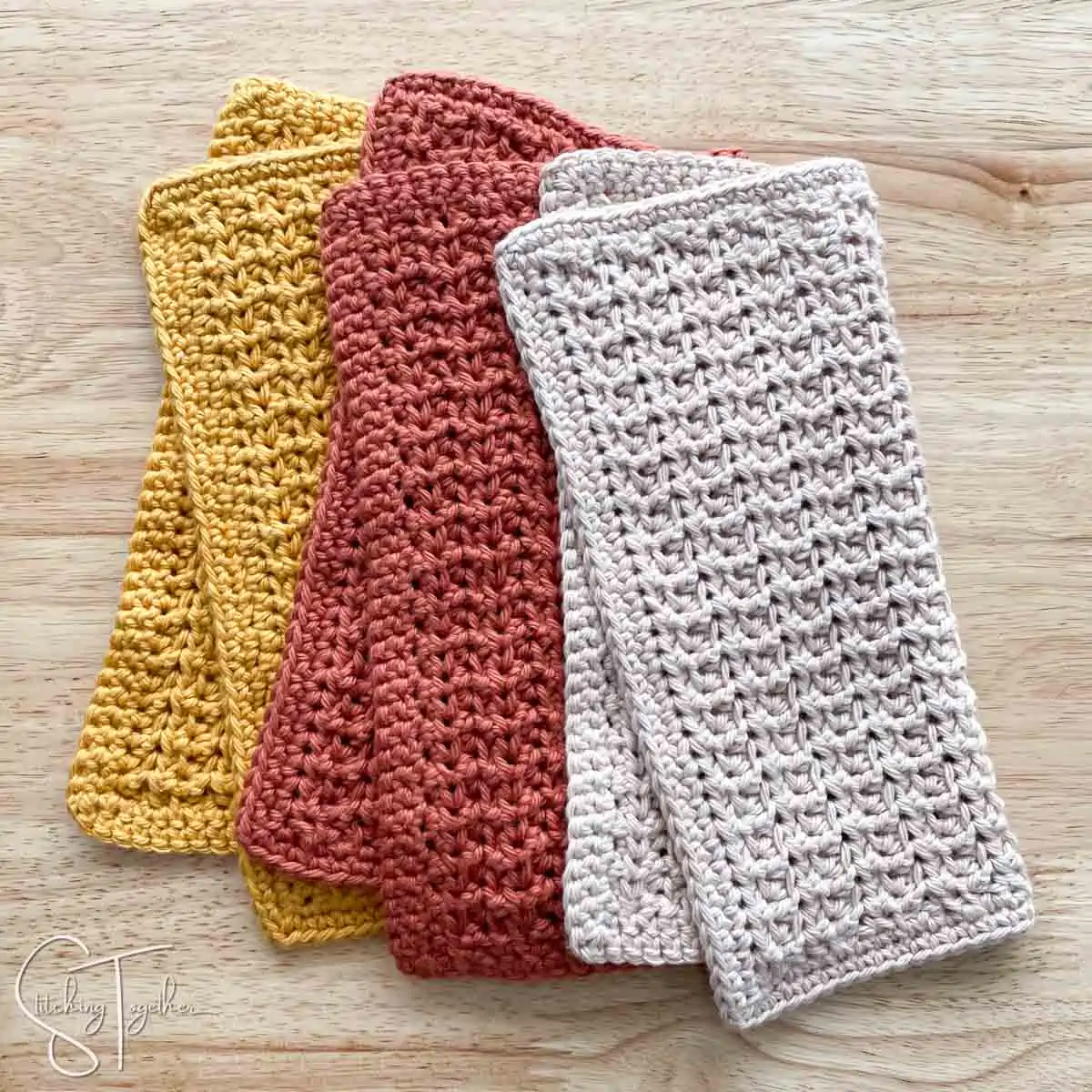 Crochet Face Cloths
The great part about this pattern is it can be used to make facial cloths, washcloths, or dishcloths. It is really up to you how you use the final product. These crochet face cloths have a soft texture that is gentle enough for washing your face yet sturdy enough for scrubbing dishes.
They also pair perfectly with the Harbor Hand Towels and will look so cute in your bathroom. You can also wrap a stack in some cute jute string and give them as a gift. Basically, there are so many different ways you can use these facial cloths, so they are a great and versatile project!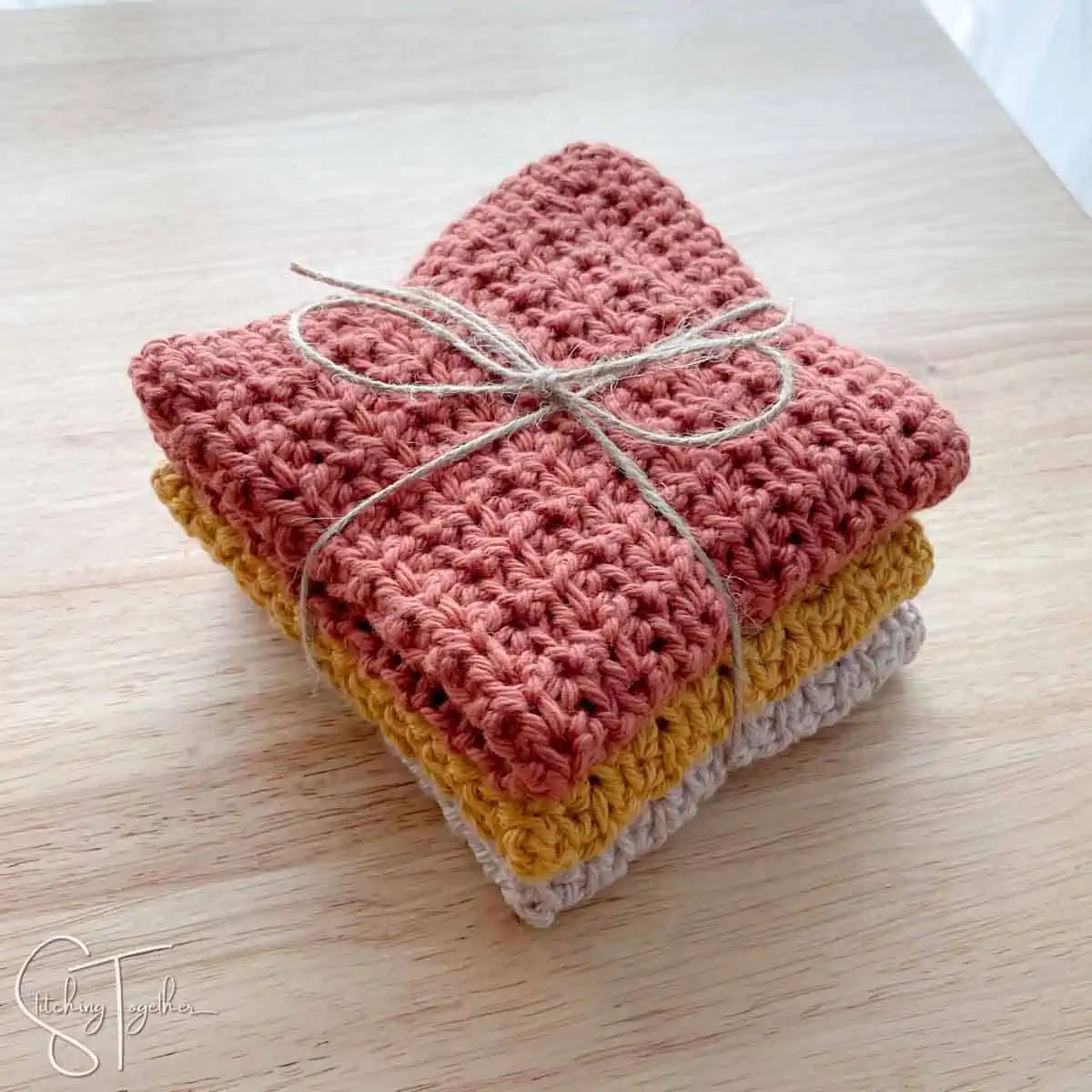 If you're comfortable with the half double crochet stitch, chain stitches, single crochet stitch, and working in the front and back loop of your work, then you should have no trouble tackling this project. To finish the face cloth, you'll do two rounds of single crochet around the entire cloth.
It is rated as an easy skill level, but an adventurous beginner might like to try this facial cloth pattern if you have a firm grasp on the basic crochet stitches and stitch anatomy.
Related: Moss Stitch Crochet Dishcloth Pattern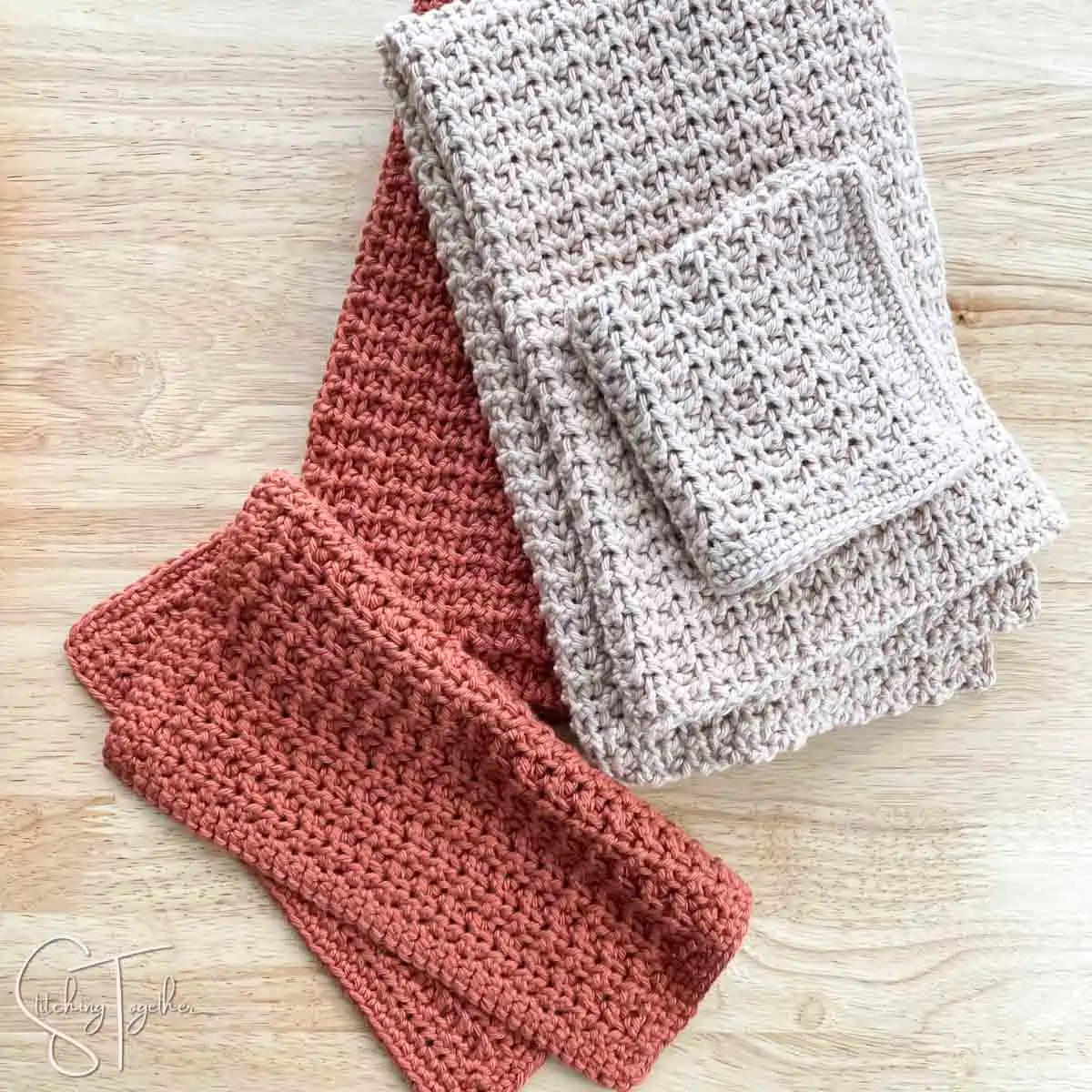 Stitches Used in the Harbor Crochet Face Washer Pattern
Don't you just love simple changes to standard stitches that can make the resulting fabric look completely different than it does with just regular stitches?
The stitches used in these face cloths are just half double crochets but you alternate every other stitch working in the front loop only with working in the back loop only. This small change creates a fabric with a unique texture that is still flowy like fabric made with regular half double crochets.
The ribbed texture created by alternating the loops you are working in to gives a little extra scrubbing power to the fabric without being too hard. It still feels soft and gentle on the skin.
Related: Softest Baby Washcloth Pattern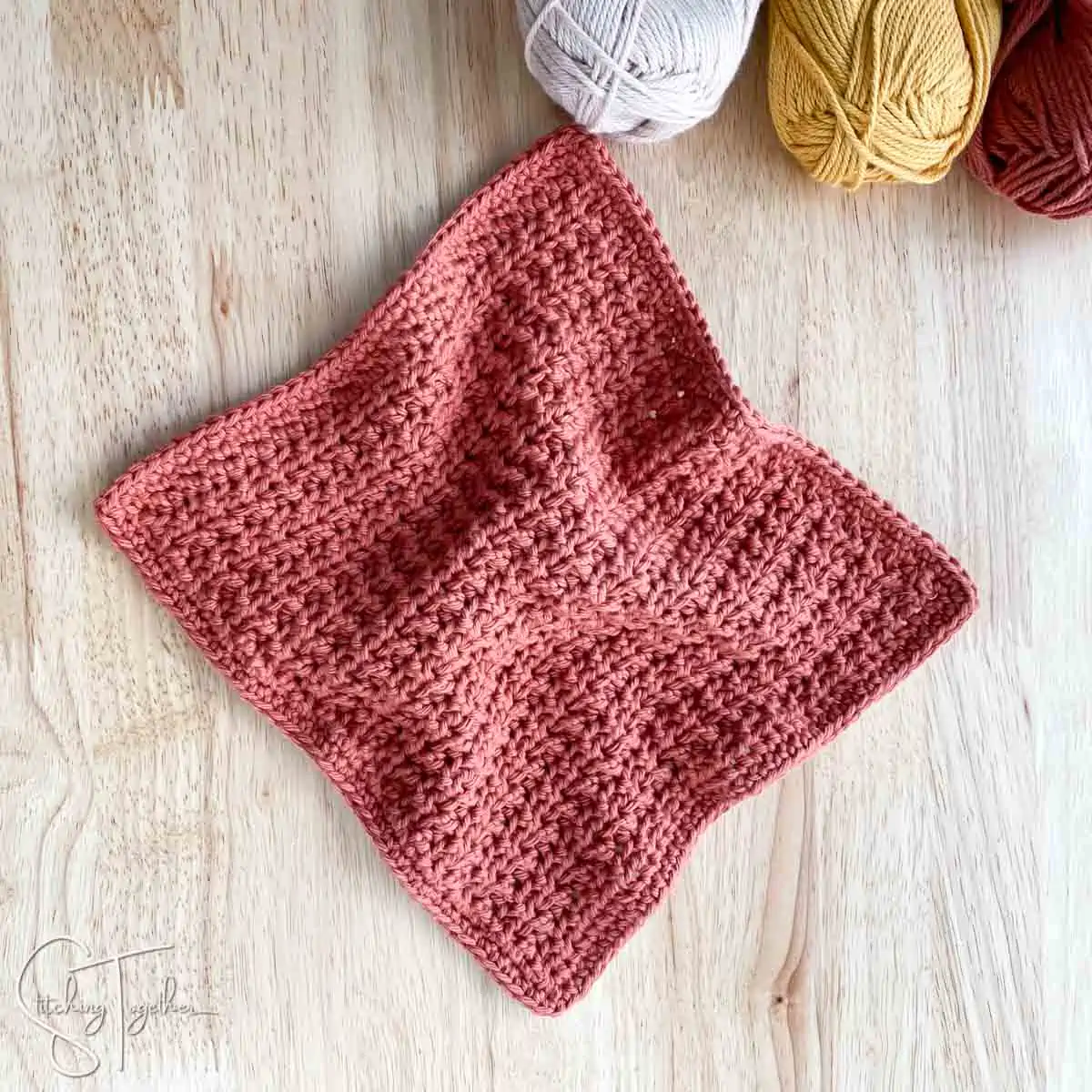 Yarn Used for the Crochet Face Washcloth
Overall I think a soft cotton is the best yarn for a crochet face cloth. Cotton yarn is my favorite to use for any type of crochet washcloth or crochet dishcloth. Cotton is soft, washes, and wears well, and it is generally gentle enough to use on your face.
I Love This Cotton from Hobby Lobby is a great worsted weight yarn option that is easy to work with and comes in a variety of lovely colors.
Other cotton yarns or natural cotton blends could work well too for this pattern. I know many people prefer to use organic cotton on their faces, so you could look for an organic yarn option too.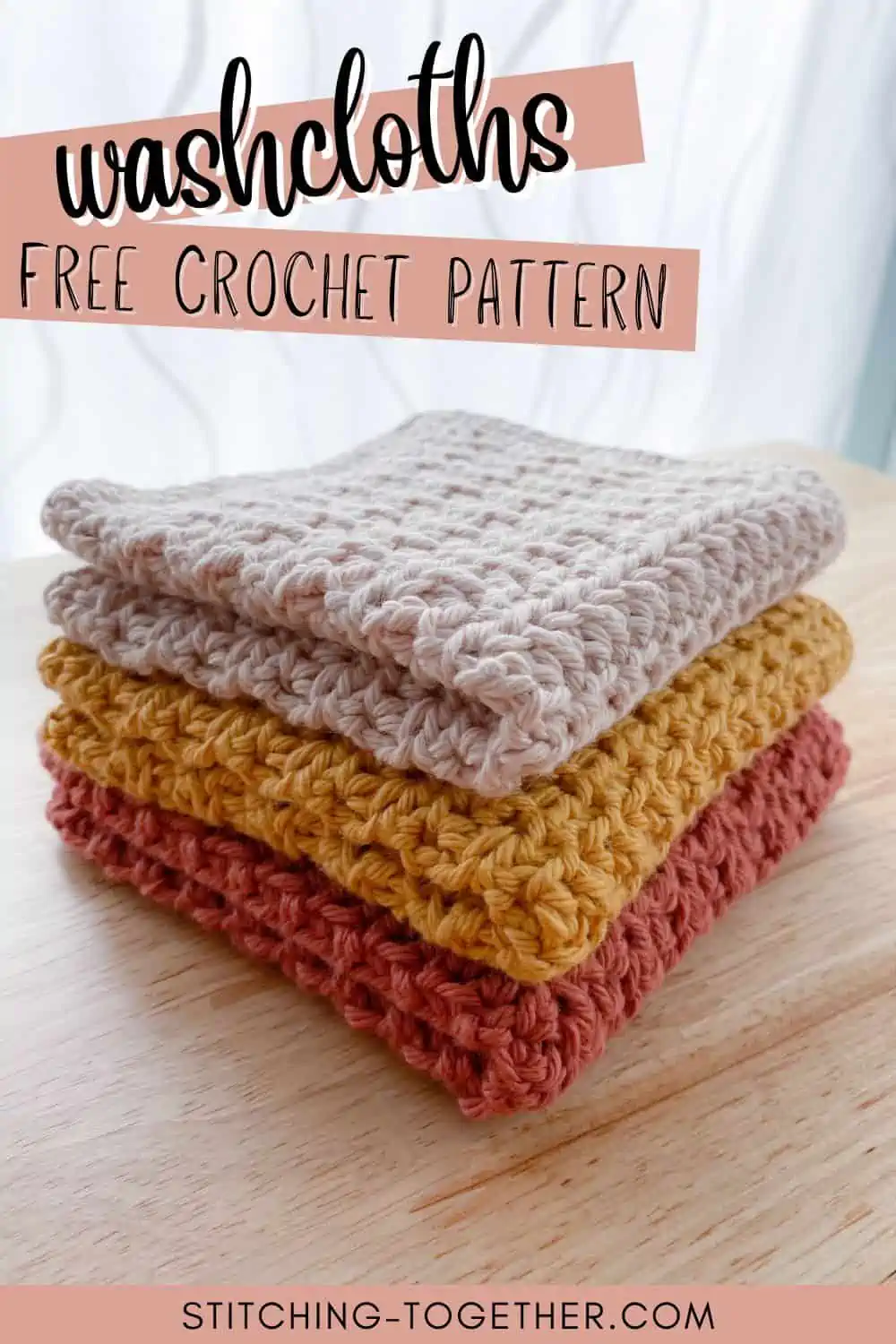 Crochet Face Cloth Free Pattern
Skill Level: Easy
Materials:
US size H/8, 5.0 mm crochet hook
I Love This Cotton Yarn (#4 Medium Weight cotton yarn 180yds/165m, 3.5 oz/100g) Samples used approximately 87 yds (1.7 oz) each in Antique Cream, Gold, and Bruschetta
Large Eye Yarn Needle
Abbreviations:
ch(s): chain(s)
hdc(s): half double crochet(s)
FLO: front loop only
BLO: back loop only
sc(s): single crochet(s)
sl st: slip stitch
st: stitch
Gauge: 4" by 4" = 16 hdc by 12 rows (taken in stitch pattern)
Finished Size: approx 9.25" wide by 9.25" long
Notes:
The gorgeous texture on these face cloths is created by alternating half double crochets in the front loop and in the back loop. Each row starts with a half double crochet in the front loop only then alternates BLO and FLO.
When working Row 1, alternate working into the top loop and bottom loop of the chain. This allows the stitches to sit closer together like the rest of the project. You can also try going down a hook size for the chain and row 1 if you don't want to alternate the stitches as you work into the chain.
Face Cloth Crochet Pattern Instructions:
Ch 37
Row 1: hdc in the 2nd ch from the hook and in each ch across (see notes), turn (36)
Row 2: ch 1, *FLO hdc, BLO hdc, repeat from * across
Rows 3-23: repeat Row 2. Fasten off and weave in ends.
Border:
Round 1: ch 1, sc evenly around working 1 sc into each st at the top and bottom, 3 sc for every 2 rows along the sides, and (sc, ch 1, sc) in each corner, join with a sl st to the first sc.
Round 2: ch 1, sc in each st around and (sc, ch 1, sc) in each corner, join with a sl st to the first sc. Fasten off and weave in ends.
Don't miss these other great free crochet patterns: