Harbor Crochet Hand Towel Pattern
Disclosure: This post may contain affiliate links. As an Amazon Associate, I earn from qualifying purchases. Please visit my Privacy Policy for disclosures and more information.
If you are looking for something new to add to update your bathroom or kitchen or to give as a gift, then you'll want to consider crocheting hand towels. In this post, you'll learn how to make the Harbor Crochet Hand Towels. Keep reading for all the details or you can purchase the ad-free PDF of this pattern.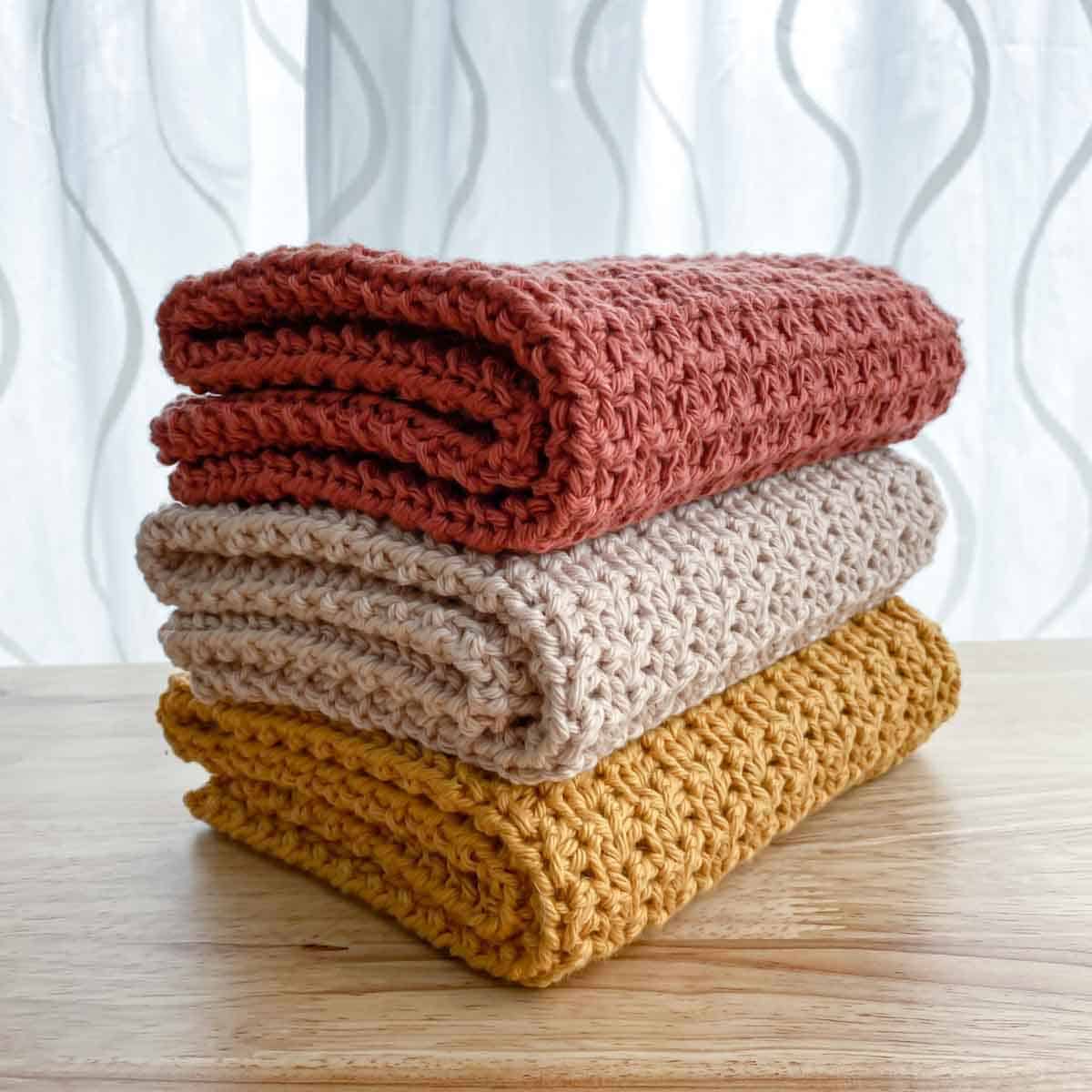 Crochet Hand Towels
Crochet hand towels can be used to add a lovely handmade touch to your home. They also make wonderful housewarming gifts paired with washcloths and a bottle of your favorite handsoap.
You don't want to miss this helpful article from Porch.com about getting started decorating your house with crochet, knitting, and quilting. I love learning tips to add more handmade touches to my home.
Having a crochet hand towel in the bathroom is perfect for drying your hands. In the kitchen, they make great dish towels that you can hang over the handle of your oven to dry your hands. They are also very useful for drying dishes or silverware!
It's always a good idea to have a few spare crochet hand towels for visitors. You can never have too many, plus they are super simple to crochet since they are just rectangles and can be made with a variety of stitches. Keep reading to learn about the stitches used in the Harbor Hand Towels.
Related: Country Crochet Dish Towel Pattern
This pattern is rated at an easy skill level but if you are an adventurous beginner who is comfortable with half double crochet and working in the front and back loops of stitches, you can likely tackle this project.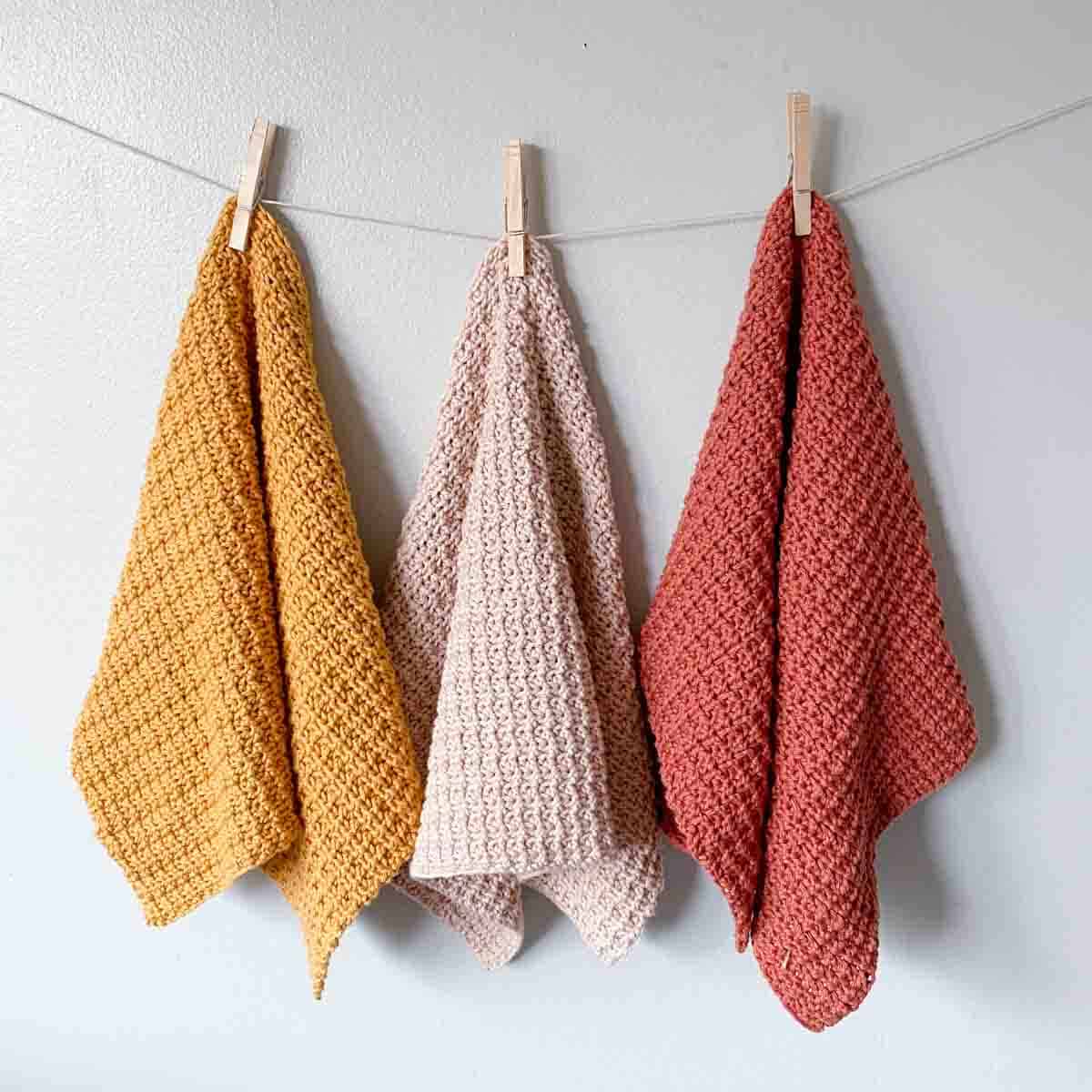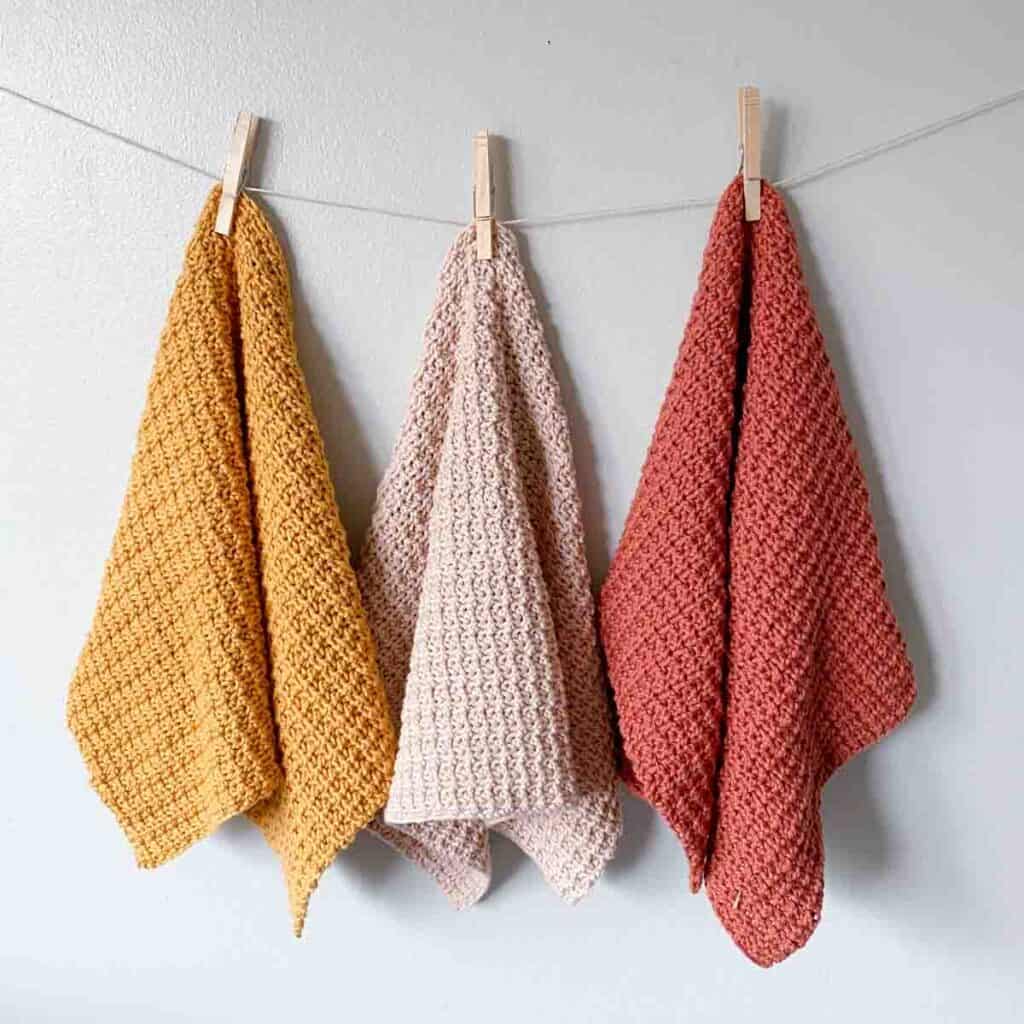 Stitches used in the Harbor Crochet Hand Towels Pattern Free
Do you ever just want a pattern that you can memorize just after two rows? This is one of those patterns. Once you've made it past row 2, you know what to do for the rest of the towel!
Stitch variations that are easy yet add interest and texture to the fabric are my favorite type of variations.
The stitches used in this easy crochet hand towel are just half double crochets, can you believe it? The only difference is where the stitch is worked. By alternating working in the front loops and back loops of the row below, you get this lovely texture in the fabric.
The stitches sit a bit more nestled with every other stitch slightly protruding out of the fabric. This gives the towel more surface area than a flat stitch which should absorb water and dry your hands even faster.
Because you are alternating the loops you are working into, both sides of the fabric look the same and there really isn't a right side or a wrong side.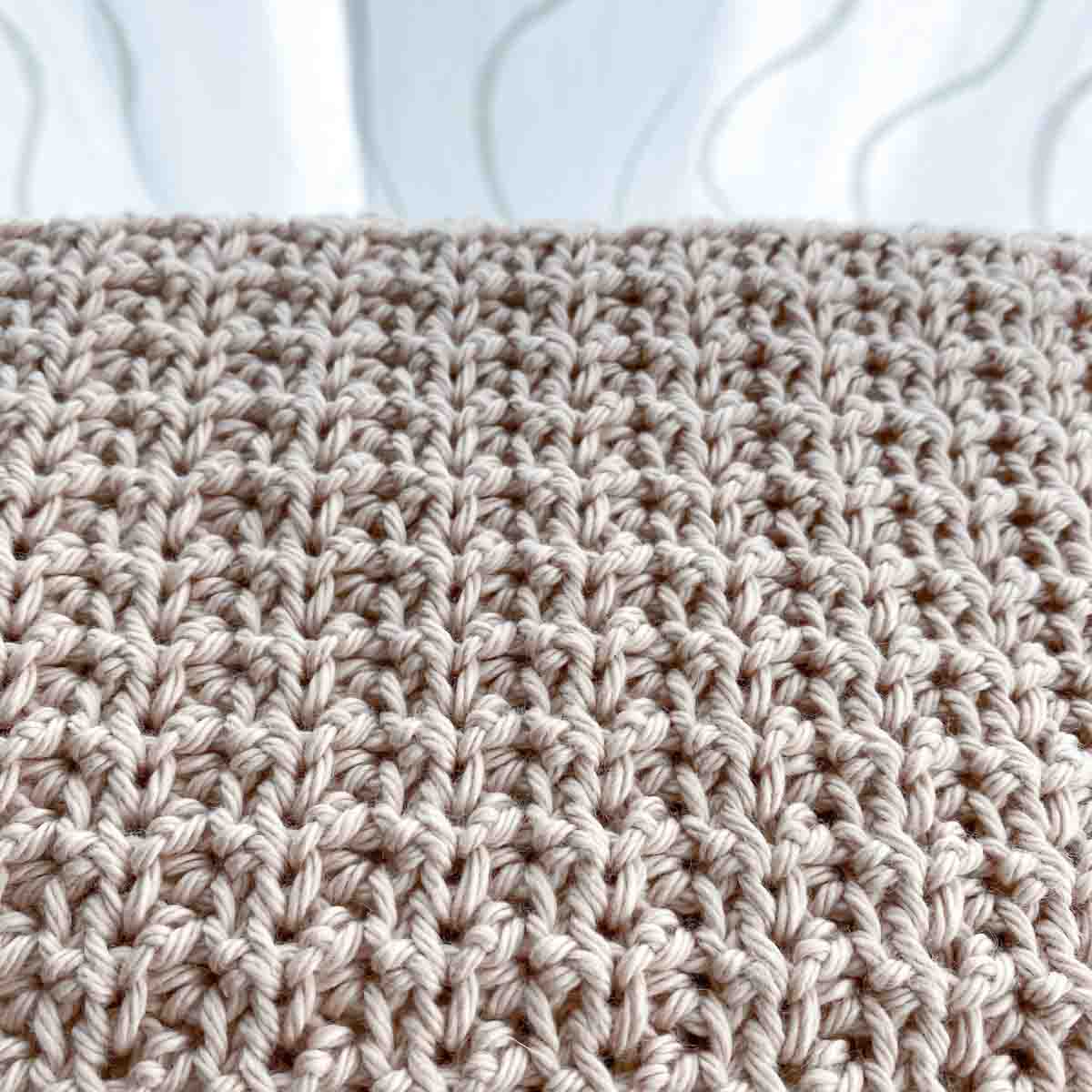 Yarn used in the Harbor Crochet Hand Towel Pattern
For this easy crochet hand towel pattern, I used I Love This Cotton Yarn from Hobby Lobby which is a 100% cotton yarn that is a medium, category 4, worsted weight yarn.
Cotton yarns have good absorbency and are great for using in the kitchen or bathroom. The I Love This Cotton yarn is super soft and creates a nicely draping fabric that looks lovely hanging.
If you can't get I Love This Cotton yarn, Lily Sugar 'n Cream would also work really well for these towels. It is slightly thicker than the I Love This Cotton so your towel may end up bigger, but I don't think that's a problem!
Another worsted weight yarn that is cotton or a cotton blend can also be used as a substitute.
While I made all the sample towels in solid colors, they would look so cute with stripes. Since the crochet hand towels are worked lengthwise, it would be easy to add some vertical stripes by alternating the colors of your rows.
You can also add a modern crochet towel topper to these towels so they can hang more securely and you don't have to worry about them falling off the oven bar. What's nice about adding the towel topper is you can use the same yarn and use a whip stitch or single crochets to attach it to the corner of the towel.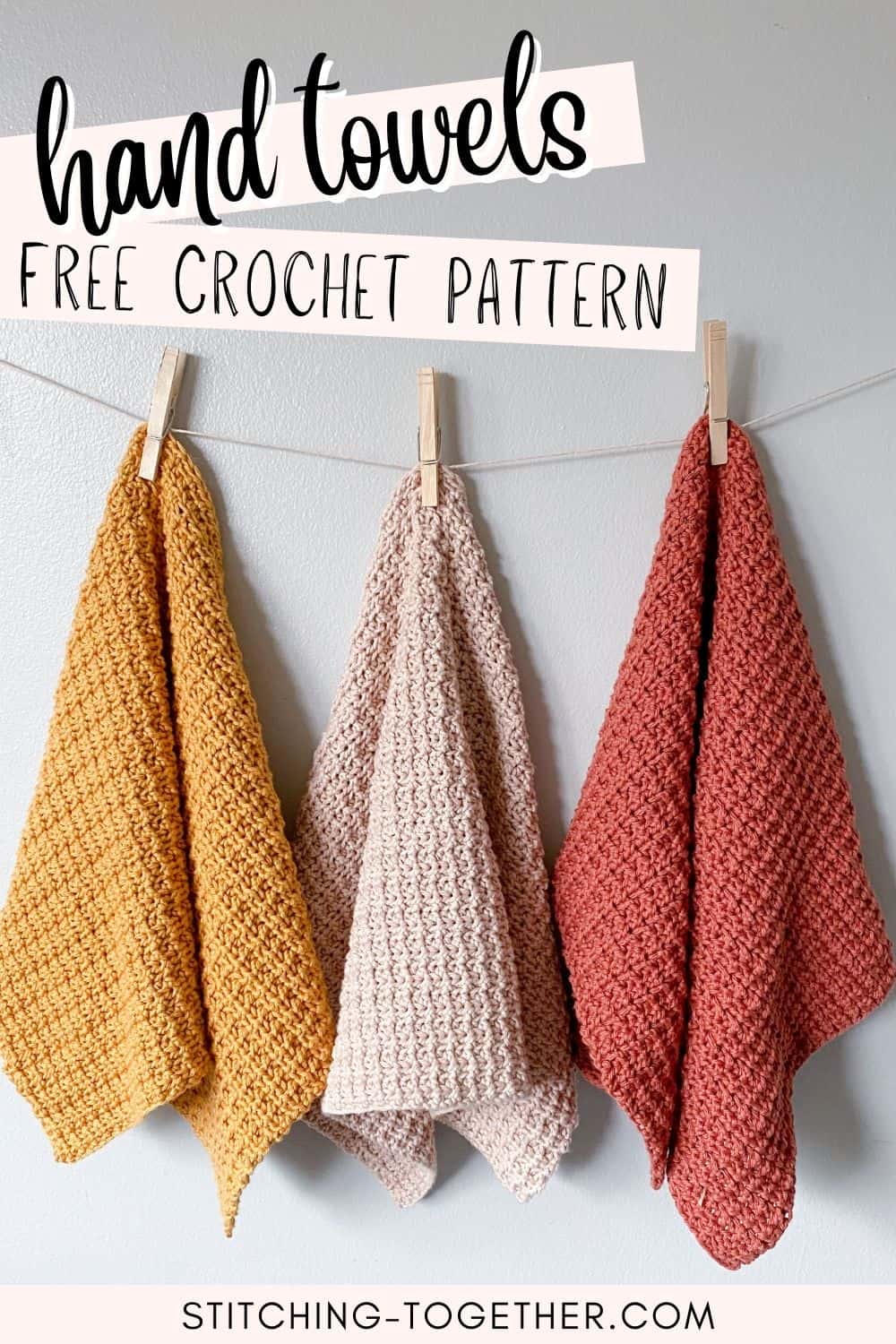 Free Crochet Hand Towel Pattern
Skill Level: Easy
Materials:
US size H/8, 5 mm crochet hook
I Love This Cotton Yarn (#4 Medium worsted weight cotton yarn 180yds/165m, 3.5 oz/100g). Samples used approximately 334 yds (6.5 oz) each in Antique Cream, Gold, and Bruschetta
Large Eye Yarn Needle
.
Everything you need for this free crochet pattern can be ordered right online
Save time and shop from home!
.
Abbreviations:
ch(s): chain(s)
hdc(s): half double crochet(s)
FLO: front loop only
BLO: back loop only
Gauge: 4″ by 4″ = 16 hdc by 12 rows (taken in stitch pattern)
Finished Size: 14.5″ wide by 23″ long
Notes:
The gorgeous texture on these hand towels is created by alternating half double crochets in the front loop and in the back loop. Each row starts with a half double crochet in the front loop only then alternates BLO and FLO.
When working Row 1, alternate working into the top loop and bottom loop of the chain, which allows the stitches to sit closer together like the rest of the project. You can also try going down a hook size for the chain and row 1 if you don't want to alternate the stitches as you work into the chain.
The hand towels are worked lengthwise. To change the length of your towel, keep the starting chain an odd number.
Hand Towel Crochet Pattern Instructions:
Ch 101
Row 1: hdc in the 2nd ch from the hook and in each ch across (see notes), turn (100)
Row 2: ch 1, *FLO hdc, BLO hdc, repeat from * across to the end of the row
Rows 3-41: repeat Row 2. Fasten off and weave in ends.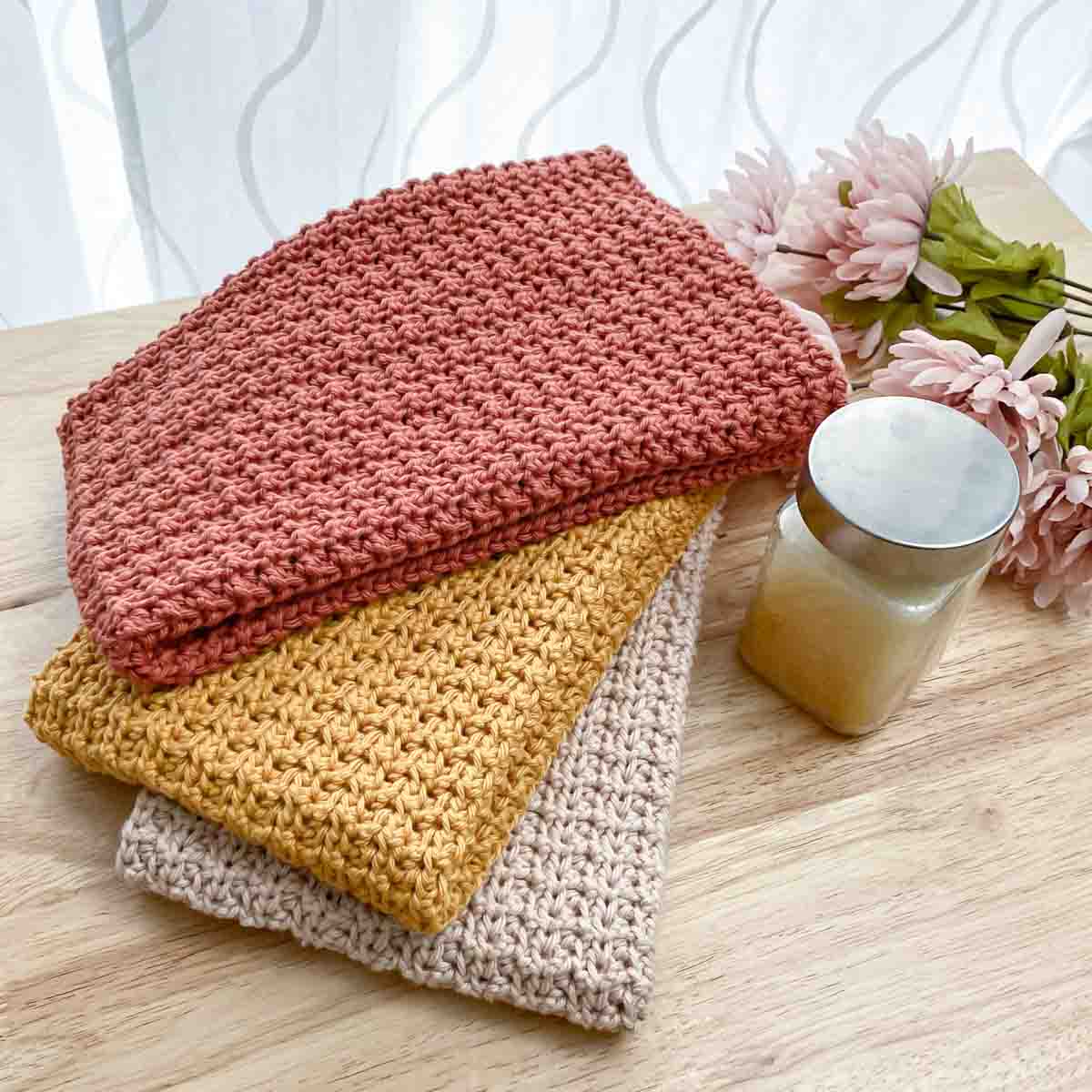 .
If you like easy to print patterns, this pattern can be purchased in the following places:
Thanks for your support!
.
Don't you think these easy crochet hand towels will make a great gift or a lovely addition to your home? Would you like to see a matching washcloth or dishcloth pattern?

Will you share pictures of your finished projects?