Heart Crochet Tea Towel Topper Pattern
Disclosure: This post may contain affiliate links. As an Amazon Associate, I earn from qualifying purchases. Please visit my Privacy Policy for disclosures and more information.
These easy heart tea towel crochet toppers are a fun way to add some cute Valentine's Day decorations to your kitchen. They'll also look adorable in any color to match your existing decor. Keep reading for the Heart Crochet Tea Towel Topper free pattern or you can purchase the ad-free PDF here.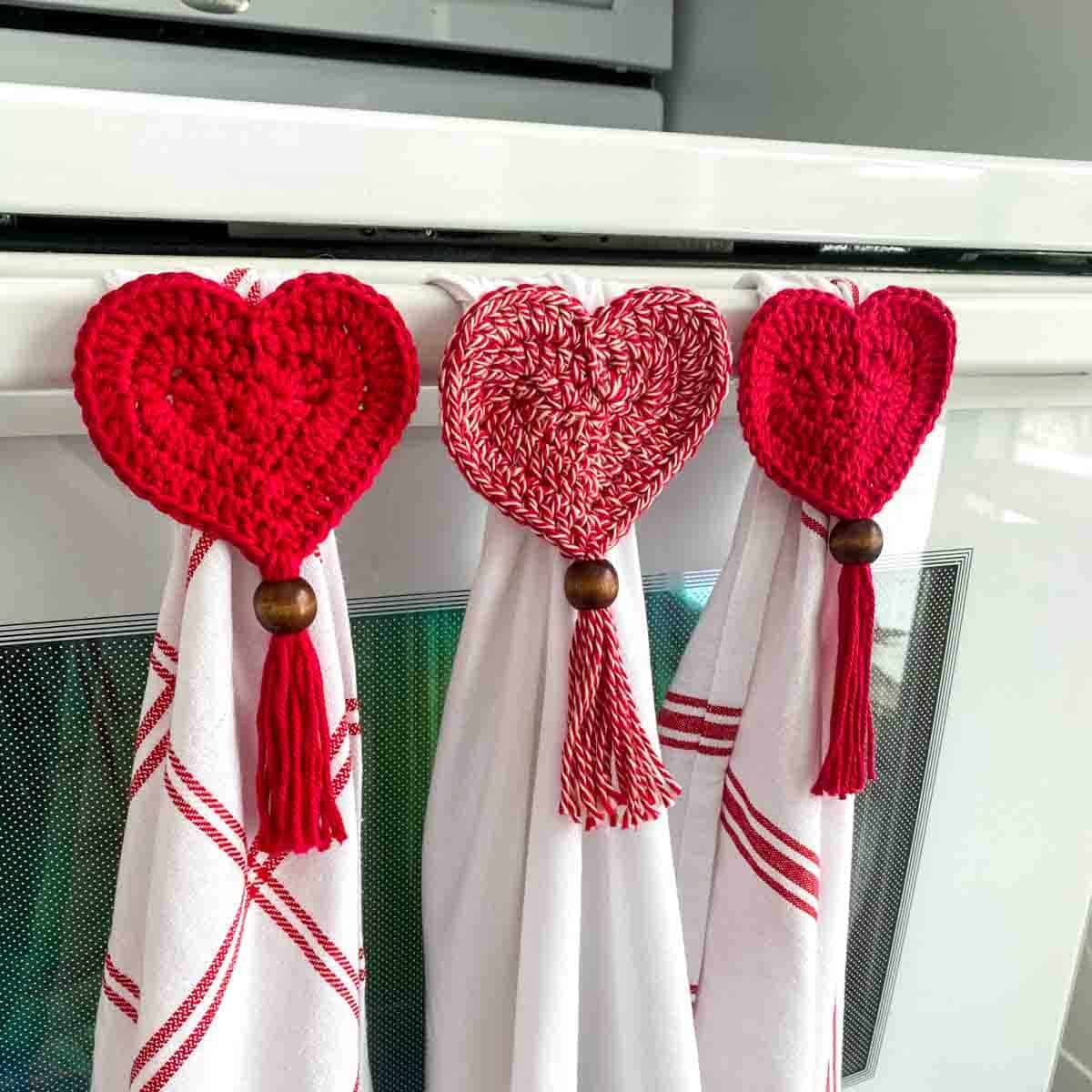 When you don't have time to crochet an entire set of tea towels, but need a quick housewarming or holiday gift, a set of these towels with the crochet hanger easily sewn right on works great.
Crochet Tea Towel Toppers
These towel toppers can be used on any towels that you would like to hang securely without having to worry about buttons or toggles. Since they are sewn right onto the towel, they won't get lost or misplaced and will always be ready to use.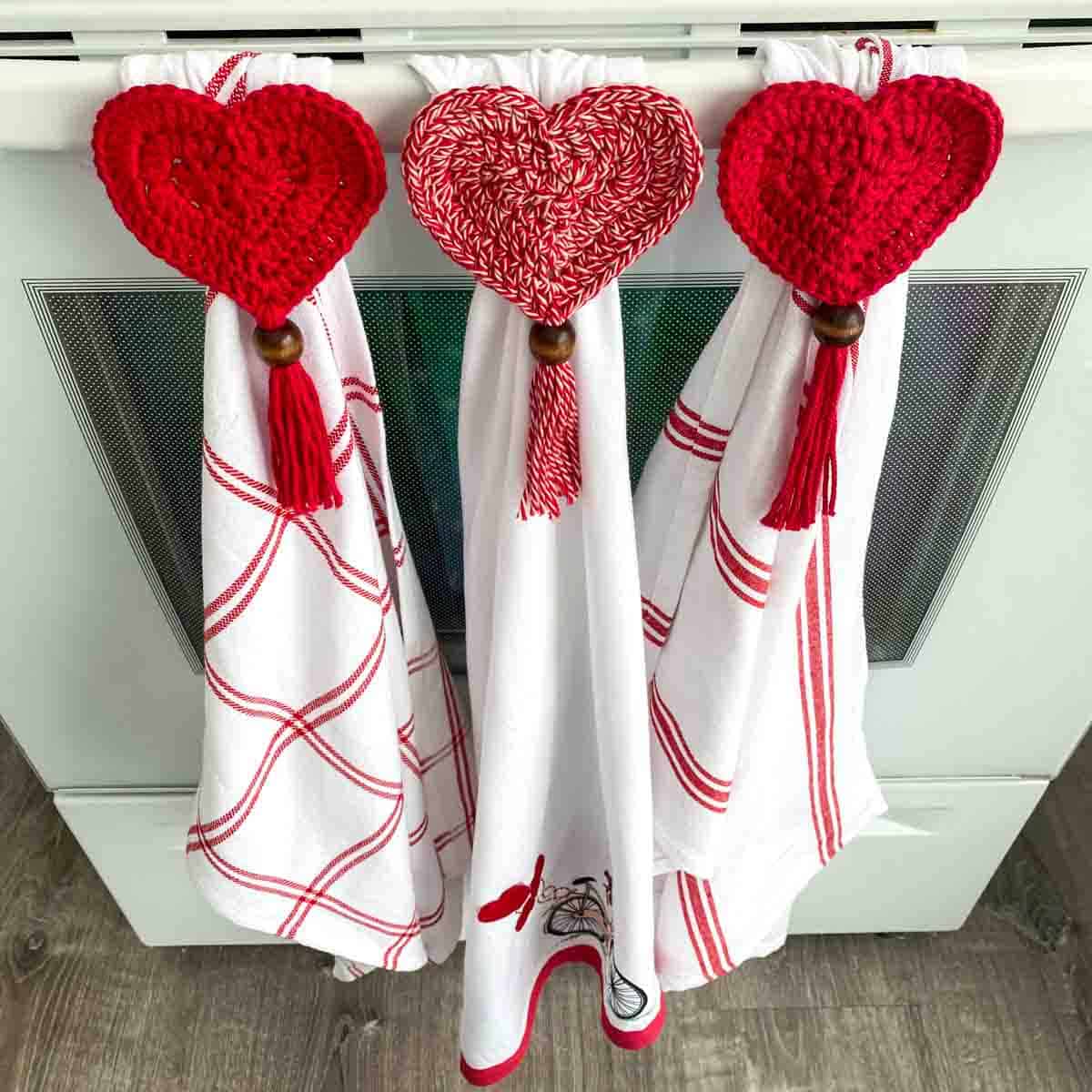 I especially love having towel toppers on towels my kids use to dry their hands. They manage to consistently pull towels off of the towel rack and then get frustrated when they can't hang them again. This way, the towels stay in place and I have happy children with dry hands.
It's so much fun to pick out themed towels to match holiday decor or just to match your own decor. I purchased these Valentine towels from Amazon and they are so cute. At the time of writing this, I haven't washed the towels yet to see if the colors bleed at all but I didn't see anything in the reviews that warned of bleeding.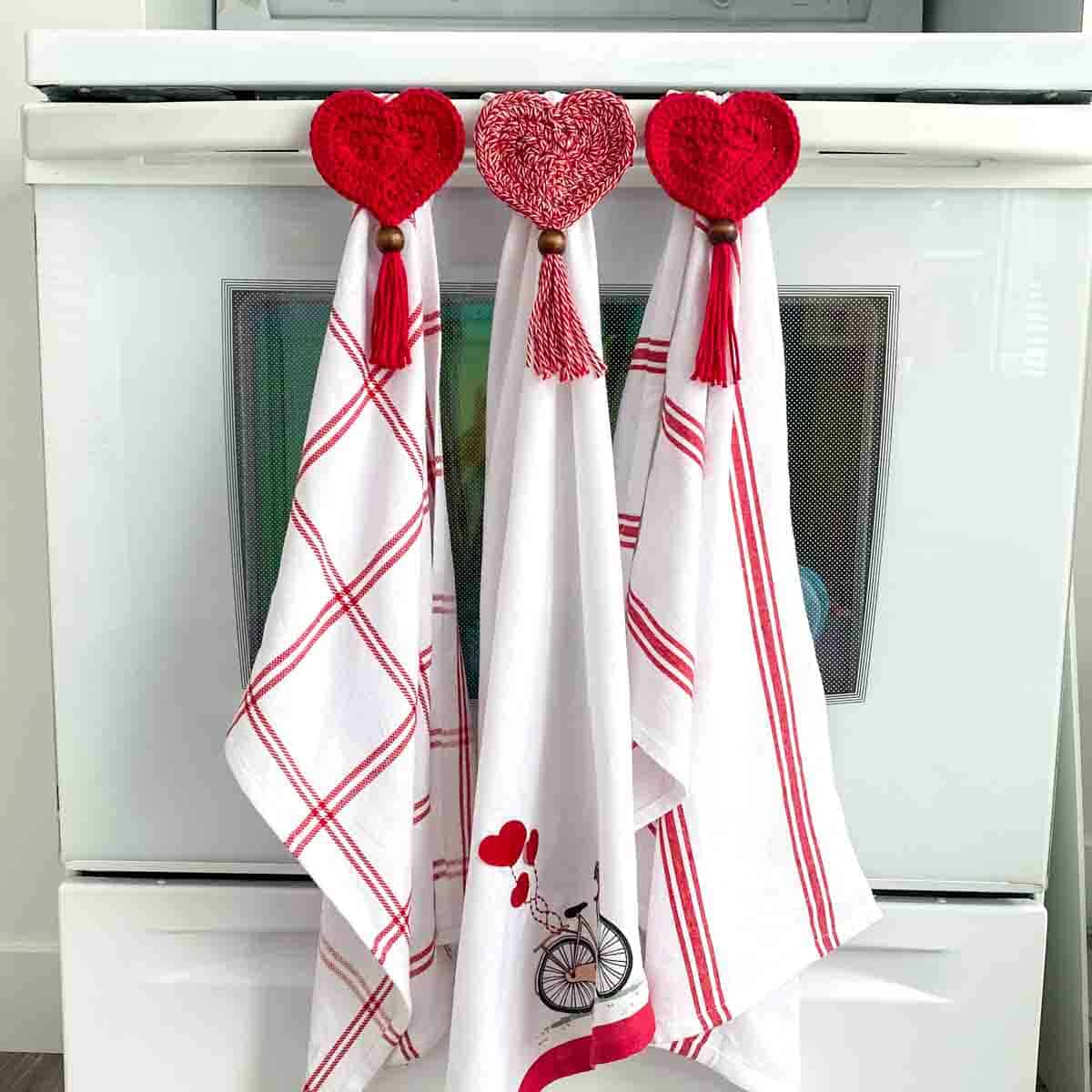 The towels I ordered measure 18″ by 28″ which is a great size kitchen towel but you may need something smaller for hanging, depending on where you are going to hang them. There are many other cute options for Valentine's towels on Amazon including these cute heart towels that only measure 16″ by 24″.
If you need more inspiration, you can see the Christmas-themed towels I used for the Christmas Towel Topper, and the kitchen towels that match my everyday decor with I used with the Modern Crochet Towel Topper.
Yarn Used for the Tea Towel Topper Pattern
The crochet hearts use scrap amounts of yarn and you can use a variety of different yarns. Since the heart is attached to the towel, you'll want to make sure that the yarn can go through the same wash and dry cycles as the towels.
I prefer to use cotton yarn for most of my kitchen projects, so I grabbed some leftover I Love This Cotton yarn from Hobby Lobby that I had in my stash. It worked great since it is a soft worsted weight yarn that is easy to work with.
If you aren't a great hand sewer, don't worry! Neither am I. Each heart requires about an inch of stitches on either side of the heart and as long as the stitches are secure, you can't really go wrong.
Before you sew your hearts on your towels, you may want to run the hearts through a wash cycle especially if you are using a brightly dyed yarn. (I'd wash the towels too, just separately.) It would be so sad to have the color bleed all over the towels. I Love This Cotton Yarn can be washed and tumble dried like the towels I used.
You may be looking at those tassels and wondering how they will wash. Fortunately, you don't HAVE to find out. The wooden beads secure the tassel but also allow them to be easily removed before washing. The heart toppers look super cute without the tassels too if you don't want the extra hassle.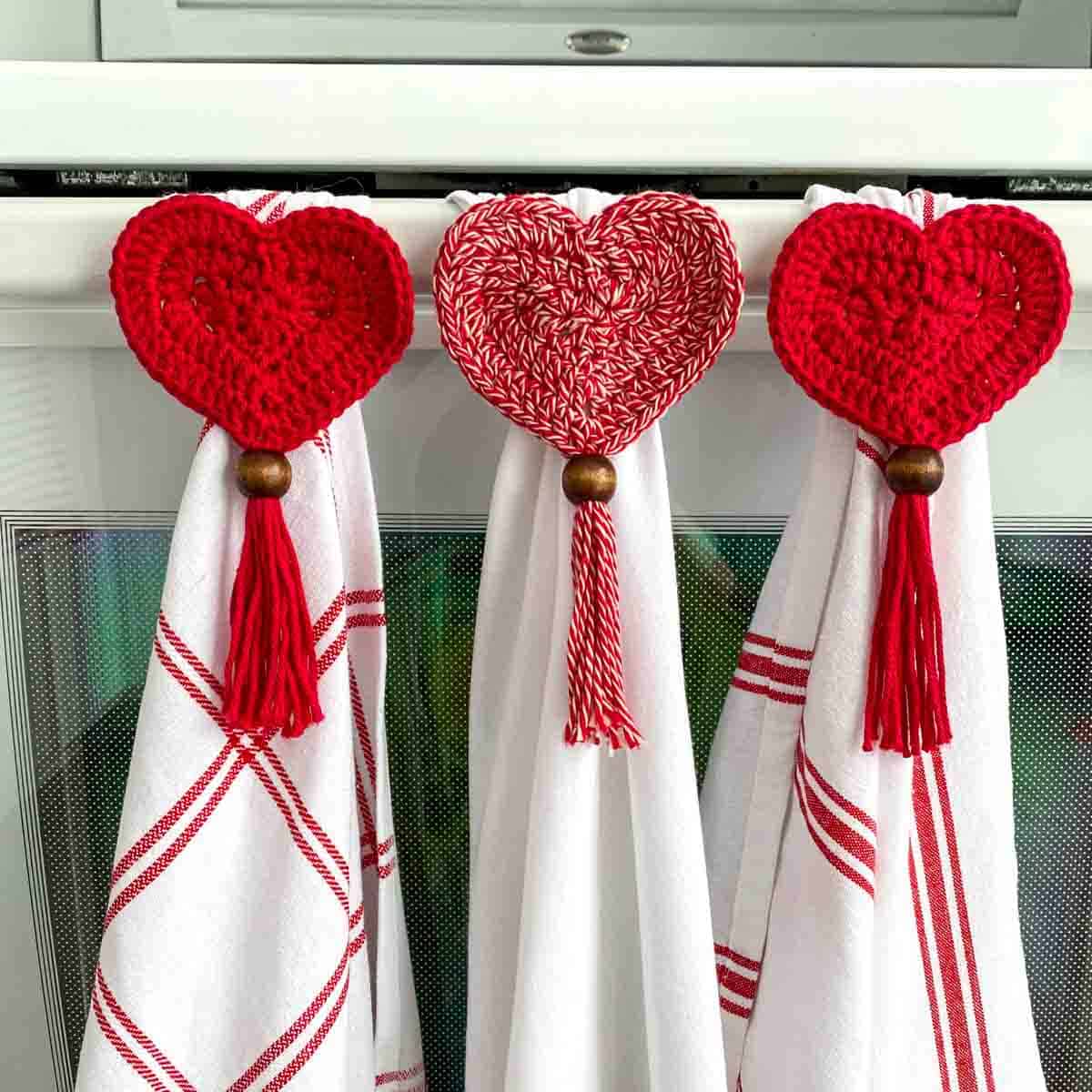 Large Crochet Hearts
Let's talk about those hearts for a minute. Aren't they cute? If you are just here for the hearts, I get it. They work so well for garlands or appliques and they are easy to make!
The first two rounds of the hearts are the same as the small crochet heart pattern which has step-by-step pictures to walk you through those first two rounds. (The Quick Crochet Hearts Pattern post has 3 different sizes of hearts so make sure you are looking for the small crochet heart pattern.)
The last two rounds are all double crochets and one chain 2, which is easy, but you do need to pay attention to how many double crochets you are working into each stitch. I tried to spell it out clearly like 2 dcs in next 2 sts (two double crochets go into each of the next two stitches), but it's always good to be aware you'll need to give a little extra attention.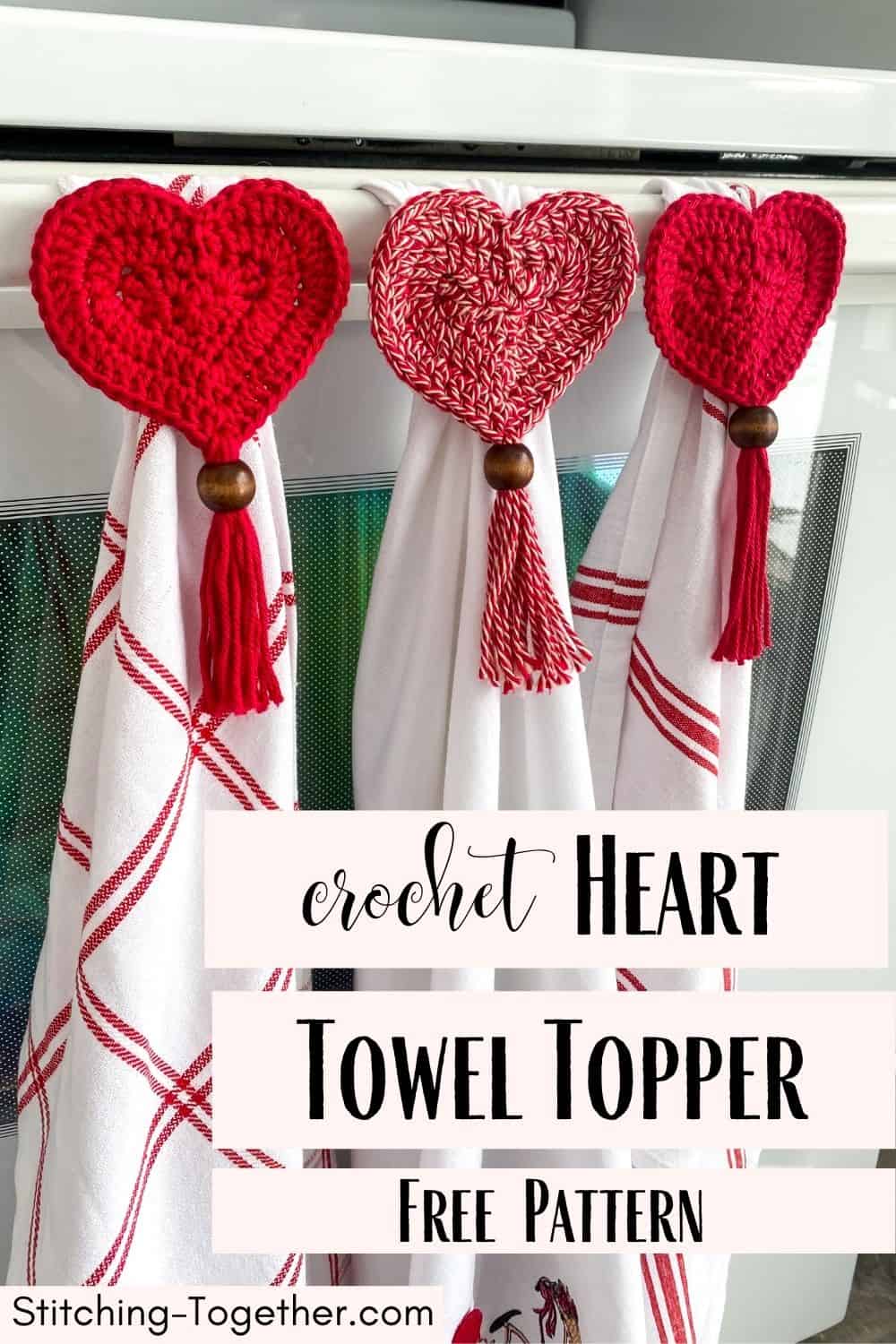 Heart Crochet Tea Towel Topper Free Pattern
Skill Level: Easy
Materials:                             
US size 7, 4.5 mm crochet hook
I Love This Cotton (#4 Medium Weight yarn 180yds/165m, 3.5 oz/100g) – Samples used approximately 0.25 oz in Red or Monkey Red
Large eye yarn needle
Tea towels
Hand needle and sewing thread
0.75" wooden beads with 9 mm opening (optional)
Abbreviations:
ch(s): chain(s)
hdc(s): half double crochet
sl st: slip stitch
dc(s): double crochet(s)
tr(s): treble crochet(s)
st(s): stitch(es)
sc(s): single crochet(s)

Gauge: Gauge is not critical
Finished Size: approximately 4" wide and 3" tall
Notes:
You will not chain to start rows 2-4.
It is a good idea to send the hearts and towels through a wash and dry cycle (separately) before attaching them together.
These heart towel toppers work by being attached on only two sides to one corner of a towel. The top and bottom of the towel topper are left open so you can pass the rest of the towel through the topper around a stove handle or hanging bar.
Heart Crochet Tea Towel Topper Pattern Instructions:
Start with a magic ring
Round 1: ch 1, hdc 8 in ring, tighten to close, join with a sl st to first hdc (8)
Round 2: skip 1st hdc, (dc, 3 tr, dc) in the next st, sc in next 2 sts, (sc, ch 2, sc) in the next st, sc in the next 2 sts, (dc, 3 tr, dc) in the next st, join with sl st to the first skipped hdc. (18)
Round 3: dc in 1st st, 2 dc in next st, 4 dc in next 2 sts, 2 dc in next st, dc in next 3 sts, (dc, ch 2, dc) in ch-2 space, dc in next 3 sts, 2 dc in next st, 4 dc in next 2 sts, 2 dc in next st, dc in last st, join with a sl st to 1st dc (36)
Round 4: skip 1st dc, dc in next 2 sts, 2 dc in the next 2 sts, 3 dc in next st, 2 dc in next 3 stitches, dc in next 8 sts, (dc, ch 2, dc) in ch-2 space, dc in next 8 sts, 2 dc in next 3 stitches, 3 dc in next st, 2 dc in the next 2 sts, dc in next 2 sts, sk last dc, join with a sl st (50)
Attaching the heart to the towel: Turn the towel with the wrong side facing out. If your towel has a graphic at the bottom, use a corner on the opposite end of the towel. Line up the heart so that the bottom point of the heart lines up with the corner of the towel. Using a sewing needle and thread attach the heart to the towel working between rounds 3 and 4. You only need to sew about an inch on each side.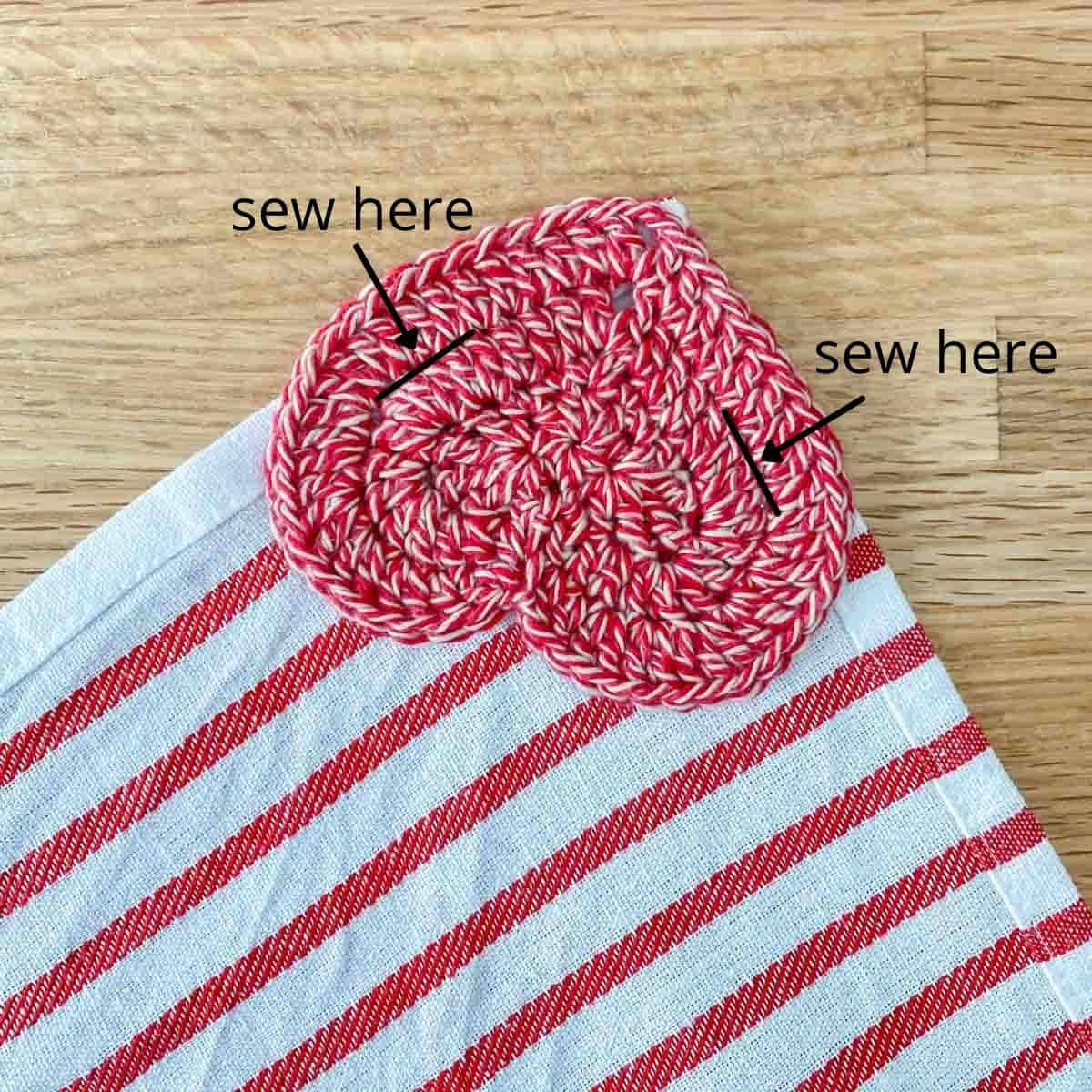 If your towels already come with a hanging loop, you can also just sew the heart on the loop.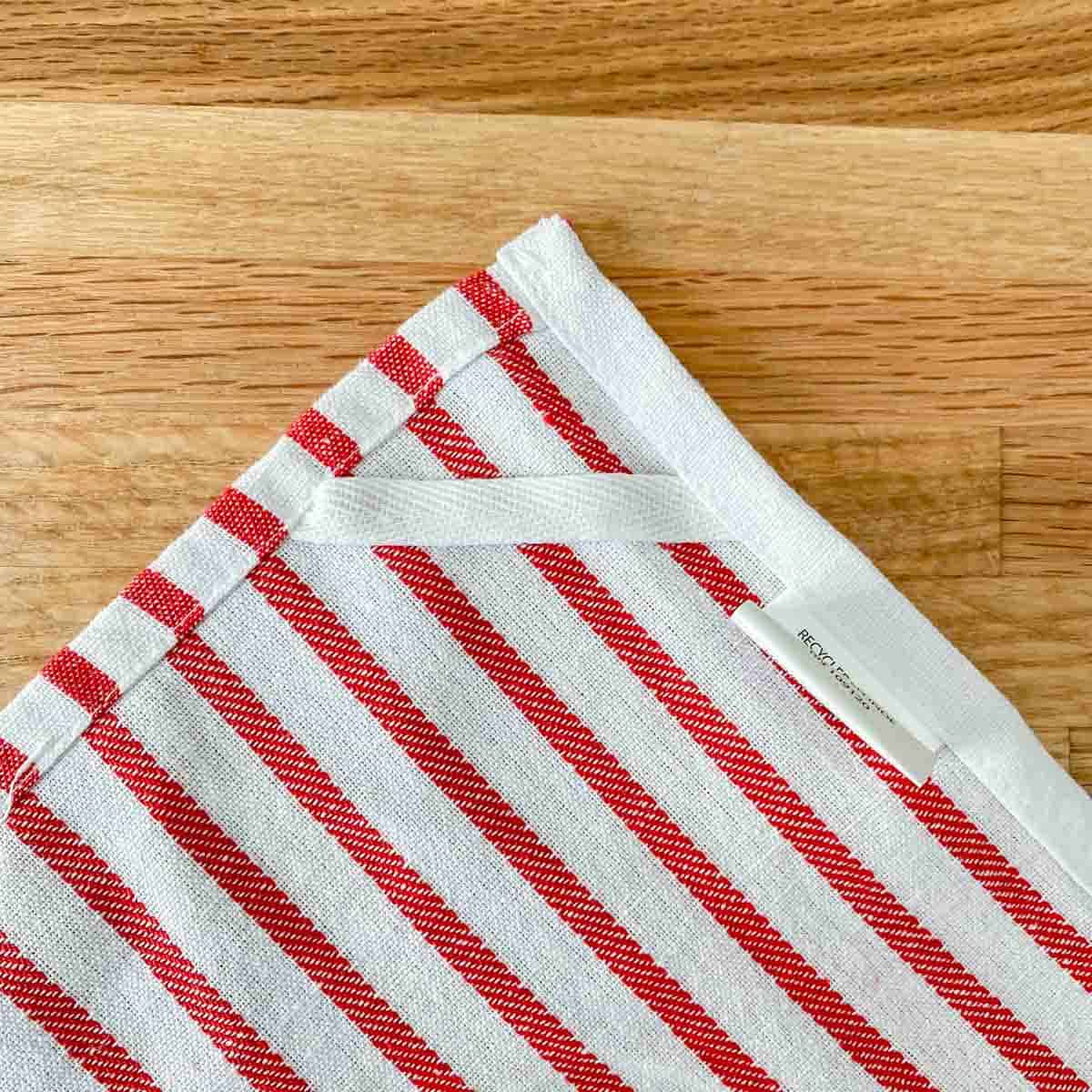 Adding a tassel:
Once you have attached the heart to your towel you can add the optional tassel and bead.

Cut 10 strands of yarns approximately 8" long. Pass the yarn through the chain 2 space at the bottom of the heart and fold in half. Put the bottom of the tassel through the bead and push the bead up. The bead should stay in place and will allow you to easily remove the tassel for washing.
Hanging Instructions:
Pull the towel through the oven handle with the heart facing you.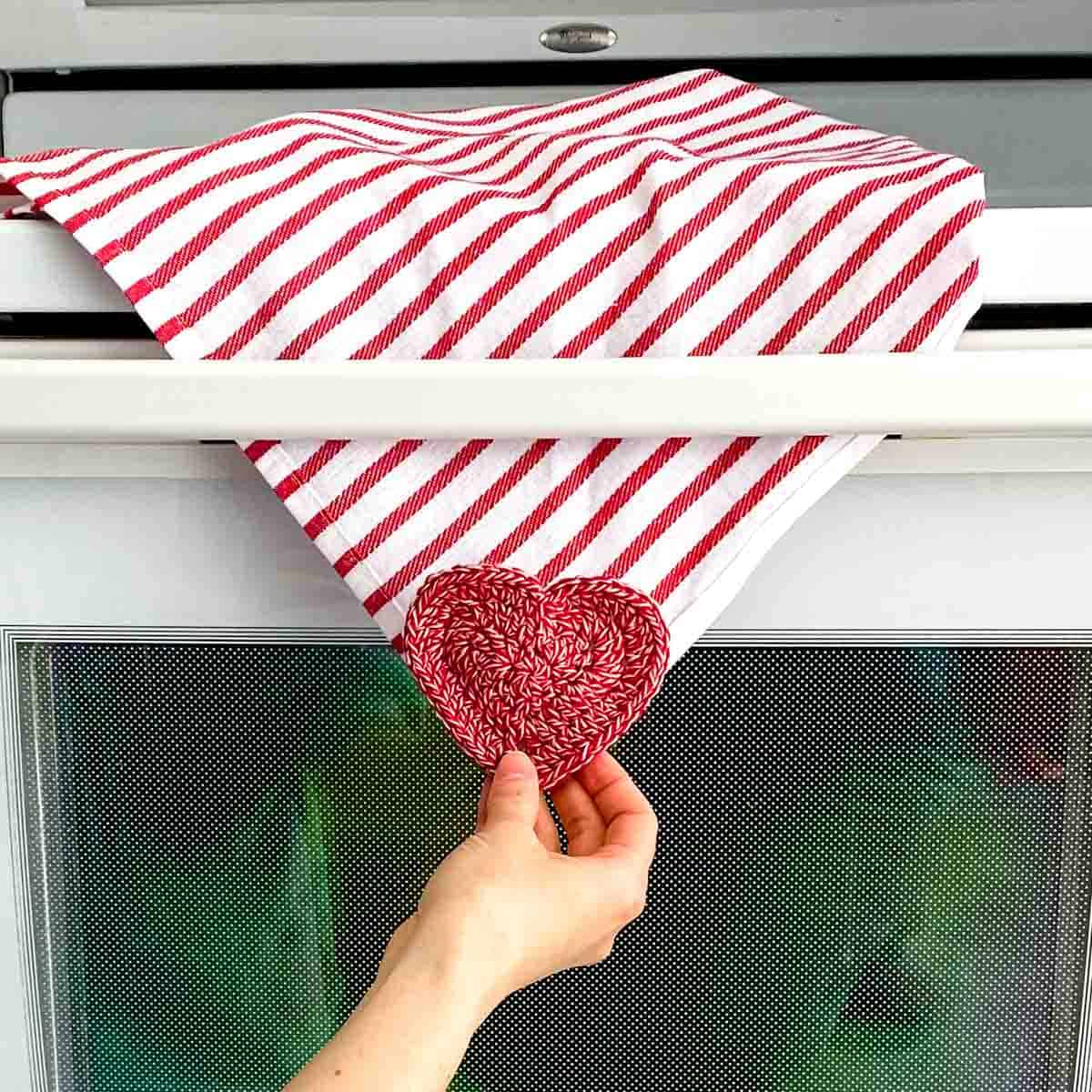 Take the opposite corner of the towel and pass it through the opening between the heart and the towel.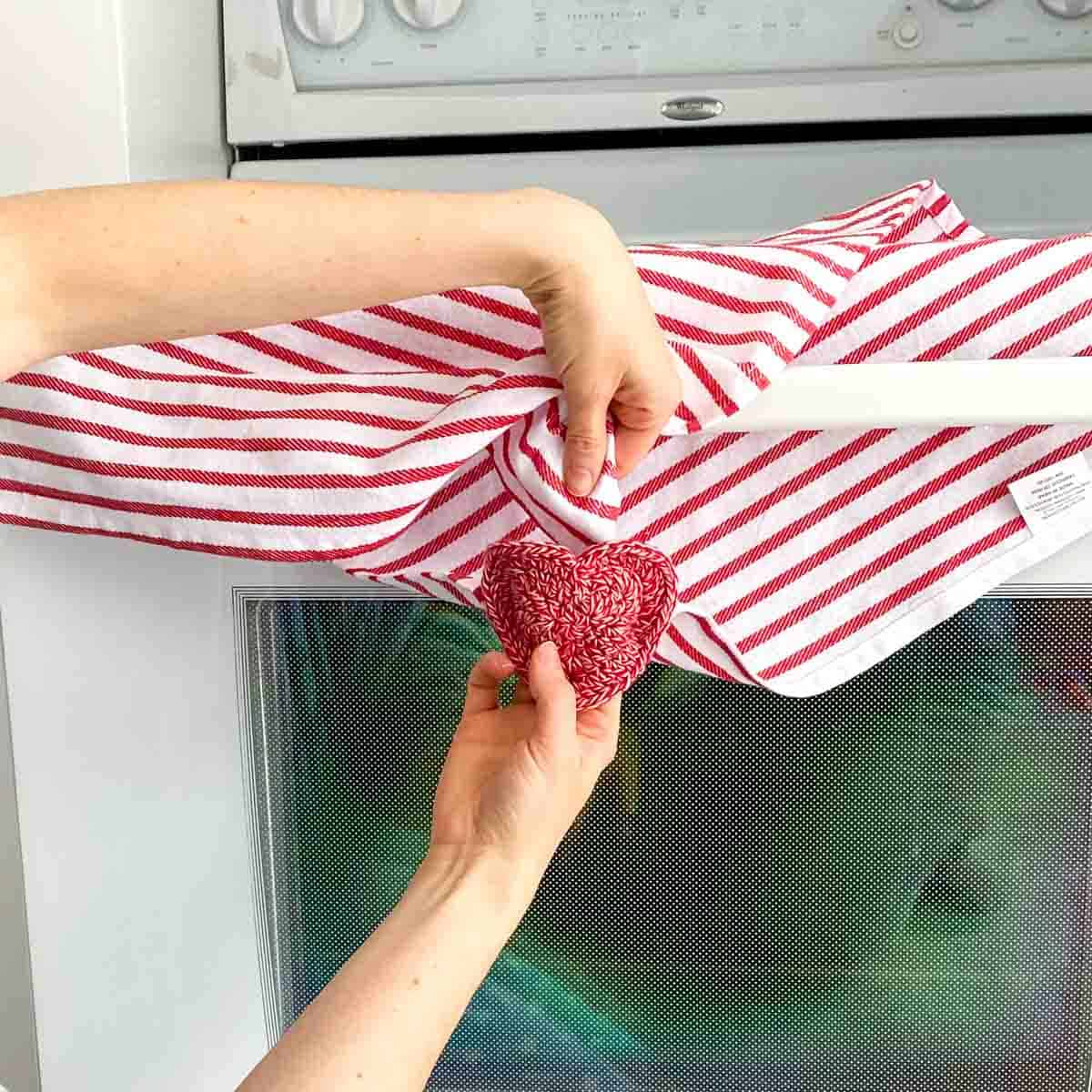 Gently pull the rest of the towel through the opening.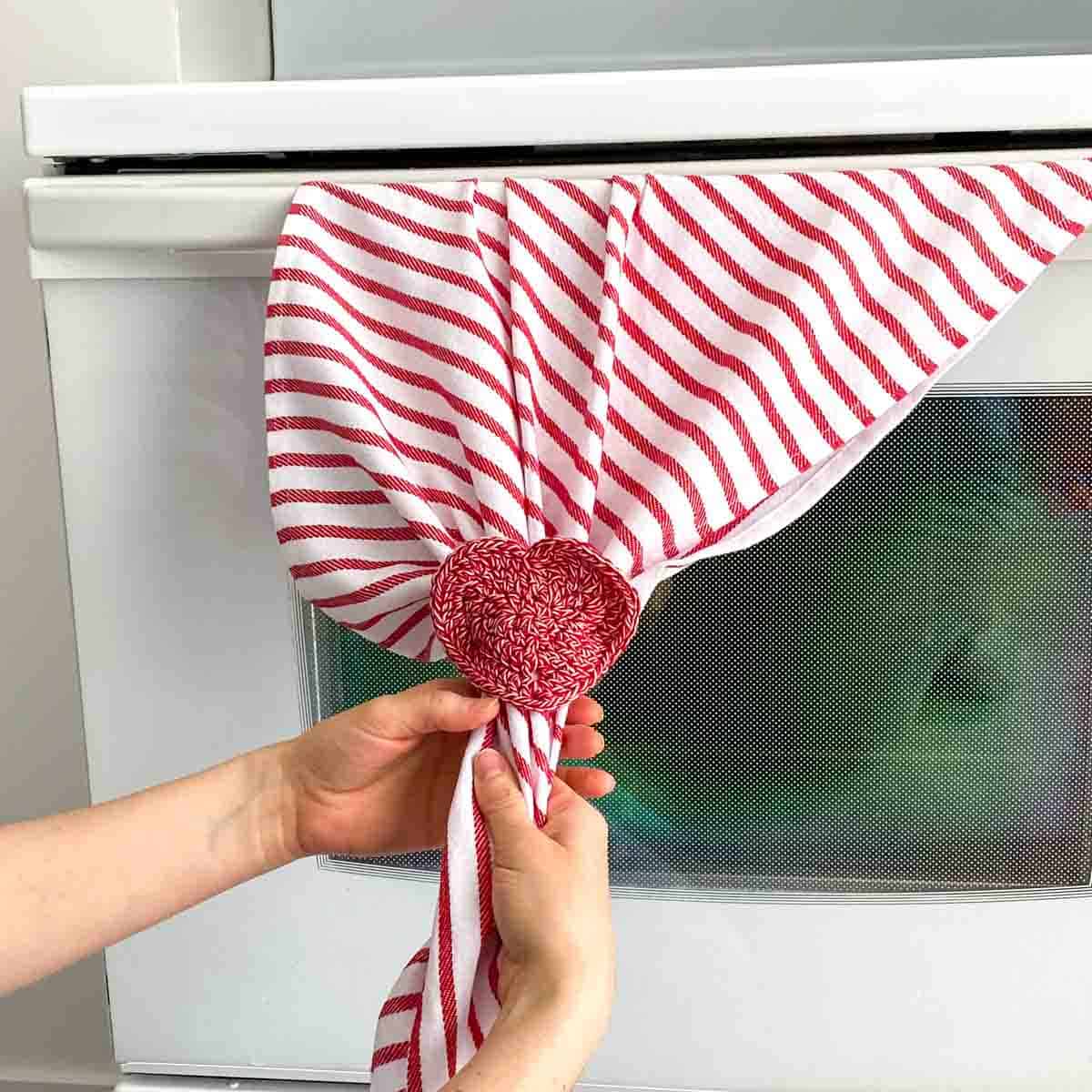 Admire your cute work.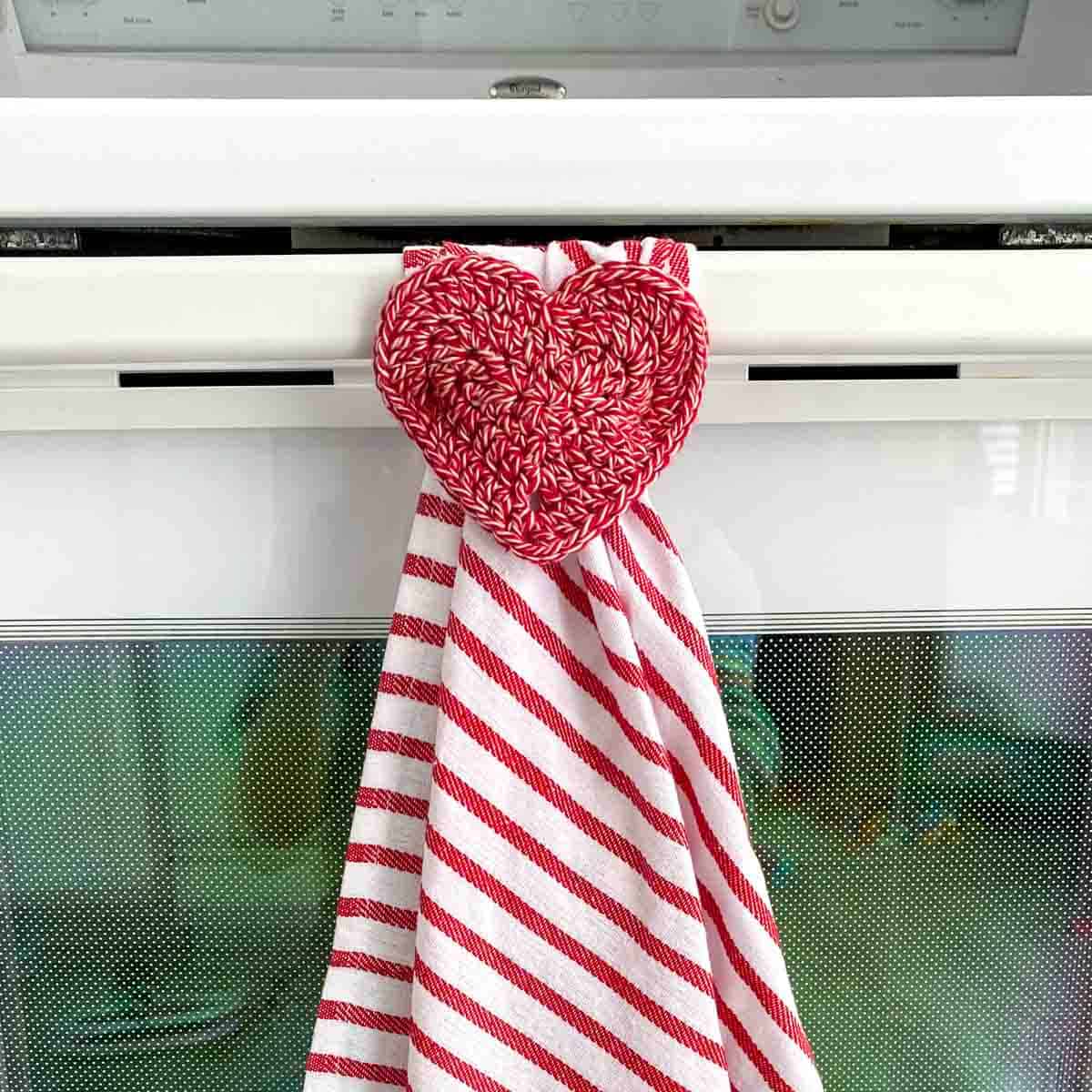 Looking for more great heart-themed crochet projects? You don't want to miss these: