Seashore Shell Stitch Scarf
Disclosure: This post may contain affiliate links. As an Amazon Associate, I earn from qualifying purchases. Please visit my Privacy Policy for disclosures and more information.
The Seashore Shell Stitch Scarf is the one you grab when you have a fancy night out that's just a bit chilly. It won't overheat you and it will keep the chill off your next all while keeping you looking absolutely fabulous.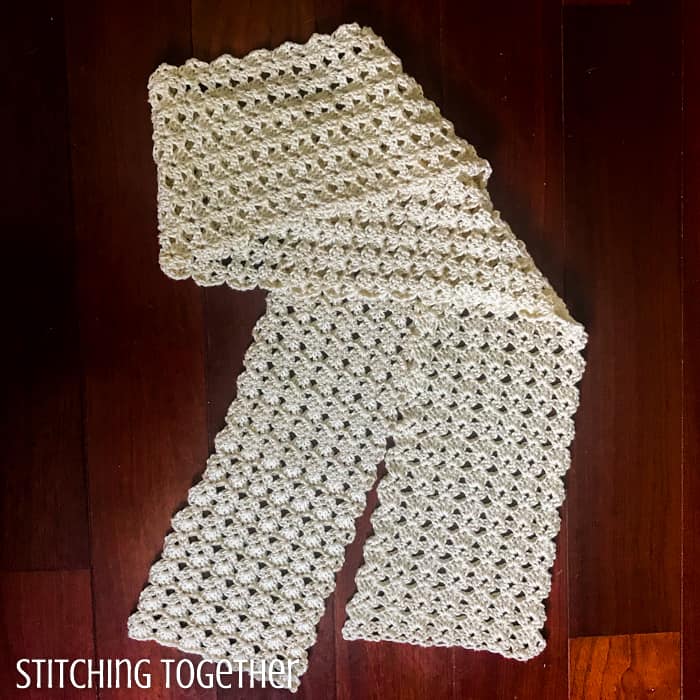 As you look through the pattern, I think that you'll be surprised with how simple this lacy shell stitch scarf is and you'll want to get started right away!
Can you double crochet? Chain? You sure can! The trickiest part, which really isn't too tricky at all, is putting the stitches in the right places. (If you are more of a visual person, I've included a graph in the printable version of the pattern.)
Related: Luxurious Infinity Scarf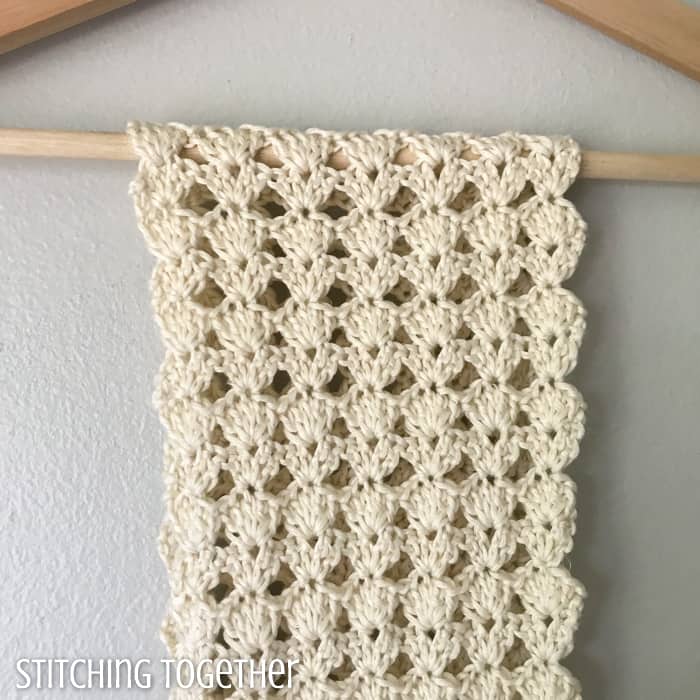 Those gorgeous stitches are made by alternating rows of 5 dc shells with open shells. Two simple stitch patterns make up this entire elegant crochet scarf.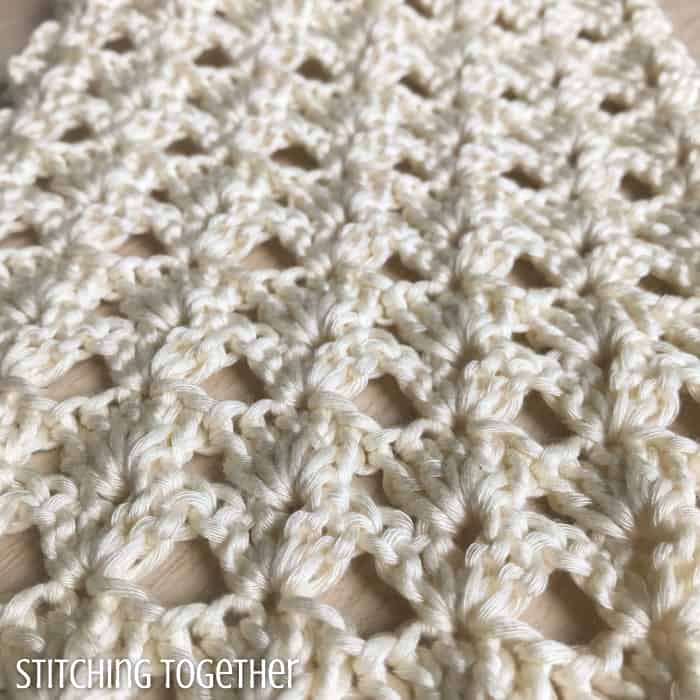 Hoooked Eucalyps Yarn
Recently when I was browsing a yarn shop I kept returning to this yarn. It was SO SOFT and shiny. Another lady kept looking at the same yarn and I was encouraging her to buy it by showing her different color combos she could use all while chanting to myself, "you don't need more yarn, you don't need more yarn."
I have no idea if she purchased any, but you know I caved and brought it to the register. No regrets.
Hoooked Eucalyps is a fine weight yarn made from eucalyptus.
And to answer the question some of you may be thinking, no, it doesn't smell like it.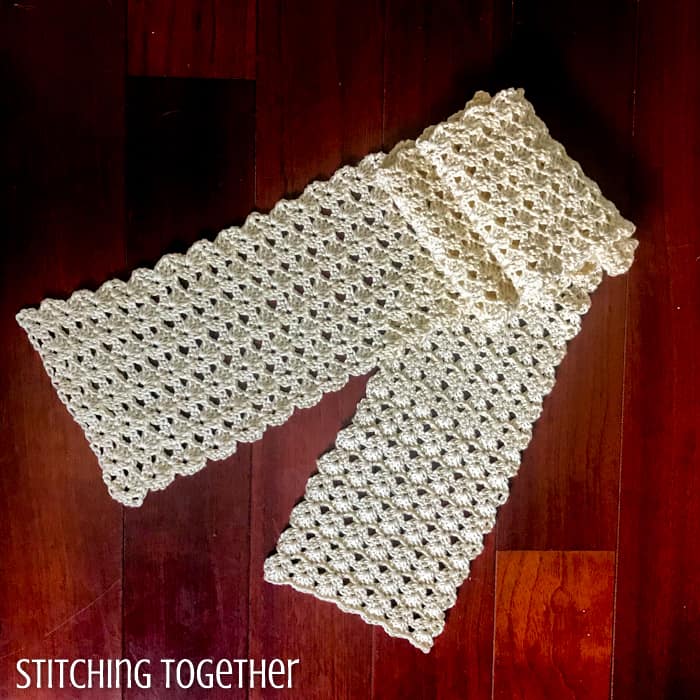 The yarn itself isn't wound tightly so it does split easily. I've found working with yarns like this (I've had the same experience with bamboo and bamboo blend yarns) just takes some getting used to and slowing down a bit.
This yarn is well worth the extra effort. The sheen and texture given to the stitches is amazing.
I will mention that it does cost more than yarns I normally use. I'd consider it a splurge to make a fancy scarf that can be worn when you need something a little smoother and sleeker.
I didn't block the finished scarf before taking pictures and I am not sure I will block it. The only reason I would is to make those turning chains, which form the shell-like look on the side of the scarf, stand out a bit more.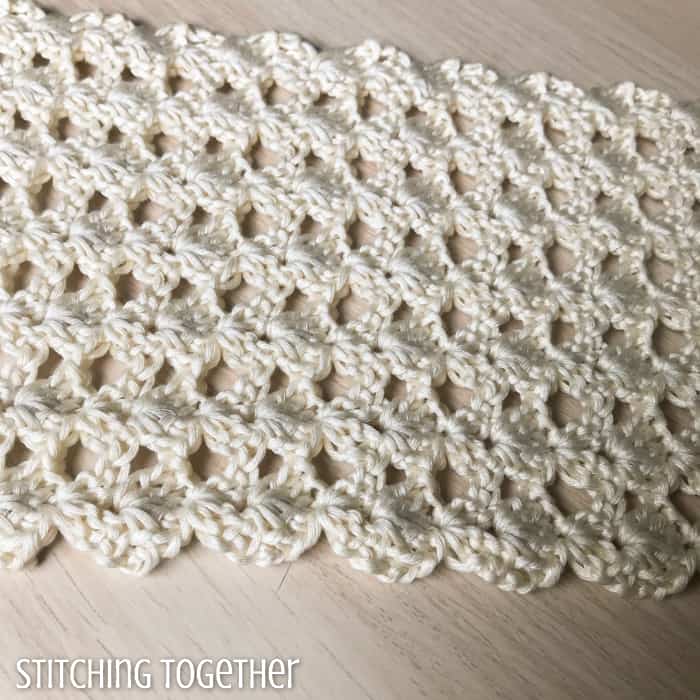 Any thoughts on whether or not I should block it? Will you block yours?
Save the Seashore Shell Stitch Crochet Scarf on Pinterest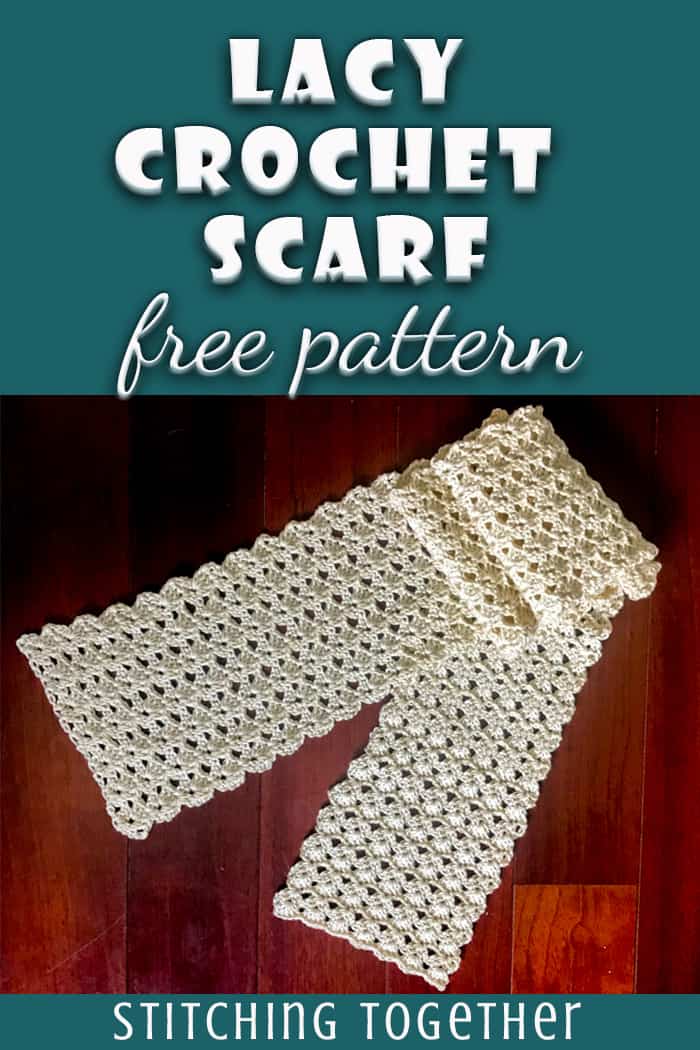 Seashore Shell Stitch Scarf
For those of you who prefer patterns formatted for printing you can get the PDF of this pattern in my shop which includes a stitch graph.
Skill Level: Easy
Materials:
Abbreviations:
ch(s): chain(s)
dc(s): double crochet(s)
sk: skip
sp: space
Gauge: 4" x 4 =5 shell repeats by 8 rows
Finished Size: 6" by 58.5"
Notes / Stitch instructions:
Top of 5 dc shell: the 3rd dc of each 5 dc shell. You'll crochet into the dc at the top of the shell just like you would any dc.
Chains at the beginning of rows are not counted as double crochets.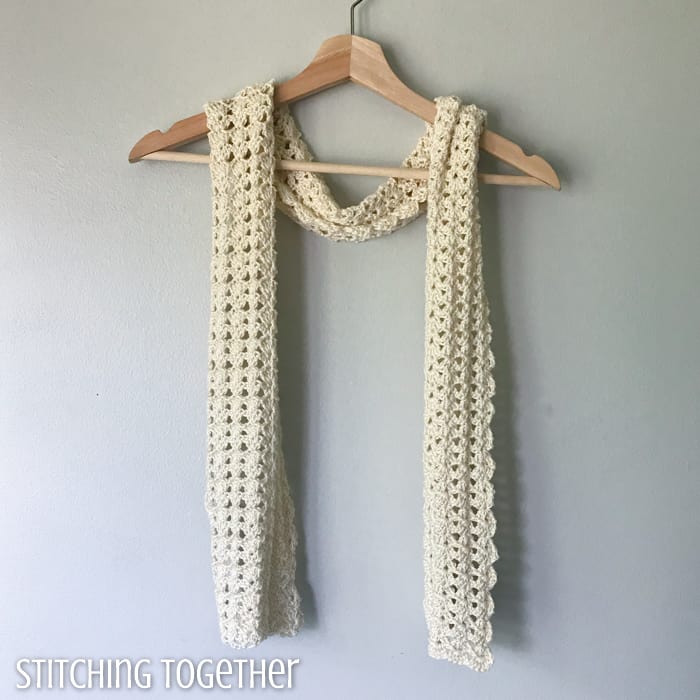 Pattern Instructions:
ch 28 or any multiple of 4
R1: dc in 4th ch from hook, (2 dc, ch 1, 2 dc) in same ch, *sk 3 ch, (2 dc, ch 1, 2 dc) in next ch, repeat from * to the end of the row, turn.
R2: ch 3, 5 dc in each ch-1 sp, turn.
R3: ch 3, (2 dc, ch 1, 2 dc) in the top of each dc shell (see notes), turn.
Repeat rows 2 and 3 for a total of 109 rows. Fasten off and weave in ends.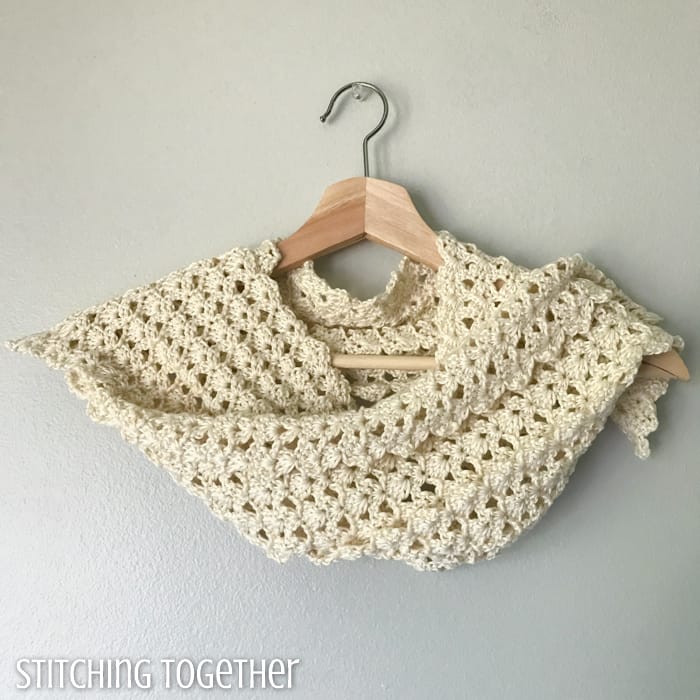 Will you share pictures of your finished projects? You can do that several ways:
Tag Stitching Together on Instagram with @stitching_together and use the #stitchingtog
Upload your picture in the Tried It section of this pin
Share your work in the Stitching Together Community.
(Seriously, why why why would I name this something I can't even say consistently? Because it made me giggle. Over and over again.
If I ever start making videos of my patterns I am going to hate myself for this.)
Take a look at some other gorgeous lacy patterns: