Stonehaven Chunky Crochet Scarf Pattern Free
Disclosure: This post may contain affiliate links. As an Amazon Associate, I earn from qualifying purchases. Please visit my Privacy Policy for disclosures and more information.
Bulky yarn + easy stitches – what's better for a warm winter scarf? The Stonehaven Crochet Chunky Scarf Free Pattern works great for whipping up a quick holiday gift or your next favorite scarf.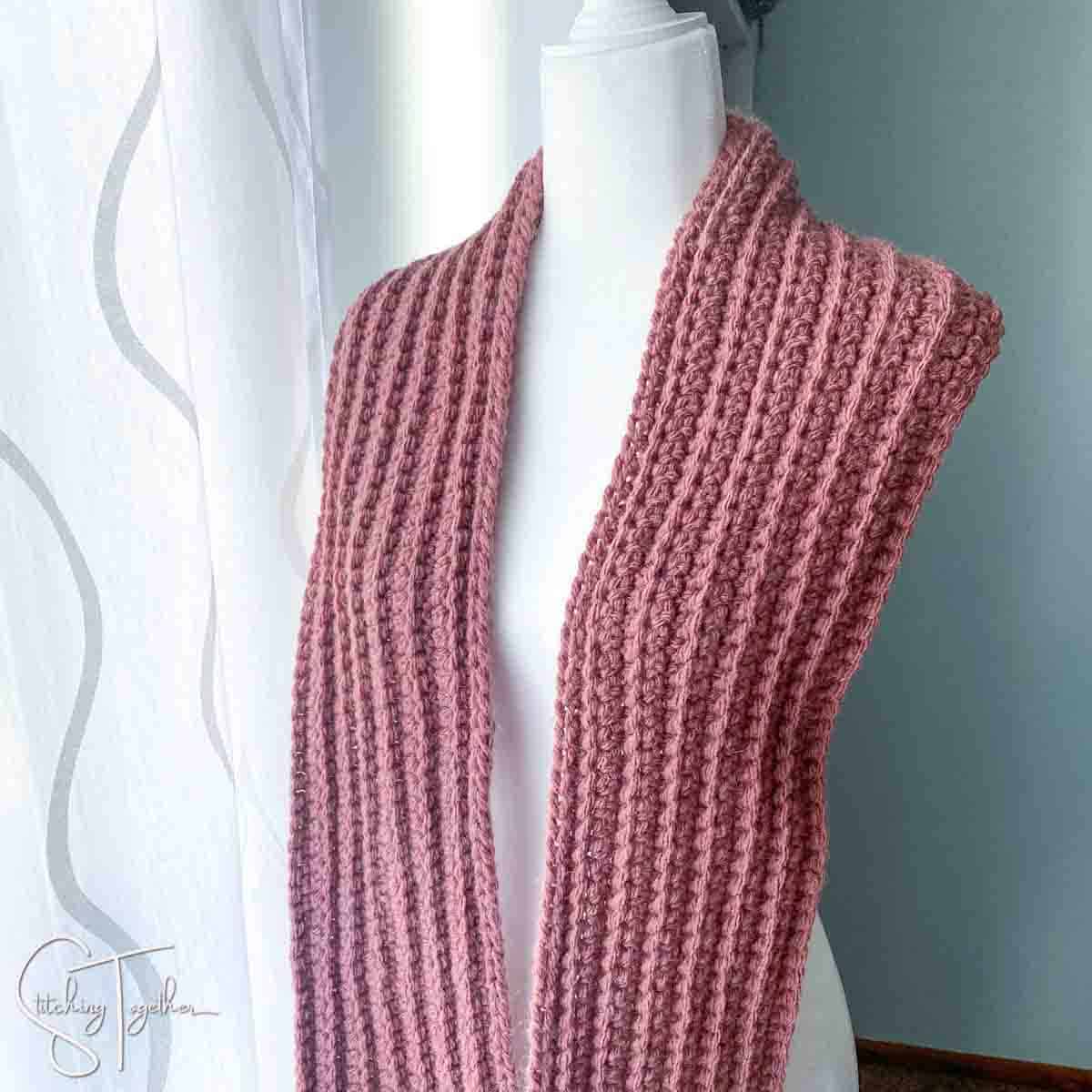 Keep reading to get all the details of the free crochet scarf pattern using chunky yarn or purchase the inexpensive ad-free PDF version here.
How do you Crochet A Chunky Scarf?
Would you believe that all those stitches (besides the chain stitches) are just a variation on the humble single crochet?
It's true and that means that if you are a beginner who has mastered the single crochet, you'll be able to tackle this variation and scarf fairly easily. It isn't one of the basic crochet stitches, but it is one you can learn quickly.
Like most regular crochet scarves, this scarf is just one long rectangle, but you'll be working the rectangle lengthwise. There are more stitches in each row but less rows!
It also means that you'll want to decide how long you want your scarf before you finish your chain or foundation row. (Make sure to read the section on length.)
Related: Easy Men's Scarf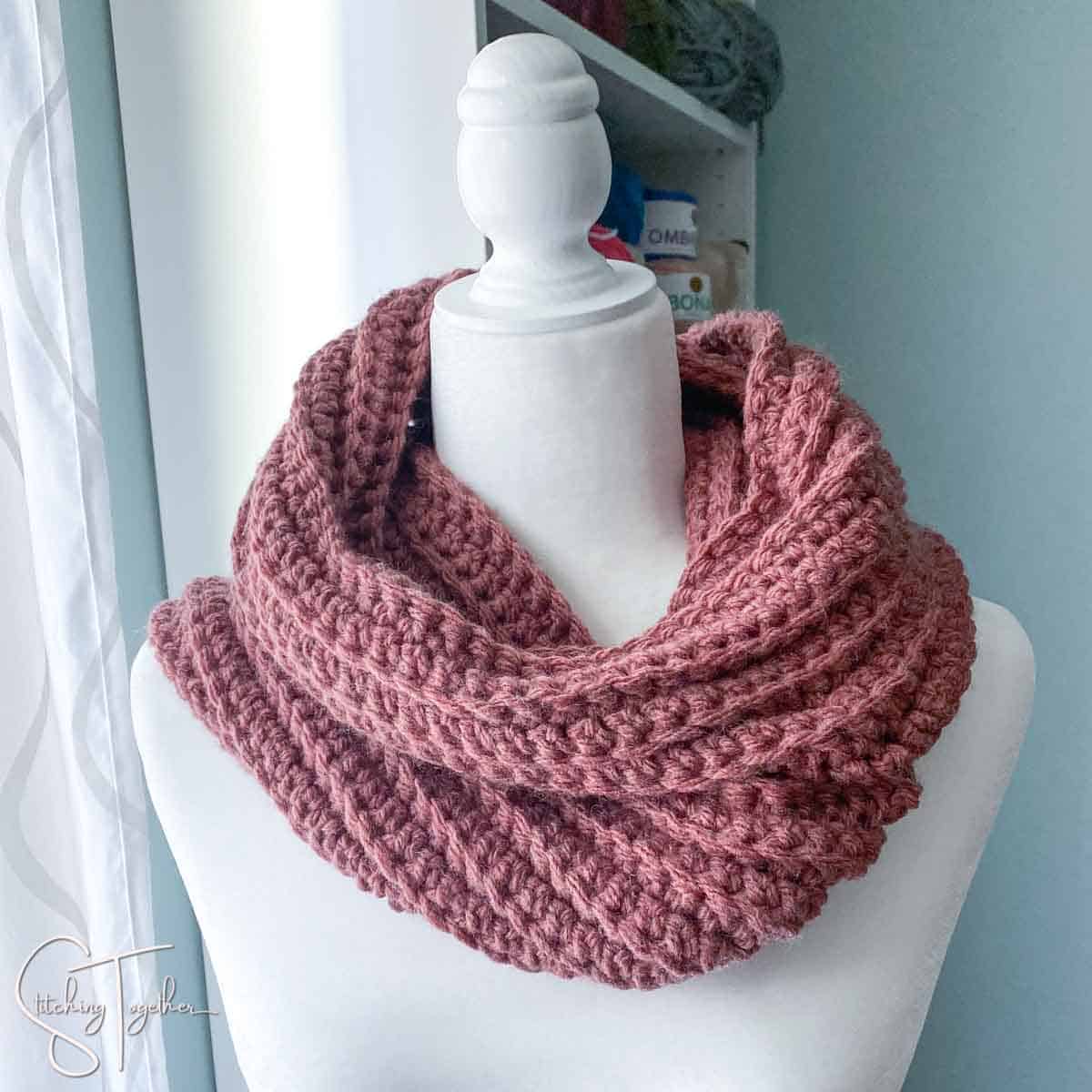 About the stitches used in the Chunky Crochet Scarf Pattern
Have you used extended stitches before? I have no idea why I waited so long to use them. They are easy and fun!
This bulky yarn scarf uses the extended single crochet (esc).
If you haven't tried it before, I have an entire extended single crochet tutorial that you'll want to check out. It includes step-by-step instructions and photos for both left and right-handed crocheters.
Do you see those lovely ridges? They are formed by working the extended single crochets in the back loops of the stitches below.
Because the escs are taller than single crochet and half double crochet but denser than a double crochet stitch, you get amazing texture when working in the back loops, and those ridges just pop creating a chunky ribbed scarf. Wonderful!
Related: Simple Half Double Crochet Scarf
Foundation Single Crochet or Chain
You can either start the scarf with a normal starting chain OR you can use a foundation single crochet. There are instructions for starting with either method.
While I normally don't love foundation single crochet (fsc) because I don't think they blend in well with normal single crochets, the fsc works well with the extended single crochet.
Starting with a foundation single crochet also keeps you from having to work into a super long starting chain. WIN!
Be sure to check out the foundation single crochet tutorial if you aren't familiar with this stitch or you just need a refresher.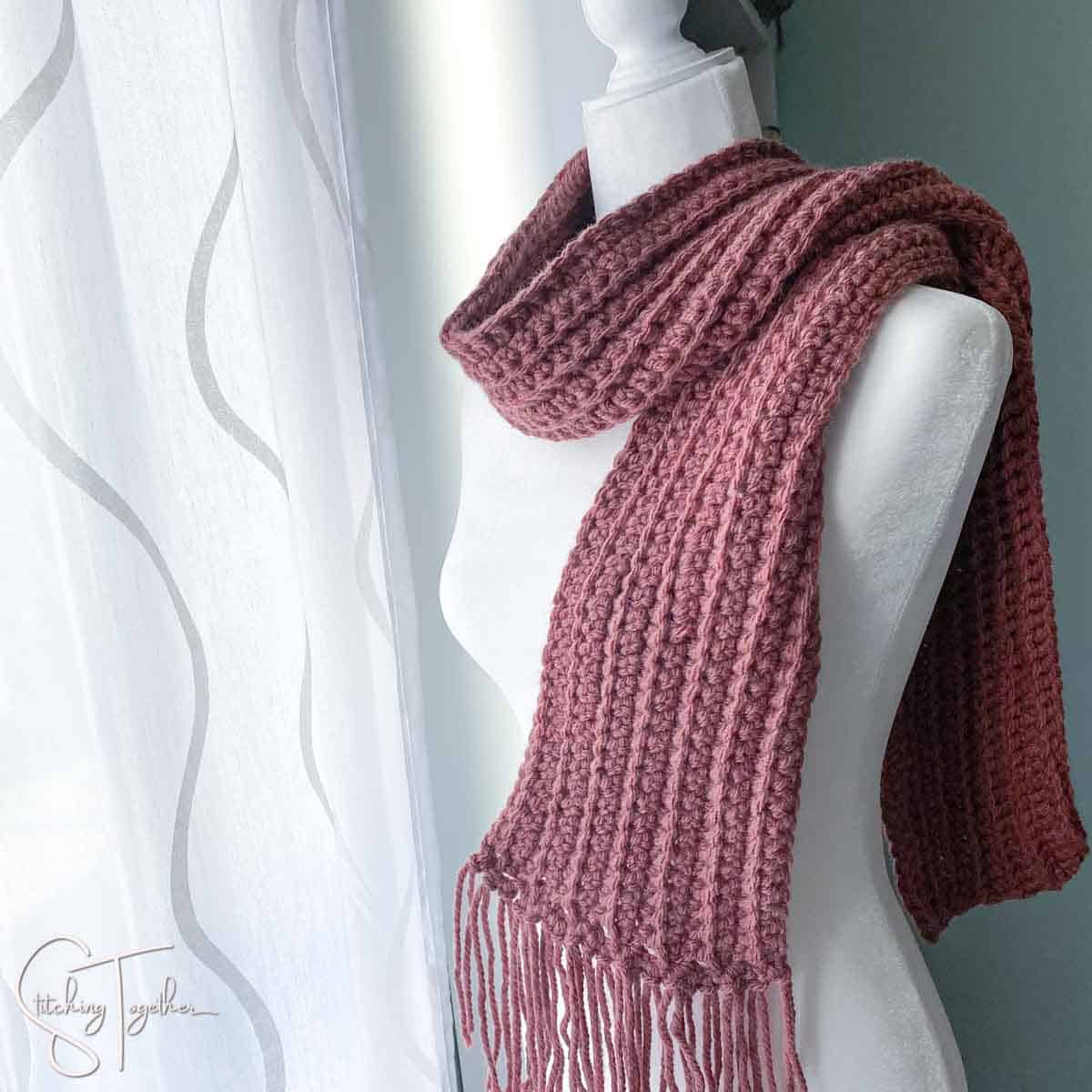 Crochet Scarf Pattern with Chunky Yarn
Love at first sight.
That's my love story with Hue + Me yarn.
We didn't even have to wait for that first squish. The first glance told me everything I needed to know.
It's the bulky yarn for me.
Hue + Me yarn was born from a collaboration between Alexandra Tavel of Two of Wands and Lion Brand Yarns. They developed a beautiful collection of colors that work together no matter how they are paired.
While I have a love story, they have a success story. Every single color is gorgeous and coordinates with every single other color in the collection.
(I'm guessing it's fair to assume Alexandra is in love with the yarn she helped develop too – that's alright, there's enough love for everyone in this great yarny world.)
The yarn itself is a squishy acrylic-wool blend. It does remind me of Wool-Ease Thick and Quick but the ply is different which makes it feel different.
What's great about this pattern and yarn is you can use the more neutral colors and make it for anyone. This ribbed scarf will work well for men who want to stay warm but don't want a fussy scarf.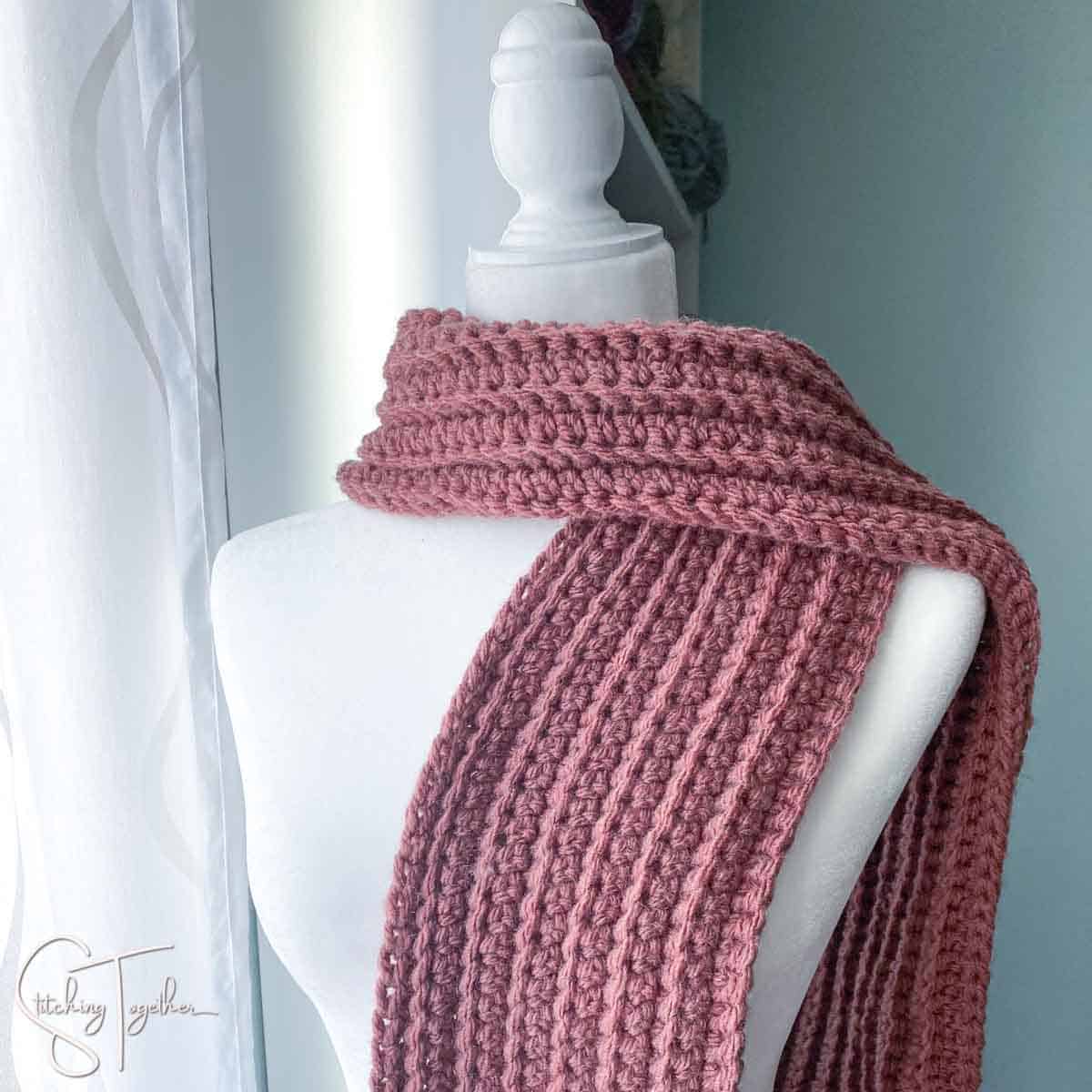 Yarn Substitutions
Serenity Chunky from Premier Yarns would be a good substitute. It is 100% acrylic instead of a wool-blend but it will still give you a comfortable, warm scarf.
Hue + Me Yarn is similar to Lion Brand Wool-Ease Thick & Quick, however, Thick & Quick is a super bulky yarn so you're scarf will work up to be bigger and thicker.
Is it long enough?
How long do you like your crochet chunky scarves to be?
Long enough to wrap all the way around your neck so you are nice and snuggly warm?
Long enough to just drape around your neck?
Long enough to join into an infinity scarf?
This winter scarf is perfect for the last two options. It'll drape around your next without being awkwardly long or it's the perfect length to join for a chunky infinity scarf.
It will wrap all the way around your neck allowing the ends to be tucked into the front of your jacket, but it isn't long enough to have the ends drape all the way down to your waist. Does that make sense?
All that to say. Please pay attention to the final length provided in the pattern and adjust it according to your needs and desires.
It's super simple to just add stitches to the starting chain or foundation row but you'll need to decide at the beginning how long you want it.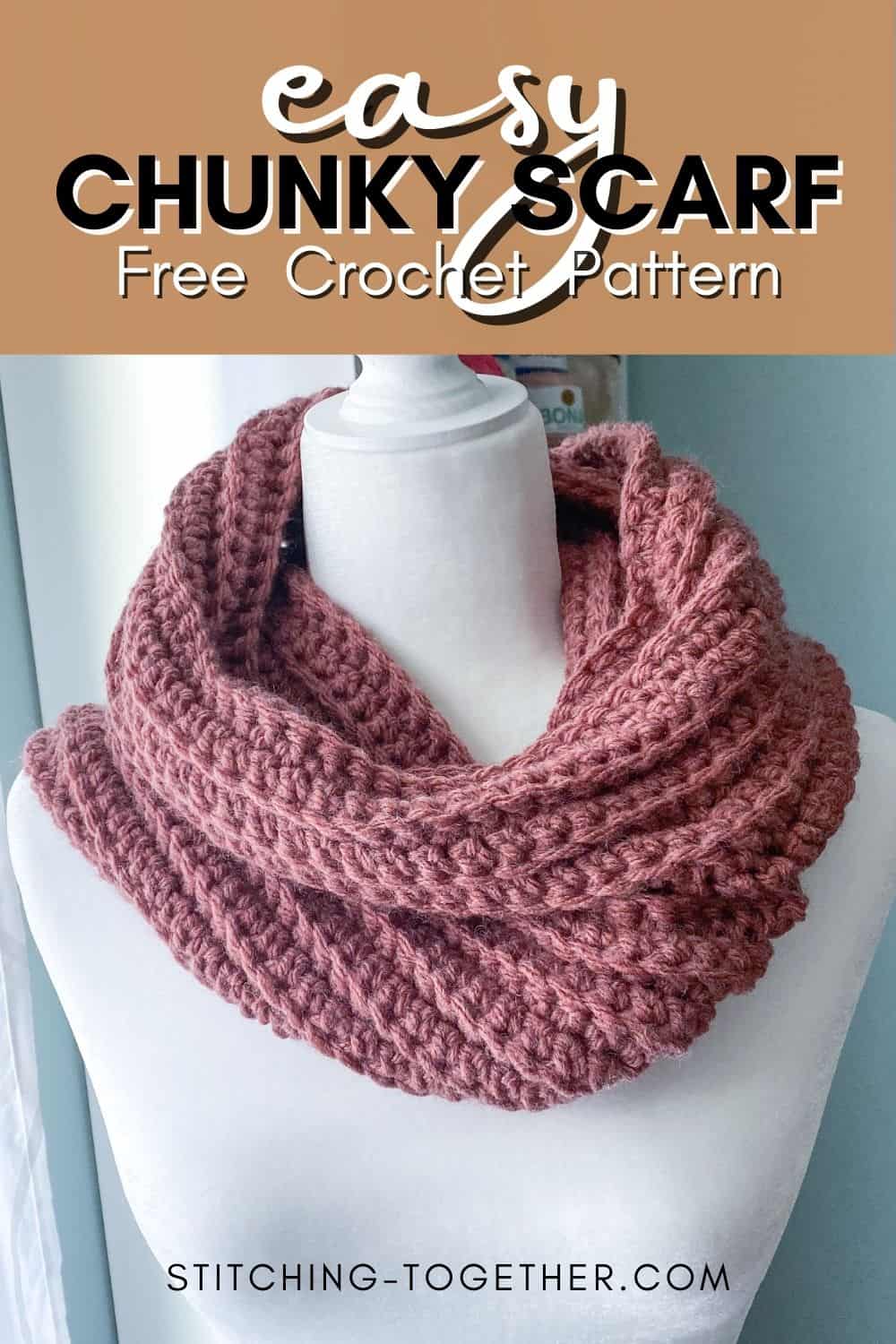 Stonehaven Chunky Crochet Scarf Pattern Free
Skill Level: Beginner
Gauge: 4" by 4" = 9 esc by 10 rows
Finished Size: 6" w by 65" long
Notes:
You can start this scarf with either a chain or a row of foundation single crochets. The foundation single crochets look like and blend in with the rows of extended single crochets.
I worked the last stitch of each row through both loops instead of in the blo. (This is a preference for the edges.)
If you would like a longer scarf, start with a longer chain or foundation row. The scarf length is perfect for wearing draped around your neck or having one end tossed over your shoulder.
If you'd like to add fringe or tassels, be sure to grab an extra skein of yarn. The yarn used for the sample did not include yarn for fringe.
Special Stitches:
Insert hook into the next stitch and pull up a loop. (2 loops on the hook.) Yarn over and pull through 1 loop on the hook. (You've created a chain stitch and still have 2 loops on the hook.) Yarn over and pull through both loops on the hook to finish the stitch.
Chunky Crochet Scarf Pattern Instructions:
Start with a foundation chain:
Ch 147
Row 1: Ch 1, esc in the 2nd ch from the hook and in each ch across, turn. (146)
Start with a foundation single crochet:
Row 1: fsc 146, turn
(Row 2 and on are the same for either method:)
Row 2: ch 1, esc blo in each st across, turn (146)
Repeat row 2 until you've reached a total of 14 rows or you've reached the desired thickness. Fasten off and weave in ends.
Here are some other great scarf and cowl free crochet patterns you won't want to miss: