Fall Crochet Patterns for a Cozy Autumn
Disclosure: This post may contain affiliate links. As an Amazon Associate, I earn from qualifying purchases. Please visit my Privacy Policy for disclosures and more information.
Fall might be the season that makes me want to pick up my crochet hook more than any other. The thought of a new sweater, scarf, or cozy afghan to stay warm as the weather turns cool is a big motivator for me to make a new project!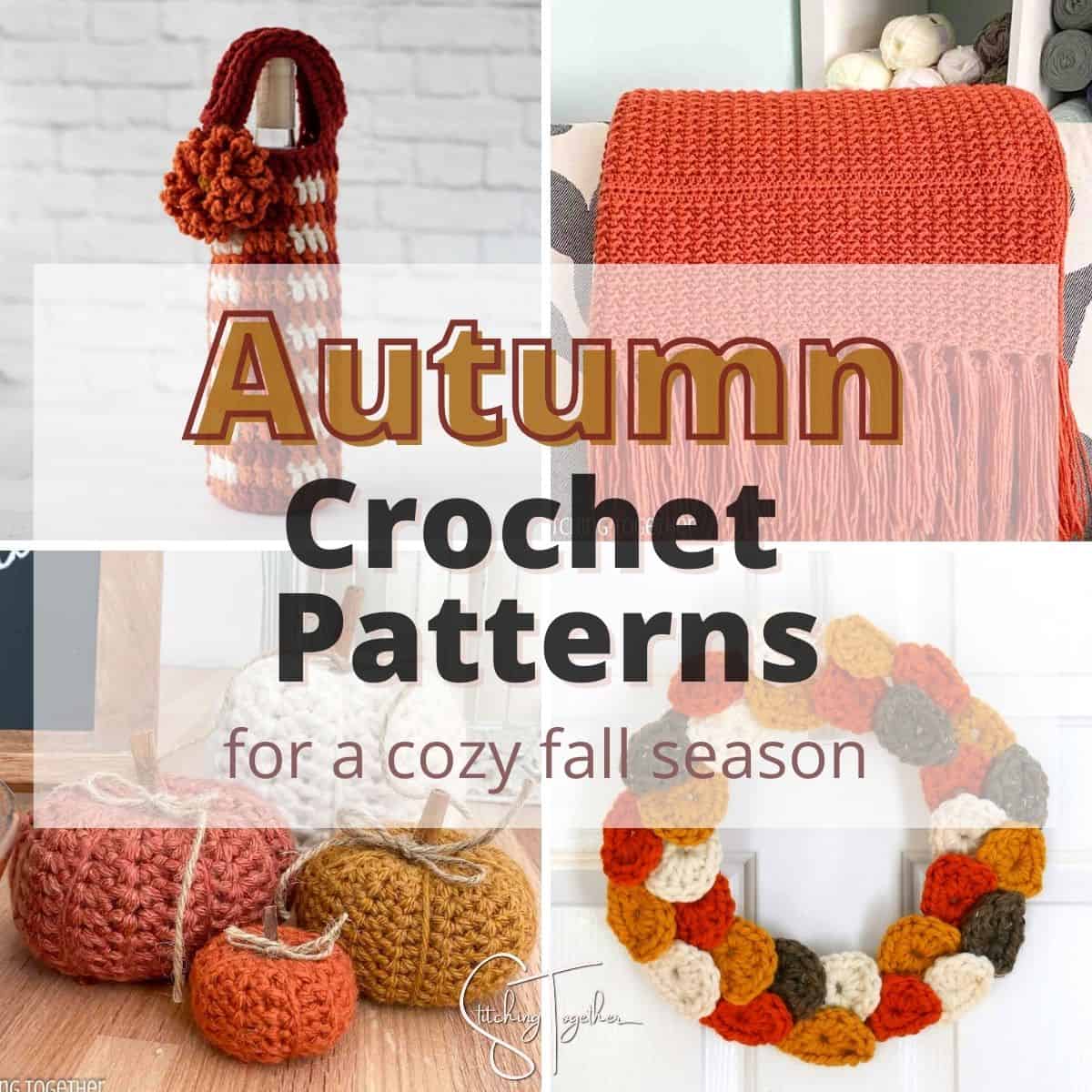 Plus there is so much cute crochet decor for Autumn! A beautiful crochet pumpkin, fall leaf, or wreath may be just what you're looking for to ready your home to welcome the autumn season.
I've put together a round-up for you of both autumn wearables and home decor that will make you want to grab your hook and start stitching! These patterns mostly have features that make us think of fall, rich autumnal colors like orange and red or warm cozy yarn paired with textured stitches.
Let's start with some fall crochet decor!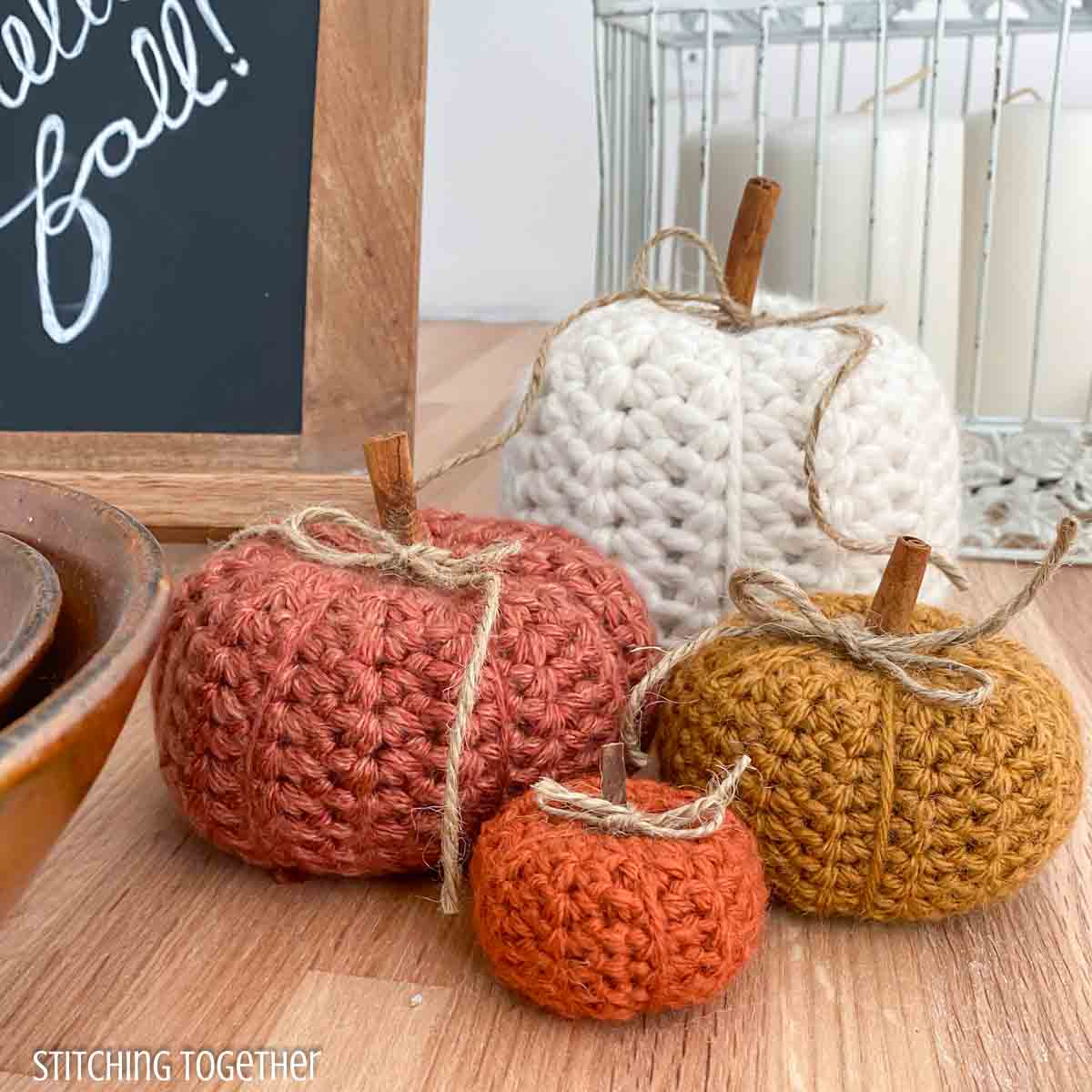 Country Crochet Pumpkin by Stitching Together
If you've looked at all for fall crochet patterns, you've seen it: the cute crochet pumpkin! And now you're wondering how to crochet a pumpkin for yourself. You can learn with this lovely pumpkin pattern! Make a few for your fall centerpiece, some for the mantle, and more for areas that need a touch of farmhouse fall!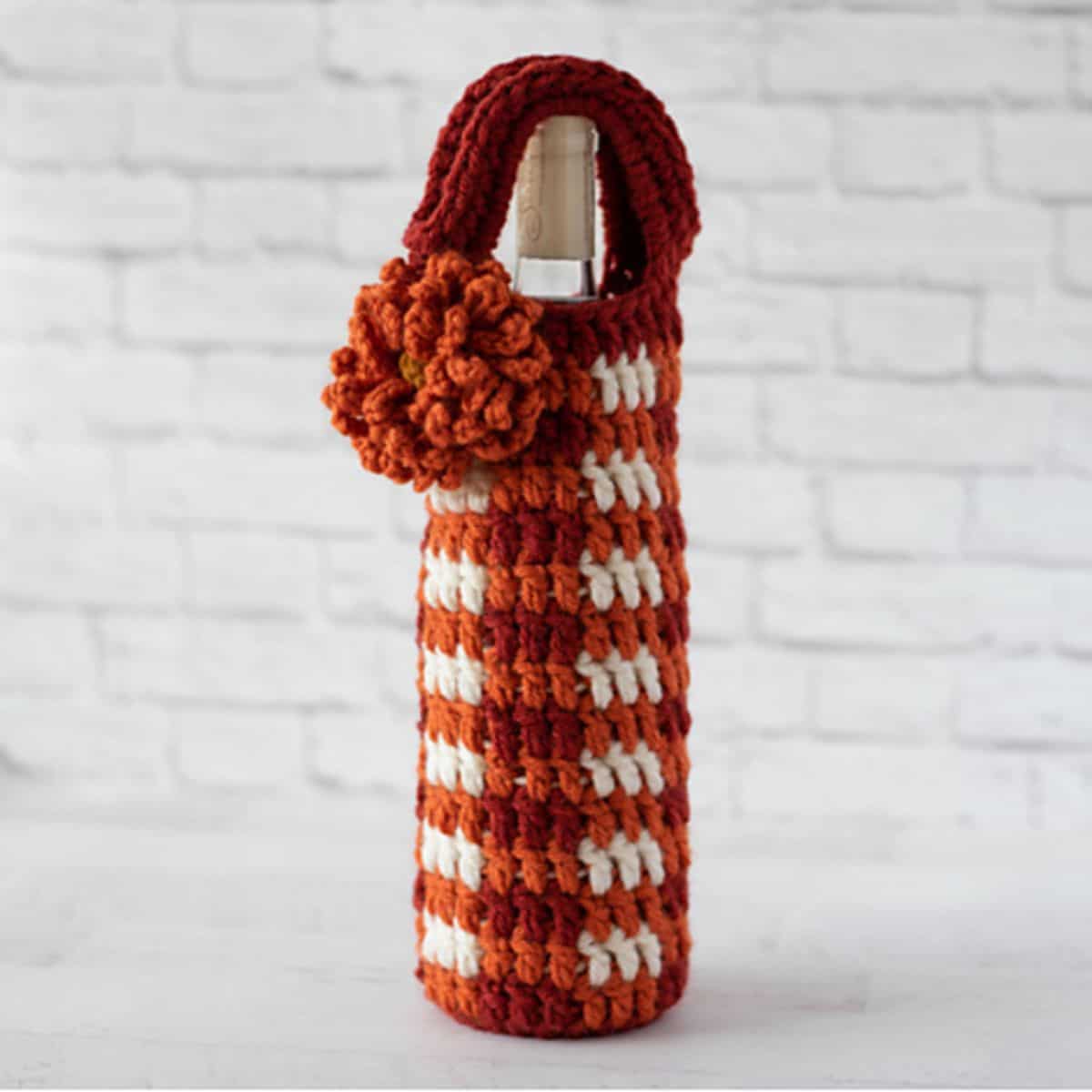 Plaid Fall Crochet Wine Bag by Crochet 365 Knit Too
This cute and quick wine bag free crochet pattern is perfect if you're looking for something to make for a gift, or you can keep it for yourself and add a splash of autumn to your kitchen!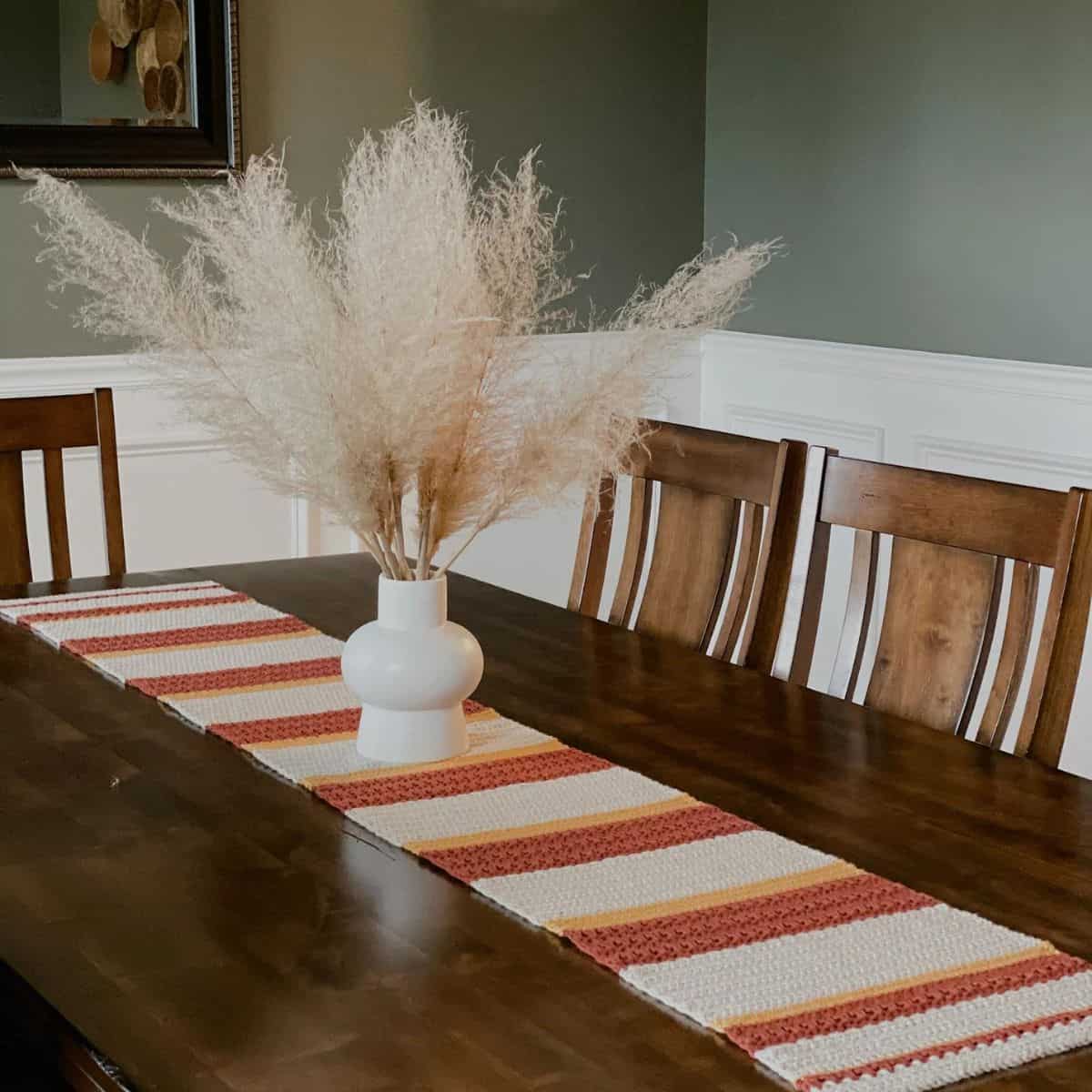 Gather Crochet Table Runner by Elena and Kamila
This crochet table runner pattern is so beautiful for the fall season! It would look so lovely as part of your Thanksgiving place setting.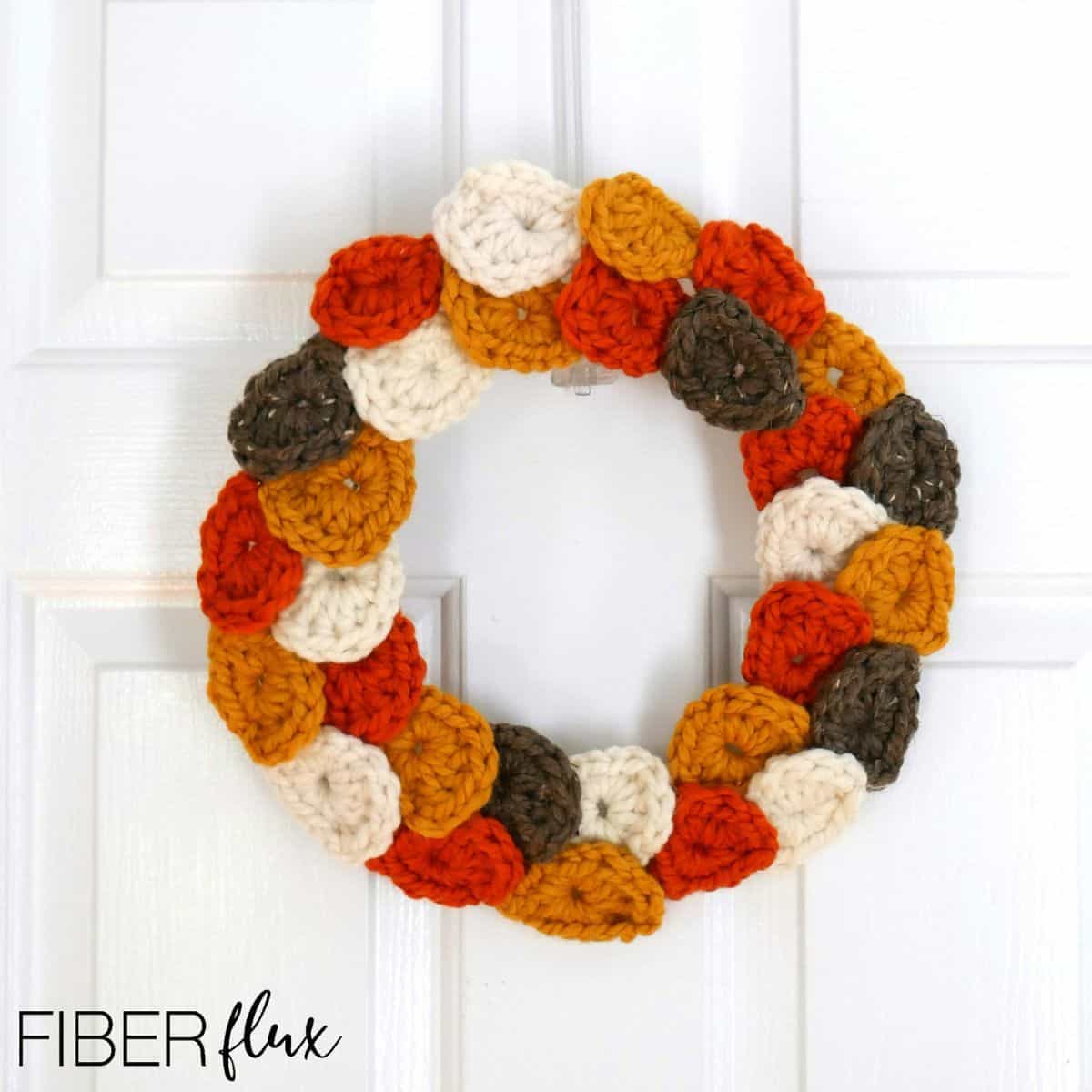 Falling Leaves Wreath by Fiber Flux
I love a crochet pattern that looks so fancy when it's complete, but is really so simple to make! The Falling Leaves Crochet Wreath is one that fits this description perfectly. Pretty autumn-colored yarn is used to make each crochet leaf. This is a good fall crochet pattern to use your leftover scraps for. Won't this fall wreath look so welcoming on your front door?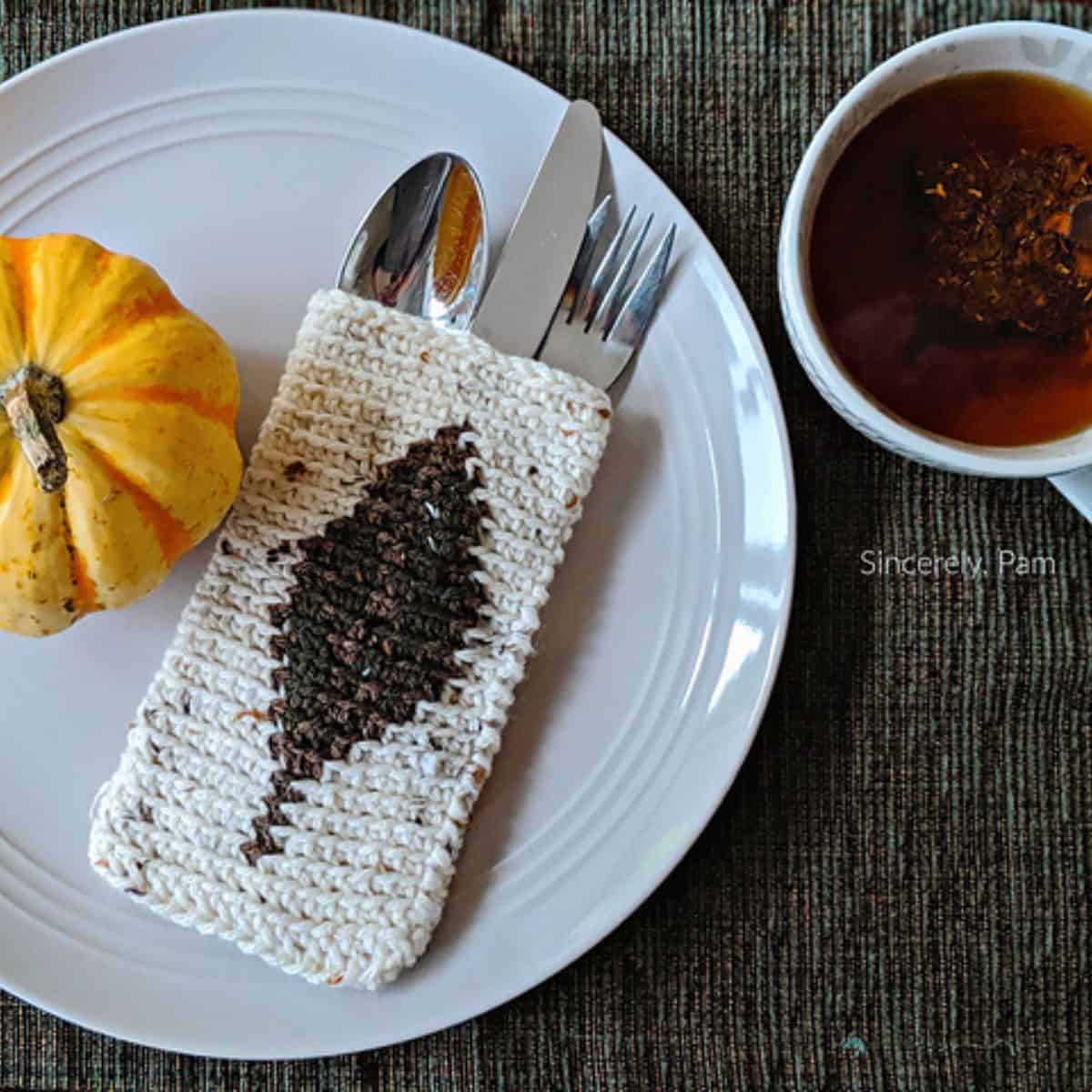 Autumn Leaf Cutlery Pouch by Sincerely Pam
Change up your yarn colors in this beautiful crochet pattern to create a custom Autumn look for your dining table! These would be lovely for your Thanksgiving table setting.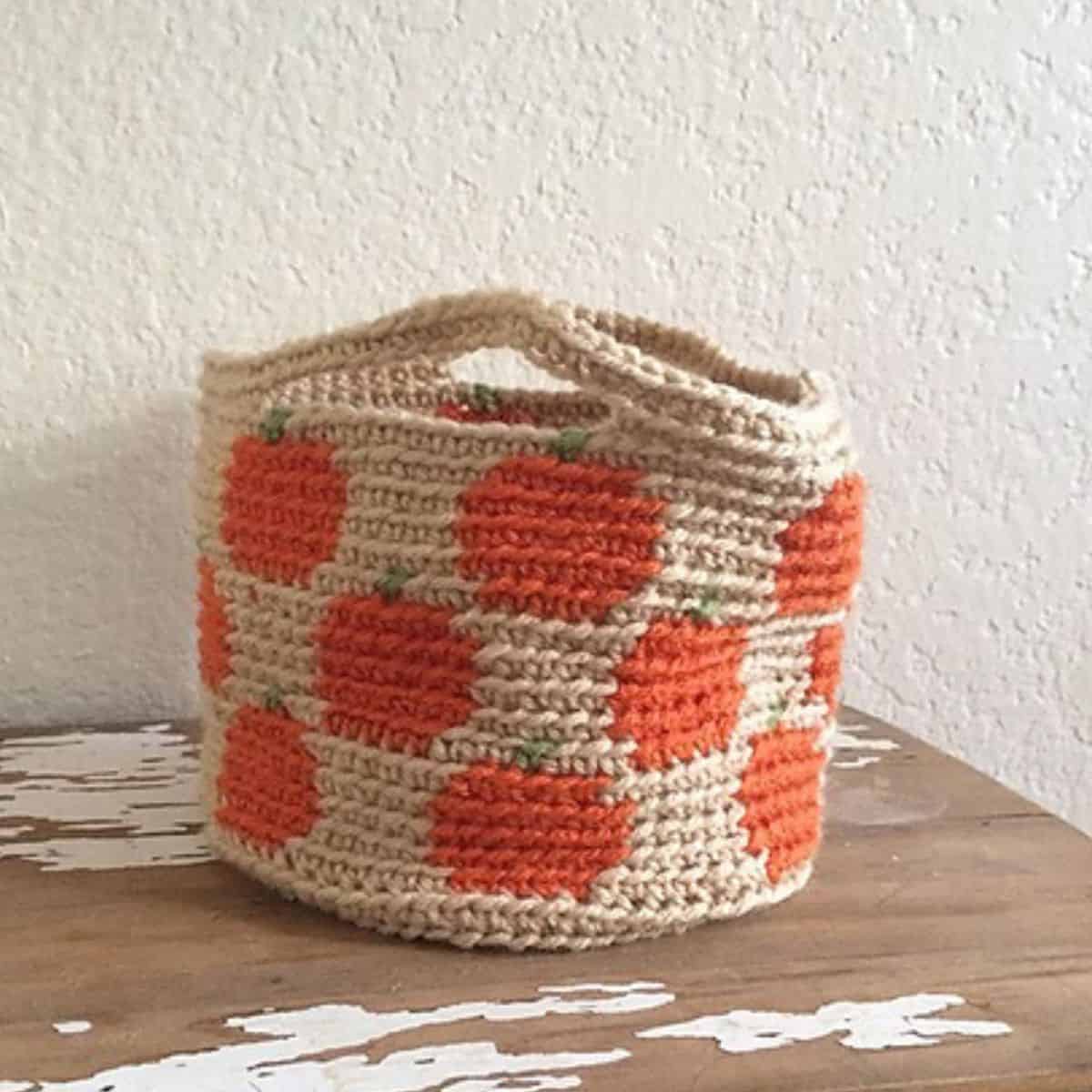 Pumpkin Basket by Dessert Blossom Crafts
Can you really ever have too many baskets? Perfect for organizing all the tiny things that collect and don't have their own home, this pumpkin basket will help you tidy up while sprucing up your home for the fall season!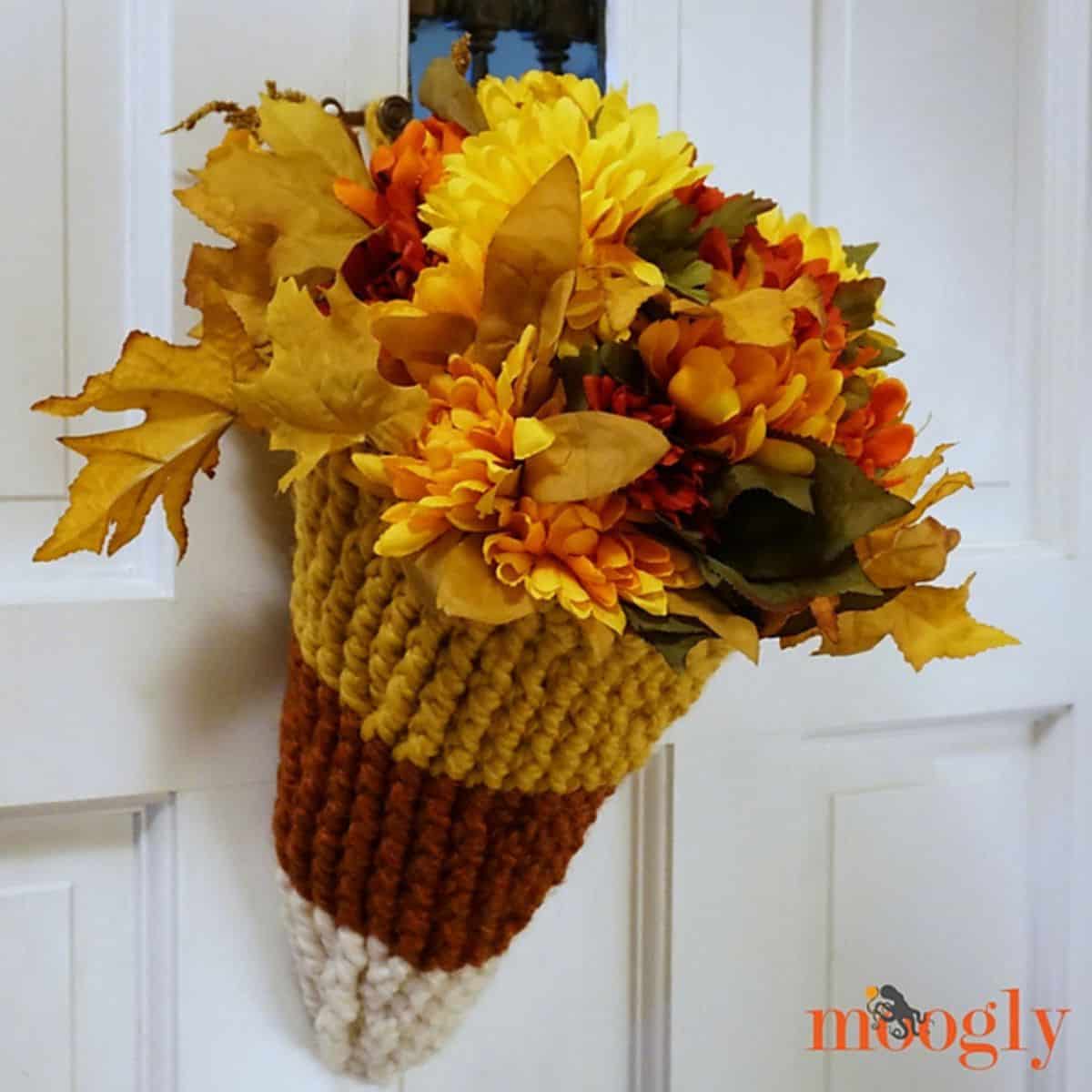 Candy Corn Door Basket by Moogly
This Candy Corn Door Basket crochet pattern can be used for indoor or outdoor decor! A simple post stitch is the basis for this quick project!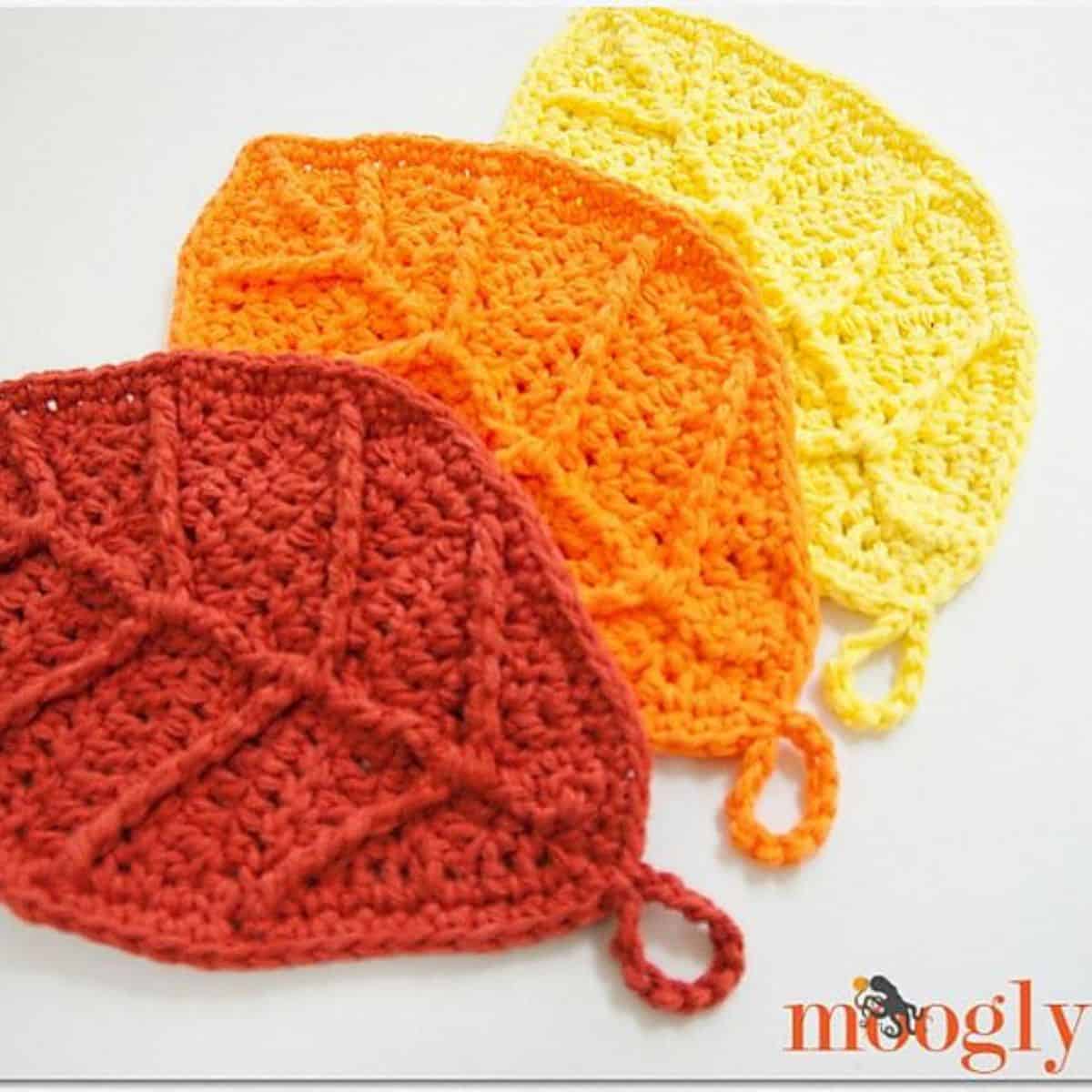 Happy Autumn Leaves by Moogly
The Happy Autumn Leaves crochet leaf pattern is so versatile! These could be used for table decoration, wall decoration, dishcloths, or even coasters.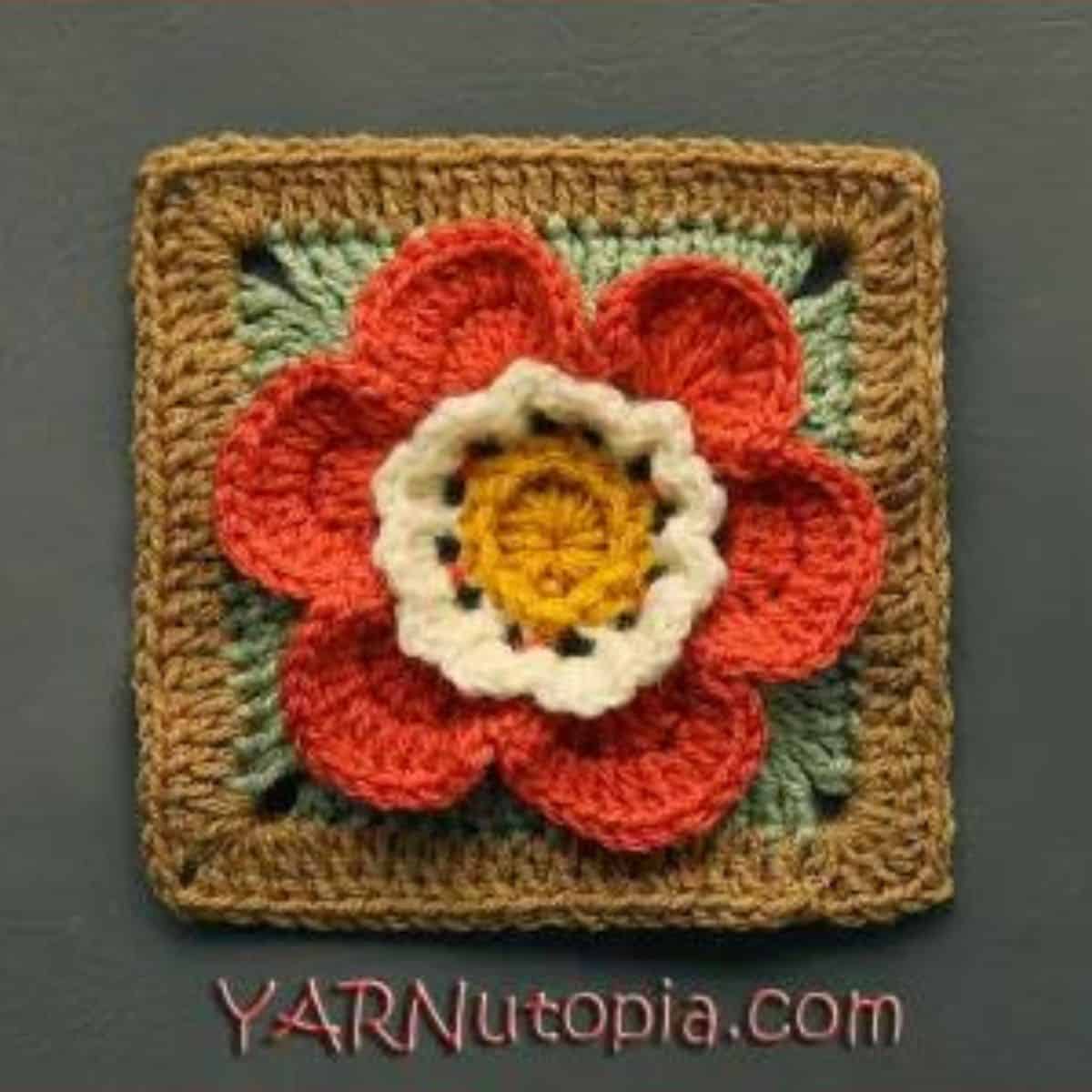 Autumn Flower Granny Square by Yarnutopia
I love how versatile the granny square is, and this pattern is a beautiful autumn take on the classic. I would love to see a blanket sprinkled with different color combos of these flowers!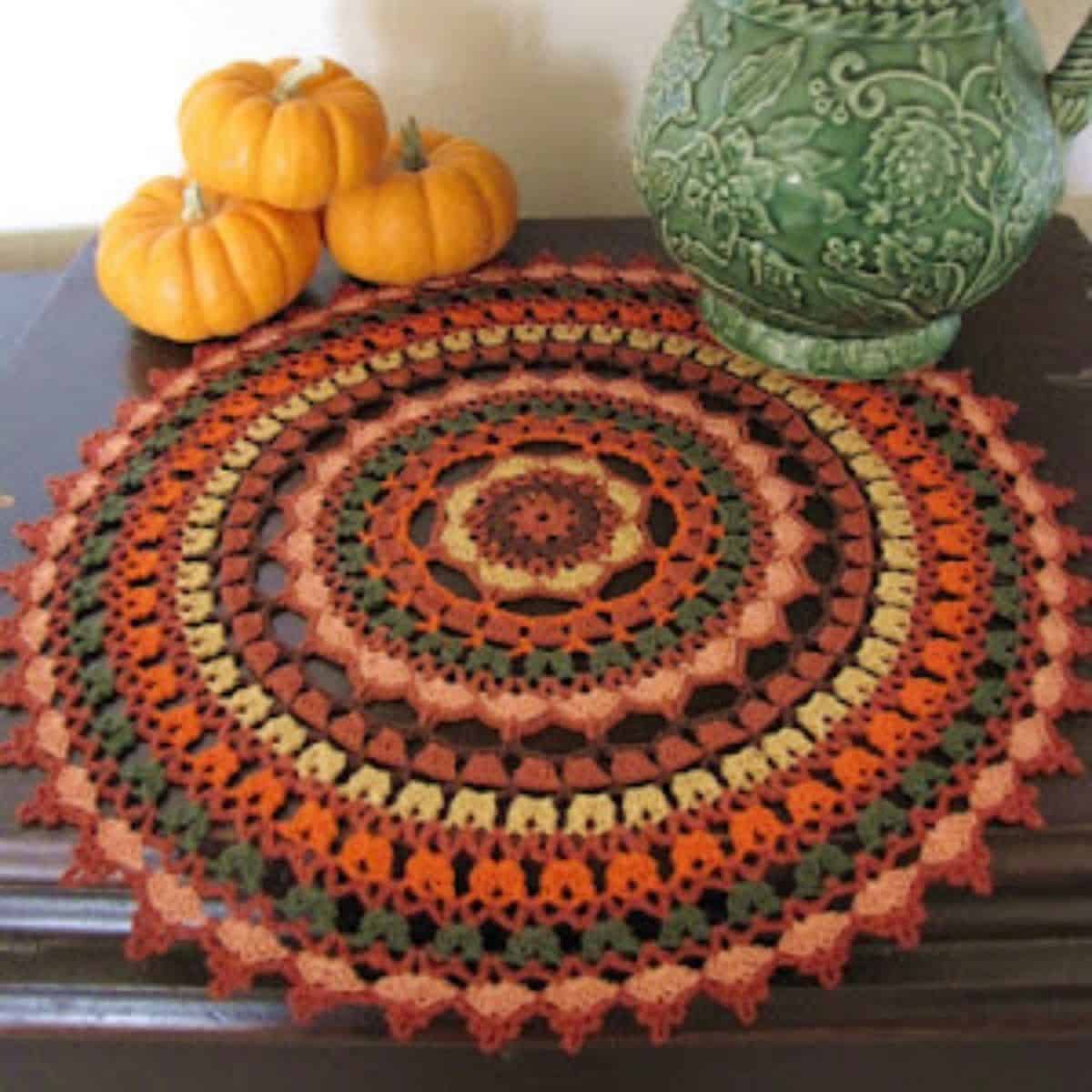 Autumn Spice Mandala Doily by Bella Crochet
The doily: one of the most iconic crochet crafts, and for a good reason. They are beautiful and come in so many varieties of color and intricacy. This crochet pattern is more on the advanced side, using thread instead of yarn and intermediate-level stitches. If you've been wanting to try something a little bit out of the ordinary, this pattern is perfect for you!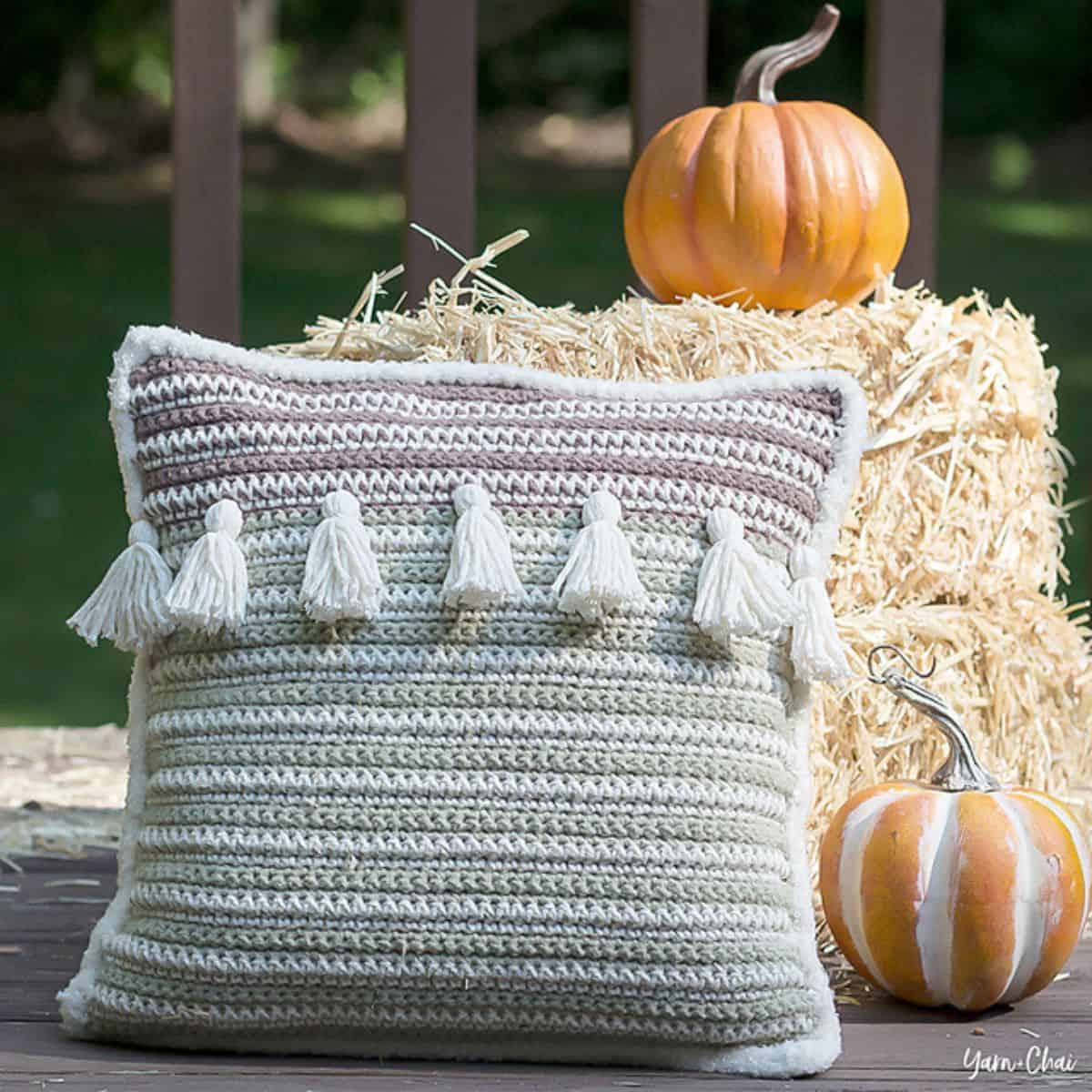 Autumn Boho Pillow by Yarn + Chai
How sweet would this Autumn Boho Pillow look on a front porch swing, or on your couch or bed for a little fall flair? Adorable. It has a cozy soft edge and the cutest tassels. This pattern uses basic crochet stitches that you will be very familiar with, plus a fun one called a Spike Stitch for the border.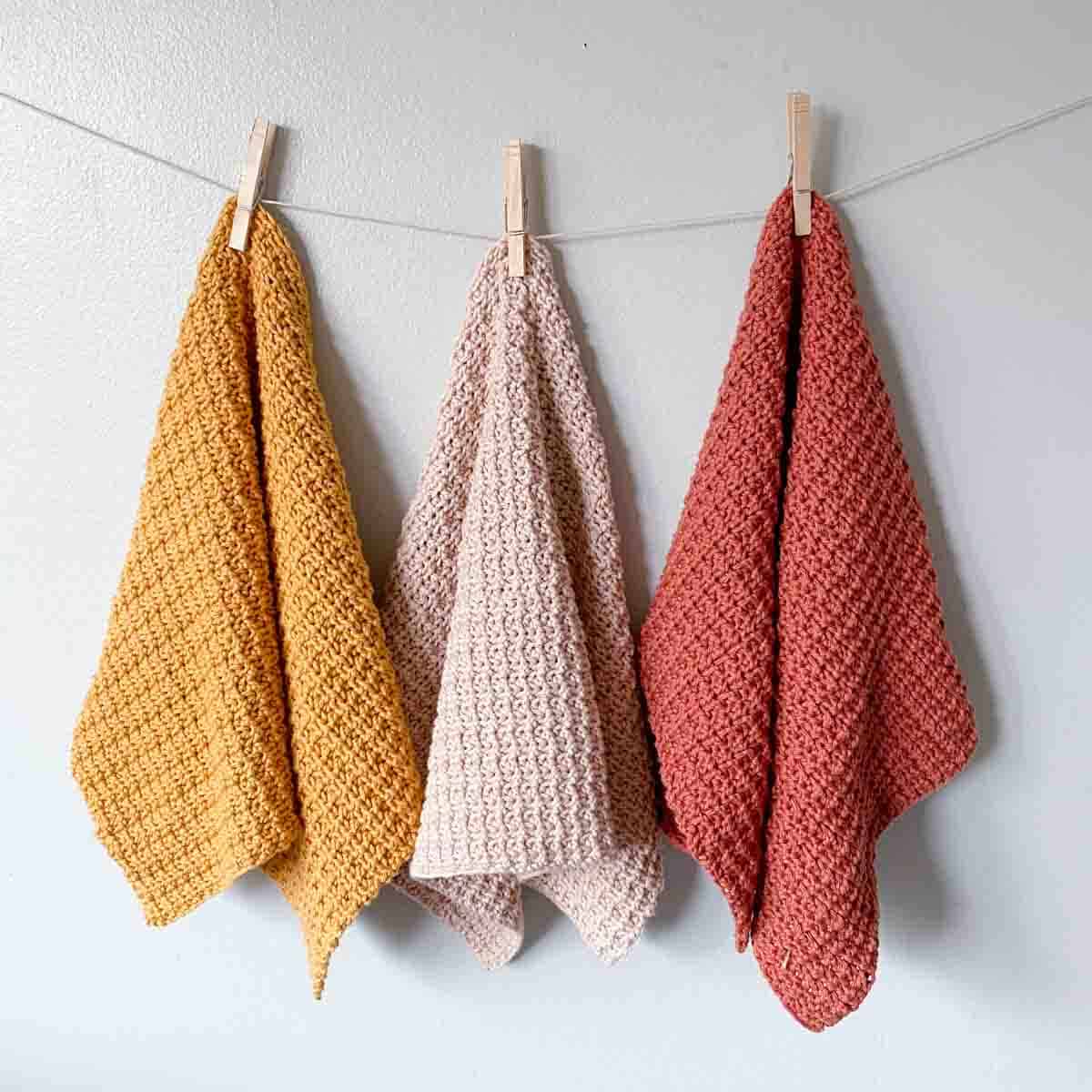 Harbor Hand Towel Crochet Pattern by Stitching Together
You can see these lovely handtowels displayed in rich autumnal colors. It's a simple pattern with gorgeous texture and the hand towels work well in the kitchen or in the bathroom.
Fall Blanket Crochet Patterns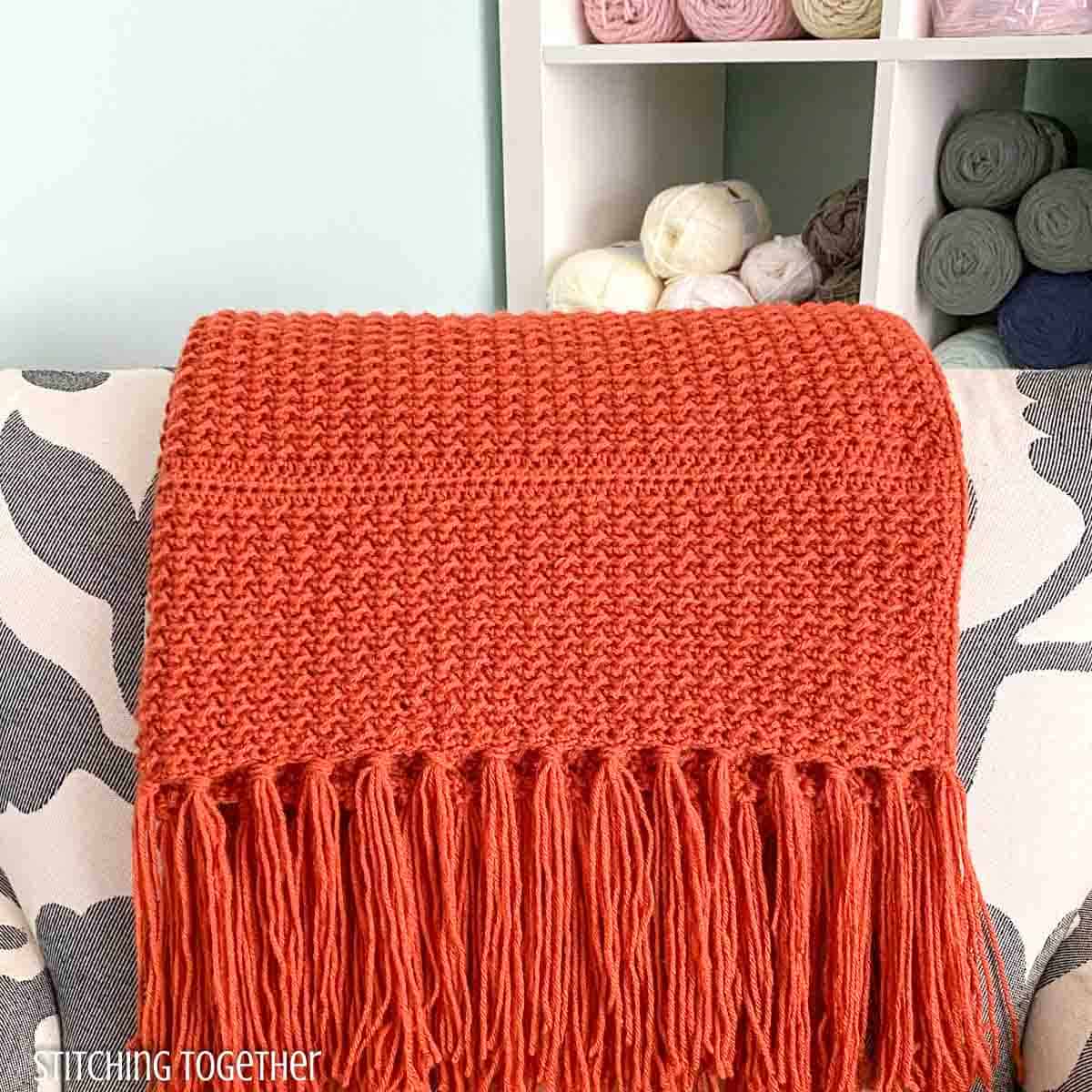 Caprock Canyon Crochet Lap Blanket by Stitching Together
Sometimes you just need a throw that's enough to cover your legs and keep you cozy. The Caprock Crochet Lap Blanket is the perfect small throw or lapghan for such an occasion. Without the fringe, it works great for those in wheelchairs and with the fringe, it looks great anywhere!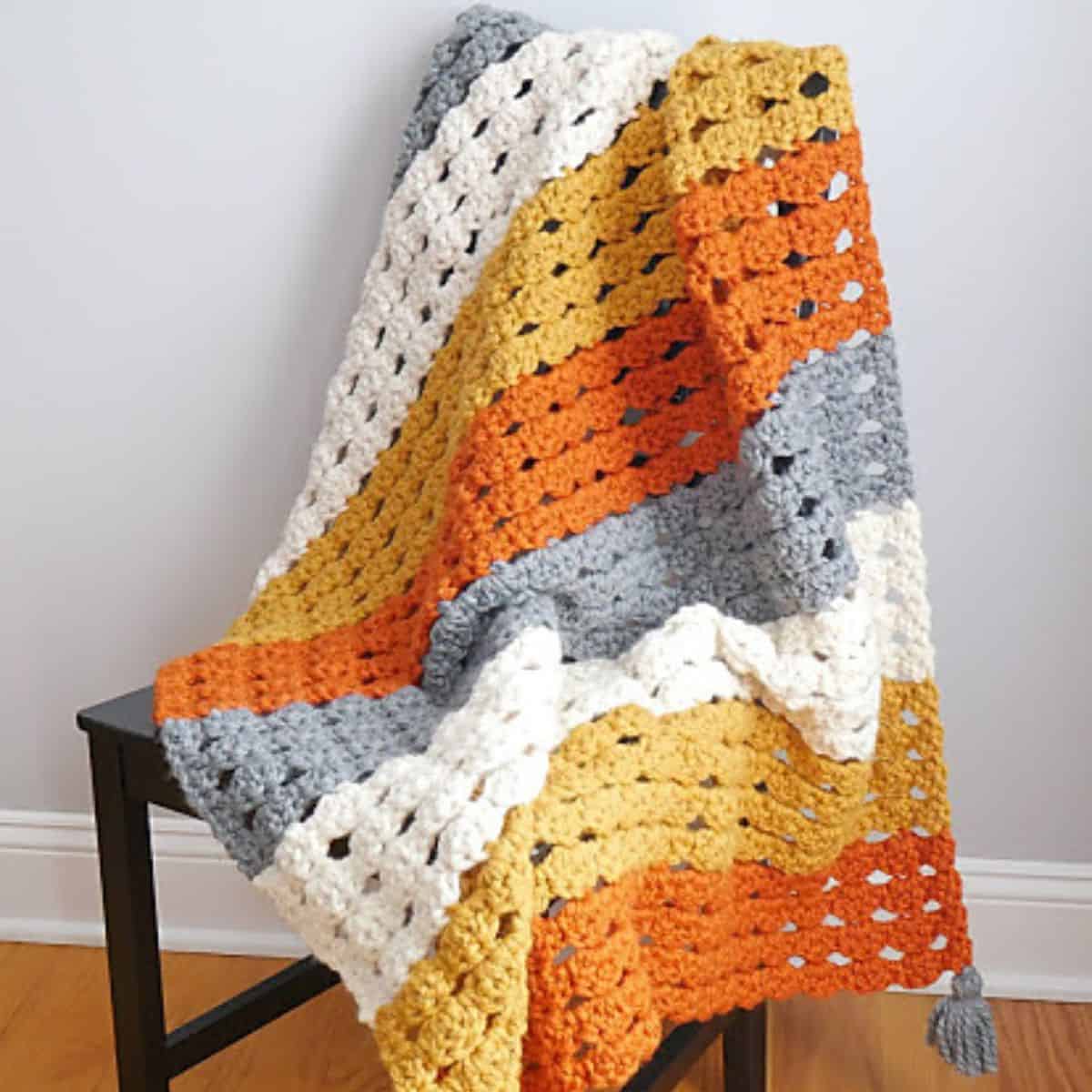 Autumn Textures Blanket by Fiber Flux
This chunky, cozy, fall-inspired blanket makes me want to curl up and watch a movie. This free pattern is written as a lap blanket size, but can be adjusted to whatever size you like! Crochet blankets are an easy way to add some autumn warmth to your home decor.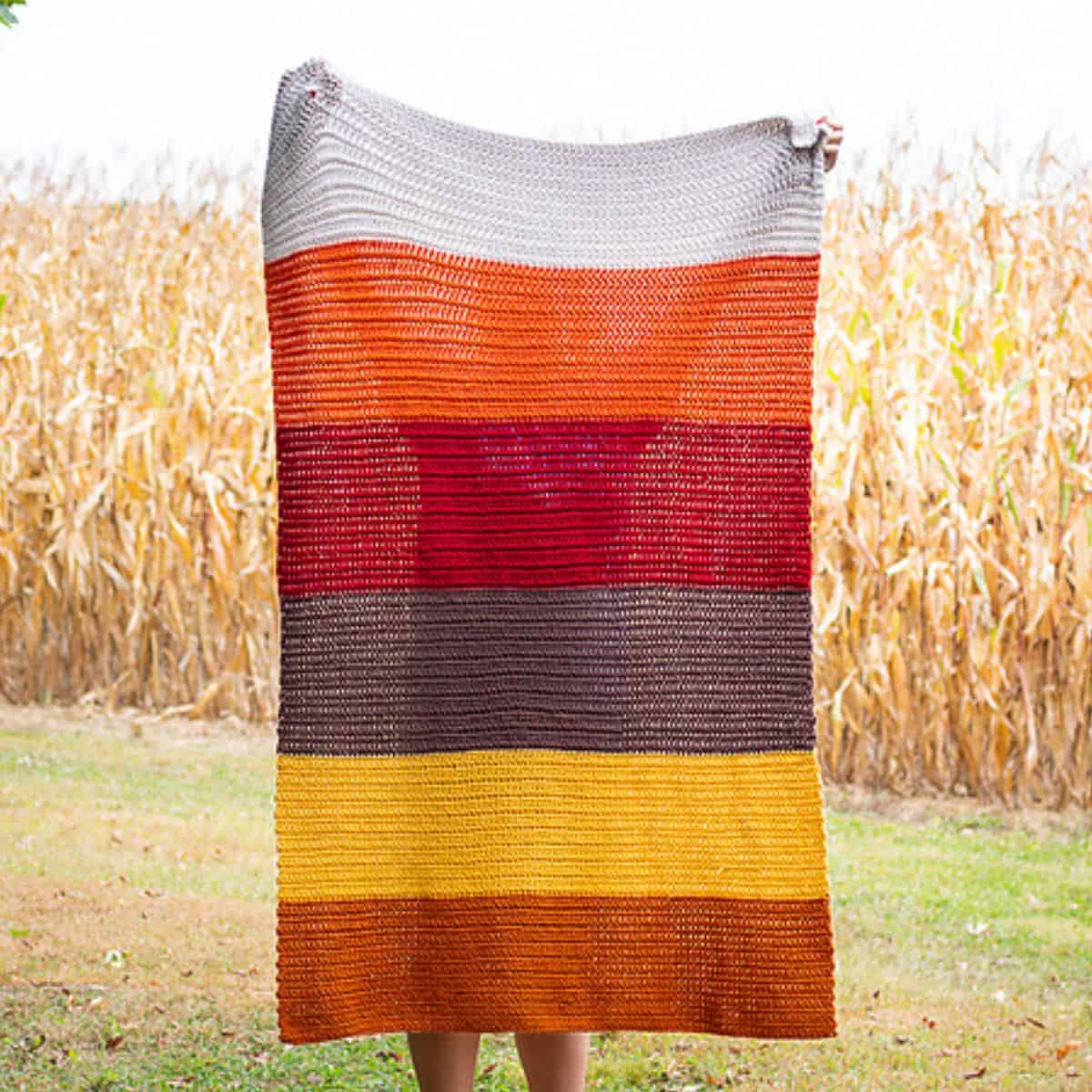 Herringbone Half Double Crochet Fall Blanket Pattern by Easy Crochet
I absolutely love the color combo in this blanket and it will add a lovely pop of autumn color to your home. That combined with one of my favorite stitches, the half-double crochet, make this crochet pattern an all-around winner in my book.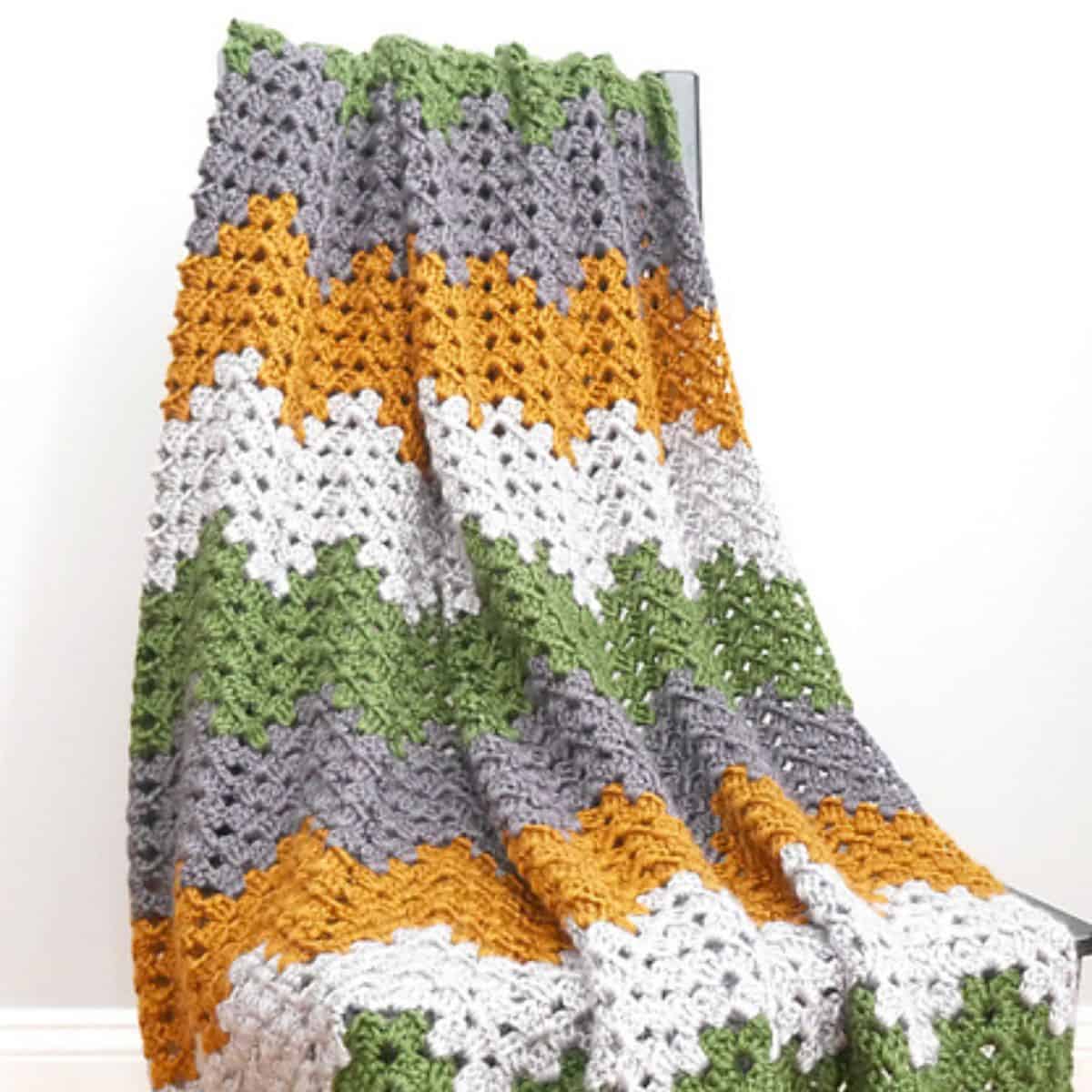 Harvest Waves Throw by Fiber Flux
Sometimes you just need an extra layer of warmth to combat the first bit of autumn chill in the air. The Harvest Waves throw will provide that, as well as add some fall cheer to your home. Made from a simple to stitch, granny ripple, you will be able to move quickly through this project!
Fall Wearables and Accessories Crochet Patterns
Now that we've got your home covered for fall decorations and blankets, let's move on to some beautiful autumn wearables!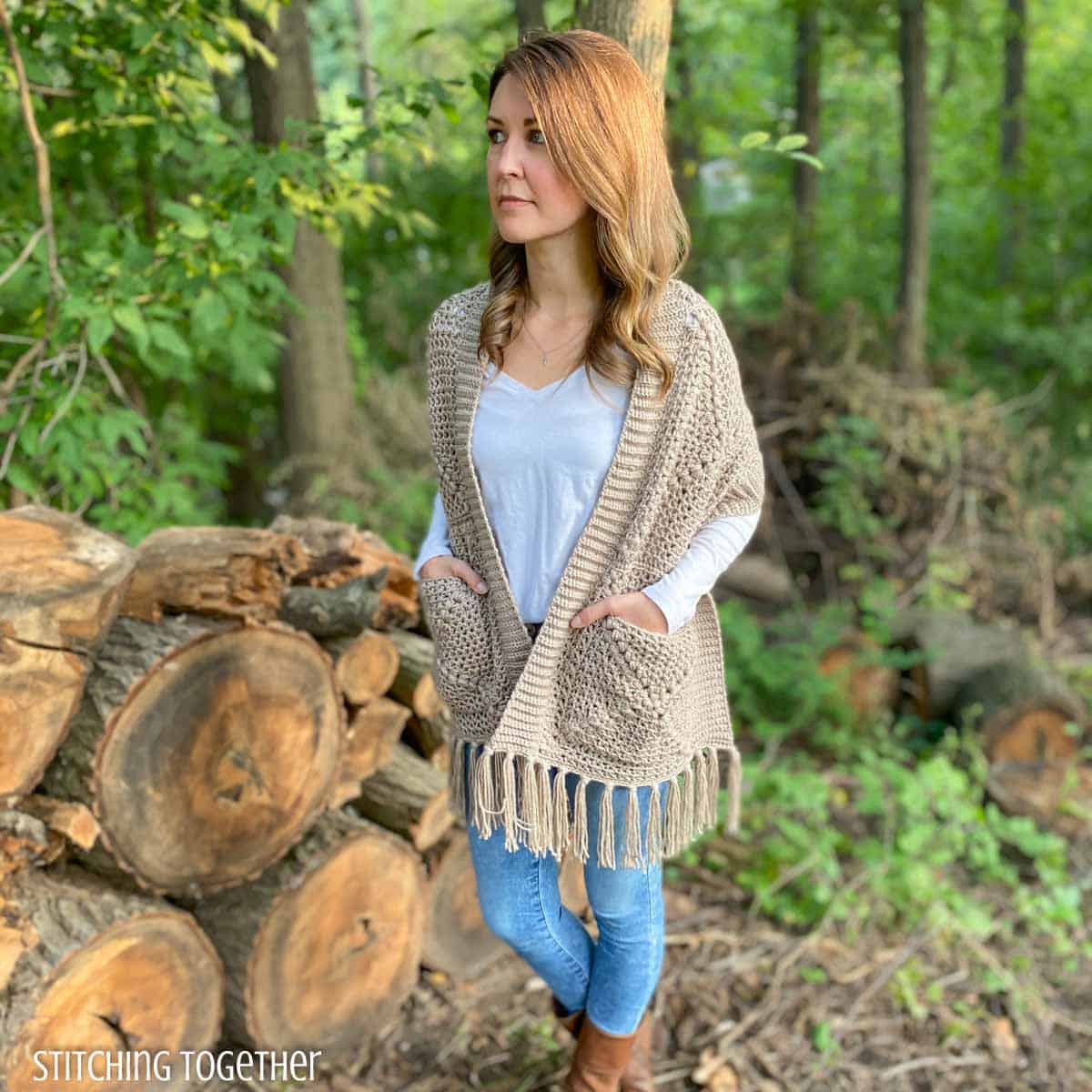 Pine Gap Crochet Pocket Shawl by Stitching Together
Pocket shawls are a perfect autumn wearable that keeps you warm during the awkward weather transitions of fall. This pocket shawl features gorgeous granny squares that are easier to make than they look.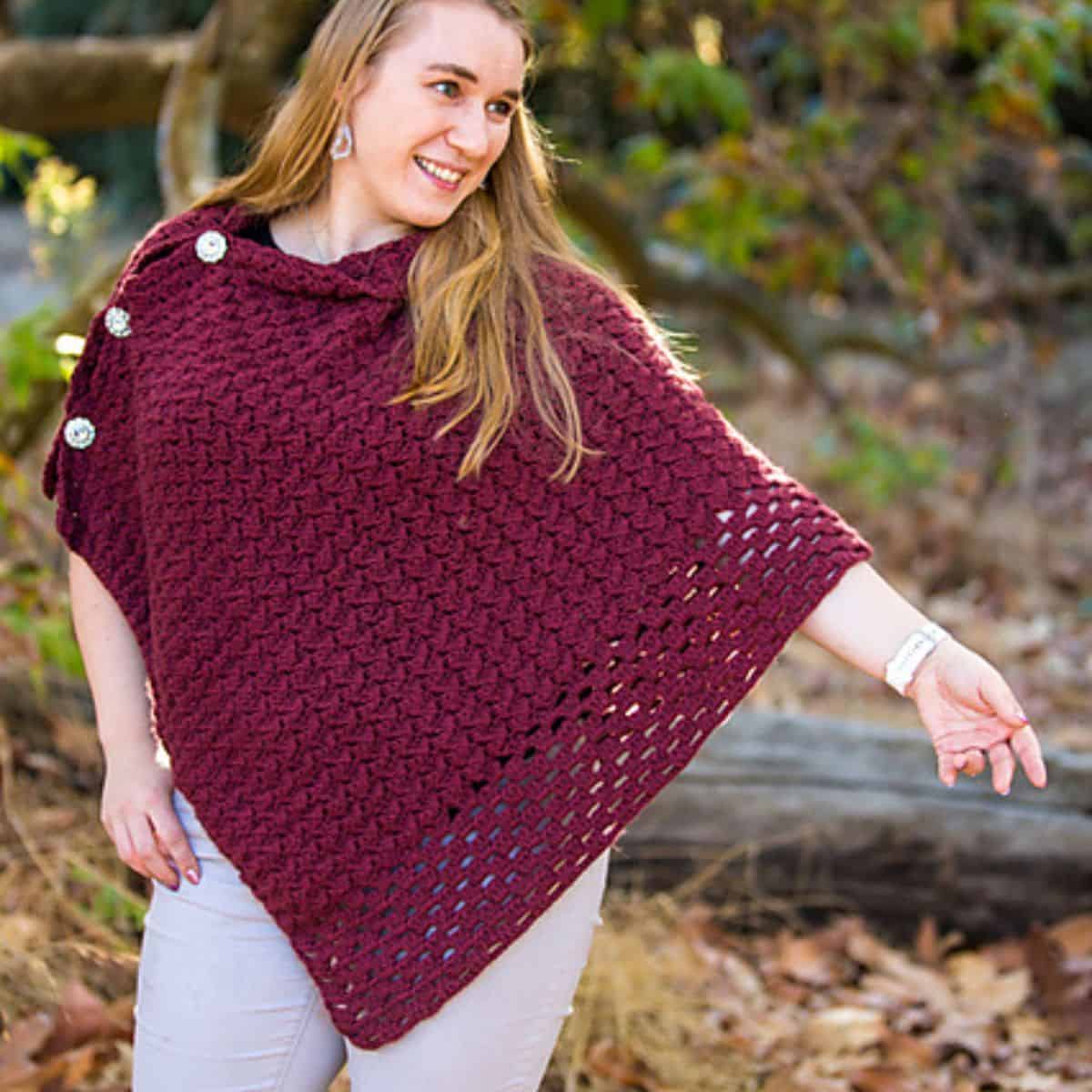 Textured Fall Poncho by Nicki's Homemade Crafts
One of the nice things about a crochet poncho is it's generally made in one piece, as is the Textured Fall Poncho. It's crocheted in one big rectangle with buttons added for closure. This cozy poncho would be a great weekend project!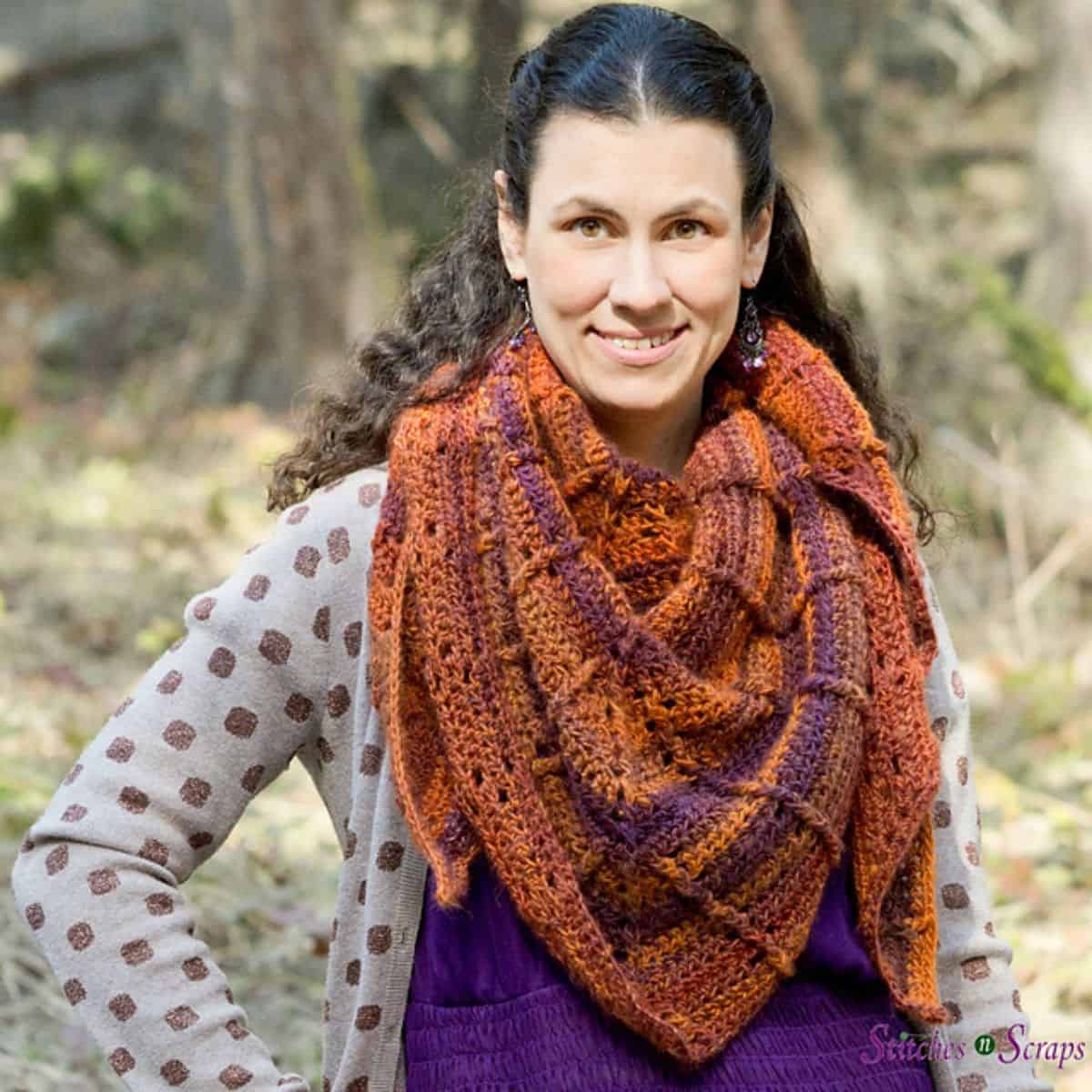 It's Fall Ya'll Shawl by Kirsten Holloway
A shawl is basically just an excuse to wear a blanket and call it fashion, and I'm here for it. This lovely triangular shawl crochet pattern uses self-striping yarn and uses post stitches to create a beautiful cabled texture.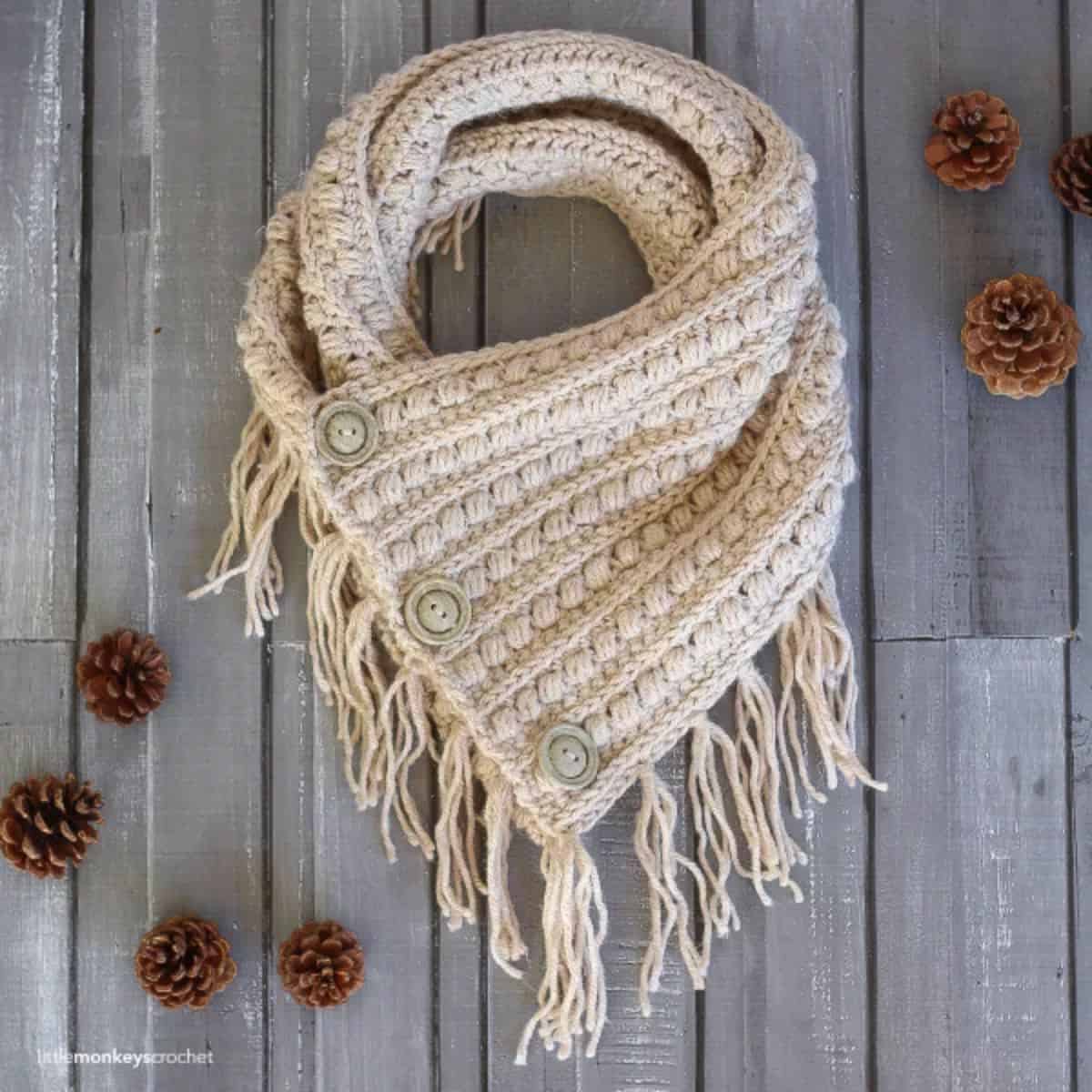 Malia Buttoned Cowl Yarn + Chai
This beautiful cowl crochet pattern is perfect for fall weather. It can be worn over a shirt or under a jacket depending on the weather of the day. This cowl pattern uses the bean stitch, which is one of my favorites and is crocheted in a rectangle. 
Perfect Fall Poncho by Moogly
A simple, elegant poncho, the Perfect Fall Poncho will have you feeling cozy and prepared for a bit of autumn chill. If you're familiar with post stitches, you'll have this crochet pattern worked up in no time!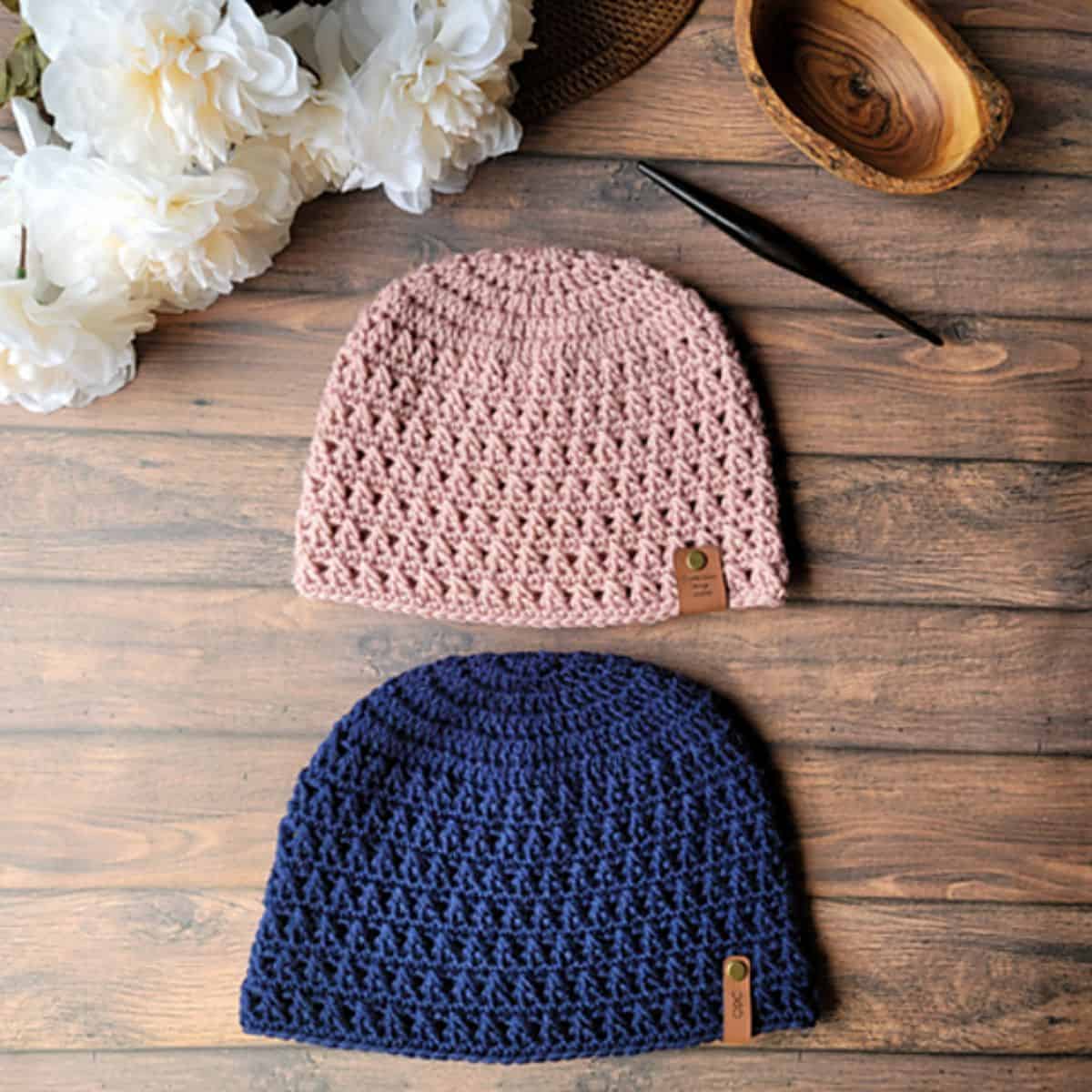 Cody Autumn Wool Hat Pattern by Oombawka
This sweet and simple autumn hat is the perfect addition to your fall wardrobe. The pattern is written for sizes preemie through adult, and would make a great, quick gift for anyone on your list!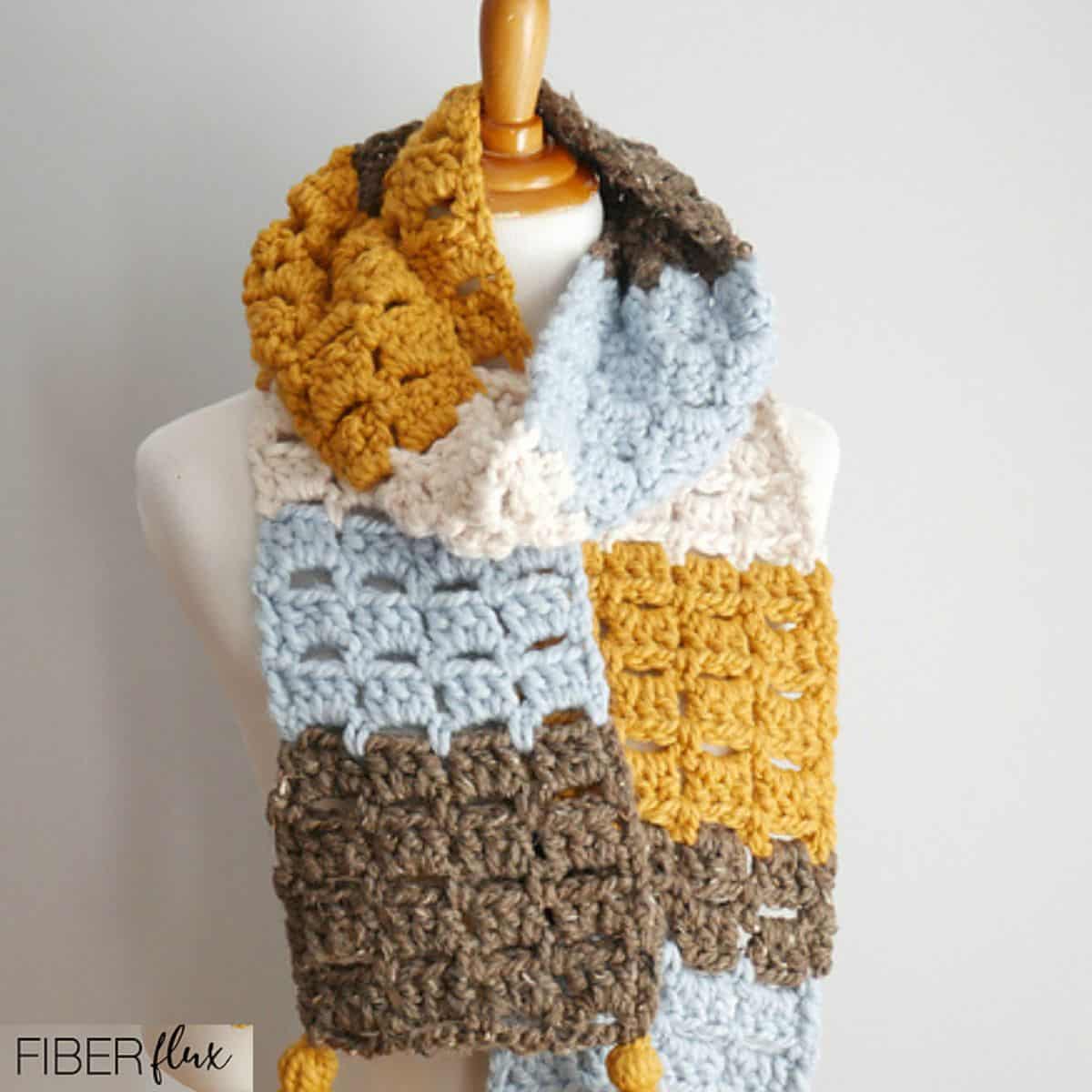 Autumn Afternoon Scarf by Fiber Flux
This adorable scarf made with bulky yarn will keep you nice and warm as the weather starts to turn. Varying lengths of multiple colors keep this crochet pattern whimsical and practical because it lets you use up your yarn scraps how you see fit!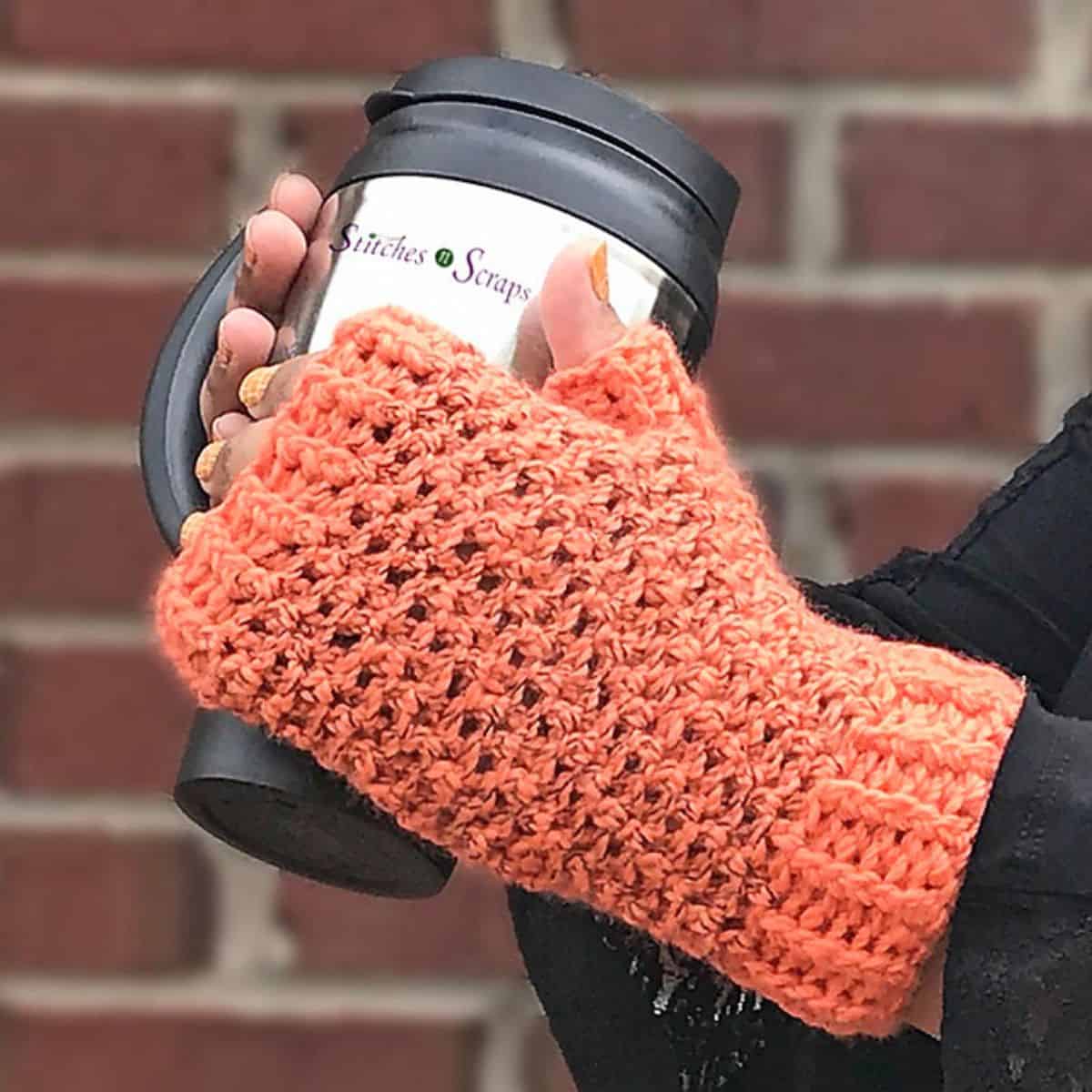 Autumn's Kiss Fingerless Mitts by Stitches n Scraps
Fingerless Mitts are a great fall addition to your wardrobe, perfect for those chilly-but-not-cold-yet days in autumn. Spice them up with some self-striping yarn, or choose a more neutral color to match any outfit. 
Blooming Autumn Infinity Scarf by The Stitchin Mommy
This beautiful infinity scarf is so eye-catching, that no one would know it's made of the most basic stitches – chains and double crochet. If you want a quick project that will have you feeling warm and cozy in no time, the Blooming Autumn Infinity Scarf is a great option!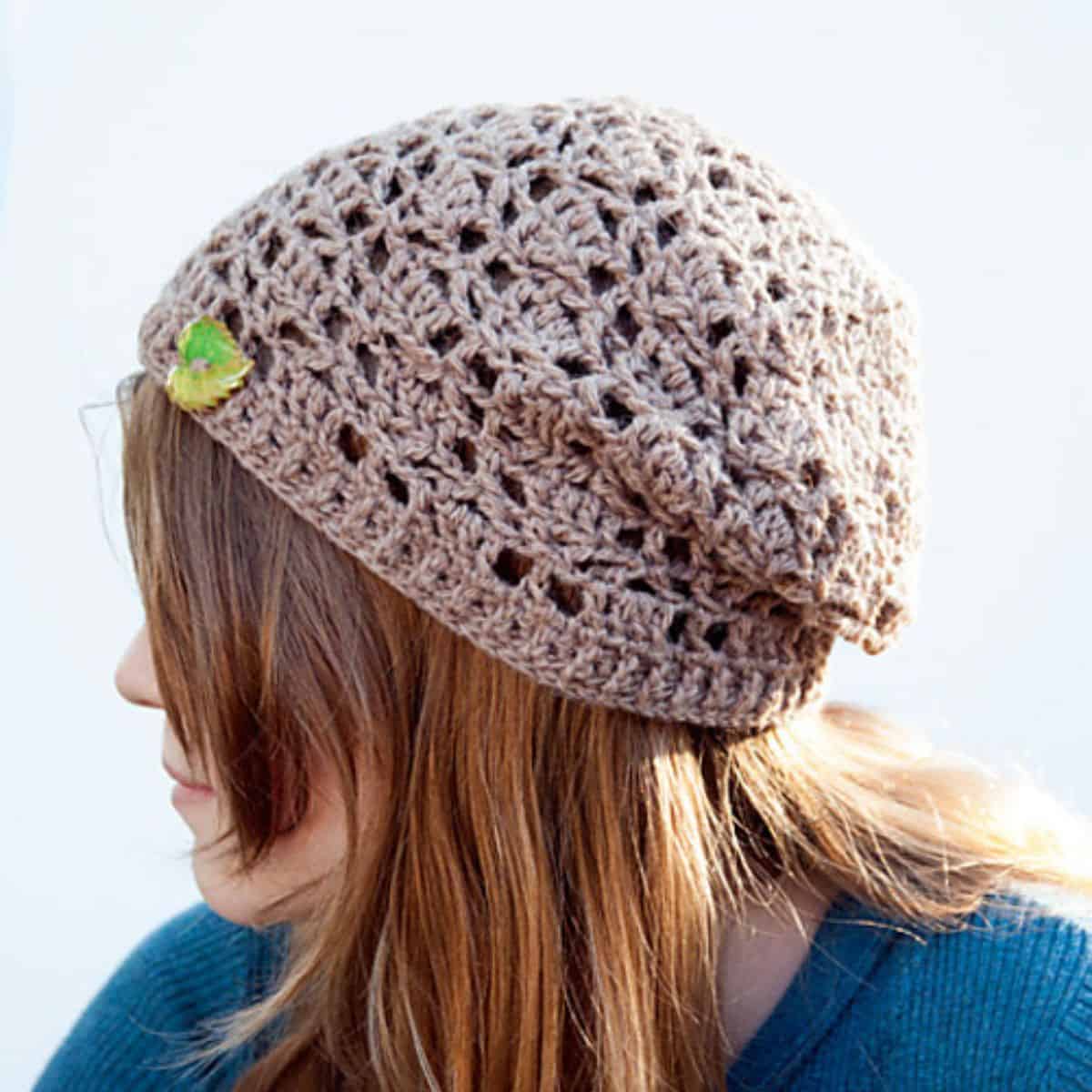 Fallen Leaves Slouch Hat by Moogly
The perfect project to use that one leftover skein of yarn, the Fallen Leaves Slouch Hat is cute and comfy! The beautiful lacework diamonds stitch pattern is more of an intermediate stitch, so if you'd like to level up your crochet stitch portfolio, this is a fun way to do it! 
Which of these fall crochet patterns will you start with?  Don't forget to save these free fall crochet patterns on Pinterest.