Simple Crochet Star Pattern
Disclosure: This post may contain affiliate links. As an Amazon Associate, I earn from qualifying purchases. Please visit my Privacy Policy for disclosures and more information.
Quick and Easy Simple crochet star pattern perfect for using up scraps and using to decorate for your favorite holidays. String them together to make a garland, add a hook to make a Christmas ornament, sew it on as an applique, or hang them like in the stars wall hanging.
You'll find two free crochet pattern versions of the easy crochet stars below!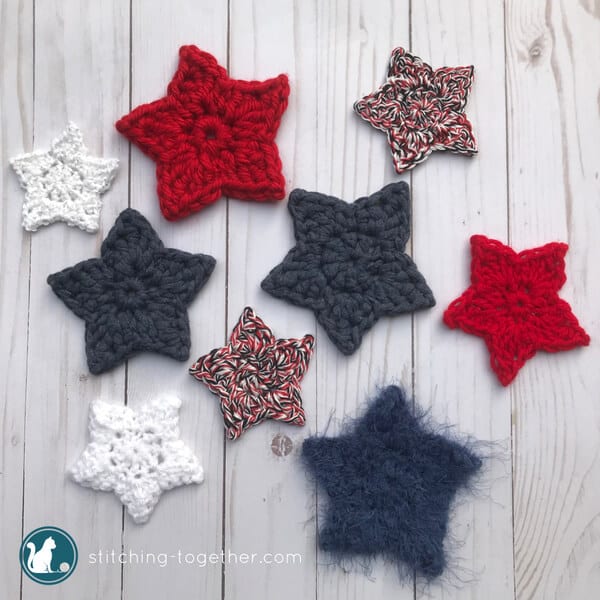 I was recently looking on Pinterest for quick crochet star patterns I wanted to use in another project. While I was practicing a couple of different stars, I ended up creating my own easy star pattern that I loved!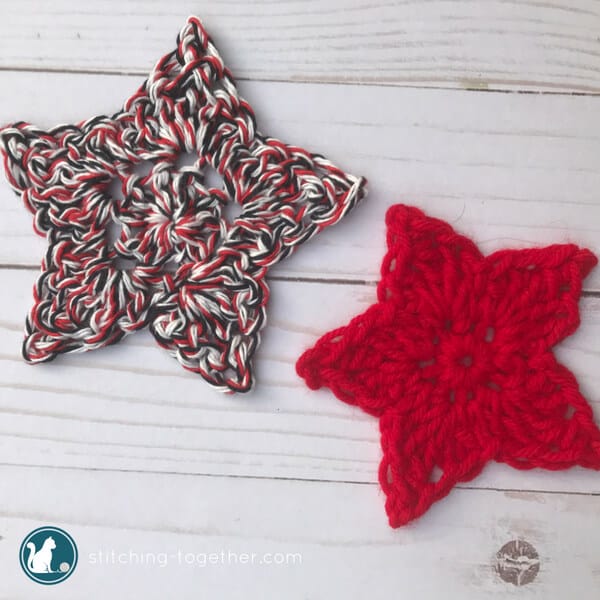 How do you crochet a star?
If you are wondering how to crochet a star, you are in the right place and don't worry, it's easy!
You'll start with a magic circle and either work single crochets or double crochets into the circle. For the next round, you'll work a series of single crochets, double crochets, and treble crochets with a picot stitch to form each of those star points.
That's it! The stars are only two rounds and the only difference between them is the starting round.
The free pattern below includes instructions for the single crochet version and the double crochet version. The stars are similar but vary in the stitches you start with and by using different yarn and hook sizes you can make a variety of crochet stars. You can even start the circle with half double crochet round and make a third size.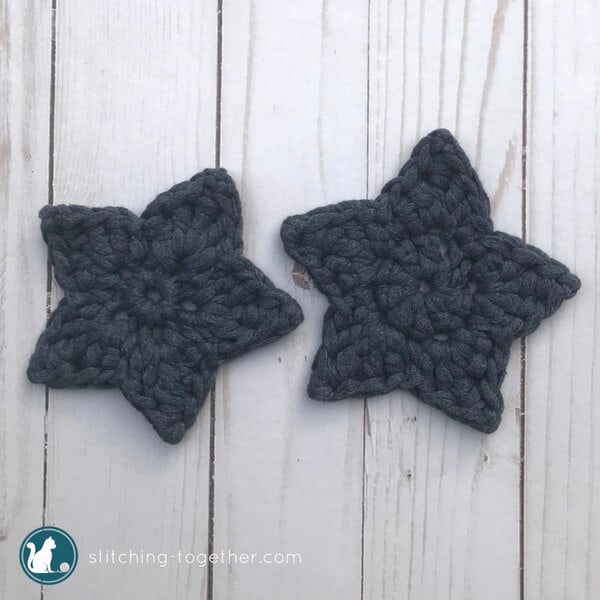 These small stars are wonderful scrap yarn busters. The smallest stars with baby weight yarn took less than 0.1 ounces of yarn and the bulky yarn stars took around 0.5 ounces. I had so much fun working through my scraps, I couldn't stop!
I've made the stars with cotton yarn, acrylic yarn, and even fuzzy yarn. Once you get used to crochet the stars, even making them with fuzzy yarn becomes easy.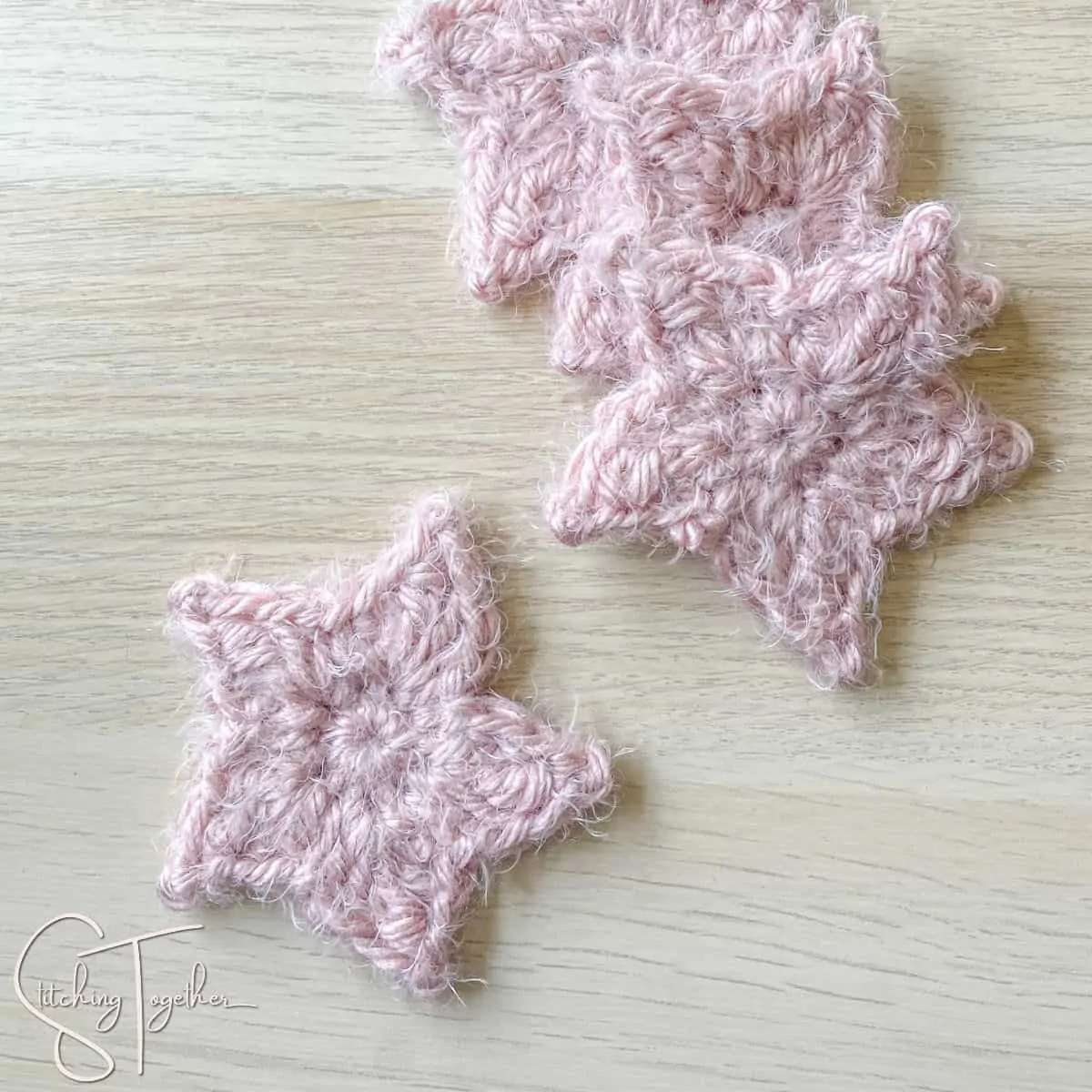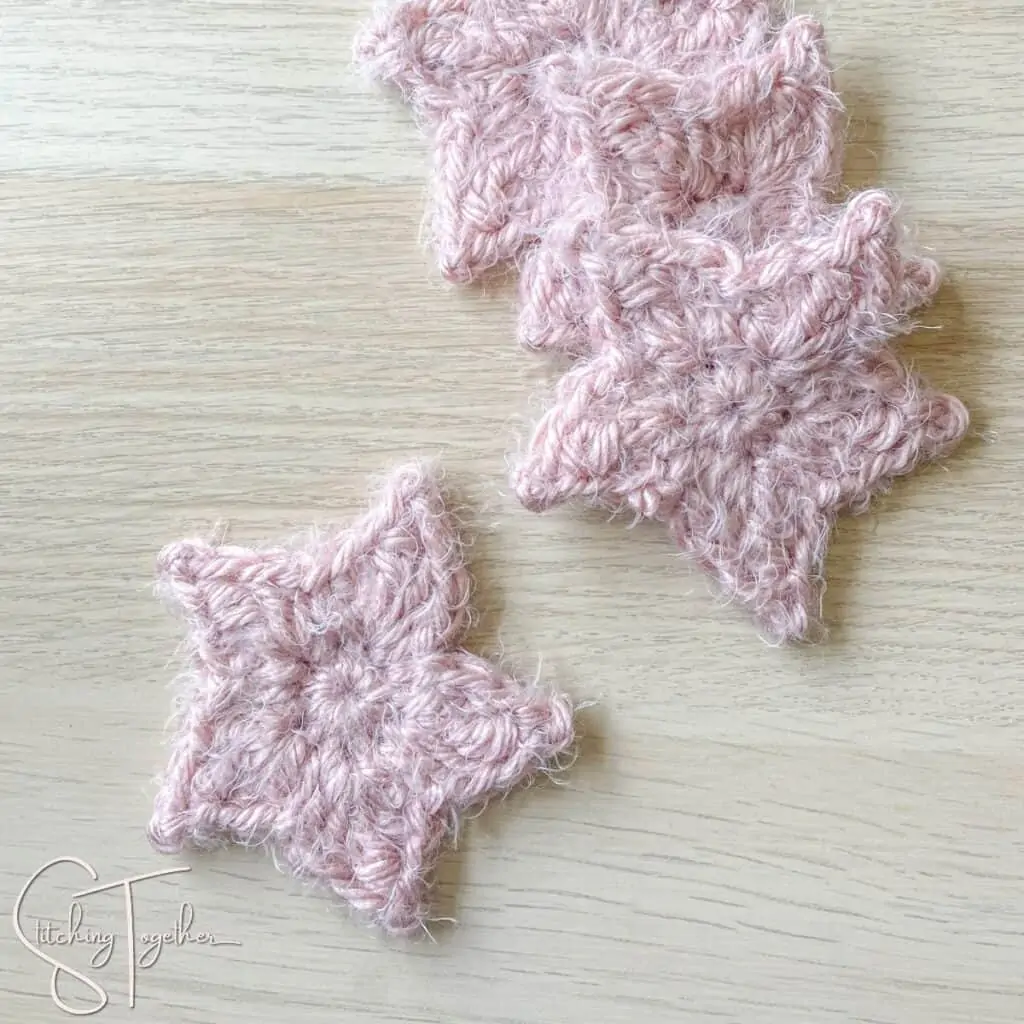 Where do you use crochet stars?
I made fourth of July themed stars using up my red, white and blue scraps, but they would also be perfect for other holidays or decorations like Christmas or birthdays.
If you hang them like in the crochet star wall hanging, the whole thing can be used as a modern wall hanging or in a nursery as a mobile.
They'd also be adorable hung as a garland and would be a great and reusable party decoration.
These simple stars also work well as star Christmas ornaments. You can hang them on your own tree or make them as gifts.
Paired with the flat Christmas Trees, they'd also make a cute addition to your gift wrapping.
I've seen many people use these stars as appliques or as Christmas tree toppers. There are just so many options!
You'll even see a little star featured on the Christmas Tree Towel Topper.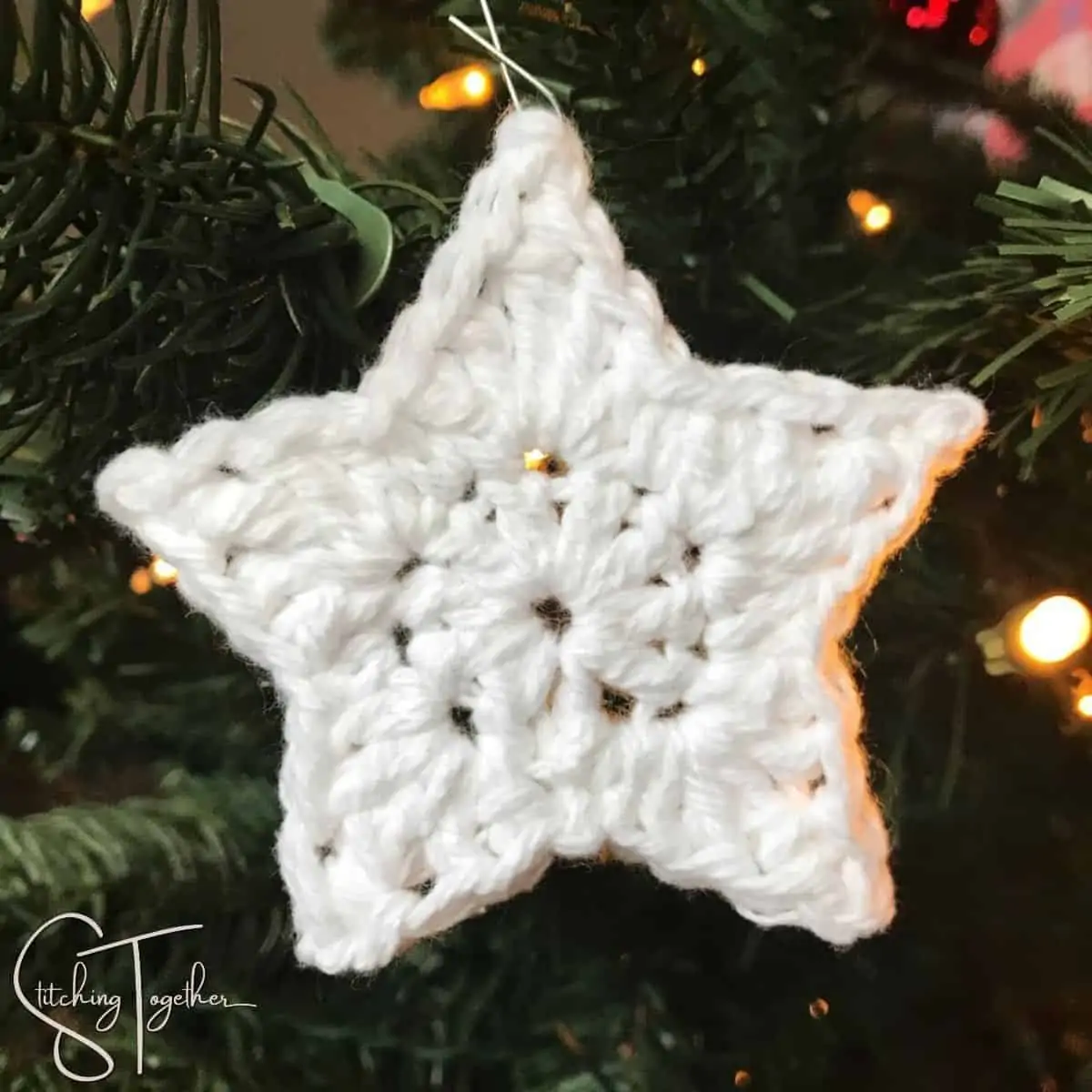 Do you need to block a crochet star?
You certainly can block these stars, but I didn't. The picot stitch added to each treble crochet gives a good crisp point without blocking.
Pinning them to a blocking mat with pins at each of the five points can make the stars look even crisper. It's really up to you if you want to block them or not.
Save the simple crochet star pattern on Pinterest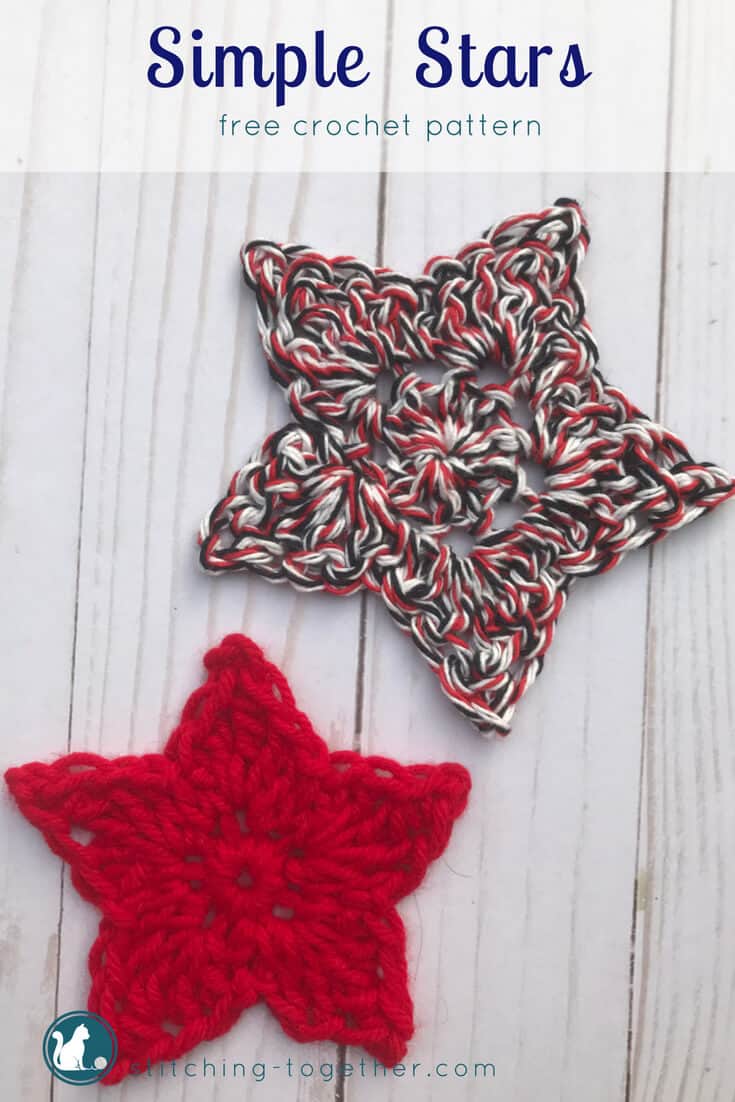 Simple Crochet Stars
Materials:
Please visit my Resources page to see why I recommend these tools and to see other recommendations.

Crochet hook (It's super fun to try different size hooks with the different sizes of yarn)
(Have you thought about upgrading your hooks? See the Clover Amour Crochet Hook Review before you do!)
0.1 – 0.5 oz of scrap yarn
Large Eye Tapestry Needle
.
Everything you need for this project can be ordered right online.
Save time and shop from home!
.
Abbreviations:
sl st: slip stitch
ch(s): chain(s)
sc(s): single crochet(s)
dc(s): double crochet(s)
tr(s): treble crochet(s)
Special Stitches:
Picot Stitch: The picot is made by chaining 2 from the last stitch you work and then single crocheting into that same stitch.
Simple Crochet Stars Pattern Version 1
Start with a magic ring
Round 1: ch 2 (counts as 1 dc) 9 dc in ring, tighten to close, join with sl st to top of ch 2
Round 2: ch 1, sc in same stitch, *[2 dc, tr, ch 2, sc in top of tr (picot), 2 dc] in next stitch, sc in next st. *repeat 4 more times. Join with sl st to first sc.
Simple Crochet Stars Pattern Version 2
Start with a magic ring
Round 1: ch 1, 10 sc in ring, tighten to close, join with sl st to first sc
Round 2: ch 1, sc in same stitch, *[2 dc, tr, ch 2, sc in top of tr (picot), 2 dc] in next stitch, sc in next st. *repeat 4 more times. Join with sl st to first sc. Weave in ends!
Check out this Christmas Lights upcycle or Crochet Star Wall Hanging for fun projects using these stars!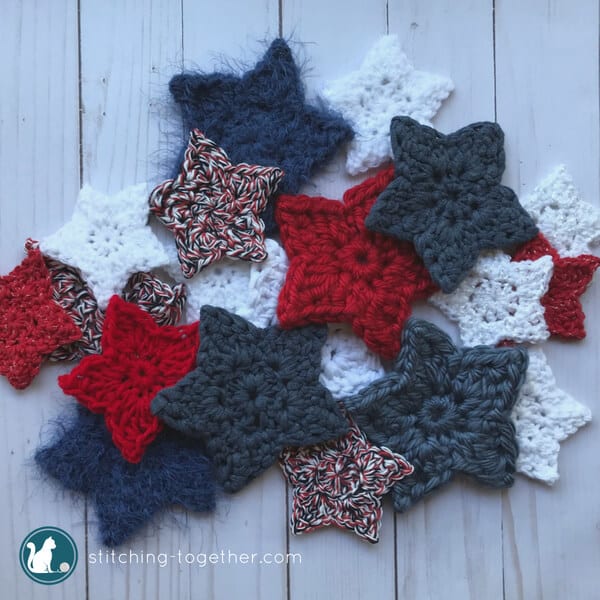 Will you share pictures of your finished projects?
.
If you like easy-to-print patterns, this pattern can be purchased in the following places:
Thanks for your support!
.
Don't miss these other easy free crochet patterns: