What to Crochet When You Are Bored
Disclosure: This post may contain affiliate links. As an Amazon Associate, I earn from qualifying purchases. Please visit my Privacy Policy for disclosures and more information.
Since you are looking at an article called "what to crochet when you are bored", I'm going to go out on a limb here and guess that you're likely bored.
Ugh, boredom; probably my main real-life nemesis. When I was little and I'd tell my dad that I was bored he'd respond, "only boring people are bored". Since I was mortally offended at the idea of being a boring person, I refrained from announcing my boredom to him… as frequently.
I'll admit, that phrase has slipped out to my children when they perpetually announce they are about to perish with boredom.
Crochet is one of my ultimate boredom busters. (The other one is reading, which I am not skilled enough to do at the same time.)
Crocheting is perfect for all those BORING times: waiting rooms, school pickup lines, documentaries your partner insists on watching…. you get it.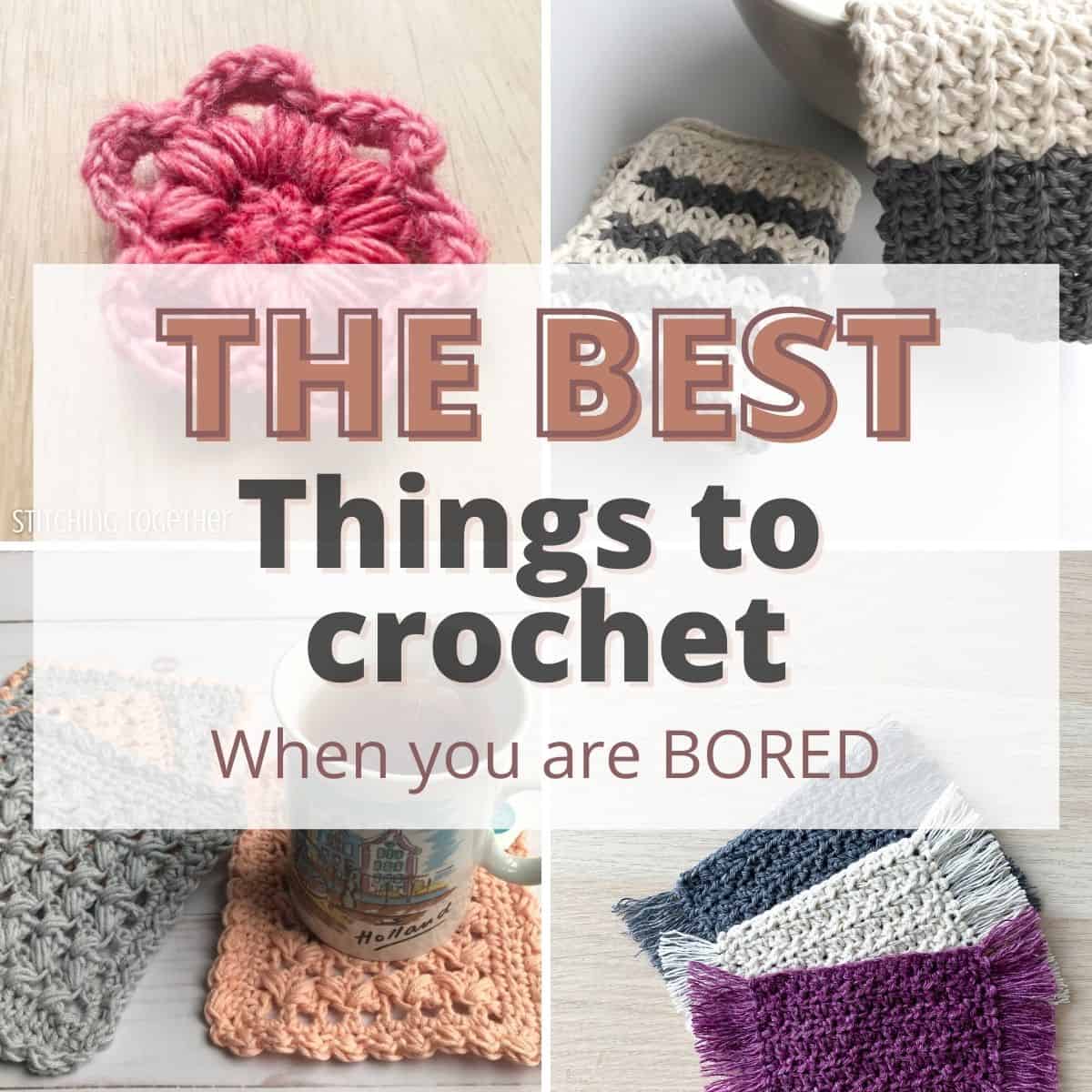 What happens when you are bored with crochet?
I don't think the remedy when you are bored with crochet, is different from crocheting when you are bored. Small projects with quick wins can get you inspired to crochet again. If it means you have to put a large project on hold, that's fine. Do it.
I also find it super helpful to make something special for someone else! The knowledge that they will be excited at the unexpected gift is motivating.
Then there's the matter of completely losing your crojo (like mojo but with crochet) altogether. My best advice is to take a break. Don't try to force it. Crochet should be a relaxing outlet of creativity, not something you force yourself to do.
Things to Crochet When you are Bored
I've found that when I'm bored, starting a big project, like a blanket isn't the best idea. Usually, my boredom needs a quick win or at the very least, something I can see growing quickly. That's why smaller projects are the perfect boredom busters.
The crochet projects listed below are great projects for those boring times. Most of them are small and easy to transport. You could even keep a project or two in your car so you are always ready.
Each one is a free pattern and most of them have the option to purchase an ad-free PDF if that is more your style.
Maybe you aren't even bored but are looking for something to crochet. This list is great for that too. You're sure to find your next favorite crochet project.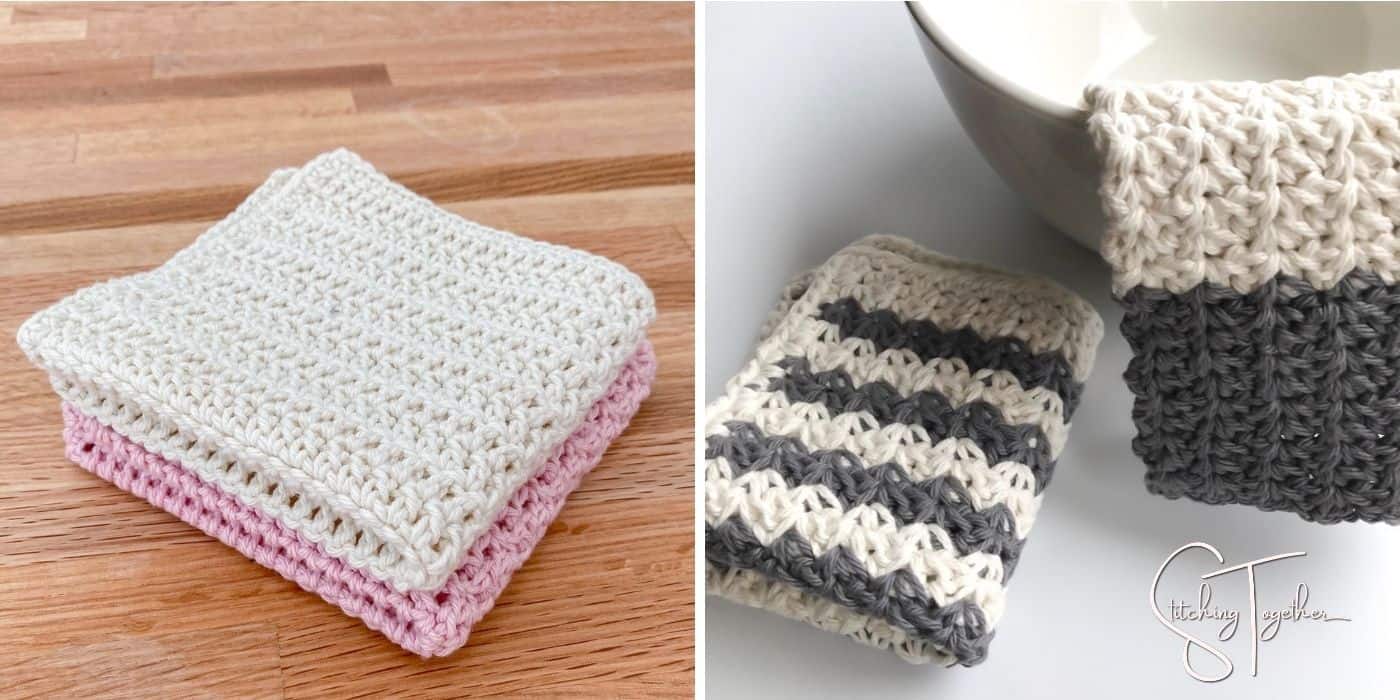 Easy Double Crochet Dishcloth Pattern
This easy dishcloth pattern is perfect for a beginner and anyone looking for a quick and simple dishcloth pattern. The main stitches you need to know are chain, single crochet, and double crochet.
Country Farmhouse Crochet Dishcloth
As part of the Crochet Country Set, this dishcloth is one of the most popular ones on Stitching Together. It looks great with or without a border and is made using the spider stitch.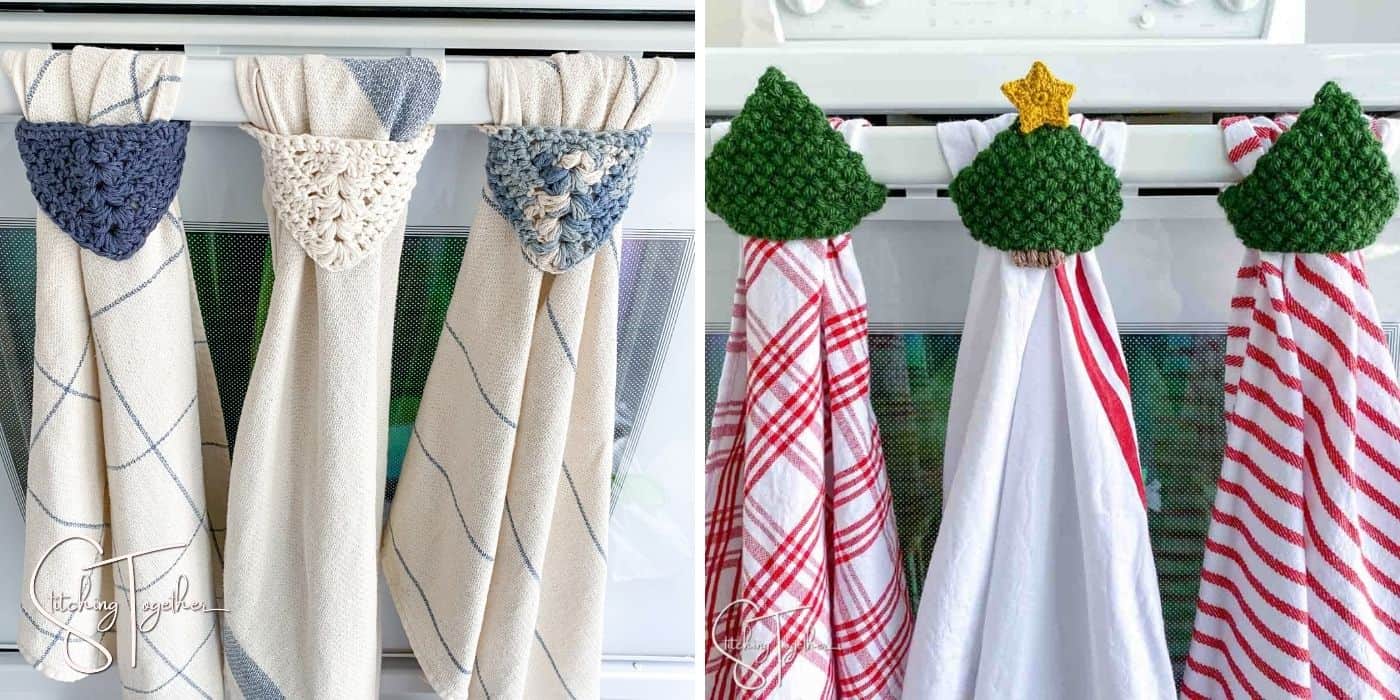 Modern Crochet Towel Topper
What's better than a modern take on an old favorite? These towel toppers are SO SIMPLE to make and attach to dishtowels. A set of them made a great housewarming gift.
Christmas Towel Topper Pattern
Of course, we need a Christmas version of the modern towel toppers. They don't have to be Christmassy though. You can make them in any color to match your towels and they are just as cute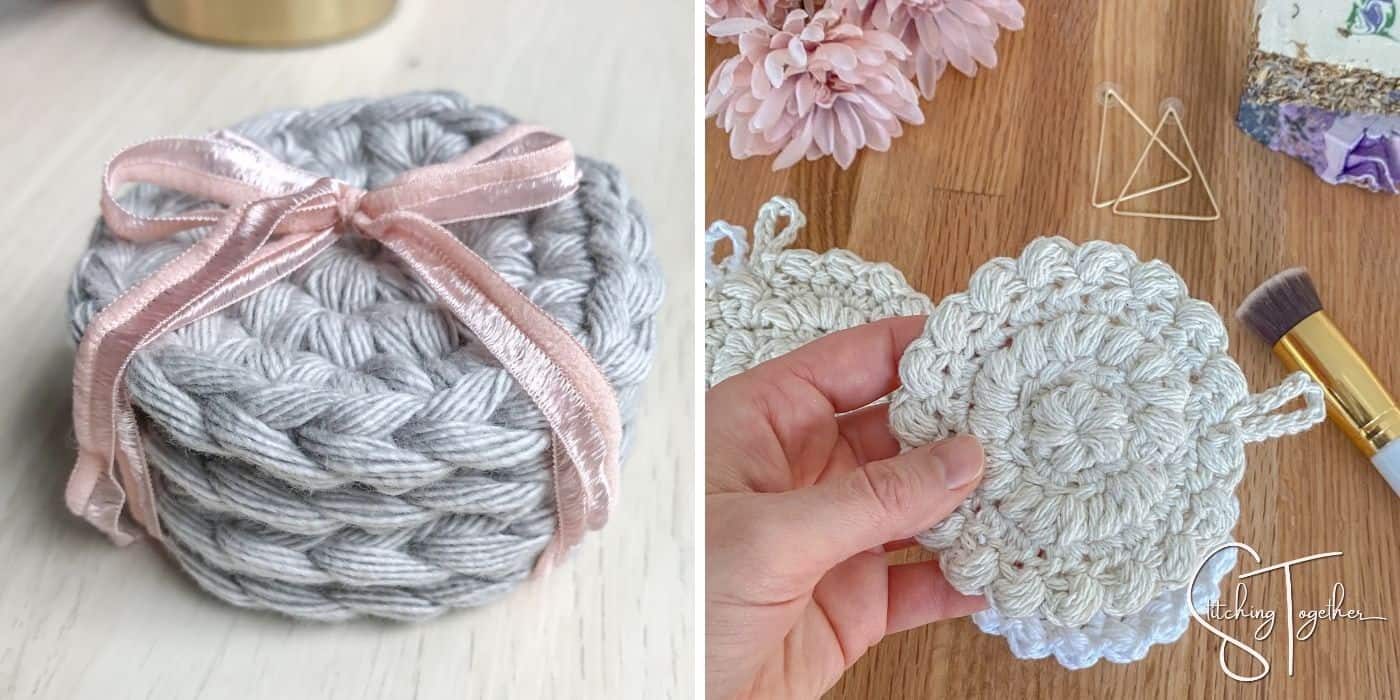 Quick Crochet Face Scrubbies Pattern
While the yarn used in this pattern has been discontinued, that shouldn't stop you from making these quick scrubbies. You can hold 3 strands of worsted weight cotton together and have a stack of scrubbies in no time. This is a great way to use up any cotton scrap yarn you have hanging around.
Crochet Makeup Remover Pads
If you want a facial round that's a little fancier (these are the ones in my bathroom), you'll love this pattern. It's still simple and works up quickly, but the extra texture and detailing make it as beautiful as it is useful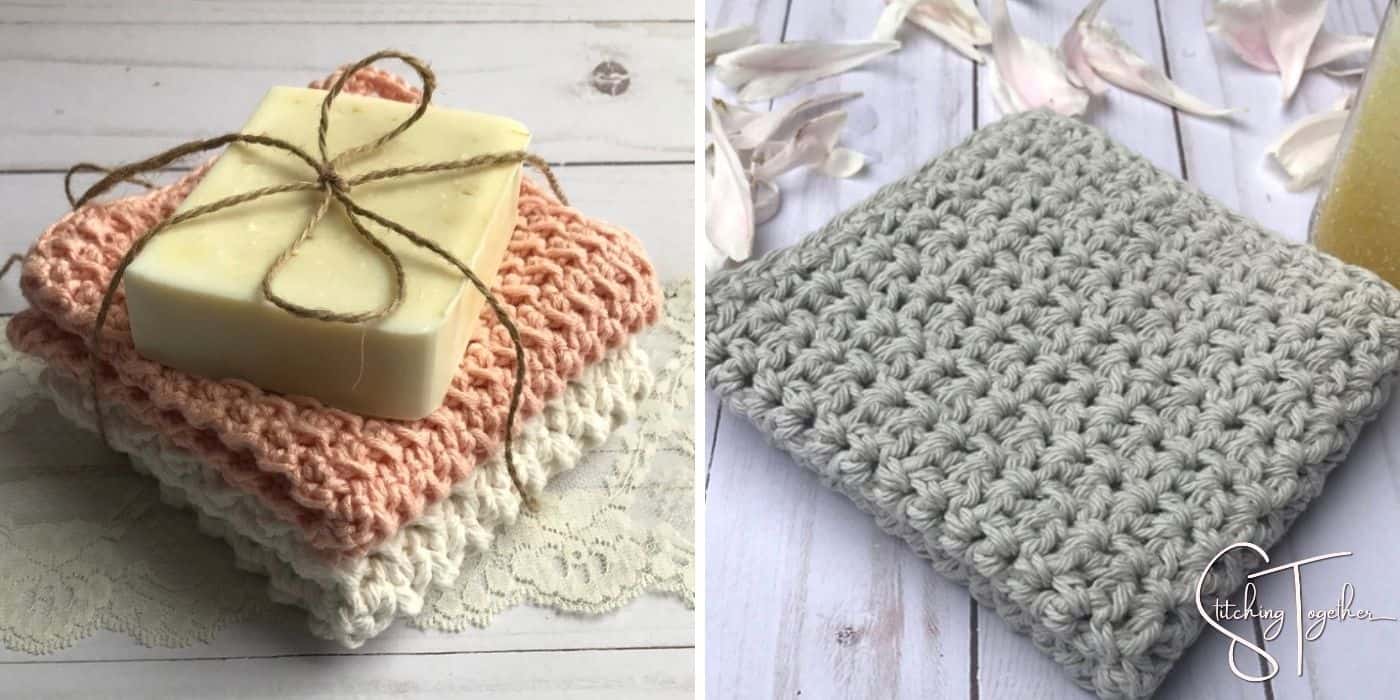 Crochet Washcloth Pattern
This is one of the most popular washcloth patterns here on Stitching Together! The pattern has instructions for using a thinner cotton yarn as well as your regular worsted weight cotton.
Day at the Spa Crochet Washcloth
Who doesn't love a spa day? This lovely washcloth is perfect as part of your at-home spa kit and you'll love how quickly it works up.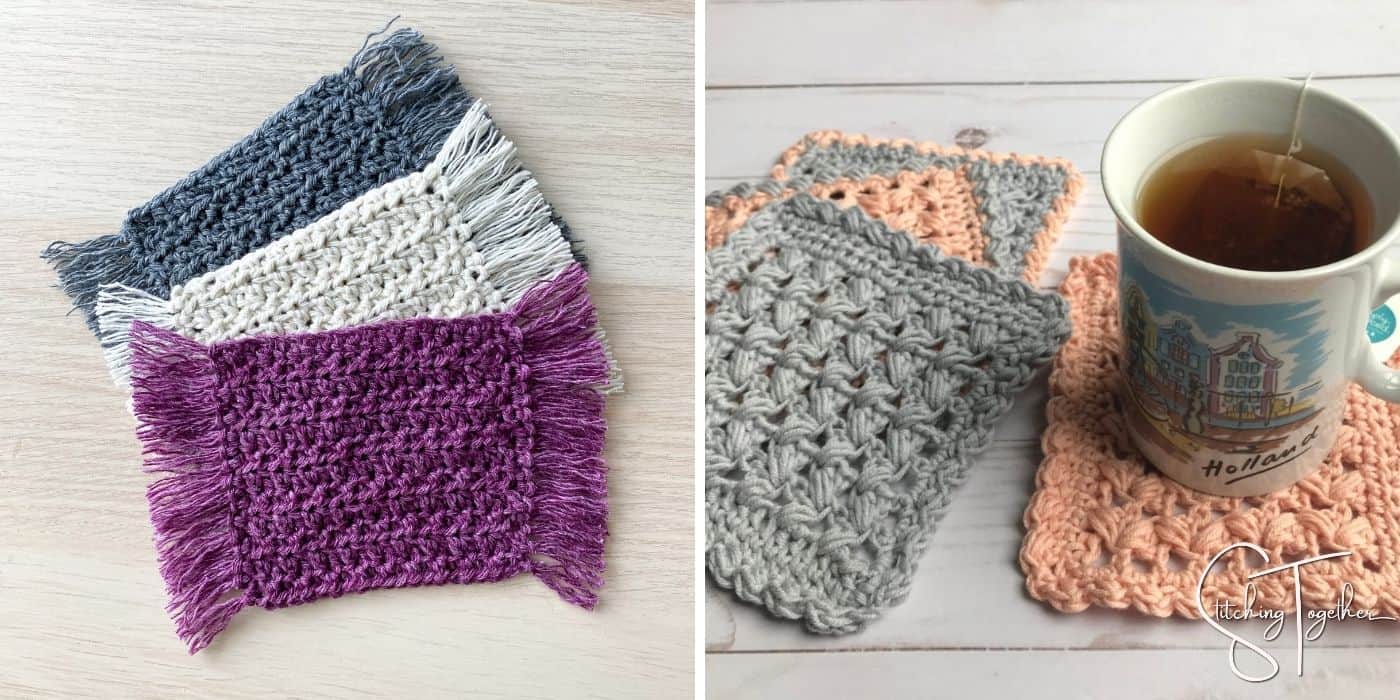 Easy Crochet Coasters
This is my favorite coaster pattern because they are easy and cute. The texture and fringe add enough detail so they aren't completely basic but they a simple stitch.
Square Crochet Coaster Pattern
The main part of these coasters was designed by Sweet Potato 3. A group of designers participated in a challenge where we added a little something extra to another designer's pattern and that's how this version of these coasters was born. Don't you love them?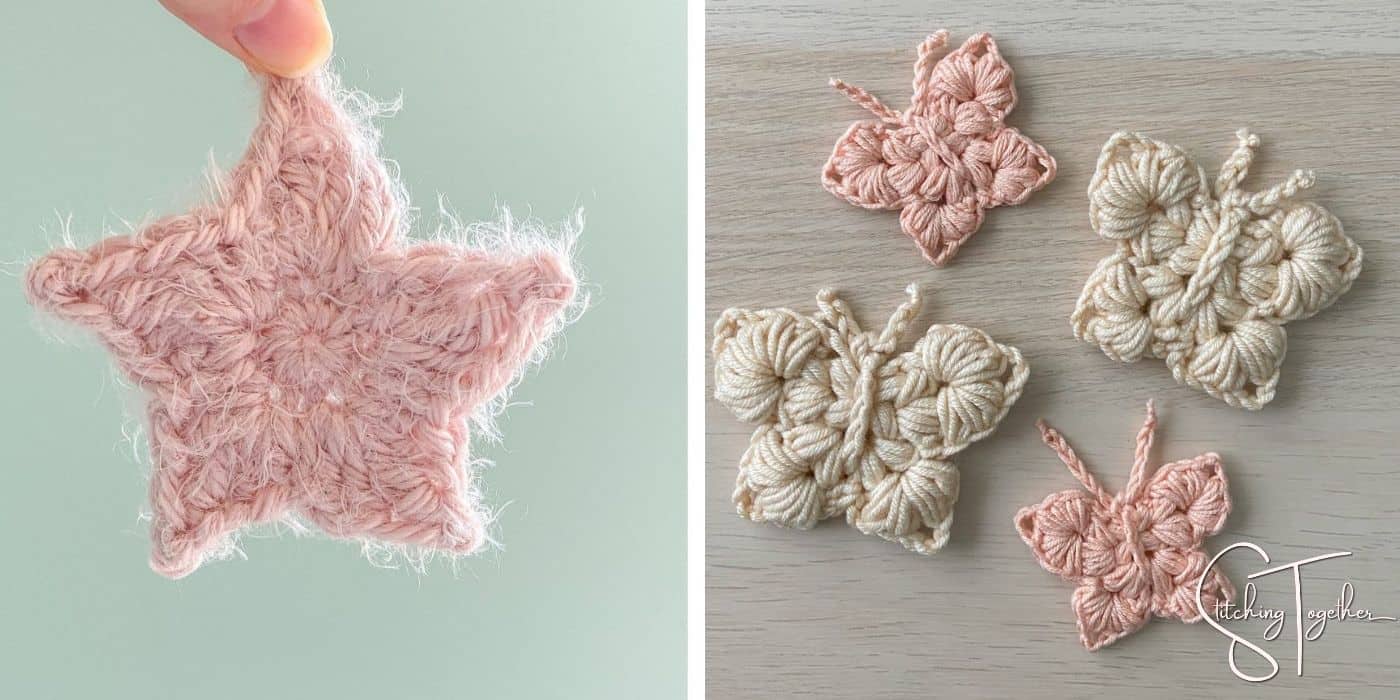 Small Crochet Star Pattern
I've lost track of how many of these stars I have made. They are addicting! They work great as garlands, appliques, wall hangings… pretty much anywhere that needs a star embellishment. You can dig into your yarn stash for these!
Crochet Butterfly Pattern
These gorgeous butterflies might surprise you with how they work up. While the pattern isn't for beginners, it is still quick and you'll end up wanting to make more than one.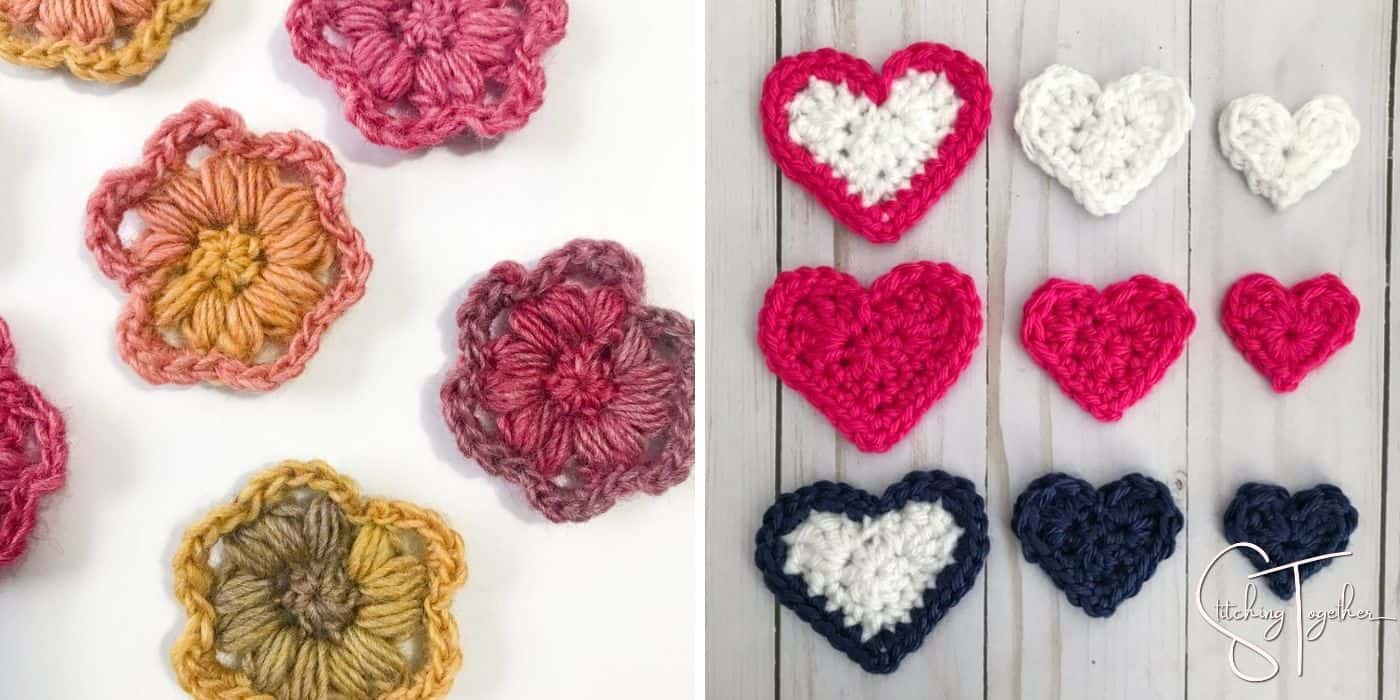 Crochet Flower Pattern
These flowers were designed for the Happy Flower Project in 2019. I am thinking that the Happy Flower Project should be revived soon.
Quick Crochet Heart
You can make these adorable hearts in 3 different sizes based on what you need. Aren't the tiny ones adorable?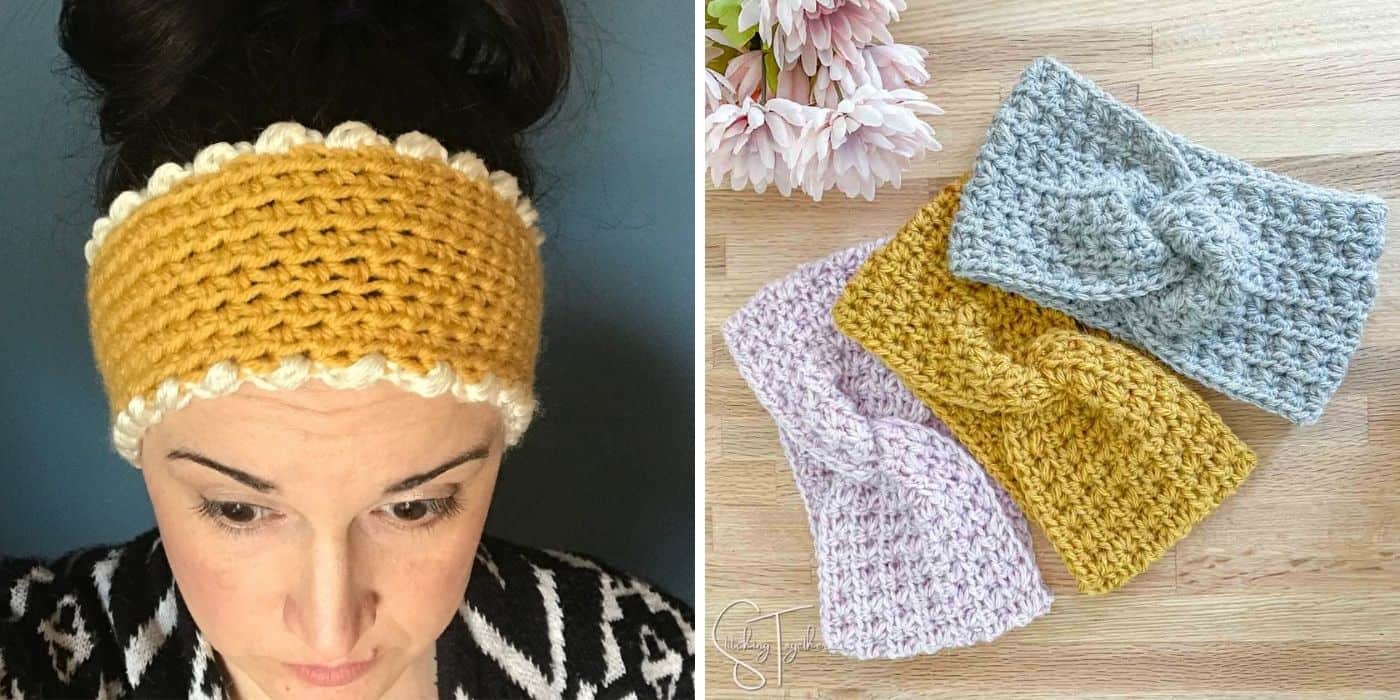 Easy Crochet Ear Warmer
This simple ear warmer pattern is a great place to start if you've not crocheted ear warmers or headbands before. It includes a sizing chart so you know exactly how to make them the right sizes.
Crochet Twist Headband Pattern
Twisted headbands, crocheted or not, are so popular right now. They are much easier to make than you'd expect and I love the beautiful stitches in this headband.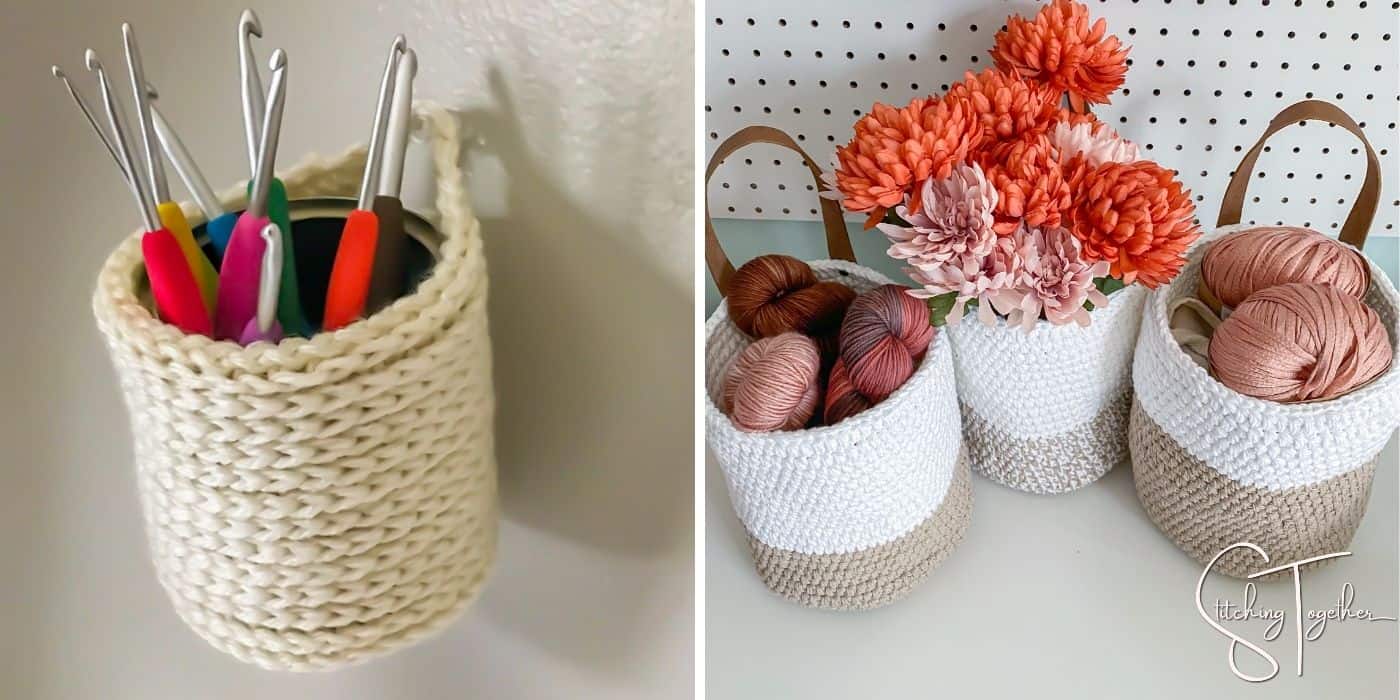 Small Crochet Hanging Basket
These small baskets work up so quickly and can be used as hanging baskets or folded over as small baskets on your desk.
Crochet Hanging Basket
This is the project that will probably take the longest on this entire page, but the results are 100% worth the effort. You'll be proud to hang these baskets anywhere in your house and I can't think of a better win.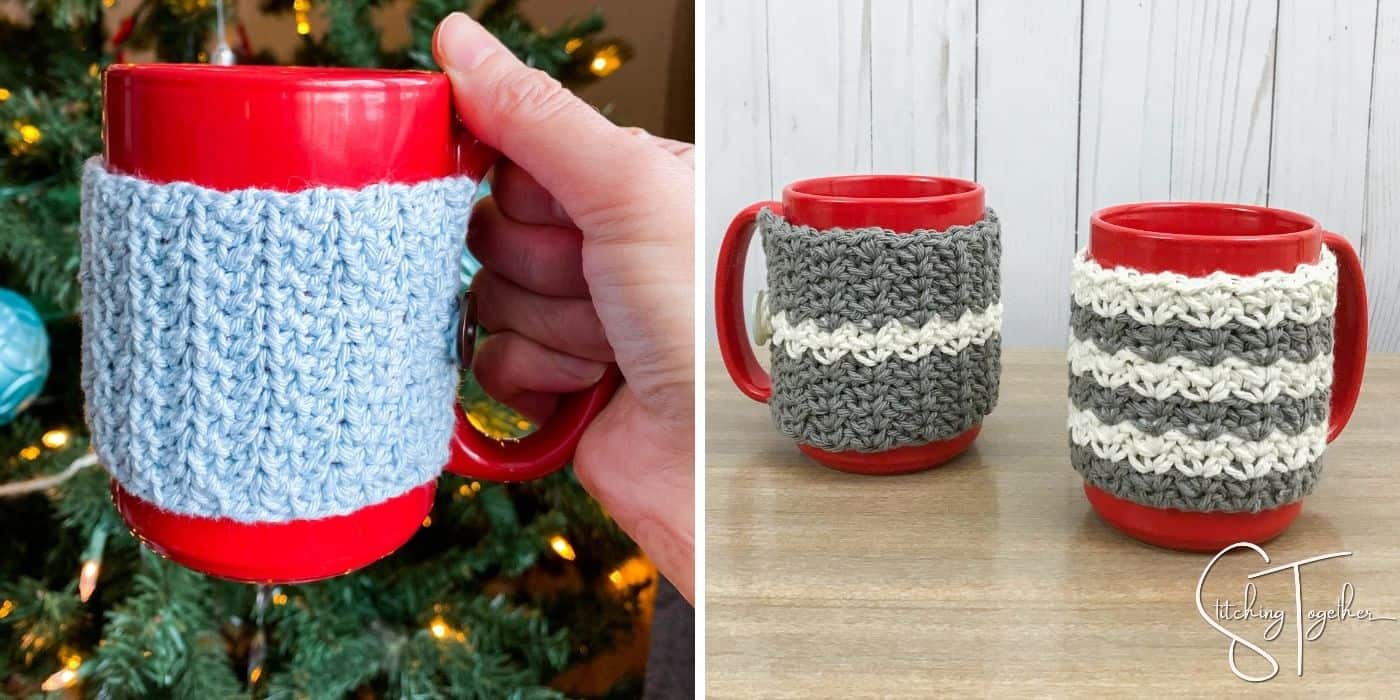 Mug Cozy Crochet Pattern
Mug cozies make wonderful gifts, especially for coworkers. This pattern is quick and simple and looks great in a variety of yarns.
Crochet Cup Cozy
Another favorite of the Country Crochet Collection, this cup cozy also uses the spider stitch to get that beautiful texture.
The next two suggestions aren't crochet projects in themselves but one of the best ways to beat being bored is to learn something like a new crochet stitch! If you don't already know these stitches, check out their tutorials.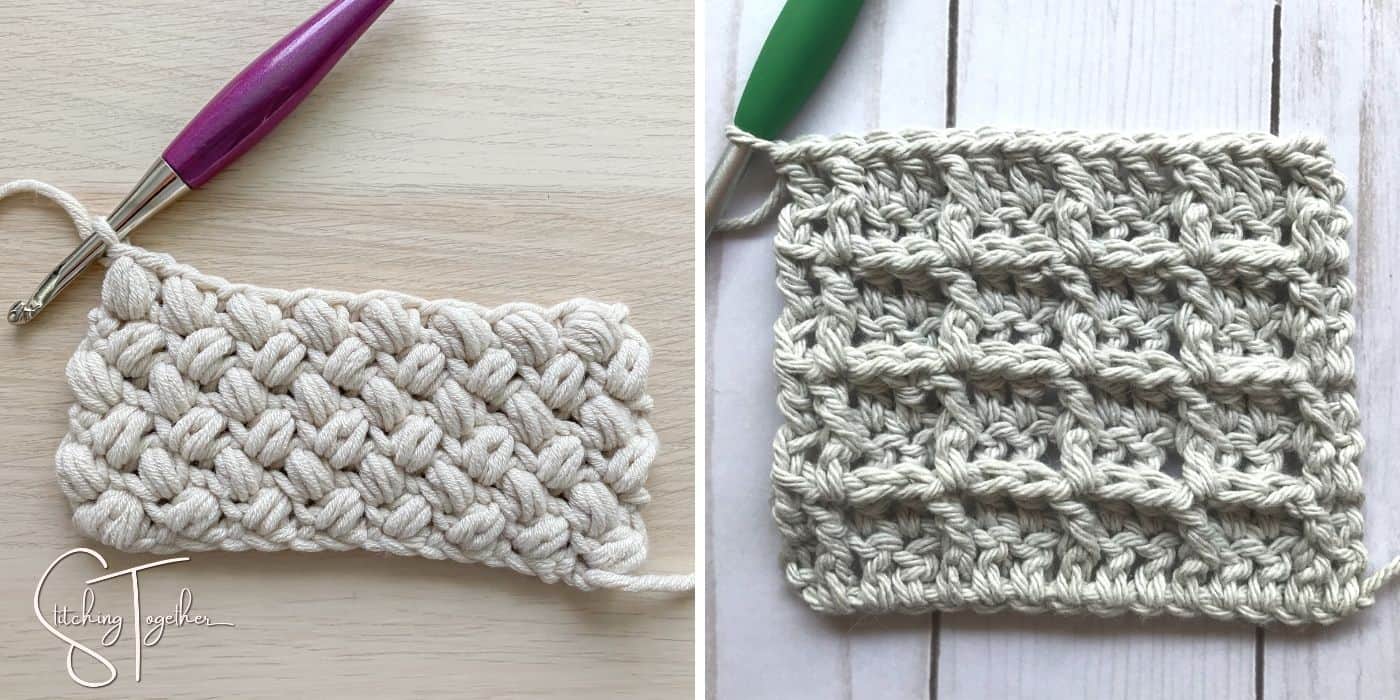 Bean Stitch Crochet
The bean stitch has such a unique look to it that I think it is absolutely one worth learning.

Waffle Stitch Crochet
The waffle stitch is a classic stitch pattern that's used in so many different projects. If you haven't tried it yet, you'll want to take a look at the tutorial and then work through the waffle stitch dishcloth pattern.
Which project are you itching to get your crochet hook into? I know I found some new inspiration while going through this list!
Be sure to save this list of ideas of things to crochet when bored so you have it ready the next time boredom strikes.